Lemongrass Roasted Salmon
Published Feb 19, 2018•Updated Apr 06, 2023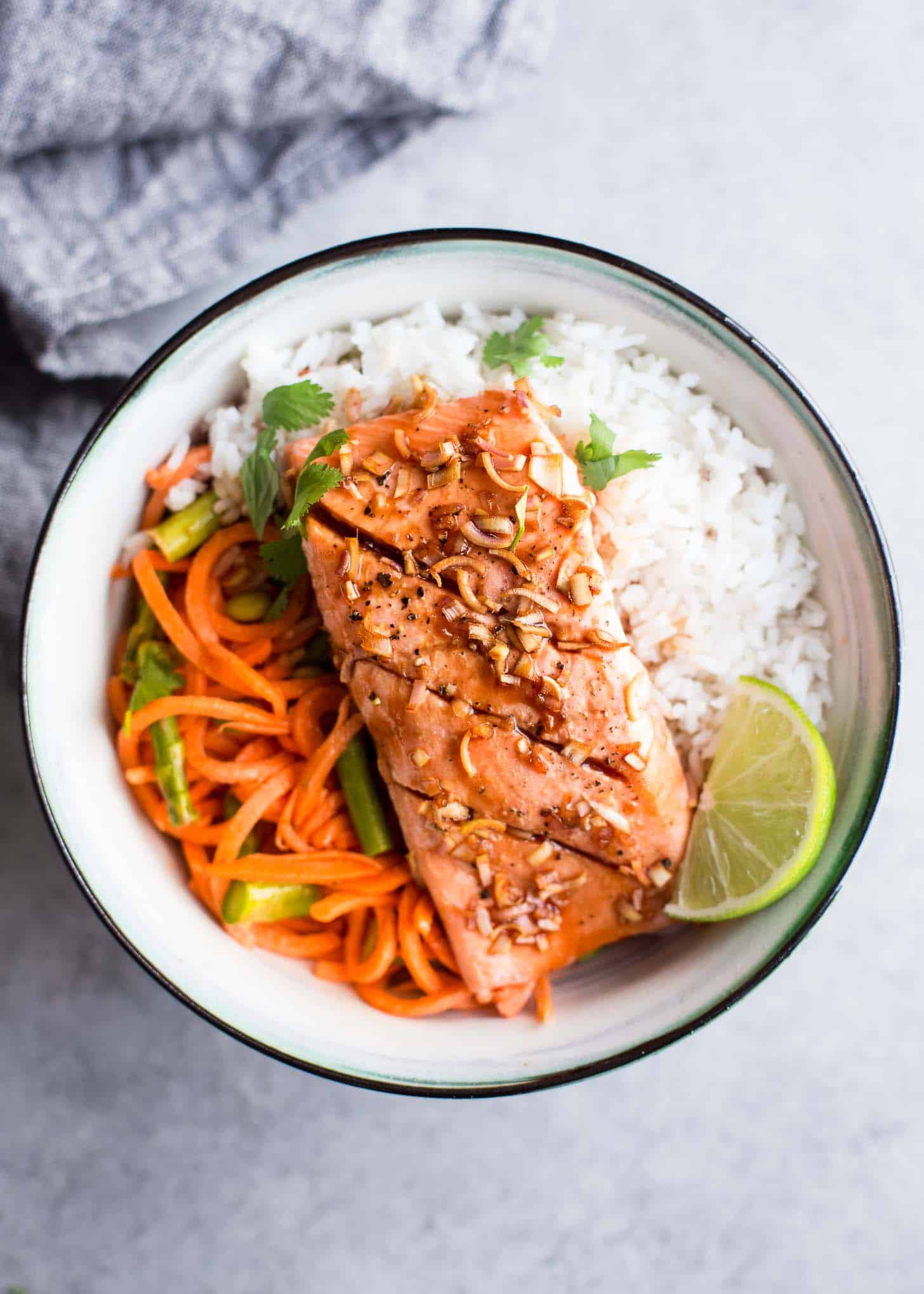 This Thai lemongrass salmon comes together fast and cooks at a low temp in lemongrass marinade for maximum flavor and perfectly cooked fish.
Good morning and happy Monday! Everyone have a good weekend? We had Trader Joe's take-out fake-out last night with some of their Lemongrass Chicken Spring Rolls. So crispy, so satisfying, so little effort. And packed with lemongrass flavor which I'm all about this month.
Which brings me to today's recipe. There's loads of flavor in this Thai lemongrass salmon and it's so easy that it's basically begging to be added to the weeknight rotation (along with this Lemongrass Chicken). If lemongrass is a newer ingredient to you, don't be intimidated. The fresh stalks are long and awkward to squeeze in the fridge, but they're easy to cut down to useful size.
I buy the big green lemongrass stalks for cheap at my local international market, but my usual grocery store also sells pre-chopped short pieces like the ones below.
For more details, check out these great step-by-step photos on how to slice and dice it.
Thai Salmon
Salmon is not traditionally Thai, but we live in such a global world that it was common on menus in Bangkok even when we lived there three years ago. It's great fit in this recipe and holds up incredibly well to the rich flavors of this lemongrass marinade.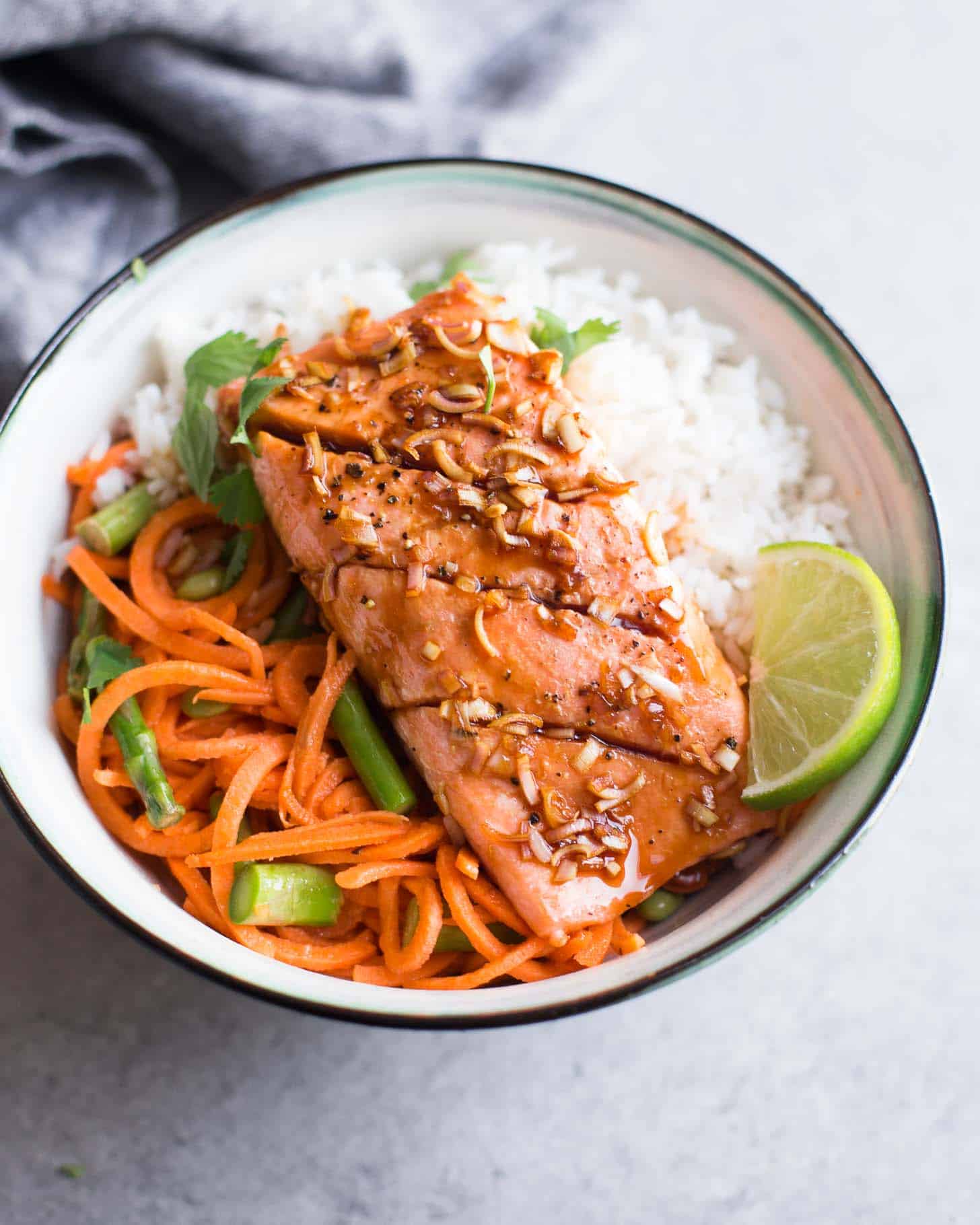 This Thai lemongrass salmon is sort of a mash-up of two of my favorite salmon recipes – Toasted Sesame Ginger Salmon (yikes – very old photos over there) and Slow-Cooked Salmon with Chickpeas and Greens. This version has a flavorful marinade and glaze like the sesame ginger version but is cooked low and slow like the version with chickpeas and greens. This turns out to be a pretty foolproof route to flavorful, nicely cooked fish. It works well for a few reasons:
A quick marinade plus a few slits on the top infuses the fish with flavor
Low cooking temps prevent overcooking and insure the salmon is cooked through
A glaze adds a final boost of flavor and color
Marinade for Lemongrass Salmon
Oh friends, THIS marinade. It's tangy and packed with aromatics. It uses dark soy sauce which is easy to find at many grocery stores and certainly at any Asian market. Dark soy sauce is not the same as "dark sweet" soy sauce. Dark soy sauce is not sweet, just more rich in flavor and less intensely salty than the regular variety you probably have in your pantry.
Salmon is quick to absorb the flavors of the marinade, so a 20 minute marinating time is all you need. Just enough time to to make some rice and chop a few veggies to serve with it.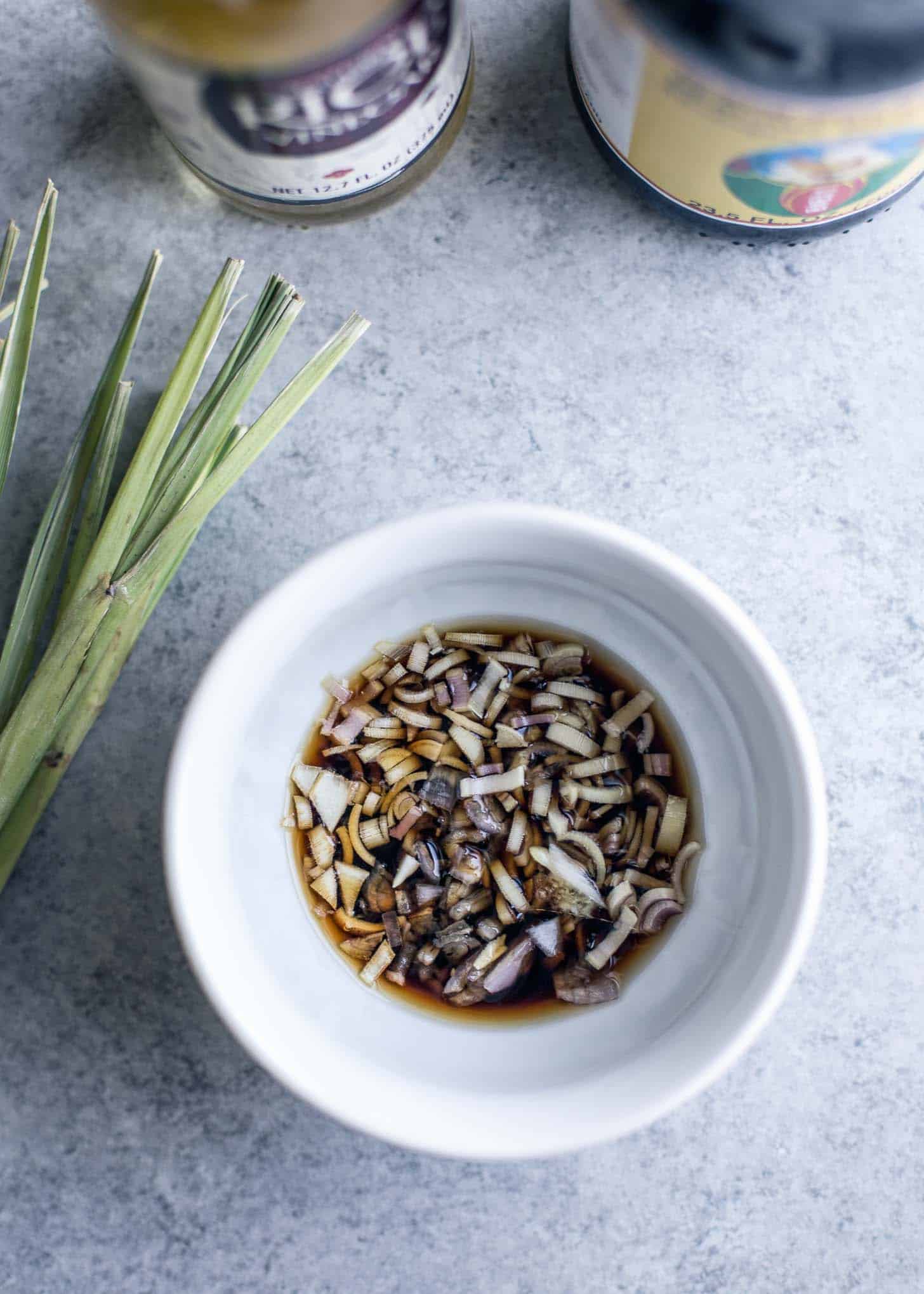 Hope your Monday is full of flavor and good vibes!
More Seafood Favorites
Favorite Tools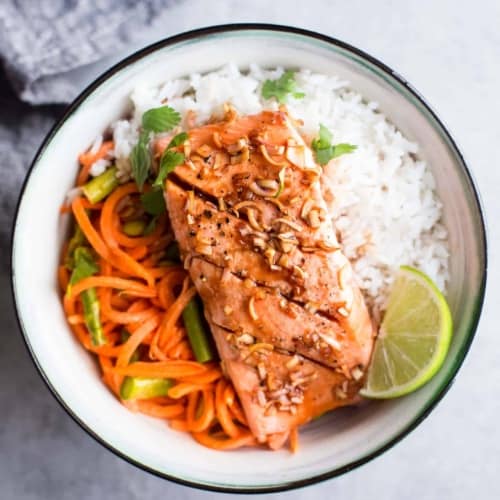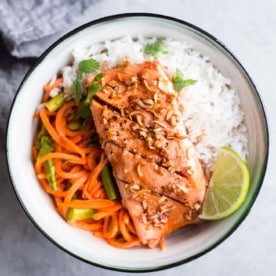 Lemongrass Baked Salmon
This Thai salmon comes together fast and cooks at a low temp in lemongrass marinade for maximum flavor and perfectly cooked fish.
Ingredients
2

Tbsp

Dark Soy Sauce

(see note)

1/4

cup

Rice Vinegar

1

stalk

Lemongrass, very finely sliced

2

cloves

Shallots, diced

1

tsp

Fresh Ginger, grated

1

lb

Salmon filets

2

Tbsp

Honey

Chopped cilantro, for serving

Rice and / or vegetables, for serving
Instructions
Combine dark soy sauce and rice vinegar. Measure out 1 Tbsp and set it aside for the glaze.

Whisk the remaining dark soy sauce and vinegar with lemongrass, shallots, and ginger.

Cut a few shallow slits through the thickest part of the salmon (this will help it to cook evenly and help the marinade to fully flavor the fish).

Combine the salmon and marinade in a baking dish and refrigerate for 20 minutes.

Preheat oven to 275° F.

If your salmon is skin-on, turn it so it is skin-side down in the baking dish. Spoon some of the marinade over the top.

Bake until salmon flakes easily with a fork and is is opaque in the center, 25-35 minutes (will vary depending on thickness).

Meanwhile, make the glaze by whisking the remaining 1 Tbsp of dark soy sauce and vinegar with honey.

When the salmon is finished cooking, remove it from the oven and flip on the oven's broiler.

Season the top of the salmon with some salt and pepper. Run the salmon under the broiler for 1 to 2 minutes to give it a bit of color.

Drizzle the top of the salmon with the honey glaze. (I like the chewy texture of the sliced lemongrass, but you can scrape the lemongrass off if you'd prefer. It will still have all that great lemongrass flavor.)

Serve immediately topped with cilantro. Enjoy with rice and vegetables if you'd like.
Notes
Dark soy sauce can be found in many standard grocery stores and certainly in any Asian or international market. It is not the same as sweet soy sauce. Dark soy sauce is a thicker, more flavorful version of regular soy sauce (which is what is usually served with sushi). Dark soy sauce makes great sauces and is used in many Thai noodle dishes.
Nutrition
Calories:
203
kcal
|
Carbohydrates:
10
g
|
Protein:
24
g
|
Fat:
7
g
|
Saturated Fat:
1
g
|
Cholesterol:
62
mg
|
Sodium:
554
mg
|
Potassium:
584
mg
|
Fiber:
1
g
|
Sugar:
9
g
|
Vitamin A:
45
IU
|
Calcium:
14
mg
|
Iron:
1
mg
Nutrition information is automatically calculated, so should only be used as an approximation.
Just an early morning cell phone snap of our happy little Valentines last week. Those balloons have spent the past week being moved into each and every room of our house.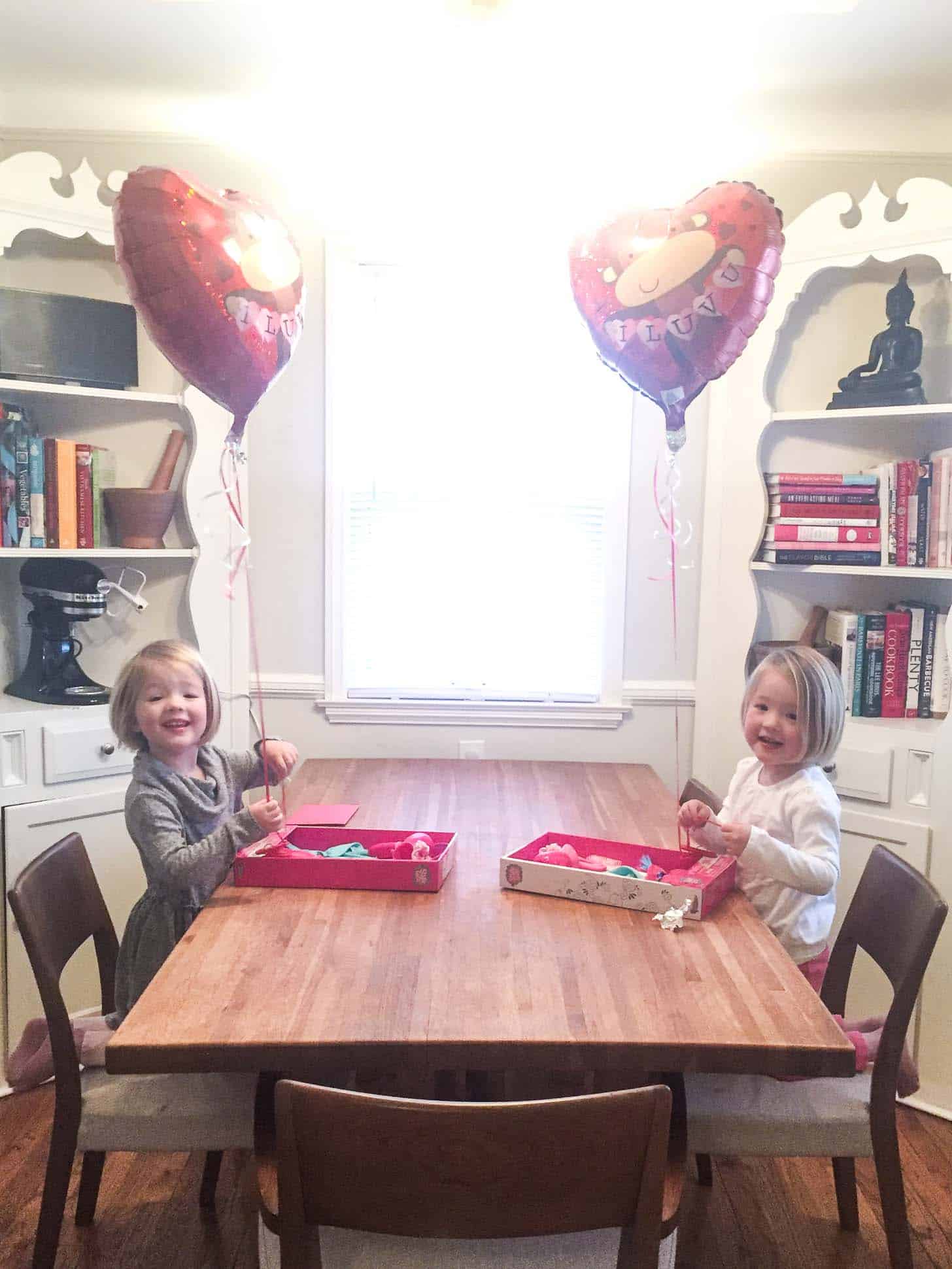 *This post contains affiliate links*
SaveSave
SaveSaveSaveSave
SaveSave
SaveSave
SaveSave
SaveSave
SaveSave