Salmon and Edamame Soba Noodles
Published Mar 07, 2013•Updated Nov 08, 2023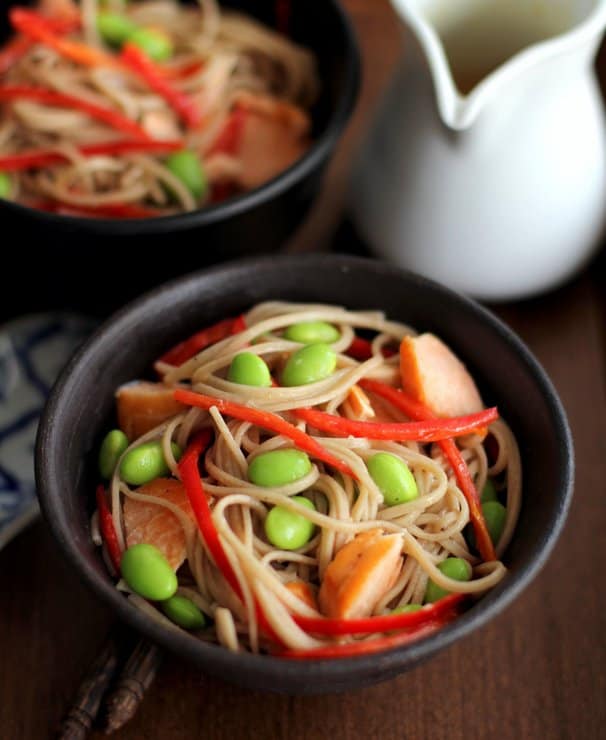 Serve this protein-packed dish of soba noodles, salmon, and edamame in a sweet and sour dressing for a simple, satisfying dinner or quick lunch.
Since my early 20s I've lived in places where people vacation. In Washington D.C., I rode the metro to work half-asleep and surrounded by bright-eyed students buzzing over maps of the city's monuments. In Bangkok, schlepping home in business attire, I pass red-shouldered visitors in sundresses. It's part of the fun, and occasionally part of the challenge, of living and working somewhere that is a destination.
There's an up-side to destination-city living though – daily reminders of all that is good about the city you call home.
All too fast, we have a tendency to overlook the things that make a place special. It becomes my default to gripe about Bangkok's heat or traffic. My mental checklist of new colors and scents and scenes in this city gets dusty from non-use.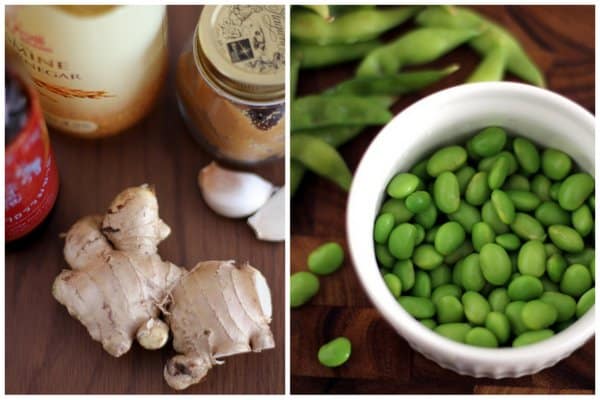 This blog helps, for sure. There's nothing like the practice of writing to remind me of what is unique about a day, a place, or a person.
But the most fun solution is to join all those tourists and see the awesomeness of Thailand through the eyes of someone on vacation. Someone who can spend their days on a lounge chair in the warm shade, sipping fruity drinks without a care in the world except when to apply more sunscreen (to which, for a person as pale as myself, the answer is always now).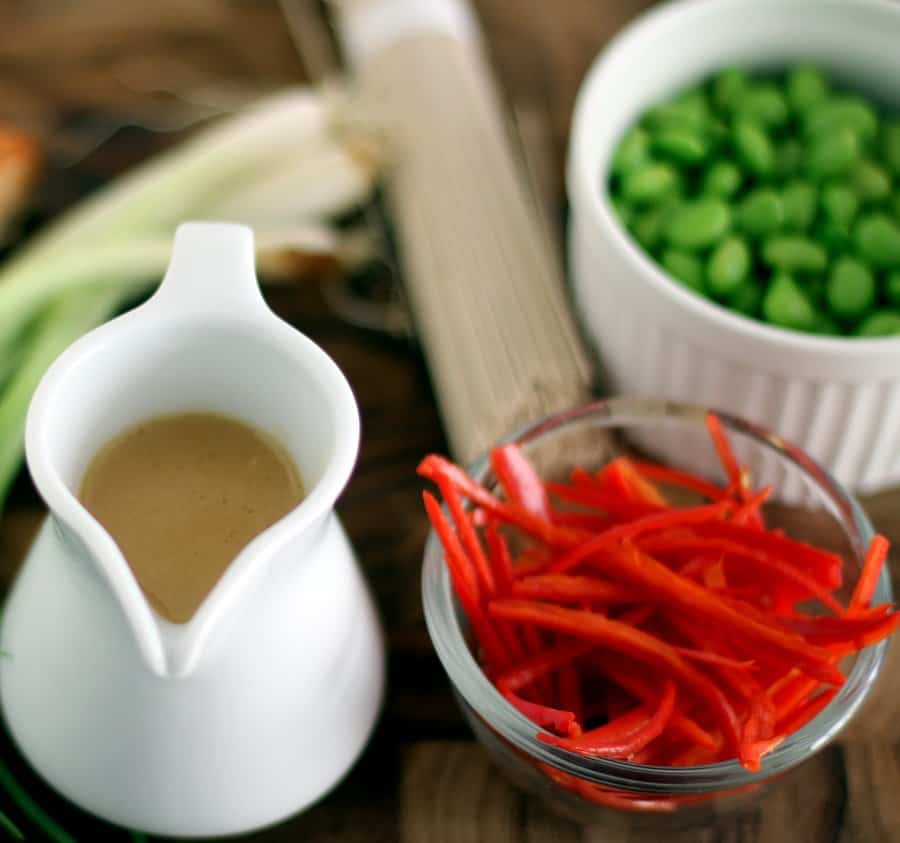 We're hitting the beach with friends starting Saturday. It's going to be an odyssey to get to this Gilligan's Island of a place that requires a flight, a bus, a ferry, and finally, a short transit by long-tail boat.
In preparation, it's been a week of simple, healthy dinners interspersed with a bit of packing and a lot of soaking in the quiet of being home before travel.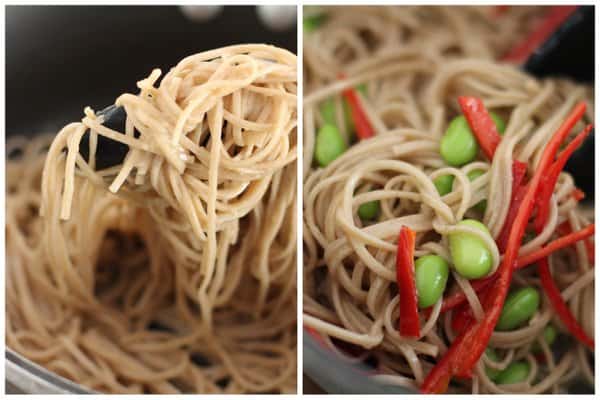 Before going on vacation, I check every corner of my refrigerator the way that others check to be sure all their doors are locked. I like to do a clean sweep, tossing or freezing anything that won't last through our return. No matter how chaotic the rest of our lives are as we close the door and head to the airport, it's that clean refrigerator that signals to me I can leave it all behind.
Some of the best dinners come together thanks to a refusal to go to the store and a desire to render the fridge clean and bare. Salmon and Edamame Soba Noodles is such a meal. It's made special by pantry staples – soba noodles and a simple, tart miso vinaigrette, but the addition of vegetables and a protein make it a complete (and pleasing) dinner. I loved this combination, particularly as leftovers in my lunch – it's brimming with protein and the flavors just get better in the fridge.
The countdown begins. The beach is waiting. In 48 hours, there will be no difference between myself and all those tourists. I'm reclaiming this place and every bit of its beauty.
More Easy Asian Recipes
Favorite Tools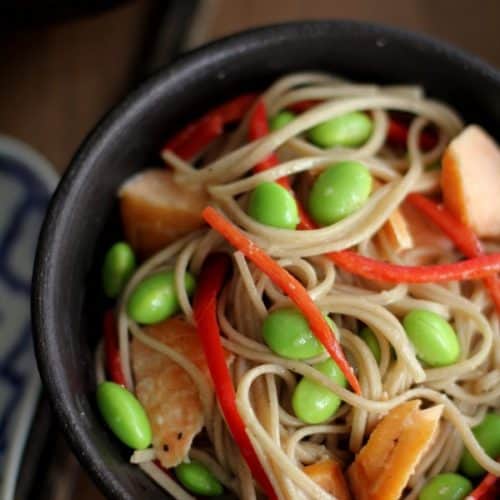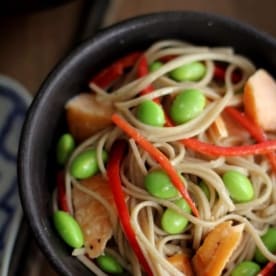 Salmon and Edamame Soba Noodles with Miso Vinaigrette
Serve this protein-packed dish of soba noodles, salmon, and edamame in a sweet and sour dressing for a simple, satisfying dinner or quick lunch.
Equipment
Blender

Half Sheet Pan

Oven-Safe Wire Rack

Mixing Bowl
Ingredients
For the Dressing:
1/3

cup

Rice Vinegar

2

Tbsp

White or Yellow Miso

2

large

Garlic Cloves, peeled

1

Tbsp

Sugar

2

tsp

chopped Fresh Ginger

1

Tbsp

Asian Sesame Oil

1/4

cup

Sunflower Oil
For the Noodles:
4

oz

Salmon Filets

2

tsp

Sunflower Oil

¼

tsp

Salt

¼

tsp

Black Pepper

8

oz

Soba

(Japanese buckwheat noodles)

1

medium

Red Bell Pepper, cut lengthwise into thin strips

½

cup

Shelled Edamame

(soybeans; see note)

4

Scallions, green parts only, cut into 1-inch-long strips

(optional)
Instructions
Purée vinegar, miso, garlic, sugar, ginger, and sesame oil in blender. With machine running, gradually pour in 1/4 cup sunflower oil; blend until mixture is creamy.

Preheat the oven's broiler. Line a baking sheet with aluminum foil. Spray the foil with nonstick cooking spray.

Place salmon directly on the prepared baking sheet, skin side down. Brush the surface of the salmon with sunflower oil and sprinkle with salt and pepper. Place the baking sheet directly under the broiler. Broiled for 6 to 12 minutes (depending on the salmon's thickness) until opaque and easily flaked with a fork. Remove from the oven and allow to cool. When cool, cut salmon into bite-sized pieces and set aside.

Cook noodles according to package directions. Drain in a colander and rinse well under cold water, then drain again, thoroughly. Transfer the noodles to a large mixing bowl. Slowly add the miso dressing, tossing gently, just until the noodles are coated. (You may not need all of the dressing right away. Serve any additional dressing on the side.)

Add all remaining ingredients, including salmon pieces to the noodles. Toss gently. (This noodle bowl can be served at any temperature, although I liked it best when slightly chilled.)
Notes
Edamame can often be found in the freezer section of the grocery store.
Nutrition
Calories:
415
kcal
|
Carbohydrates:
31
g
|
Protein:
13
g
|
Fat:
25
g
|
Saturated Fat:
3
g
|
Cholesterol:
18
mg
|
Sodium:
596
mg
|
Fiber:
3
g
|
Sugar:
6
g
Nutrition information is automatically calculated, so should only be used as an approximation.