Thai Salad Dressing
Published Feb 10, 2020•Updated Jun 07, 2023
Use this simple four-ingredient Thai Salad Dressing to make your favorite authentic Thai salads. Adjust the flavors as you'd like – adding more sweet, sour, savory, or spicy notes.
Thai salads are different than Western-style salads. Even though we call them "salads", they aren't often made with lettuce or other greens and they typically focus on a balance of the key flavors used in Thai cooking – sweet, sour, savory, and spicy. When we lived in Bangkok, these salads were perfect lunch fare. In the heat of the day, they are simultaneously satisfying, cooling, and give you a big burst of flavor to help you power through the rest of the afternoon. And this dressing is what makes all those great Thai flavors POP.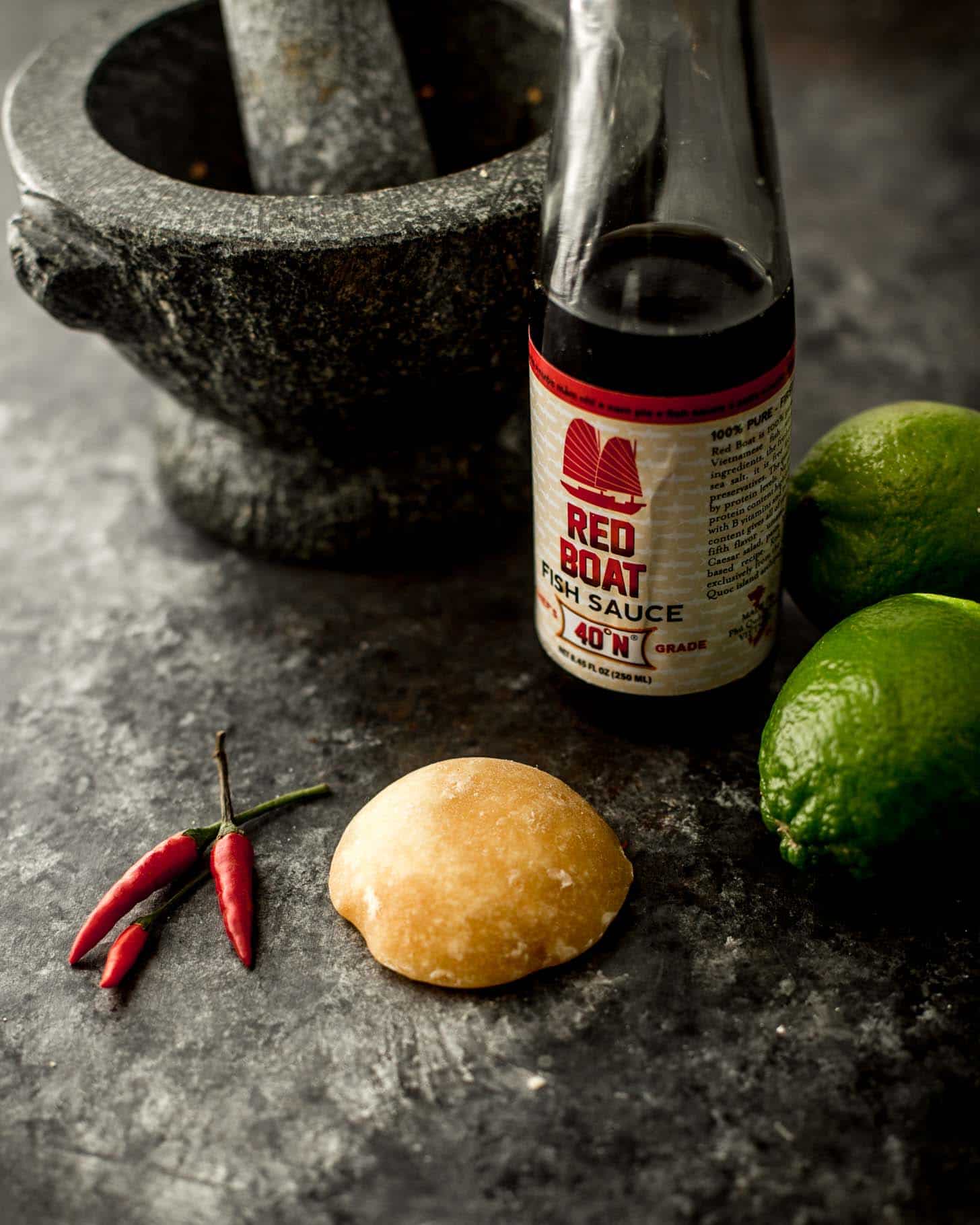 The beauty of mastering this simple dressing is that you can take the basic recipe below and adjust it until it tastes just exactly the way you like it. Don't like spice? Reduce the amount of chili! Prefer things more sour than sweet? Amp up the lime.
Once you've made this dressing, you're just a few ingredients away from some seriously amazing Thai salads – Green Papaya Salad (Som Tam), Spicy Thai Pomelo Salad (Yam Som O), Glass Noodle Salad (Yam Woon Sen), or Thai Beef Salad (Nam Tok).
Here's how to make it!
Thai Salad Dressing Ingredients
Bird's Eye Chilis

– These super spicy tiny chilis are the traditional source of heat in this dressing. See the recipe below for some tips on handling these. Be careful! They can make your hands burn. Want to tone down the heat? Check out the

Guide to Essential Thai Ingredients

for other chilis you could substitute if you want a little less spice. Dried red pepper flakes would work in a pinch!

Palm Sugar

– Palm sugar is less sweet than white / granulated sugar and is the traditional sugar used in Thai cooking. It's easy to find at an international / Asian grocery store and comes dried in rounds that are about ¼ cup each. The beauty of this sugar is that it has a lot of flavor – it's slightly citrusy and has just a hint of caramel flavor. If you don't have palm sugar, try light brown sugar in its place.

Lime Juice

– It wouldn't be Thai food without lots of fresh lime juice!

Fish Sauce

– Fish sauce has tons of classic Thai savory flavor. Don't be afraid of this rich, savory ingredient. If you want to make a vegetarian version, light Thai soy sauce would be a good option.
How to Make Thai Dressing
For Thai Dressing, a mortar and pestle is a perfect tool. This tool allows you to gently mash the firmer ingredients together until they form a smooth paste. You can also just finely chop the peppers and whisk everything together.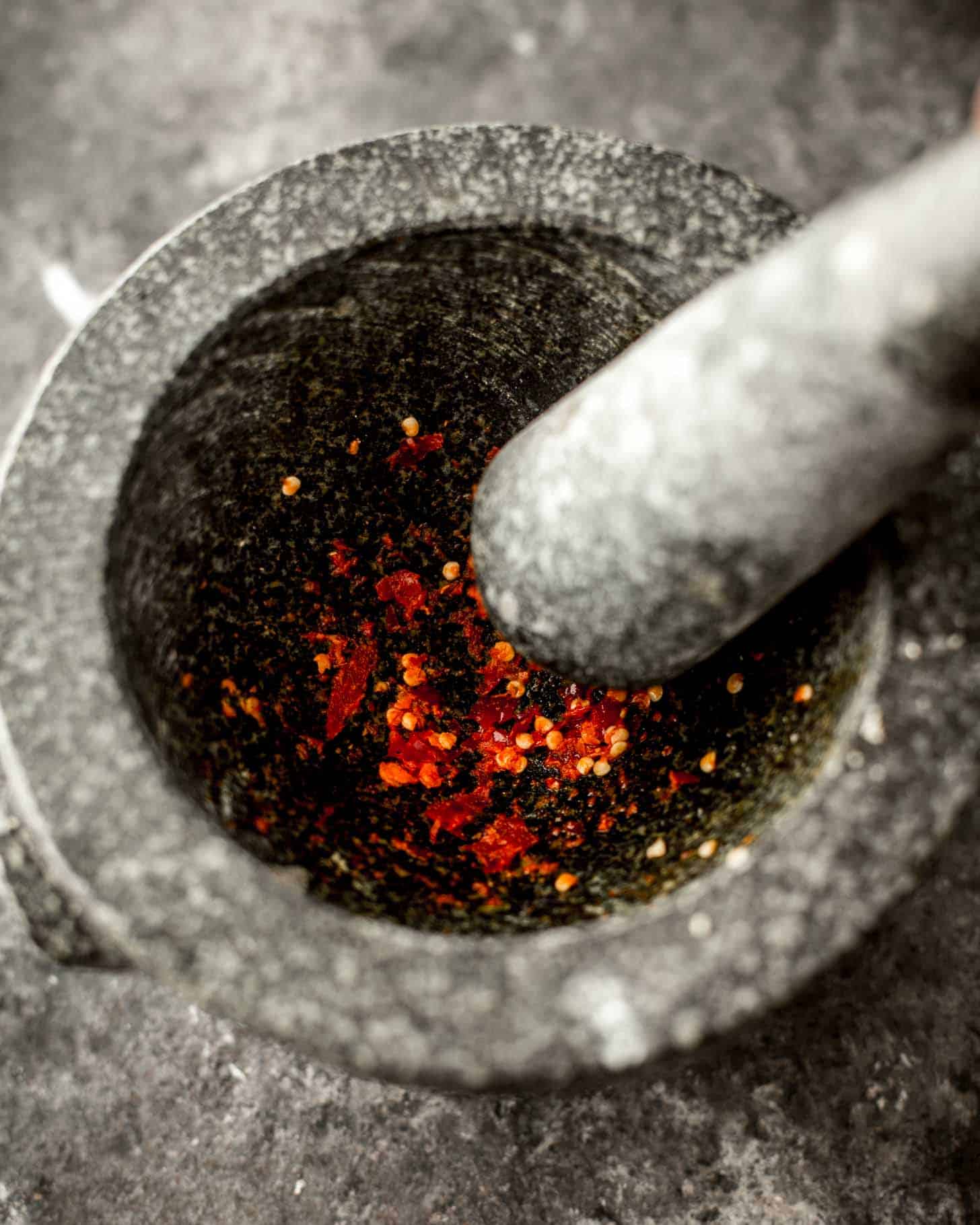 The Secret to a Great Thai Dressing – Taste and Adjust
The secret to making a Thai dressing that you'll absolutely love is the same "secret" to making any great Thai food at home – taste and adjust! It is extremely common to order a salad from a street vendor in Thailand and have them give you a taste while they're still making it. That's your cue to tell them if you'd like more of a flavor. Do the same thing at home! Taste your dressing and add more of whatever flavor you like best.
How to Use Palm Sugar
When I lived in Thailand, I could get a smooth, paste version of palm sugar that was extremely fresh and also extremely easy to measure. Outside of Thailand, most palm sugar comes in hard, solid blocks. You can soak the sugar in some warm water which will quickly dissolve it into liquid form. Most often though, I opt for the fastest method which is to chop it into large pieces or grate it with a Microplane. If you are going to pound it in a mortar and pestle (as in this recipe), it's easiest just to chop off large chunks and eyeball the amount you use. As noted above, you can always add more after you taste the dressing!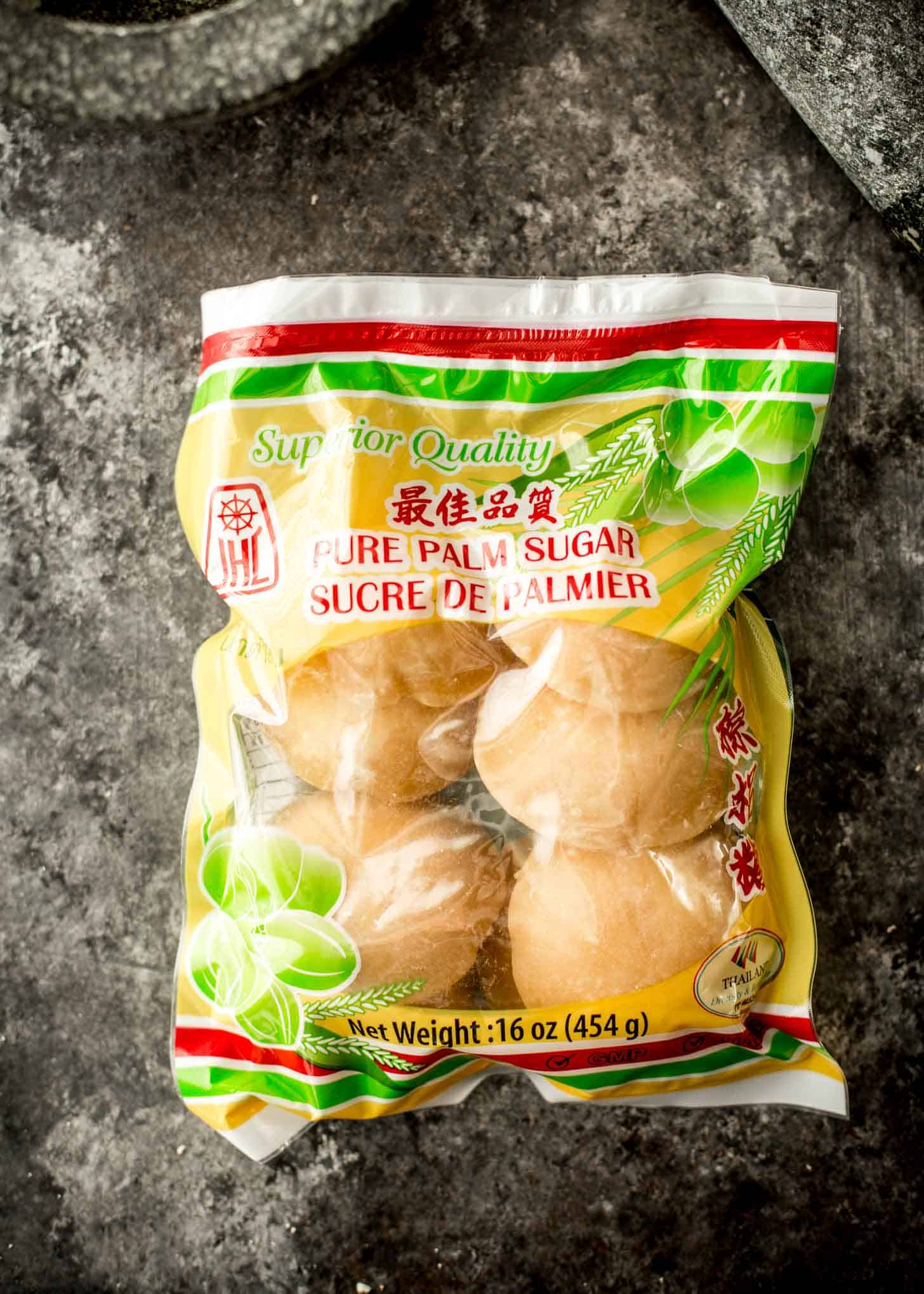 More Easy Thai Recipes
Favorite Tools
Microplane

– The best tool I've found for grating palm sugar. As noted above, you can also just chop off large pieces.

Mortar and Pestle – This

is a worthwhile investment for making small batches of dressing like this one, experimenting with more Thai food from scratch, or if you like to occasionally grind your own spices.

Wooden Citrus Reamer – This inexpensive, simple tool is great for extracting all of the juice from citrus fruit.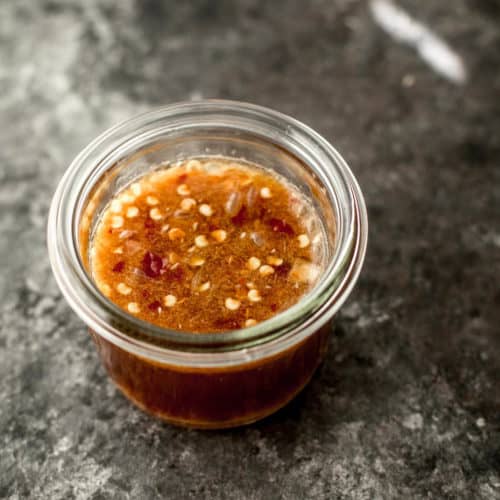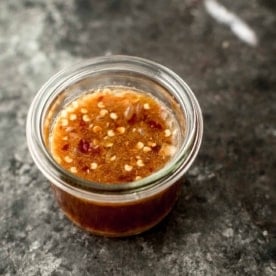 Thai Salad Dressing Recipe
Use this simple four-ingredient dressing to make your favorite authentic Thai salads. Adjust the flavors as you'd like – adding more sweet, sour, savory, or spicy ingredients.
This recipe makes about 1/3 cup of dressing.
Want to adjust the servings in this recipe to make more or less? Just click on the number next to "servings" and you can easily scale the recipe.
Ingredients
2

Bird's Eye Chilis

2

tablespoons

grated palm sugar

(substitute brown sugar)

3

tablespoons

lime juice

1

tablespoon

fish sauce
Instructions
In a mortar and pestle, grind the chilies into a paste.

Add palm sugar to the mortar and grind the ingredients together until sugar is dissolved.

Add fish sauce and lime juice and swirl the pestle around to mix.

Taste the dressing and adjust as you'd like, adding more of any of the components.

Store dressing in the refrigerator for up to 5 days. Just give it a stir before using.
Notes
Don't have a mortar and pestle? No problem. Just finely chop the chilis (see note below) and whisk everything together.
Be careful when handling Bird's Eye Chilis. They can leave your hands burning for days. It's a great idea to wear gloves when working with them. And be careful to never touch your face after touching one of these super spicy chilis.
Nutrition
Calories:
13
kcal
|
Carbohydrates:
3
g
|
Protein:
0.2
g
|
Fat:
0.01
g
|
Polyunsaturated Fat:
0.003
g
|
Sodium:
183
mg
|
Potassium:
16
mg
|
Fiber:
0.03
g
|
Sugar:
2
g
|
Vitamin A:
12
IU
|
Vitamin C:
4
mg
|
Calcium:
2
mg
|
Iron:
0.03
mg
Nutrition information is automatically calculated, so should only be used as an approximation.