Easy Pad Thai
Published May 05, 2022•Updated Dec 06, 2023
Skip the takeout and meet your new favorite homemade meal – Easy Pad Thai! This popular Thai noodle dish uses ingredients you can find at any grocery store and can include chicken, shrimp, or tofu.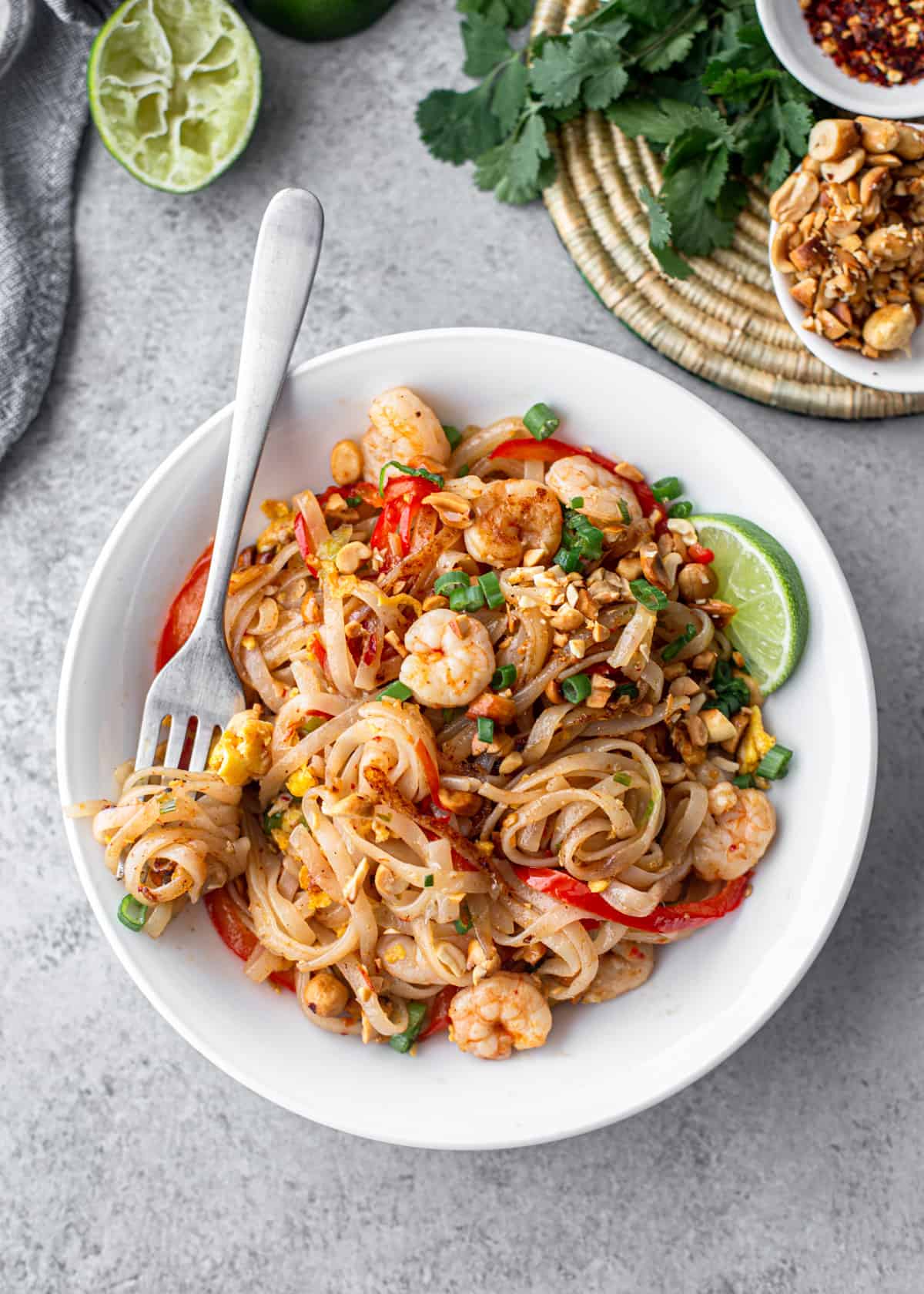 You can never have too many easy takeout-inspired recipes and if you love noodle dishes as much as I do, Pad Thai should be in your repertoire.
This is the Pad Thai that you make when you really want to order takeout but are trying to cook more at home. It can be thrown together even while hungry kids are hanging around the kitchen. Best of all, it is made with ingredients you can find at any grocery store, though we've included many variations in the recipe below.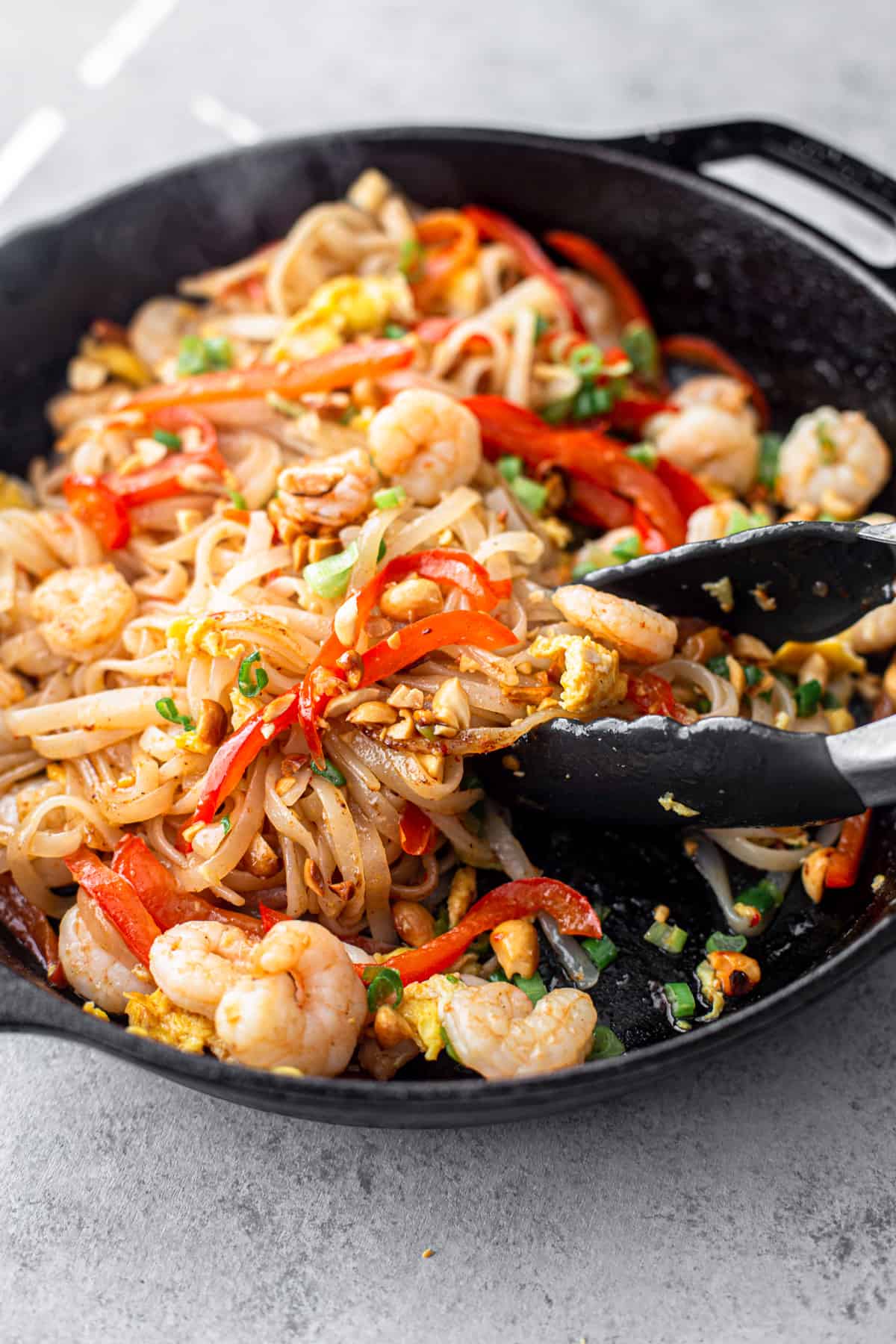 What is Pad Thai?
Pad Thai is a noodle stir-fry that was invented in Thailand in the 1930s and has become one of the most beloved Thai dishes around the world. It is made with thin, flat rice noodles tossed in a sweet, savory, slightly sour sauce. There are many variations but it typically includes crushed peanuts, scrambled eggs, and a protein like tofu, shrimp, or chicken.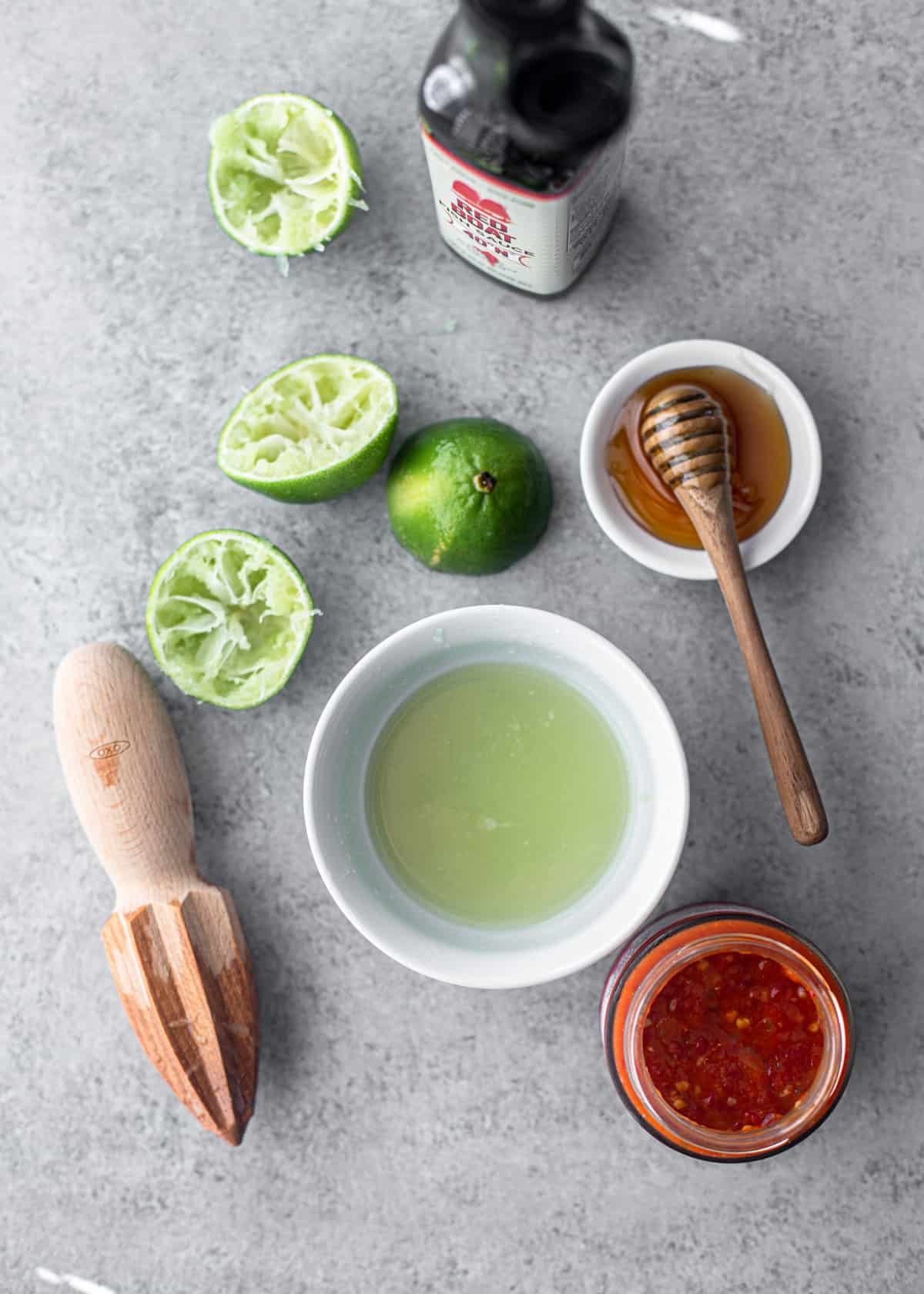 Ingredients in Pad Thai
Pad Thai Rice Noodles – These are made entirely of rice and are similar in shape and thickness to fettuccine.
Protein of Choice – Choose your favorite – chicken, shrimp, or extra-firm tofu are all great.
Pad Thai Sauce – This signature sauce should be sweet, savory, and slightly sour. An easy way to get this balance of flavors is with honey, lime juice, soy sauce, and fish sauce. Add chili-garlic sauce, Sriracha, or another spicy sauce adds another layer of flavor, but feel free to skip or serve it on the side if you prefer. Tamarind pulp will give the sauce even more authentic flavor. If you have this ingredient, try my recipe for Pad Thai Sauce with tamarind pulp.
Cooking Oil – Any type will work. Peanut oil will impart a bit more of that peanut flavor, but vegetable oil, grapeseed oil, or avocado oil are other great neutral-flavored choices.
Eggs – Scrambled eggs are a classic addition and give the dish texture.
Roasted, Salted Peanuts – Don't skip these! They add so much flavor and crunch.
Green Onions, Bean Sprouts, Lime Wedges, Hot Sauce / Red Pepper Flakes – These add flavor, texture, and color. Feel free to use all or just a few.
Garlic Chives, Pickled Radish, Dried Shrimp (optional) – These ingredients are optional but give the dish even more authentic flavor and texture. For more details on these ingredients, check out this post on How to Make Authentic Pad Thai.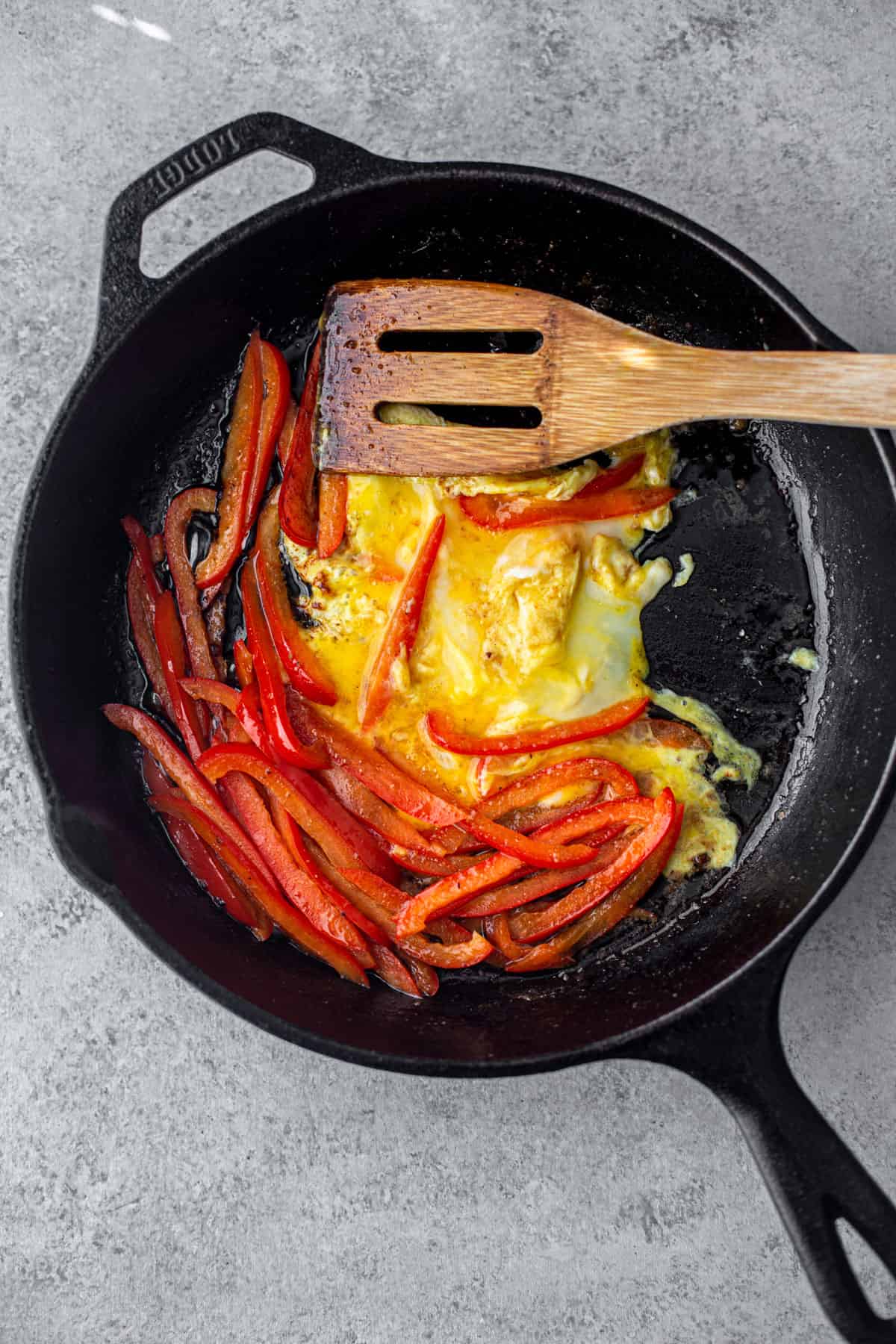 How to Make Pad Thai
Prep ingredients. Make sauce and chop protein and any add-ins.
Cook rice noodles. Follow package instructions to cook rice noodles.
Cook protein. In a hot skillet, cook chicken, shrimp, or extra-firm tofu until golden on the outside. Add a small portion of sauce to coat the protein.
Add eggs. Add eggs and scramble lightly.
Add noodles. Fold everything together gently.
Add all remaining ingredients. Stir in remaining sauce and add-ins. Cook until noodles are coated in sauce.
Serve with chopped peanuts on top. Enjoy!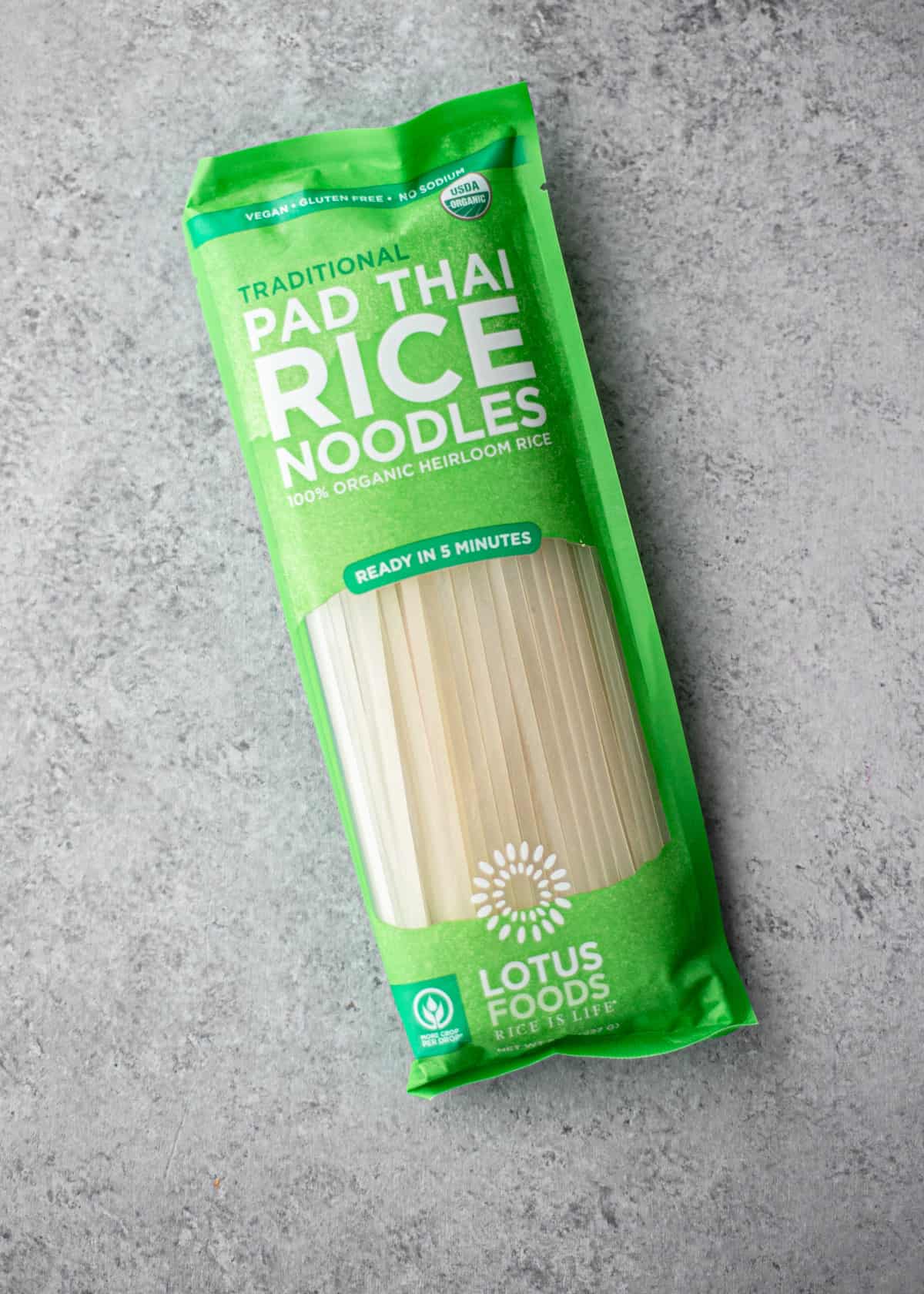 How to properly cook rice noodles
Rice noodles are more fragile than wheat-based noodles. They cook quickly but need to be cooked properly to hold their shape. To cook rice noodles, place them in a large bowl, breaking them apart if needed so that they sit below the edge of the bowl. Pour boiling water over top of the noodles. Stir the noodles gently until they are tender but still firm, 3 to 8 minutes (depending on thickness). If the noodles will be used in a stir-fry like Pad Thai, be sure not to overcook them or they will turn mushy when added to the hot skillet.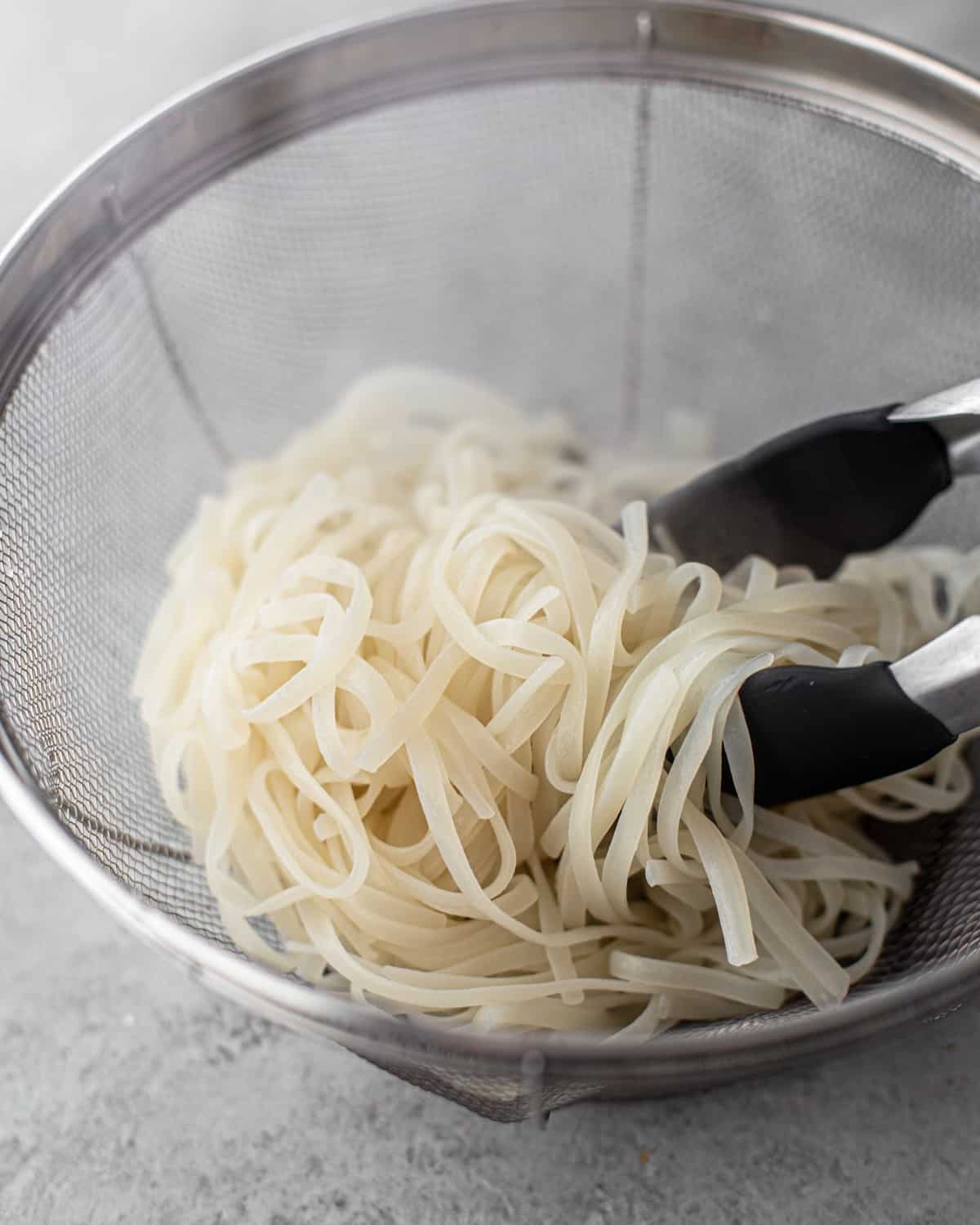 Why Add Sauce in Multiple Parts
Adding the sauce a little at a time throughout the cooking process insures that it has a chance to flavor all of the ingredients without just ending up in a puddle at the bottom of the pan. If you add a bit of sauce with the protein, a bit more when the noodles are first added so that they soak it up, and then the rest at the end so it coats all of the ingredients each element of the dish will have maximum flavor.
If you were working over a restaurant-style wok that cooks over very intense heat, you wouldn't need to do this, but this adaptation is the best way to make a homemade stir-fry noodle dish look and taste like restaurant takeout.
This is the same method I use to make Honey Ginger Chicken and Sticky Cashew Chicken.
FAQs
What Makes Pad Thai Red?
If you've ever had Pad Thai with a red tint, the source likely depends on where you're eating it. If you're eating an authentic version in Thailand, the color most likely comes from tamarind paste / concentrate. Tamarind is a fruit with a sweet and tart flavor and a brownish-red tint. If you're eating Pad Thai in other parts of the world where tamarind is not common, the red color often comes from ketchup which also has a sweet and tart flavor.

Some recipes online include paprika, chili powder, or cayenne which would give this noodle dish a reddish tint, but these are not flavors that are traditionally found in Pad Thai.
Is Pad Thai Spicy?
Most Pad Thai is not spicy on its own. The main flavors are sweet, sour, and savory. However, like many dishes in Thailand, Pad Thai is usually served with garnishes so that you can customize the noodles yourself making it spicy (with red chili flakes or chili-laced fish sauce), more sweet (with sugar), more savory (with fish sauce), more sour (with limes), or more herbal (with cilantro or green onions / Chinese chives).
Is Pad Thai Made with Peanut Butter?
Commercial peanut butter is not a typical ingredient in Pad Thai. However, it's very common to add chopped peanuts for texture and flavor.

If you want to add peanut butter to the sauce, go for it! A tablespoon added to the sauce would be delicious. When I think of peanut butter and noodles together, I picture a dish that's not as sweet and tart as Pad Thai – something more like these Thai Peanut Noodles.
What if I Want More Sauce?
I see you sauce-lovers! I love some saucy noodles, but Pad Thai is not usually a dish with pools of sauce at the bottom. The method above to add the sauce in several increments will result in noodles that are coated in a thin layer of sauce.

If you want more sauce, go for it! Feel free to increase the sauce ingredients listed, or add a couple Tablespoons of water to the sauce which will increase the volume without intensifying the flavors.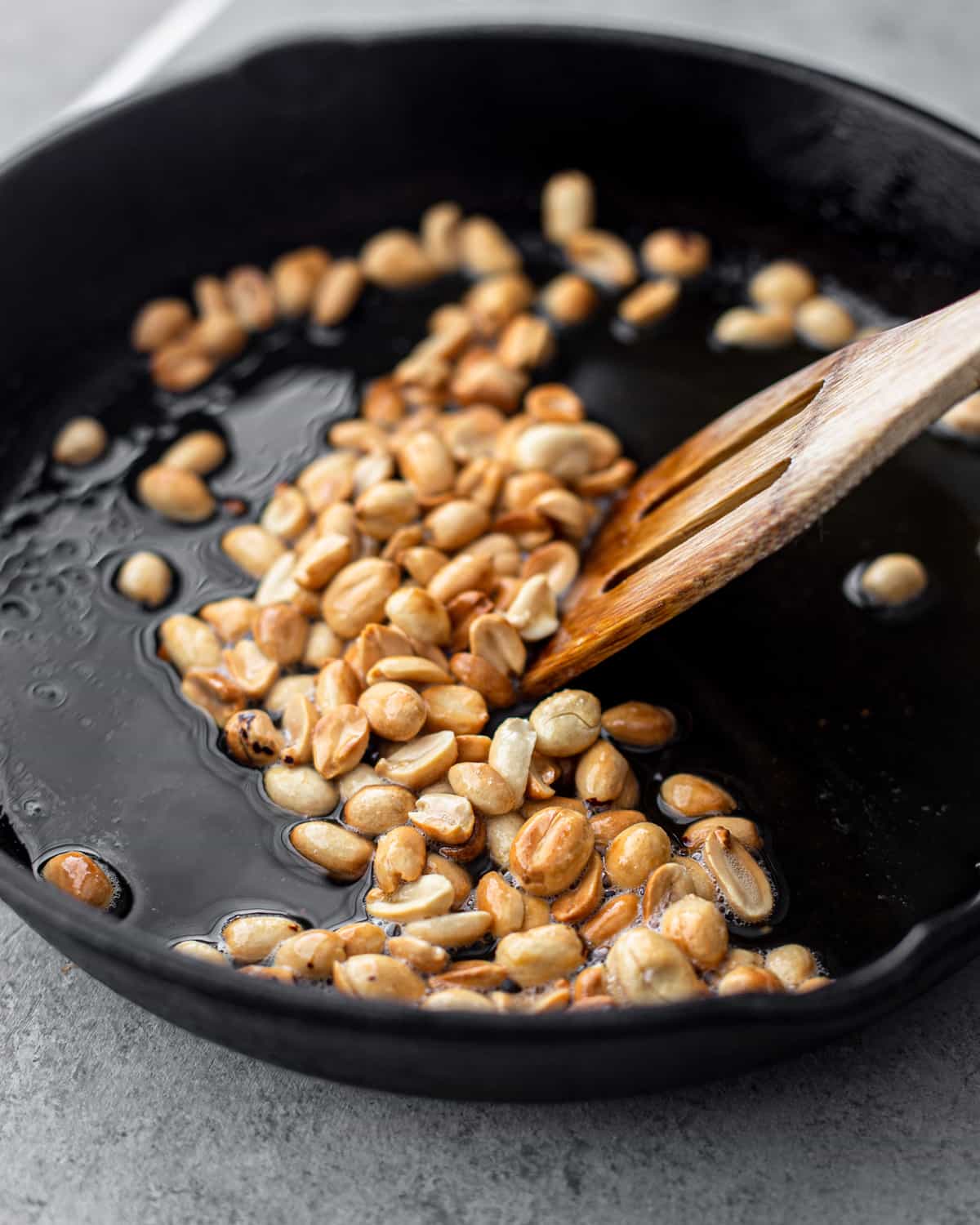 What to Serve with Pad Thai
In Thailand, meals are served family style with many shared dishes placed in the middle of the table. Serve Pad Thai with a green vegetable like sautéed greens or broccoli, Crispy Spring Rolls, and a Thai-style soup like Tom Yum Goong. Add Thai Iced Tea to complete the Thai restaurant experience!
Variations
Make it Gluten-Free –

Just use Tamari instead of soy sauce. If using hot sauce, be sure to use one that is gluten-free.

Make it Vegetarian

– This recipe is great with tofu, but you can also skip the protein entirely and / or add extra vegetables.

Add Vegetables

– Any vegetables are great in this dish. Using shredded cabbage / coleslaw mix or zucchini noodles in place of some of the rice noodles is a great way to increase the veggies here.
Favorite Tools for Asian-Inspired Recipes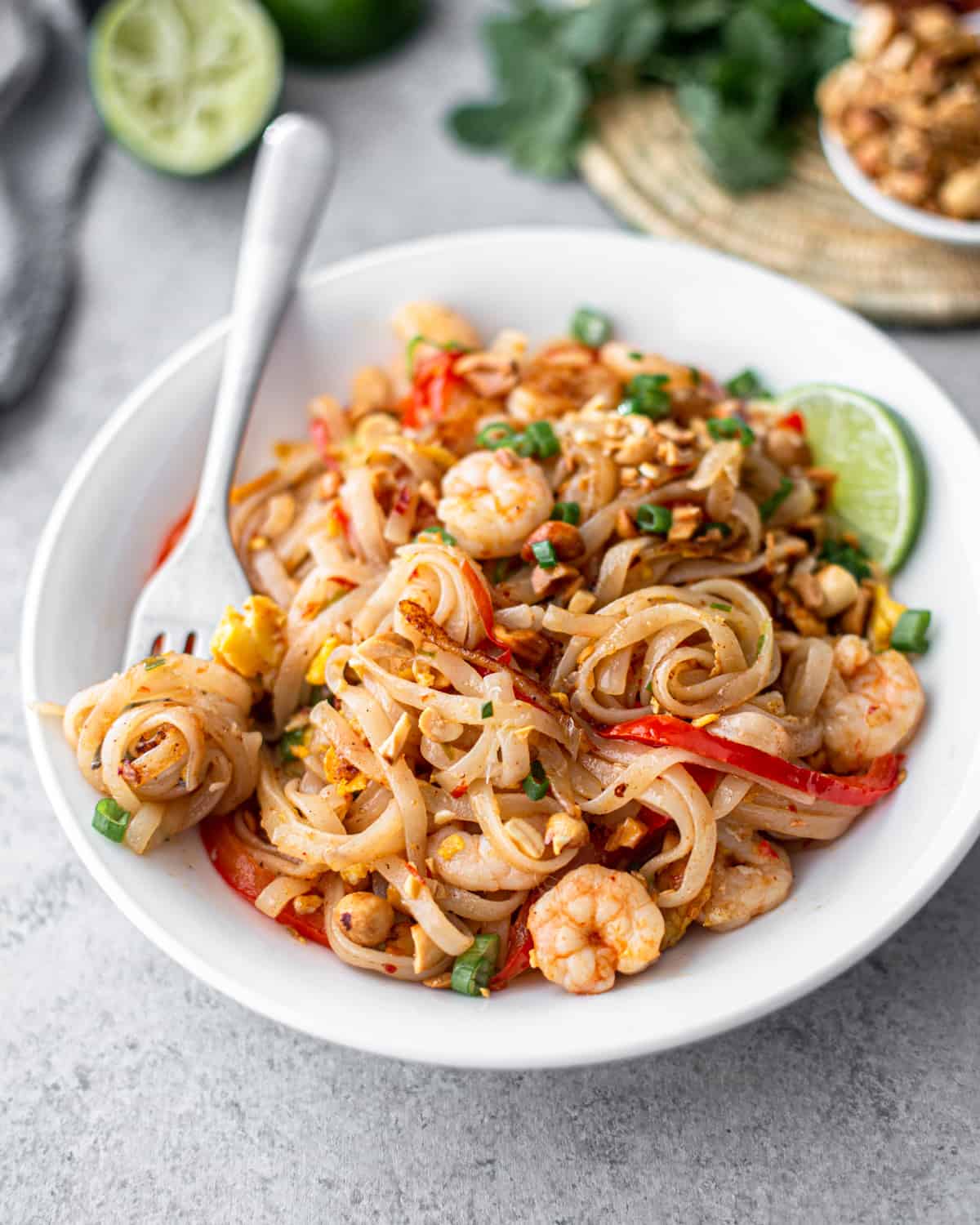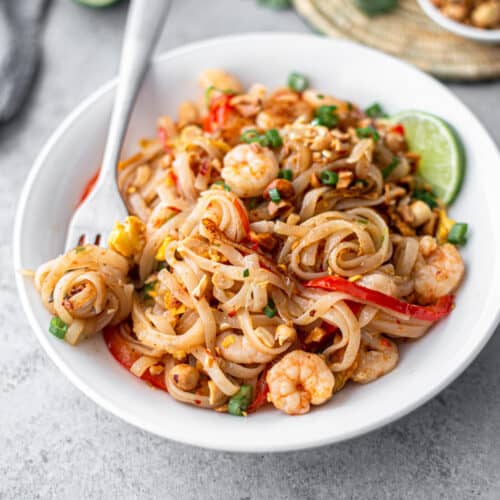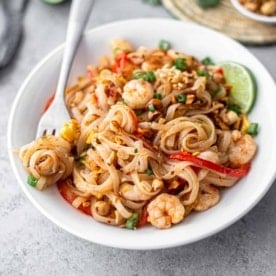 Easy Pad Thai Recipe
Skip the takeout and meet your new favorite homemade meal – Easy Pad Thai! This popular Thai noodle dish uses ingredients you can find at any grocery store and can include chicken, shrimp, or tofu.
Equipment
Saucepan

Wok or Large Nonstick Pan

Colander
Ingredients
Pad Thai Sauce:
3

tablespoons

honey

(sub brown sugar or maple syrup)

2

tablespoons

lime juice

2

tablespoons

soy sauce

(use Tamari for gluten-free)

1 1/2

tablespoons

fish sauce

(see note)

2

teaspoons

chili-garlic sauce

(optional; see note)
For the Noodles:
6

ounces

pad Thai rice noodles

3

tablespoons

cooking oil, divided

6

ounces

shrimp, chicken, or extra-firm tofu

(if using tofu or chicken, chop into pieces)

1

cup

finely sliced red bell pepper

1

large eggs, whisked

1/4

cup

roasted, salted peanuts, roughly chopped

(see note)

4

green onions, chopped

extra peanuts, lime wedges, bean sprouts, red pepper flakes

(optional, for topping)
Instructions
Cook noodles according to package directions. (Note: Be very careful not to overcook the noodles. They will continue to cook slightly when added to the stir-fry.)

Stir together all ingredients for sauce. Taste the sauce and adjust, adding more honey if you'd like it more sweet, more soy sauce or fish sauce if you'd like it more salty. (Tasting and adjusting the sauce at this stage is important; some limes are more sour than others, so you may need to balance it out.) Set aside.

Set all of the ingredients near the stove. Put a Tablespoon measuring spoon in the sauce so you can add it to the noodles a little at a time.

Heat a large nonstick skillet, cast iron skillet, or wok over medium heat. Add 2 Tablespoons oil.

To heated oil, add tofu / chicken / shrimp and saute. When protein is browned on the outside (but not cooked all the way through), 2 Tablespoons sauce and bell pepper. Continue cooking until sauce coats protein and peppers are nearly tender, 2 to 3 minutes more.

Move protein and pepper to one side of the pan and add 1 Tablespoon of oil to the open space in the center. Pour eggs over oil. Scramble gently, 2 to 3 minutes.

Add noodles and 2 Tablespoons of sauce to the pan and stir until the noodles have absorbed the sauce. (The noodles should loosen up as they cook in the sauce, but add a splash of water if they stick together.)

Add all remaining sauce and continue cooking, gently folding everything together together until sauce cooks down and coats noodles, 2 to 3 minutes more.

Stir in green onions and about half of the peanuts (reserve the rest for sprinkling on top).

Divide between bowls and serve with toppings!
Notes
Cooking Oil –
Any type will work. Peanut oil will impart a bit more of that peanut flavor, but vegetable oil, grapeseed oil, or avocado oil are other great choices.
Honey
– Honey is really important here – it not only gives the sauce its signature sweetness, but it gives a thick substantial texture that really coats the noodles. If you're looking for vegan option, you can use brown sugar or maple syrup as a substitute.
Fish Sauce
– If you want the most authentic umami flavor, don't skip the fish sauce. If needed, soy sauce, Tamari, or coconut aminos can be used as a substitute.
Chili Garlic Sauce
– I like to use either a Chinese-style chili garlic sauce or Sambal Oelek (some brands include garlic and others are just chilis, vinegar, and salt). Sriracha works well here too. Adjust the amount used according to your spice preference.
Peanuts
– If you'd like to add more flavor to the peanuts, add the whole peanuts to heated oil (do not chop them first). Saute just until peanuts are starting to turn golden, 2 to 3 minutes. Use a slotted spoon to remove, leaving remaining oil in the pan. Use the remaining oil to cook the protein.
Nutrition
Serving:
2
cups
|
Calories:
555
kcal
|
Carbohydrates:
72
g
|
Protein:
14
g
|
Fat:
24
g
|
Saturated Fat:
3
g
|
Polyunsaturated Fat:
8
g
|
Monounsaturated Fat:
13
g
|
Trans Fat:
0.1
g
|
Cholesterol:
55
mg
|
Sodium:
1723
mg
|
Potassium:
250
mg
|
Fiber:
3
g
|
Sugar:
19
g
|
Vitamin A:
245
IU
|
Vitamin C:
6
mg
|
Calcium:
122
mg
|
Iron:
2
mg
Nutrition information is automatically calculated, so should only be used as an approximation.