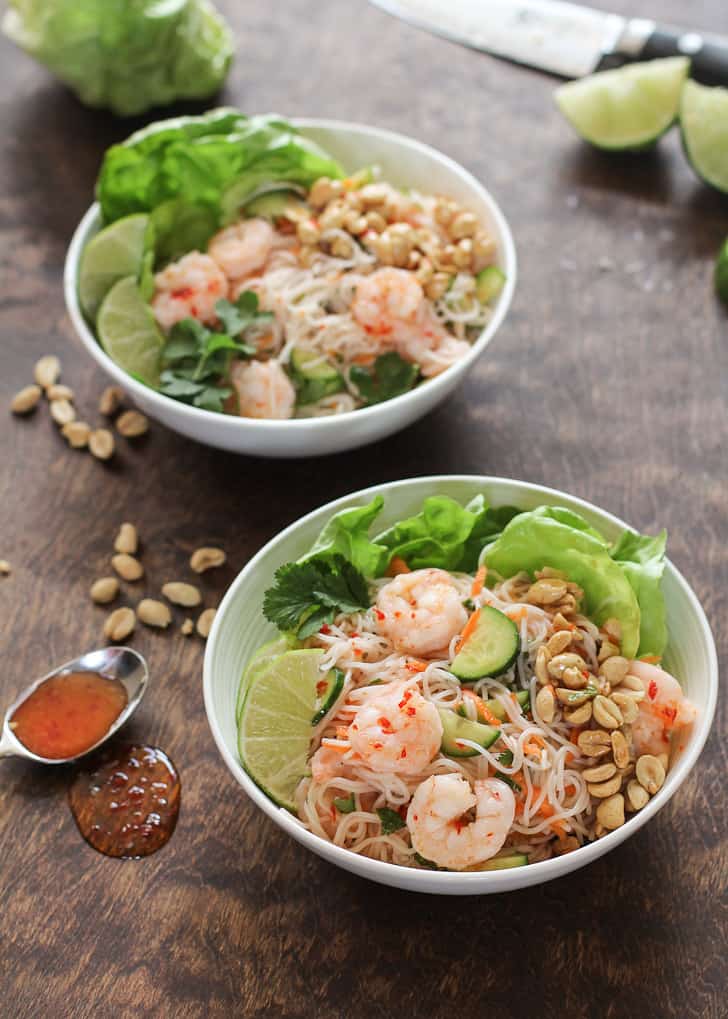 Even if you're not sitting on a plastic stool in the Southeast Asian heat, you'll love these fresh Vietnamese shrimp noodle bowls with a sweet, tart citrus dressing and plenty of fresh herbs.
The weather is getting warmer, the days are getting longer, and fresh noodle bowls that can be served warm or chilled are begging to be brought into the lunch rotation. With a dressing that is a bit sweet, a bit tart, and has a tiny hint of chili heat, this is the perfect one-bowl meal to get your head in the warmer weather game.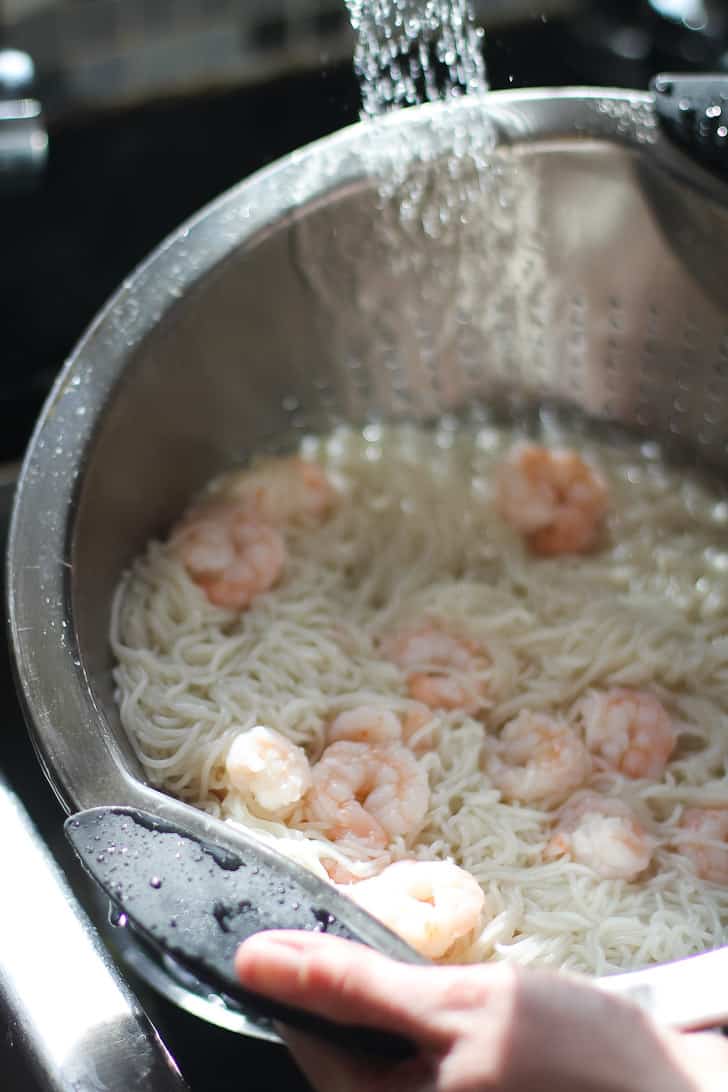 Testing and photographing food like this makes Frank and I get all sorts of nostalgic for Southeast Asia. We miss a lot of things about living in Bangkok, but the lunch routine is a big one. Nearly any street in Bangkok on a sunny afternoon offers a dozen variations on this for lunch.
We would sit on wobbly plastic stools under plastic umbrellas that cast a red hue over everything and slurp noodle bowls as full of flavor and color as the activity on the surrounding street.
This bowl, and namely its light dressing, more closely resembles Vietnamese-style noodles than Thai. Like many Vietnamese dishes, fresh herbs (cilantro and mint here) give it a punchy herb kick.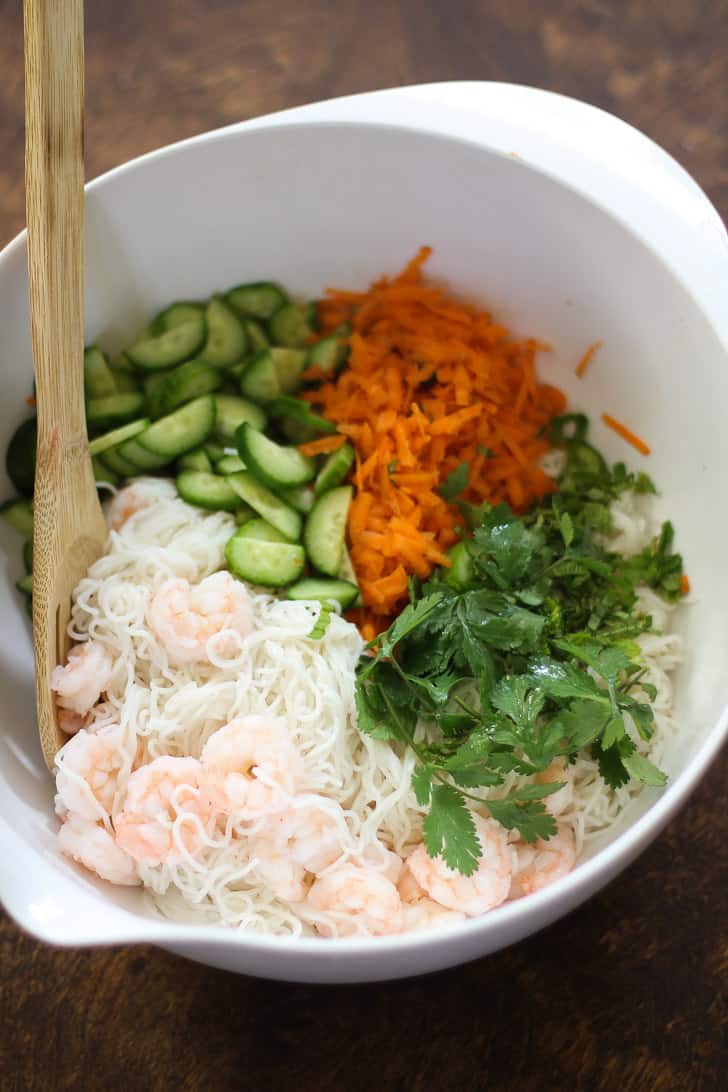 And the dressing for all this flavorful goodness? It's nothing more than a fancy-ed up version of Thai Sweet Chili Sauce.
I've said it before, and I'll say it again...Thai Sweet Chili Sauce might be my favorite condiment. It's sweet, tart, a tiny bit spicy, and super easy to make at home (or buy...hello T. Joe's).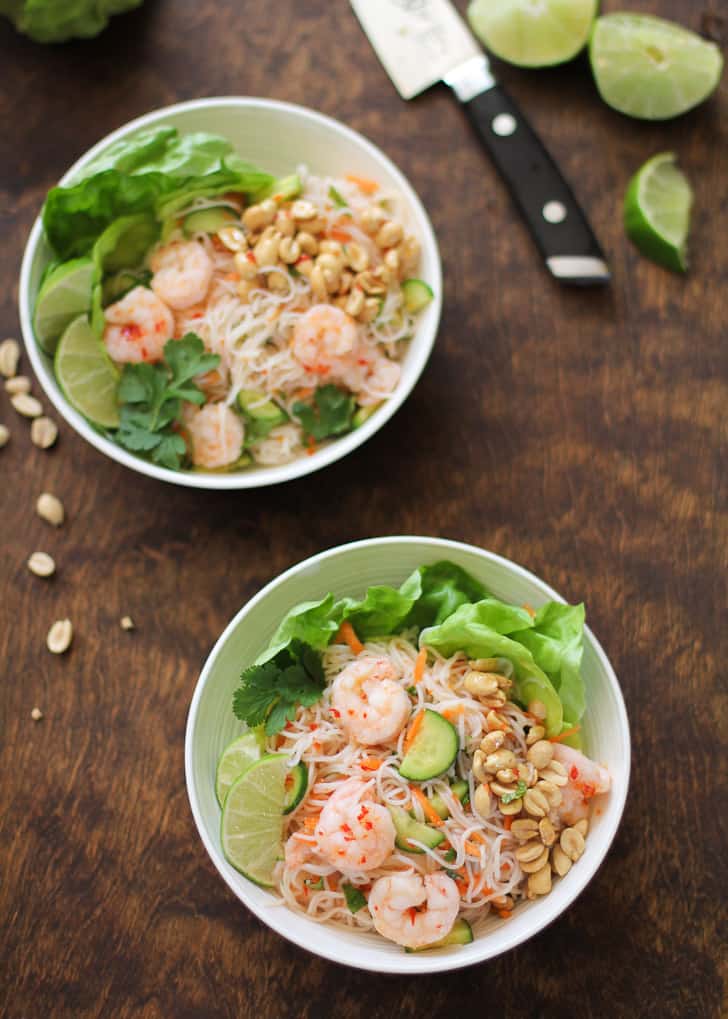 Hope the sun is shining wherever you are, but even if it's dark and gloomy, these fresh noodle bowls are guaranteed to bring virtual sunshine to your kitchen table.
Some of our Favorite Asian Dishes
Favorite Tools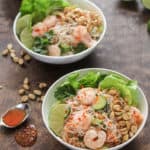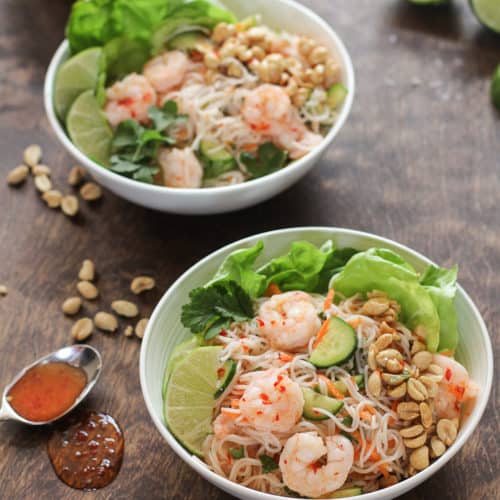 Print Recipe
Vietnamese Shrimp Noodle Bowls
Fresh, sweet, and tart, Vietnamese Noodle Bowls are made for warm weather. They are great served chilled, so can be made ahead and refrigerated for up to a day. This is a unique salad to take to a potluck, and is always a hit!
Equipment
Mixing Bowls

Colander

Stockpot
Ingredients
Dressing:
<span></span>4 tablespoon Thai Sweet Chili Sauce

(store-bought or using this easy recipe)

2

tablespoon

Water

2

tablespoon

Lime Juice

<span class="mceItemHidden" data-mce-bogus="1"><span></span>2 teaspoon Fish Sauce </span>

(sub soy sauce or tamari)
Noodle Bowl:
6

oz

Rice Vermicelli Noodles

(see note)

1

lb

Shrimp, peeled and deveined

(use the smallest shrimp size shrimp you can find)

1

cup

Shredded Carrot

3

small

Cucumbers, halved and chopped

⅓

cup

Cilantro leaves, chopped

¼

cup

Mint leaves, chopped

½

cup

Peanuts, roasted and unsalted

<span class="mceItemHidden" data-mce-bogus="1"><span></span>1 head Butterhead Lettuce</span>

1

Lime, sliced into wedges
Instructions
Make the dressing by whisking together sweet chili sauce, water, lime juice, and fish sauce. Taste and adjust if you'd like. (Add lime juice for more tartness, fish sauce for more salt, or a pinch of sugar if you want it more sweet.)

Dressing can be made and refrigerated up to a week ahead.

Put rice noodles in a large mixing bowl. Place a colander over the bowl (on top of the noodles) and set aside.

Bring a large pot of water to a boil. Add shrimp to boiling water and boil until cooked through, 2-3 minutes.

When shrimp are finished cooking pour them into the colander so that the boiling water covers the noodles and the cooked shrimp remain in the colander. Set shrimp aside and let noodles soak until tender, 5-6 minutes. Drain noodles in the same colander as the shrimp.

Combine noodles and shrimp with shredded carrot, cucumbers, cilantro, mint and peanuts. Add dressing and toss until well combined.

<span class="mceItemHidden" data-mce-bogus="1"><span></span>Put one large butterhead lettuce leaf in the bottom of each of four serving bowls. Top with noodle salad and serve with lime wedges.</span>
Notes
<span></span>Rice vermicelli noodles are very thin noodles (made from rice, as you might have guessed). For this salad, the thinner the noodles the better, so avoid the thick rice noodles often used for dishes like Pad Thai. Because they are so thin, they are very easy to cook with, needing only to soak in boiling water for a couple minutes. Just be careful not to let them soak in boiling water for too long or they can overcook and get a sort of mushy texture.
Nutrition
Serving:
1
g
|
Calories:
414
kcal
|
Carbohydrates:
48
g
|
Protein:
30
g
|
Fat:
11
g
|
Saturated Fat:
2
g
|
Cholesterol:
286
mg
|
Sodium:
1113
mg
|
Potassium:
539
mg
|
Fiber:
5
g
|
Sugar:
4
g
|
Vitamin A:
5653
IU
|
Vitamin C:
19
mg
|
Calcium:
224
mg
|
Iron:
4
mg
Meanwhile, down the hall, my mom introduced Molly and Clara to the toy trains I played with as a kid. 30 years later they're still a hit...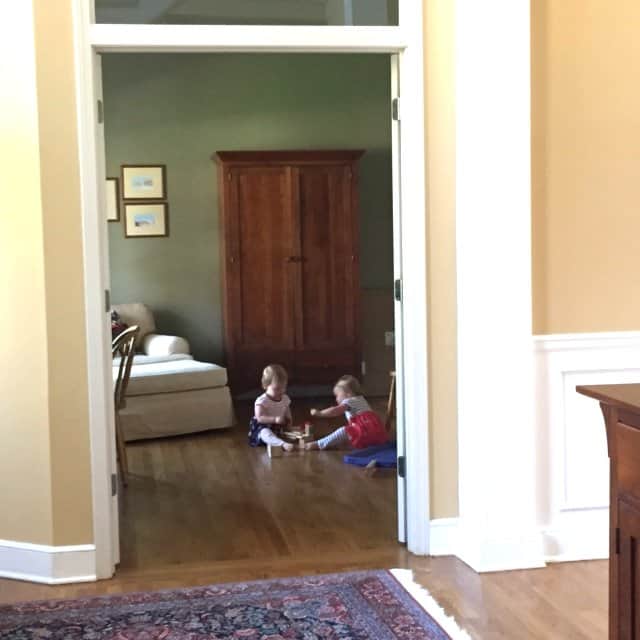 *This post contains affiliate links*