Simple Thai Peanut Noodles
Published Apr 21, 2011•Updated Apr 19, 2022
In my single world, peanut butter could sit in the pantry for years before being used. Now that my husband and I share a pantry (and the peanut butter jar) peanut butter in our house is frequently paired with pretzel sticks as a snack. However, if peanut butter and pretzels are being used together, my husband is the culprit. I detest pretzels. (I know, I know…keep your pretzel-loving comments to yourself. I've come to be at peace with my role as a naysayer in this pretzel-obsessed world.)
Before today, I also believed myself to be a Thai peanut sauce purist, certain that I would never stoop to making peanut sauce with store-bought peanut butter. Well, friends, times have changed.
As we are leaving town tomorrow and the refrigerator is quite empty, I needed something quick and pantry-friendly to whip up for lunch. I saw the peanut butter, had an idea, and now I suspect that the fate of peanut butter in our house has forever changed. No longer will it be reserved just for those pretzels…simple Thai Peanut Noodles are here to stay.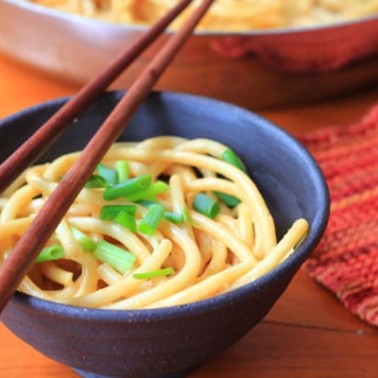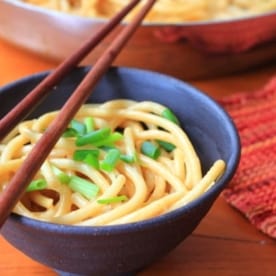 Simple Thai Peanut Noodles
Ingredients
250

g

thin noodles (I used bucatini, but spaghetti or rice stick noodles would all work)

1

Tbsp.

vegetable oil

1

tsp.

red curry paste (more if you want extra spice)

1/4

cup

creamy peanut butter*

1/4

cup

water

1/2

cup

light coconut milk

1

tsp.

salt

4

Tbsp.

roasted, unsalted peanuts, finely chopped

garnish with 2 whole green onions, sliced (optional)
Instructions
Bring a large pot of water to a boil. Add noodles and cook until tender. Meanwhile, in a large skillet, heat the vegetable oil over medium heat. Add in red curry paste and peanut butter, stirring to heat in the oil. When the curry paste becomes fragrant, add water and coconut milk, stirring to break apart any remaining pieces of the curry paste or peanut butter. Heat the sauce through until it is bubbling, about 2-3 minutes. Add salt and peanuts (taste and add additional salt if needed), stirring constantly until the sauce thickens. Remove from heat. When the noodles are cooked through, drain them and pour them into the skillet with the sauce. Stir with thongs to combine. Serve immediately, garnished with green onions.
Notes
*For this recipe I used standard, sweetened commercially-produced peanut butter (Jif, I believe). If you prefer to use natural, unsweetened peanut butter, it would work well, but you will likely need to sweeten the sauce with sugar to get a flavor similar to the one in this recipe. This dish would be wonderful with the addition of shredded cooked chicken or any number of vegetables (red peppers or Chinese broccoli come to mind). Just add them to the sauce along with the noodles.
Nutrition information is automatically calculated, so should only be used as an approximation.