Tom Yum Goong
Published Feb 17, 2021•Updated Mar 24, 2022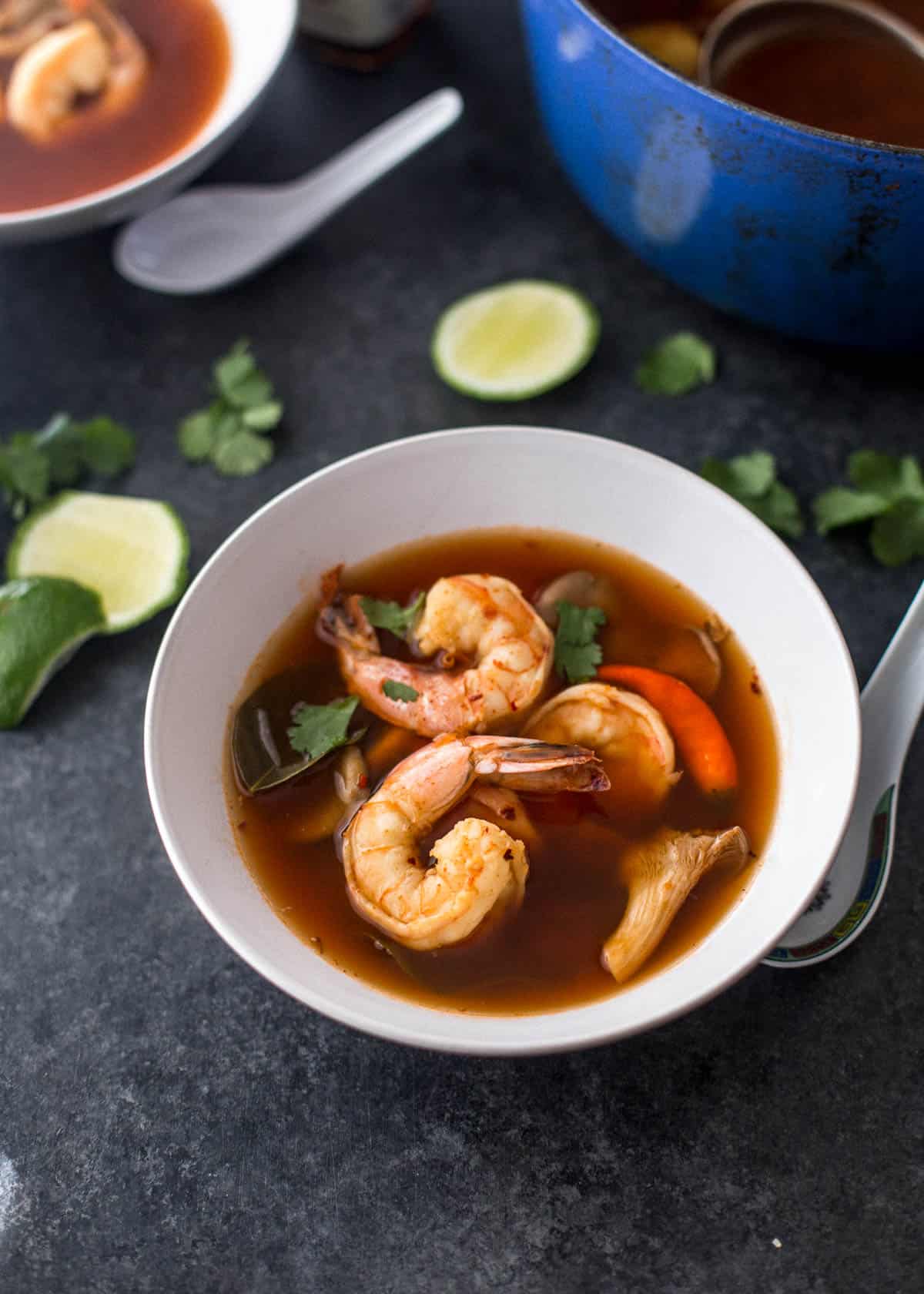 Perhaps one of my favorite things about eating in Thailand was that you never had to choose just one dish. Thai food is almost always served family style and no table is complete without several dishes. A great line-up would be a curry, a stir-fried vegetable, a big plate of steamed Jasmine rice, and a soup. And if I were to be choosing the soup to go with a meal at any point in the five years I lived in Thailand, it would always be Tom Yum Goong.
The flavor of Tom Yum Goong is incredibly complex, and the ingredients require a bit of explanation, but the soup itself is super simple to make. The secret is in the aromatics that go into the stock – shallots, lemongrass, galangal, and lime leaves.
I learned how to make Tom Yum Goong at a cooking class at Blue Elephant Cooking School in Bangkok over 10 years ago and have made it the same way since. Here's how!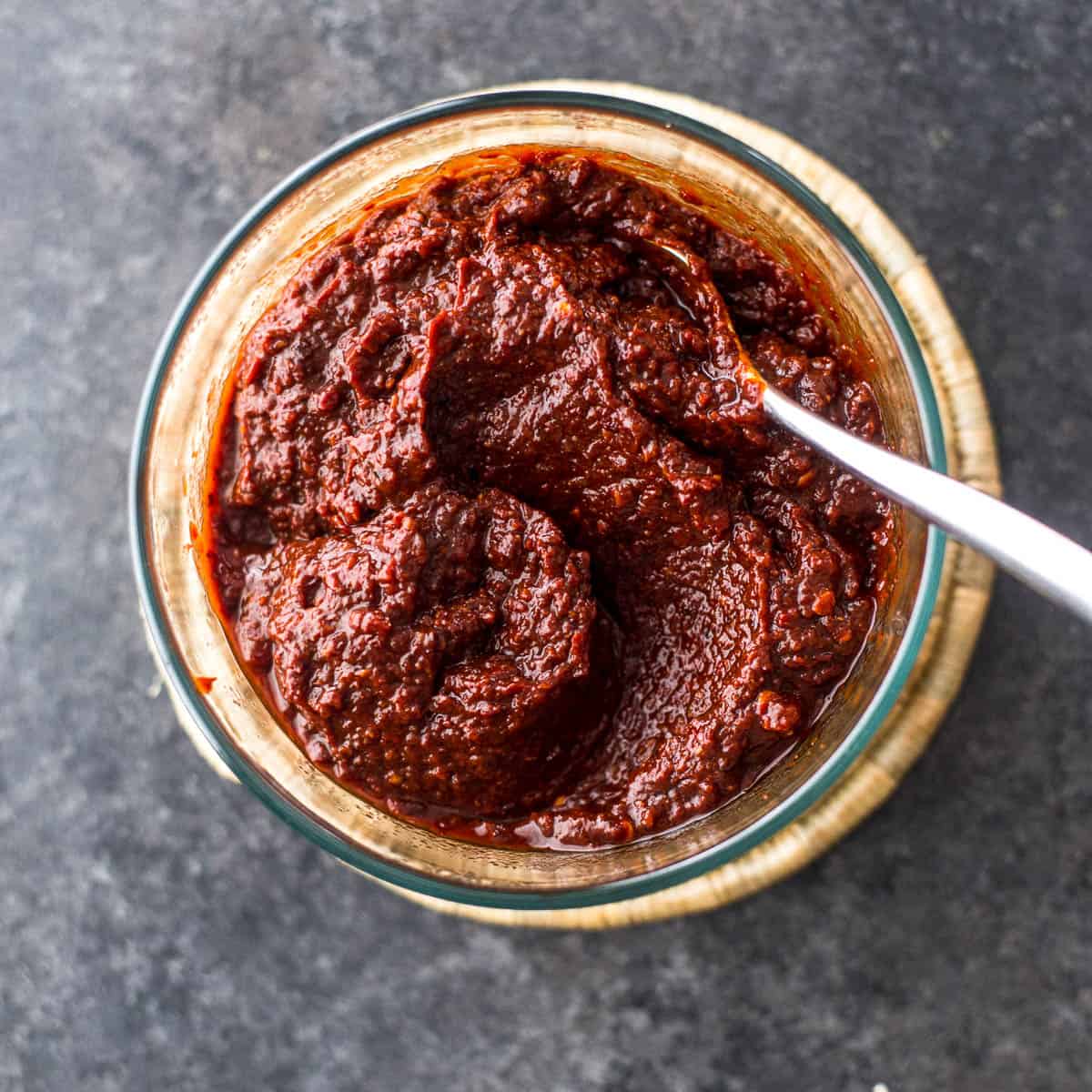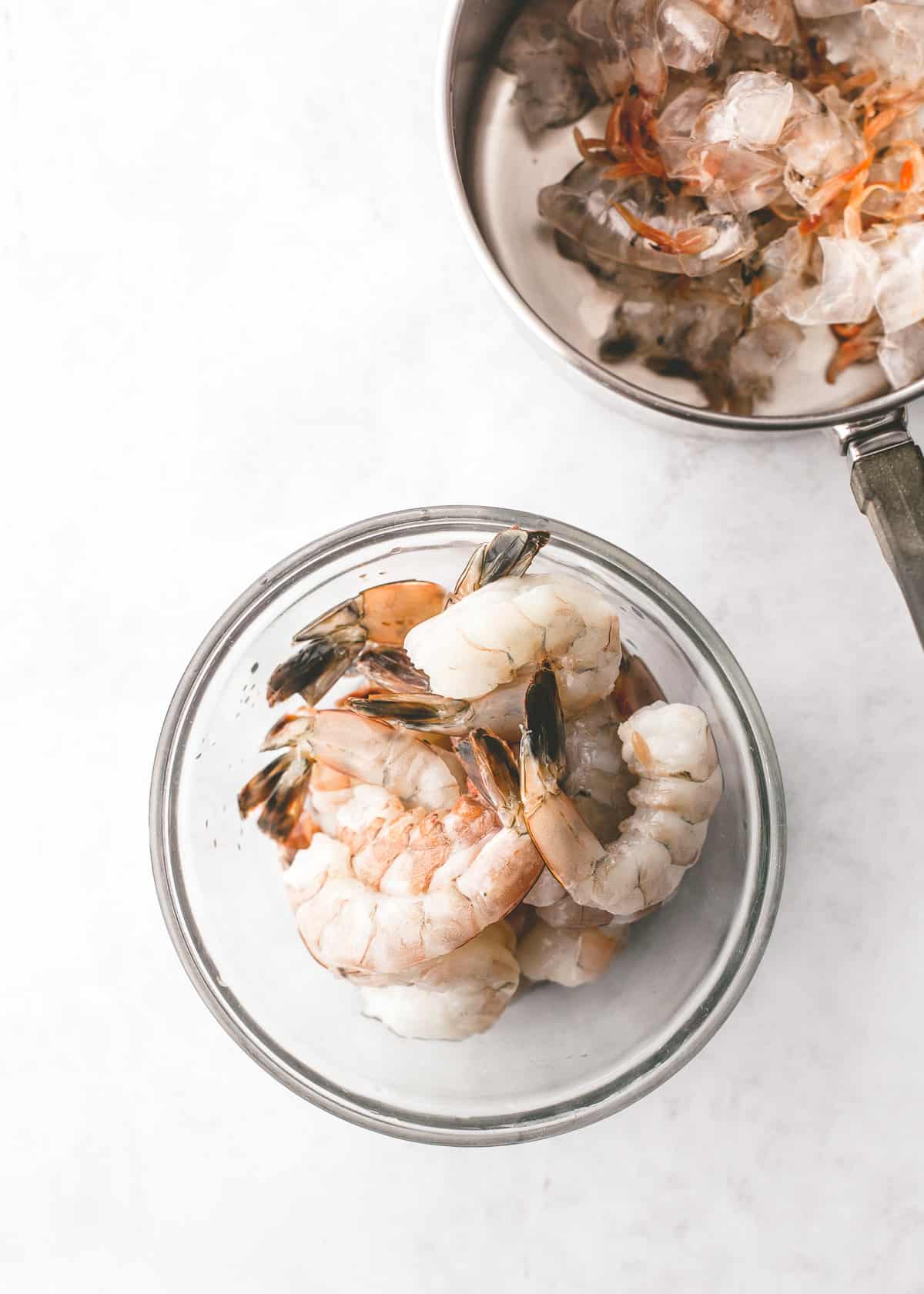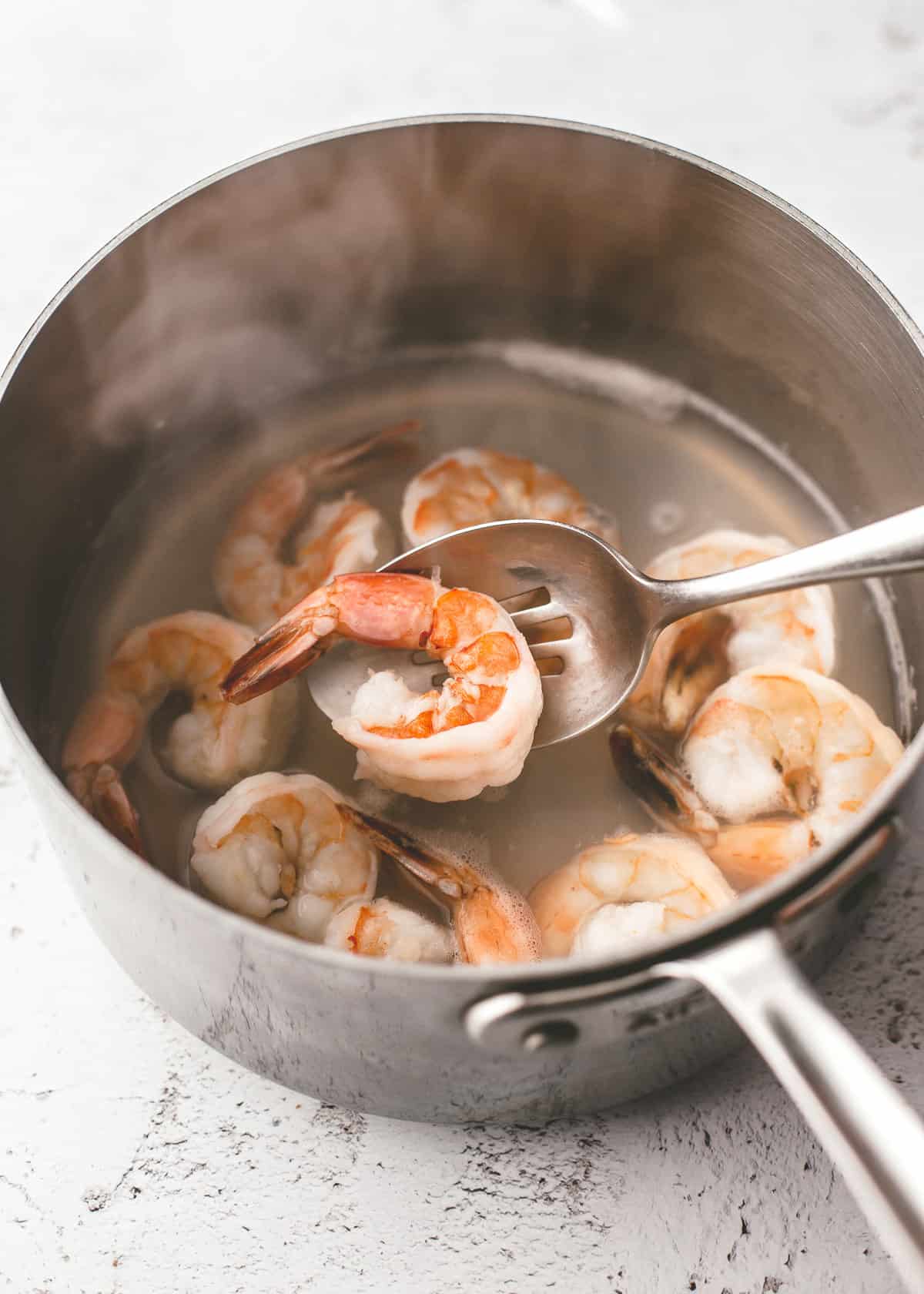 Ingredients
Shallots, Lemongrass, Galangal, Makrut / Lime Leaves, Bird's Eye Chilis

– These are the aromatics that create the flavorful stock for Tom Yum Goong. See below for more details on these unique ingredients.

Shrimp

– Use about 3 medium to large shrimp per serving. You can buy peeled and deveined shrimp to make a simple version of the soup. However, if you have some time, you will get the most flavor in the soup if you peel the shrimp yourself and make a stock out of the shells.

Stock

– Use shrimp stock for the most authentic flavor, but chicken or vegetable stock work just fine.

Nam Prik Pao

– Buy this sweet, smoky, spicy Thai chili paste from an Asian grocery store or make your own with

this recipe

.

Oyster Mushrooms

– These are classic, but any type of mushrooms will work.

Fish Sauce, Fresh Lime Juice

– Use these to add flavor to the stock. I prefer

Red Boat Fish Sauce

which has fewer additives and a very clean flavor.

Coconut Milk – The photos in this post are of Tom Yum Goong without coconut milk, but you can also make a creamier version by adding some coconut milk to the broth.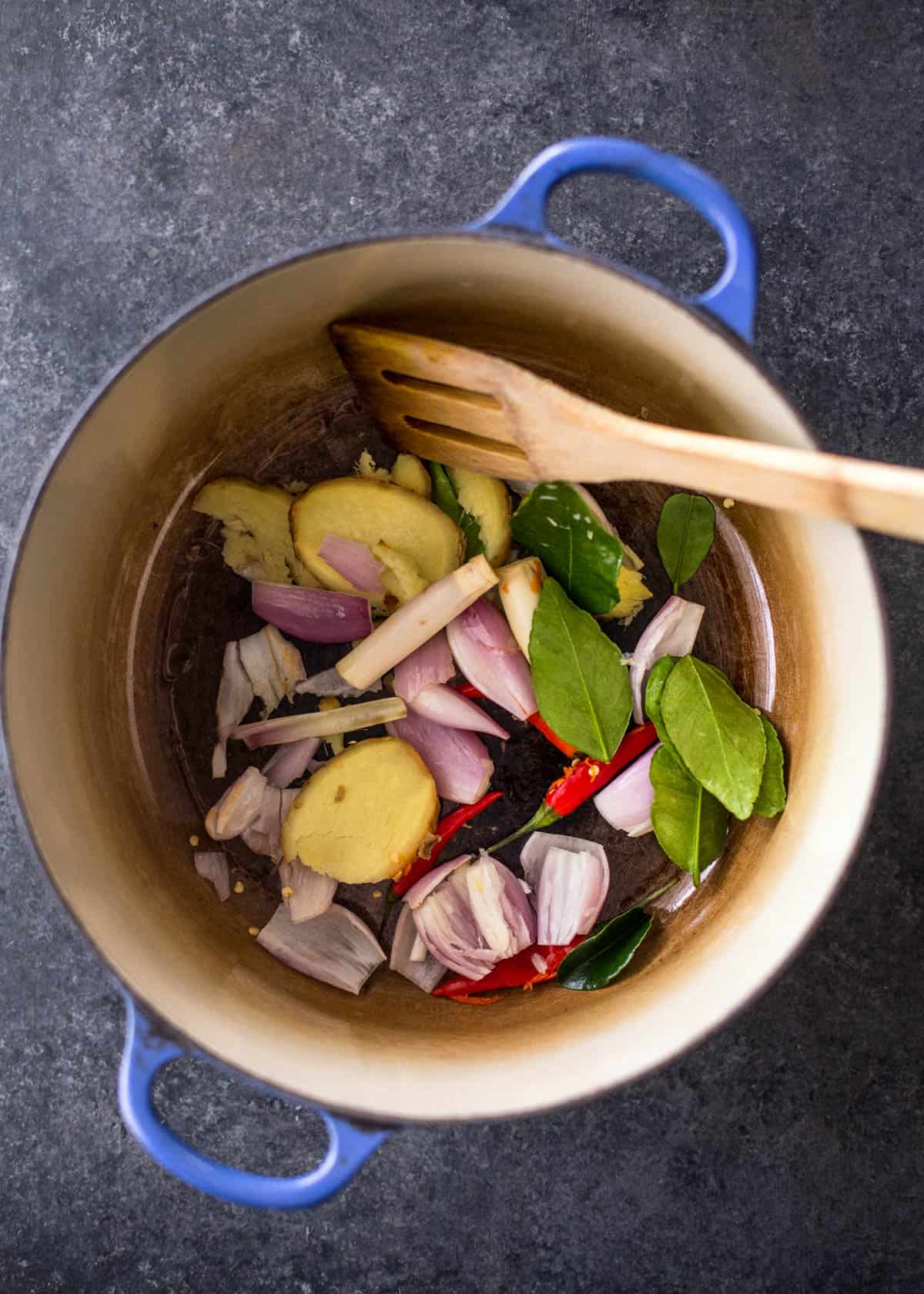 How to Make Stock for Tom Yum Goong
The key to a flavorful Tom Yum Goong is a stock made with a specific combination of aromatics – Shallots, Lemongrass, Galangal, Makrut / Lime Leaves, and Bird's Eye Chilis. While shallots and lemongrass may be available at many grocery stores, you'll likely need to seek out galangal, makrut lime leaves, and the tiny spicy Bird's Eye Chilis at an Asian / international grocery store. To get a truly authentic flavor, don't use ginger in place of galangal. Galangal has a more subtle floral flavor than ginger, although they look similar.
Before getting started, smash the shallots, lemongrass, galangal, lime leaves, and Bird's Eye Chilis gently with a rolling pin or meat tenderizer. You want them to stay mostly intact (you won't want small pieces of these in your finished soup), but smashing them helps them to release more flavor into the stock as it cooks. (Tip: to minimize mess, you can put these in a small plastic bag before smashing them.)

Saute aromatics for a few minutes over medium heat to get them started cooking, 2 to 3 minutes.

Pour stock over aromatics and simmer for 5 minutes to flavor the stock.
Should I Leave the Aromatics in the Soup?
When you eat Tom Yam Goong in Thailand, it is almost always served with the aromatics in the bowls. You can't eat large pieces of lemongrass, galangal, or lime leaves, but the purpose of serving them in the soup is to add fragrance to the soup. You'll smell all of those aromatics as you sip the soup, but you have to eat around them.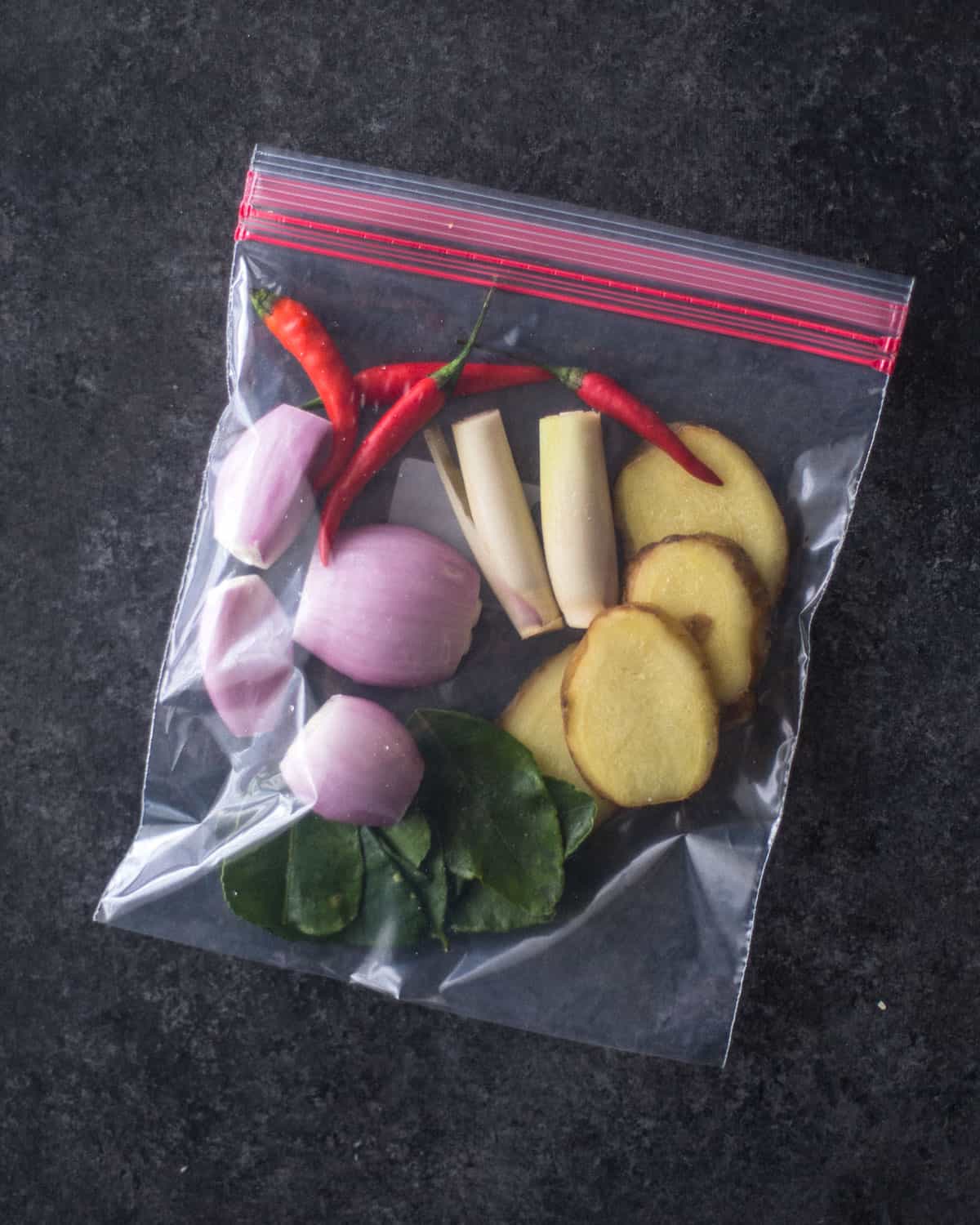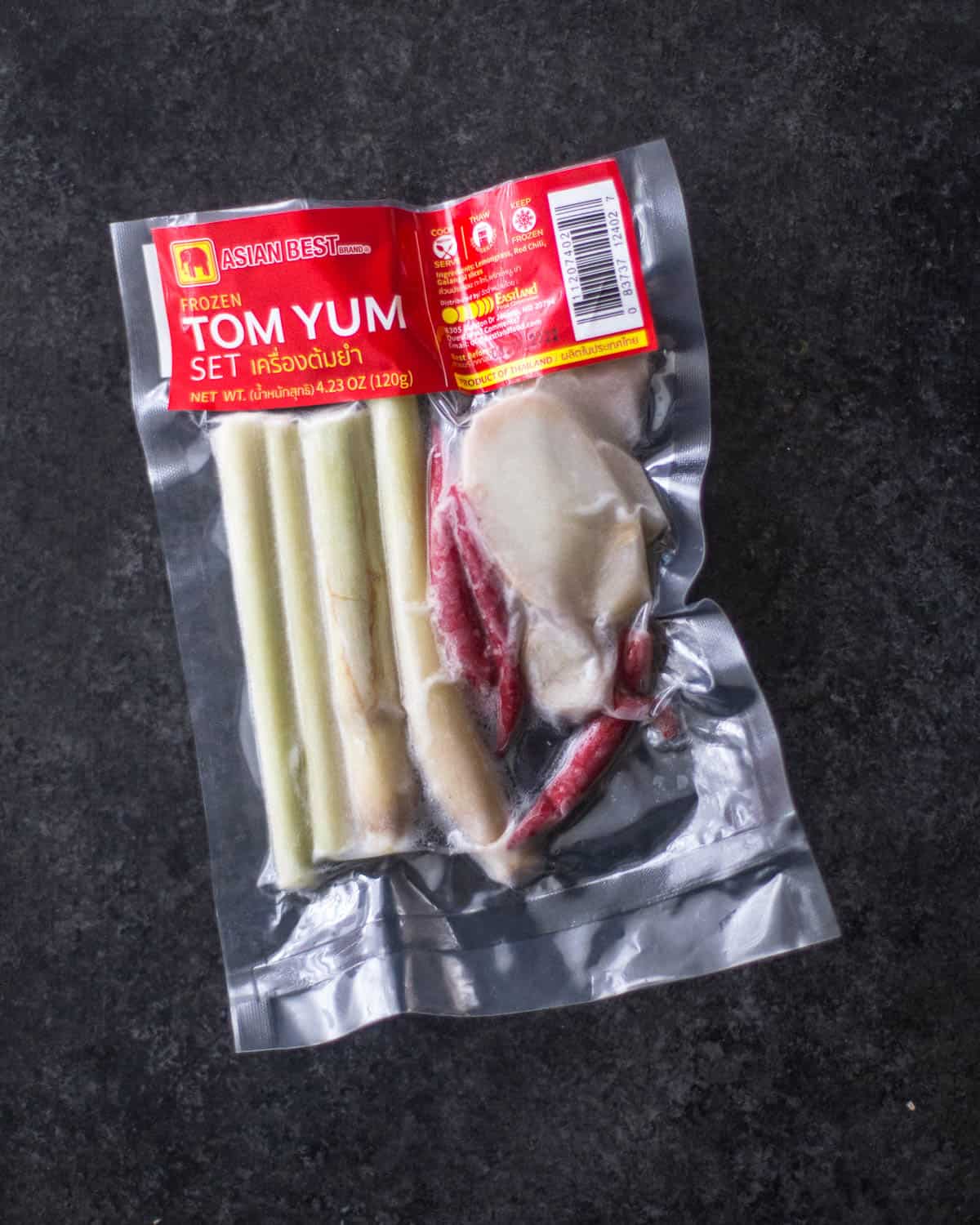 Freeze Lemongrass, Galangal, Lime Leaves, and Bird's Eye Chilis
Even though the aromatics in this soup may require a trip to a specialty store, the great news is that they all can be frozen almost indefinitely. At a minimum, I keep lemongrass, lime leaves, and Bird's Eye Chilis in my freezer all the time. And honestly, I'll use them for up to a year or more straight out of the freezer. If you love Tom Yum Goong, you can proportion the aromatics into freezer bags so you have everything you need to make the soup.
Many Asian grocery stores also sell Tom Yum Goong packs ready to go. These were popular at our grocery store in Bangkok too!
Is Tom Yum Goong Served with Rice?
This spicy shrimp soup doesn't have to be served with rice, but it often is. A great way to eat these two dishes together is to scoop up a spoonful of rice and then dip it in the soup to add shrimp, mushrooms, and flavorful broth.
More Shrimp Recipes
Favorite Tools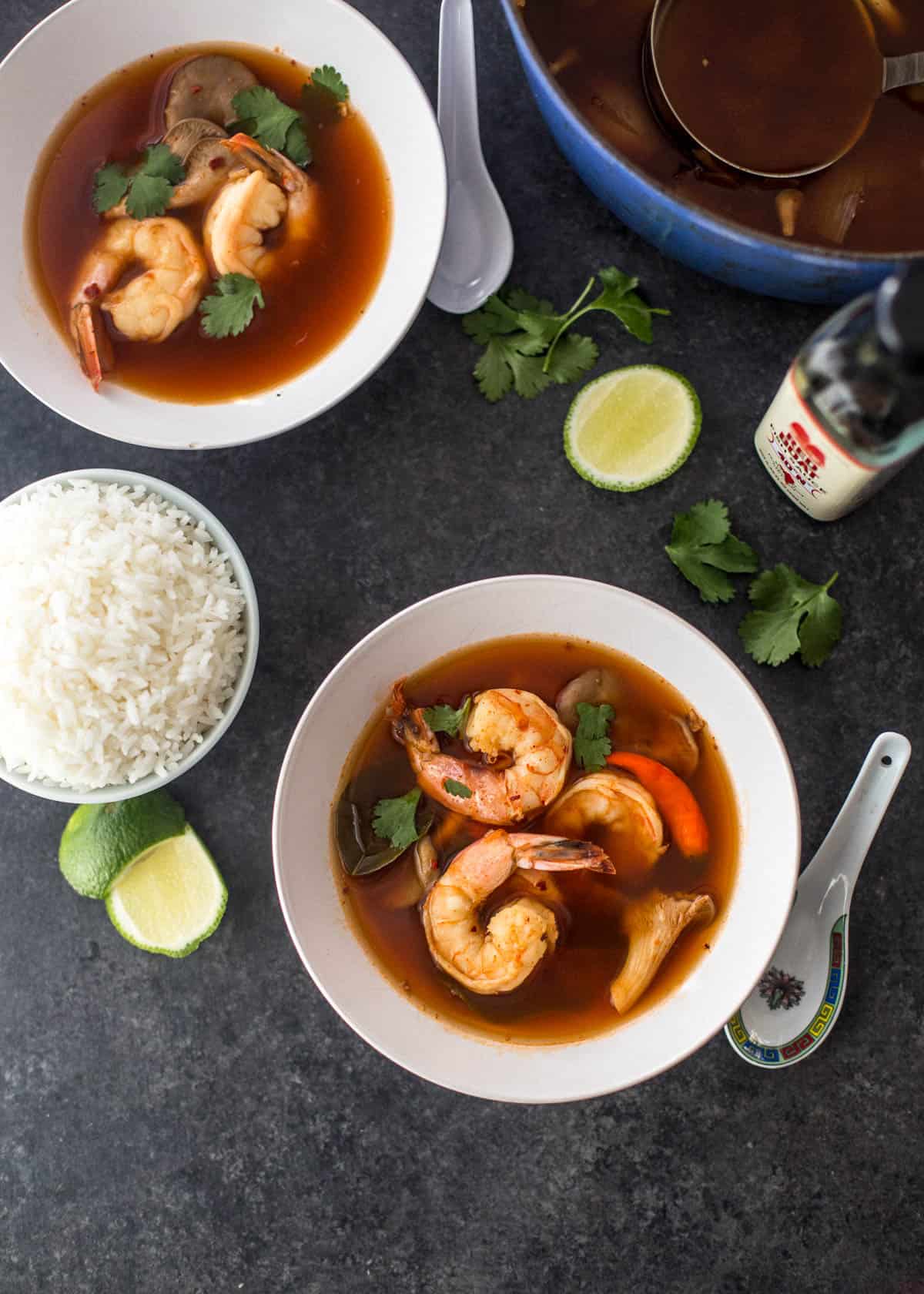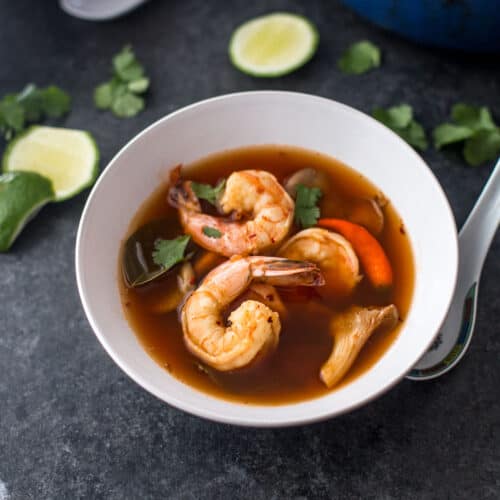 Tom Yum Goong
Perhaps one of the most famous soups to come out of Thailand Tom Yum Goong is a spicy shrimp soup that is super fragrant from lemongrass, galangal, and makrut lime leaves. This version can be made with a clear broth or with coconut milk for a more rich, creamy soup.
To adjust the servings in this recipe, click on the number next to servings.
Equipment
Rolling Pin or Meat Tenderizer

Dutch oven, wok or saucepan
Ingredients
4

cloves

Shallots

2

stalks

Lemongrass, bottom quarter of stalks only

1

3-inch piece

Galangal, sliced into rounds

8

Makrut / Thai Lime Leaves

1-4

Thai Bird's Eye Chilis, to taste

5

cups

Stock

(use homemade shrimp stock following directions below or sub chicken stock)

4

oz

Oyster Mushrooms

(sub any type of mushroom)

1/4

cup

Thai Chili Paste

(nam prik pao)

12

medium

Shrimp

(see note)

3

Tbsp

Fish Sauce

3/4

cup

Coconut Milk

(optional - only if you want a creamy soup)

2

Tbsp

Fresh Lime Juice

Cilantro leaves, for topping

Cooked Jasmine Rice, for serving

(optional)
Instructions
Place shallots, lemongrass, galangal, lime leaves, and Bird's Eye Chilis in a plastic bag and seal the top. Use a rolling pin or meat tenderizer to pound each of these ingredients just until they have broken open slightly. They do not need to be smashed into a paste, but breaking them open will help them to release more flavor. (Note: You can also just place them on a cutting board and skip the bag, but I find this keeps the process fast and minimizes mess.)

Heat a large Dutch oven, saucepan, or wok over medium heat. Add all of the smashed aromatics to the heated pan and sauté for 2 to 3 minutes until fragrant.

Pour stock over aromatics and bring to a simmer. Simmer for 5 minutes.

Add mushrooms and Thai chili paste and continue cooking until mushrooms are tender, 2 to 3 minutes.

Stir in shrimp, fish sauce, and coconut milk (if using). Simmer just until shrimp is cooked through, 2 to 4 minutes, depending on size.

Remove pan from heat and stir in lime juice. Taste and adjust if needed, adding more fish sauce for salty flavor and / or more lime juice for more sour flavor.

Top soup with cilantro leaves and serve with Jasmine rice on the side.

Note: The aromatics in Tom Yum Goong (shallots, lemongrass, galangal, lime leaves, and Bird's Eye Chilis) are not meant to be eaten which is why you want to keep them in larger pieces so they are easy to spot. I like to leave them in the soup when I serve it because they add so much fragrance. If serving this to guests, be sure to mention that they are not meant to be consumed.
Notes
Shrimp and Stock -
For the best and most authentic flavor buy shrimp with heads and peels intact. Remove the heads and peels and combine with 6 cups of water. Bring to a simmer and simmer for 15 minutes. Strain out and discard solids and measure out 5 cups of stock to use in the recipe above.
Thai Chili Paste (Nam Prik Pao)
- Use store-bought or homemade Nam Prik Pao.
Nutrition
Calories:
179
kcal
|
Carbohydrates:
16
g
|
Protein:
7
g
|
Fat:
11
g
|
Saturated Fat:
10
g
|
Cholesterol:
45
mg
|
Sodium:
2391
mg
|
Potassium:
423
mg
|
Fiber:
2
g
|
Sugar:
7
g
|
Vitamin A:
688
IU
|
Vitamin C:
9
mg
|
Calcium:
50
mg
|
Iron:
2
mg
Nutrition information is automatically calculated, so should only be used as an approximation.
*This post contains affiliate links*