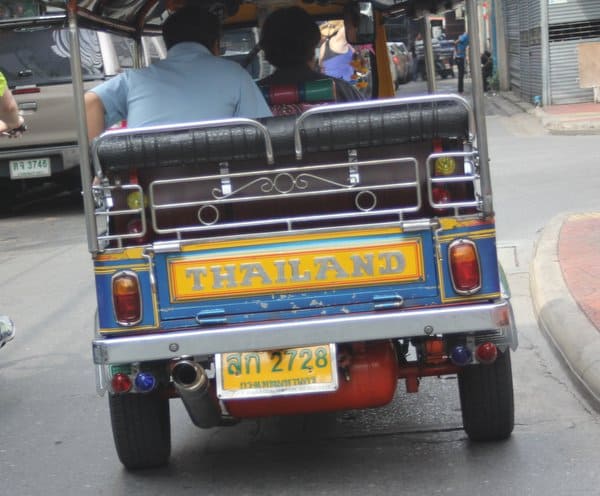 In the immigration line leaving Luang Prabang last week, a scruffy guy heard Frank and I say we were on our way to Bangkok and turned on his heels. "You're going to Bangkok?" he said. "Why would you go there?" (Actually, he used a much more colorful phrase, but I'll skip that.)
I seethed.
"We live there." I said, and handed my passport to the Lao immigration officer.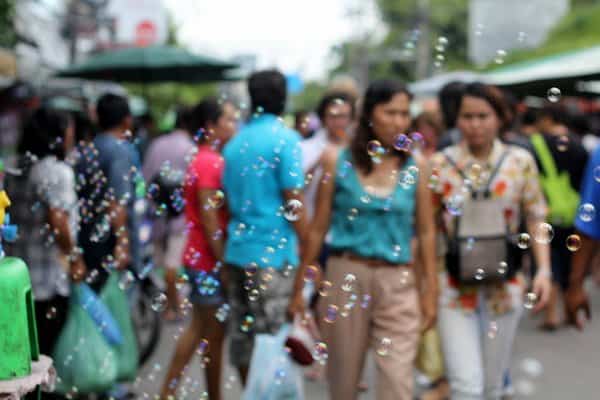 If there is one thing I can say for certain after two years in Bangkok, it's that there is a lot to love about this place.
In that immigration line, all I could think was - how dare this scruffy guy dismiss my vibrant, energetic, kind-hearted city with one critical phrase? I couldn't shake the desire to come to its defense.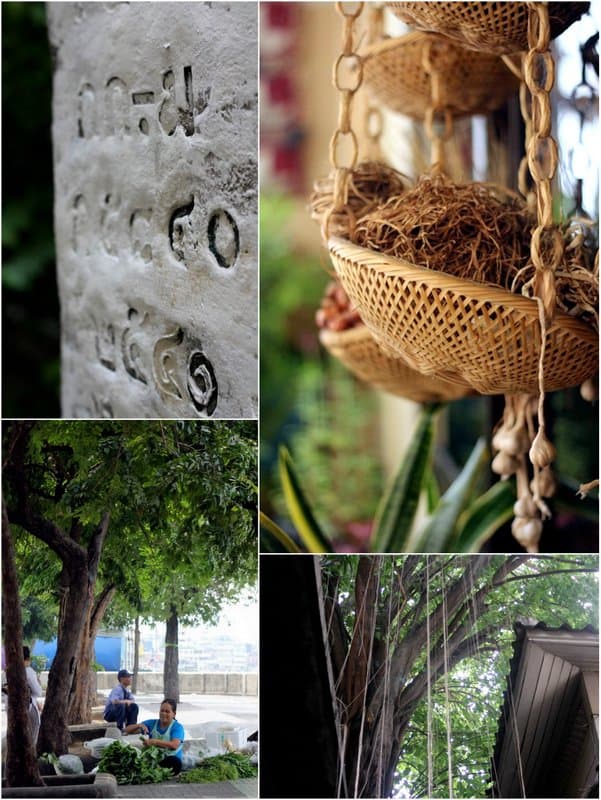 I feel so fortunate to live here. And even on the days where I step in a city puddle or have to cram into a crowded car on the train or get a disappointing bowl of noodles (nothing puts me off like a bad bowl of noodles ;)), I love this place.
Yesterday marked the end of our second year in Bangkok. Exactly two years ago we stepped off a plane, blinded by the hot sun, and made our way into a new life in Bangkok.
Instead of a cake, or a fancy dinner, or even world's best brownies, to celebrate the end of our second year and the two year anniversary of this blog, we let Bangkok cast her spell in the best way I can imagine - through food.
Last night, we took ourselves out for a Thai food feast to celebrate.
It started with a classic - Som Tum Thai (Spicy Papaya Salad with peanuts, shrimp, long beans, carrots, and tomatoes).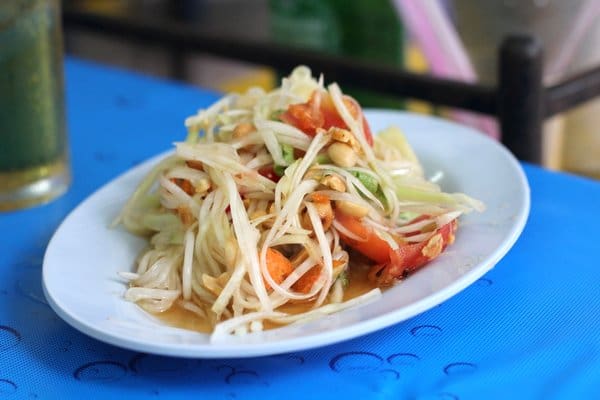 We had sticky rice on the side. (As if we didn't have enough sticky rice last week.)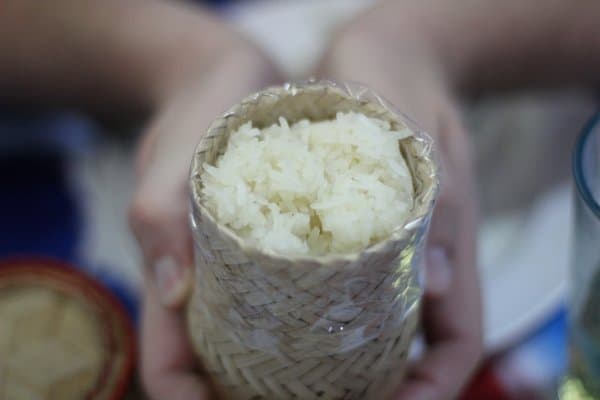 There were these Sai Krok Isan (Northeastern Fermented Sausages filled with Rice and Pork). A Thai colleague of mine introduced me to these. The flavor is unlike anything I've ever had, and they are just sour enough that eating one never fails to make me crave another.
My favorite variation on the minced chicken/pork salads - Laab Gai Tawt (fried chicken tossed with toasted rice powder and fresh herbs). I love this stuff so much that I make it at home - recipe here.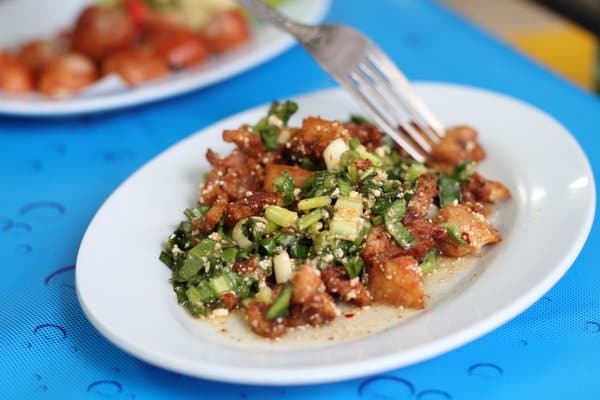 And then this. This. Yum pak boong krob. Crispy fried morning glory topped with a tangy-sweet salad with pork and shrimp. It's amazing. The morning glory is fried like tempura, and it is so light and crisp that it has an audible crunch.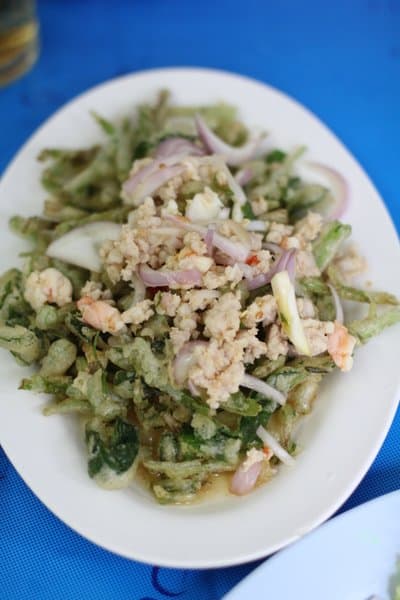 We ate our dinner outside on a tiny street while the sun went down, kids played, families gossiped.
We drank beers with ice, because that's how they're best served on a hot Bangkok night.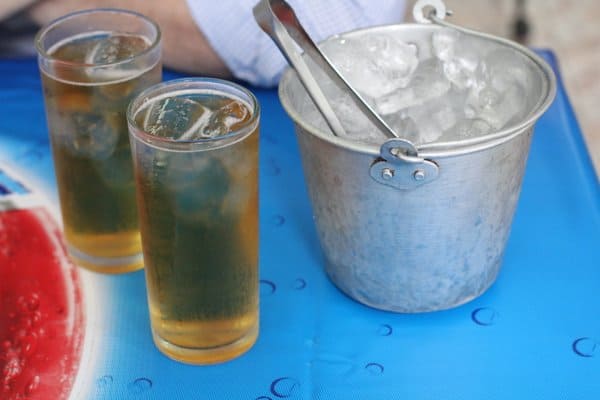 We ended up in Bangkok by chance, but over time, it has become "ours".
It has been a spectacular two years.
Two years in Bangkok. Two years of writing this blog. And there's still so much more to learn.
In the next year, surely there will be more mishaps with the KitchenAid, more baking in really old t-shirts, and hopefully lots more cooking classes to be had.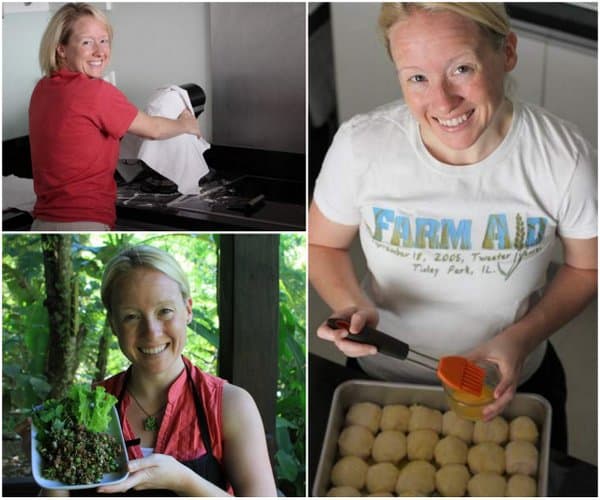 And likely there will be plenty more photos to be taken on the floor, or the couch, or the futuristic dining table, because that's where the light is just right.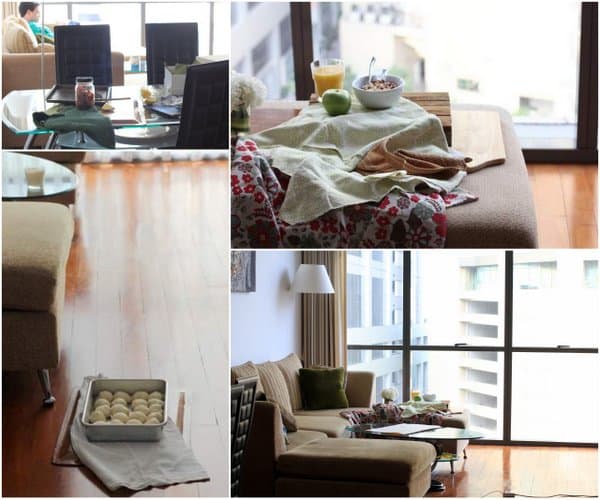 Thank you for reading, and most of all for sharing your own experiences with food and travel through your comments and emails.
If I could have brought every last one of you out for dinner, you know I would have.