Updated Feb 18, 2016: To keep this content fresh, we've updated our Pad Thai recipe with even more instructions and photos. Check out the updated post here!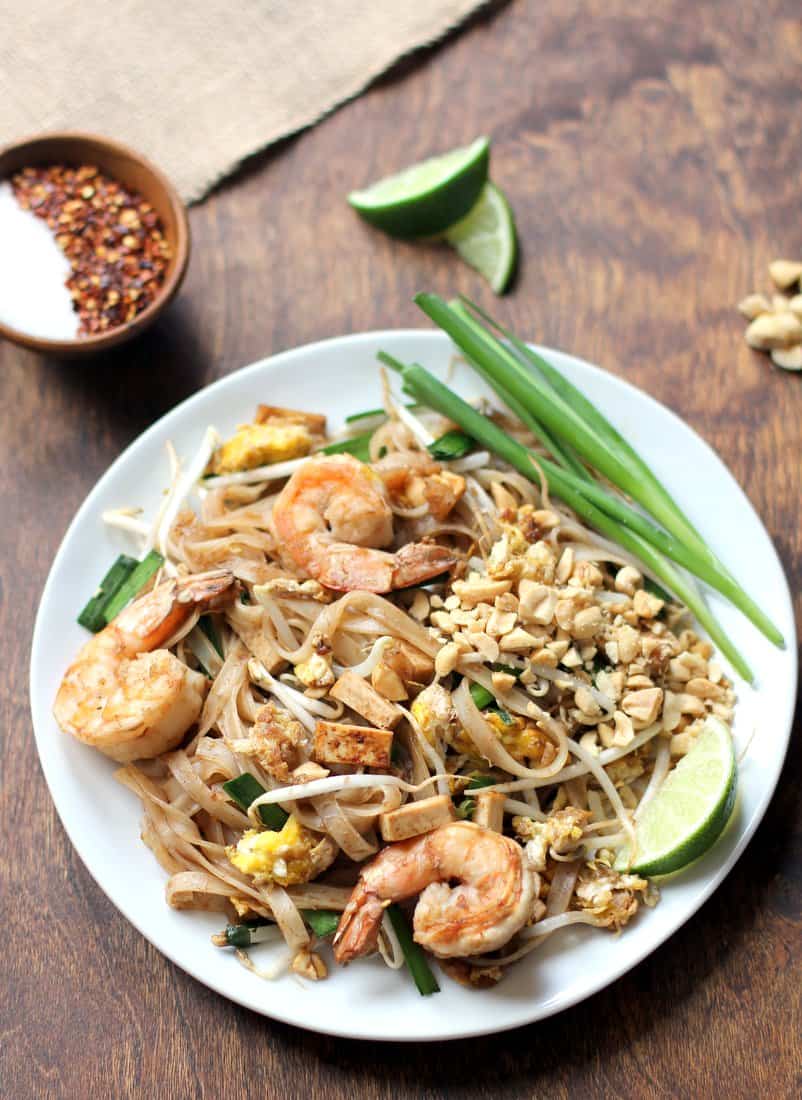 I could not have done a month of Thai treats without pad thai. I toyed with the idea of starting the month with this well known dish, but honestly, it's just not the best way to begin. I loved it in the US when it was an occasional delivery or dinner out treat, and I love it here in Thailand where you can find it every day at every single restaurant in town. But the truth is, it's so much more complicated to make than many other Thai dishes. I decided I just couldn't possibly begin the month with this recipe because I didn't want to send you running for the hills.
When I started a draft of a pad thai post a couple months ago I titled it "pad thai made easy". I figured I would find a way to simplify the whole pad thai thing, and give you a delicious, simple recipe that didn't use any ingredients that were hard to find. This was seriously misguided. Since that time, I've taken a few classes that included instruction on making pad thai, perused books and the internet for recipes and tried quite a few lunch-size portions here on my own (good thing I like it so much). The problem is that to make this in a way that tastes authentic and complete, you need quite a few ingredients. Some of them are a bit strange. I've given a bit more information on some of the more unusual ingredients below, listing them in what I consider to be their order of importance. The first couple ingredients are really important, but those at the end can be left out or a substitute can be used.
First, the ingredient that gives pad thai its distinctive pad thai flavor is tamarind paste. This is the sweet, sour, slightly fruity taste that goes so well with the nuttiness of the peanuts. You can make tamarind paste yourself by soaking smashed fresh tamarind in a bit of warm water and then squeezing it to release the fruit and form a paste. This is a lot of trouble, and even though I can buy fresh tamarind just about everywhere here, I still opt for the kind in a jar.
The weird but important ingredient category continues with pickled radish. Yes, that's right – in this recipe for pad thai you will find that I tell you to add pickled radish to your list of ingredients. While it is easy to find here, I have no idea if you can find it in grocery stores in other parts of the world. But believe me when I tell you this. After many attempts, this thing just does not taste its best without the pickled radish.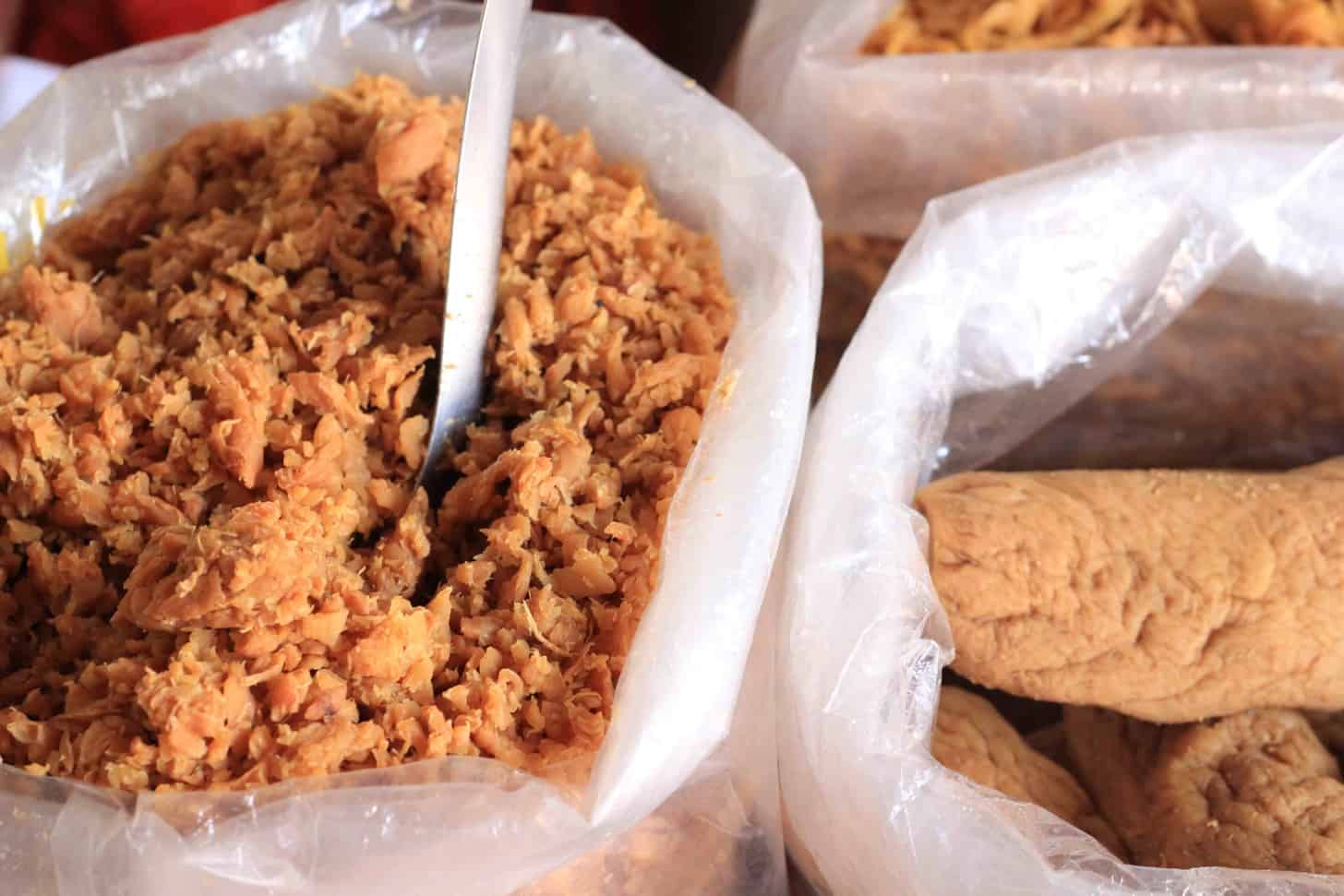 Next up is palm sugar which can be bought in solid (dried) form or in a paste, both of which are shown below (in a shot from my local market). The advantage of using palm sugar paste is that it dissolves and becomes incorporated with the other ingredients quickly, so using it doesn't slow down the quick cooking process necessary to make pad thai. There are so many other flavorful things going on in pad thai though, you can substitute regular granulated or light brown sugar and won't notice a big difference in flavor. If using a sugar other than palm sugar, reduce the amount you use by about ⅓ and keep an eye on it to make sure that the sugar dissolves evenly into the dish.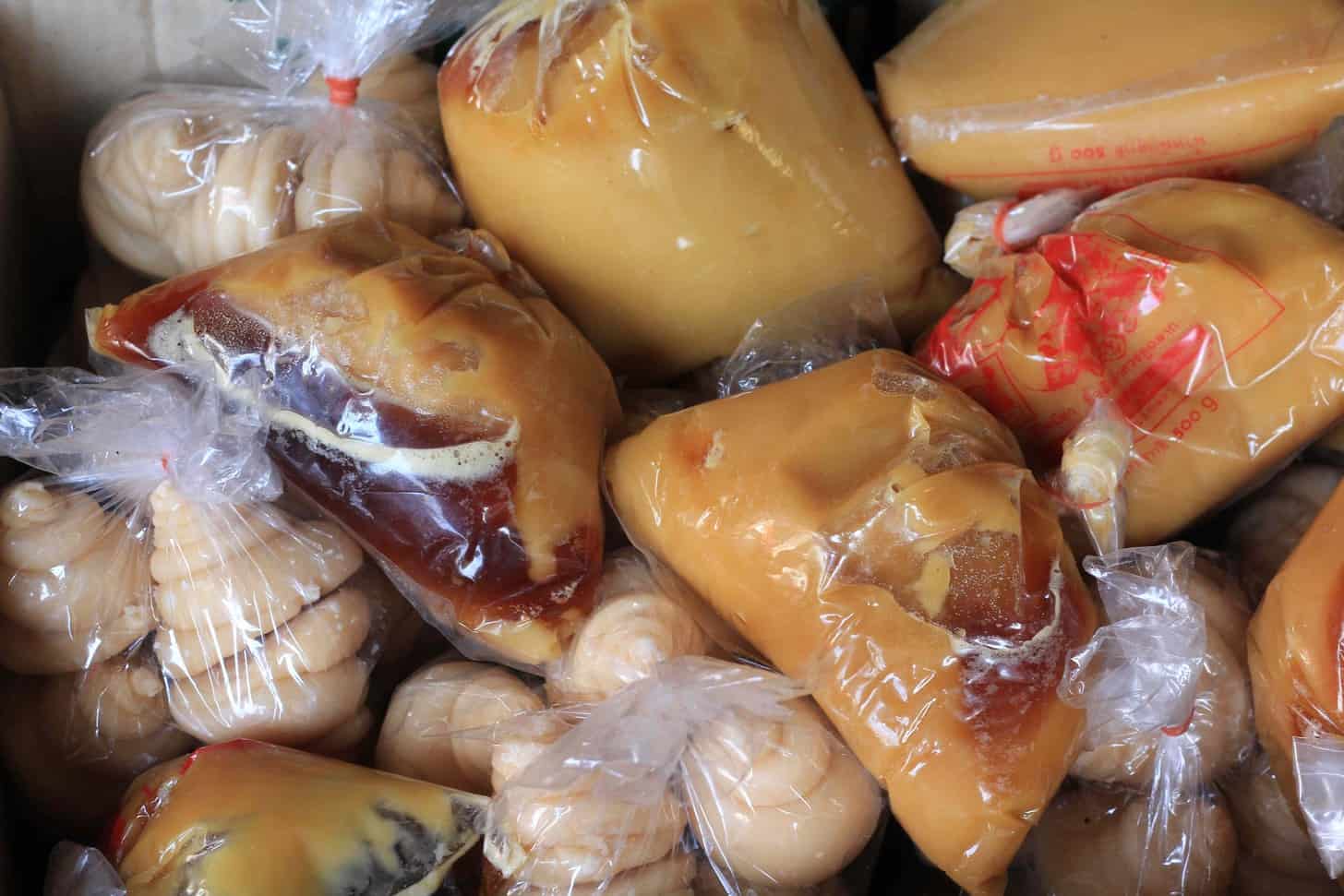 The other ingredient that I found to be interesting and worth using if you are looking for a totally authentic pad thai is thai garlic. Thai garlic is much smaller than regular garlic and the peel is tender and thin. When you use thai garlic in pad thai, you leave the peel on the garlic and crush the entire clove (peel and all) in a mortar and pestle. The whole crushed clove goes right into the wok and it seems to add an additional level of texture and flavor to the final dish. There is no need to hunt down thai garlic, as regular minced garlic works just fine, but if you happen to find some thai garlic, it's worth trying in this recipe.
Finally, a quick note about shrimp. Most pad thai in Thailand is made with shrimp, but any protein will work. You can even skip the protein altogether. Often pad thai is also served with small dried shrimp that are either whole or roughly chopped. I don't mind the dried shrimp but don't love them enough to bother adding them to the pad thai I make at home. Should you want to add these little guys, just toss in a half Tablespoon per serving at the same time as you add in the protein.
Although the following recipe is not the "pad thai made easy" that I set out to find, I feel confident that it is worth the effort to make it this way. Believe me when I tell you that a little effort at your local Asian market to seek out these things will be well worth your time. Who knows though – these days, pickled radish might be available in the international aisle at your local grocery store. It would not surprise me one bit.
Pad Thai Ingredients (shown above, starting in upper left-hand corner and listing from left to right): extra thin "rice stick" noodles, green onions, bean sprouts, egg, garlic, extra firm tofu, sweet pickled radish, cilantro, ½ lime, fish sauce, palm sugar, tamarind paste, peanuts.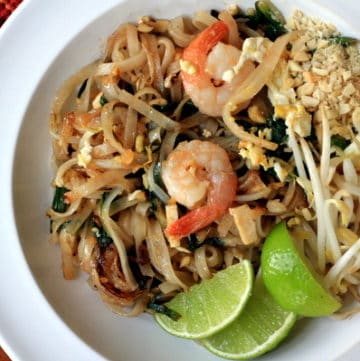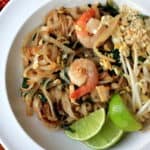 Print Recipe
Inquiring Chef's Pad Thai
Serves 2
Ingredients
2.5

oz

extra thin "rice stick" noodles (when gathered tightly together, the ends of the noodles should be about the diameter of an American quarter)

2

Tbsp.

vegetable oil

2

cloves

garlic, minced (or 1 Tbsp. whole cloves thai garlic, including peels, crushed)

3

Tbps. extra firm tofu, sliced into small rectangular pieces about 1-inch long

8

raw shrimp, peeled and de-veined, tails intact

1

cup

bean sprouts

8

green onions, cut into 1-inch slices

2

Tbsp.

cilantro, finely chopped

juice squeezed from ½ of a lime

2

tsp.

fish sauce

2

Tbsp.

peanuts, finely chopped

1

Tbsp.

sweet pickled radish or turnip

2

tsp.

palm sugar (can substitute 1 and ½ tsp. granulated or light brown sugar)

1

Tbsp.

tamarind paste

1

egg
Instructions
Place noodles in a flat-bottomed baking dish or pan and cover with room temperature water. Allow to noodles soak in water for 10 minutes. Do not soak the noodles longer than 10 minutes – they should be tender but not soft enough to eat. Drain and set aside. While noodles are soaking, prepare other ingredients and set them next to the stove.

Add oil and garlic to a wok and turn on heat to medium-high. When garlic starts to sizzle, add tofu, shrimp, sprouts, green onions and cilantro. Stir ingredients gently and continue cooking until shrimp are pink, about 2 minutes.

Add lime juice, fish sauce, peanuts, radish, sugar, tamarind paste and noodles to the wok. Stir ingredients continuously to combine liquids and coat all ingredients in sauce. Cook until noodles soften and begin to caramelize on the bottom of the wok, 3-4 minutes.

Push noodles to one side of the wok and crack egg into wok. Gently scramble egg until just cooked through. Stir all ingredients together and remove wok from heat. Serve immediately, garnished with lime wedges, crushed peanuts and sprouts.