A Day at the Fair
Published Jan 20, 2015•Updated Mar 03, 2021
On Sunday we had a family outing at the fair. Thai style. The Thailand Tourism Festival didn't sound particularly flashy. But now we have kids, and spending a Sunday afternoon at the fair seems like something people with kids do. As it turned out, we had a great time. The stars aligned and we got gorgeous weather, a nice window between naps, and a whole afternoon of great Thai food, dancing, and crafts.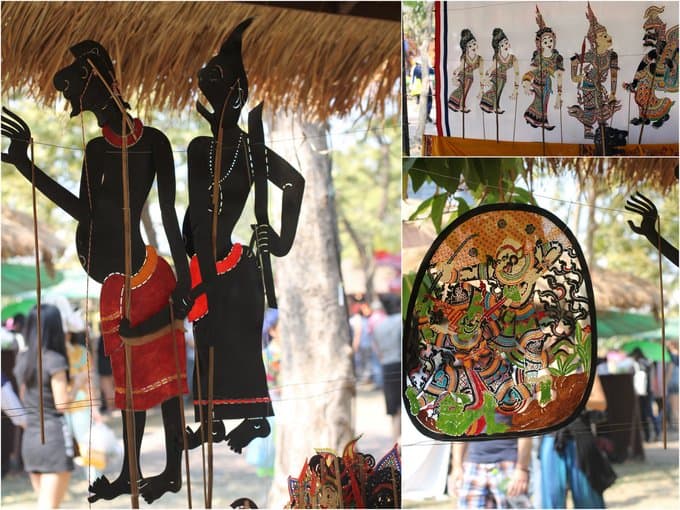 The fair stretched over a large portion of Bangkok's central Lumpini Park and was divided to showcase each of the country's regions. We kept getting "lost" and forgot which region we were in, but in one region or another we saw traditional dancing.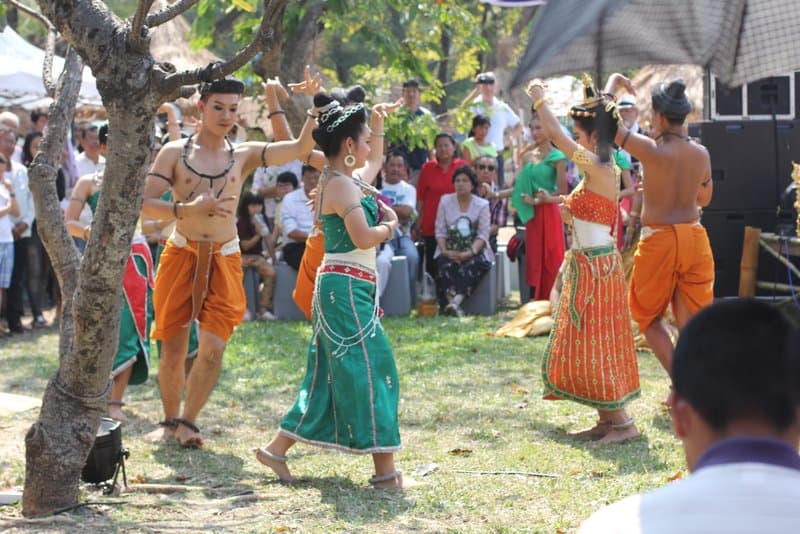 Molly and Clara weren't so impressed with the dancing…or their stroller…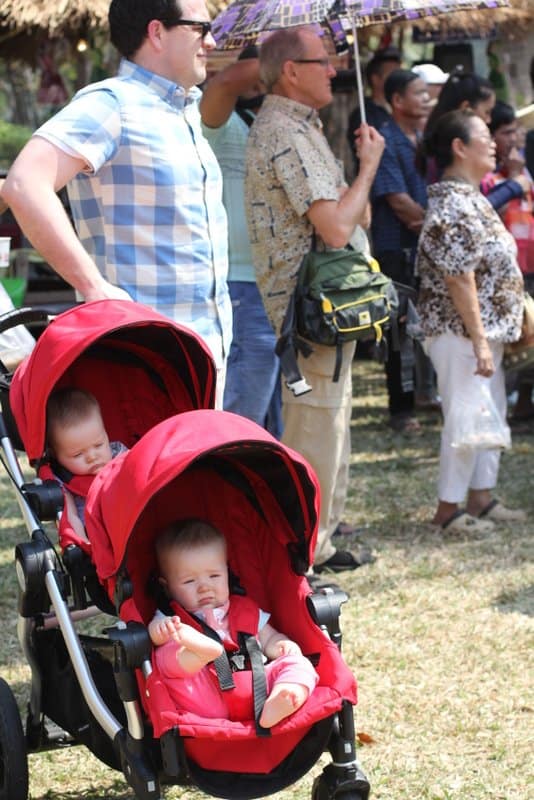 Molly wanted to run around with all the kids until I reminded her that she doesn't know how to walk.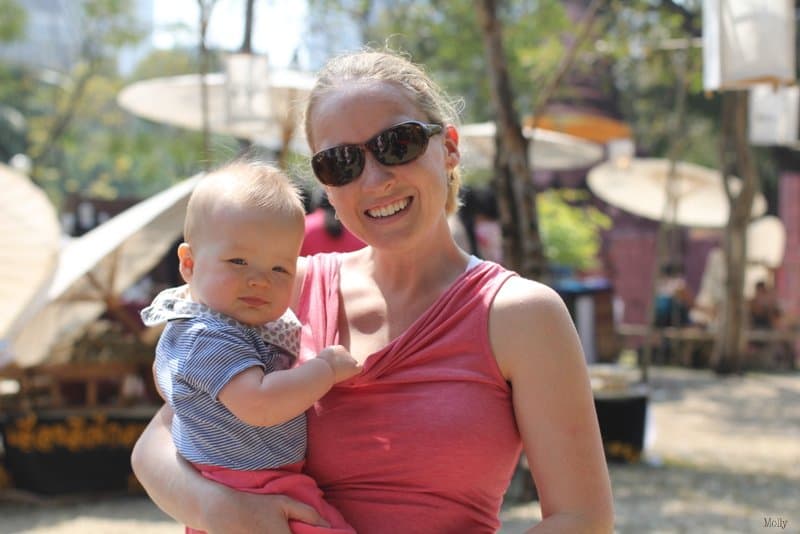 Clara eyed some crafts for sale and rocked her elephant bib in honor of the country of her birth. (Side note: these sweet bandana bibs I found on Etsy have served us well during a rather drooly time.)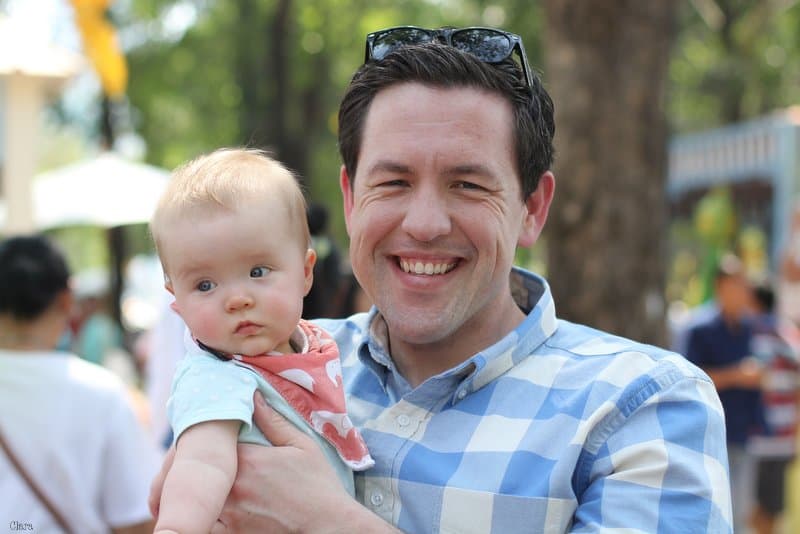 And of course, no Thai fair would be complete without copious amounts of food. This particular treat on a stick caught my eye. When I ask the vendor what it was, she told me it was "kanom" (the universal word for Thai "snack").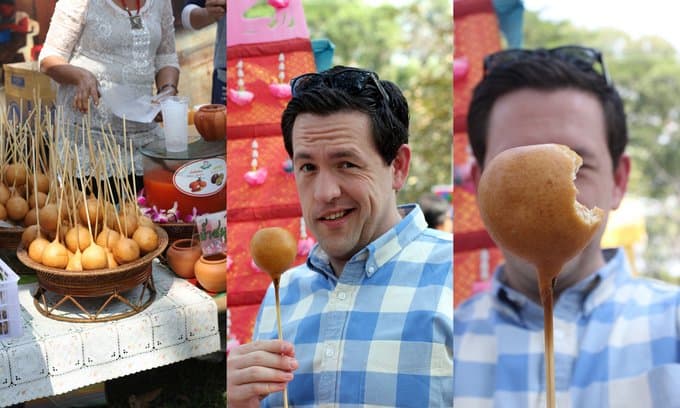 I got excited when I took a sweet, flaky bite and thought it was a deep-fried cinnamon roll.
Until I found a hot dog in the middle.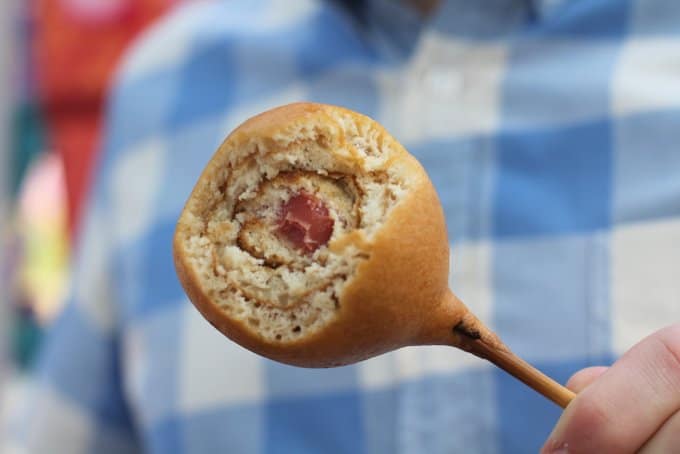 There was Pad Thai cooked on a fiery griddle.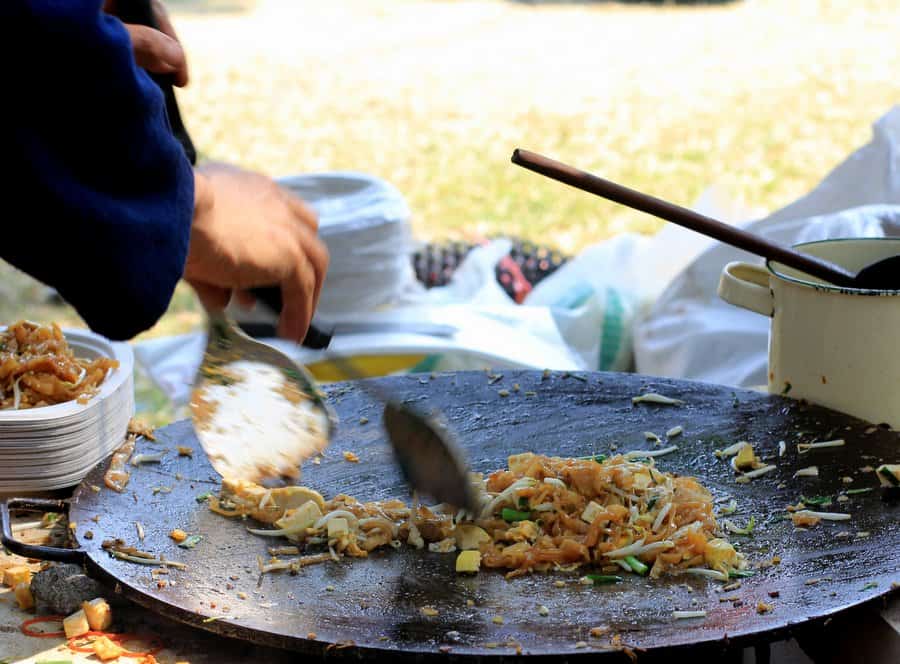 And "kai pam" – omelets cooked in banana leaves.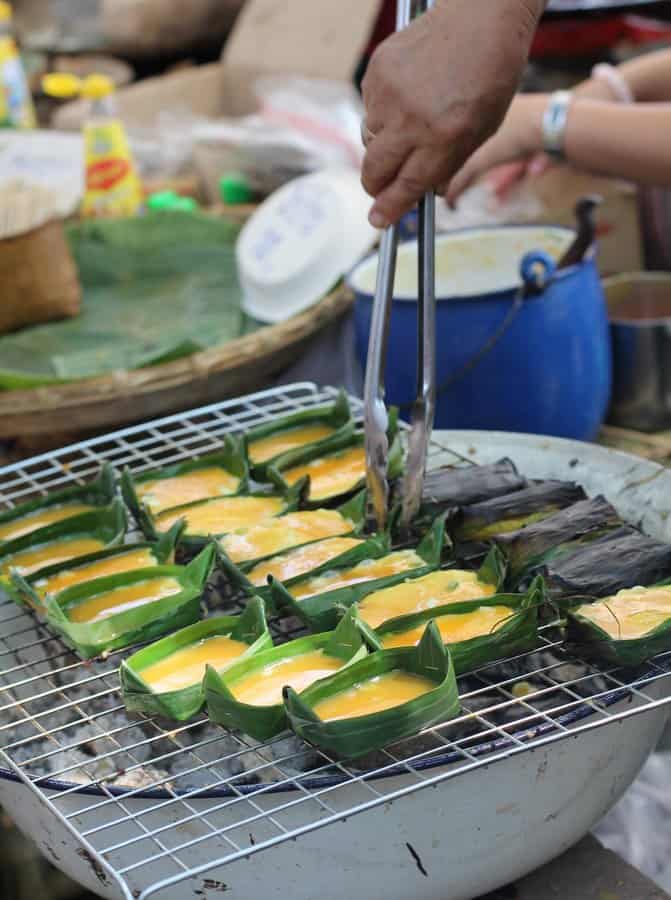 And my favorite "kanom krok" – custards cooked in a special round grill pan. (Though not always cooked by such a jovial woman in charming regional dress.)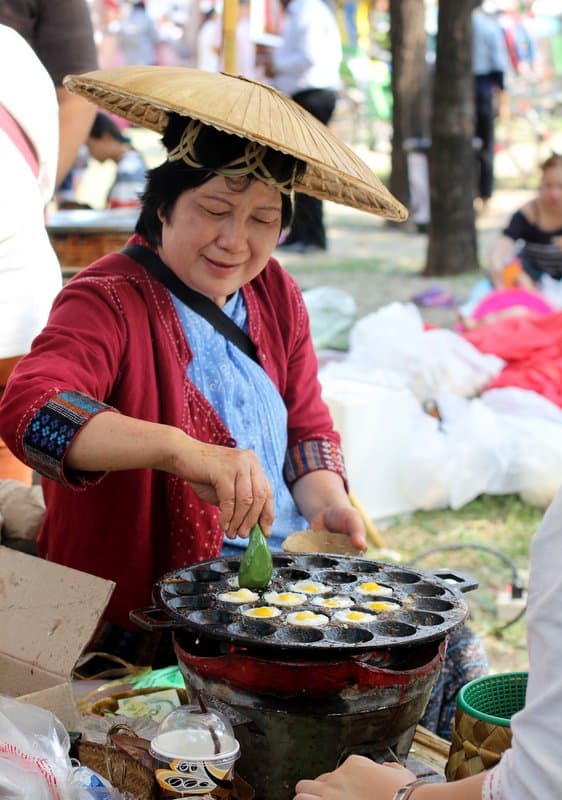 And so. many. noodles.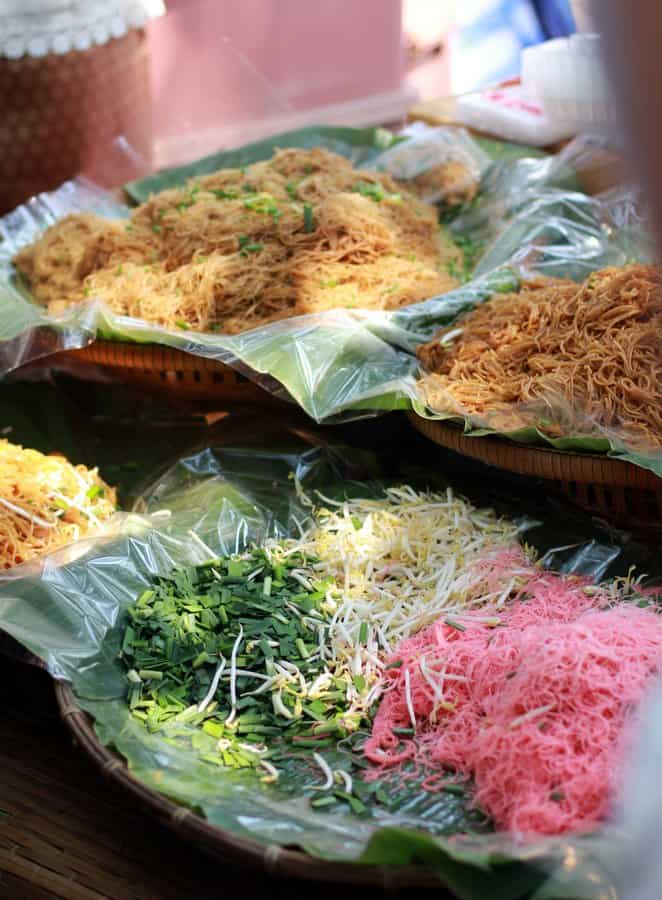 And kettle corn. Which is not a Thai specialty last I checked, but a hot-ticket fair item in any country.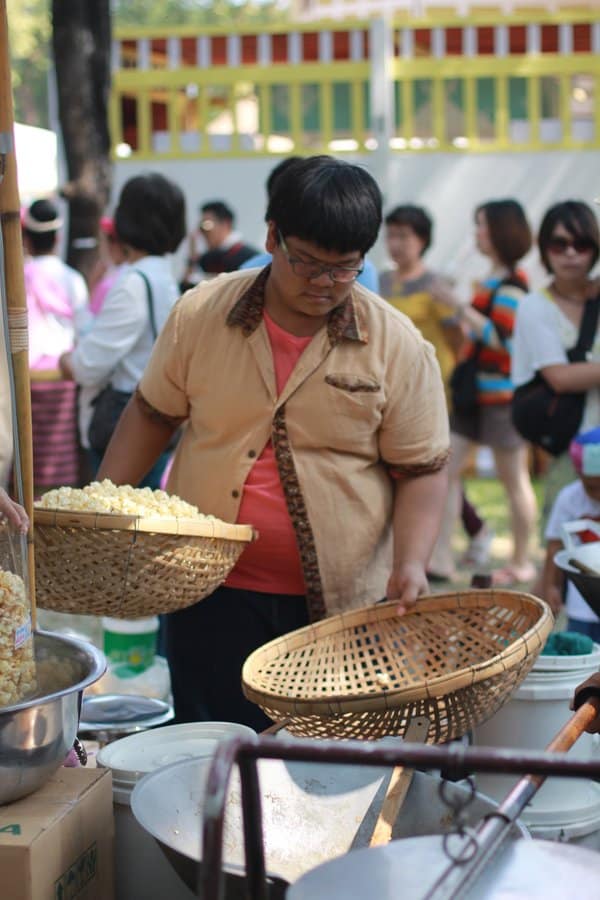 Just like all of our family outings these day, we knew it wouldn't be complete until half of Bangkok approached us to inquiring about Clara and Molly (yes twins, two girls, 9 months old). And at least one sweet Thai auntie approached Frank thinking she might "help" hold a baby.
As long as I don't remind Frank of the 47 hidden elevators we had to traverse to take public transportation to the fair (but it's so convenient) and the 40 minutes we stood by the side of the road to get a taxi home (surely someone will want to squeeze our 80 pound stroller into their front seat), we'll have nothing but wonderful memories of the day.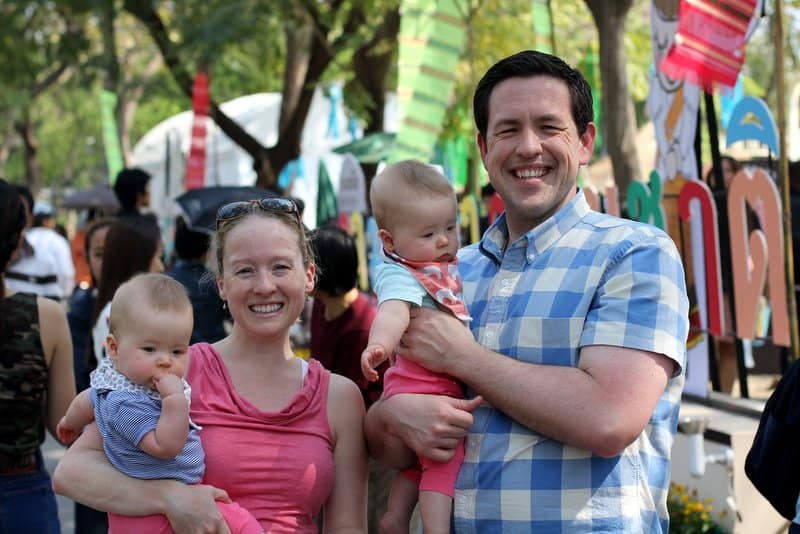 I'm starting to get sentimental as we countdown to our departure from Bangkok later this year, and it's days like this one that I will certainly miss when we move on to the next adventure.