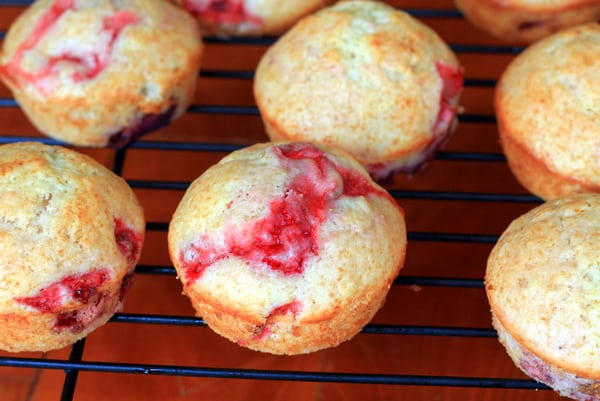 Strange, but true Bangkok fact: it's possible to buy anything on the street.  And I don't just mean food.  A few weeks ago I passed an entire block of salespeople with various styles of bathmats spread out on the ground.  In Bangkok's Chinatown we've seen vendors with everything from hairbows to tiny bottles of liquor like those given out on airplanes.  This morning I passed handkerchiefs, ties, hula-hoops, goldfish in tiny bags, and Hello Kitty underwear.
I am also surprised to see just how many baked goods are for sale on the street.  With so many other delicious Thai desserts and the limited use of baking as a cooking method in Thailand (even very new apartments in Bangkok often do not have ovens), baked goods are relatively low on the food chain.  Most baked sweets I find here are a variation on a white cake with creative fillings and brightly colored icing.  They're beautiful to look at, but I find them to often be overly sweet and lacking in a depth that I like in baked goods.
This means that baking is still an activity that I reserve for doing at home.  Even when I am feeling unmotivated to do much of anything in the kitchen, I am still drawn to baking.  I particularly enjoy when it produces something as simple, light and satisfying as these strawberry banana muffins.
These use banana and a bit of oil instead of butter, so they are flavorful and very light.  I also love just about any recipe that allows me to use one of the many frozen bananas lurking in the back of my freezer.  With just one banana, these don't taste like banana bread – the banana flavor is much more subtle and allows the strawberries to be the star.
I love these muffins best when made with frozen strawberries because all of that frozen-strawberry juice that comes out of them as they thaw gets mixed into the batter.  They taste like spring (even here where our 95-degree days hardly feel anything like spring).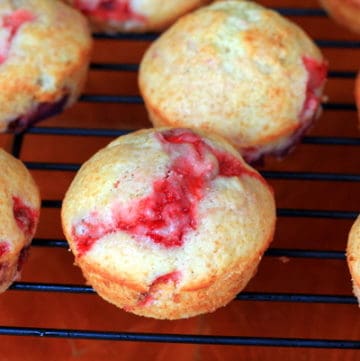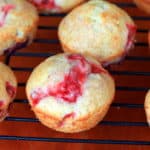 Print Recipe
Strawberry Banana Muffins
Ingredients
1

cup

(125 g) all-purpose flour

1

tsp.

baking powder

1

medium banana (115 g), lightly mashed

1

large egg

2

Tbsp.

2% milk

2

Tbsp.

vegetable oil

1

tsp.

vanilla

1/2

cup

(100 g) granulated sugar

1

cup

frozen (thawed) or fresh strawberries, chopped
Instructions
Preheat oven to 350 degrees. Sift flour and baking powder together into a mixing bowl. In another small bowl whisk together banana and egg. Add milk, oil, vanilla and sugar and stir until smooth. Pour liquid ingredients into dry ingredients and fold in just until combined (mixture may be slightly lumpy). Add strawberries and stir gently just until evenly distributed.

Fill 9 spaces in a muffin tin to about halfway full. Bake for 20-25 minutes, until tops of the muffins are golden. Remove from the oven and allow to cool slightly before removing from the muffin tin.
Notes
These muffins are moist and soft, but are best enjoyed the day they are made due to the very small amount of fat used in the batter.