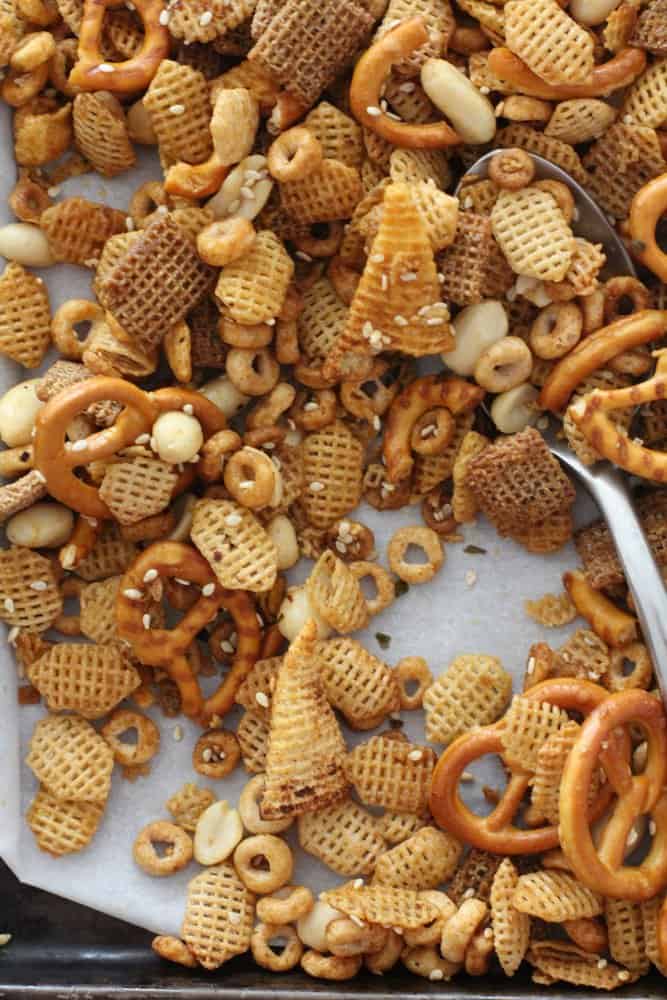 I can't believe I managed to keep this snack mix to myself for this long.  It's way too good not to share.  But time has not been kind to me and our semi-annual holiday-weekend-large-appliance-breakdown struck hard.  Not just the washing machine, but the dryer too.  So while I'd like to be sitting around eating bonbons / stuffing my face with snack mix, instead I've been digging tunnels through a mountain of socks.  This Thai-inspired take on the classic (you know the one) is spicy and sweet, and particularly great for snacking alongside a beer or two.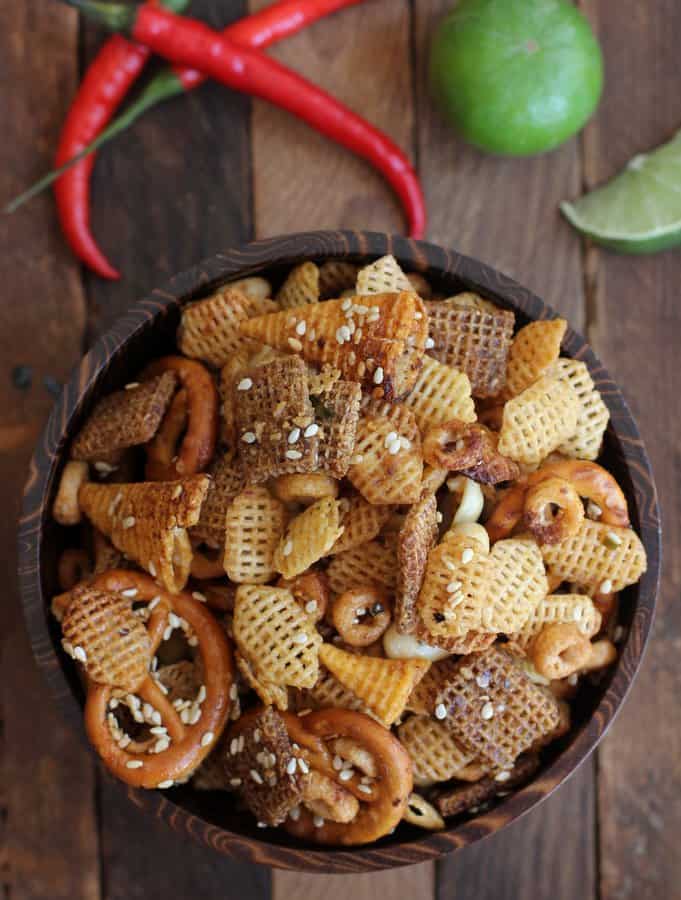 While making this mix I kept telling Frank that the recipe was way too big.  Surely we and a handful of friends couldn't finish off the whole batch.  Oh how wrong I was.  The whole bowl was gone in no time and we could have polished off some more.  I used kaffir lime leaves in my version, but if you can't find those, everything else need to make this is probably already in your pantry!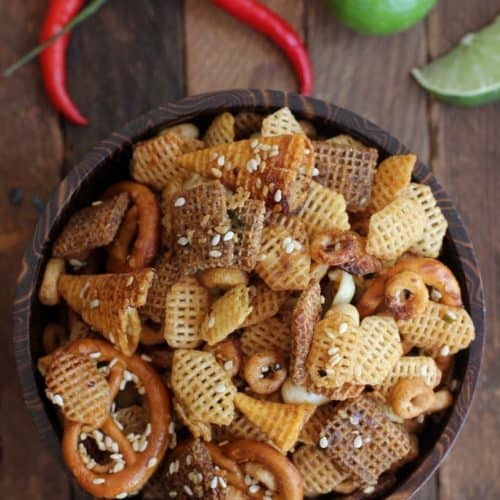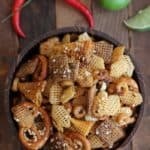 Print Recipe
Sweet and Spicy Sriracha Snack Mix
A Thai twist a snack-ish classic with brown sugar and spicy Sriracha.
Ingredients
6

cups

rice, wheat, or corn cereal (any combination will do but I used equal parts Cheerios and rice and wheat Chex, and those trumpet-shaped corn snacks)

1

cup

Roasted peanuts (unsalted is best)

1

cup

Pretzels

6

Tbsp.

Unsalted butter

1/4

cup

Light brown sugar

2

Tbsp.

Worcestershire sauce

2

Tbsp.

Sriracha hot sauce (more or less, to taste)

1

tsp.

Ground coriander

Zest from 1 lime

6

Kaffir lime leaves, very thinly sliced (optional; find these frozen at Asian markets)

2

Tbsp.

White sesame seeds
Instructions
Preheat oven to 250 F. Cover a large baking sheet with parchment paper.

Combine cereal, nuts and pretzels in a large mixing bowl or plastic bag.

In a small saucepan over medium heat, melt the butter. Whisk in the brown sugar and continue cooking until fully melted. Remove from heat and stir in all the remaining ingredients except sesame seeds. Pour liquids over cereal and toss quickly to coat. Add sesame seeds and toss to combine.

Spread snack mix on prepared baking sheet and bake until golden brown and fragrant, about 1 hour, stirring every 15 minutes. Allow to cool completely before transferring to an airtight container to store. (As if you'll really be able to "store" it - it will be gone fast!)
Even the tiniest little helpers can't resist this stuff.