The weather in Bangkok this week has been so thoroughly delightful that the guards outside our building have been wearing coats. Legit, long-sleeve, undeniable…coats. Coats around here only indicate that it's dropped below 70 degrees Fahrenheit, but nevertheless, it has been glorious to be outside.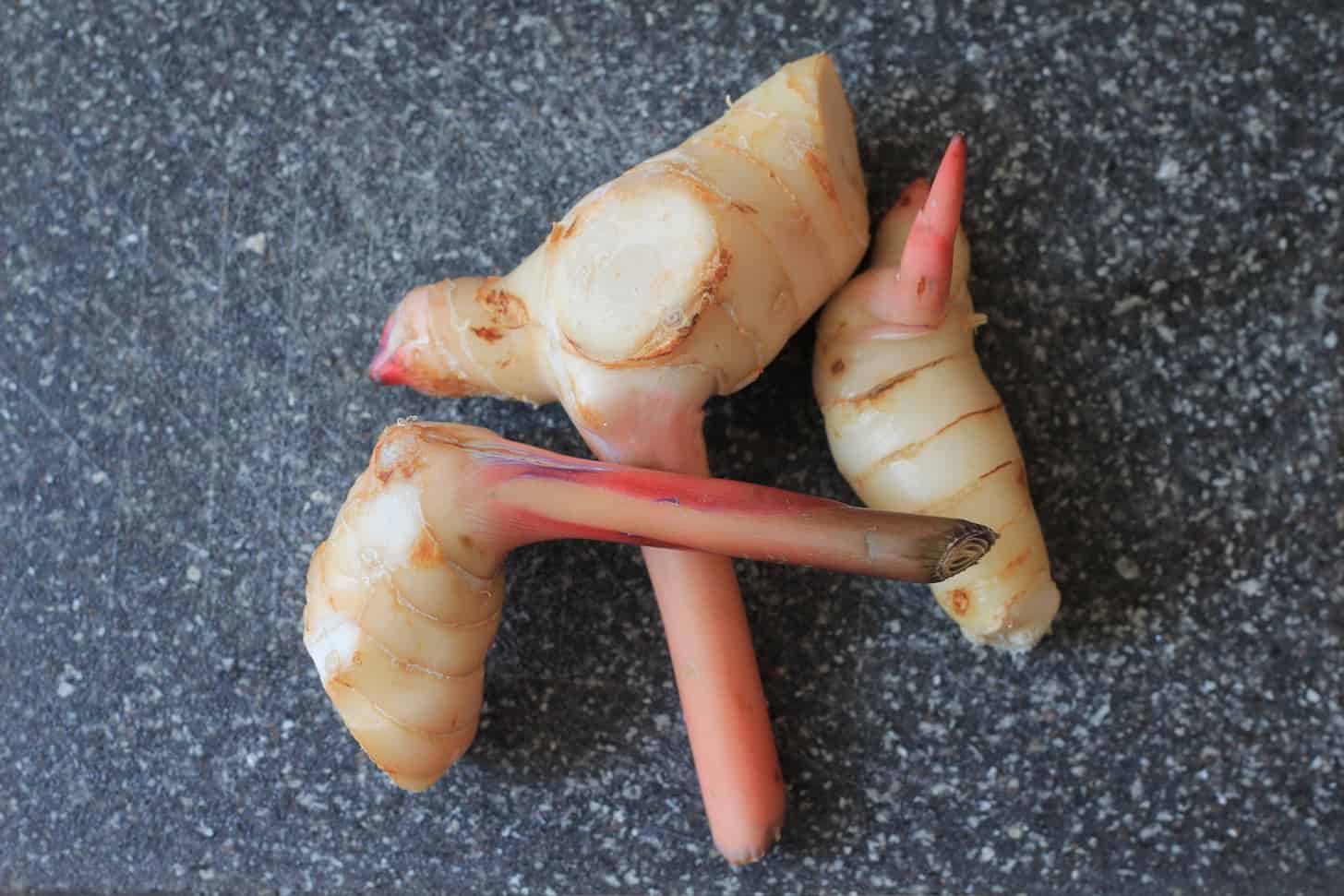 In every country I have visited, there is a dish that you do well to learn to love. When I lived in Romania, that dish was mici – small, oval patties of meat that were cooked on a grill. You had better tell everyone you meet there just how much you love mici or you're in trouble. In Thailand, that dish may very well be Tom Yam Gung. But it is, in fact, a soup that is hard not to love (as long as you are up for some spice).
Tom Yam Gung is not really Tom Yam Gung without the spice, but neither Frank or I ever seem able to resist its siren call. At the Thai level of heat, we alternate between looks of happy satisfaction and frantic grabs for the nearest bowl of rice. Fortunately, when made at home, you have a bit more control.
To give the aromatics a head start, you begin by dry roasting them (galangal, lemongrass and kaffir lime leaves) in the pan. All those intense smells come out in a burst of warm, fresh deliciousness. Releasing these bold flavors right at the start means that the soup does not need to simmer for long, and the vegetables don't turn into a soggy, flavorless mess.
Next, in goes the broth, followed by the vegetables and seasoning.
And finally, the shrimp, cooked just until pink. Then the heat gets turned off and a healthy dose of fresh lime juice gets added in. By this point, the kitchen smells like an authentic Thai restaurant, even though the soup took less than 20 minutes to prepare.
The color of the finished soup sometimes varies, but the chili paste usually results in a bright red. A perfect color for a spicy soup, don't you think?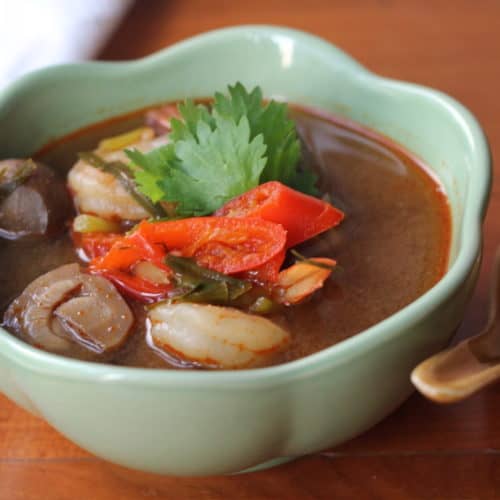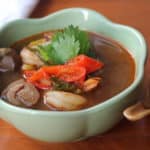 Print Recipe
Spicy Prawn Soup (Tom Yam Gung)
Ingredients
1-4

bird's eye chilis, to taste (optional)

3

stalks lemongrass, each cut into 3 large pieces

2

tsp.

galangal, finely chopped

5

kaffir lime leaves, thinly sliced

4

cups

low-sodium chicken stock

2

Tbsp.

thai chili paste

1

Tbsp.

fish sauce

1/3

cup

green onions (white and green parts), cut in 1/2-inch pieces

1/2

cup

straw or white mushrooms, halved

3

large red chili peppers, cut in 1/2 inch slices

1/2

large red pepper, chopped (optional)

1/2

large onion, chopped (optional)

20

shrimp, peeled and de-veined, but with tails intact

soy sauce, to taste

2

Tbsp.

lime juice

cilantro leaves for garnish (optional)
Instructions
Using pestle (from mortar and pestle) or a meat tenderizer, smash the bird's eye chilis and lemongrass to open them up. In a wok or soup pot over medium-high heat, dry-sauté chilis, lemongrass, galangal and kaffir lime leaves, stirring constantly until aromatic, about a minute. Add stock, chili paste and fish sauce and bring to a boil.

Add green onions, mushrooms, chili peppers, red peppers and onion (if using) and shrimp. Continue to boil soup until shrimp are pink and cooked through, about 5 minutes. Taste soup and add soy sauce to increase saltiness, if needed.

Remove from heat and add lime juice, stirring to combine. Serve immediately, topped with cilantro leaves.
Notes
Although this soup should be spicy, adjust the number of bird's eye chilis so that it is to your preferred degree of heat. Bird's eye chilis are really spicy and must be handled with care (they even make my fingers tingle when cutting them up). Even one birds eye chili will result in a healthy dose of spice. The soup also includes red chili peppers, which are the larger, less spicy type that add flavor and color, so don't skip them. (I also like to add red peppers and onions when I have them on-hand, but neither are necessary.) Oh, and one last thing – I used Thai-style broth which is not salted, so I added soy sauce for salt. Even if you use low sodium boxed broth, you may find that your soup doesn't need any extra salt at all – taste it to be sure.