Oh sweet, sweet summer.  It feels like it just began, but kids around here are all back to school this week.  The aisles of Target are full of shiny notebooks and I swear the other morning there was a hint of a chill in the air.  I've got 30-minute dinners on the brain, so I'm adding this roasted halibut with tomatoes into the mix.
Since this will be my first fall since 2010 (having lived in Bangkok for nearly half a decade, it's been a whole lotta summer), I'm practically giddy with anticipation for this change of seasons.  But I will be sad to see all this summer produce go.  This time of year, the peaches are perfect, the melons melt like butter, and the tomatoes look like they should be on the cover of a food magazine.  This bounty above came from our local farmer's market, and it's pure sunshine.  We've been popping those tiny little red cherry tomatoes like candy.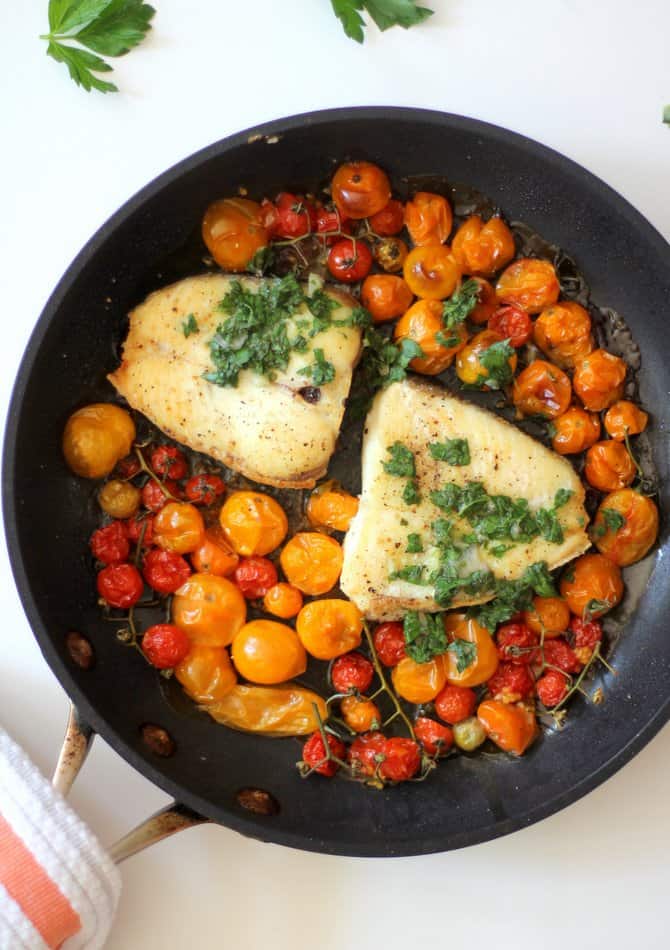 This time of year, with the busyness of the school year and the produce so wonderful, these are the kinds of dinners I love. This whole entire one pan dinner has six…SIX!…ingredients.  Gremolata is one of those fancy-sounding saucy things that I breezed over until I discovered that it is one of the best and simplest ways to bring bright flavor to fish.  It takes all of 5 minutes to combine parsley, garlic and lemon in this pretty, fresh condiment that keeps in the fridge for five days or more.
Gremolata over halibut filets, with a bed of those gorgeous late-summer tomatoes, this is a dinner that feels worthy of guests.  In truth, it's a perfect busy weeknight dinner that takes all of 15 minutes to toss together and makes me feel like I totally have it together (even when I don't).
Here's to back-to-school season, new notebooks, and getting dinner on the table in no time flat.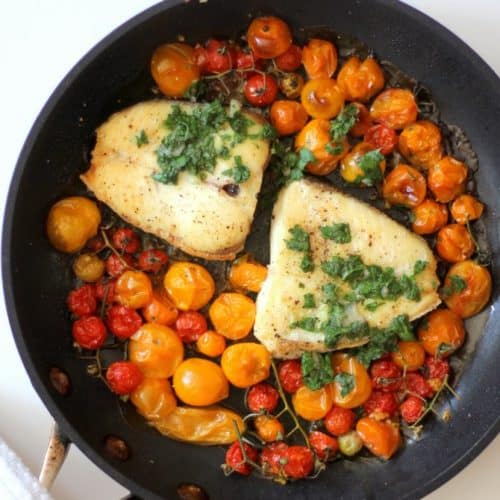 Print Recipe
Slow Roasted Halibut with Burst Tomatoes and Gremolata
We love serving slow roasted fish to guests - the oven does all the work and it's forgiving enough that the fish will still be great even if you pull it out of the oven late. Sweet cherry tomatoes and a three-ingredient gremolata make this whole thing a guest-worthy meal that couldn't be simpler to pull together.
Ingredients
1

small bunch Flat-Leaf Parsley

1

clove

Garlic

1

Lemon

2

Tbsp

Olive Oil

1.5

lb

Halibut filets

2

pints

Cherry Tomatoes (I like to use a mix of red and gold)
Instructions
Preheat oven to 300 degrees F.

Make gremolata by removing the leaves from the parsley. Finely chop the parsley leaves and garlic (by hand or in a small stand mixer). Squeeze the juice from the lemon over the top and stir to combine. Season with salt and pepper.

Place an ovenproof skillet over medium-high heat. Season the halibut generously with salt and pepper. Add the oil to the hot pan and then add the halibut, skin-side up. Cook just long enough to sear the fish. Turn the fish so the skin-side is down, sprinkle the cherry tomatoes around the fish and transfer to the oven. Bake until the fish is cooked through and the tomatoes are beginning to burst, 20 to 30 minutes (this will vary depending on the thickness of the fish, but 30 minutes is for a filet that is approximately 2 inches thick at its thickest part). Remove from the oven and spread the gremolata over the halibut. Serve immediately.
Nutrition
Calories:
282
kcal
|
Carbohydrates:
14
g
|
Protein:
35
g
|
Fat:
10
g
|
Saturated Fat:
1
g
|
Cholesterol:
83
mg
|
Sodium:
160
mg
|
Fiber:
4
g
We had a great weekend that included a zoo outing and some close encounters with penguins, kangaroos, and orangutans (is that really how it's spelled?). Hope you had a great one as well!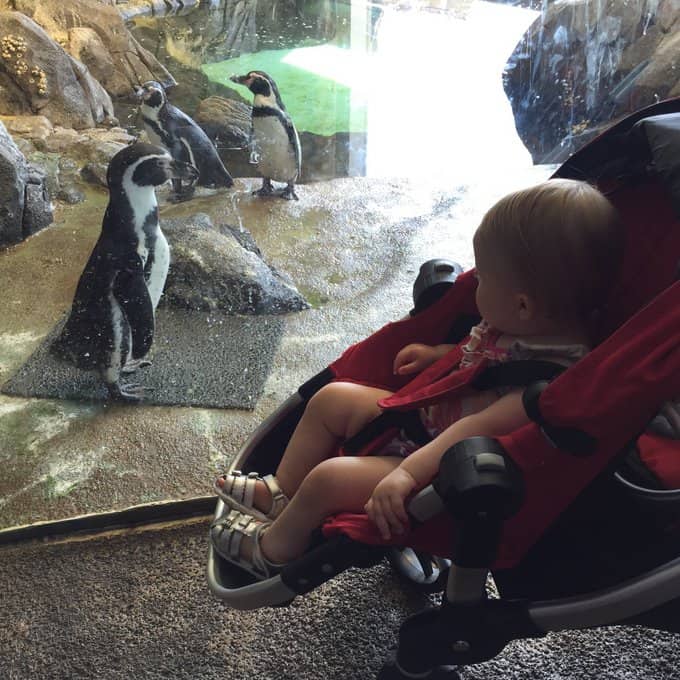 SaveSave