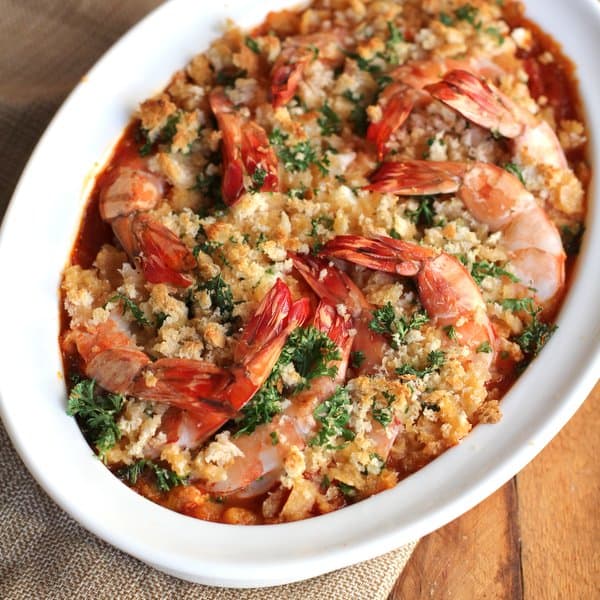 This is a quick yet elegant dish of roasted shrimp topped with feta and toasty breadcrumbs. This easy dinner recipe is inspired by Ina Garten's classic roasted shrimp with feta dish.
Roasted Shrimp Recipe Inspiration
There's a lot of good going on around here today. At the top of the list are certainly my sweet husband who took great care of me over the weekend and the welcome fact that I am kicking this travel-induced illness out the door.
Dinner tonight was a lot of good as well. I'm glad to be back in my little kitchen with its strange lighting and endless pile of dishes begging to be washed. Those weeks off from the kitchen were lovely, but I start itching to cook, and (thanks to countless hours on airplanes) I now have hundreds of bookmarked new recipes to try! Tonight though, dinner inspiration came from Peggy at Feeding Andy.
As is always the case with discovering a new blog via Secret Recipe Club, the deeper I got into Peggy's, the harder it was for me to choose what to make. But when I saw Peggy's pretty adaptation of Ina Garten's Roasted Shrimp with Feta, I knew this would be the one. The dish comes together in one pan and is finished off in the oven so that it comes to the table all bubbly and hot.
How to Make Roasted Shrimp with Feta
It's a pretty quick dinner proposition, especially if you have access to shrimp that is relatively oven-ready when you buy it. I'm glad to know my Thai shrimp are nice and fresh, but darned if I'm not looking forward to the day that I can purchase shrimp with their heads already cut off.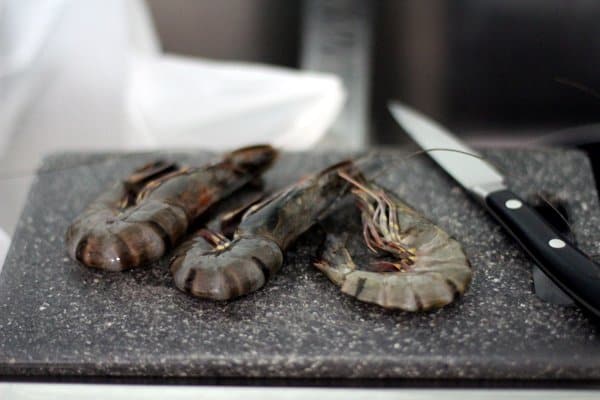 Once you make this dish for the main attraction, the sky's the limit on how to serve it. I loved Peggy's idea to serve it over egg noodles. It would also be great with crusty bread for dipping. I served it with whole wheat couscous tossed with roasted vegetables. But honestly, this all on its own with a salad on the side would make for a great dinner – light and satisfying – quite fitting for the first week of January.
I did adapt the recipe a bit, although I've posted it below in its original form. Most notably, I left out the Pernod. I think I'll be a real grown-up when I have things like Pernod in my kitchen cabinet, but it seems I'm not there quite yet.
Thanks for the great recipe, Peggy!
More Seafood Dishes
Favorite Tools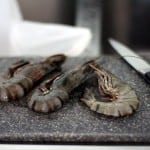 Print Recipe
Roasted Shrimp with Feta
A quick yet elegant dish of roasted shrimp topped with feta and toasty breadcrumbs.
Equipment
oven-safe skillet

Mixing Bowl
Ingredients
4

Tbsp

Olive Oil, divided

1 ½

cups

medium-diced Fennel

1

Tbsp

Minced Garlic

(3 cloves)

¼

cup

Dry White Wine

1

14.5 oz can

Diced Tomatoes

2

tsp

Tomato Paste

1

tsp

Dried Oregano

1

Tbsp

Pernod

1

tsp

Kosher Salt

½

tsp

Freshly Ground Black Pepper

1 ¼

lb

Peeled Shrimp with tails on

(16 to 20 per pound)

5

oz

Feta Cheese, coarsely crumbled

1

cup

fresh Bread Crumbs

(see note)

3

Tbsp

minced Fresh Parsley

1

tsp

Grated Lemon Zest

2

Lemons
Instructions
Preheat the oven to 400 degrees.

Heat 2 tablespoons of the olive oil in a 10-or 12-inch heavy ovenproof skillet over medium-low heat. Add the fennel and saute for 8 to 10 minutes, until the fennel is tender. Add the garlic and cook for 1 minute. Add the wine and bring to a boil, scraping up any browned bits. Cook for 2 to 3 minutes, until the liquid is reduced by half. Add the tomatoes with the liquid, tomato paste, oregano, Pernod, salt, and pepper to the skillet. Simmer over medium-low heat, stirring occasionally, for 10 to 15 minutes.

Arrange the shrimp, tails up, in one layer over the tomato-mixture in the skillet. Scatter the feta evenly over the shrimp. In a small bowl, combine the bread crumbs, parsley, and lemon zest with the remaining 2 tablespoons of olive oil and sprinkle over the shrimp.

Bake for 15 minutes, until the shrimp are cooked and the bread crumbs are golden brown. Squeeze the juice of 1 lemon over the shrimp. Serve hot with the remaining lemon cut into wedges.
Notes
Recipe from Feeding Andy and from the original by Ina Garten.
*This post contains affiliate links*