Sauteed Cabbage with Bacon
Published Mar 02, 2015•Updated Apr 19, 2022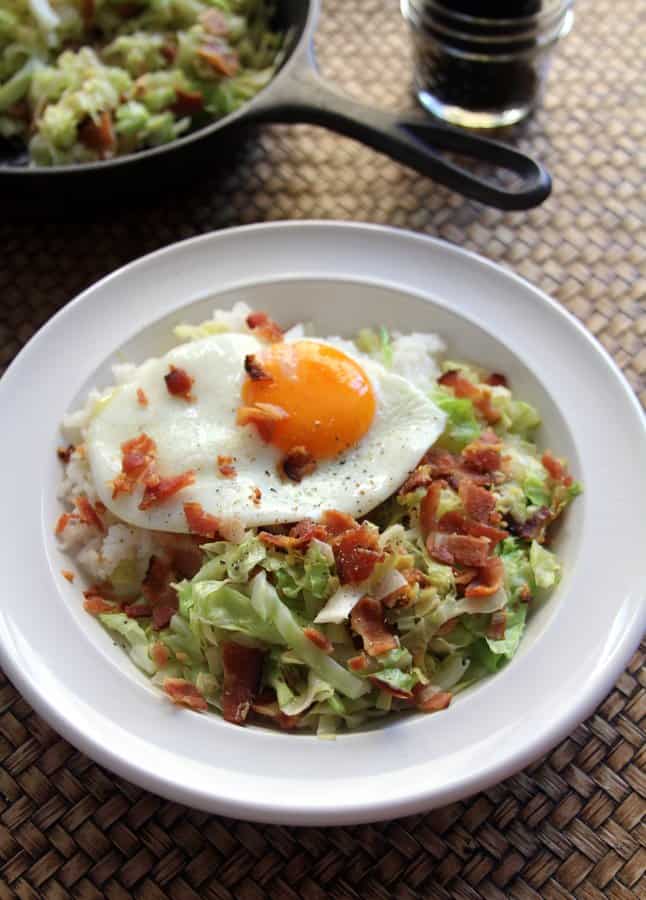 Sauteed Cabbage with Bacon is a humble dish that cooks cabbage down until it is tender but still crisp and tops it with crispy bacon.
I'm quite drawn to humble food these days. Simple food for a weeknight that doesn't take too much work and doesn't remind us with too much emphasis that we don't have a dishwasher.
As much as we love good food in our little family, we're not terribly fancy. Well, most of us aren't.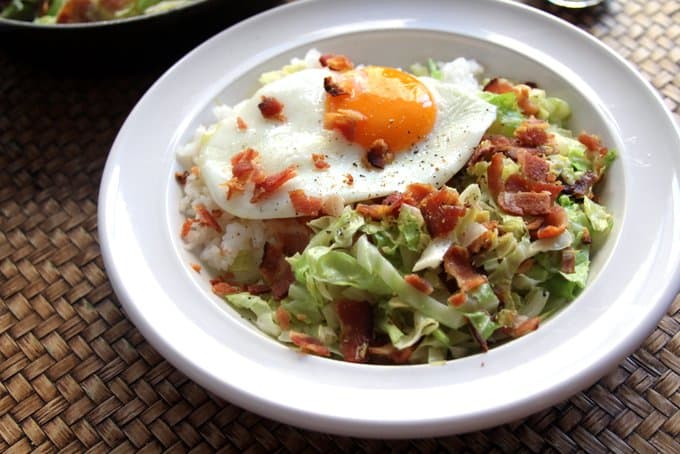 Frank was out of town this week, and single-parenting twin babies is not for the faint of heart. When I tucked those two sweet chickadees in at night, I took all of five minutes to decide what I would be feeding myself before curling up in sweats to watch Mindy Project reruns. (And there you have an accurate picture of what home alone Jess looks like these days.) When I'm cooking for myself, most meals are one or two vegetables with a side of rice, and a fried egg if I'm feeling up for it. Years ago I wrote about green beans for dinner, and those still make a frequent appearance.
And so it was, in a very home alone dinner sort of mood that I went out in search of a recipe for this month's Secret Recipe Club. This month, I was matched up with Anna in Alaska, which seemed fitting. I had already spent a good bit of time in Anna's great blog Cheese with Noodles since she cooked from my blog just last month! At the beginning of February, it was so wonderful to be reading about Anna's chilly Alaska life from my tropical Bangkok one. And this month, I loved having the chance to cook from her blog. Anna's food is totally my style – she comes up with amazingly creative ways to use simple ingredients, and only shares the very best on her blog. Which is where this cabbage dish comes in. Sautéed Cabbage with Bacon and Onions sounds like it should be a classic, but I've never cooked cabbage like this before. And what a mistake. This cabbage, cooked until tender but still crisp, becomes silky and just a bit sweet. And with the crunch of crumbled bacon…amazing.
This is one I will absolutely make again. Maybe next time I'll even make it when Frank is home.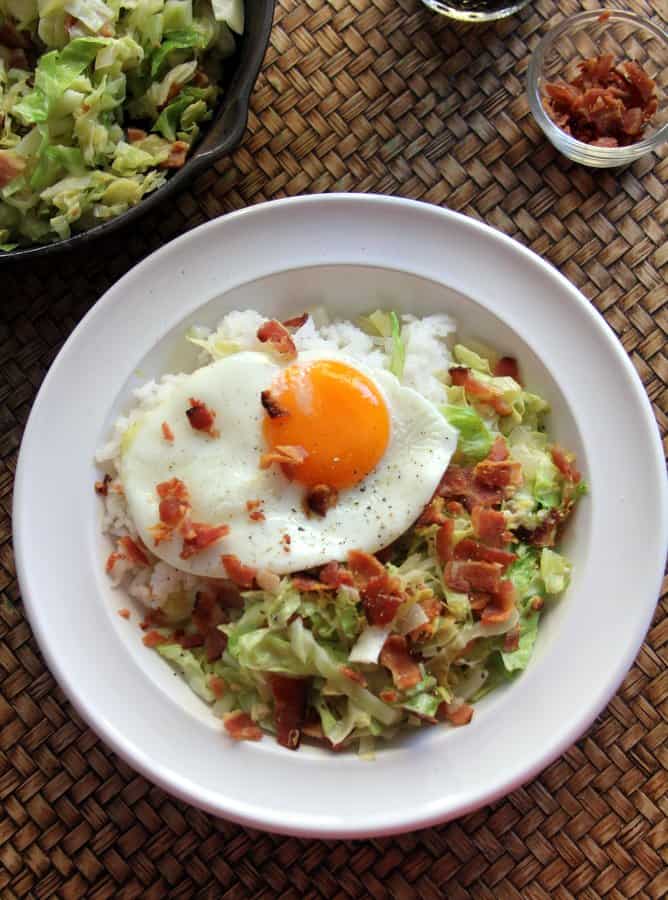 More Easy Dinner Recipes
Favorite Tools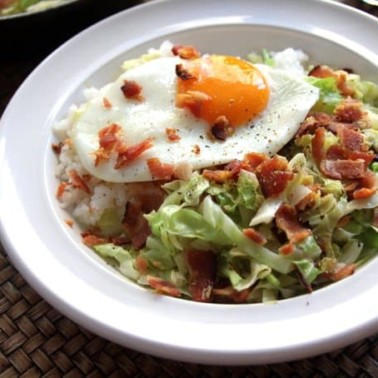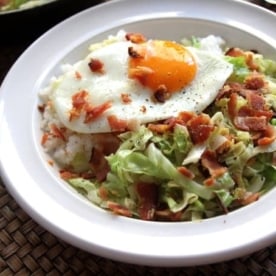 Sauteed Cabbage with Bacon
This humble dish cooks cabbage down until it is tender but still crisp and tops it with crispy bacon - comfort food at it's best.
Ingredients
1/4

lb

Bacon

1/2

large

Onion, chopped

1

small

Green Cabbage, quartered, cored, and sliced thinly

2

tsp

Sugar

2

tsp

Apple Cider Vinegar

Salt and Pepper, to taste
Instructions
Cook bacon in a large skillet until crisp. Transfer to a paper towel-lined plate to cool; then crumble. Add onions to grease in skillet and sauté until translucent, about 3 minutes. Add cabbage, breaking it apart with your hands as you add it to the skillet. Sauté until cabbage is as tender but still crisp, about 10 to 15 minutes. (You can speed things along by covering the skillet.) Add sugar, vinegar, salt and pepper. Cook until sugar dissolves, about 1 minute more. Remove from heat and add crumbled bacon.

Serve as a side dish on its own or with grain of choice (I loved this with rice). Add an egg to make this a delicious, simple dinner!
Nutrition
Calories:
179
kcal
|
Carbohydrates:
14
g
|
Protein:
6
g
|
Fat:
11
g
|
Saturated Fat:
4
g
|
Trans Fat:
1
g
|
Cholesterol:
19
mg
|
Sodium:
221
mg
|
Potassium:
389
mg
|
Fiber:
5
g
|
Sugar:
9
g
|
Vitamin A:
186
IU
|
Vitamin C:
67
mg
|
Calcium:
77
mg
|
Iron:
1
mg
Nutrition information is automatically calculated, so should only be used as an approximation.
Frank was gone for the week, but we're all together in Chiang Mai (northern Thailand) now! The weather is fabulous, the temples are abundant, and the shopping opportunities are endless!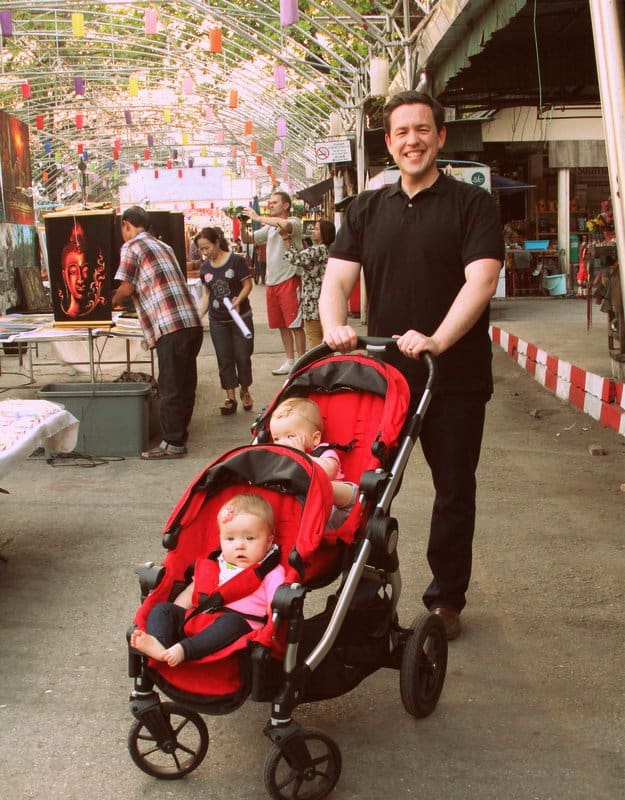 *This post contains affiliate links*