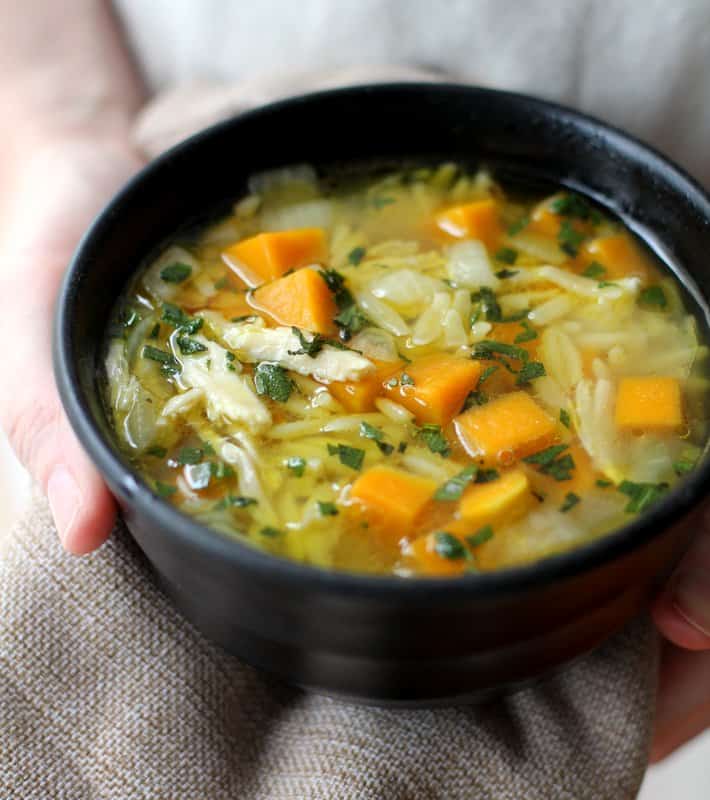 Delicious and satisfying chicken noodle soup with sweet butternut squash, herby sage, and orzo pasta.
Four years of living abroad, and I'm still humbled by it. Every day.
Today I needed to get a dress pressed on my lunch break…for a wedding on Sunday. Just pressed. Many hand gestures and botched-Thai phrases later and I left my office with the dress. Still a wrinkled mess.
Four years of this has, I hope, gifted me with patience. Most days I find it more funny than frustrating – the absurdity of an American girl trying to get her pink dress ironed when she doesn't know the Thai word for "iron". I no longer expect that everything will get done in my timing. And that's for the best. In a city where it's possible to sit in traffic for hours to move a couple kilometers there are many reminders that my schedule is insignificant.
And while I'll readily admit that my schedule at home is also now secondary to two adorable yet demanding people, there's a lot less chaos here than outside our four walls. I'd like to say that we're slowing down and embracing some quiet moments at home with the holidays on the horizon, but the truth is we're ramping up for so much in the next few weeks: our first Thanksgiving as a family of four, Frank's graduation from business school, four weeks in Spain (jamón! Rioja! boots! scarves!), and a whole lot of holiday fun with our extended family.
All this is my roundabout way of telling you that I've found that the best complement to chaotic days is quiet nights. Sleepy babies and dinner with Frank. And all the better with something simple and homey to eat. We loved this soup with crusty bread to chase away the tail end of a cold. It's sort of a glorified chicken noodle soup with sweet butternut squash, herby sage, and orzo pasta bits that you'll chase around the bottom of your bowl.
More Cozy Soup Recipes
Favorite Tools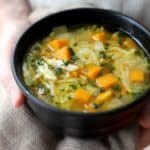 Print Recipe
Chicken, Butternut Squash, and Orzo Soup
Stepped-up chicken noodle soup with sweet butternut squash, herby sage, and orzo pasta.
Ingredients
1

Tbsp

olive oil

1

medium

Onion, roughly chopped

3

lbs

Butternut Squash, peeled and cut into 1-inch cubes

4

sprigs

fresh Sage, finely chopped

2

cups

Water

8

cups

Chicken Stock

(see note)

1

cup

Orzo Pasta

(dry)

2

cups

shredded, cooked Chicken

(see note)

salt and pepper, to taste
Instructions
To a large soup pot over medium heat, add the oil. When the oil begins to shimmer, add the onion and butternut squash. Cook and stir for about 5 minutes, until the onions are softened but not brown. Add the fresh sage and stir until fragrant, about 1 minute. Add the water and simmer (adjust the heat, if needed, so that the water is gently boiling) until the squash is tender, 7-8 minutes.

While the squash is cooking, bring another small pot of salted water to a boil and cook the orzo pasta just until tender. Drain and divide orzo between four serving bowls.

When the squash is tender, add chicken stock and shredded chicken to the soup. Bring to a simmer and add salt and pepper, as needed. Ladle soup over orzo in prepared bowls. Serve immediately.
Notes
To make the chicken and stock from scratch, I simmer a whole (3ish pound) chicken in a stockpot with about 12 cups of water, 1 chopped carrot and 1 onion cut into quarters for about 1-1.5 hours. When the chicken is cooked, take it out of the stock, shred the meat and toss it with some salt and pepper (discard the bones). Strain the stock and discard the carrot and onion. Et voila - continue with the recipe as above!
Nutrition
Calories:
624
kcal
|
Carbohydrates:
87
g
|
Protein:
38
g
|
Fat:
15
g
|
Saturated Fat:
3
g
|
Cholesterol:
67
mg
|
Sodium:
762
mg
|
Potassium:
1987
mg
|
Fiber:
9
g
|
Sugar:
17
g
|
Vitamin A:
36206
IU
|
Vitamin C:
74
mg
|
Calcium:
207
mg
|
Iron:
5
mg
Between bowls of soup and Bangkok craziness we had a beach vacation! More on that coming soon, but Molly and Clara say that they loved lounging in bed with some good beach reads…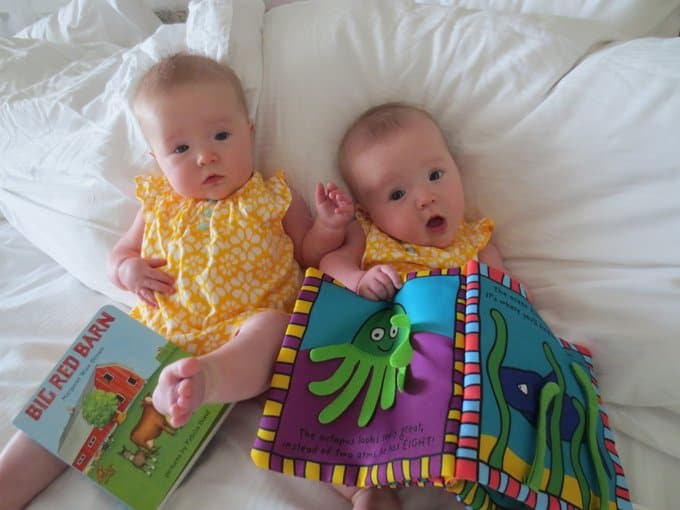 *This post contains affiliate links*