Tortellini and Fire Roasted Tomato Soup
Published Aug 20, 2012•Updated Apr 19, 2022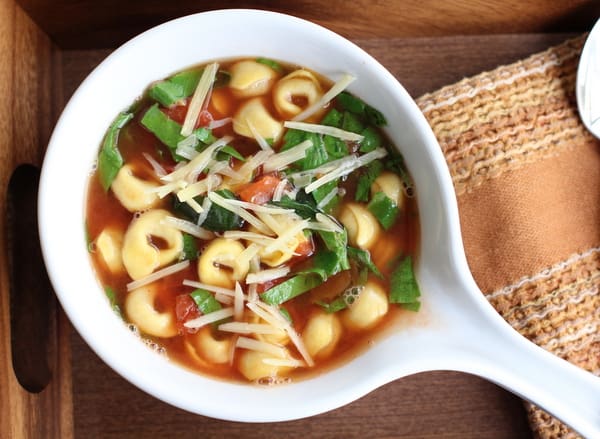 There is a mean cold working its way from cube to office to cube in my workplace this week. It's bad news. Particularly since we have friends coming in town to stay for the week – yay! I have been warding off the cold with every tool I can think of. Vitamin C? Check. Echinacea? Check. Copious amounts of soup made with nutrient-rich homemade stock? Check and Check.
I had a lot of fun this week digging through Aly's site full of inspiration, Cooking in Stilettos (how fun is that?!) for the August round of Secret Recipe Club. But in the end, my muted taste buds and subtle stuffiness steered me clearly in the direction of her great collection of soups and stews.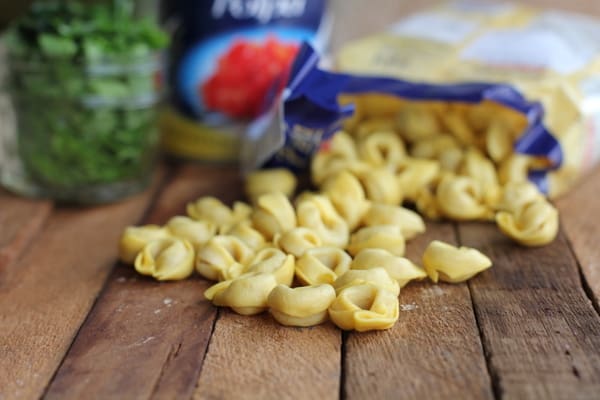 This recipe for Garlicky Tortellini, Spinach, and Tomato Soup immediately jumped out at me. It was stunningly simple, yet full of flavor. I cut back on the garlic element in my version and let those fire roasted tomatoes really take lead billing.
The ingredients in this soup just play so nicely together. With a change in season around the corner for so many of you, this is a great one to keep in mind for chilly evenings.
I packed the leftovers into jars to take to work for lunch. If this cold thinks it's going to strike me next, I've not news (and soup) in store.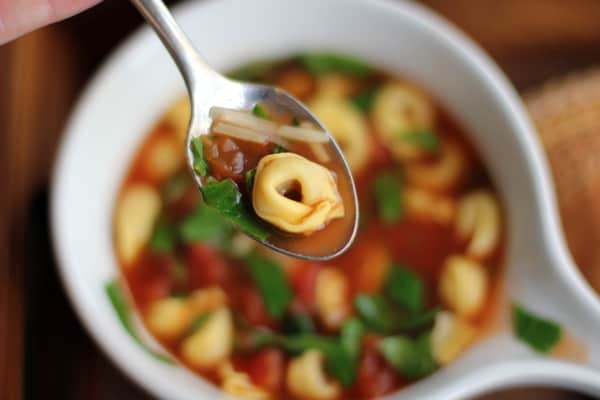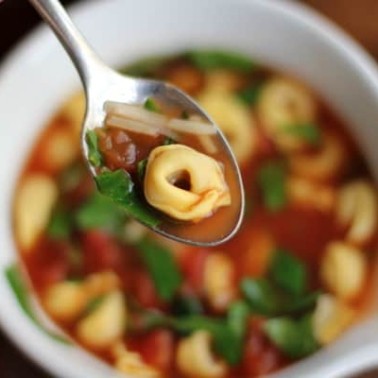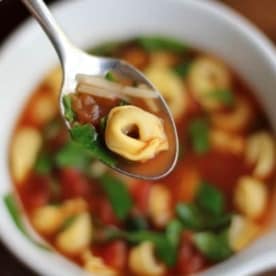 Tortellini, Basil, and Fire Roasted Tomato Soup
Ingredients
2

tbsp.

unsalted butter

1

clove

garlic

1-

quart

chicken broth, preferably lower salt

6

oz.

fresh or frozen tortellini

14

oz.

canned diced fire roasted tomatoes with their liquid

10

oz.

spinach, washed and stemmed; coarsely chopped

8

– 10 leaves of basil, coarsely chopped

Freshly grated Parmigiano-Reggiano
Instructions
Melt the butter in a large saucepan over medium-high heat. Add the garlic and sauté until fragrant, about 2 minutes. Add broth and bring to a boil.

Add the tortellini and cook halfway, about 5 minutes for frozen tortellini, and just a minute or two if using fresh. Add the tomatoes and their liquid, reduce the heat to simmer and cook just until the pasta is tender.

Stir in the spinach and basil and cook until wilted, 1 to 2 minutes.

Serve immediately, sprinkled with the grated Parmigiano Reggiano.
Notes
Adapted from Fine Cooking via Cooking In Stilettos (the original uses a great deal more garlic than used in this variation).
Nutrition information is automatically calculated, so should only be used as an approximation.

');