Have I ever told you how much we love fish tacos around here? I mean, we really love them. Not like in the oh-I-love-a-good-crunchy-apple sort of way, but in a rich-perfect-can't-resist-it-deep-dark-chocolate sort of way. Fish tacos are one of my very favorite dinners. I was flipping through Honest Cooking this afternoon and realized that, although I originally published this recipe over there, it was just too good not to give it a little love here. What you will find below is the recipe, cut down so that it makes dinner for just us two.
Although sometimes I like to jazz these up for guests, on a weeknight at home, F and I keep them extra simple. I like a bit of slaw on the side and a bit on my taco, but no matter what iteration these tacos take, they are inevitably piled high with avocado salsa.
Here's a glimpse of tonight's fish tacos.
Step 1: Combine these things (avocado, tomato, shallot or garlic, lime juice, and chopped jalepeno or other spicy pepper, if you like spice)
Step 2: Combine these things (cabbage, carrot, cilantro, onion, orange and any type of vinegar - I like rice or apple cider vinegar in this one)
Step 3: Cook up some salmon and use a fork to break it apart into pieces.
I bet you can't stop at just one. (I certainly couldn't.)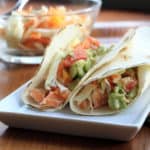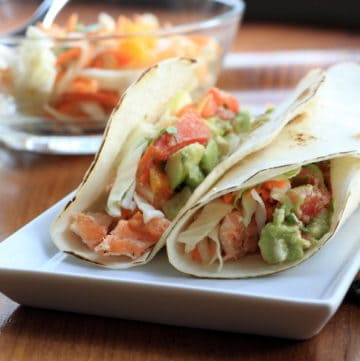 Print Recipe
Fish Tacos with Avocado Salsa and Cilantro-Orange Slaw
Ingredients
For the salsa:
2

ripe avocados, cut into small pieces

1 to

mato, roughly chopped

1

small shallot or 1 clove garlic, minced

1

jalepeno, seeds and veins removed, finely chopped (optional)

juice squeezed from 1 lime, to taste
For the Slaw:
½

a small onion, very thinly sliced

1

Tablespoons

vinegar (any flavored vinegar will do, but I prefer apple cider vinegar or rice vinegar in this recipe)

½

head of cabbage

1

medium carrot

1

handfull of cilantro leaves, roughly chopped

1

orange, peeled and cut into small wedges
For the tacos:
1

Tablespoon

olive oil

1

large salmon fillet, about 16 oz.

6

small flour tortillas, for serving
Instructions
Make the salsa. In a small bowl, gently toss together the avocados, tomato, shallot, and jalepeno. (Be careful not to mash the avocado too much or you will end up with guacamole.) Add lime juice, salt and pepper a bit at a time, to taste. Set aside.

Make the slaw. Combine the onions and vinegar in a medium serving bowl, tossing to combine. Let the onions rest in the vinegar for 10 minutes while preparing the other ingredients. Thinly slice the cabbage and shred the carrot using a box grater. Add the cabbage, carrot, cilantro and orange to the onions, tossing gently to coat the ingredients in the vinegar. Set aside. Just before serving - toss the slaw once more and taste, adding an additional splash of vinegar if needed.

Cook the salmon. Heat oil in a medium saute pan over medium heat. Season the salmon with salt and pepper and place skin-side up in the hot oil. Cook the salmon until just cooked through, flipping it halfway through cooking. (Depending on the thickness of the fillets, this should take 2-4 minutes on each side.) Remove from the pan and transfer to a serving platter. Using a fork, gently break the salmon apart into bite-size pieces.

Serve immediately with warmed tortillas.
Notes
To warm the tortillas, cover them with a cloth napkin and heat in the microwave for 10 seconds.