Pumpkin Bread Truffles
Published Oct 20, 2014•Updated Apr 19, 2022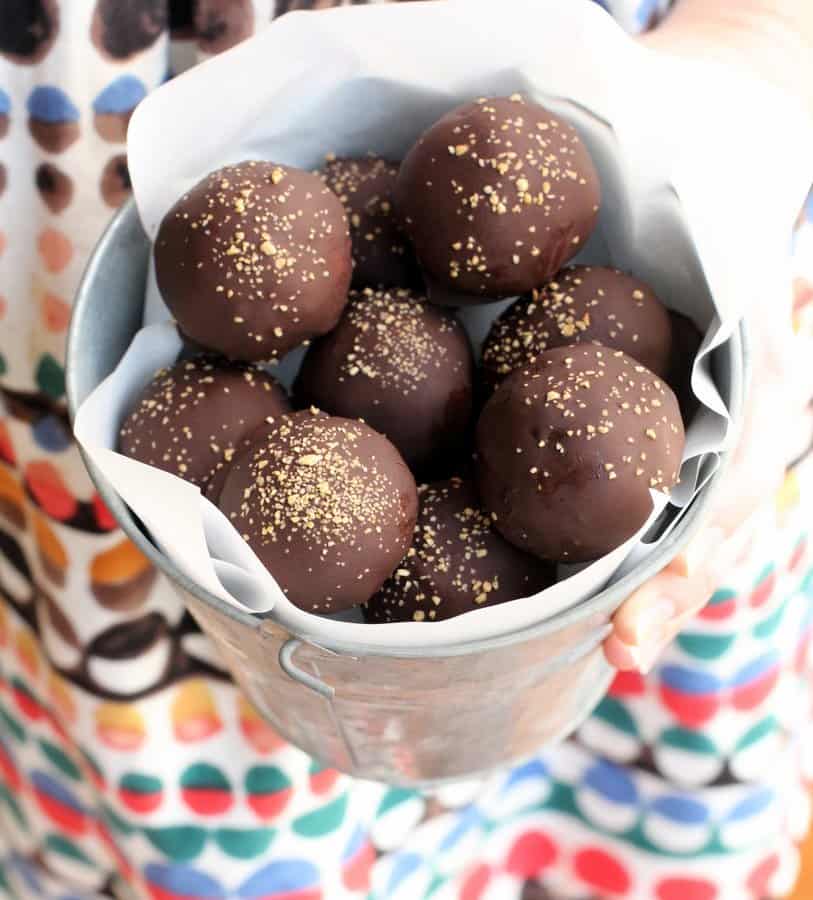 Last weekend I opened one of those cans of pumpkin purée that necessitates 32 pumpkin-themed recipes in 48 hours. The girls were still a couple days shy of their intro to solids, otherwise pumpkin purée would have been on the menu. Easily my favorite recipe to emerge from the pumpkin-filled weekend was the one for these Pumpkin Bread Truffles. These are a remix of my Banana Bread Truffles – just a loaf of sweet bread mixed with cream cheese and dipped in chocolate. Three ingredients, no baking (unless you bake your pumpkin bread), and so quick to make.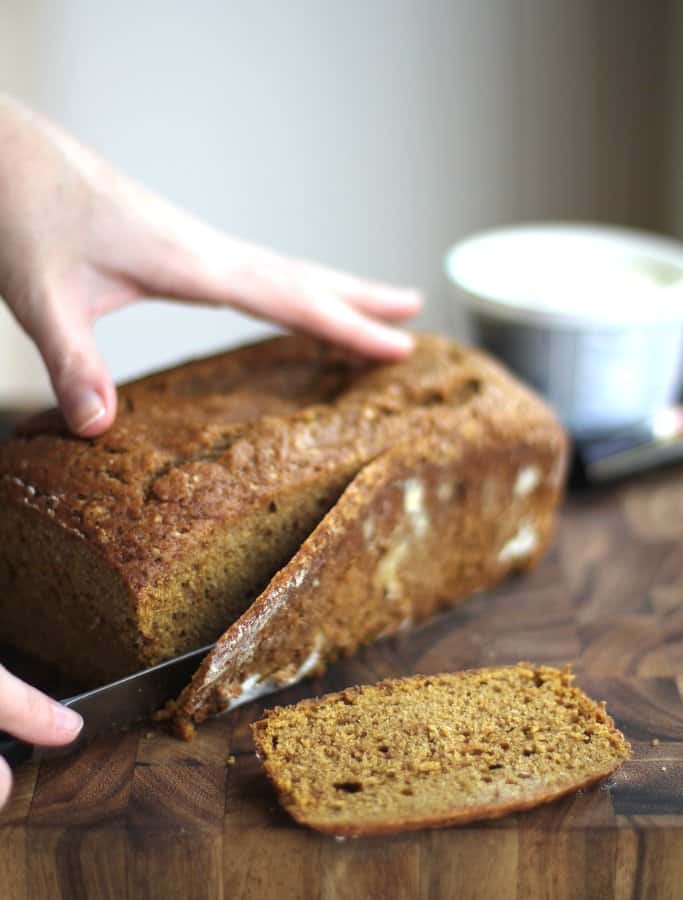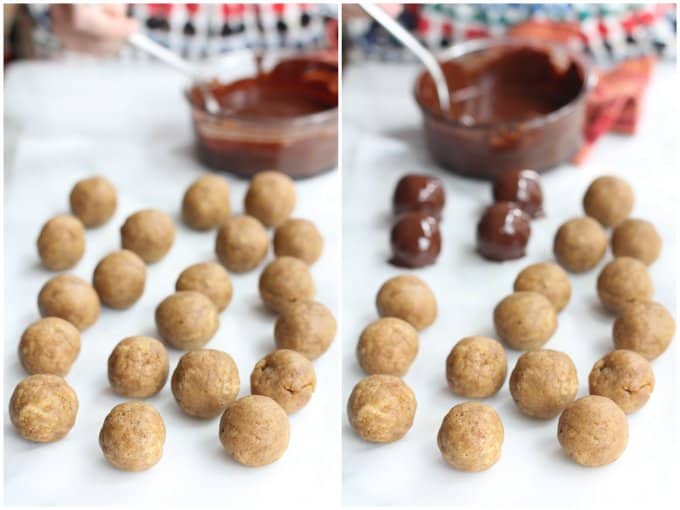 Perhaps the greatest thing about these bite-sized truffles of pumpkin spice goodness is the ability to sneak into the refrigerator and grab just one…or two…or three. Or perhaps grab one as a 4am snack (which you might have needed if you were in our apartment this week where we had two mopey babies fighting their first colds).
I may have grabbed one or two of the pumpkin bread balls even before they were dipped in chocolate…as evidenced by this shot.
There really were 24 truffles here at some point.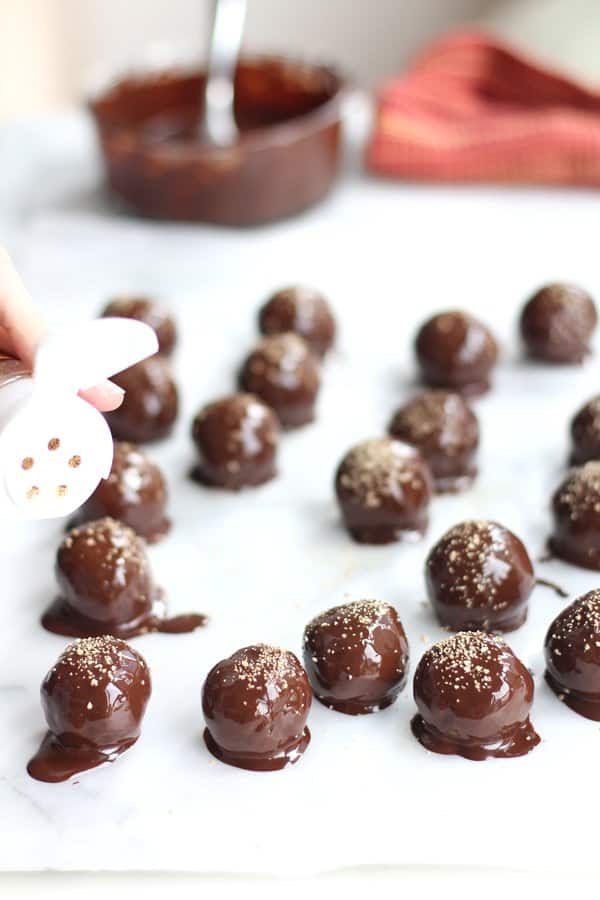 After much truffle-eating and sick-baby snuggling, we're getting back to normal in the Inquiring Chef household. Frank's got us doing one of those work-outs after the babies go to bed in which you are promised to burn 378432 calories by jumping around like crazy in your living room.
My legs are already sore.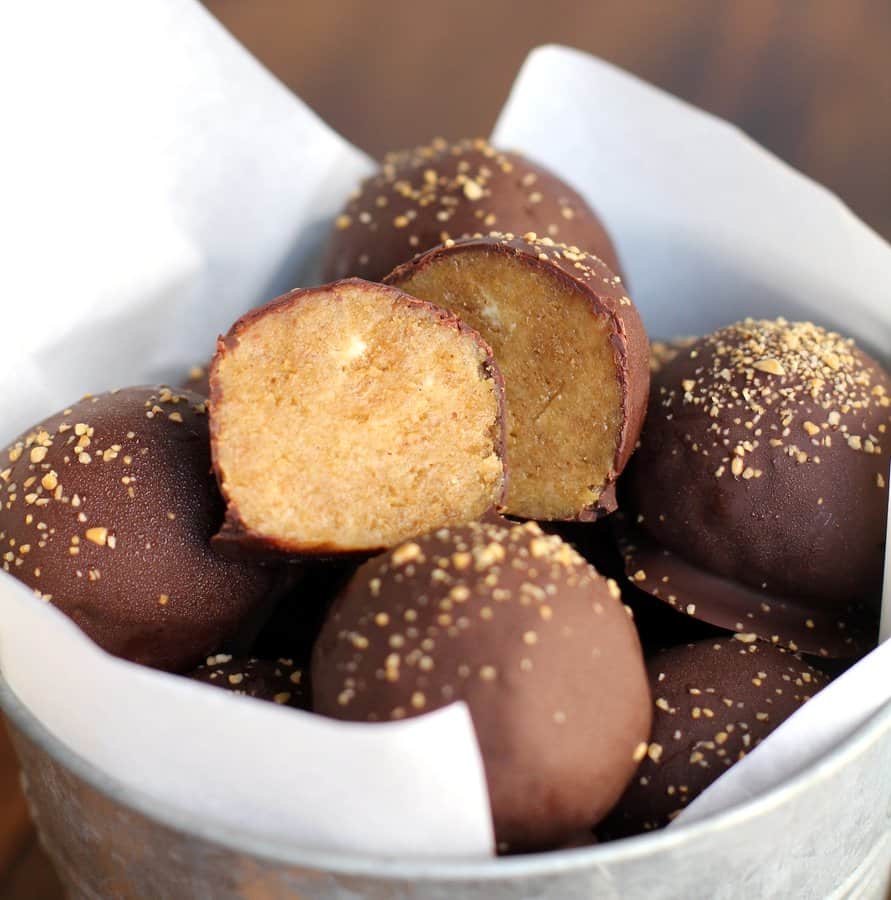 More Bite Sized Desserts
Favorite Tools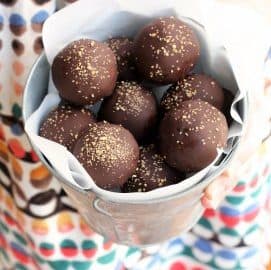 Pumpkin Bread Truffles
Rich, creamy pumpkin bread filling dipped in chocolate. Only three ingredients and no baking required!
Equipment
Mixing Bowls

Half Sheet Pan
Ingredients
1

loaf

Pumpkin Bread

(see note)

6

oz

Cream Cheese, softened to room temperature

10

oz

Dark Chocolate, roughly chopped

(300g)
Optional:
Top with finely chopped toasted walnuts, sprinkles, or more grated chocolate
Instructions
Using a bread knife, thinly slice and discard the outer edges of the loaf of pumpkin bread (the crust of the bread can be hard to crumble. Using your fingers or a fork, crumble the bread into very small pieces in a medium mixing bowl. Add cream cheese and, using a fork or your fingers, mash the bread crumbs and cream cheese into a creamy, uniform consistency.

Roll the mixture into even balls 2 inches in diameter. (This should produce about 30 truffles, but there is no need to be precise here - make them larger or smaller if you prefer.) Place the balls on a wax-paper-lined baking sheet and refrigerate for at least 30 minutes, but as long as overnight.

Melt approximately 8 oz of the dark chocolate in a double-boiler or in the microwave (stopping every 10 seconds to stir the chocolate so that it does not overheat). Add the remaining 2 oz of chocolate and stir well to combine. The chopped chocolate should melt and it should all become shiny and smooth. (If it doesn't all melt, heat it just a bit longer until it does.)

Dip the chilled pumpkin bread balls in the melted chocolate and gently transfer the balls between two forks to allow excess chocolate to drip back into the bowl. Return the truffles to the wax paper. Sprinkle with toppings, if using.

Allow the truffles to cool at room temperature until firm. Refrigerate up to 3 days.
Notes
Note:
Any pumpkin bread will work just fine for this recipe since it will be mashed and rolled into balls. I used this great Easy One-Bowl Pumpkin Bread by The Baker Chick, but a store-bought loaf or one from a mix (Trader Joe's makes a good one) will work as well. Worth nothing the recipe can easily be halved or quartered to use that portion of a loaf of pumpkin bread you might have sitting in your kitchen this time of year! Adapted from these Banana Bread Truffles.
Nutrition information is automatically calculated, so should only be used as an approximation.
Clara and Molly got a little work-out in as well. They're burning mad calories rolling onto their backs…and then forgetting how to roll onto their backs…and then remembering again….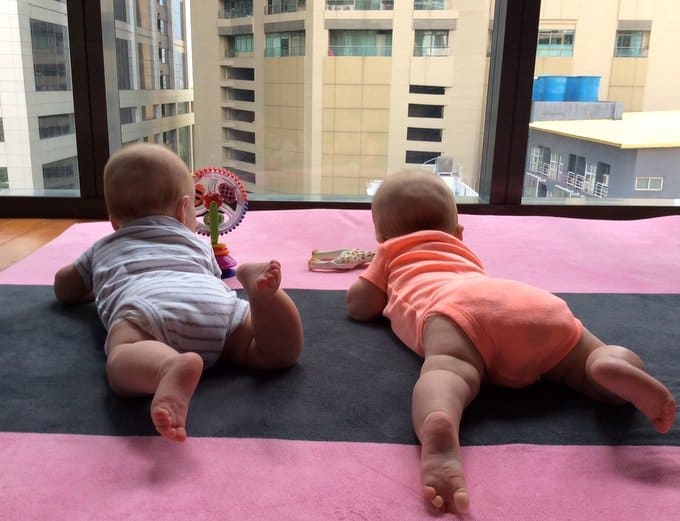 *This post contains affiliate links*