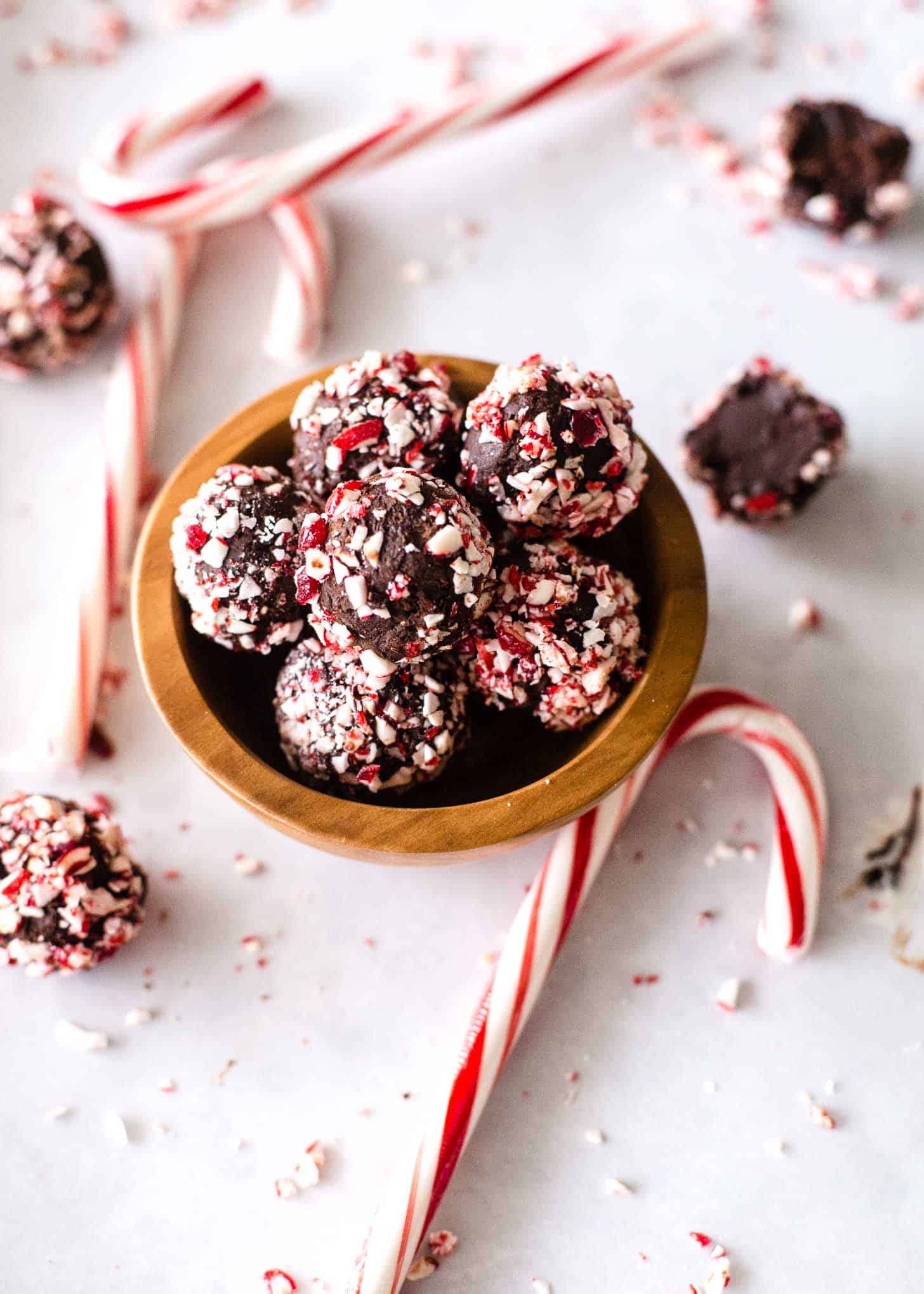 Creamy, rich chocolate ganache rolled in crunchy candy canes. Chocolate Candy Cane Truffles add a little something different to the holiday cookie / candy spread. The best part? These require only four ingredients – no special equipment or candy thermometers necessary.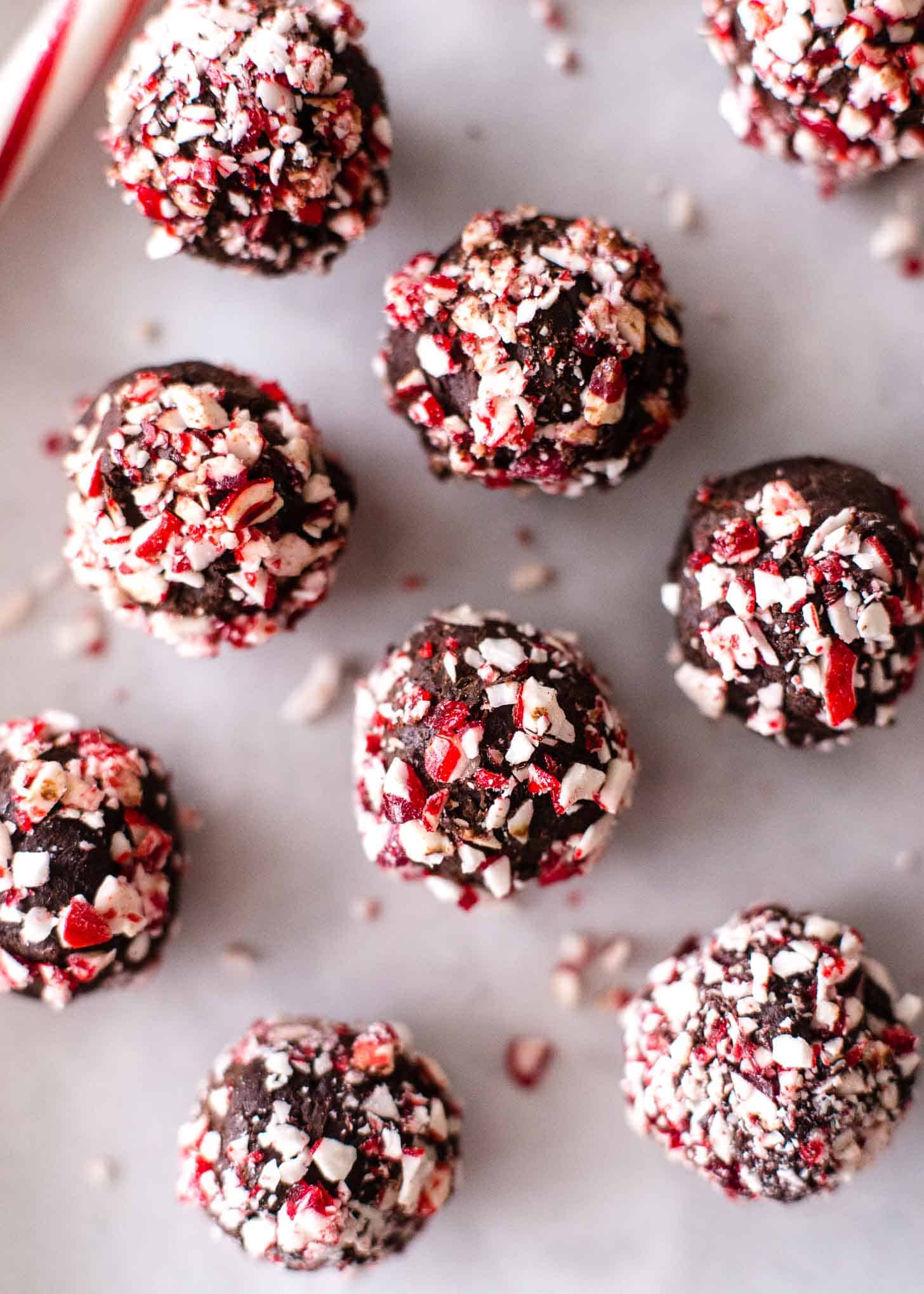 I didn't bake a single cookie this holiday season. Instead of butter and flour, I spent my holiday baking this year making Sweet and Salty Snack Mix and with my hands covered in chocolate ganache for these truffles. The latter isn't a bad way to spend a pre-Christmas afternoon.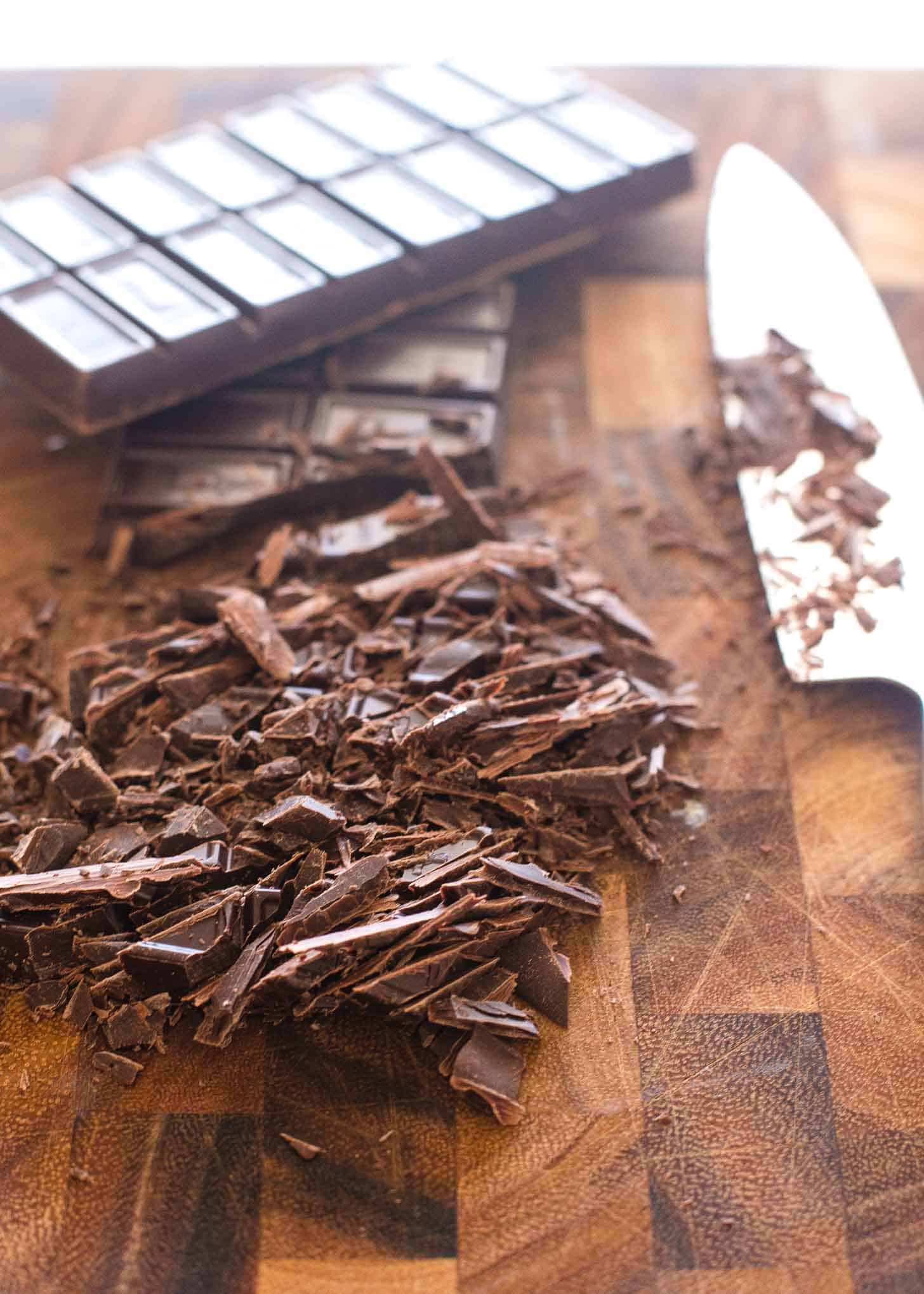 I got totally into making truffles this year. It's messy, it's fun, and requires absolutely no special equipment. Just four ingredients (three, if you want to skip the peppermint extract)!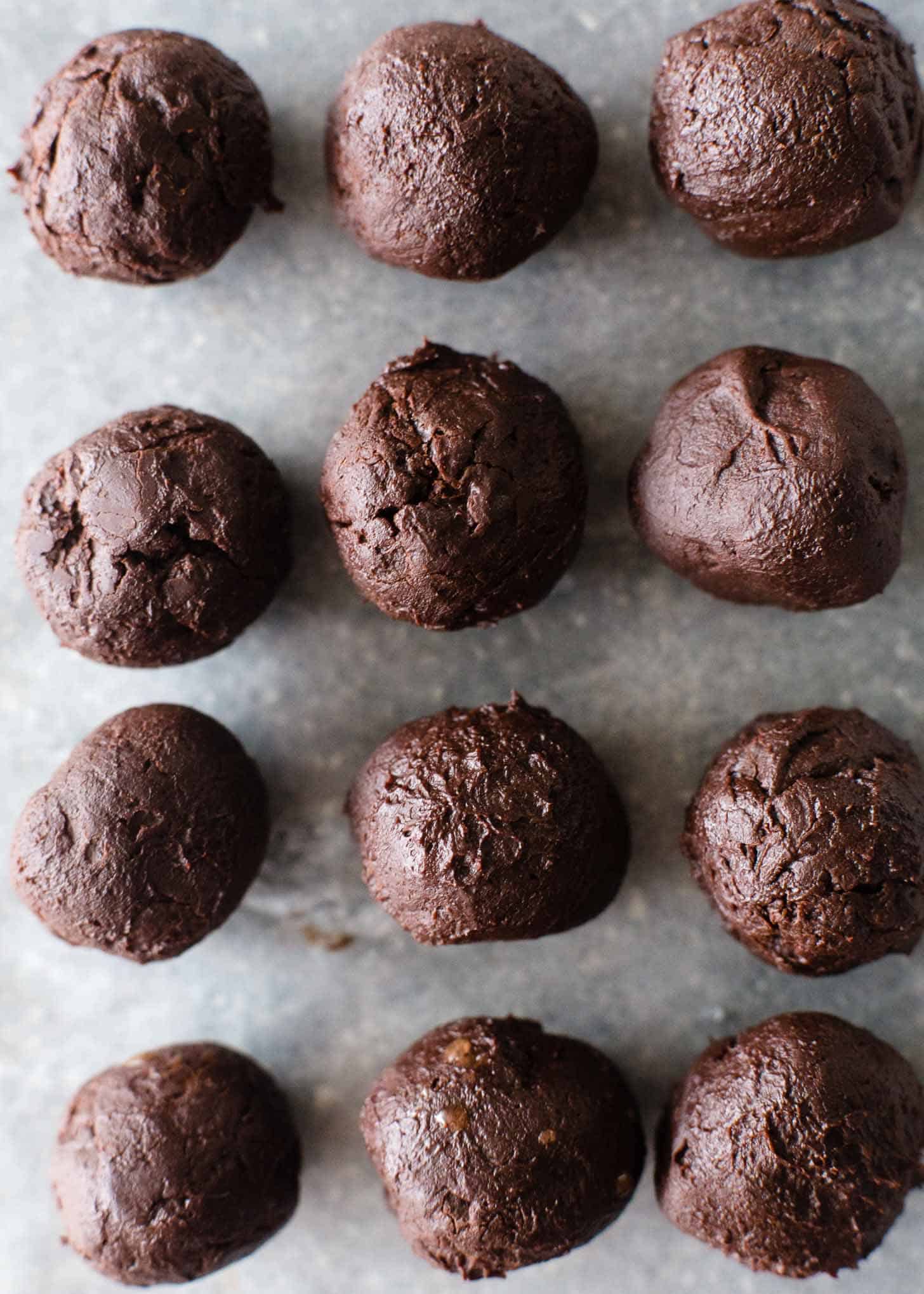 Making Truffles
Have you ever made truffles? For the most part, they couldn't be simpler. Just a couple ingredients. No mixer, thermometers or special equipment necessary. But there are a few things to keep in mind:
Emulsification is key. Basic ganache truffle filling is just heavy cream and chocolate. To get them to combine (emulsify) into smooth filling, heat them separately and then stir together gently in one consistent direction.
Be flexible. To form the truffles, you have to be able to hold the ganache in your hands. It has to hit that sweet spot where it's soft enough to scoop and firm enough to hold its shape.
Embrace the mess. Your hands will be a sticky mess while you roll these. The mess is part of the fun!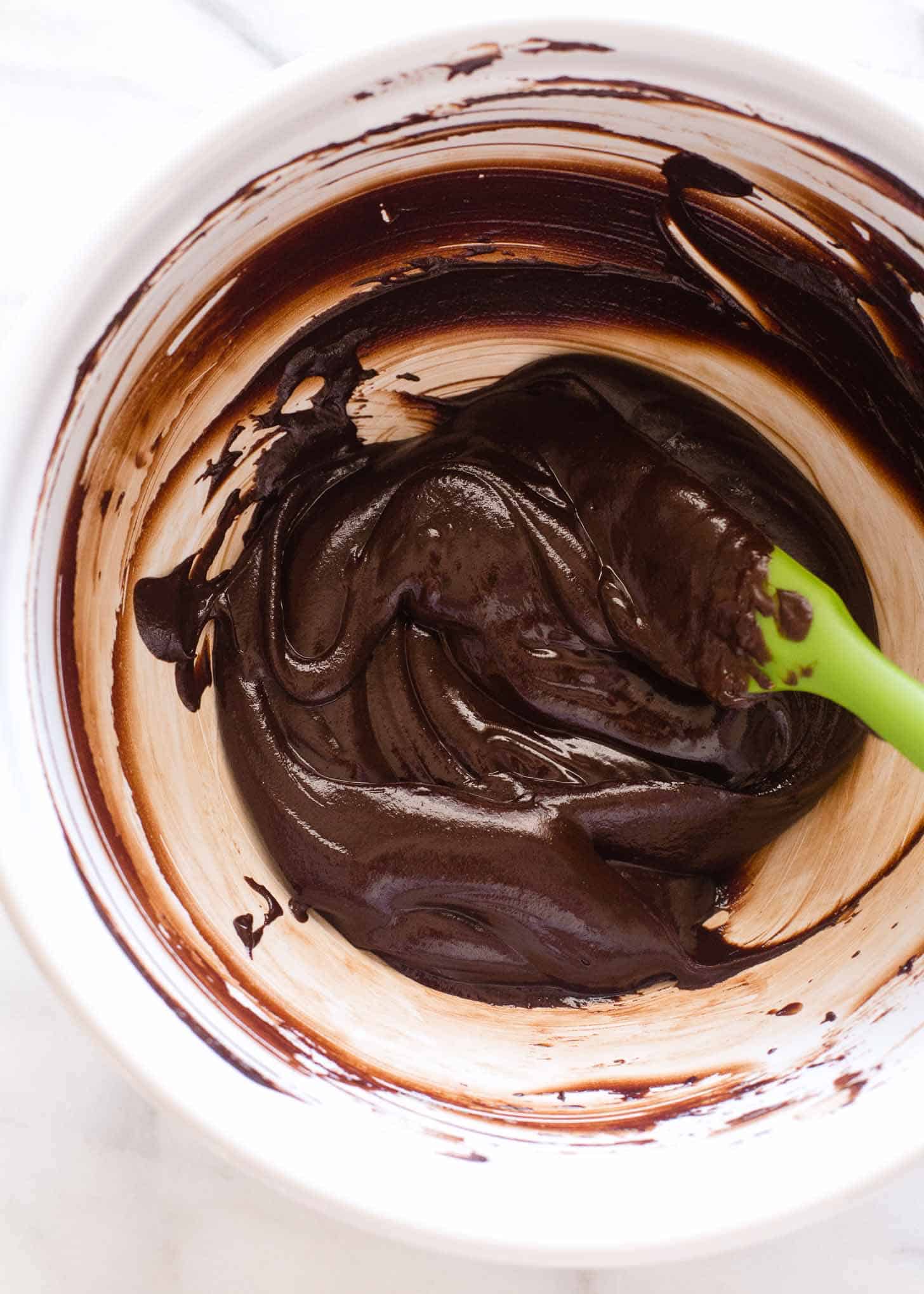 And the coating on these chocolate candy cane truffles? Nothing fancy. Just crushed candy canes. Larger pieces give crunch and some fine bites infuse the truffles with peppermint flavor.
Molly and Clara have been calling them candy "cans" since they got their first taste from Santa a couple weeks ago. They wouldn't go anywhere near sitting on Santa's lap but after the candy "can"….they did give him a hesitant high-five.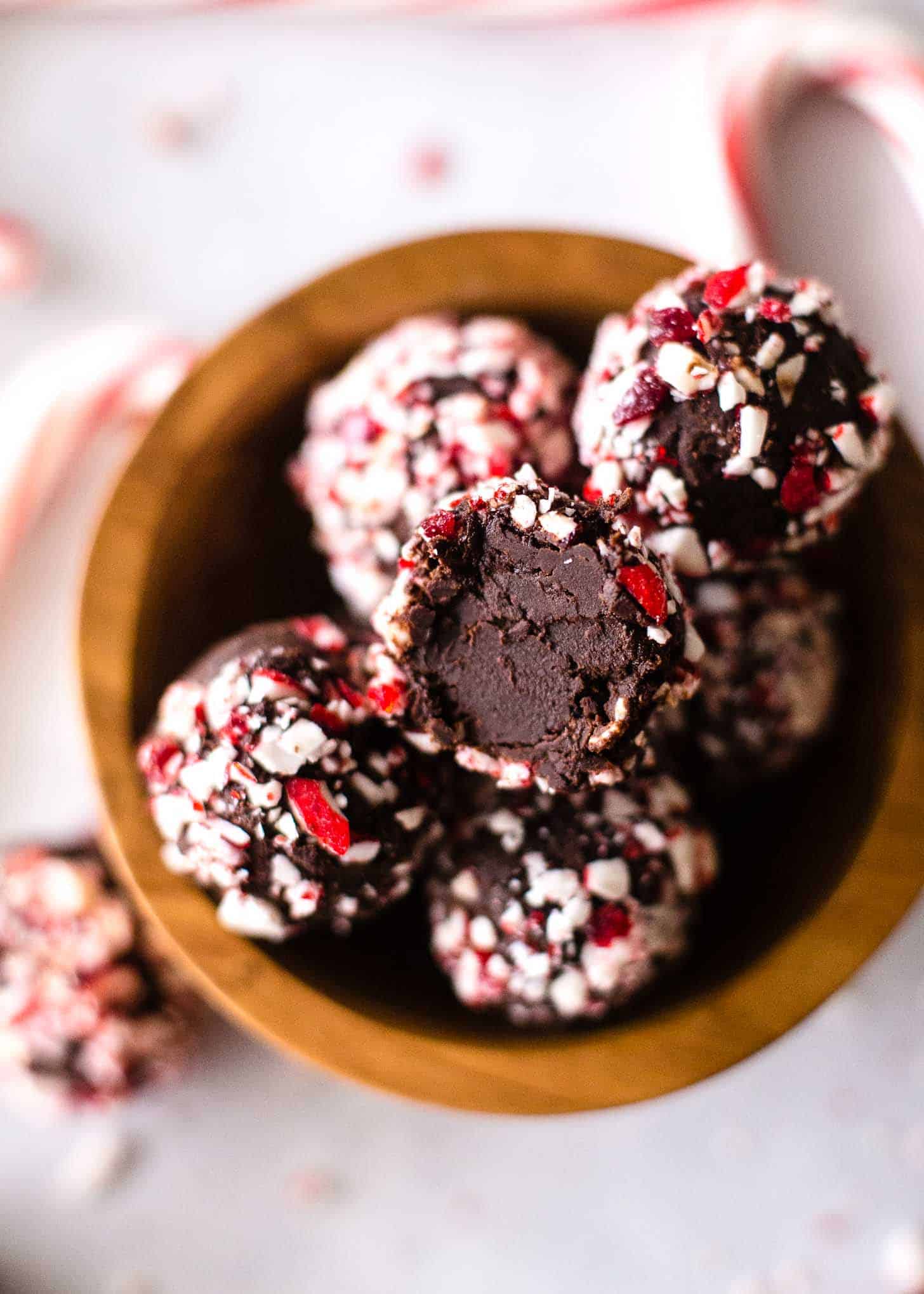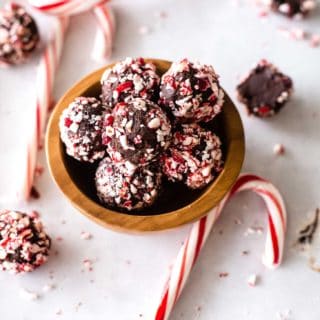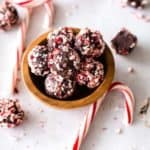 Print Recipe
Chocolate Candy Cane Truffles
Creamy, rich chocolate ganache rolled in crunchy candy canes.
Servings:
20
small truffles
Ingredients
8

oz

Chocolate with at least 60% cacao (use high quality chocolate in bars, not chocolate chips)

½

cup

Heavy Cream

1/2

tsp

Peppermint Extract

1/2

cup

Crushed Candy Canes (see note)
Instructions
Chop the chocolate into small pieces. Place in a microwave-safe bowl and microwave until nearly melted (it's okay if small chunks remain), stirring every 15-20 seconds.

Bring heavy cream to a simmer in a small saucepan. Stir in peppermint extract.

Pour heavy cream over chocolate and gently stir in one consistent direction, until the mixture is smooth and shiny (this is ganache).

Refrigerate ganache until it is firm but not solid, 1 to 3 hours.

Cover a small cutting board or sheet pan with parchment paper. Use a teaspoon to scoop the firm ganache into even balls and place on parchment (each ball should be about 1 1/2 teaspoons). Use your hands to gently form the balls, but you'll be able to perfect them in the next step.

Refrigerate for 20 minutes more, just to give the ganache balls time to firm up a bit more.

Using your hands, form the ganache into round balls and then roll in crushed candy canes, pressing the candy canes into the ganache. (This works great as a two-person task. One to roll the balls and one to coat in candy canes. The chocolate-roller will have very messy hands!)

Refrigerate for up to a week until ready to serve, but bring to room temperature before serving. These are best served at room temp. Enjoy!
Notes
Crush the candy canes yourself in a Ziploc bag with a hammer or rolling pin or buy pre-crushed candy canes in the baking section or craft store.
Tips and tricks for making truffles were adapted from Alton Brown, Serious Eats and Sally's Baking Addiction.
Happy Holidays from our family, including our two Christmas elves! We'll be on vacation until January 2nd. See you in 2017!