Homemade Frozen Greek Yogurt
Published Sep 30, 2011•Updated Apr 19, 2022
Would you believe that the fancy, natural frozen yogurt craze is even popular in Bangkok? It's taken over the world. Ever since I went home to Kansas and saw a fro-yo place on every corner, I have been amazed at how thoroughly this simple and relatively healthy treat has gained momentum.
And I'm not immune to its draw. Believe me, I can hardly pass by the stands in the mall boasting all-natural, tangy/sweet frozen yogurt without stopping to pick up a cardboard cup filled with the chilled white concoction and a heaping topping of fruit. One of my favorite spots in Bangkok serves a cup of strawberry jello topped with a swirl of plain frozen yogurt. Frank thinks it's weird. I think it's genius.
As I fell further in love with the best $60 purchase I've ever made throughout the summer, it occured to that my ice cream maker could probably pay for itself if I bought a few less $5 cups of fro-yo and made it myself from time to time. I was curious if I would be able to re-create it, but knew it would be a huge win if I could get "three ingredients" to create something so divinely indulgent.
The result? Light, flavorful, heavenly frozen yogurt that gives Pinkberry a run for its money (quite literally – if word gets out on how easy it is to recreate this stuff).
And get this, it's so stunningly easy that I have whipped up a batch after dinner several nights this week.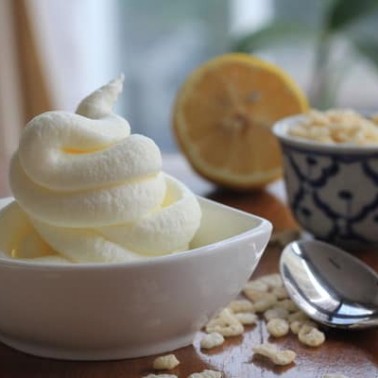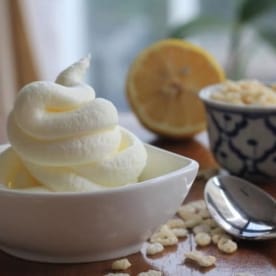 Frozen Greek Yogurt
An easy, quick recipe for tart-sweet frozen yogurt made with only 3 ingredients.
Ingredients
1

cup

half and half

1/2

cup

sugar

1

and 1/2 cups Greek Yogurt (regular plain yogurt will do in a pinch, but Greek yogurt has that "tangy" flavor)
Instructions
Over medium heat in a small saucepan, combine the half and half and sugar, stirring constantly. Heat just until the sugar is completely disolved. (This should just take two or three minutes and the mixture should be warm but not hot.)

Remove from the heat and allow to cool for a few minutes.

Whisk yogurt into the half and half.

Immediately pour into an ice cream maker (that has been prepared / frozen in advance according to the manufacturer's instructions).

Spin until the yogurt is smooth and creamy, about 25 minutes. Serve immediately, with your favorite toppings.
Notes
For a true frozen-yogurt consistency, this is best served straight out of the ice cream maker. It can be made in advance, but gets icy and firm the longer it is stored in the freezer. To expedite the process, make a big batch of the milk/sugar mixture and store it in the refrigerater for a few days, until ready to use.
Nutrition information is automatically calculated, so should only be used as an approximation.
Frozen Yogurt Toppings
if you've ever been to one of those frozen yogurt spots, you know the drill, but here are a few of my favorite fro-yo toppings (the sky is the limit)
– granola (you might remember my favorite)
– honey
– mini chocolate or yogurt chips
– Rice Krispies cereal
– Captain Crunch cereal (Frank's favorite topping)
– fresh fruit (mango, strawberries, blueberries, banana)
– fruit snacks (or the more sugary, gummy bears)
– fruit preserves