Mini Lime Cheesecakes
Published Feb 03, 2014•Updated Mar 16, 2023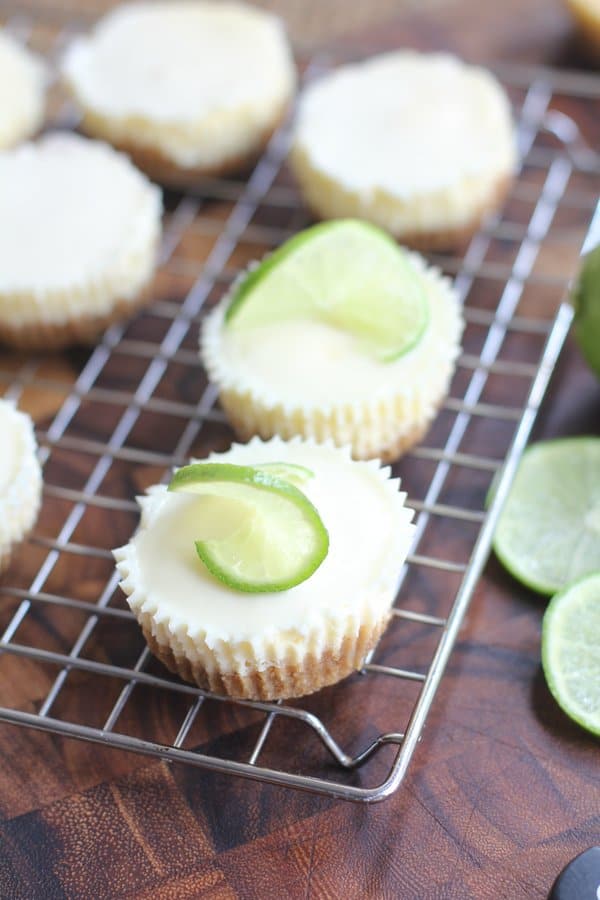 Tart and sweet, these bite-sized Mini Lime Cheesecakes are perfect for summer gatherings and can be doubled or tripled to serve a crowd.
We're in a season of anticipation. There's so much waiting involved in growing tiny people, and so many unknowns. I'm working on being patient (always working on being more patient), but I find myself consumed with thoughts of April when (if all goes according to plan) we will meet these little girls and dive into a world that will be exciting and entirely unfamiliar.
I catch myself all the time wondering what they will look like and who they will become. I wonder too what Frank and I will be like as parents. It's uncharted territory, as it always is for new parents.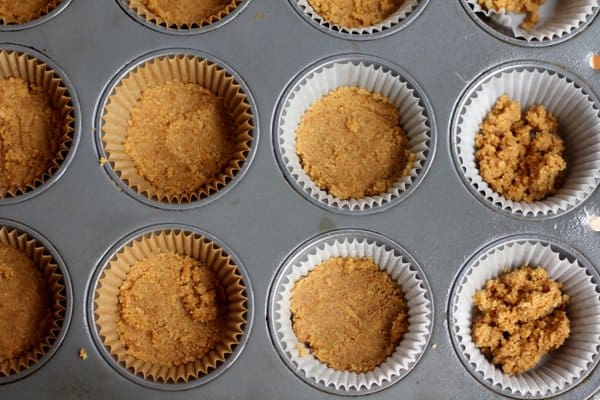 I know there's so much wisdom in the recommendations that many people have to enjoy this time and its strange uniqueness, a big part of me is ready to get on with the main event.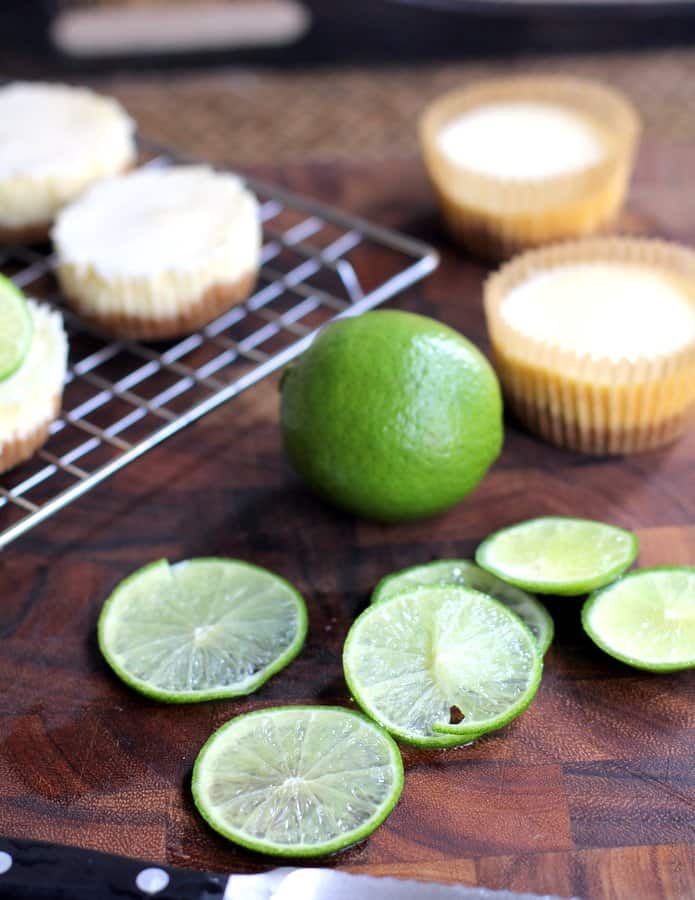 Fortunately, in times of uncertainty and contemplating big unknowns, there are few things that bring me back to the present moment like baking. And few things that make a pregnant woman happy (at least this pregnant woman) like citrus and cheesecake. I've been buying clementines by the kilo…such is my love for citrus at the moment.

Full-size cheesecakes can be fussy, but these mini versions are almost fail-proof. One of the nicest things about this recipe is the very simple, thin topping that is poured over each cheesecake for the last few minutes of baking. At first I wondered what benefit it would serve, but it turns out to be a wonderful idea. You get an extra layer of flavor on top that is tart with sour cream and lime, but it also creates a beautiful, perfectly smooth surface on each little dessert. It's a trick I will definitely be using again.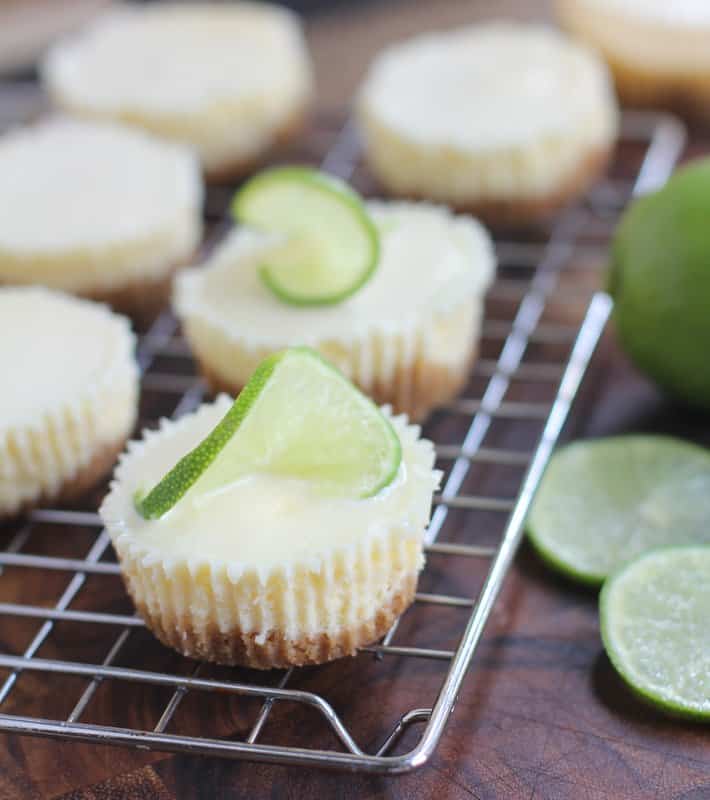 Cheesecake is so much more fun in mini muffin-tin sized portions.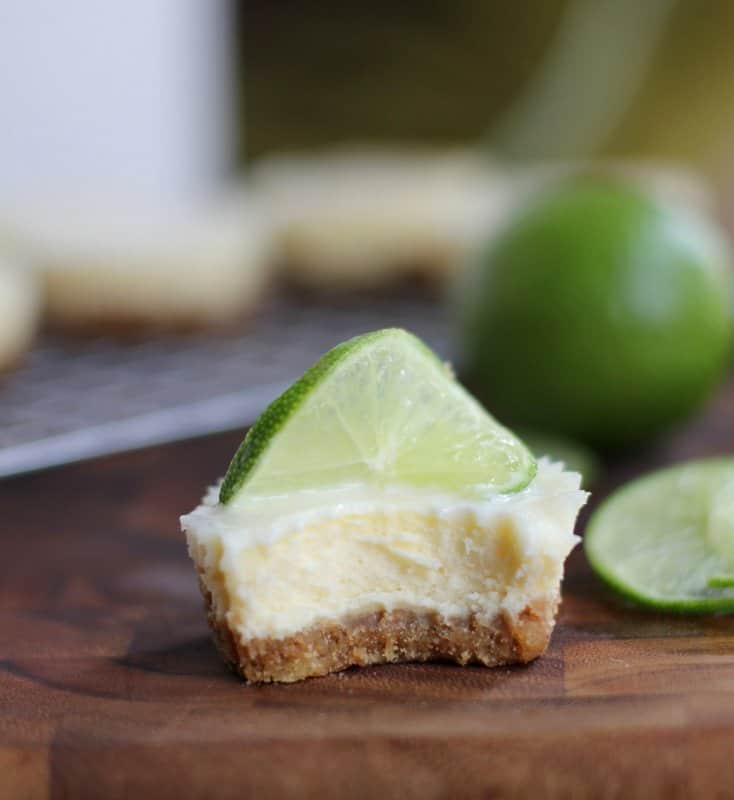 More Bite Sized Desserts
Favorite Tools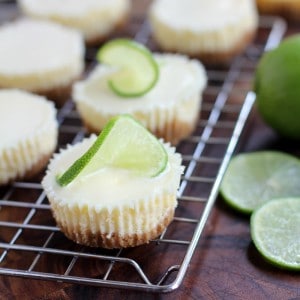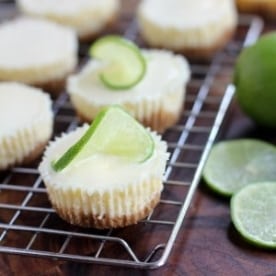 Mini Lime Cheesecakes
Tart and sweet, these bite-sized desserts are perfect for summer gatherings and can be doubled or tripled to serve a crowd.
Equipment
Mini Muffin Tin

Mixing Bowls

Stand Mixer

Cooling Rack
Ingredients
For the Crust:
1 1/4

cups

Graham Cracker Crumbs

1/4

cup

Unsalted Butter, melted
For the Cheesecake:
2

8 oz packages

Cream Cheese, softened

2/3

cup

Granulated Sugar

2

Eggs

2

Tbsp

Fresh Lime Juice

1

tsp

Vanilla
For the Topping:
1/2

cup

Sour Cream

1/4

cup

Granulated Sugar

2

tsp

Fresh Lime Juice

1/2

tsp

Vanilla
Instructions
Preheat oven to 325 degrees F. Put muffin liners in a mini muffin tin (see note). Lightly spray with nonstick cooking spray.

To make the crust, in a medium bowl, combine graham cracker crumbs and melted butter until the graham cracker crumbs are evenly coated. Press a scant Tablespoon of the crust mixture into the bottom of prepared muffin cups and freeze until ready to fill.

To make the filling, in the bowl of a standing mixer, beat cream cheese and sugar on medium-high until light and smooth, about 3 minutes. Add eggs, one at a time, beating well after each addition. Add lime juice and vanilla and mix until combined. Fill each prepared muffin cup about three-quarters full.

Bake for until the cheesecakes puff up but the centers have a slight jiggle, 18-20 minutes. Cool on a rack for 10 minutes (do not turn the oven off).

Meanwhile make the topping. In a small bowl, whisk together sour cream, sugar, lime juice, and vanilla. Pour a small layer of topping over the center of each cooled cake and spread it out to the edges. Bake for 5 minutes more. Cool on a rack for 2 hours. Cover and refrigerate for at least 6 hours before serving. Top with lime slices (optional).
Notes
Larger versions of these cheesecakes can also be made in a regular muffin tin.
Nutrition information is automatically calculated, so should only be used as an approximation.