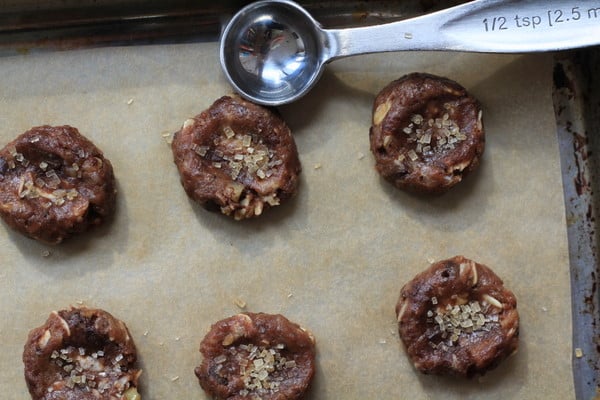 Okay, so even though I talked typed your ear off earlier this week, all waxing sentimental about our weekend in Khao Lak and blasting you with screen-saver wannabe beach pics, I have a small confession. The weekend was perfect in every way, except one. The food. A weekend like that does not do much for me in the cooking/food blogging department. As much as I want it to be more inspiring to be in a beautiful place eating every meal with the ocean breeze blowing across my freckled cheeks, that's just rarely the reality. Resort food almost never lives up to my expectations (except in the category of cost…in which case it tends to exceed my expectations, as in – that club sandwich costs how much?)
So, it does my oddly-hooked-on-writing-about-food brain a world of good to bring you a recipe that makes my food-loving heart flutter and my stomach growl.
I had nearly forgotten about this recipe when I came across a note I had written to myself about it, and was stunned that I had gone so long without it. This was the first recipe that I made from Heidi's lovely site, and I have been hooked on 101Cookbooks ever since.
These cookies turn out to be the perfect thing to roll into balls and freeze in a Ziploc bag to make in small batches. They are bite-size and boast a few wholesome ingredients, but they thoroughly satisfy late-night sweets cravings.
Their miniature size is likely my favorite thing about these cookies, although the crunchy sprinkle of turbinado sugar on the top is a close second.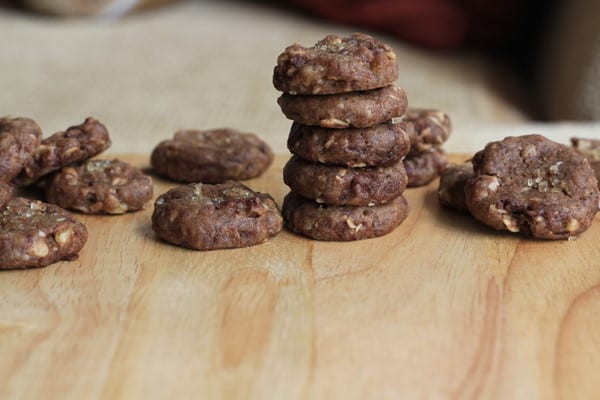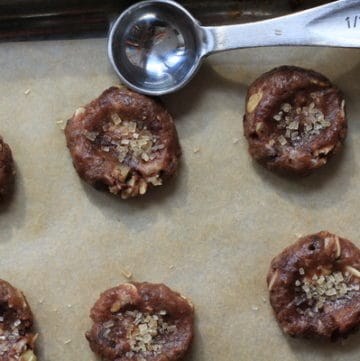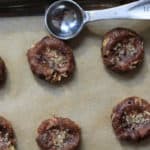 Print Recipe
Mini Chocolate Oatmeal Cookies
Ingredients
1

cup

whole wheat flour

1/2

teaspoon

baking powder

1/2

teaspoon

baking soda

1/2

teaspoon

salt

1

cup

old-fashioned rolled oats

1/2

cup

walnuts, very, very finely chopped (by hand)

5

ounces

good-quality semi-sweet chocolate bar (Scharffen Berger 62%), very finely chopped

1/2

cup

unsalted butter, at room temperature

scant 1 cup light brown sugar

1

large egg

1/2

teaspoon

vanilla extract

1/4

cup

large-grain sugar (I used turbinado)
Instructions
Preheat your oven to 350F degrees. Line baking sheets with parchment paper.

In a mixing bowl, whisk together the flour, baking powder, baking soda, salt, oats, walnuts, and chocolate. Set aside.

Using a mixer (or by hand) beat the butter until fluffy. Beat in the sugar and mix until it is also light and fluffy. Scrape down the sides of the bowl once or twice. Beat in egg and vanilla, mixing until well incorporated, scrape down the sides of the bowl once or twice. Add the flour mixture and stir by hand until the ingredients barely come together into a uniform dough.

Shape 1/2 teaspoon portions of the dough into balls and place two inches apart on your prepared baking sheets. (Just like Heidi specifies in the original recipe, I like these to be very small, a bit more than 1/2 teaspoon of dough. But, after I form the first one, I stop measuring them and just eyeball it.)

Gently flatten each dough ball into a thin, round patty with two fingers and then sprinkle the top of each cookie with a pinch of turbinado sugar. Bake for 5 minutes or until cookies are golden and fragrant. Remove from oven, and cool on a wire rack.