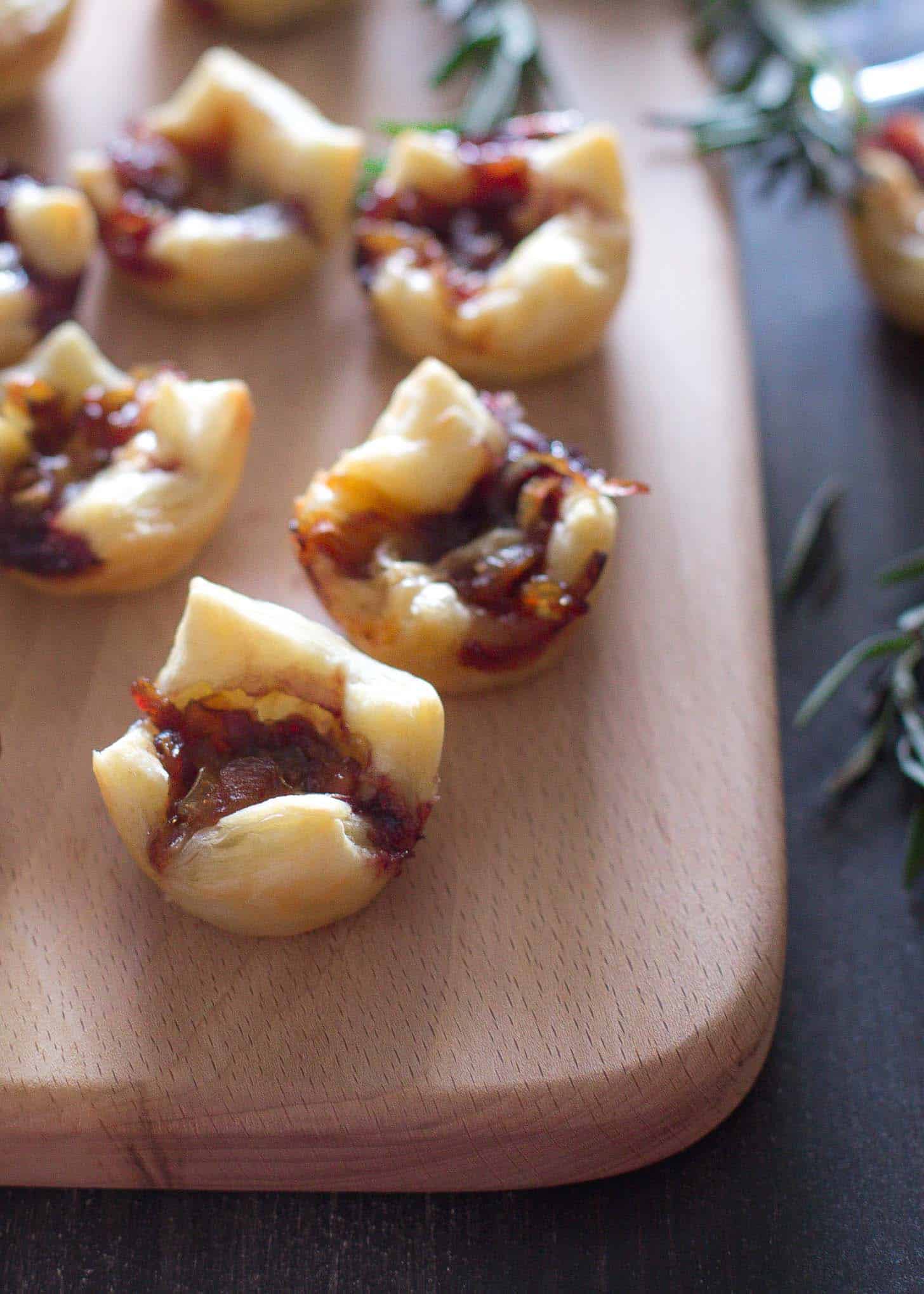 Sweet, savory and perfectly bite-sized for entertaining, Puff Pastry Bites with Caramelized Onions and Gouda are filled with caramelized onions, Gouda cheese and fruit spread. Great for a holiday celebration....or for any regular old Saturday night. This is just another reason I believe you really can't go wrong with puff pastry stuffed with delicious fillings (case in point, Spinach and Artichoke Stuffed Puff Pastry).
Greetings from California sweet friends, where the cool, crisp weather is just begging me to spend all day with a steamy coffee in hand and a pumpkin muffin. I'm in Silicon Valley for work and it only took 10 minutes for me to pass a driverless car. I took a picture.
And then I spent the afternoon in a coffee shop that was way too trendy for me, surrounded by trendy people typing on laptops with their feet on skateboards. And I drank a $6 pour-over coffee.
With a pumpkin muffin.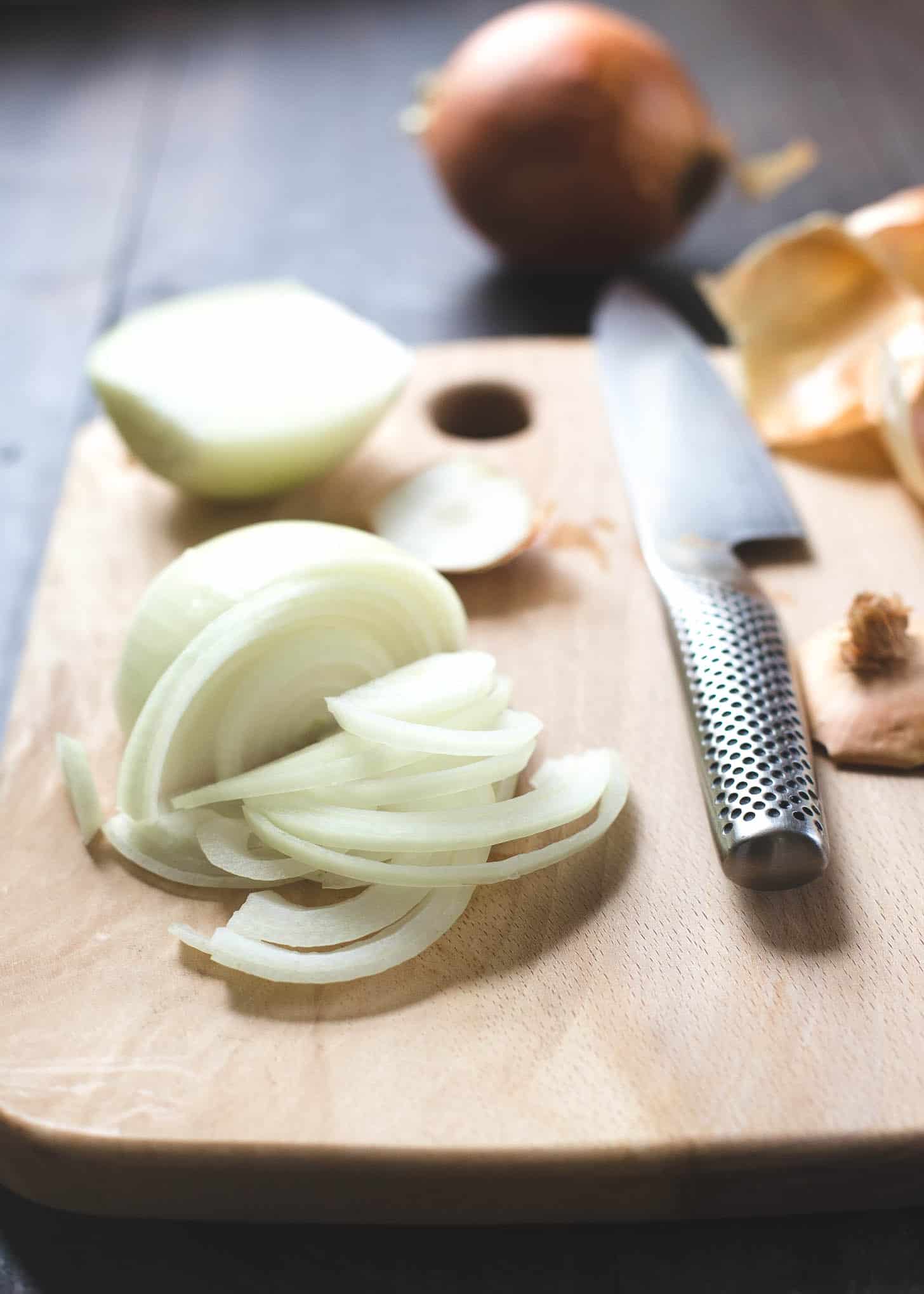 In addition to consuming as many pumpkin baked goods as possible, I'm pinning absolutely everything Thanksgiving-themed and daydreaming about mashed potatoes and cornucopia centerpieces. And, thanks to this sponsored post...holiday appetizers.
The secret to a great holiday appetizer is that it shouldn't detract from the main event. We can't be taking up precious real estate with pre-dinner nibbles when the sweet potatoes need to bake, so the best holiday appetizers can be made ahead. These puff pastry bites are just the thing. Bake them a few hours ahead and let them cool before serving. They have just the right combination of sweet and savory to get your tastebuds geared up for turkey.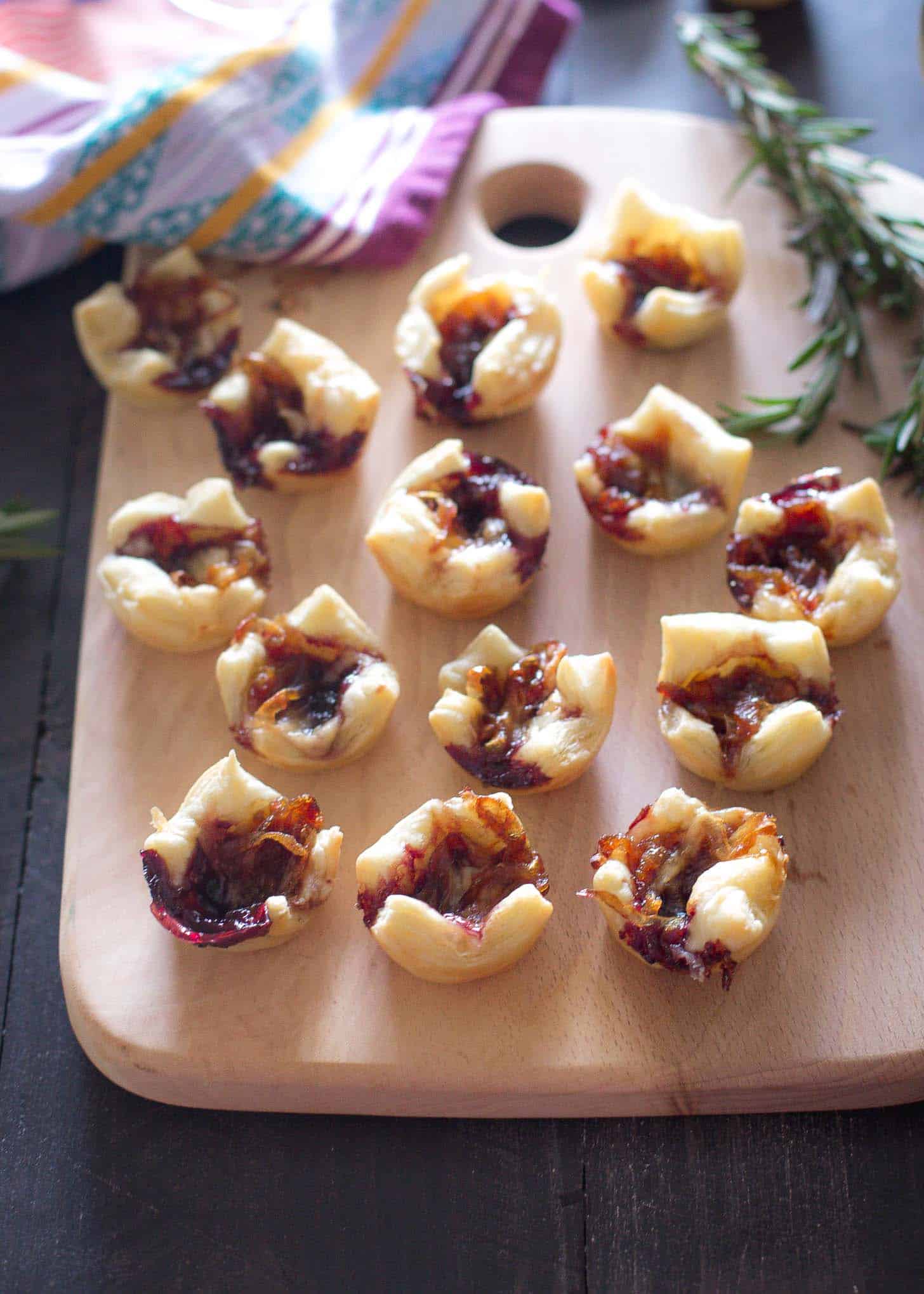 Caramelized Onions
The thing that gives these little bites a rich, savory punch is caramelized onions. They are the only element of these appetizers that really takes any time at all, but they can be made up to a week ahead and refrigerated or even frozen if you'd like! You'll just need one small onion for this recipe, but when I make caramelized onions, I do 3 or 4 at once and save some.
Caramelized onions are amazing on sandwiches, pizzas, chopped on top of salads, folded into french onion dip (!). Once you have some in the fridge, you'll undoubtedly find a use for them. It takes about 30 minutes and an occasional stir for onions to go from this...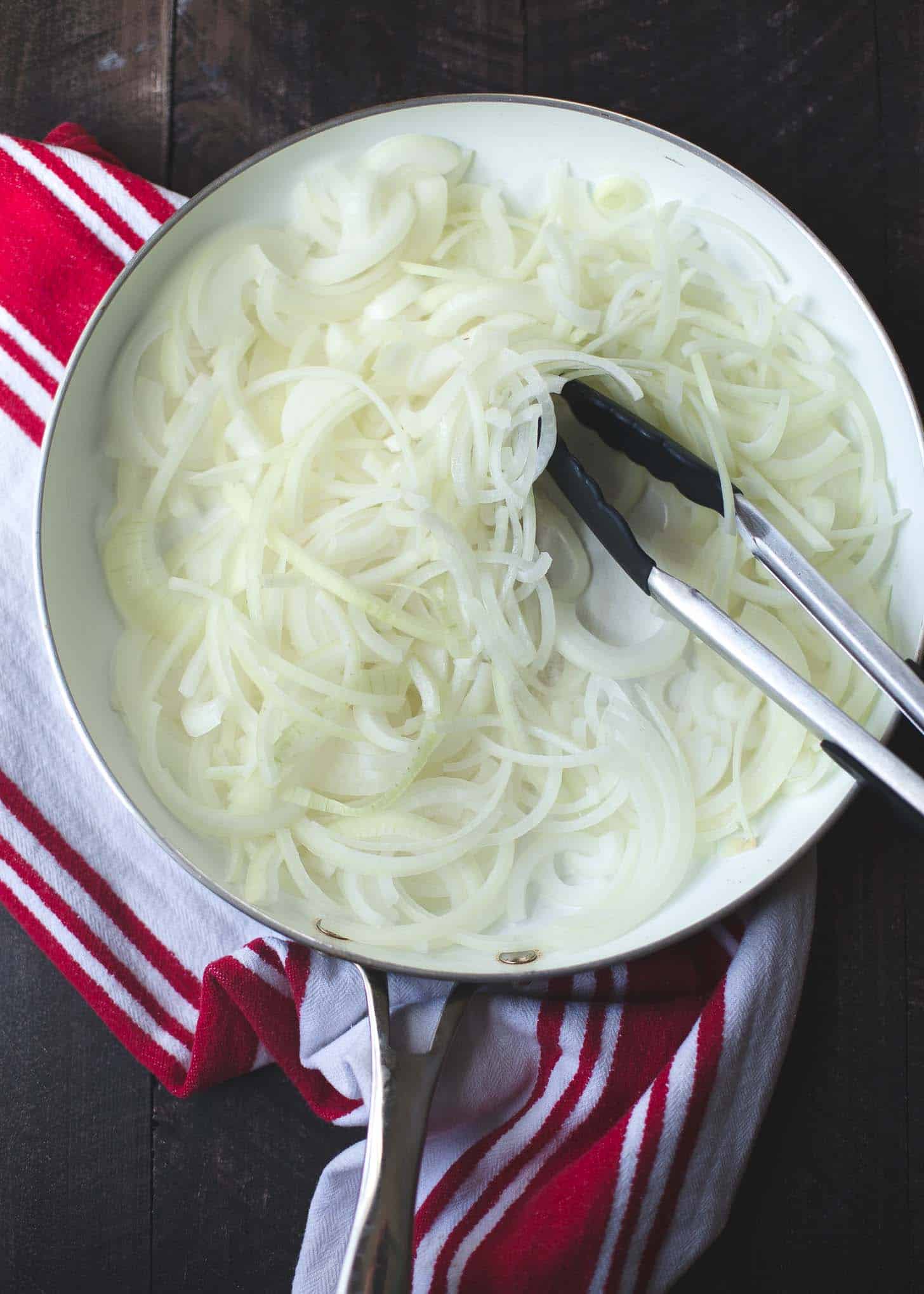 to this...
deeply sweet and savory.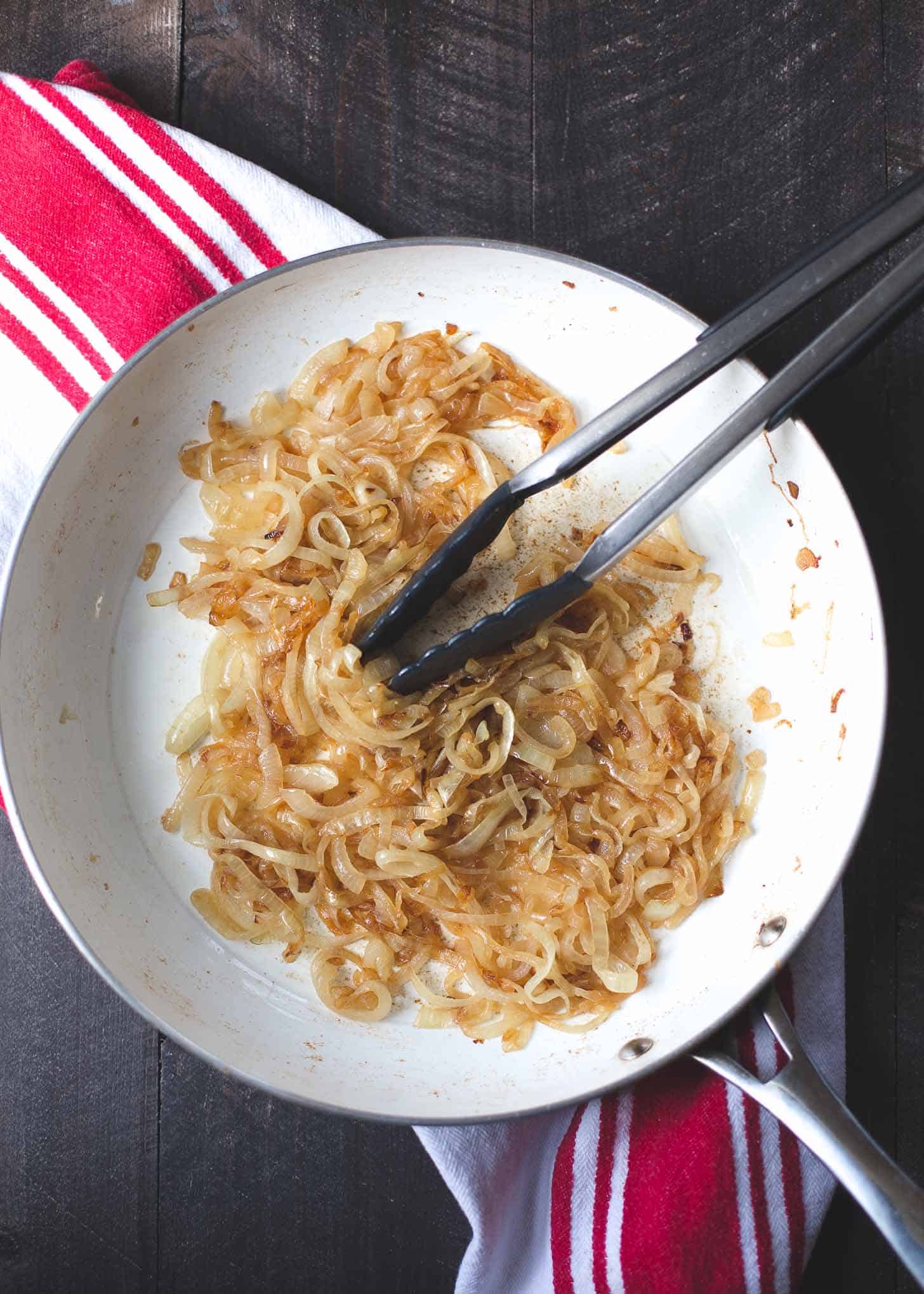 Once those onions are nicely caramelized, the remainder of the pastry bites come together in minutes. Slice up store-bought puffed pastry, tuck it into mini muffin tins and fill it with rich and creamy Gouda cheese, onions and a dollop of jelly, jam or fresh fruit.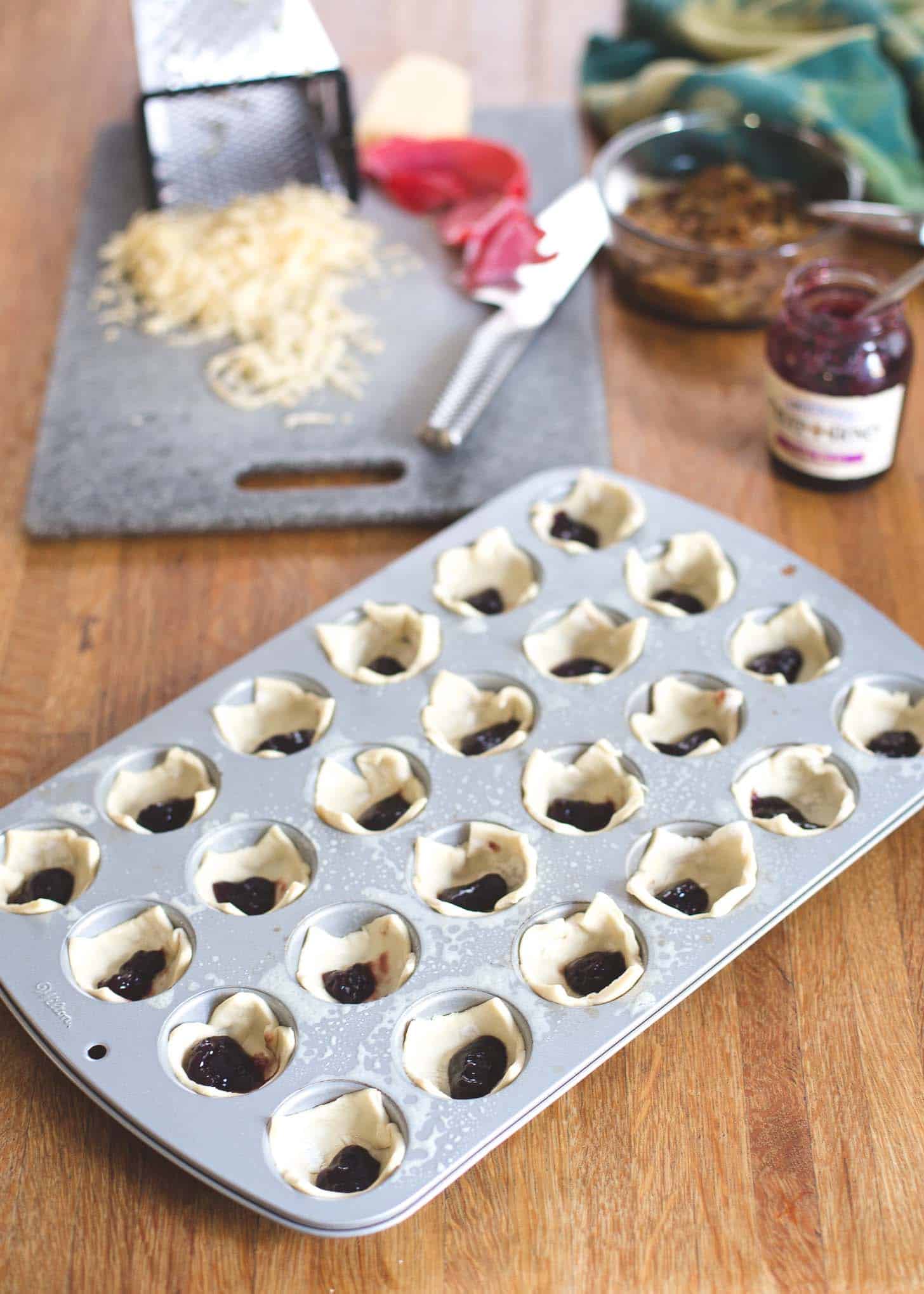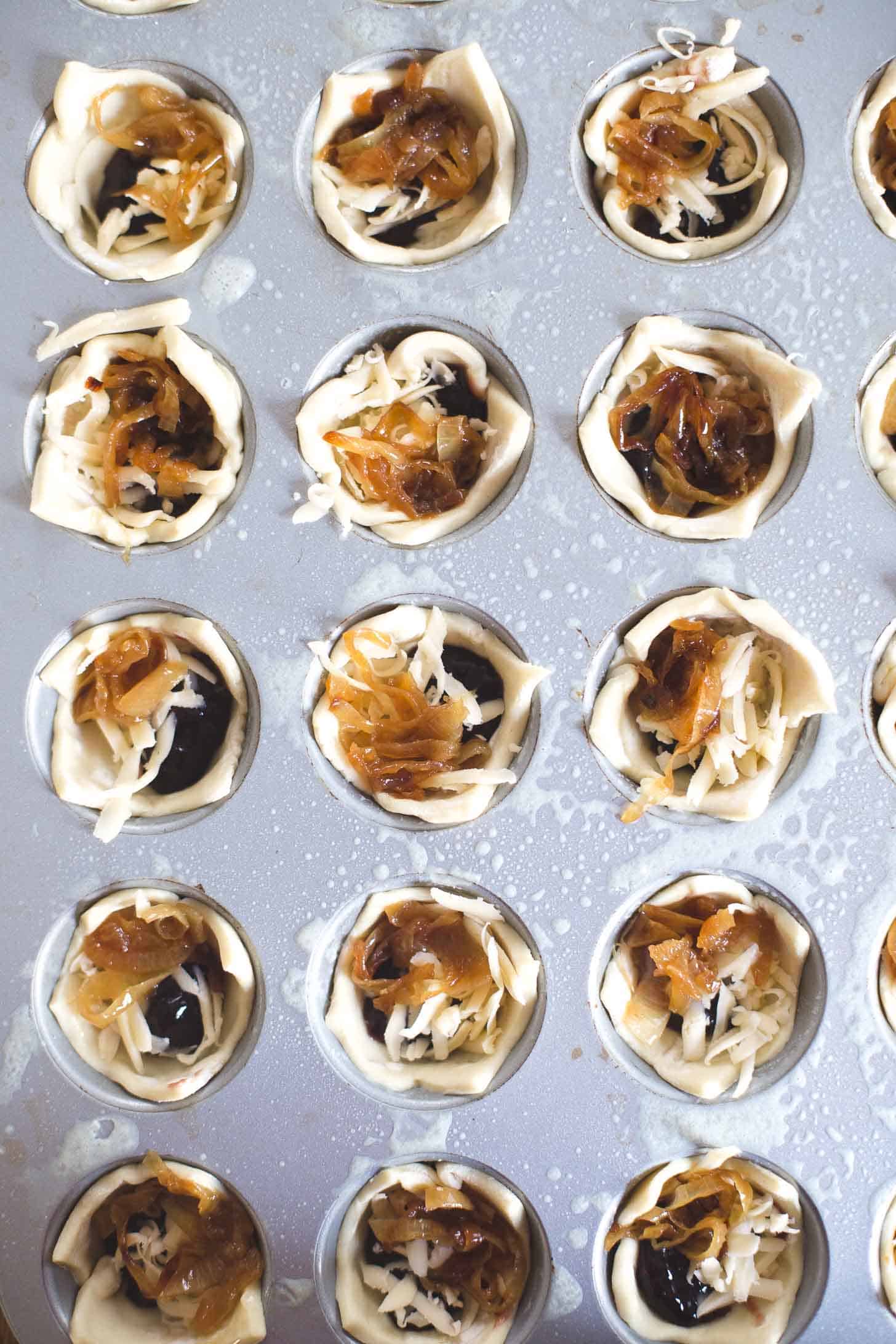 As you might guess, thanks to the sponsor of this post, I filled mine with Smucker's Fruit & Honey Triple Berry Fruit Spread. It's made with nothing more than fruit and honey. Naturally sweetened with honey, this stuff has just the right amount of sweetness to bring to these savory bites or to top your standard items like...say...toast.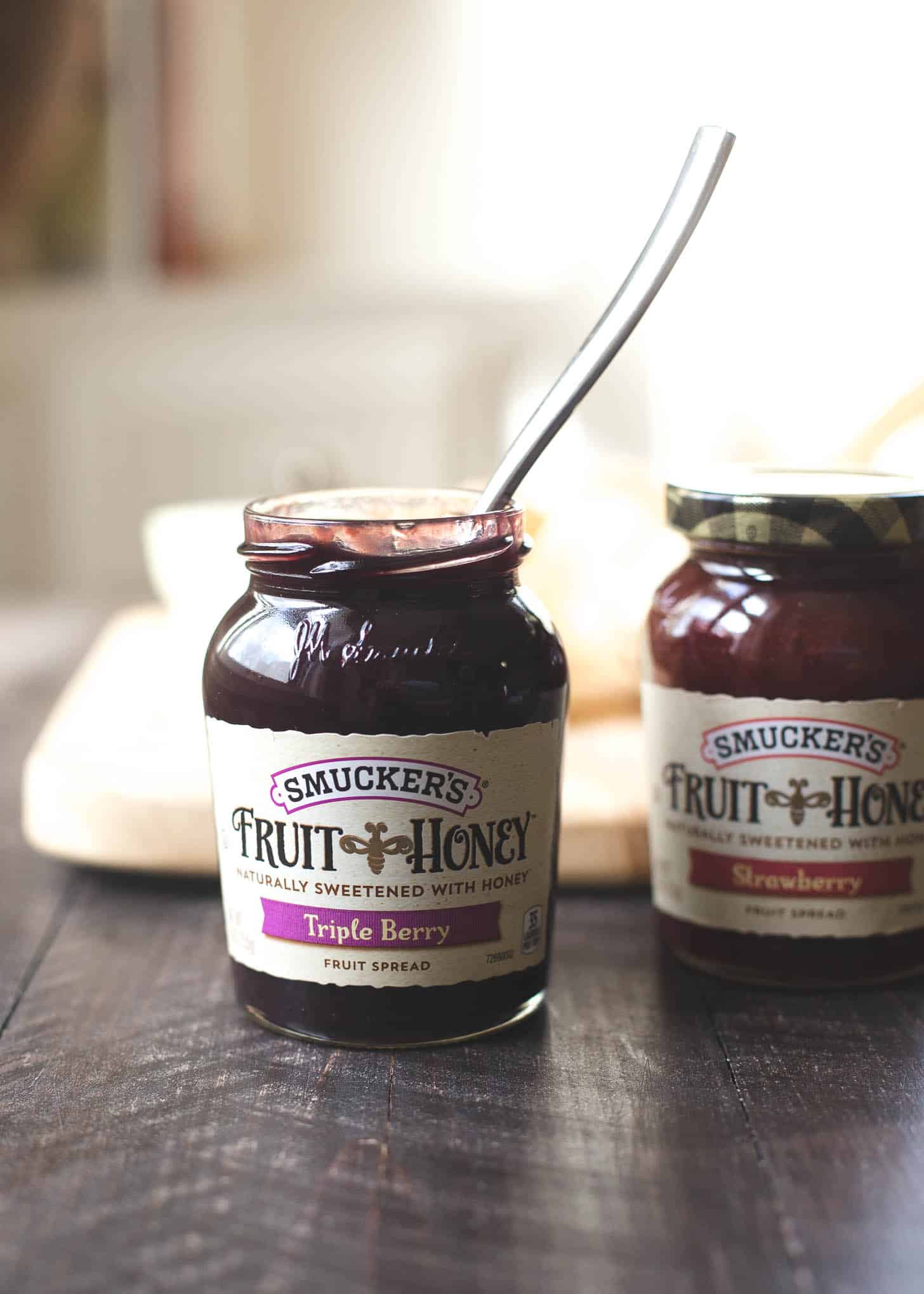 I tried both Smucker's Triple Berry and Strawberry fruit spreads in this recipe and loved the bright fruit flavors, but they make the spread in other awesome flavor combinations including Blueberry Lemon (love those together), Concord Grape (a classic), and Strawberry Jalapeño (spicy + sweet). How are you coming with your Thanksgiving planning? If you're in need of more inspiration click here for more recipes and entertaining ideas from Smucker's!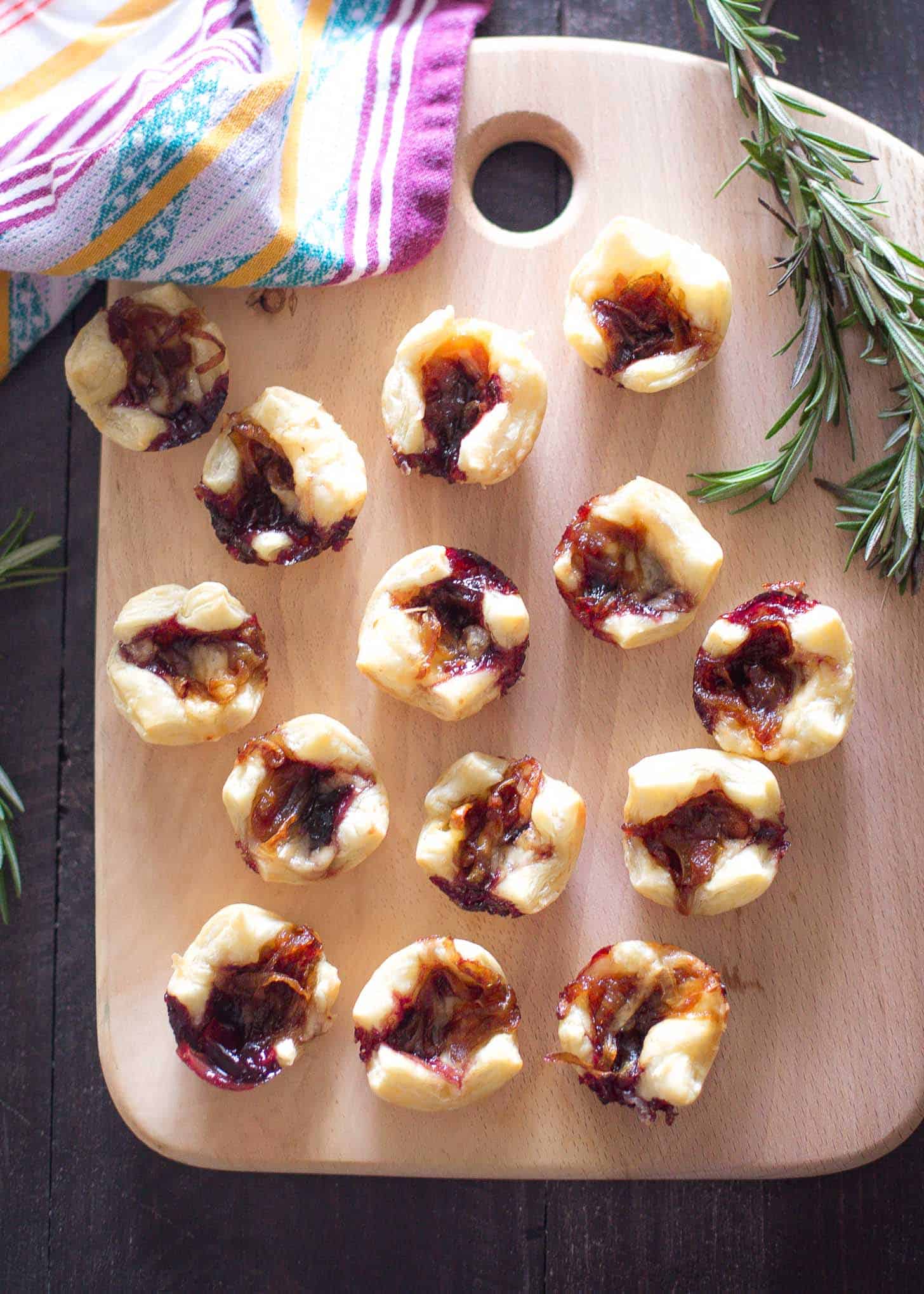 More Appetizer Recipes
Favorite Tools
📖 Recipe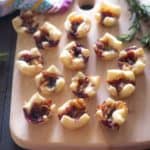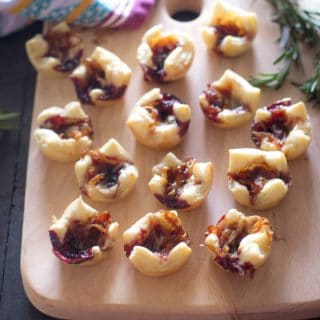 Print Recipe
Puff Pastry Bites with Caramelized Onions and Gouda
Sweet, savory and perfectly bite-sized for entertaining, these puff pastry squares are filled with caramelized onions, Gouda cheese and fruit spread. Great for a holiday celebration....or for any regular old Saturday night.
Equipment
Saute Pan

Mini Muffin Tin

Cooling Rack
Ingredients
1

sheet Puff Pastry

(about 10"x10" and 8 oz)

1

tablespoon

Cooking Oil

1

medium

Onion, halved and sliced

1

tablespoon

Butter

1

teaspoon

Brown Sugar

½

teaspoon

Salt

¼

cup

Fruit Spread, jam or jelly

(any kind will work, but I used a triple berry fruit spread)

3

oz

Gouda Cheese, grated
Instructions
Defrost puff pastry according to package directions. (Most need to defrost at room temperature for 40 minutes, until they can be easily rolled out.)

While puff pastry defrosts, caramelize onions (you can also do this up to a week ahead). Heat oil in a large saute pan over high heat. Add onions and stir to coat in oil. Cook onions over high heat until they start to soften and break down, ~5 minutes. Reduce heat to medium and continue to cook onions, stirring every few minutes, until deep golden brown, ~30 minutes more. (If onions appear dry while cooking, add an extra splash of oil.) Stir in butter, sugar and salt and continue cooking until sugar is fully dissolved.

Heat oven to 400 degrees F.

Spray a mini muffin tin (this makes 24 pastry bites, so bake in rounds if your mini muffin tin only has 12 spaces) with nonstick cooking spray. Slice puff pastry into 24 even squares.

Place one puff pastry square into each space in the mini muffin tin.

Fill each pastry square with ½ teaspoon fruit spread, 2 teaspoon of grated cheese and then 1 teaspoon caramelized onions (no need to be super precise about these measurements, just don't overfill the puff pastry because it will expand as it cooks).

Bake until pastry is golden brown and cheese is melted, 15 to 17 minutes.

Let pastry bites cool completely before serving. Enjoy!
Nutrition
Calories:
91
kcal
|
Carbohydrates:
8
g
|
Protein:
2
g
|
Fat:
6
g
|
Saturated Fat:
2
g
|
Cholesterol:
5
mg
|
Sodium:
108
mg
|
Potassium:
20
mg
|
Fiber:
1
g
|
Sugar:
2
g
|
Vitamin A:
35
IU
|
Vitamin C:
1
mg
|
Calcium:
28
mg
|
Iron:
1
mg
The toddlers and I made our way over to Walmart last week to pick up the supplies for this post. It was an eventful trip in which an elf (store employee) gave the girls a piece of chocolate at 9 in the morning and I dropped an entire jar of fruit spread on the floor.
Molly and Clara are still talking about it.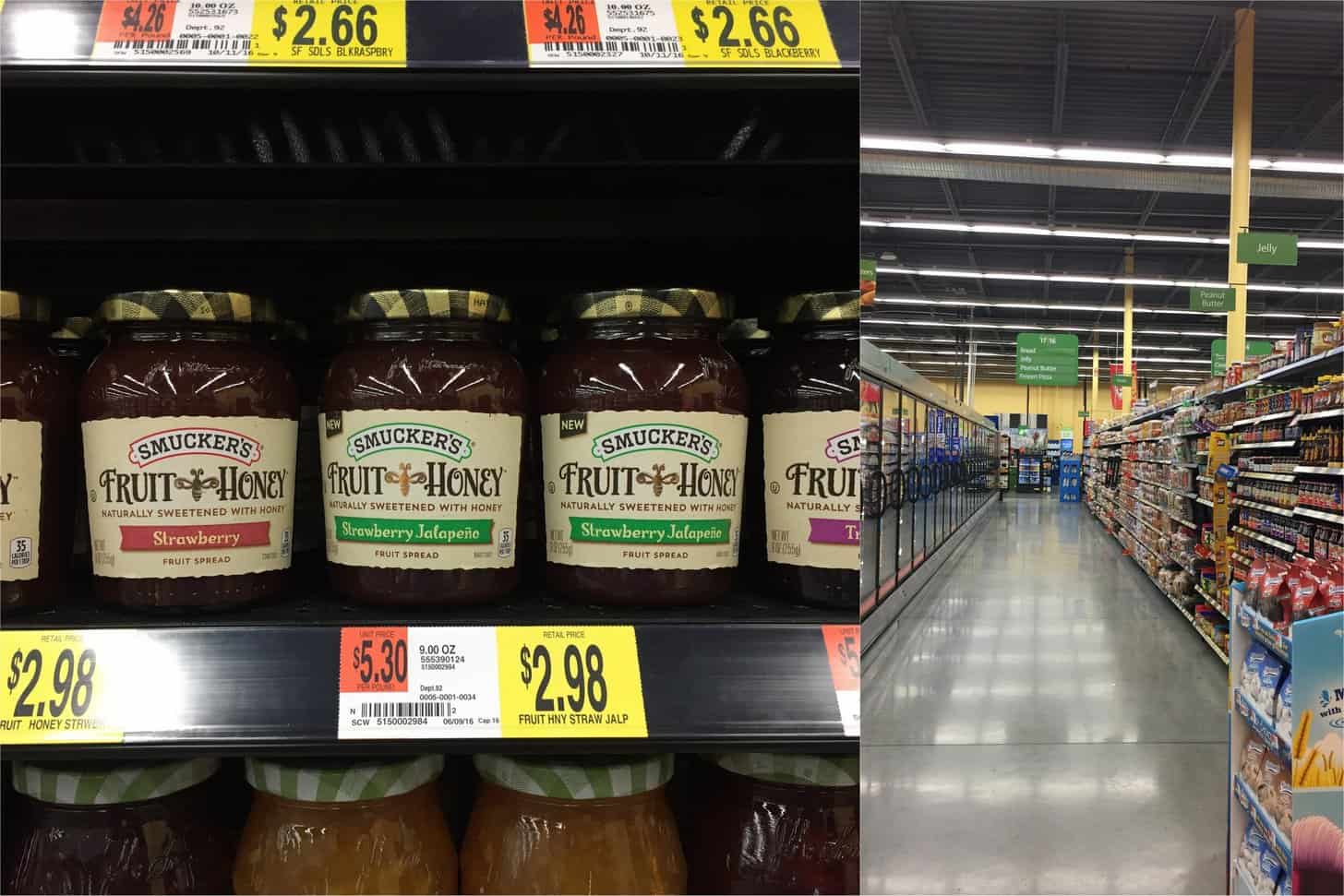 *This post contains affiliate links*