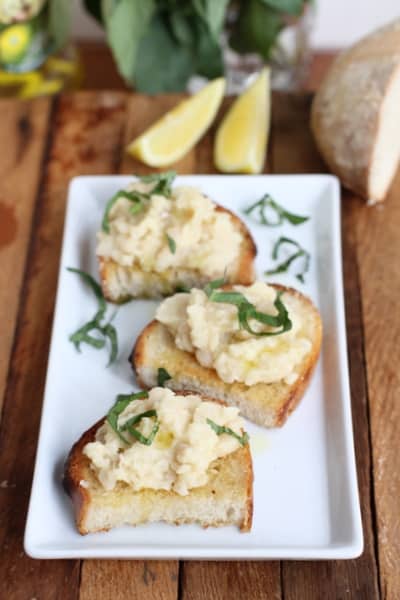 Make this easy white bean bruschetta with my simple method that adds tons of flavor to canned white beans. You'll love the creamy white bean puree piled on top of crusty bread as snack or at party.
I'm coming up for air from the long overdue process of updating old recipes on this site with the formatting that you can see down below.
I'm not gonna lie, it's mind-numbingly tedious, but it brings out my Type A-ness. Once I started, it was hard to stop.
I've also been cleaning up some of my old pictures (as far back as those I took in November 2010) with sizing that makes them load more quickly on the screen of a computer. (What I wouldn't give to have known I should do that from the very beginning.)
The good news is that the updates make it easy to print recipes and, if you use it, to save them to a shopping list and recipe box in Ziplist. I say all this only because, if you are reading this, and you have a food blog, don't make my mistake. Start using a recipe formatting program sooner than later. You'll be glad you did.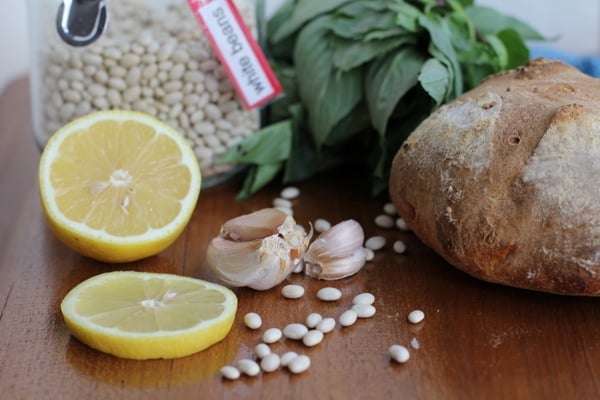 There is one really great thing that has come out of working through every recipe I've ever made for this blog. It is reminding me of some favorites that got lost in the shuffle. A few like Panko Shrimp Skewers with Orange Couscous, Roasted Salmon and Bread Salad, and Spinach with White Beans and Pine Nuts should not have gone unmade for so long. In fact, I just decided we'll be making that last one for dinner tonight.
Spinach with White Beans and Pine Nuts for dinner calls for the making of a giant pot of white beans, which I love. I can always think of something to do with a pot of white beans.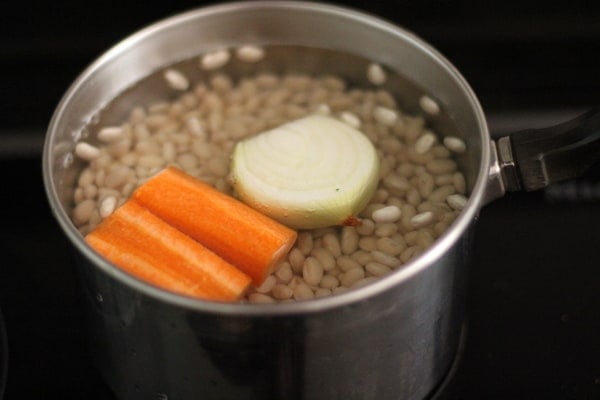 When I make a big pot of white beans, I give them a bit of extra flavor by throwing a half an onion and a half a carrot (sliced) into the mix. I learned this trick from Tom Colicchio's Marinated Chickpea recipe, and I really do think it's worthwhile for all the extra flavor it gives the beans.
You can, of course, always use canned white beans for that Spinach and White bean dinner, but then you wouldn't have leftovers. And leftover white beans really come in handy for making this snack-worthy white bean bruschetta.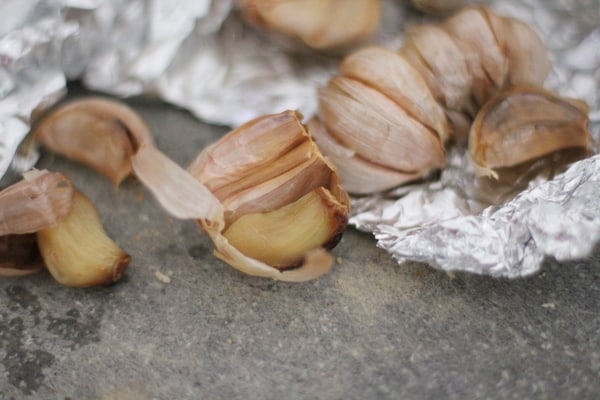 My friend Katie who blogs at the The Muffin Myth also made a white bean purée recently and called it a "mellower cousin to hummus", and she's spot on. A white bean purée has a bit of sweetness that hummus lacks, and it becomes even more creamy than its chickpea-based relative. But you can use it in all the same ways. Dunk carrots into it, use it in wraps or on sandwiches, or spread it over toasty, olive oil drizzled bread for this white bean bruschetta.
You can see which route I went.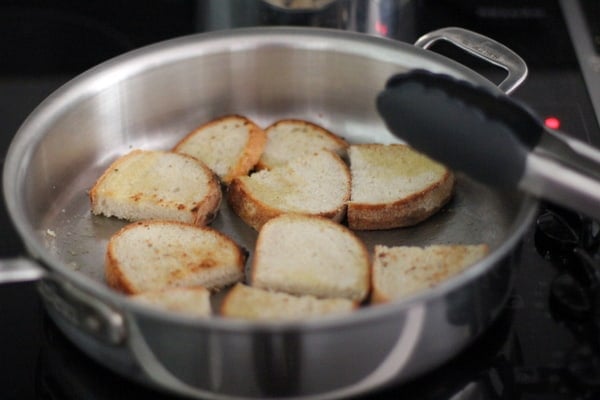 More Appetizer Recipes
Favorite Tool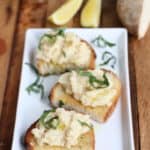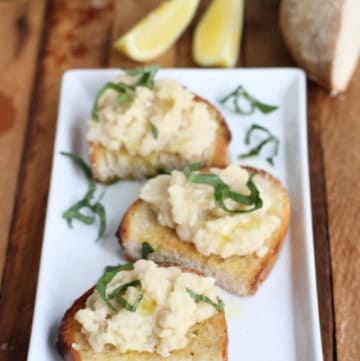 Print Recipe
Bruschetta with White Bean, Roasted Garlic, and Rosemary Recipe
Make this easy white bean bruschetta with my simple method that adds tons of flavor to canned white beans. You'll love the creamy white bean puree piled on top of crusty bread as snack or at party.
Equipment
Food Processor

Skillet or Half Sheet Pan
Ingredients
4

cloves

Garlic

(do not peel or crush them)

1 ½

cup

cooked White Beans

(rinsed and drained if from a can)

juice from ½ lemon

2

sprigs

Fresh Rosemary, minced

1

Tablespoon

Olive Oil

½

teaspoon

coarse Sea Salt
For Serving:
1

small

Baguette, sliced into ¾ inch slices

8

leaves

Fresh Basil, thinly sliced

Olive Oil
Instructions
Preheat the oven to 400 degrees.

Place the cloves of garlic in the center of a square of foil. Drizzle with about 1 teaspoon olive oil and seal the foil tightly around the garlic. Place the foil packet in the oven and roast until the garlic becomes very soft, 35 minutes. Remove the foil packet from the oven and open it carefully. Allow the garlic to cool and then gently remove the peels.

In the bowl of a food processor, combine the roasted garlic, white beans, lemon juice, rosemary, olive oil, and sea salt. Pulse several times until the beans become uniformly smooth and creamy. Taste and add additional salt, if needed.

Brush each of the baguette slices with olive oil and toast under the oven's broiler, or (as in the image above) in a large skillet over medium heat. Top each of the toasted baguette slices with a generous spoonful of white bean puree and set out on a plate. Top with sliced basil and drizzle with olive oil. Serve immediately.
Nutrition
Calories:
77
kcal
|
Carbohydrates:
11
g
|
Protein:
4
g
|
Fat:
2
g
|
Saturated Fat:
1
g
|
Polyunsaturated Fat:
1
g
|
Monounsaturated Fat:
1
g
|
Sodium:
178
mg
|
Potassium:
226
mg
|
Fiber:
2
g
|
Sugar:
1
g
|
Vitamin A:
31
IU
|
Vitamin C:
1
mg
|
Calcium:
40
mg
|
Iron:
2
mg