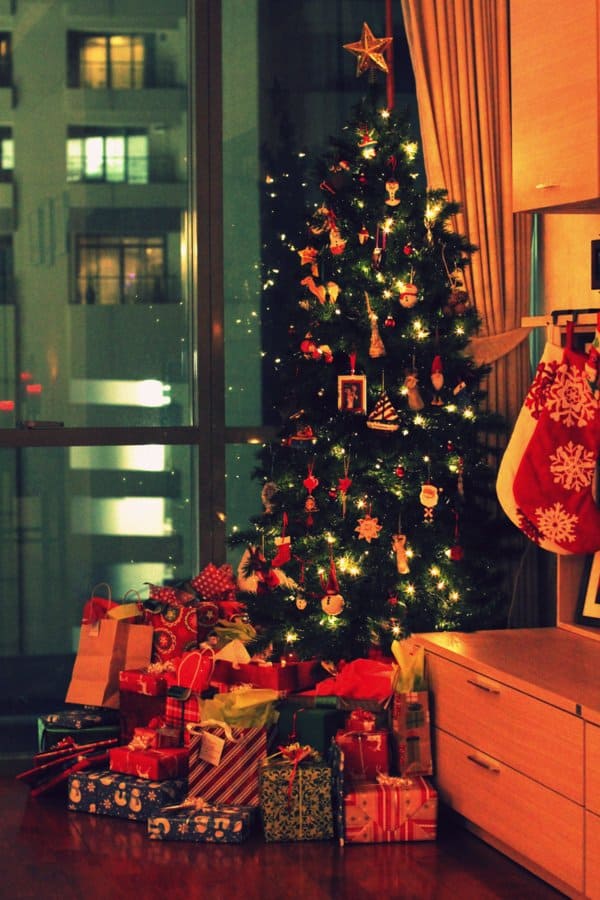 I didn't host a thing this holiday season. Not a brunch or a cocktail hour or a single holiday gathering. Frank and I spent all of 30 seconds the week after Thanksgiving contemplating having people over before we scrapped it and decided we would just play guest this year.
I made sure to take two of every appetizer and dessert I was offered. I was an extra good guest that way.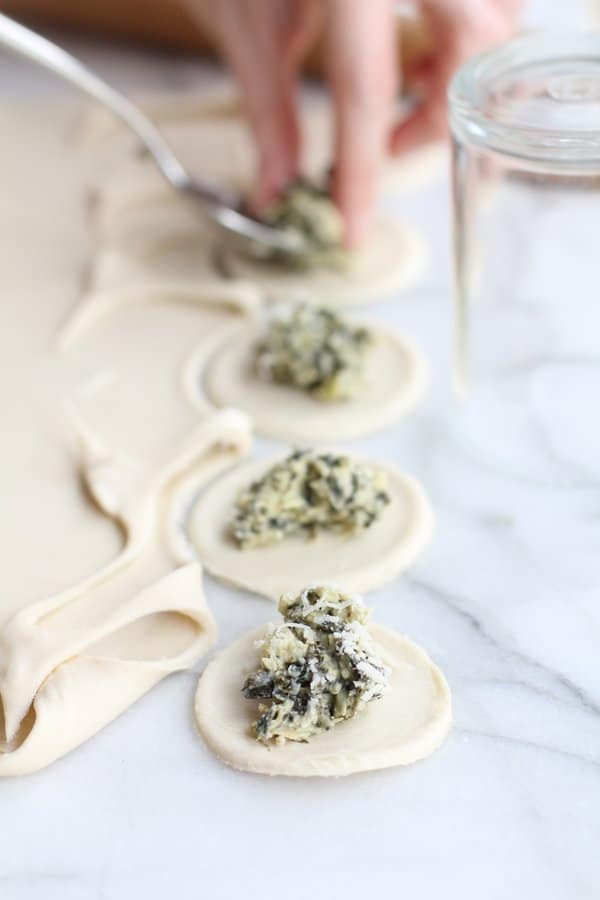 I made a few things for sharing, but I kept it all super simple. Spinach and artichoke dip in puffed pastry? This fit the simplicity bill perfectly. These little pockets of warm, creamy, spinach and artichoke goodness…I almost think I liked them better than the classic spinach and artichoke dip. They were easy to pick up and that crisp, flaky exterior was so much more fun (and dare I say festive?) than plain old crackers or chips.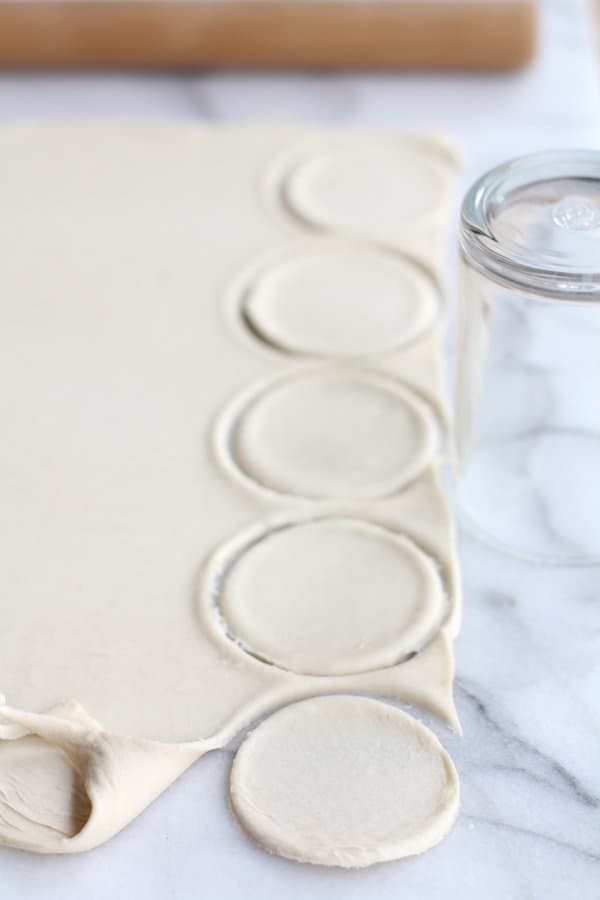 I made these in two different sizes. While the small ones were more fun, the seams on the larger ones held together a bit better during baking. Pretty much any size will work, but I preferred the pastry rounds that were cut with a drinking glass that was about 3.5 inches in diameter.
These are not fussy, so there wasn't much precision here.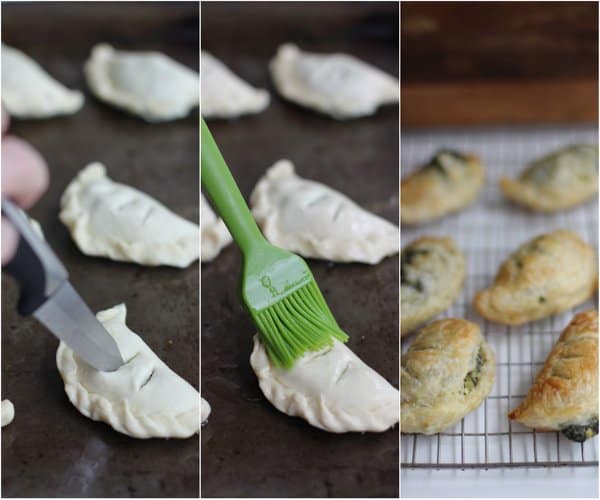 To make the filling, I started in the general vicinity of the recipe for Alton Brown's Hot Spinach Artichoke Dip, but followed it pretty loosely. Once you add cream cheese to anything, it seems like it's hard to go wrong, but where I ended up was heavy on the spinach and artichoke and somewhat more substantial than most dips since it would need to hold up inside the pastry.
These freeze well, so they are the perfect appetizer to make and freeze this weekend for a get-together later in the week.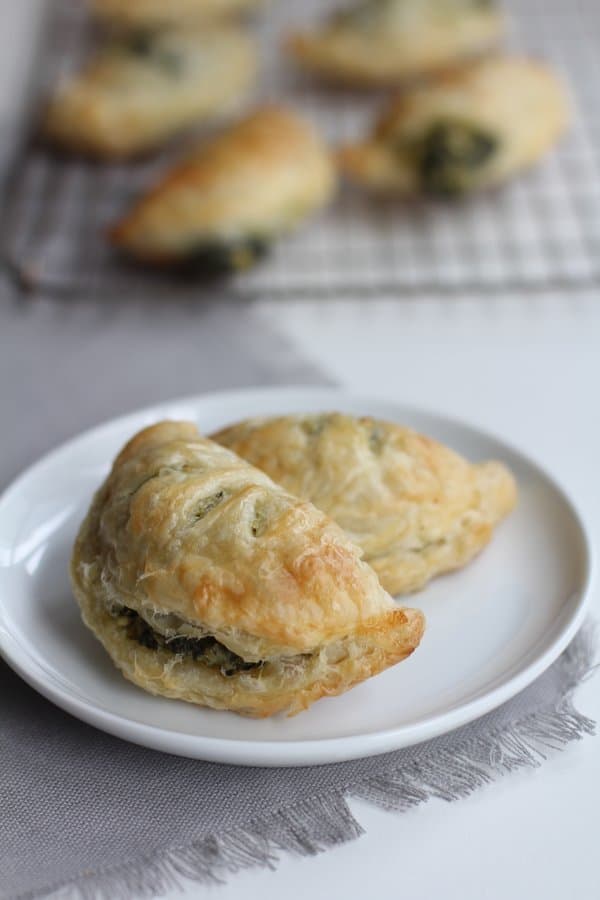 Whether you played host or guest this year, I hope you're having a wonderful holiday season!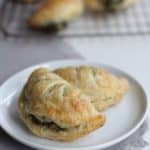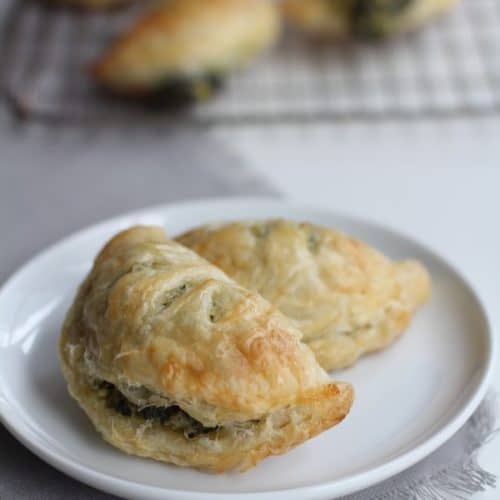 Print Recipe
Spinach and Artichoke Dip Hand Pies
Crispy pockets of pastry filled with classic spinach and artichoke dip.
Ingredients
1

cup

thawed and well-drained, finely chopped frozen spinach

11/2

cups

thawed, finely chopped frozen artichoke hearts

6

ounces

cream cheese, softened to room temperature

1/4

cup

mayonnaise

1/2

cup

grated Parmesan

1/4

teaspoon

salt

1/4

teaspoon

black pepper

1 14-

ounce

package all-butter puff pastry, thawed in the refrigerator

1

egg white, lightly beaten
Instructions
Preheat the oven to 350 degrees F. (Only if you will be baking these right away.) Lightly grease a cookie sheet or cover with parchment paper.

Add the spinach to a medium sauté pan over medium-high heat. Heat, stirring frequently, until most of the moisture has been cooked off. Add the chopped artichoke hearts and cook, stirring frequently, just until the artichoke hearts are heated through, about 3 minutes more. Remove the pan from the heat and immediately add the cream cheese, mayonnaise, Parmesan, salt, and pepper. Stir until evenly combined.

Roll puff pastry out on a lightly floured surface until it measures about 15x20 inches. Using a round biscuit cutter or the top of a drinking glass, cut the pastry into even circles. (Alternatively, you can use a pizza cutter to slice the pastry into even squares or rectangles. Any shape will work.) Place a large spoonful of the spinach and artichoke mixture in the center of each piece of dough. With each piece of pastry, fold one side over so that the ends meet and crimp the edges to seal the filling inside. Place the hand pies on the prepared baking sheet, leaving about 3 inches of space between them. Using a sharp knife, cut three slits in the top of each hand pie and lightly brush the top with egg white.

Bake until the tops of the pies are golden brown, 15-20 minutes. Serve immediately.