Baked Cheesy Chicken Wontons have a crisp baked shell on the outside and warm creamy filling on the inside. They are an easy appetizer and great for a Mexican themed night, football game or potluck.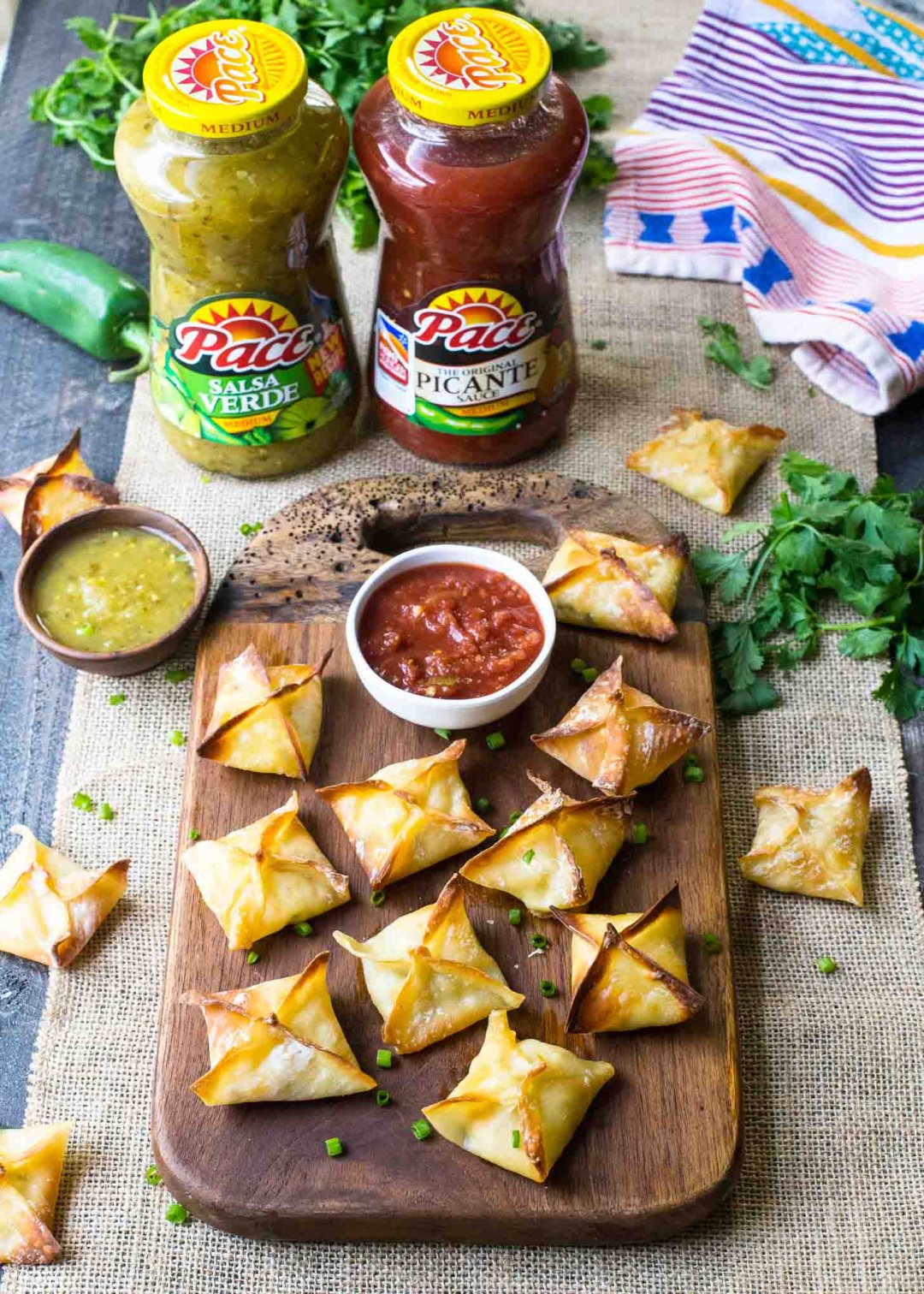 Filled with ingredients we picked up on a quick run to Walmart and filled with two kinds of cheese, shredded chicken and 24 oz. Pace® Salsa Verde, make extra because these will go fast.

This time of year, I feel like we've got one foot in the swimming pool and the other in the pumpkin patch. But my food-focussed brain is on a single track straight towards fall. I want a pot of chili on the stove, football on the TV and blankets to curl up with on the couch.
Oh and snacks. Lots and lots of snacks.
Enter Baked Cheesy Chicken Wontons which we *may* have tested a few times more than necessary just for the excuse to eat them.

The filling for these wontons is simple. Cream cheese, shredded cheese and a bit of mayonnaise give it a super creamy texture. Chicken and chopped green onions add texture. And thanks to our friends at Pace® with their 70 years of southwest flavor know-how, one single ingredient – Pace® Salsa Verde – adds a bold boost of tangy, herb flavor.

Surely you're familiar with the versatile Pace® line of salsas and sauces in their many colors, textures and heat levels. Around our house, we use them as an ingredient, condiment and dipping sauce. Frank and I love the spicy versions, but the toddlers fall more firmly in the mild camp. Fortunately, these wontons satisfy both adults and kids. The filling is mild enough that the toddlers can't resist them.
And to make sure we satisfy the spice fans as well, when we serve Baked Cheesy Chicken Wontons we add a variety of salsas for dipping. Pace® Salsa Verde and Pace® Picante Sauce add tons of color and flavor to that plate!

Baked Cheesy Chicken Wontons check all the boxes for me when it comes to a great snack food. They are:
Crispy
Creamy
Finger Foods
Baked (make a large batch at once)
Travel-Friendly
Perfect for Dipping
These can even be assembled up to 3 hours ahead and stored in the fridge. Just slide them in the oven when you're ready to serve!

Baked Cheesy Chicken Wontons
Baked Cheesy Chicken Wontons have a crisp baked shell on the outside and warm creamy filling on the inside. They are great for a Mexican themed night, football game or potluck.
Author:
Jess Smith via Inquiring Chef
Ingredients
8 oz Cream Cheese, softened to room temperature
2 Green Onions, finely chopped
1 cup finely shredded Cooked Chicken (we used rotisserie chicken)
½ cup Shredded Mexican Blend Cheese
¼ cup Pace® Salsa Verde
¼ cup Mayonnaise
1 package square Wonton Wrappers (~35 wrappers)
Nonstick Cooking Spray
Instructions
Heat oven to 350 degrees F. Spray a sheet pan with nonstick cooking spray.
While the oven is heating, combine cream cheese, green onions, chicken, cheese, Pace® Salsa Verde and mayonnaise in a mixing bowl. Stir until the ingredients are evenly incorporated.
Fill a small bowl with tap water.
Start assembling wontons by setting out 6 wonton wrappers at a time (place a damp paper towel over any wrappers you are not working with to prevent them from drying out). Fill each wonton wrapper with a heaping teaspoon of filling. Dip your fingers in water and run them along the edges of the wrapper. Bring the corners of the wrapper together and press along the seams to seal the filling inside. (Note: Don't worry if these aren't perfect - they'll still taste great!)
Set assembled wontons on the prepared sheet pan, leaving a small amount of space between them. Continue until all of the wontons are filled.
Spray the tops of the wontons with nonstick cooking spray (this will help them to crisp and turn golden).
Bake until wontons are golden brown, 20 to 22 minutes.
Serve with extra salsa of choice for dipping. Enjoy!
This post was originally published as a sponsored piece for Pace Salsa.