Baked Crab Rangoon
Published Feb 04, 2018•Updated Feb 27, 2023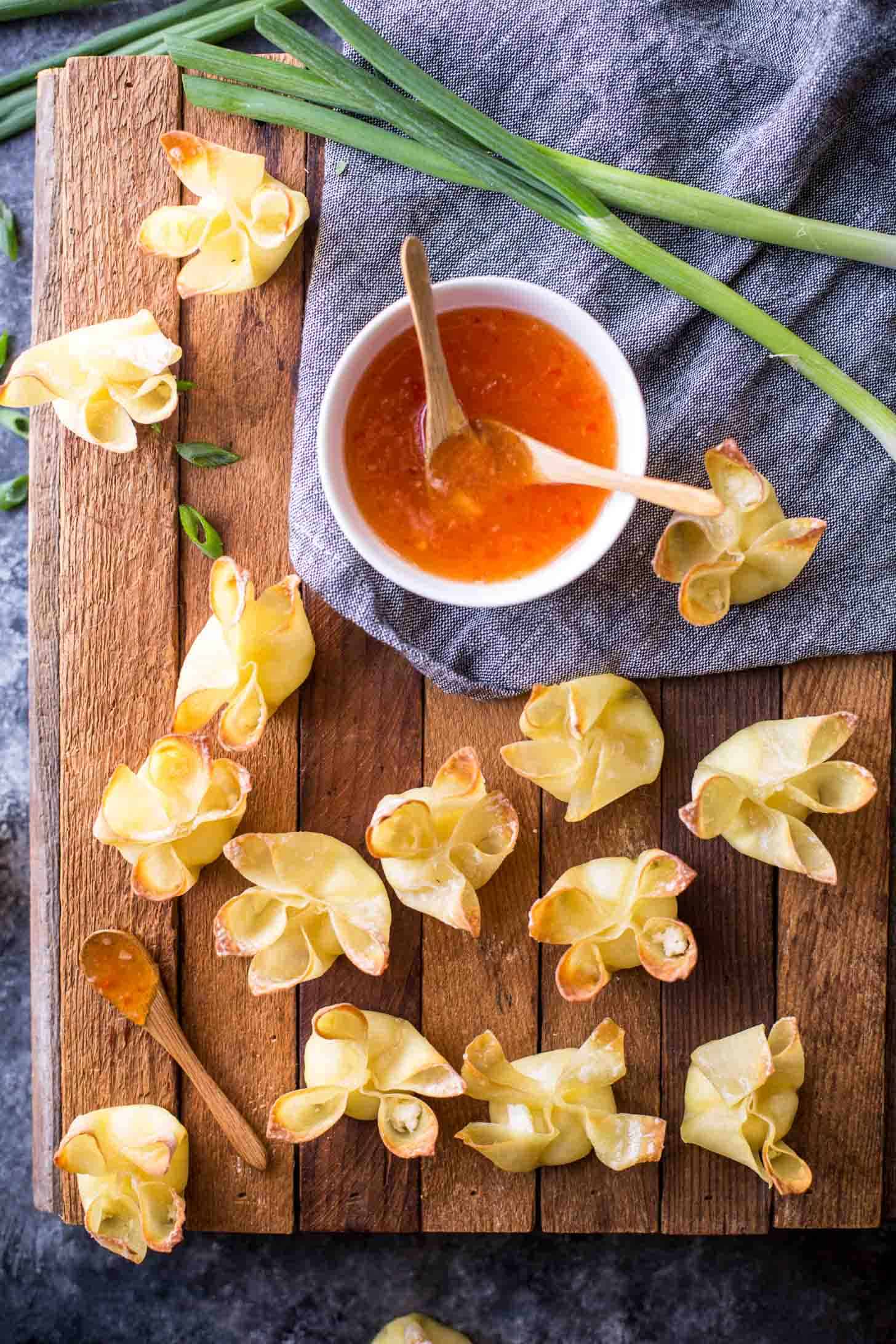 Everything there is to love about crab rangoon – crispy edges and creamy filling – but this version is baked not fries.
This is my version of the takeout favorite. Baking them makes everything a little easier, healthier, and just as delicious as the original. I first featured these baked crab rangoon on the blog many years ago (original photo below) and still make them a few times a year.
And because Chinese New Year is just around the corner (and because we wanted an excuse to eat these before the actual holiday) we thought we'd whip up another batch.
Now, I know, I know that crab rangoon are not actually Chinese. They're a staple of American Chinese food here in the Midwest, and I have discussed my love for them since the earliest days of this blog. In my humble opinion, crab rangoon are a non-authentic but seriously delicious must-have this time of year.
How to Make Crab Rangoon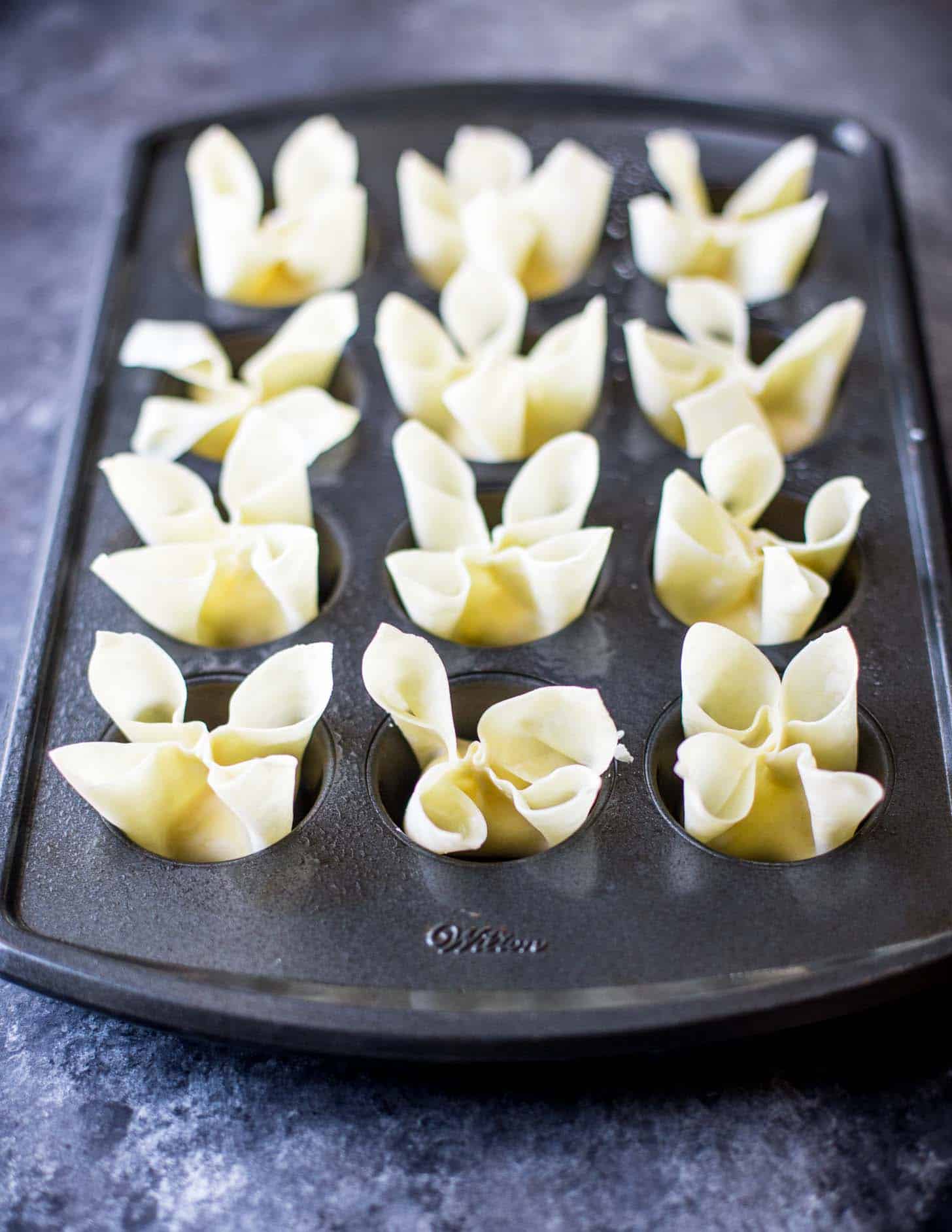 The filling for baked crab rangoon is simple. Cream cheese + green onions + mayonnaise + crab. The crab makes up only a small part. I most often use "crab stick" which is imitation crab that is inexpensive and available at most grocery stores. In the past I've used fresh jumbo lump crab and I've also used no crab at all. Everyone raves about every version. You can't really go wrong.
Pineapple Dipping Sauce
If you have a little extra time, it's worth the effort to make your own pineapple dipping sauce. The recipe below is savory and sweet and keeps in the fridge for a couple of weeks.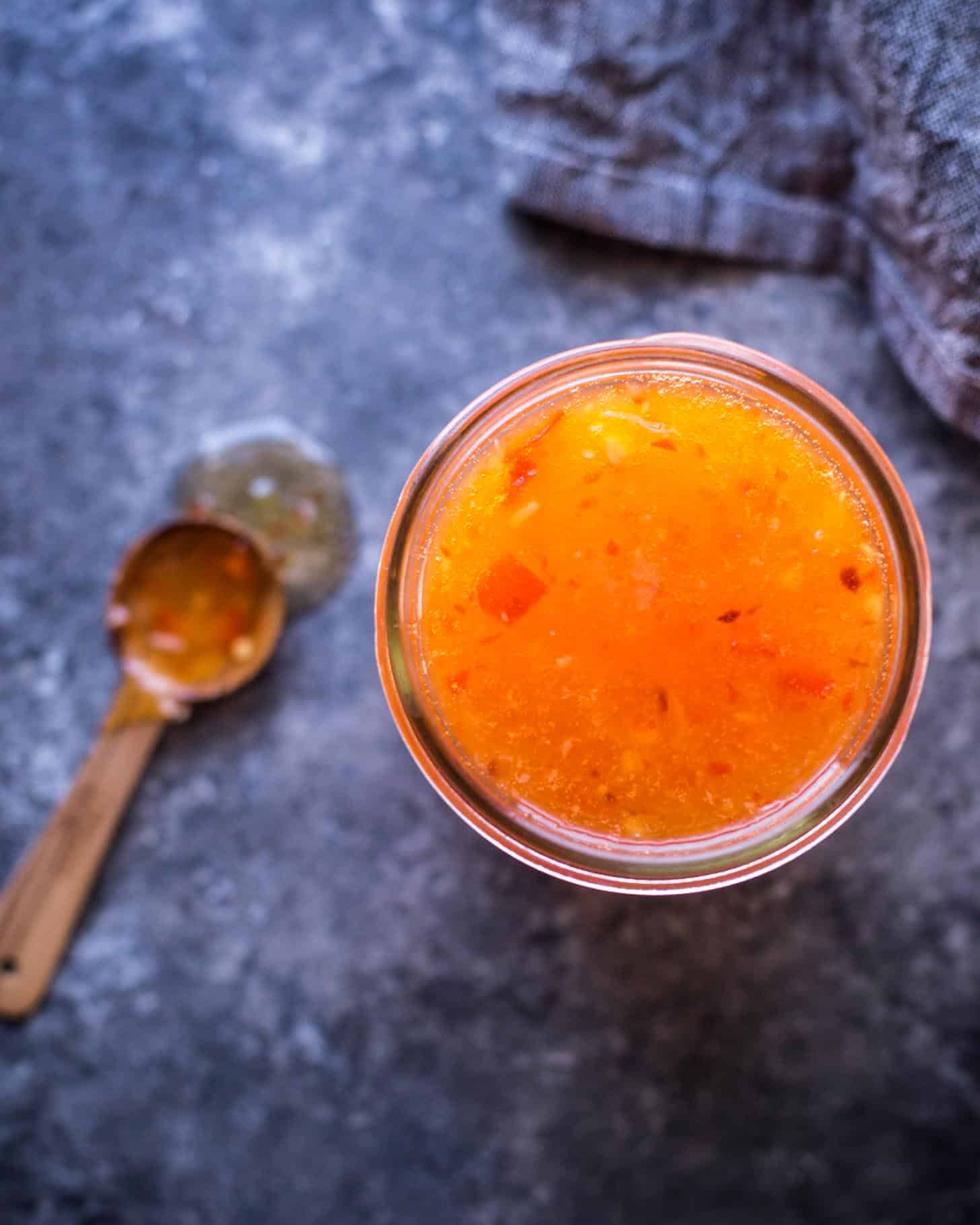 However, if you have ever used store-bought Thai sweet chili dipping sauce, you know that it is a perfectly decent (um, actually amazing) option in a pinch.
Chinese New Year in Bangkok
It's been years since we celebrated Chinese New Year in Bangkok's vibrant Chinatown but it was by far the best way that Frank and I have ever experienced the holiday. So many colors, sounds, people, and incredible food. Here are a few photos from Chinese New Year 2011 – Bangkok style.
Enjoy and happy new year!
_____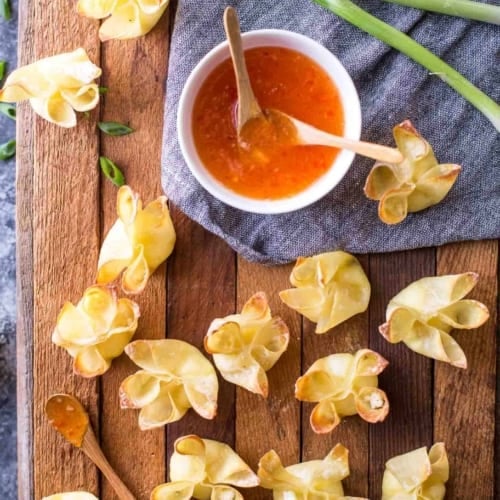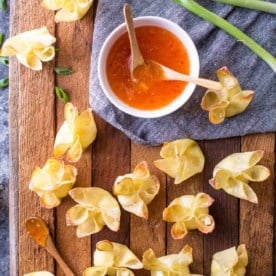 Baked Crab Rangoon with Pineapple Dipping Sauce
Baked Crab Rangoon are wonderfully crispy with a delicious cream cheese and crab filling. This is my version of the takeout favorite that is usually fried, but baking them makes everything a little easier, healthier, and just as delicious as the original. Add homemade pineapple dipping sauce or use your favorite store bought dipping sauce.
Ingredients
Pineapple Dipping Sauce
1/2

cup

Pineapple, diced canned (or use 3 rings of pineapple)

1

clove

Garlic

1/2

Red Bell Pepper, chopped

1/4

tsp.

Dried Red Chili Flakes(more if you prefer it to be spicy)

1

cup

White Vinegar

1

cup

Sugar

1/4

cup

Water
Baked Crab Rangoon
8

oz

Cream Cheese, softened

1/3

cup

Mayonnaise

3

oz

Shredded Crabmeat (the real stuff is good, but so is the imitation "crab stick" that is often what take-out Chinese restaurants use; or skip this altogether)

3

Green Onions (white and green parts), thinly sliced

30

Wonton Wrappers (round or square will work)
Instructions
Make sauce: Combine pineapple, garlic, red pepper and chili flakes in a food processor and pulse until finely chopped. Pour mixture into a pan and add vinegar, sugar and water.

Heat over medium heat until boiling. Reduce to a simmer and continue cooking, stirring frequently, until mixture thickens and becomes a clear, shiny red color, 10-12 minutes. Remove from heat and allow to cool before serving. Store in the refrigerator for up to three weeks.

Make crab rangoon: Preheat oven to 350 degrees. Line a baking sheet with parchment paper (see note).

Beat together cream cheese and mayonnaise until fluffy. Gently fold in crabmeat and green onions.

Fill each wonton wrapper with a heaping teaspoon of the cream cheese mixture. Dampen your fingers slightly and pull four points of the wonton wrapper together in the center. Pinch the four corners of the wonton wrapper together to enclose the filling.

Place filled wontons about 1 inch apart on the baking sheet.

Optional step: for extra golden crisp edges you can lightly spray the wontons with cooking oil spray.

Bake until edges of wrappers are crispy and filling is heated through (and possibly bubbling out of the wrappers), 12-14 minutes. Serve immediately with dipping sauce.
Notes
Wonton wrappers vary in thickness. Often the crab rangoon will hold their shape on a regular baking sheet without any support. If you find that the corners are flopping over, you can put them in a mini muffin tin that has been lightly sprayed with nonstick cooking spray (see photos in post above). This will help them hold their shape while baking.
I've often been asked if these can be made ahead. The crab rangoon can be formed and refrigerated up to a day ahead. Cover them with foil or plastic wrap to prevent them from drying out. I do not recommend baking ahead as they do not hold their shape and crunch for more than an hour or so and are best served warm.
Nutrition information is automatically calculated, so should only be used as an approximation.
It's not quite the same as Chinese New Year in Bangkok, but we took Molly and Clara to a big celebration at the art museum here in town. Here they are being extremely expressive after getting temporary arm tattoos in honor of the Year of the Dog.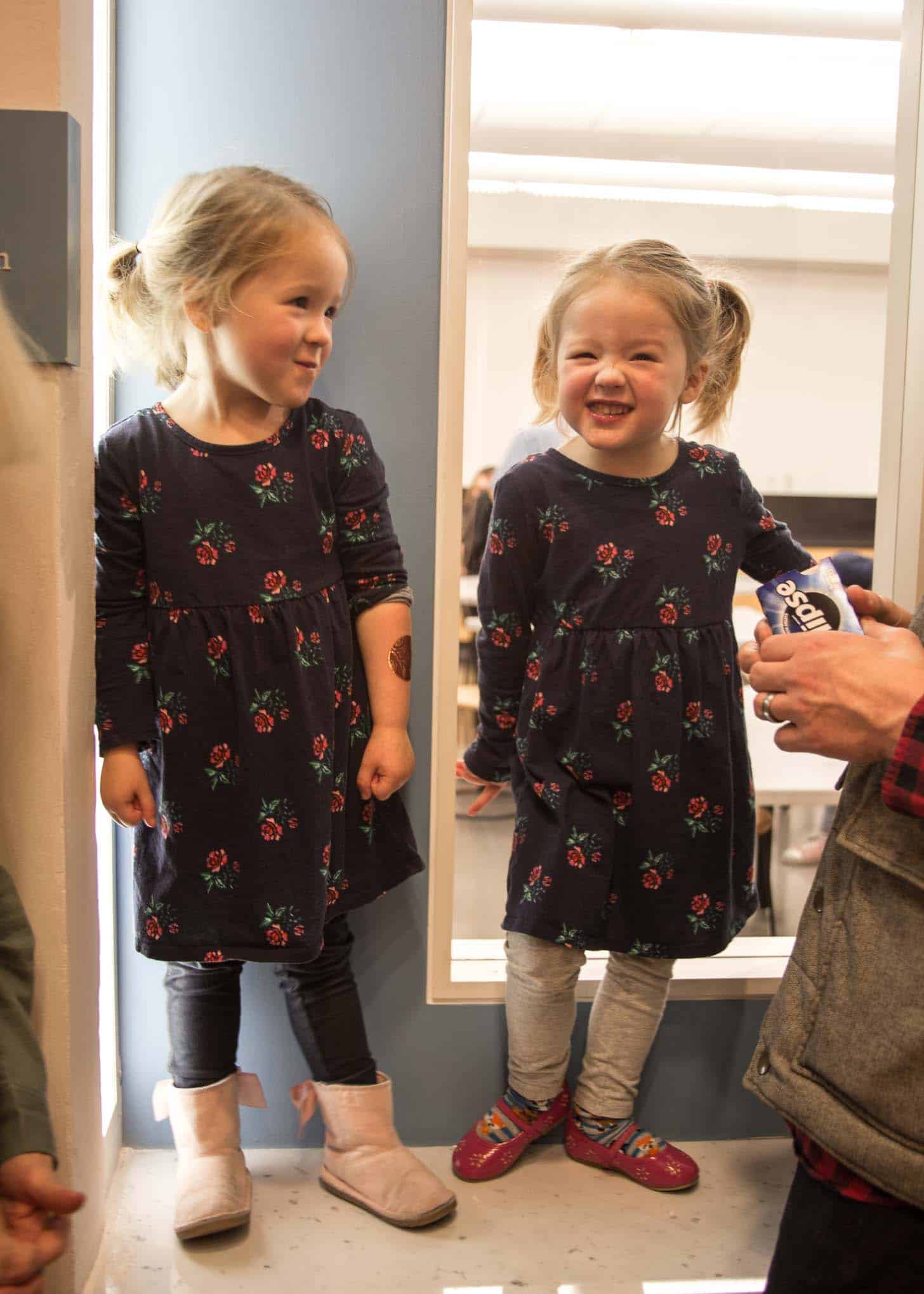 SaveSave
SaveSave
SaveSave