No Churn Caramel Sea Salt Ice Cream
This no churn ice cream is sweet, salty, super creamy, and requires no special equipment to make. In other words, it's the perfect summer treat.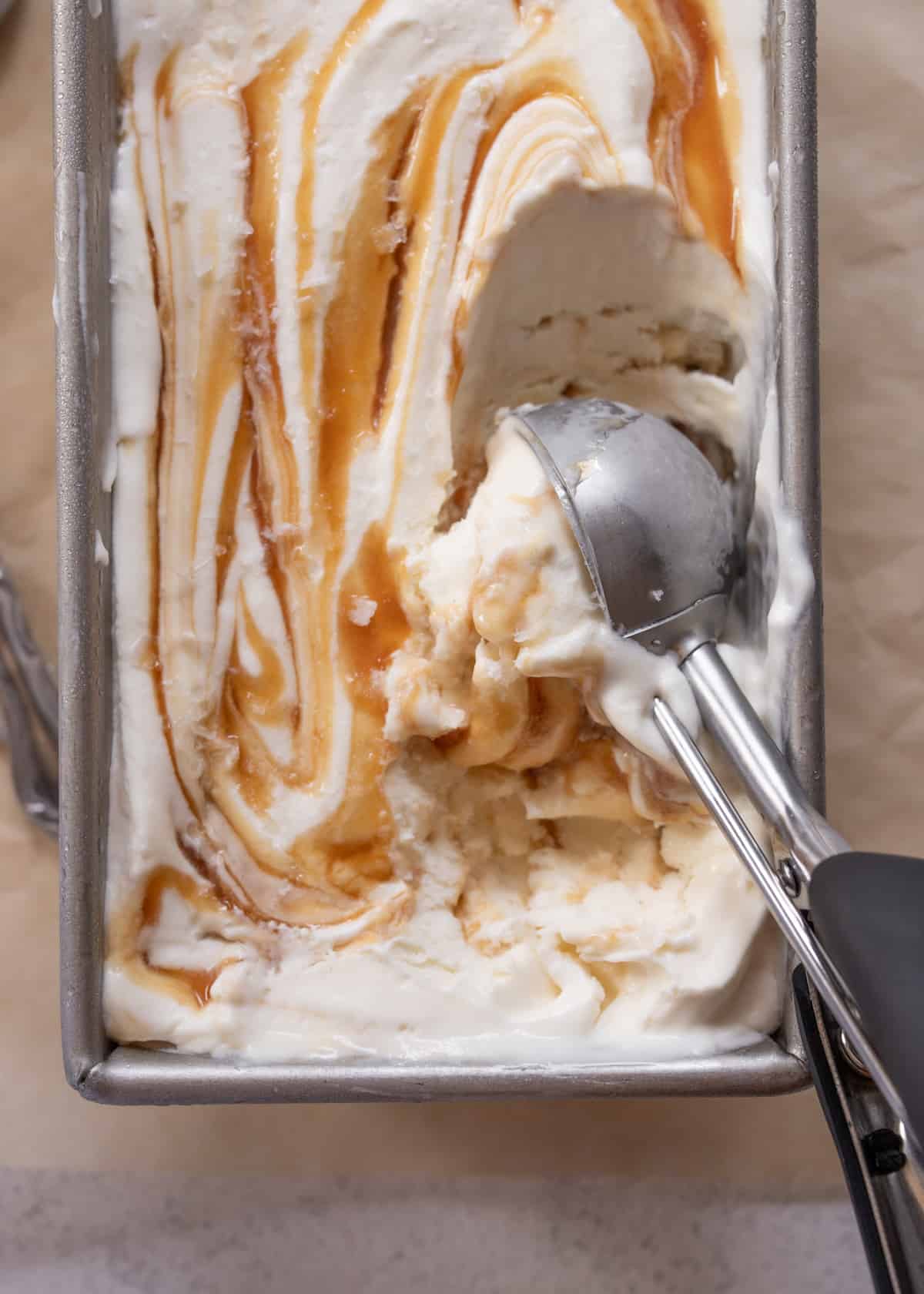 Summer means it's time to pull out the homemade ice cream recipes! After all, is there a better dessert on a hot afternoon day than a bowl of cold ice cream?
If you've never made homemade ice cream, don't worry. No churn ice cream is easy to make, doesn't require a fancy ice cream maker, and comes together with a few simple ingredients. All you need to do is whip up a little heavy cream, gently fold in the sweetened condensed milk, and pour the mixture, along with buttery, sweet caramel sauce and flakey sea salt, into a freezer-safe pan.
A few hours later, you will be enjoying big scoops of sea salt ice cream with ribbons of caramel. It's basically summer in a bowl – or cone!
What is no churn ice cream?
No churn ice cream is ice cream made without the help of an ice cream machine, or by hand churning the ice cream as it freezes. When you make a batch of no churn ice cream, all you need to do is combine your ingredients, place them in a container, and pop the mixture in the freezer until it's set.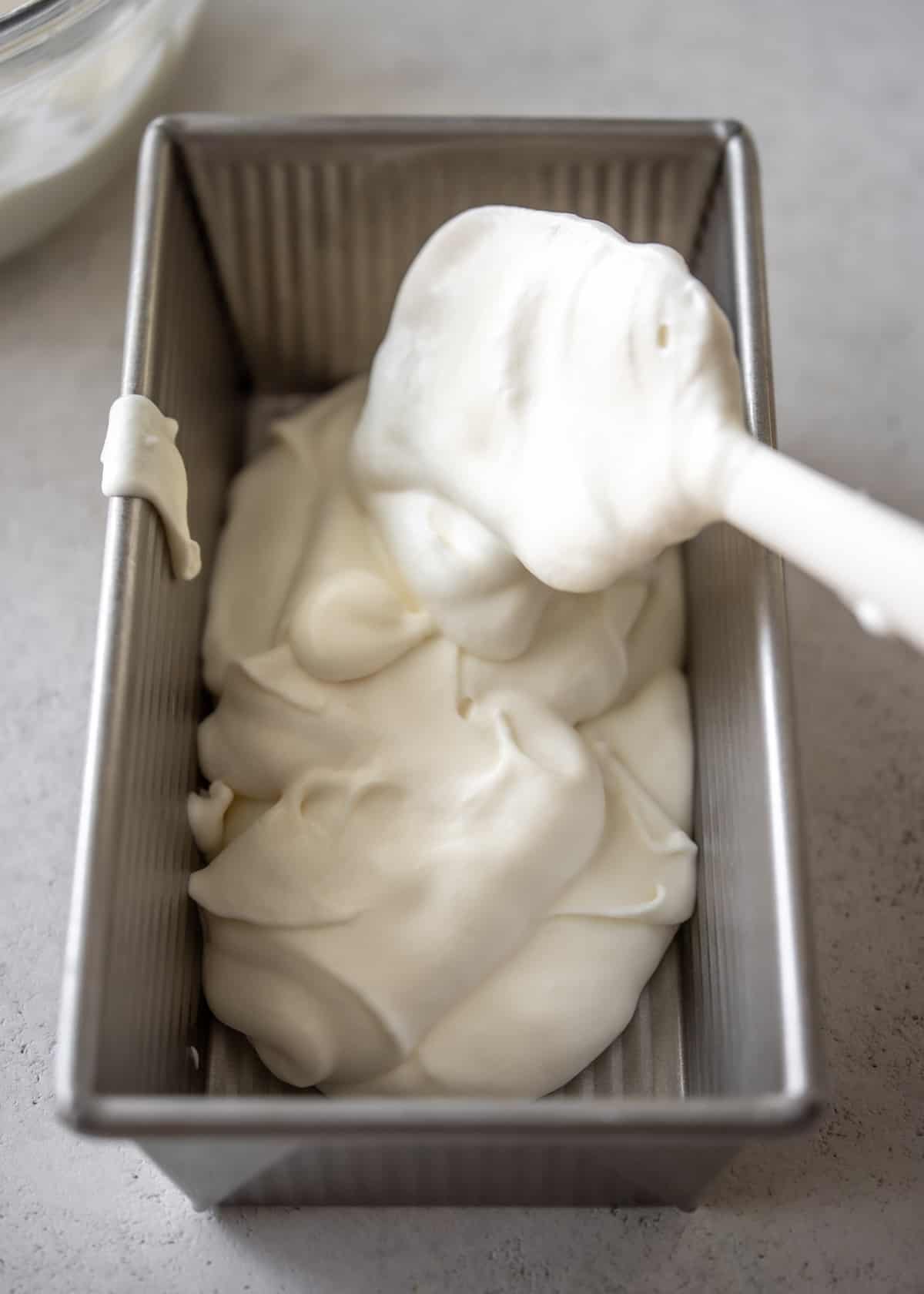 How to Make It
Beat the heavy cream until stiff peaks form.
Combine the condensed milk and the whipped cream. Gently fold everything together.
Add 1/3 of the ice cream to the pan, and drizzle with caramel and sea salt. Repeat the layering and spread the remaining 1/3 of the ice cream on top to finish.
Cover with parchment paper, and freeze until firm.

Ingredients
Heavy Whipping Cream – The secret to really fluffy whipped cream is using really cold heavy cream. Place your carton of cream in the freezer for 15 to 20 minutes prior to using so it's nice and cold.
Sweetened Condensed Milk – Ultra rich condensed milk adds sweetness, while also building layers of smooth, creamy texture into the ice cream.
Caramel Sauce – Homemade or store-bought caramel will work.
Maldon Sea Salt Flakes – Maldon sea salt is known for its distinct pyramid-like shape and flat surface. Not only do these special salt flakes add just the right amount of saltiness to the sweet creamy caramel, but they also add texture when sprinkled into the ice cream.
Parchment paper – For covering the ice cream.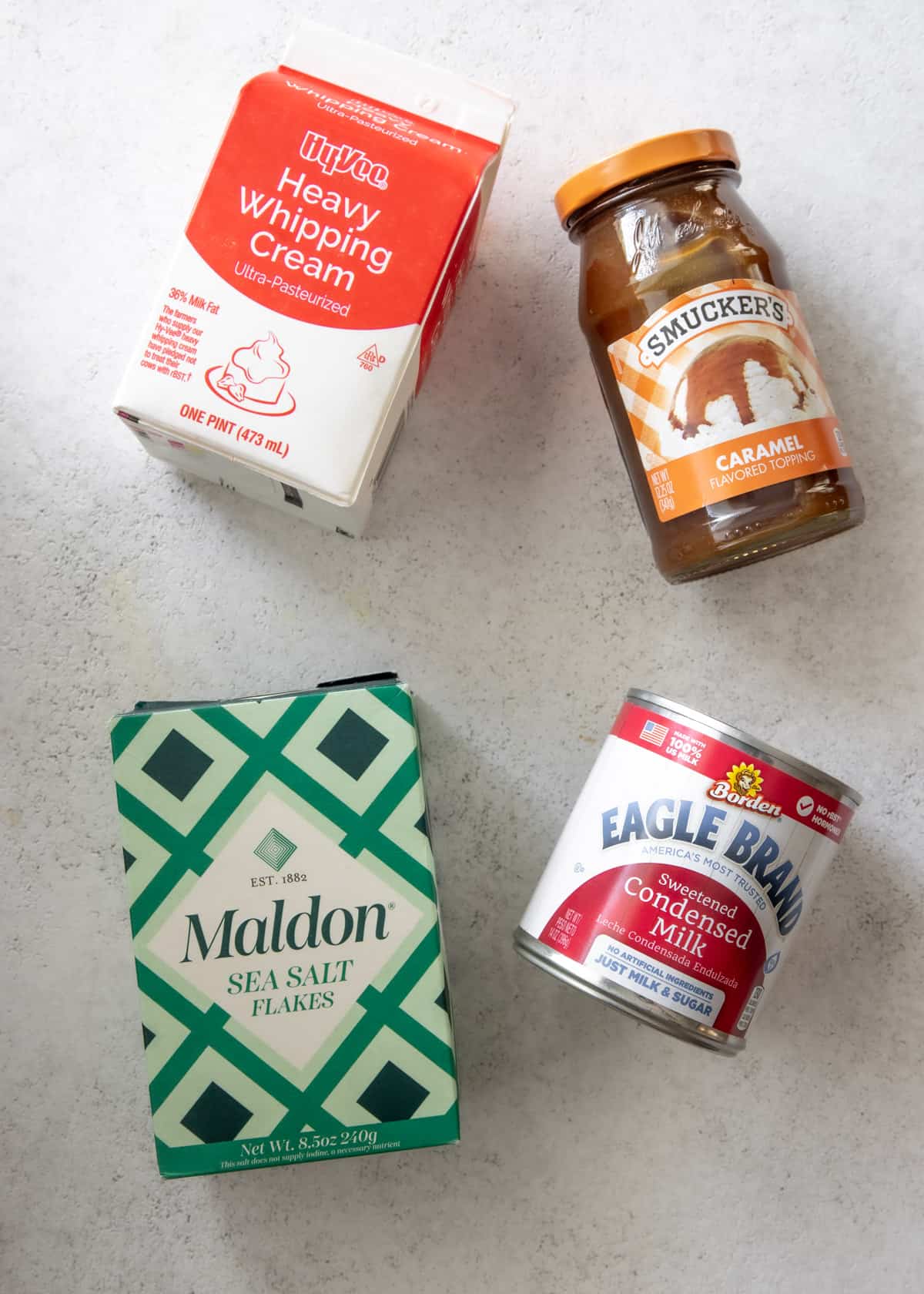 Tips
Overbeating the cream will result in a "tougher" ice cream. You'll know if you've gone a little overboard on the beating if the mixture goes from smooth to clumpy.
To ensure this no churn ice cream is perfectly scoopable, be sure it stays in the freezer for at least 3 hours.
Take care to gently fold the cream and condensed milk together, rather than stirring them to combine. Folding helps to preserve the light airiness in the ice cream.
Variations
Try different flavor variations – Add vanilla, pureed fruit, cacao powder, coconut, or coffee to create custom homemade ice cream flavors.
Add toppings – Spoon extra caramel or chocolate sauce over the top. Sprinkle your favorite crushed nuts, or add a big dollop of whipped cream. You can also serve it in a fancy waffle cone.
FAQs
What is sea salt ice cream?
Sea salt ice cream is popping up everywhere, from fancy neighborhood artisanal ice cream shops to your favorite commercial brands. This delicious dessert is made by adding a touch of flakey sea salt to a simple base of sweet ice cream. Adding salt to ice cream not only balances the sweetness, but it also enhances the flavor for a double dose of 'yum'.
What does sea salt ice cream taste like?
Sea salt ice cream has a really unique sweet and salty taste, and thanks to the delicate flakes of salt, it's also pretty refreshing. There are tons of variations for this popular style of ice cream, but salted caramel and salted vanilla are fan favorites.
More Summer Dessert Recipes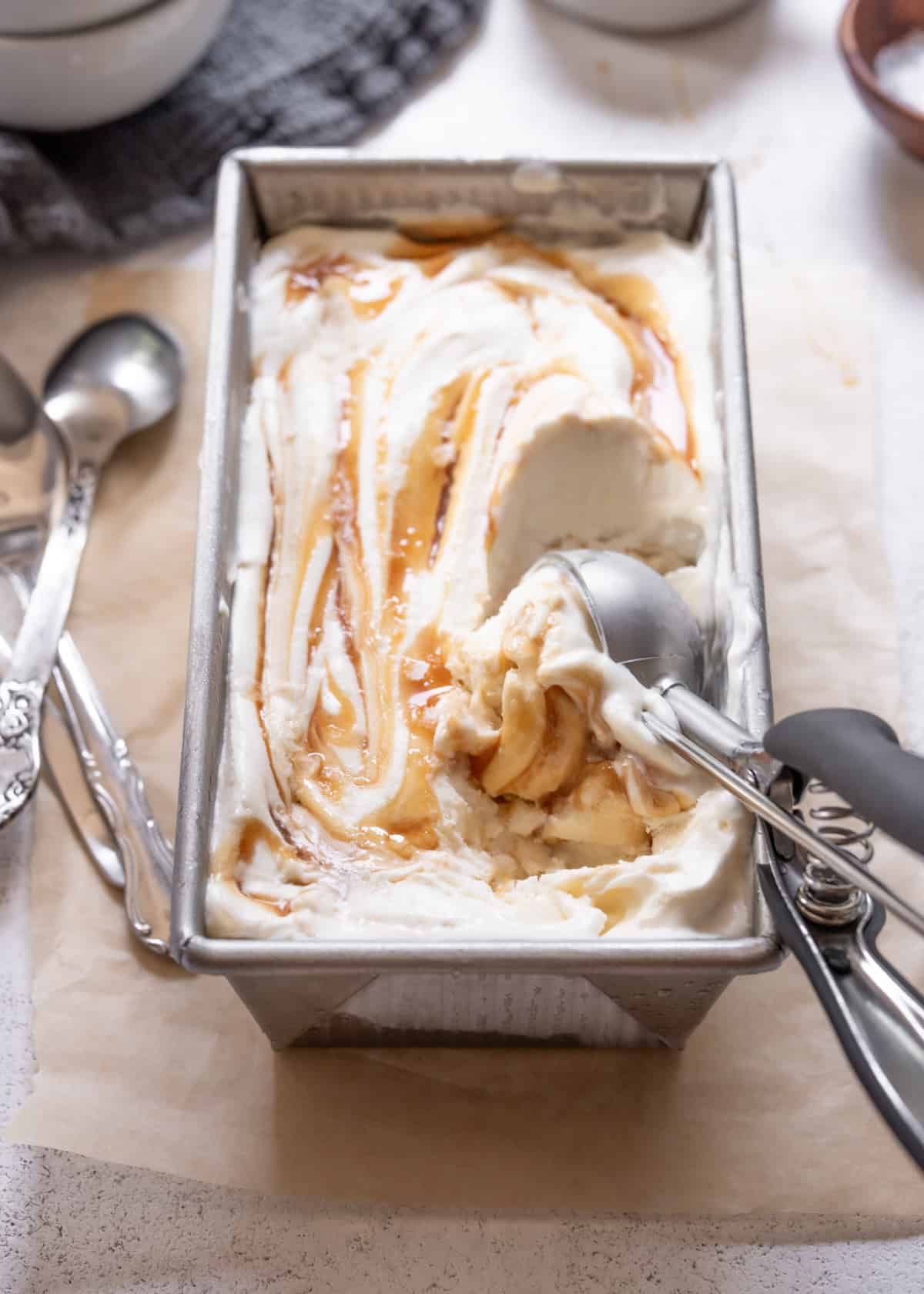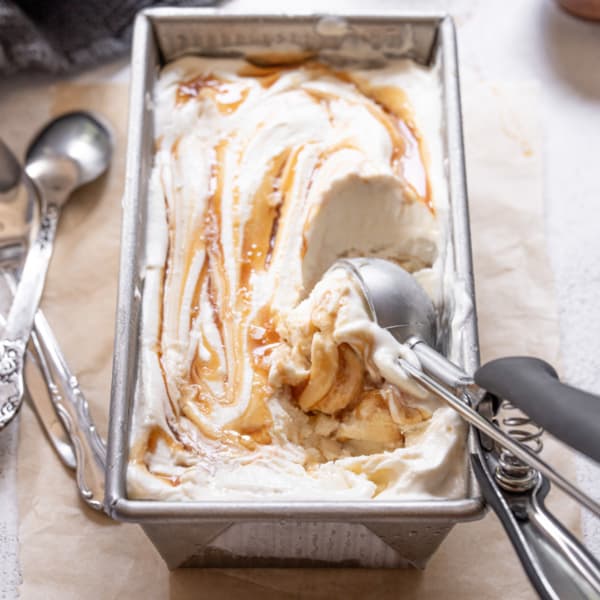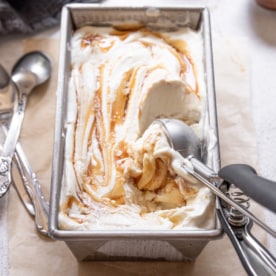 No-Churn Caramel Sea Salt Ice Cream
Easy no churn ice cream is salty-sweet, and has ribbons of buttery caramel. You don't need an ice cream maker to indulge in this smooth, creamy ice cream treat.
Equipment
Mixing Bowls

Parchment Paper

Loaf Pan

standing mixer
Ingredients
2

cups

heavy whipping cream, very cold

1

14-ounce can

sweetened condensed milk

1

12-ounce jar

caramel sauce, divided

2

teaspoons

Maldon sea salt flakes, divided
Instructions
Using a standing mixer with the whisk attachment or hand mixer beat the cold whipping cream until stiff peaks form, 2 to 3 minutes on high. Be careful not to over beat the cream (you'll know it's over beaten if it starts to go from smooth to forming clumps).

In a mixing bowl combine the condensed milk and 1 cup of the whipped cream. Gently fold together until even (this will lighten the mixture, making it easier to add in the rest of the cream). Add the remaining whipped cream and gently fold everything together, being careful not to deflate the whipped cream.

Spread 1/3 of the ice cream base in a 9×5 loaf pan. Drizzle with half of the caramel sauce and sprinkle half of the sea salt over the caramel. Repeat the layers and then spread the final 1/3 of the ice cream base on top.

Cover the top of the ice cream with parchment paper. Freeze, covered, until firm, at least 3 hours.
Nutrition
Calories:
162
kcal
|
Carbohydrates:
1
g
|
Protein:
1
g
|
Fat:
17
g
|
Saturated Fat:
11
g
|
Polyunsaturated Fat:
1
g
|
Monounsaturated Fat:
4
g
|
Cholesterol:
54
mg
|
Sodium:
478
mg
|
Potassium:
46
mg
|
Sugar:
2
g
|
Vitamin A:
700
IU
|
Vitamin C:
0.3
mg
|
Calcium:
32
mg
|
Iron:
0.1
mg
Nutrition information is automatically calculated, so should only be used as an approximation.