A draft of this post has been around since a week before Christmas, but I'm only now getting around to publishing it. This age is so fun, I couldn't stand to miss capturing it even if 9 months is now just around the corner!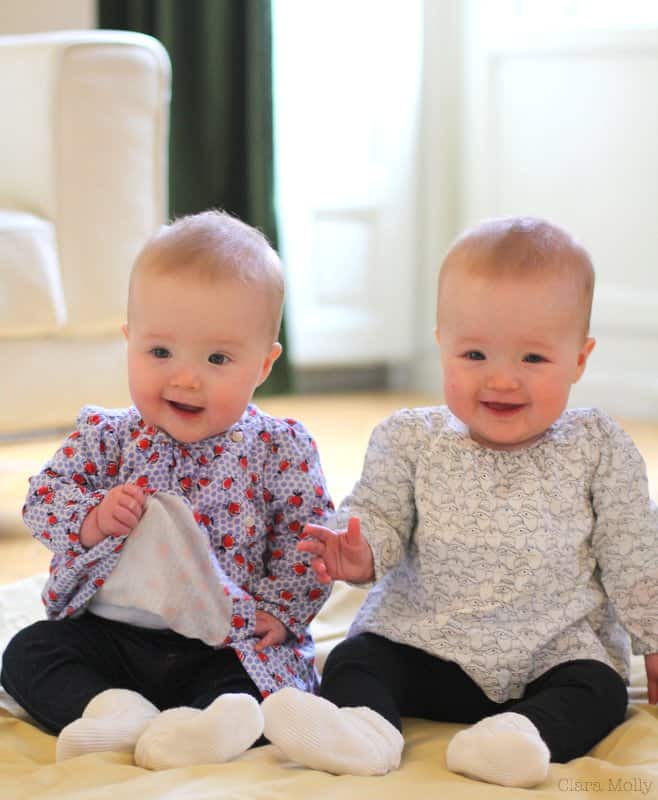 Things are starting to change so quickly that it's hard to keep up. So many new things have happened since Molly and Clara turned 8 months old a few days before Christmas, but I've tried to record it just as it was at that moment. Neither of the girls have broken any teeth yet, but I'm realizing I'll miss those sweet gummy smiles once they do.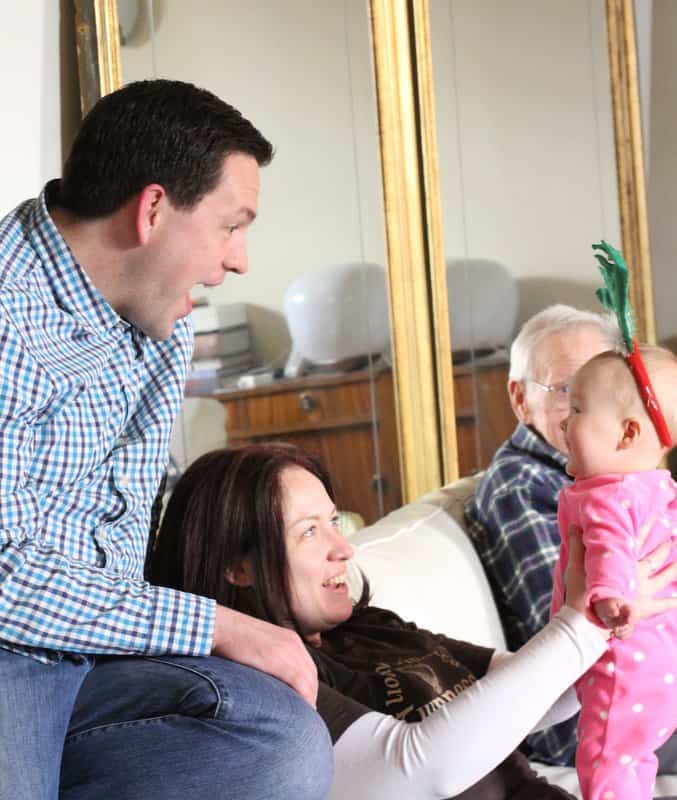 The biggest event of the month, of course, was our trip to Madrid, Spain. It began with their first flight - a whopping 12 hours. They did pretty well and there were lots of extra seats so the sweet people at Thai Airways reserved not one, but two entire rows for us. It was great to have a seat between us for playing. And for absorbing the three cups of water and juice that Molly and Clara knocked out of our hands during the flight.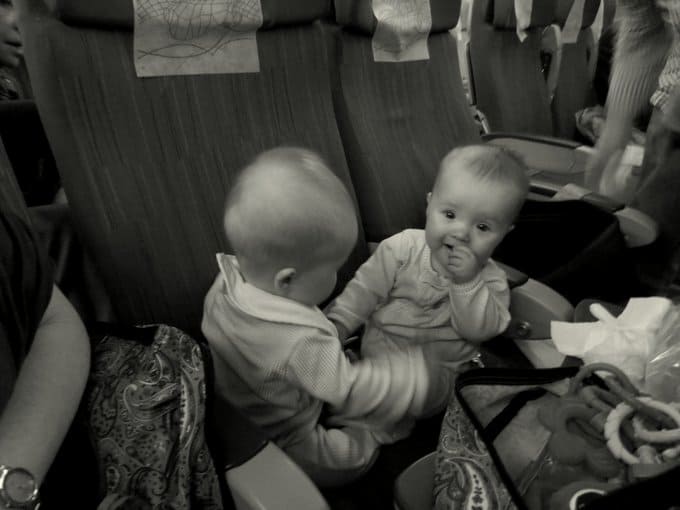 This month the girls continued to sleep incredibly well right up until we left for Spain at which point jet-lag wreaked havoc. We went from sleeping 12 hours a night to absolute unpredictability. It was chaos, but a lovely chaos in many ways. Most nights I was happy for those middle-of-the-night cuddles with my girls who are now so much bigger than their newborn days.
During the day, they're playing independently for increasingly longer stretches, although they are getting very sick of sitting still.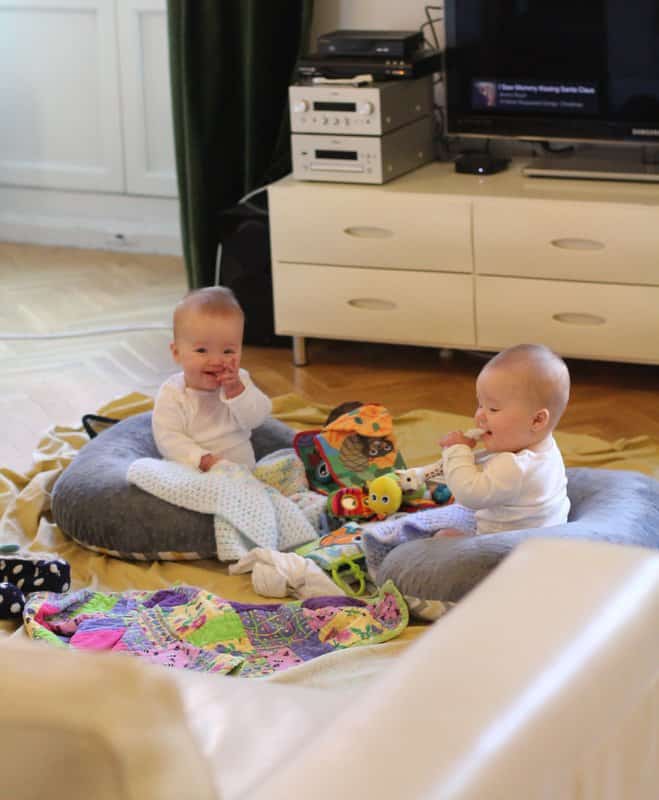 They want to crawl and have realized that it's possible, but can't seem to figure out how. Clara desperately wants to stand on her own so when we try to sit her down she planks in protest - making her whole body straight as a board.
The apartment we rented in Madrid only had one crib, so we tried putting them in there together, but after a "nap" in which Molly seemed to be conducting crawling practice and kicked Clara in the head until Clara got (rightfully) peeved we ran out and bought a pack n play. $60 seemed a worthwhile expense to restore peace to nap time.
It won't be long before they're moving all over the place. We seriously have to do something about my baby-proofing procrastination...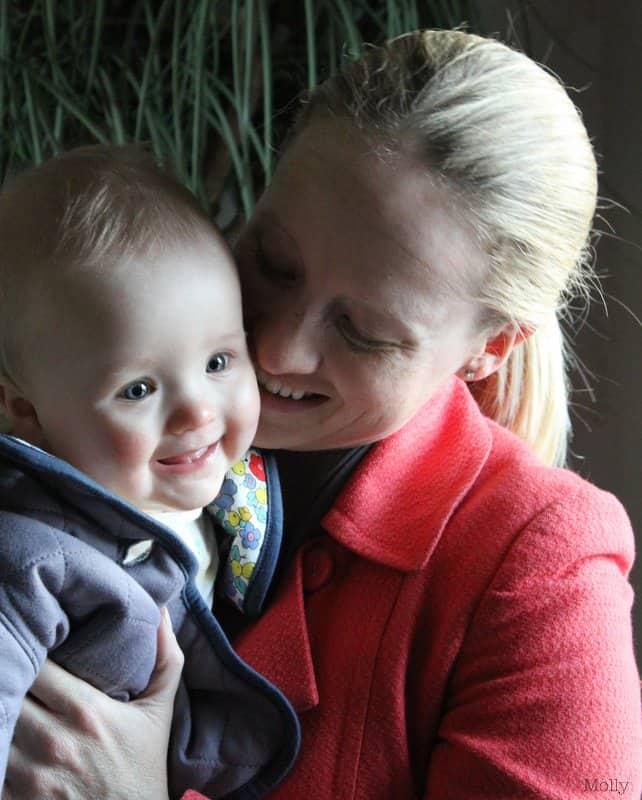 Clara and Molly are also interacting with one another more and more every day. "Talking" and even laughing at each other. They recognize their names and are hinting at their first real words! Molly says some approximation of Mama (sounds more like "Meh"), but only uses it when she wants something. They're babbling Dadadadadada in response to me talking about Frank. They laugh at funny faces and seem to understand what's going to happen when I talk about changing their diapers or eating or taking a nap. Real communication seems just around the corner.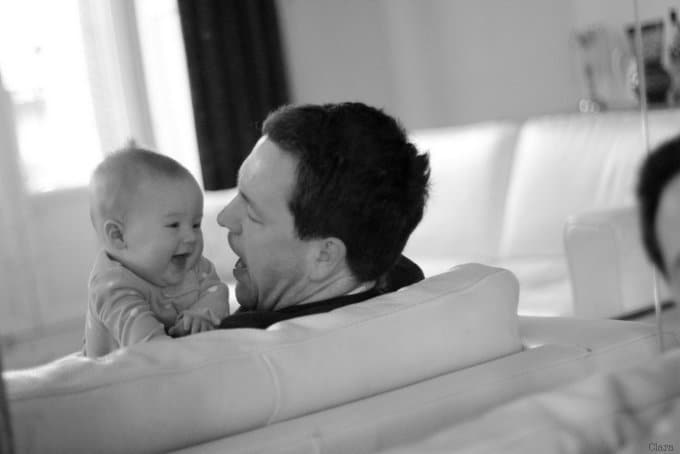 In the food department, the girls had their first store-bought baby food which means they were introduced to a baby version of Arroz con Pollo (seemed appropriately Spanish) and some stinky mystery food that we later determined was rabbit. I gave them their first taste of full fat Greek yogurt and it was love at first bite. They seem increasingly interested in new flavors and curious about what we're eating. It's a nice change from a few months ago when they were indifferent to most foods. It also makes it impossible to eat around them since they want to taste everything.
In the coming month, we're going to try lots of new things - sample new foods, visit new places, practice crawling (?), and generally enjoy time as a family. It feels like a great foot on which to kick off the new year!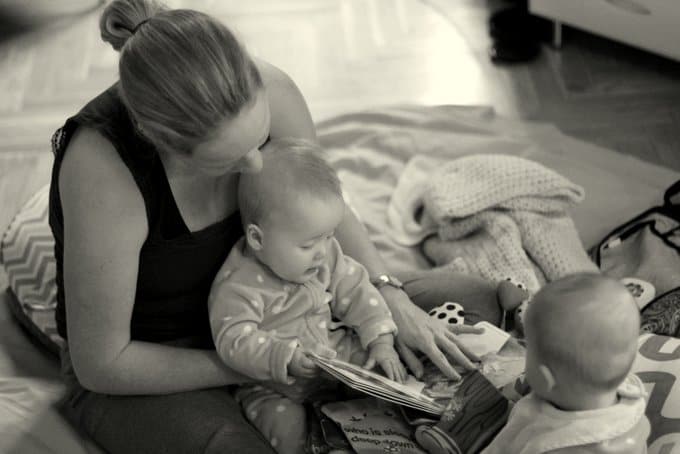 As the months are ticking by (sometimes slowly and sometimes all too fast) I am absolutely loving being their mom. It's rewarding and hard and wonderful. Our life is as crazy as can be in certain moments, but it's also a lot of fun.
For More Updates on Molly and Clara: