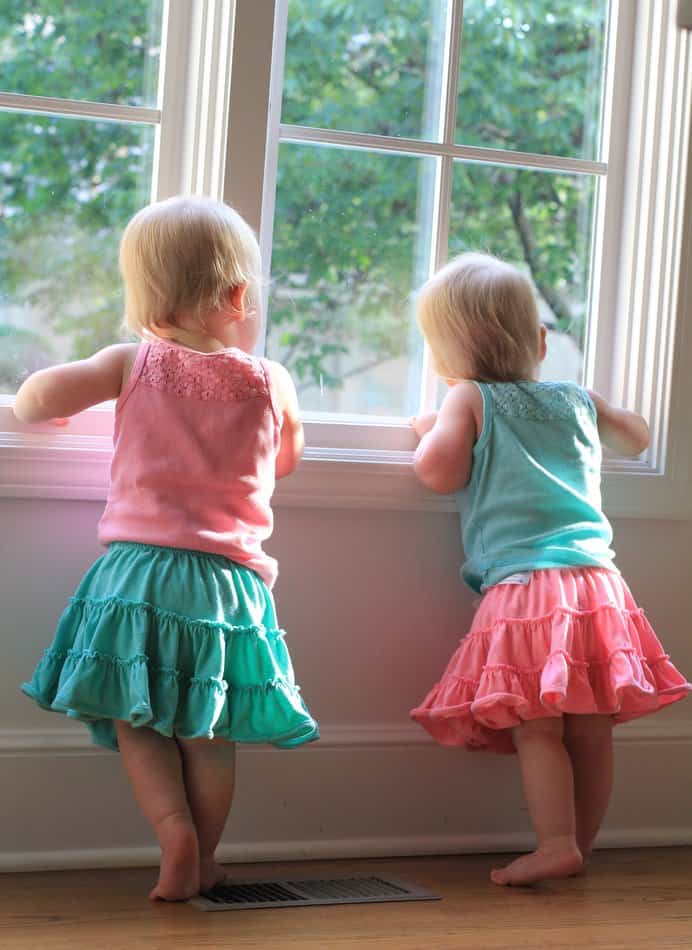 I couldn't resist popping in today with an update on Molly and Clara who are 15 months old. I love looking back on the posts I did throughout their first year, and after the busy few months we've had, it feels like another one is in order.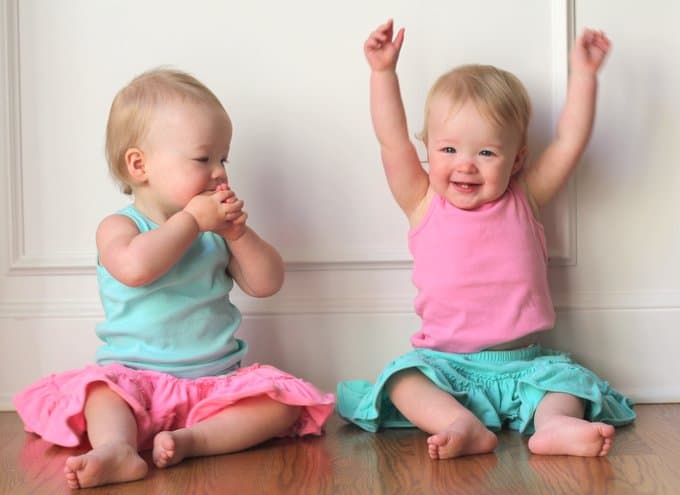 If you follow the blog, you know that it's been a wild ride since my little ladies turned one back in April. In brief, we packed up our home of 4.5 years in Bangkok, Thailand, moved into temporary housing, left our jobs, said teary farewells to good friends, flew to Washington, D.C., picked up our new car, drove to Norfolk, VA for a couple weeks, spent a week at the Outer Banks, drove all the way across the country to Breckenridge, CO, went to a wedding, spent a week in the Rockies, drove to Kansas City, and finally landed at my mother's house where we are planning to stay put for a bit.
It was fun and crazy adventure (all documented on Instagram if you're interested).
Through all of this transition, Molly and Clara have been the best and most adaptable of travel companions. Frank and I are amazed at how well they have handled fiddling with their routine and the time zone hopping week after week.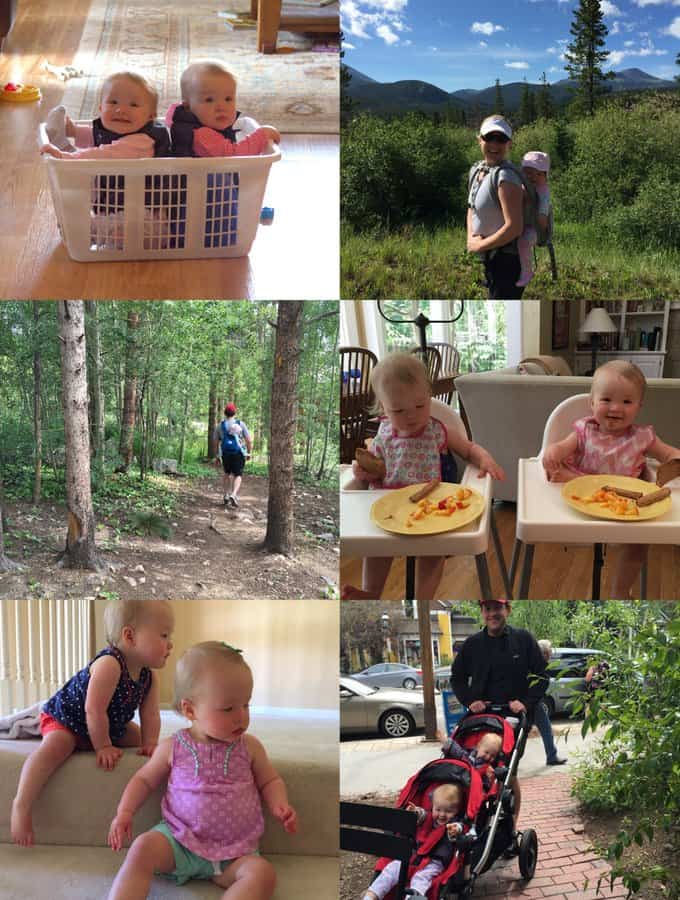 At 15 months, Molly and Clara are on a fairly predictable routine, going to bed around 6:30 most nights and waking up between 7 and 7:30 most mornings. The challenges of newborn sleep still feel fresh to me, so not a single night goes by without me pausing to appreciate the gift of a solid, uninterrupted night of rest for all of us. Over the past three months, both Molly and Clara had occasional moments where they've needed extra hugs in the night due to teething, bad dreams, or general I-want-to-play-not-sleep mysteries, and we had a few teeth-pulling hurdles trying to get over jet-lag, but otherwise they've done great.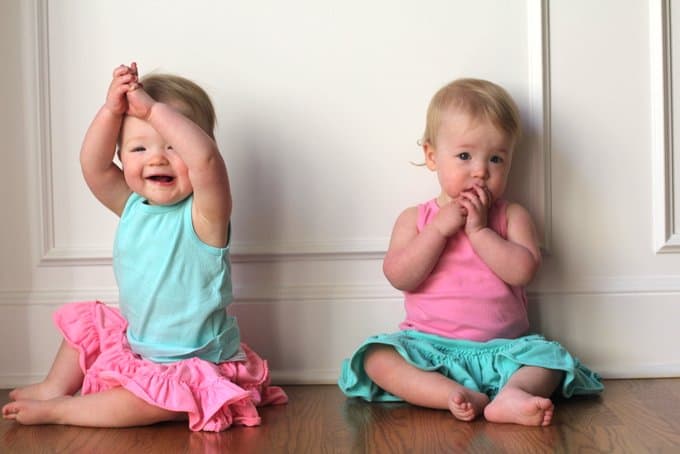 At around 14 months, Clara started protesting the two-nap routine (loudly and with enough energy to wake a peacefully sleeping Molly), so we went all in and switched both babies to one nap a day at around 11am. Even after a month of the one nap thing, some days one or both of them could probably still take two naps, but most days they do pretty well with one, napping for 1 ½ to 2 hours. The switch to one nap has miraculously meant they go to bed on the early side and tend to sleep in later, which is seriously a.m.a.z.i.n.g. There is enough time in the morning for Frank and I to each get up and go for a run before the girls are even awake which gets the day off to a much more joyful start for all of us.

Molly
15-month-old Molly is a one-woman welcome wagon. She will wave enthusiastically at family members, friends, strangers in the check-out line, waitresses at breakfast, tennis players in the middle of an intense round, drivers pulling into the parking lot, and just about anyone else she encounters. She is hesitant about being held by anyone new but is the friendliest baby there ever was from a distance.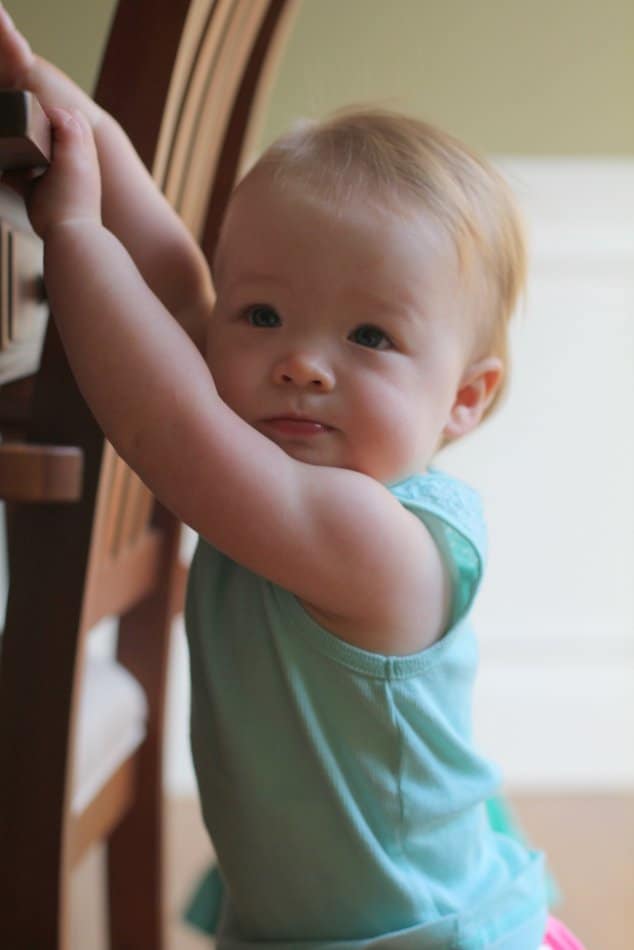 Molly has loved the change of scene and chance to explore that all our recent travel provided. She loves exploring new places, playing with new toys, and has found a love of animals. She can play for long stretches with a toy barn and its animal residents. Over the weekend we took both girls to a farmstead near my mom's house and she loved the ducks the best.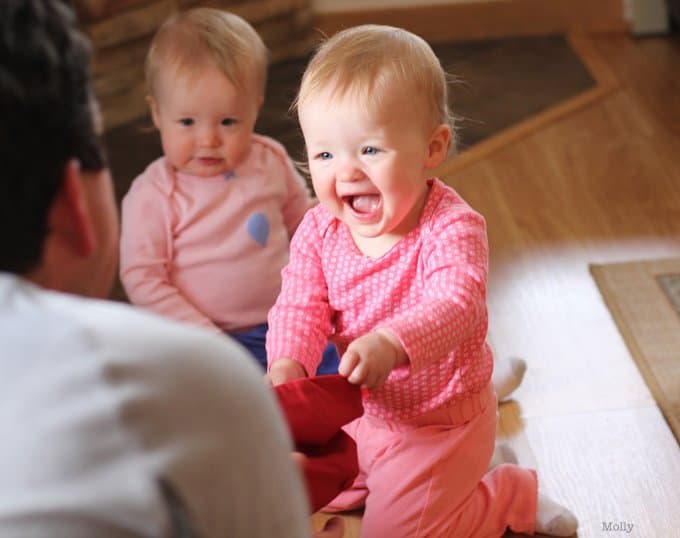 Molly's favorite activity is to practice walking and will reach for any adult who might oblige by holding one of her hands while she does it. She is getting more and more brave by the day, standing for long stretches and moving from couch to table to chair with ease, though not quite ready to walk on her own. She crawls so fast and with such abandon that she's scratched the tops of both her feet and has hardly been fazed by it. She also has no fear (which of course inspires tons of fear in her parents), and climbs up onto every precarious place in the living room including the fireplace and couch.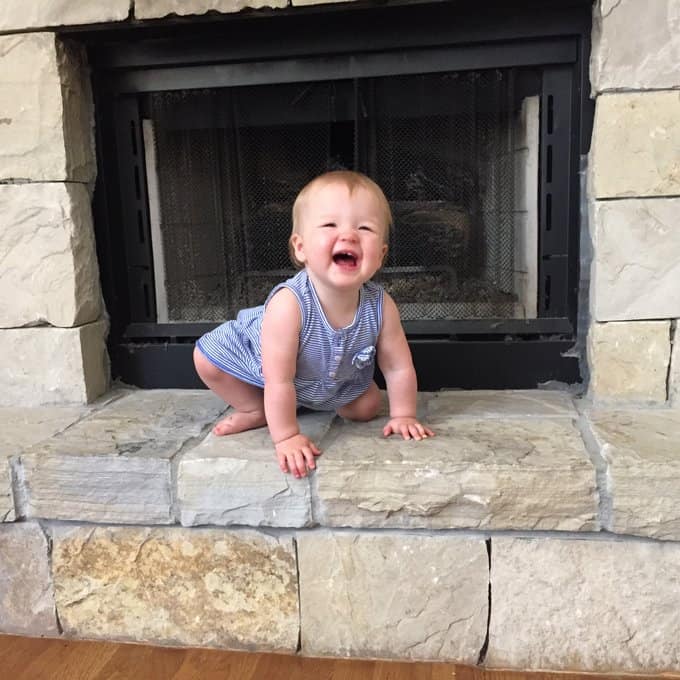 She is a great eater and will usually try just about anything. Applesauce is liquid gold these days, and Molly absolutely licks the bowl clean after she has some. She loves the bowls of fresh produce that are usually on the counter at my Mom's house and on several occasions reached out and grabbed a whole tomato or plum and put it in her mouth before we could stop her.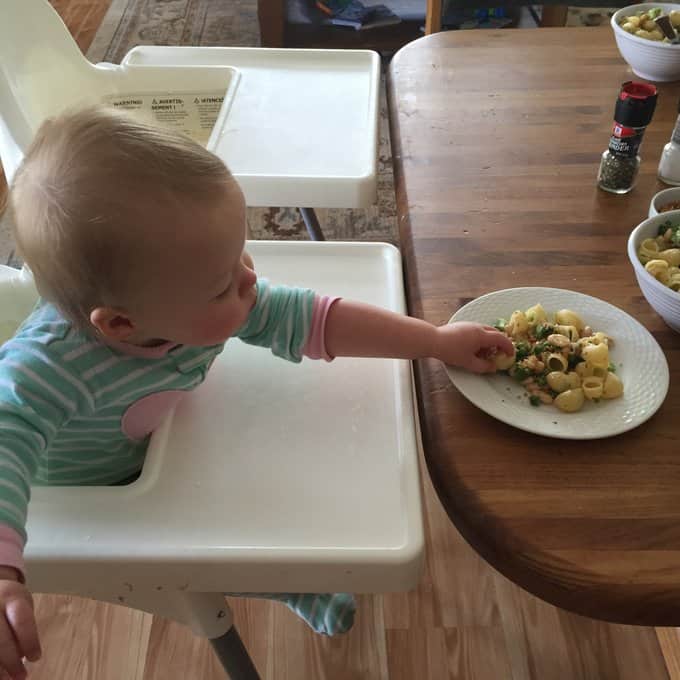 Molly is very focussed on speaking, and says a few words clearly including Mama, Dada, and Me when she wants something (which usually sounds like "memememe"). She also calls my sister Rachel by name ("achel," she says). She gravitates towards anything with buttons, especially remote controls and cell phones. She needs no prompting to do all her tricks when she's excited, including clapping and throwing her arms up in the air.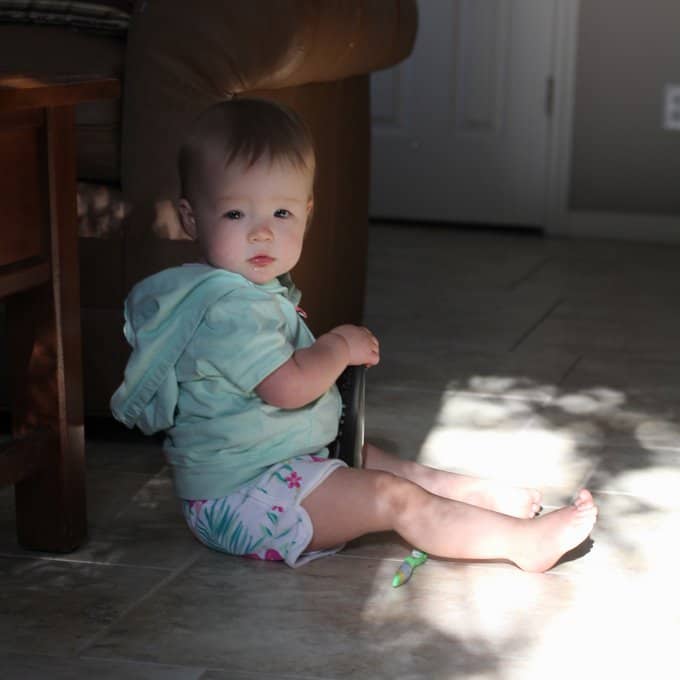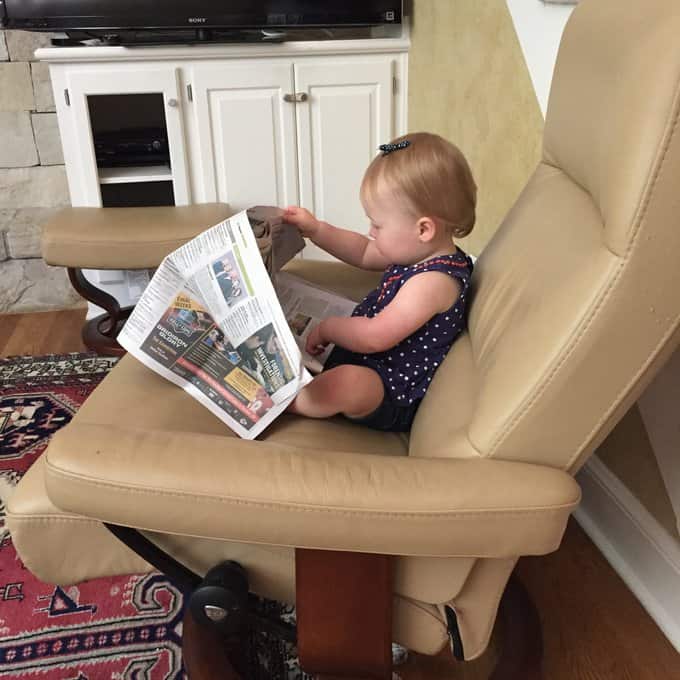 The most fun trait that Molly picked up in recent weeks is hugging. She'll wrap her arms around us in the morning and snuggle up against us at bed time. Nothing could be sweeter.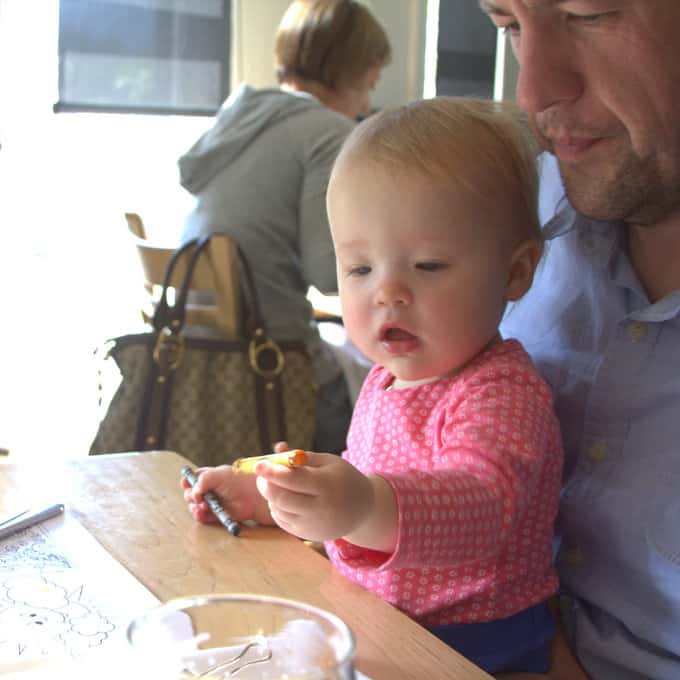 Clara
Clara talks and sings all day long at 15 months. She babbles so constantly, with such a serious look on her face and with such true speech-like inflection that everyone talks to her like an adult now. We feel compelled to pretend we understand. She is starting to imitate many sounds and has said things like "book" and "night night" when prompted, and I'm sure real speech is just around the corner. As she has been practically since birth, Clara remains delighted with music of any sort. She'll dance to music on the radio, birds singing, the click-clack of the espresso machine.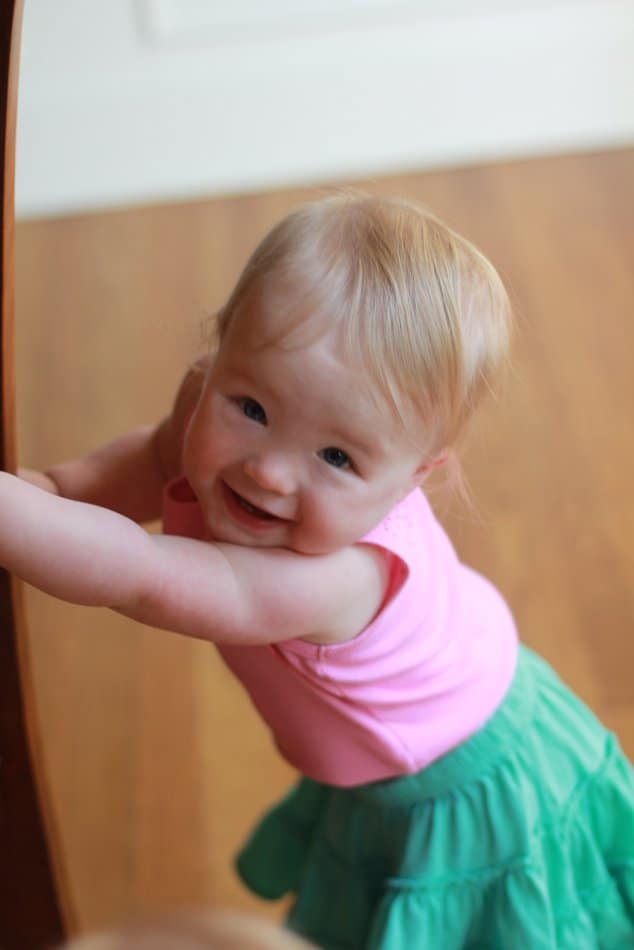 When Clara is happy, joy encompasses her whole little self. She often laughs these great, loud belly laughs when we tickle her or when Frank chases the girls around the room. She loves being outside, loves Greek yogurt, and when she's tired, she loves her bed. She will literally dive into her crib if she's tired at nap time.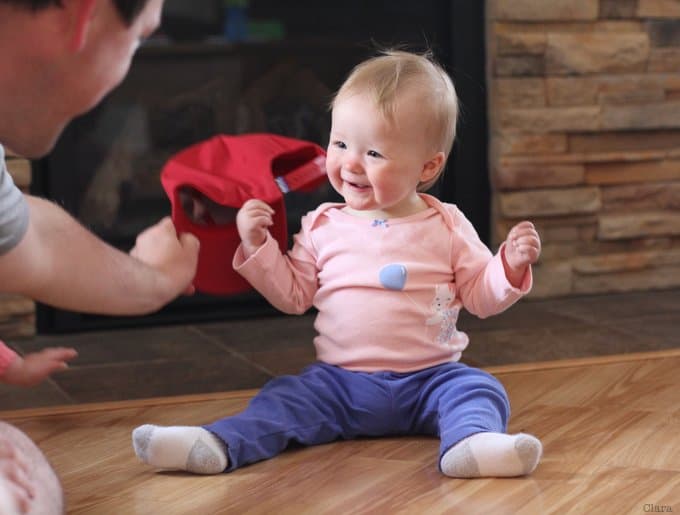 At 15 months, Clara has started demanding things and showing real frustration when she doesn't get what she wants. If she had her way, she'd never have to endure the 60 seconds of stillness required for diaper changes. She loves bike rides and really loves knocking down stacks of blocks or buckets. She loves walking while holding someone's hands. Clara was close to walking on her own right when we got back to the U.S. at around 13.5 months old, but an accidental face plant when she was walking between Frank and I seems to have turned her off trying. It was a very small injury, but made her dubious about the entire walking enterprise.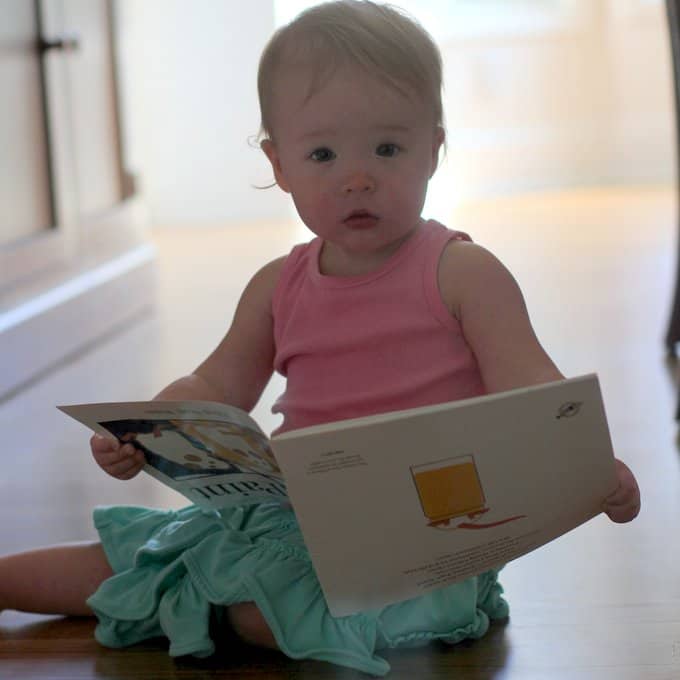 Clara is a great sleeper, but tends to wake up about 30 minutes before Molly and become fixated on waking her sister by any means necessary. We'll watch her on the baby monitor as she throws her stuffed animals into Molly's crib and babbles away until Molly wakes up and plays with her.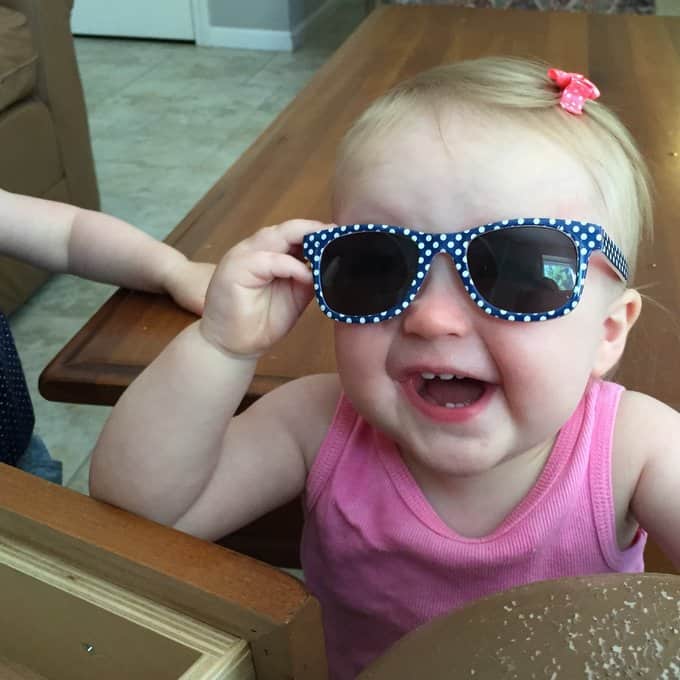 Clara is truly curious and has a mischievous streak. She'll grin and look at us out of the corner of her eyes while she stands in the bath and grabs at the faucet or inches her plate towards the edge of her high chair. She will push both her and Molly's high chairs all over the living room and shouts at them when they get stuck on furniture or rugs. She will spend long stretches trying to open the baby gates. I'm nervous she may actually figure it out one of these days.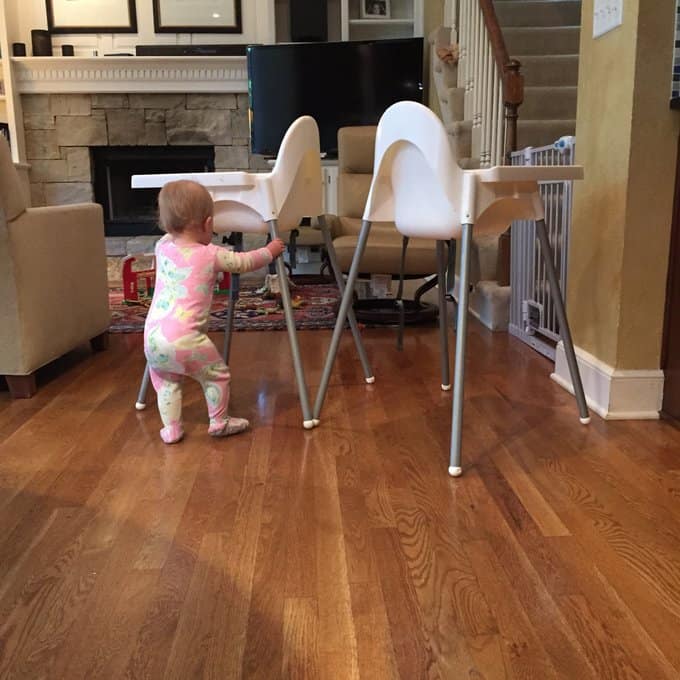 Clara went through a tough time in the past couple weeks where she was unusually temperamental and crabby, and I'm sure it was a big developmental leap. As she started to come back to her usual cheery self, she's rewarded all of us with extra sweet new skills like blowing kisses.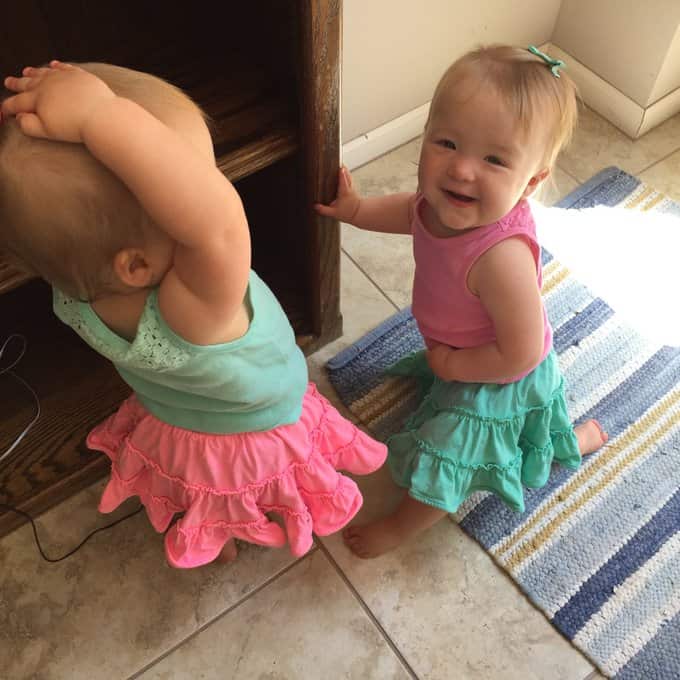 Family
Thank you all as always for your sweet comments and emails during this crazy time. Our family of four is doing great and loving that we decided to spend these past couple months reuniting with family and friends and relaxing together as a family. Frank and I are so excited to see what the next few months bring!
You know we'll keep you posted right here on the pages of the blog! 😉
For More Updates on Molly and Clara: