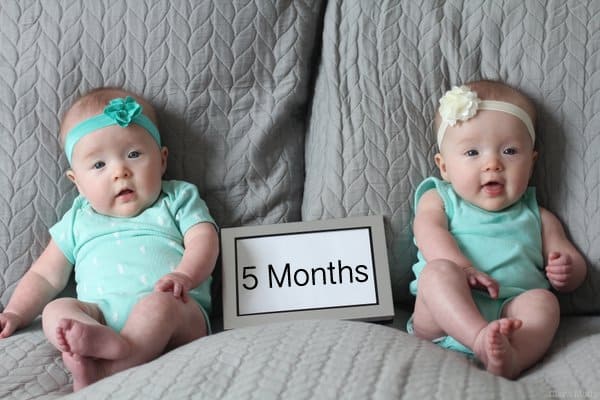 And here we are - Molly and Clara are 5 months old. What has happened on this blog over the past 30 days is a pretty good indication of how much free time I've had. It's been crazy. Wonderful, but absolutely crazy. The girls get more and more fun every day, and it's hard to miss a single minute to do something like cook or blog or fold the laundry.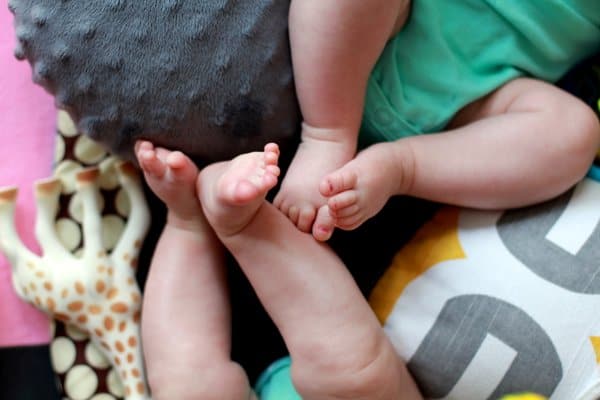 As the girls become more aware of what's around them, Frank and I have continued to take them out and about as much as possible. We kicked the month off with a trip to the aquarium. The lights and colors and (maybe?) the fish were a huge hit.
Clara completely crashed after all that excitement...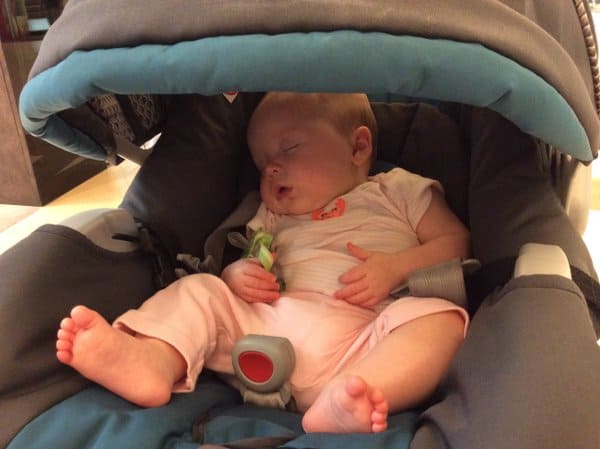 In their fifth month, Clara and Molly's growth seems to have absolutely taken off. Frank and I keep looking at them and being shocked at how much bigger they seem. In a matter of days, they got too long for all of their 3 month pajamas, and I had to scramble to get the next size up. They are of course, still tiny compared to their same-age peers (both exactly 11lb 4oz this week), but growing like mad.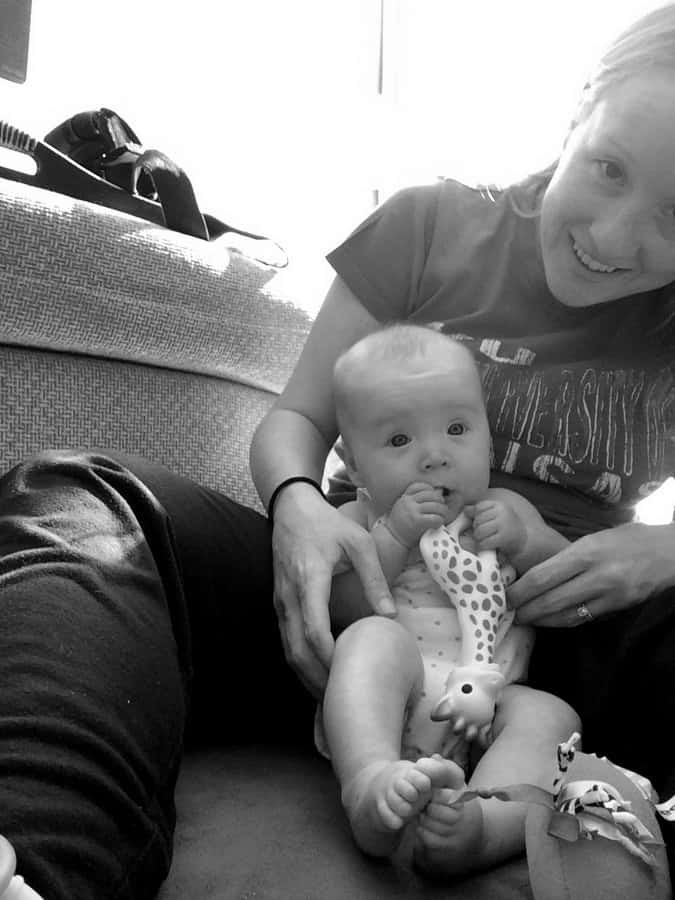 And then there are all the ways in which they're turning into little people. This month we had our first audible laughs and it seems like they are really starting to get "it". They'll smile or laugh when we make faces or do something silly, so Frank and I spend an excessive amount of time jumping around trying to get a response.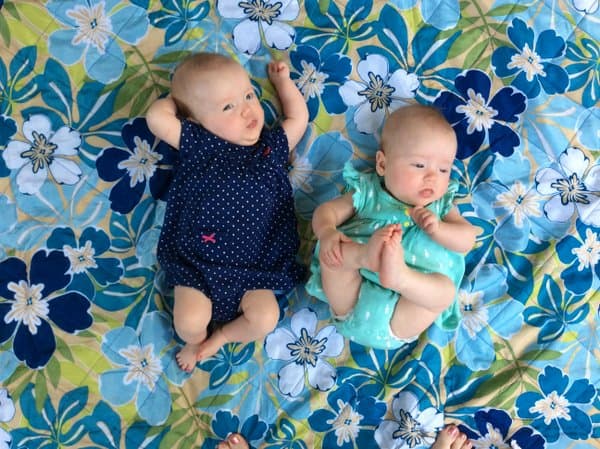 As a wonderful gift to my morning pre-work mad dash, both Molly and Clara can entertain themselves for longer stretches now. They love their activity mat and are happy to be propped up on pillows with a bunch of toys in reach. They put EVERYTHING in their mouths, and Molly's favorite "toy" is her feet. After lots of practice, she can now touch her toes to her face, and my little yoga baby is a pro at Happy Baby pose.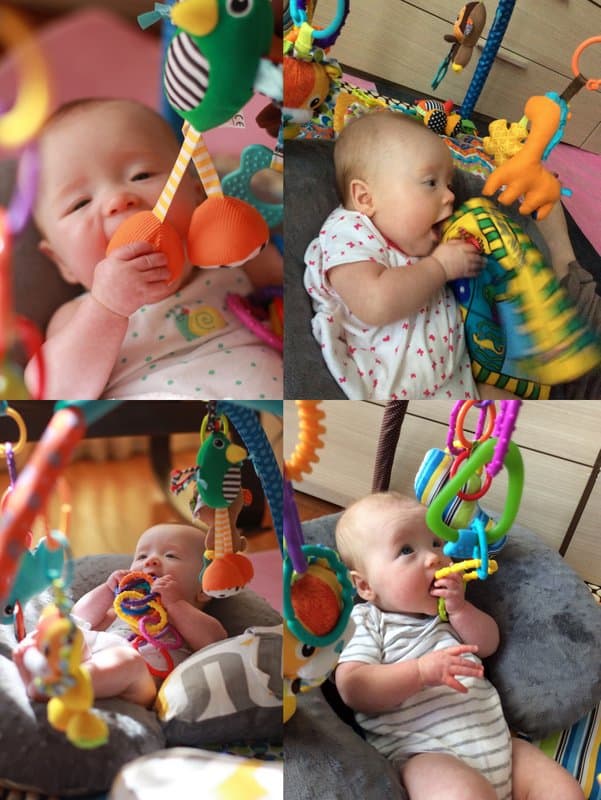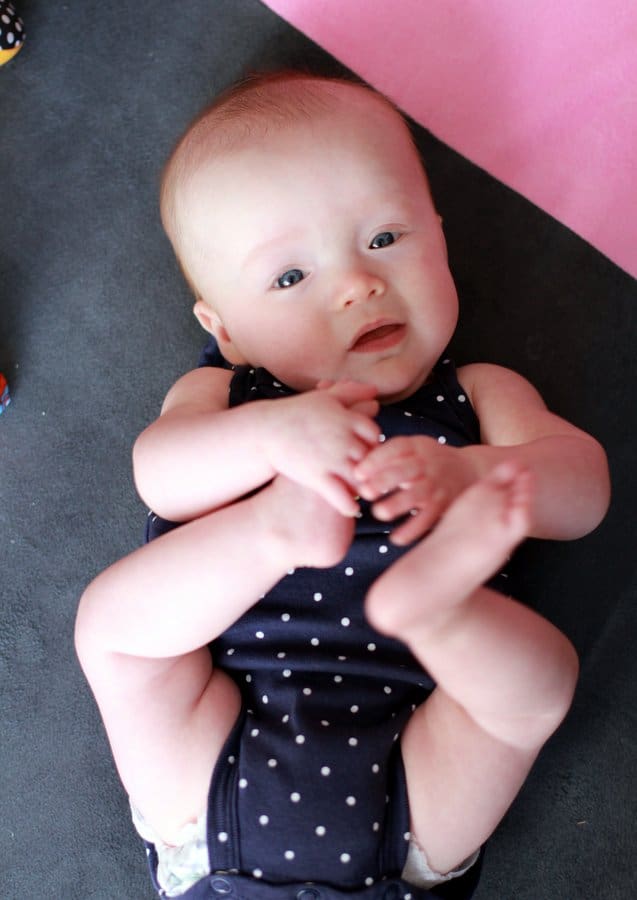 Clara has a soft spot for the animal toys and loves the new Sophie the Giraffe that came from their grandma (thanks Mom!) and the Squishy Turtle book which she mostly just tries to eat. The other day I looked over and she had pulled a stuffed lion from the activity gym right up to her face and appeared to be having a conversation with him. When she saw me watching her she stopped talking to him and picked up something else, like I'd interrupted!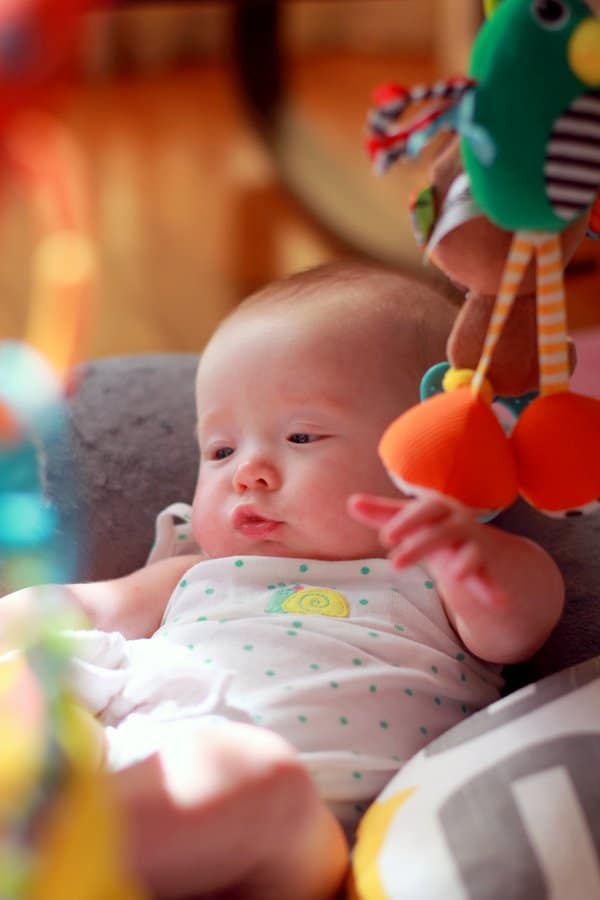 And that's the other major change this past month - these girls are using their whole arsenal of sounds. Babbling, shouting, groaning, and the all-time favorite - blowing raspberries are constant things in our house. The raspberries are so darn cute but the drool it produces is out. of. control.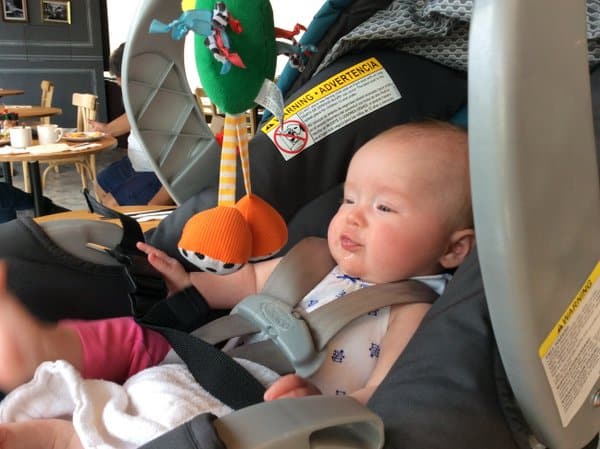 The girls continue to distinguish themselves in the sleep department. Over the past month, at entirely their demand, bedtime crept up. There was no denying that they needed to go to bed early, and Frank and I are working hard to respect their sleep, even though it breaks our hearts a little. As two working parents in a city with some of the worst traffic in the world, a 6pm bedtime means that we both come flying in the door with barely enough time to give them big hugs, a quick bath, and put them to bed. And then, here's what happens...
Clara: sleeps 6pm-6am
Molly: sleeps 6pm-sometime between 3:00 and 5am and is awake. Ack! No matter what we do that baby will rarely go back to sleep. It's getting better every day, and after googling it a million times, I'm convinced that Molly's is a perfectly normal (though frustrating) case of the "4 month sleep regression".
People always like to say that babies "haven't read the books," but I think Molly may have gotten her hands on one of the sleep books and is following it to the letter. At the end of the day, we were blessed with two GREAT sleepers, but it seems like every parent has to complain about their baby's sleep just a little.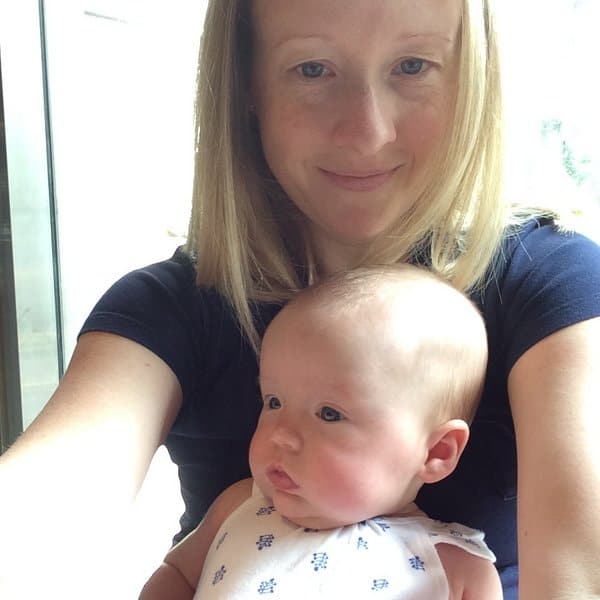 Stroller and carseat naps continue to be common while we're out and about.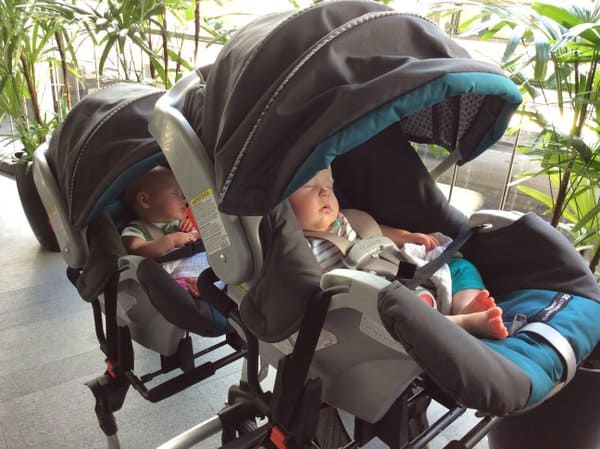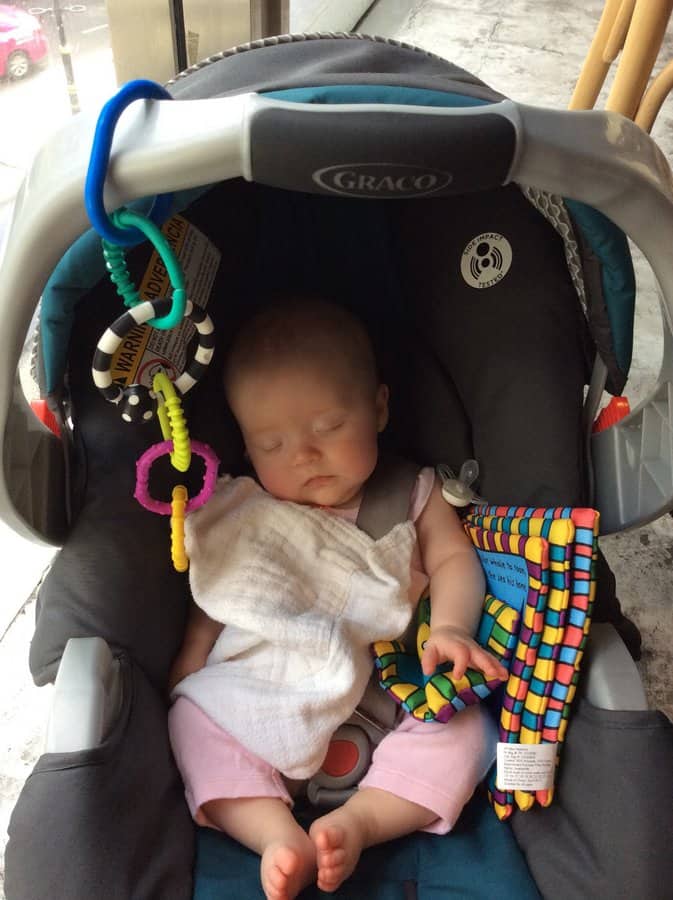 I'm definitely more tired this month than last month (and that's the last time I'll mention the lack of sleep!). Part of that is possibly due to a 10-day stretch of single-parenting which was both fun and challenging. (Although don't get me wrong - we are so very fortunate to have tons of help.) I kept the girls really busy, and we all crashed at night. On the weekends, we headed out early to a local coffee shop where they played and I ate breakfast and approximately one hundred Thai aunties asked if I needed "help", which is really code for - can I hold one of those babies?
I felt a huge sense of accomplishment and connection to the girls after caring for them solo for the week, and certainly now have the deepest respect for parents out there who care for their children without a partner for any number of reasons.
(By the way, Frank wasn't off sunning himself at the beach or anything. He was in Brazil, kicking off the last few grueling months of his MBA program, and I am SO proud.)
There are so many things that are so precious about this time, and I'm trying hard (so hard) not to let my exhaustion (whoops - there's the tired thing again) get the better of me. I know it will be over in the blink of an eye, and we'll have two little girls who are no longer babies before we know it. I am absolutely loving this experience. I love co-parenting with Frank and getting to know Clara and Molly together. Sometimes they'll do something particularly frustrating, and we'll just roll our eyes at each other and say "oh that's Molly" or "ohh, that's so Clara". It's amazing that they're taking on such personalities that we really feel like we know them.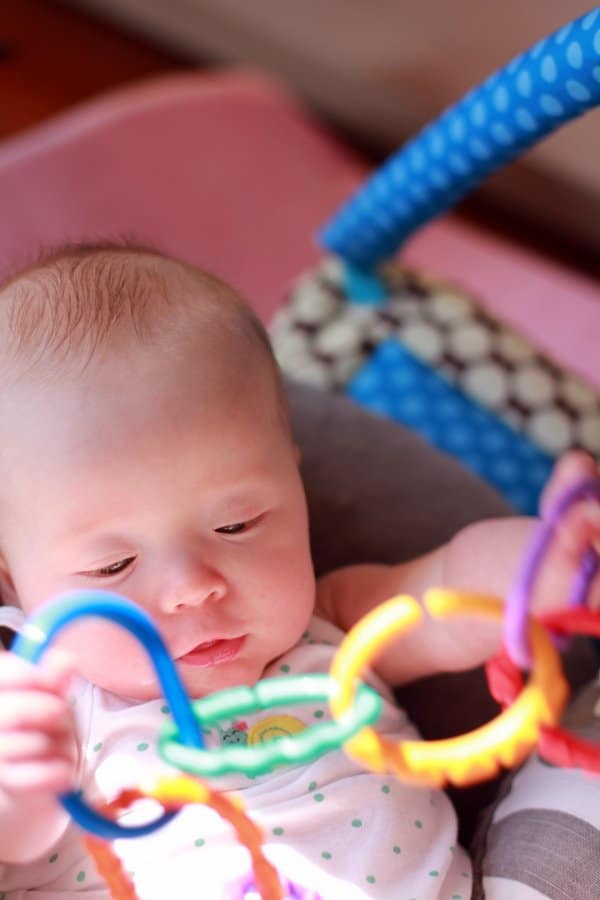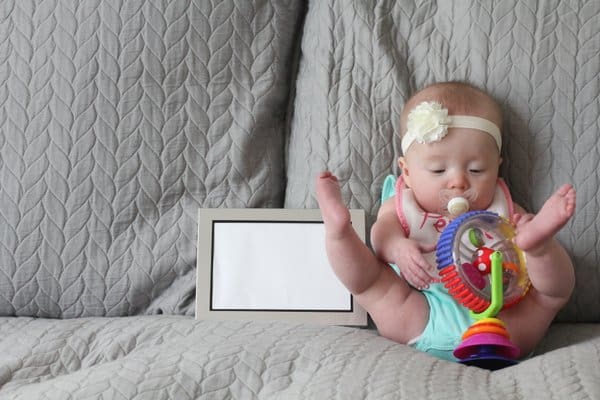 And with that, I'll end this novel of a 5 month update which could use some editing, but frankly I'm too tired to do it (shoot - mentioned it again).
We're off to eat sushi while our friend Sarah babysits the sleeping princesses - woot woot! Have a great week!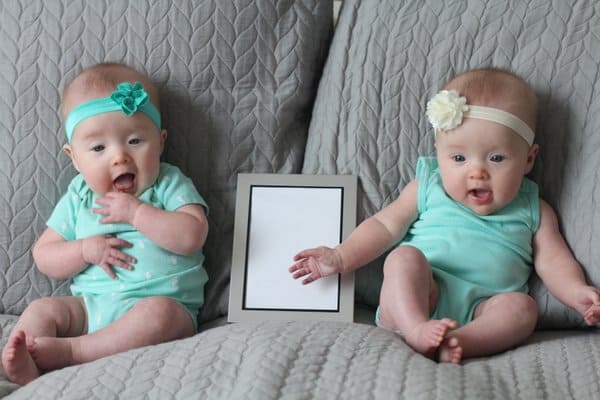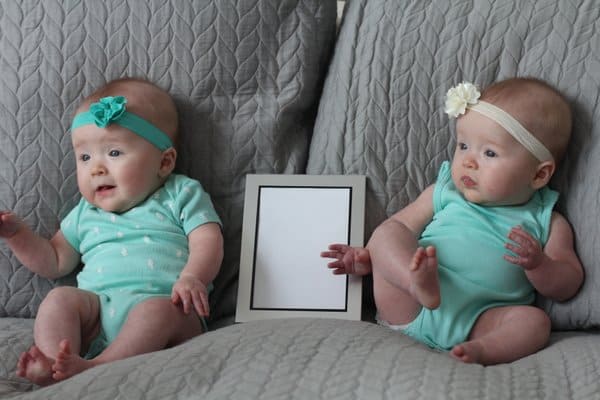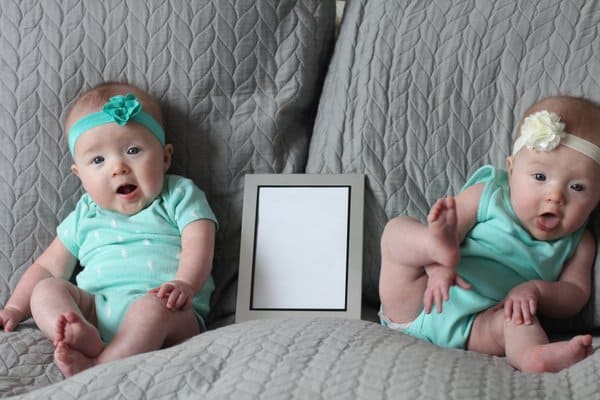 For More Updates on Molly and Clara: