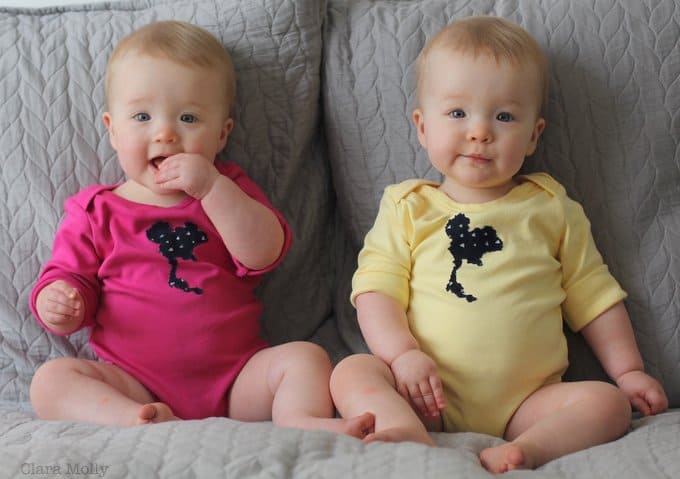 (We bribed them with Cheerios to get them to sit still)
With every passing month I want to proclaim that this one is my favorite yet. And for sure, this one year mark - it's really fun. Molly and Clara have the most hysterical tricks, some of which we can't figure out how they learned. Like dancing. These girls hear music and do a little shoulder shimmy.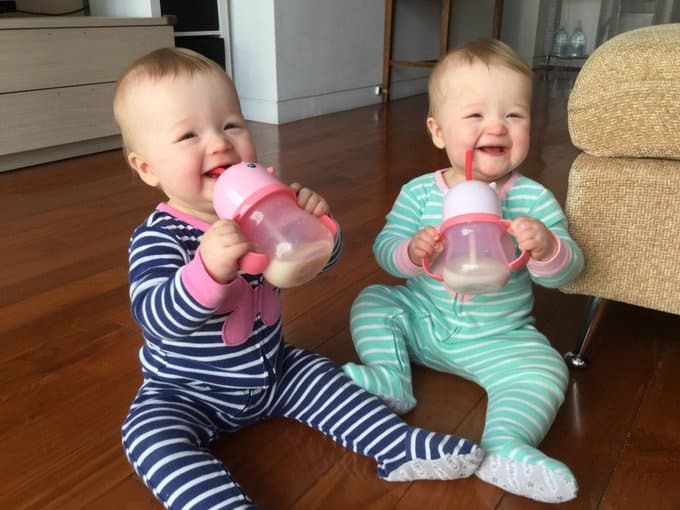 We stayed in Bangkok for this, the hottest month of the year, and did our best to seek out activities that kept us all cool. Trips to the aquarium continue to be high on the list for family fun. We've done lots of walks to local parks and mall hanging-out when we just really need to get out of the house in the hottest part of the day. We took the girls out for family lunches with mixed success. Easter Sunday brunch was fun and we took them to Din Tai Fung over the long Thai New Year weekend. Din Tai Fung is super kid-friendly, so each baby got a cute plastic place setting to use. Which they promptly (and loudly) tossed on the floor. They found it to be almost as fun as stealing food off their sister's plate. Molly is usually the culprit of that activity...
In this past month, both Molly and Clara got sick exactly a week apart (two Friday nights in a row, go figure) and ran a fever for about 24 hours. We did lots of rocking and snuggling while we waited for fevers to break and both girls were generally sort of mopey and tired for a few days after, but they bounced back quickly. We have been SO lucky to have the girls at home with their nanny during the day, and realized what a blessing it was that they made it through their first year with just a few minor illnesses.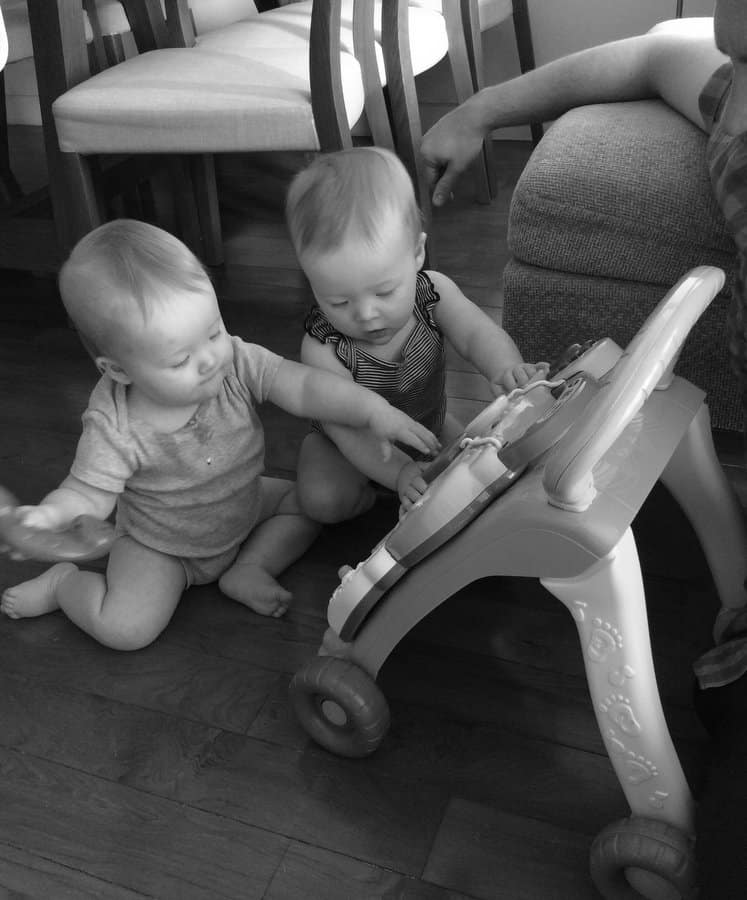 Though we've been pretty flexible about what we feed the girls since they started eating solids at 6 months, the stage they're at now feels so liberating. I don't feel like we're constantly racing against the clock to get to the next meal or snack. They eat three meals and a snack after their afternoon nap and most days do just fine if we are out and about and lunch comes a little late or dinner comes a little early.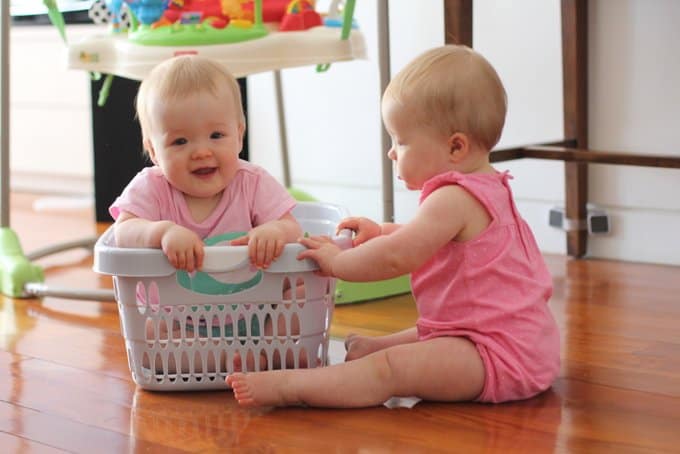 They do really well with some wiggle room in their nap times too. They're still in the same general routine they've been on since about 8 months which is sleeping at night from 6:30-6:30 and naps at 9 and 1. It continues to work great for all of us, though their naps are more finicky and will likely continue to be until we make the transition to one at some point down the road. They are great sleepers, but needed some extra TLC this month with teething and the brief bug they both caught.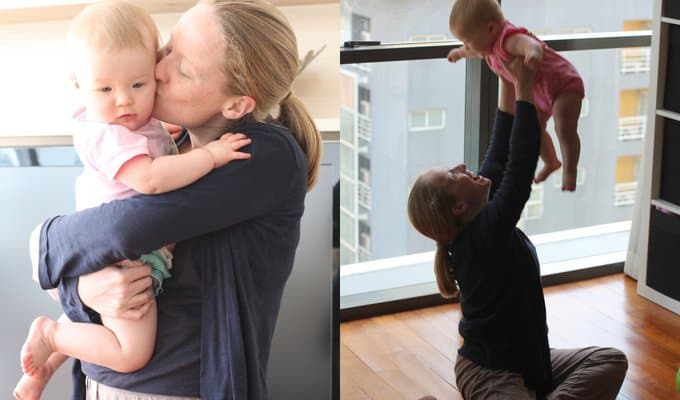 A couple times Molly woke up crying in the night, and I'm certain it was because she had a bad dream. She'd cling to me for a few minutes until she calmed down and then would go right back to sleep. Clara has discovered that if she makes enough noise in their room when she wakes up in the morning, Molly will get up and "play" with her. So Clara's occasional early-to-rise activity has become a twin party. They peer at one another through their cribs and talk back and forth. It's noisy and adorable. Just watching it unfold while we're getting ready for work makes the video baby monitor worth every penny.
Molly
With every passing month, it's amazing to see Molly's personality continue to develop and grow. She has a mind of her own, and is curious and adventurous. She moves fast. At the top of her list of dislikes is having her diaper or clothes changed, and most become a wrestling match. She's perfected a particular twist/turn move that can get her out of any parental hold. Molly wears her heart on her sleeve - when she's happy she giggles, claps, and grins and when she's sad, she needs lots of hugs. She crawls at lightning speed and walks easily around as long as she's holding on to something stationary.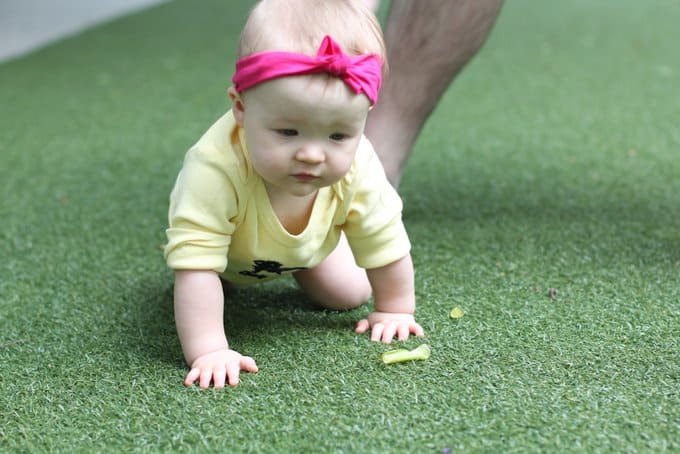 This month I see her toying with her independence. She'll crawl fast away from us and then stop ten feet away only to turn and come racing back. Previously one to go easily to strangers, these past couple weeks, Molly will bury her head in my neck if I try to pass her off to someone she doesn't know. At a lunch Frank's office hosted for their birthday last Monday (so sweet!), Molly smiled and laughed with everyone, but wouldn't leave the arms of Frank or I or Uma, their nanny.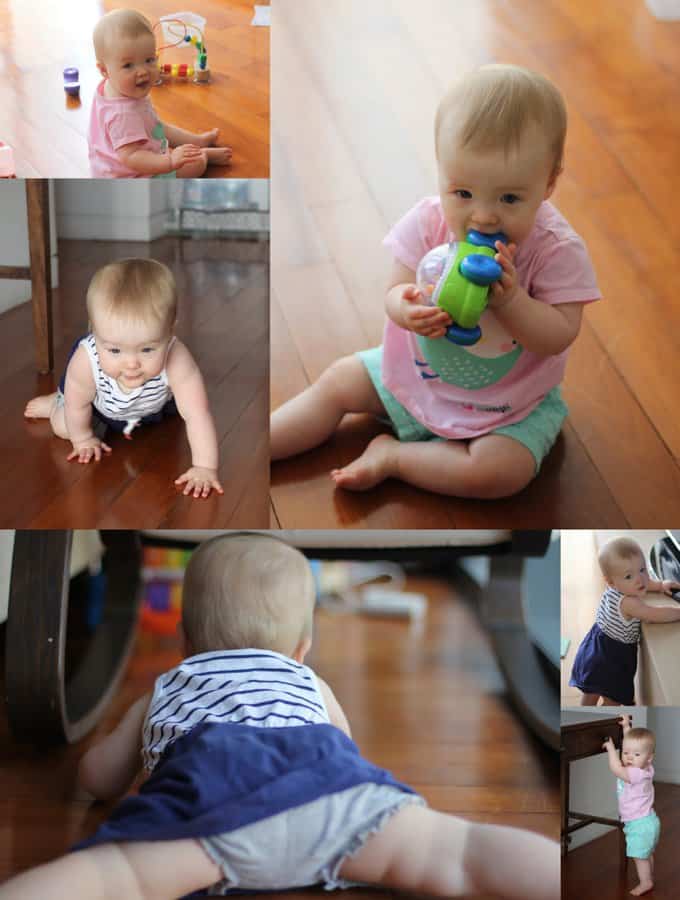 Molly is a great eater, but with clear preferences that change daily. If she doesn't like something, she'll put it in her mouth for a second and then stick her tongue out to ditch the offending item. She had two bottom teeth pop through right after they turned 11 months old and she loves testing them out on crackers and straws and books and tables... Molly's most-used word at the moment is "ghee," and it is her absolute happiest proclamation. When something really great is happening (say, for example, someone gets out the box of Cheerios), Molly says "GHEE!"
Clara
I look at Clara these days and often see a toddler not a baby. She's sweet and thoughtful and sometimes we catch her so deeply engrossed in an activity that she seems to have forgotten we are around. This month books and her tea set have become absolute favorites. She's got a brave streak that's emerging fast. At the beginning of the month, she was still hesitant about crawling, but she's moved on, and her walking attempts are turning a bit kamikaze. She'll stand independently for a few seconds, and will let go of a piece of furniture and fall into our arms, hands outstretched.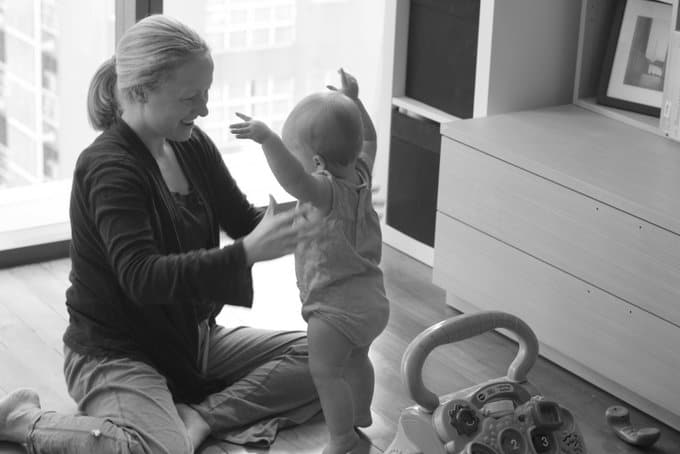 At the moment, she's rarely shy around strangers, but always looks to see where Frank or I are when she's with someone else. Clara loves all sorts of food and seems to chew new things slowly in contemplation. A food critic in the making, perhaps?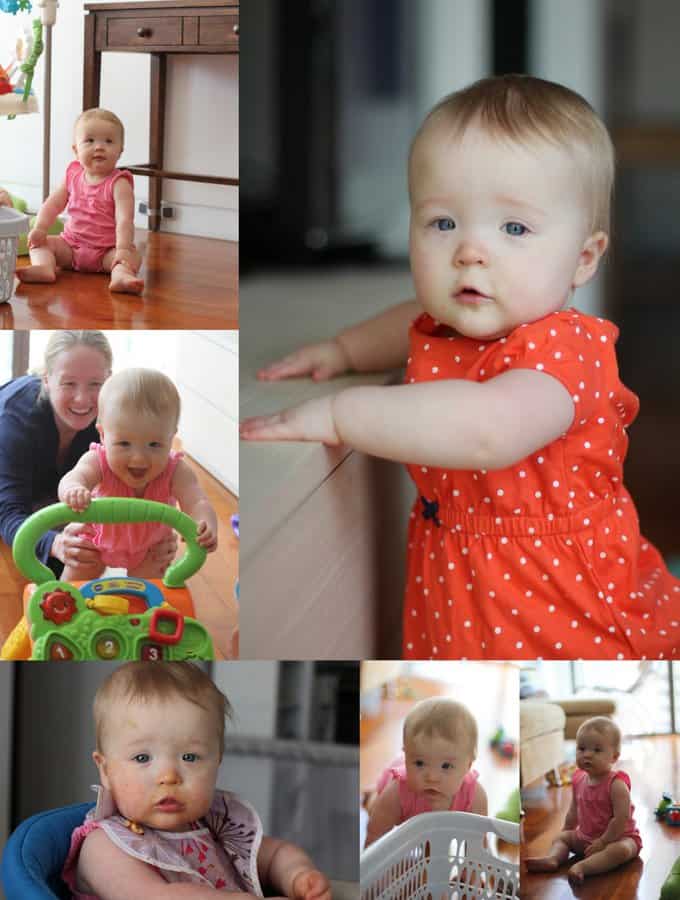 For about four glorious days Clara babbled in this language that came from the back of her throat and consisted of all sorts of variations of the word "goi." We have no idea where it came from, but she would wander about her day having whole conversations that sounded like music - "goi, goi, goi, goi." A babysitter that came during that time delightfully exclaimed, "Clara talks so funny!" But now it's gone and she's testing the waters of real words, which is exciting...though I miss that "goi." Clara has an ever-growing love affair with the outdoors and among the few times she cries is when she realizes that we're bringing her in from a trip outside.
And with that 1,300 words on my one-year-old girls, I'll wrap this thing up with the sincerest of thank yous to all of you out there - friends and family here in Bangkok and across the ocean and internet friends whom I've never met but feel like I know. Thank you from the bottom of my heart for reading along, for your support from afar, and for being our virtual cheering section in this challenging first year. Never do you understand just how much it truly does take a village until you become a parent, and even more so when you raise twins abroad. It's been challenging and wonderful, and we couldn't have done it without the whole lot of you.
Thank you, thank you, thank you.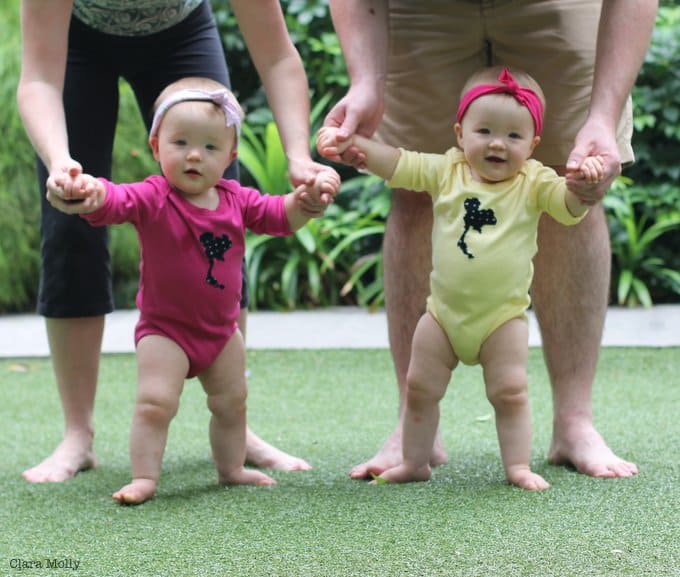 We're looking forward to the next year of fun!
For More Updates on Molly and Clara:
Oh, and in case you're interested, those pink and yellow onesies with a map of Thailand sewn on are one-of-a-kind Geo by sweet Nici of digthischick. You can order them with any state or country and in grown-up styles too!