Healthy ingredients, savory broth, and tender veggies in every spoonful, miso vegetable soup is the comforting soup you've been craving. This soup can be made in just a few minutes and is easy to customize.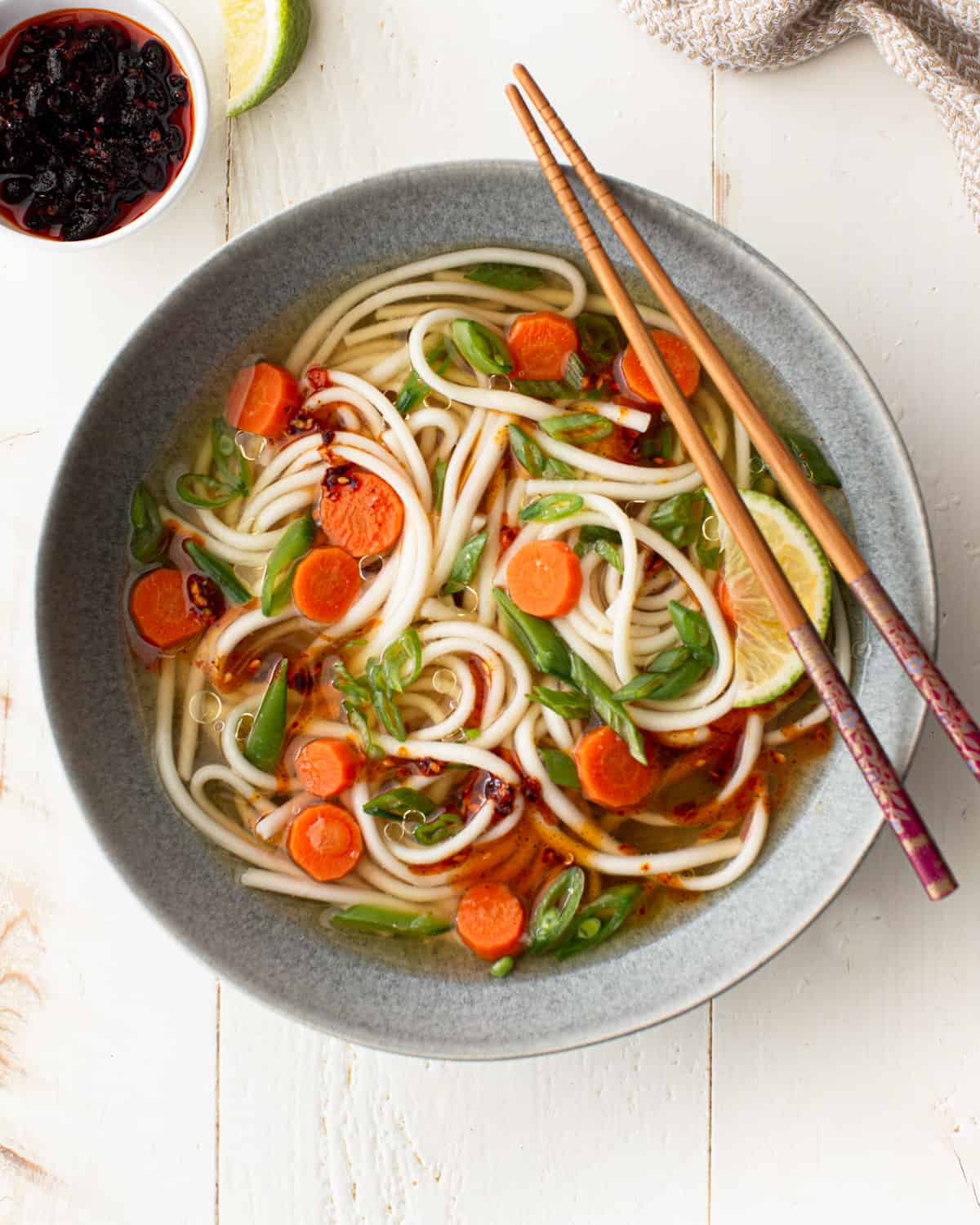 If you're a fan of easy soup recipes that are packed with flavor, then you're going to love miso vegetable soup. White miso is the key flavor-building ingredient. It turns humble vegetables into a savory bowl of goodness.
The soup comes together quickly, and customizing this recipe with your favorite veggies, or adding protein, makes it the perfect healthy weeknight meal. Just saute the carrots and garlic with the white miso paste to create a base layer of flavor, add the stock and boil the noodles, then adjust the taste with umami rich soy sauce before serving.
Miso soups are the best way to warm up on cold nights, or nights where you really just want to sip a soul soothing broth and unwind. And that leftover miso? It can be used in so many ways. Use it to make a fresh bowl of noodles, add it to Cashew Cream Sauce, or this twist on chicken noodle soup.
What Is White Miso?
White miso is a fermented paste made from soybeans, salt, and koji. This versatile Japanese ingredient is used to add savory flavor to tons of different dishes. Of the 1,300 different miso pastes available, the two most recognizable are white miso and red miso.
The difference between these two misos all comes down to the fermentation time. White miso is only fermented for about 6 months, while red miso must be fermented for 12 to 18 months. The shorter fermenting process of white miso gives the paste a mild, sweet flavor, while red miso is more pungent, more robust, and more salty.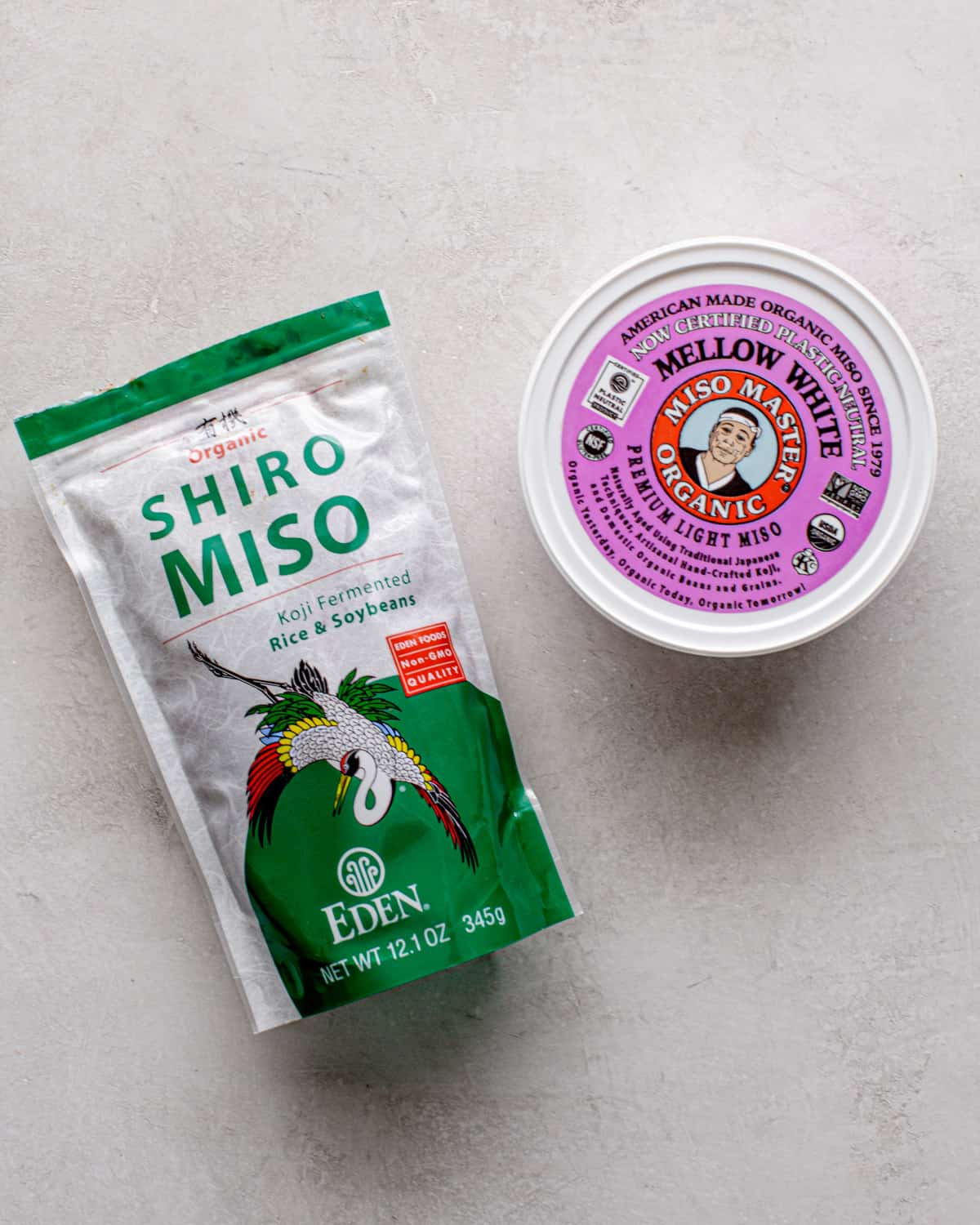 How to Make It
Saute the veggies. Saute the carrots, garlic, and white miso until tender.
Add the stock. Pour stock over carrots and simmer.
Cook the noodles. Add noodles / pasta to the soup and simmer until tender.
Add aromatics. Stir in chopped scallions.
Adjust the taste. Add soy sauce if you like a saltier miso soup.
Ladle and serve. Ladle soup into bowls. Top with toasted sesame oil, chili crisps, or hot sauce.
Ingredients
Cooking Oil - Whatever cooking oil you have available in your pantry will work. Grapeseed oil, avocado oil, even olive oil can be used to saute the carrots, garlic, and miso.
Carrots, Ginger - To create the base layer of flavor in the soup.
White Miso - Mild, sweet, white miso can be found in most grocery stores. If miso isn't available at your regular grocer, try a neighborhood Asian market.
Low-Sodium Chicken Stock - Because miso can be a little salty, opt for a low-sodium stock. If you want to make vegan miso soup, use vegetable broth.
Egg Noodles - Any small pasta shape will work in this savory soup. Take care to not overcook the noodles, otherwise they might become a little mushy.
Green Onions - For more aromatics.
Toasted Sesame Oil - While regular sesame oil has a neutral flavor, toasted sesame oil has a rich nutty flavor. Drizzling a touch over the top of the soup adds more depth to the soup.
Chili Crisps or Hot Sauce - If you enjoy a spicier soup, add chili crisps or hot sauce. Chili crisps are a fun, crunchy topping that gives the soup more texture.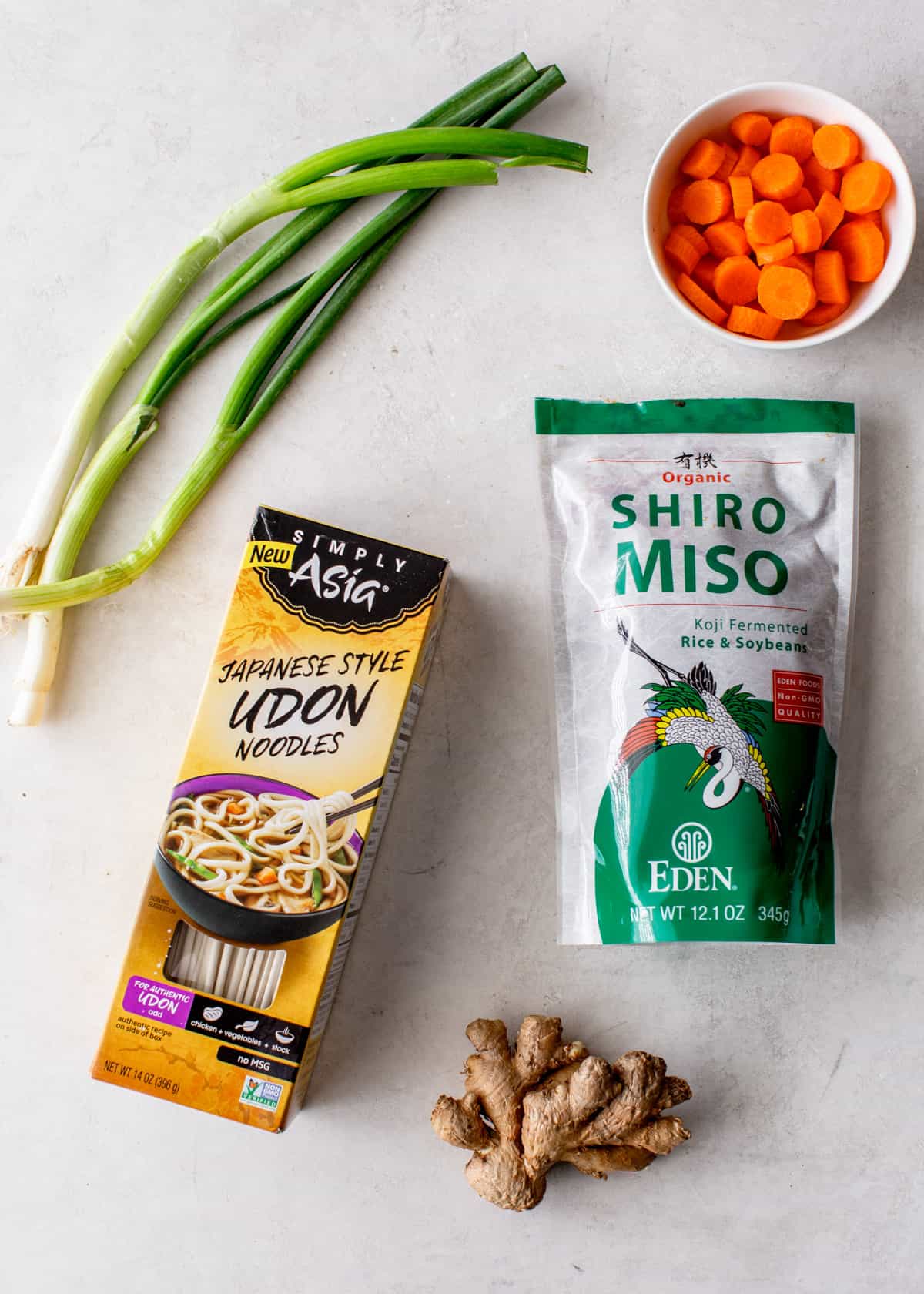 Tips
If you have a few extra veggies hanging out in your refrigerator, toss them in this easy miso soup. Just about any vegetable works. Use root vegetables like sweet potatoes, parsnips, or turnips for a winter themed soup, or summer veggies like squash and leafy greens for a summer inspired soup.
Use leftover white miso in marinades, glazes, ramen, pasta, and on fresh vegetable side dishes.
Variations
Add more veggies - There are so many great vegetable combinations you can use in this miso soup. Try button mushrooms, Japanese turnips, bamboo shoots, spinach, bok choy, leeks, or chopped kale.
Add protein - Make this soup a little heartier by adding firm tofu, chicken, or shrimp.
Swap noodles - There are tons of noodle options available. Try glass noodles, Udon noodles, Soba noodles, or long grain white rice in place of egg noodles.
How to store it
Miso soup can be stored in the refrigerator for 3 to 4 days. Before placing the soup in an airtight container, separate the noodles from the soup. Egg noodles love to soak up liquid, so if you store them together, you may find yourself with barely any broth the next day.
You can also freeze miso soup for up to 3 months. When you're ready to enjoy this tasty soup again, defrost in the refrigerator overnight, and then heat in a pan, or in the microwave.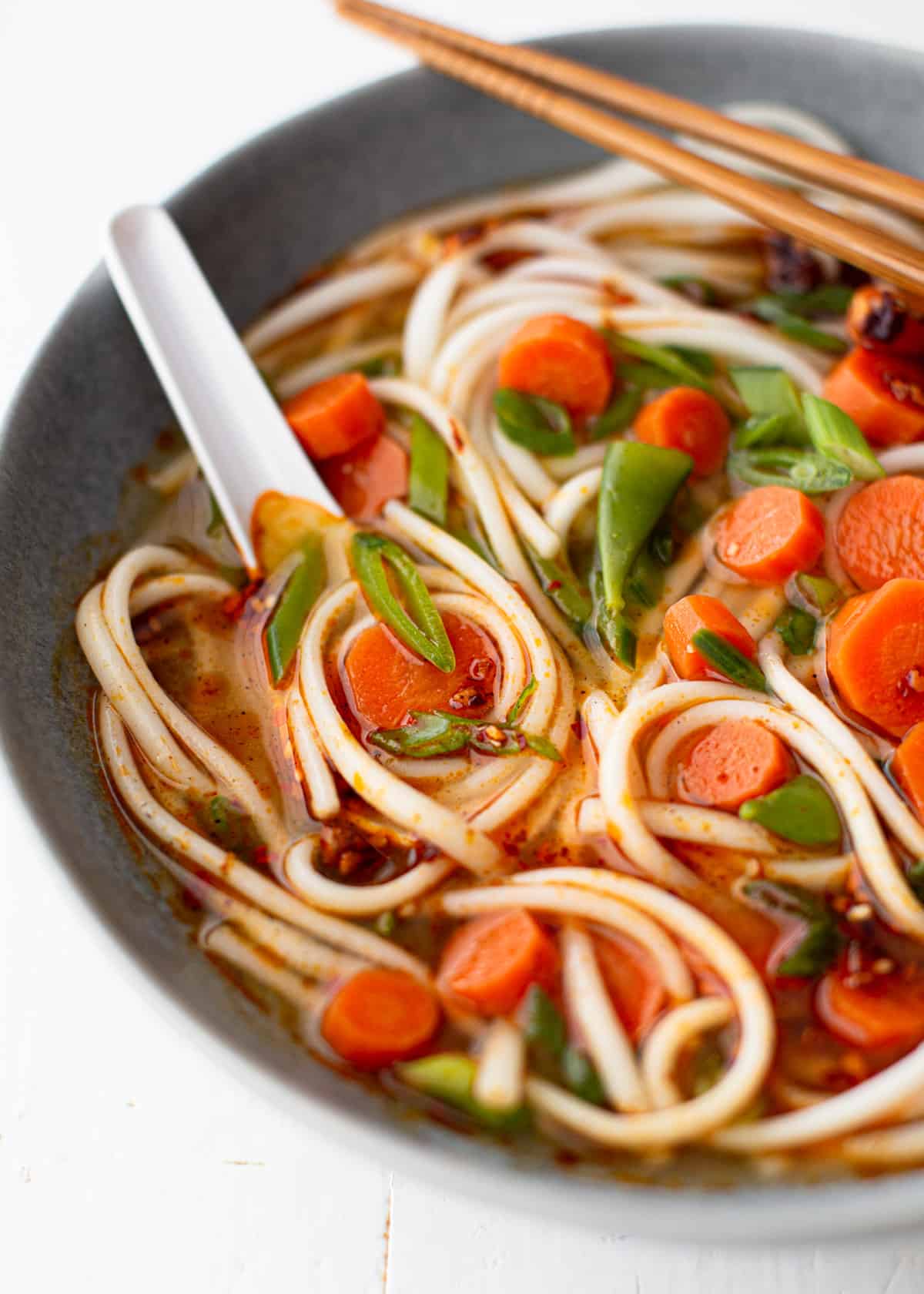 FAQs
Is miso soup gluten-free?
Making gluten-free miso soup is easy. Just omit the egg noodles, or swap them for rice, and use a miso brand that is labeled 'gluten-free'. While most miso brands are naturally gluten-free, some processing facilities may have equipment that comes in contact with ingredients that could have trace amounts of gluten. So always check the label, just to be sure.
Is miso soup vegan?
Miso is made from ingredients like soy, rice, and barley, which makes this ingredient perfect for vegans and vegetarians. Use silken tofu or firm tofu for a heartier vegan miso soup.
More Ways to use Miso
Favorite Tools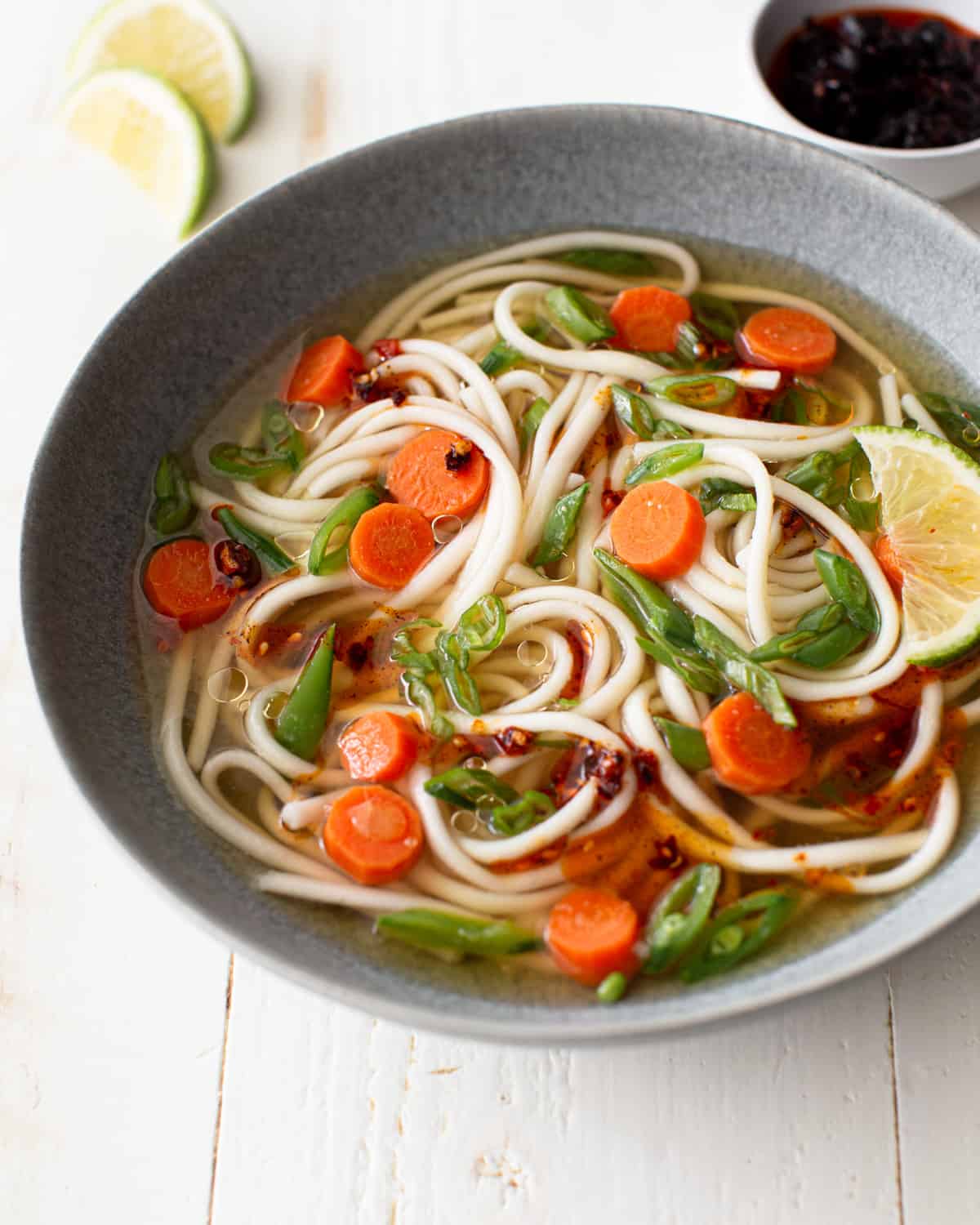 📖 Recipe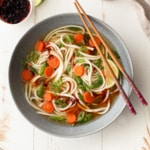 Print Recipe
Miso Vegetable Soup
Healthy ingredients, savory broth, and tender veggies in every spoonful, miso vegetable soup is the comforting soup you've been craving. This soup can be made in just a few minutes and is easy to customize.
To adjust the servings in this recipe, click on the number next to servings.
Ingredients
2

Tablespoons

cooking oil

2

carrots, sliced into rounds

2

teaspoons

grated ginger

3

tablespoons

white miso

6

cups

water

2

Tablespoons

Tamari or soy sauce

6

ounces

dry udon noodles

4

green onions, chopped

sesame oil, for serving

chili crisp or hot sauce, for serving
Instructions
Place a large stockpot over medium heat. Add the cooking oil. When the oil begins to shimmer, add carrots with a pinch of salt. Saute the carrots until tender around the edges, 5 minutes.

To the carrots, add ginger and white miso. Stir a few times to combine.

Slowly pour the water and Tamari over the carrots and bring to a simmer.

Add the noodles to the soup and simmer until tender.

Move the soup off the heat and stir in chopped green onions.

Taste the soup and add some soy sauce if you'd like it more salty.

Ladle soup into bowls. Top with a drizzle of toasted sesame oil, chili crisp, or hot sauce.
Nutrition
Calories:
256
kcal
|
Carbohydrates:
36
g
|
Protein:
9
g
|
Fat:
9
g
|
Saturated Fat:
1
g
|
Polyunsaturated Fat:
2
g
|
Monounsaturated Fat:
5
g
|
Trans Fat:
0.03
g
|
Sodium:
1529
mg
|
Potassium:
181
mg
|
Fiber:
4
g
|
Sugar:
7
g
|
Vitamin A:
5226
IU
|
Vitamin C:
4
mg
|
Calcium:
39
mg
|
Iron:
1
mg