Easy Miso Ramen
Published Nov 20, 2022•Updated Apr 06, 2023
Transform instant ramen into a colorful, flavorful bowl of Easy Miso Ramen with just a handful of ingredients and 30 minutes. This instant ramen recipe is endlessly adaptable and irresistibly cozy.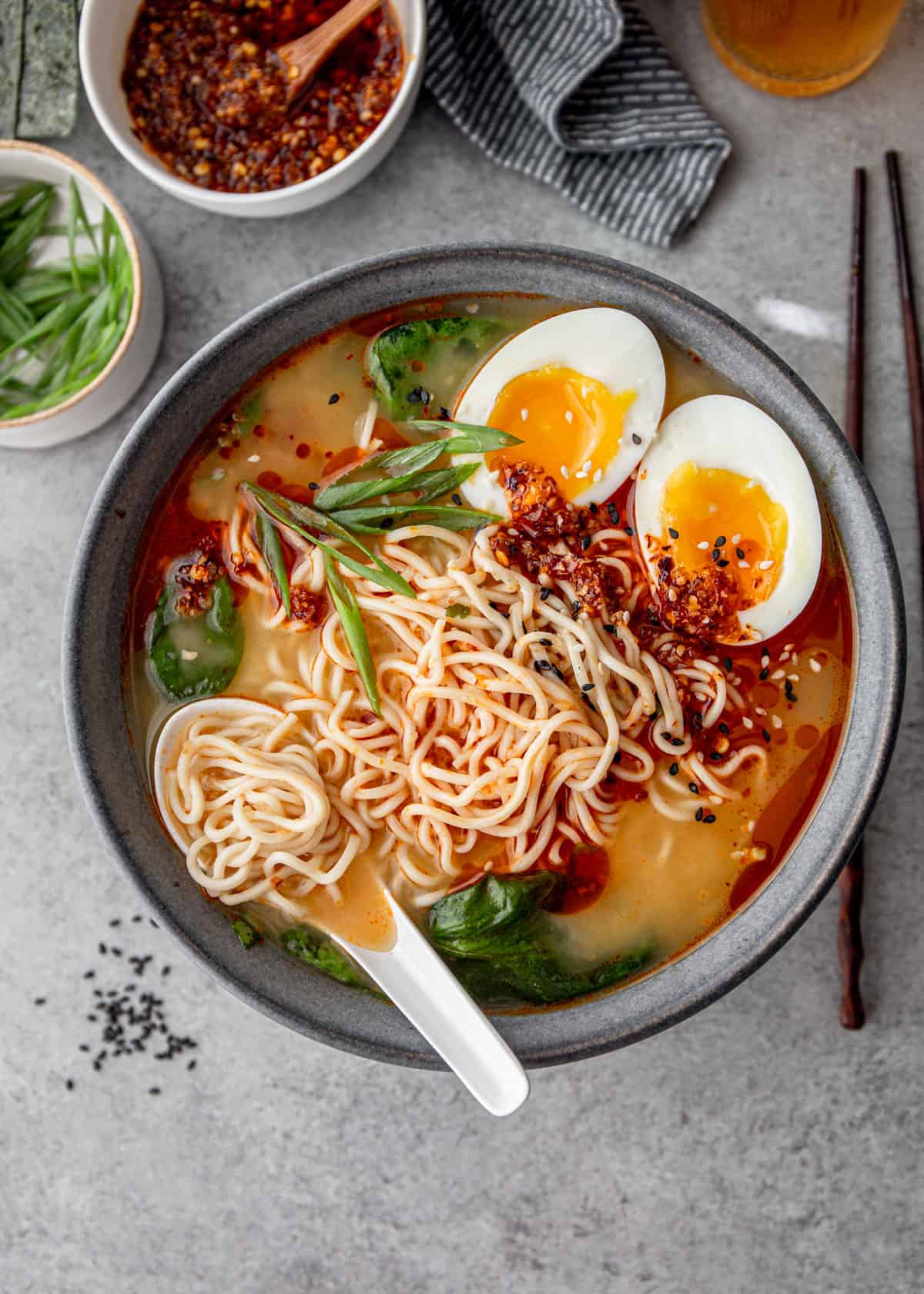 If you look in my pantry right now, one ingredient that you're sure to find is instant ramen. These quick-cooking noodles are inexpensive and can be transformed into a complete meal in minutes. Whether they go into stir-fry, crunchy salad, or a bowl of noodle soup, instant ramen recipes are where it's at. Keep reading for a few of my favorite hacks for turning quick and easy instant ramen into a killer meal.
This is a sponsored post with Mike's Mighty Good. All reviews and opinions expressed in this post are based on my experience and personal views.
Let's make ramen!
How to Make It
Start with broth. The broth is the foundation of a great bowl of ramen. Start with low-sodium chicken or vegetable stock. Add flavorful ingredients like garlic and soy sauce. Coconut milk and miso paste give the broth rich flavor and a subtly creamy texture.
Add vegetables. Baby spinach is my go-to because it cooks so quickly, but ramen is also fantastic with mushrooms, shredded carrots, sliced bell peppers, broccoli florets, corn, or snow peas. Pile in any vegetables hiding in your refrigerator for a colorful, nutrition-packed, healthy ramen bowl.
Add protein. Add cooked chicken, pork, beef, bacon, tofu, or eggs for protein. Leftovers work very well here.
Cook noodles. Cook the noodles in the broth just until tender. Check the package for the recommended cooking time.
Garnish bowls. Here's where it really gets fun. Finish the bowls with ingredients that add texture and flavor. Add fresh herbs like cilantro or green onions. Add a drizzle of toasted sesame oil for a toasty flavor. Sprinkle on seasonings like Japanese furikake and toasted sesame seeds or spicy sauces like Sriracha, chili oil, or chili garlic sauce.
Enjoy!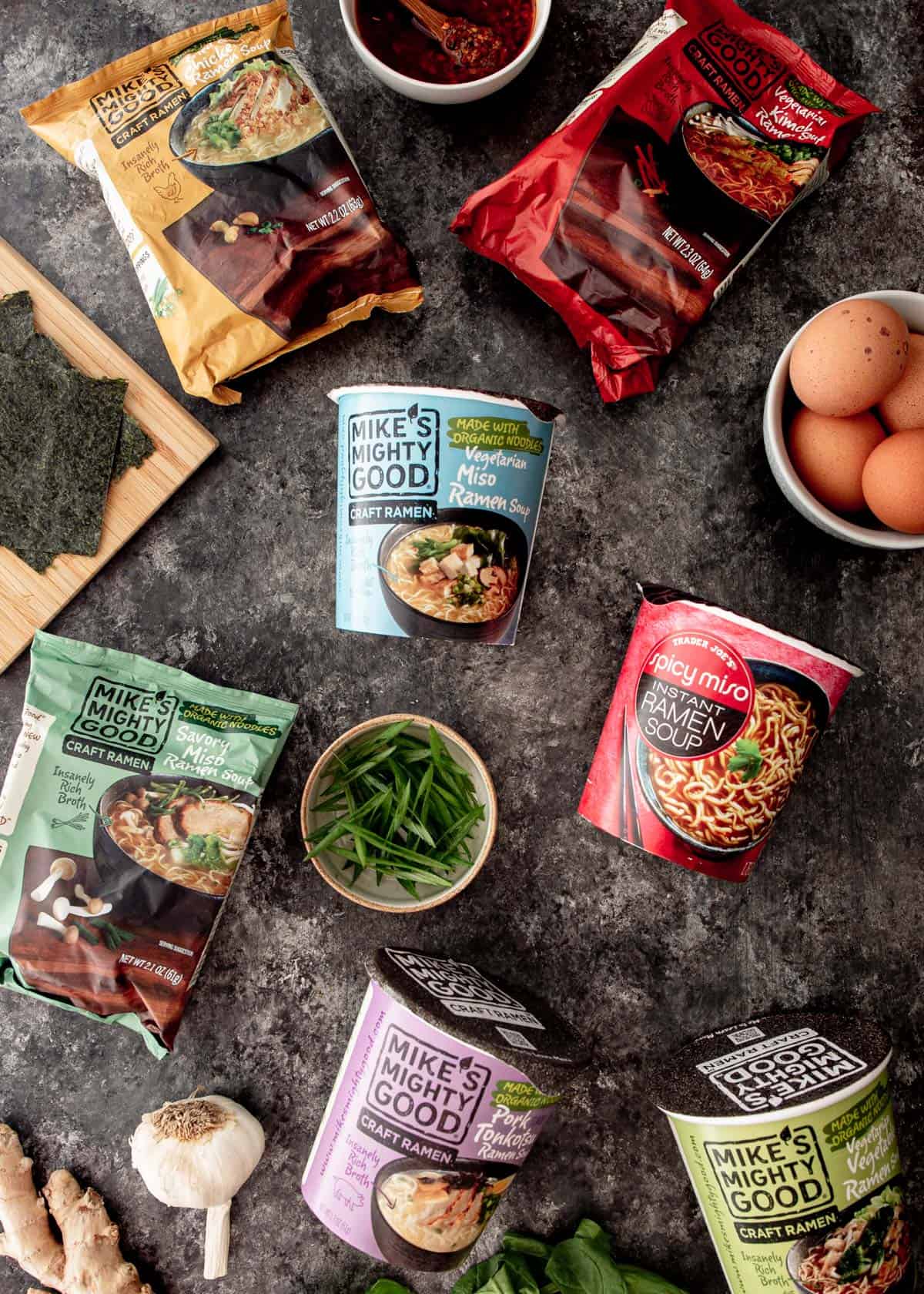 Ways to Upgrade Instant Ramen
It couldn't be easier to create your own instant ramen recipe with an additional ingredient or two. Upgrade your bowl by adding any of these:
Vegetables
Aromatics like garlic and ginger
Cooked chicken, pork, beef
Tofu or seitan cubes
Butter
Chopped green onions or cilantro
Miso paste
Coconut milk
Curry paste
Fresh lemon or lime juice
Soy sauce
Fish sauce
Sesame oil
Soft-boiled egg
Bean sprouts
Toasted sesame seeds
Furikake
Spicy sauces (Sriracha, chili oil, chili garlic sauce)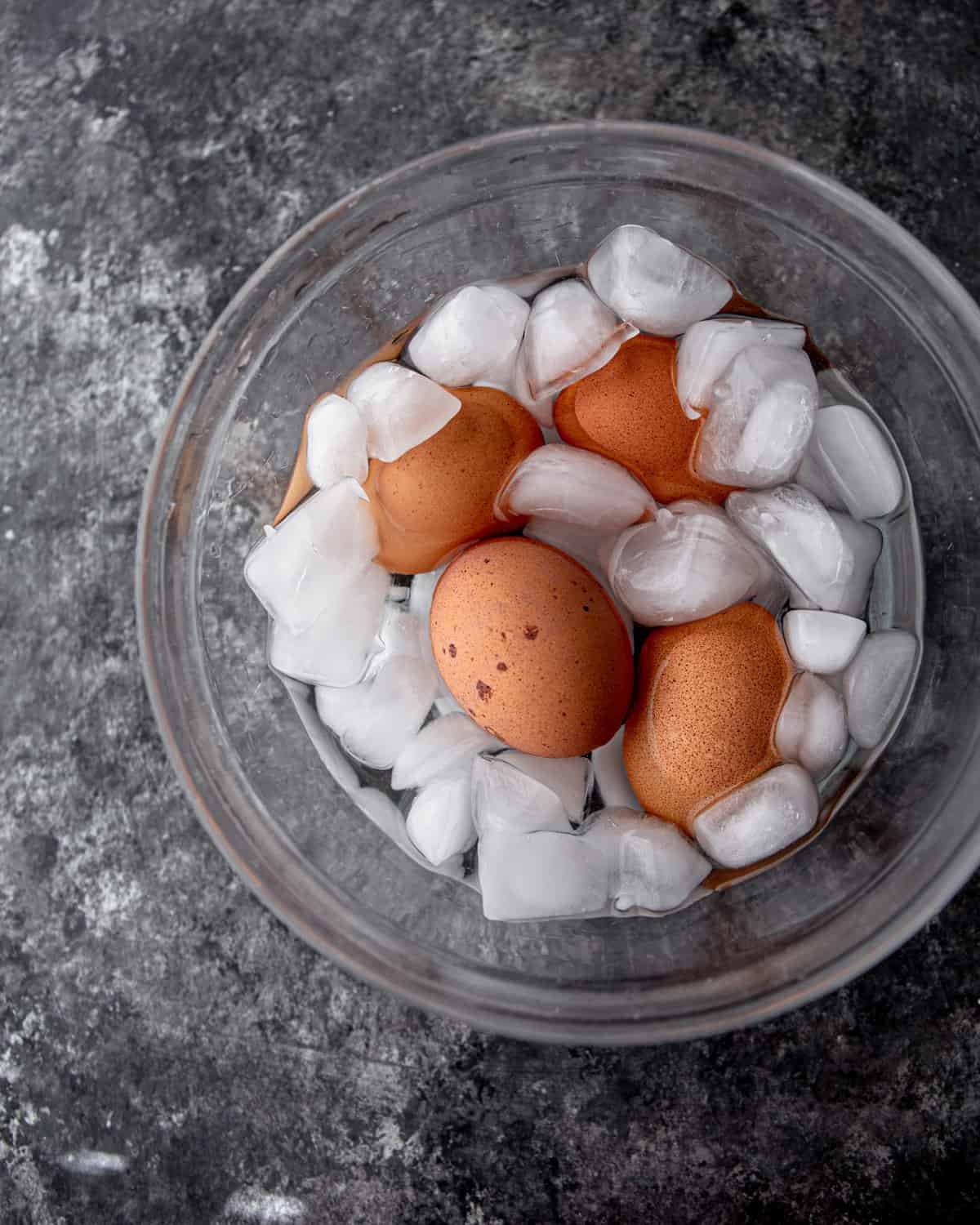 Ingredients
Miso Paste – Creamy, savory, subtly sweet miso paste is my favorite way to upgrade, not only ramen, but almost any soup. This common Japanese ingredient is a fermented soybean paste that is so full of flavor that even a tablespoon or two can transform an entire pot of soup. If you've ever had miso soup, you know how delicious and comforting the flavor of this ingredient is. Many grocery stores sell white miso paste, typically found in the refrigerated section. It comes in a variety of colors and brands and each will have a slightly different flavor. If not using white miso, add it to your soup a bit at a time, tasting as you go, until you get the right flavor. Looking for what to do with your extra miso paste? Try my Miso Vegetable Soup.
Garlic – A little garlic cooked with the miso paste gives the broth a flavor like it's been simmering all day, even though it only cooks for 20 minutes.
Low-Sodium Chicken or Vegetable Stock – Any type will work and will add great flavor. It's best to start with low-sodium because the miso and soy sauce will add salt.
Coconut Milk – Be sure to use coconut milk found in cans, not the cartons that are used in place of dairy milk. Regular, not light, coconut milk is really worth using here for the most flavor.
Soy Sauce – Tamari or Bragg's / coconut aminos make great substitutes.
Instant Ramen – Use about 4 ounces of dried ramen noodles per serving.
Baby Spinach – I love how quickly this cooks and adds color and nutrition, but there are many options for other vegetables throughout this post.
Eggs – In my book, it's not a great bowl of ramen without a soft-boiled egg, but you can easily skip this or substitute your protein of choice.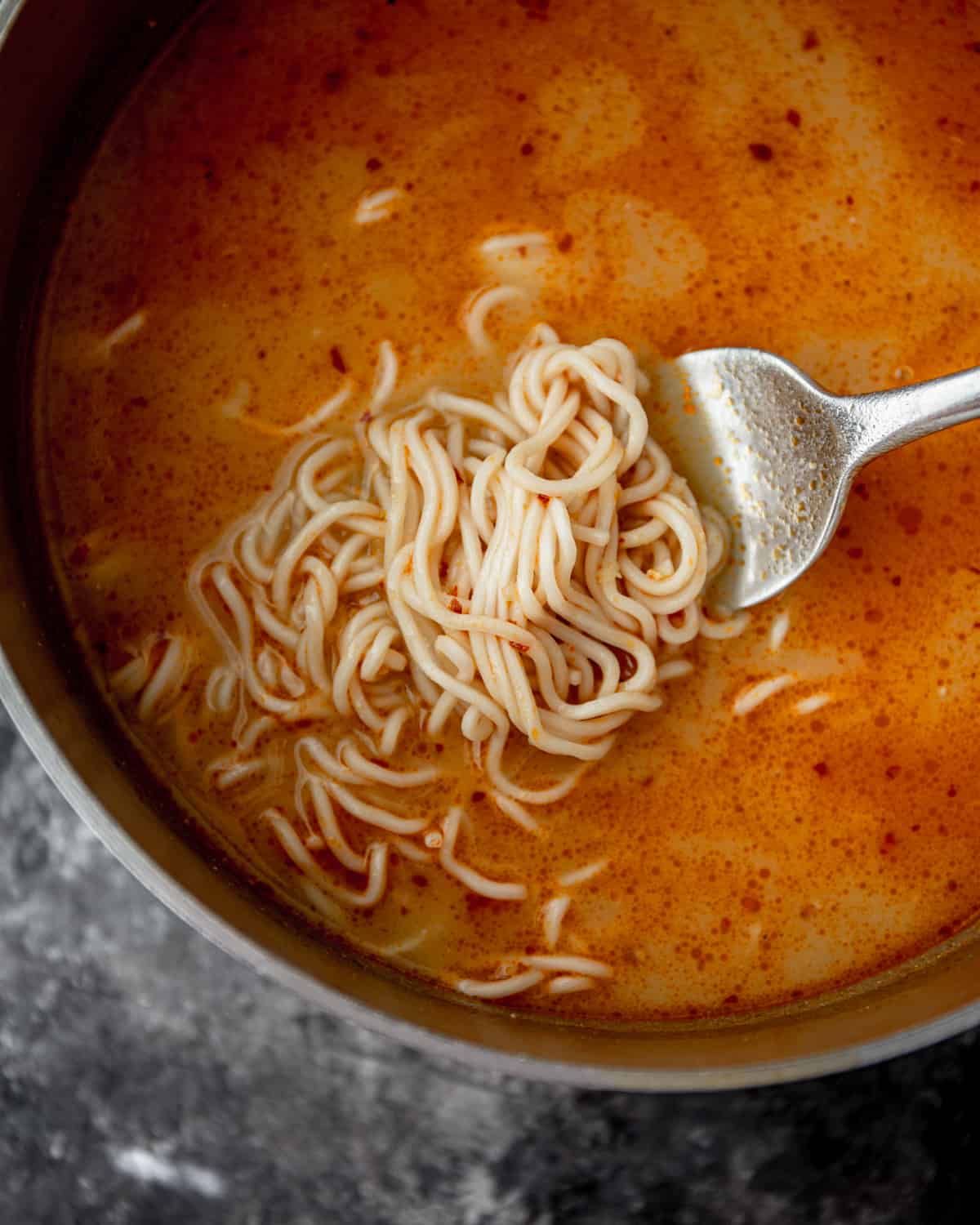 Tips for the Best Bowl of Ramen
For the best results in your bowl of instant ramen, watch the noodles closely. You want the noodles tender but not soggy. Keep in mind that the noodles will continue to cook slowly in the hot broth even when they are transferred to bowls for serving, so it's a good idea to cook them a minute less than is recommended on the package. If in doubt, you can even cook the noodles separately and then drain them well. Divide them between serving bowls and ladle the hot broth over top just before serving.
It's also key to taste your broth as you go and doctor it up to fit your tastes. Using the recipe below or the list above, you can create a crave-worthy broth that you'll want to make again and again. And while I usually discard most instant ramen seasoning packets in favor of making my own quick broth, it's worth noting that Mike's Mighty Good ramen seasoning packets include simple ingredients with a lot less sodium than other brands. They make an insanely rich broth and have lots of flavor options (including miso!).
Variations
Vegan option – For vegan ramen, skip the eggs in your bowl and be sure to use a vegan-friendly instant ramen, like Vegetarian Miso Ramen for this recipe.
Add vegetables – As mentioned above, this instant ramen recipe is perfect for piling in your favorite vegetables. Add mushrooms, shredded carrots, sliced bell peppers, broccoli florets, corn, snow peas, or any other vegetables that need to be used from your fridge.
Add ginger – A great addition to this recipe is grated fresh ginger or ginger paste. If you like that zippy ginger flavor, definitely add some with the garlic in this recipe.
What can I substitute for miso?
Miso paste is a common ingredient in Japanese cooking that gives the soup a rich, savory flavor and creamy texture. If you don't have miso, try using sesame paste, tahini, or a small amount of peanut or almond butter.
Are ramen noodles fried?
Many brands of instant ramen include fried noodles. One of the many things that I love about Mike's Mighty Good is that they use organic noodles that are steamed, not fried.
More Asian Noodle Recipes
Favorite Tools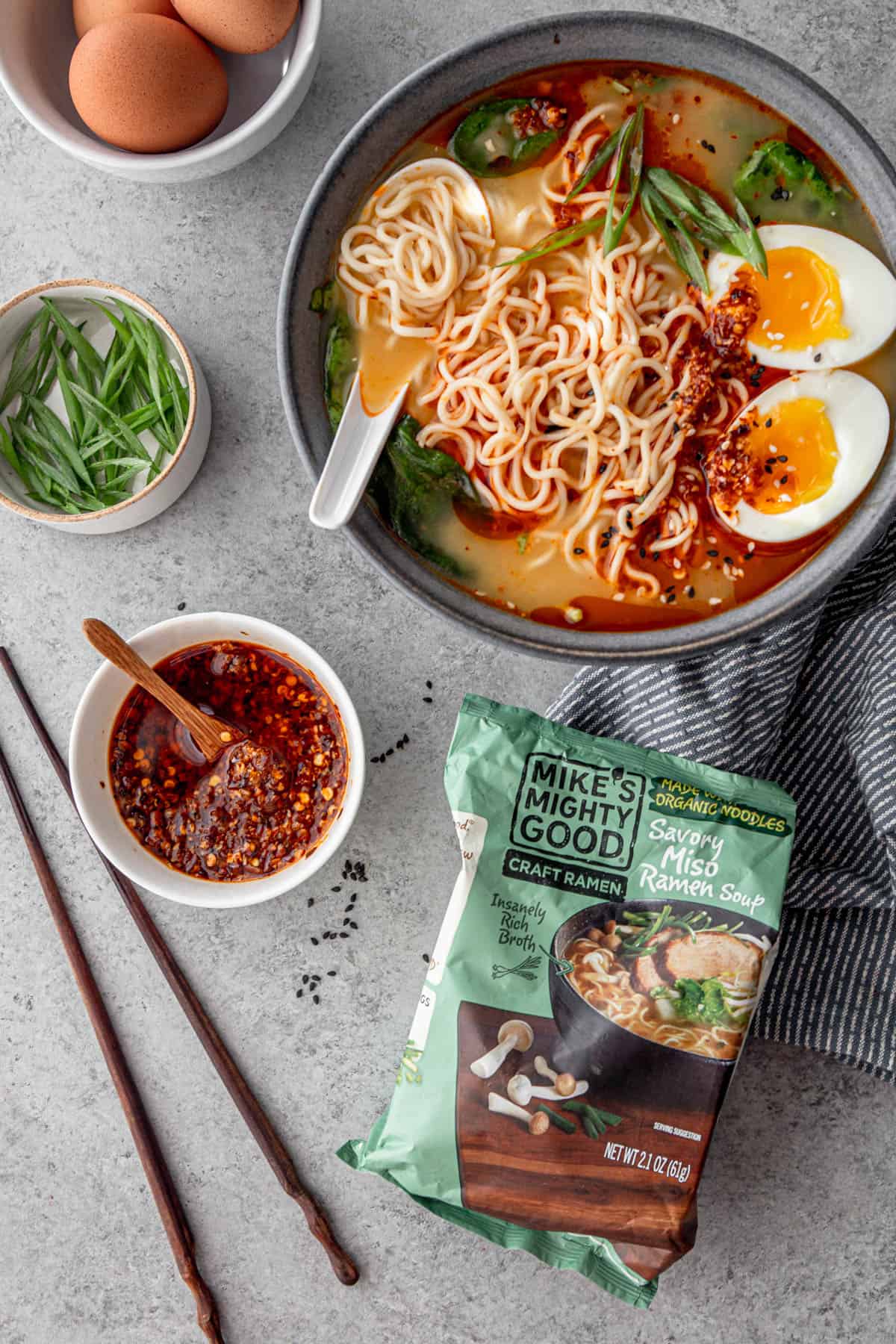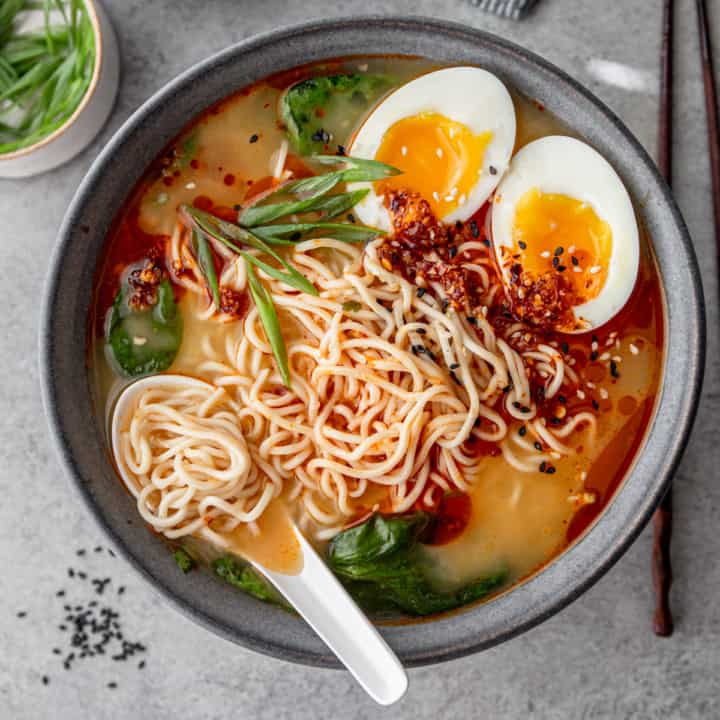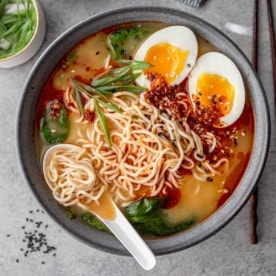 Easy Miso Ramen Recipe
Transform instant ramen into a colorful, flavorful bowl of Easy Miso Ramen with just a handful of ingredients and 30 minutes or less. This instant ramen recipe is endlessly adaptable and irresistibly cozy.
Equipment
Small Saucepan

Heavy Bottomed Pot
Ingredients
1

Tablespoon

Cooking Oil

3

Tablespoons

White Miso Paste

2

cloves

Garlic, minced

6

cups

Low-Sodium Chicken or Vegetable Stock

1/3

cup

Coconut Milk

(use canned, regular coconut milk usually found in the international aisle)

2

Tablespoons

Soy Sauce

2

4 ounce packets

Instant Ramen Noodles

(discard the seasoning packets)

5

ounces

Baby Spinach

2

Eggs

Green Onions, thinly sliced

Sesame Seeds, white or black, for serving

(optional)

Sriracha, Toasted Sesame Oil, or Chili Oil, for serving

(optional)
Instructions
Bring a small pot of water for the eggs to a boil.

While water is coming to a boil, place a large heavy-bottomed pot over medium oil. Add oil. When the oil is hot, add miso and garlic. Stir for a minute. Slowly pour stock and coconut milk over miso while whisking to fully dissolve all of the miso. Stir in soy sauce. Bring the broth to a simmer.

Meanwhile, return to the pot for the eggs and reduce to a low simmer. Gently lower the eggs into simmering water. Simmer for 7 minutes if eggs are at room temperature and 8 minutes if eggs have been refrigerated. (Be sure to set a timer right after you add the eggs to the water so they don't overcook.)

When the miso broth is simmering, stir in the noodles and the spinach. Simmer until the ramen is just tender (check the package for recommended time; don't overcook).

Divide the ramen and broth between serving bowls.

Run the eggs under cold tap water until they are cool enough to touch. Peel the eggs and slice in half. Arrange eggs on top of each bowl of ramen. Serve with green onions, sesame seeds, and Sriracha or chili oil on top.
Nutrition
Calories:
277
kcal
|
Carbohydrates:
23
g
|
Protein:
14
g
|
Fat:
16
g
|
Saturated Fat:
10
g
|
Polyunsaturated Fat:
2
g
|
Monounsaturated Fat:
2
g
|
Trans Fat:
0.01
g
|
Cholesterol:
164
mg
|
Sodium:
4922
mg
|
Potassium:
667
mg
|
Fiber:
4
g
|
Sugar:
10
g
|
Vitamin A:
8408
IU
|
Vitamin C:
22
mg
|
Calcium:
125
mg
|
Iron:
5
mg
Nutrition information is automatically calculated, so should only be used as an approximation.