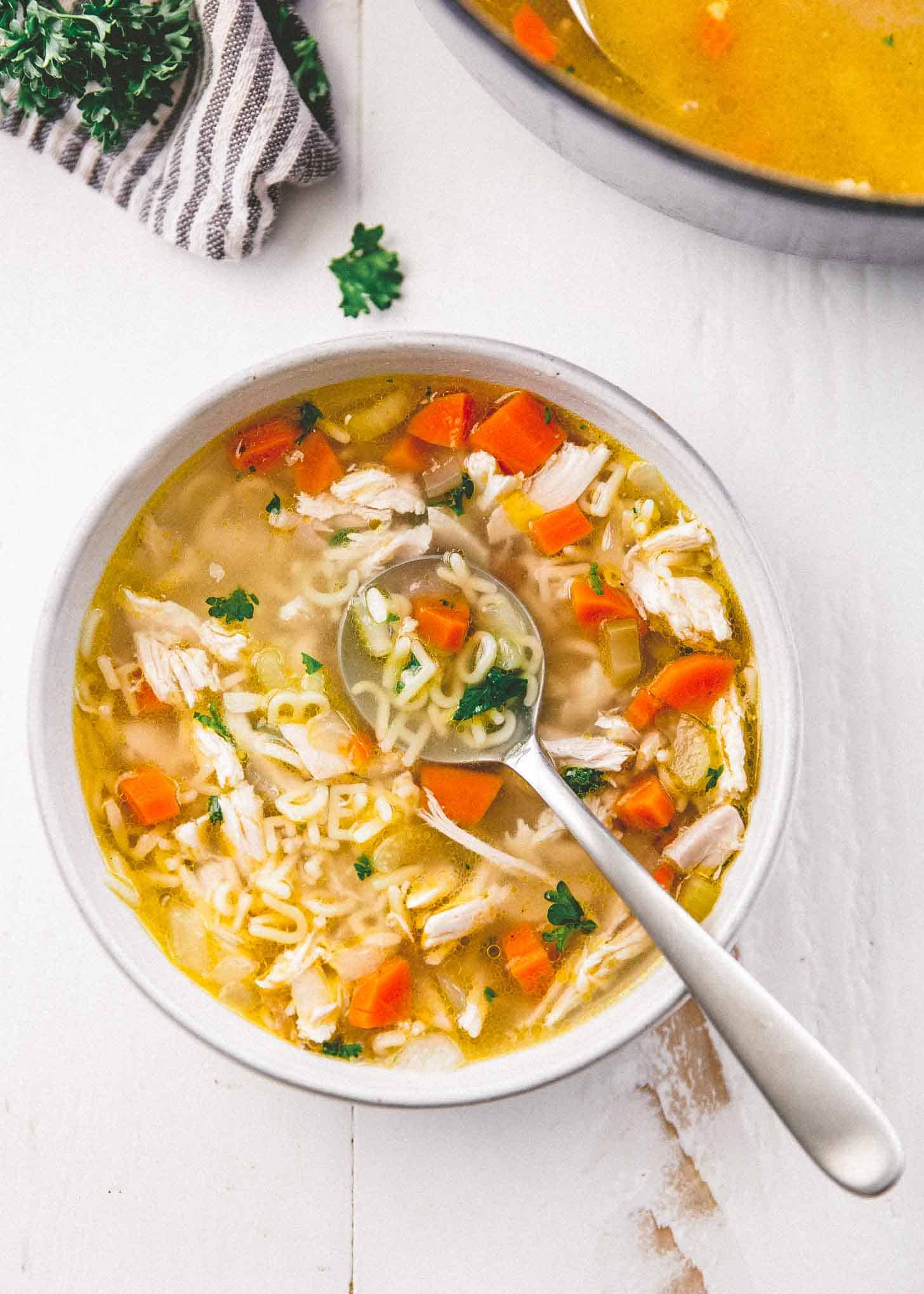 The addition of flavor-packed miso and a tiny list of ingredients make this a cozy, comforting Chicken Noodle Soup that can be made any night of the week.
Miso is a Japanese soybean paste that makes the base of this classic chicken noodle soup creamy and packed with flavor. It does not taste like an Asian-inspired soup, but the miso is an easy way to give the soup an amazing richness and depth of flavor.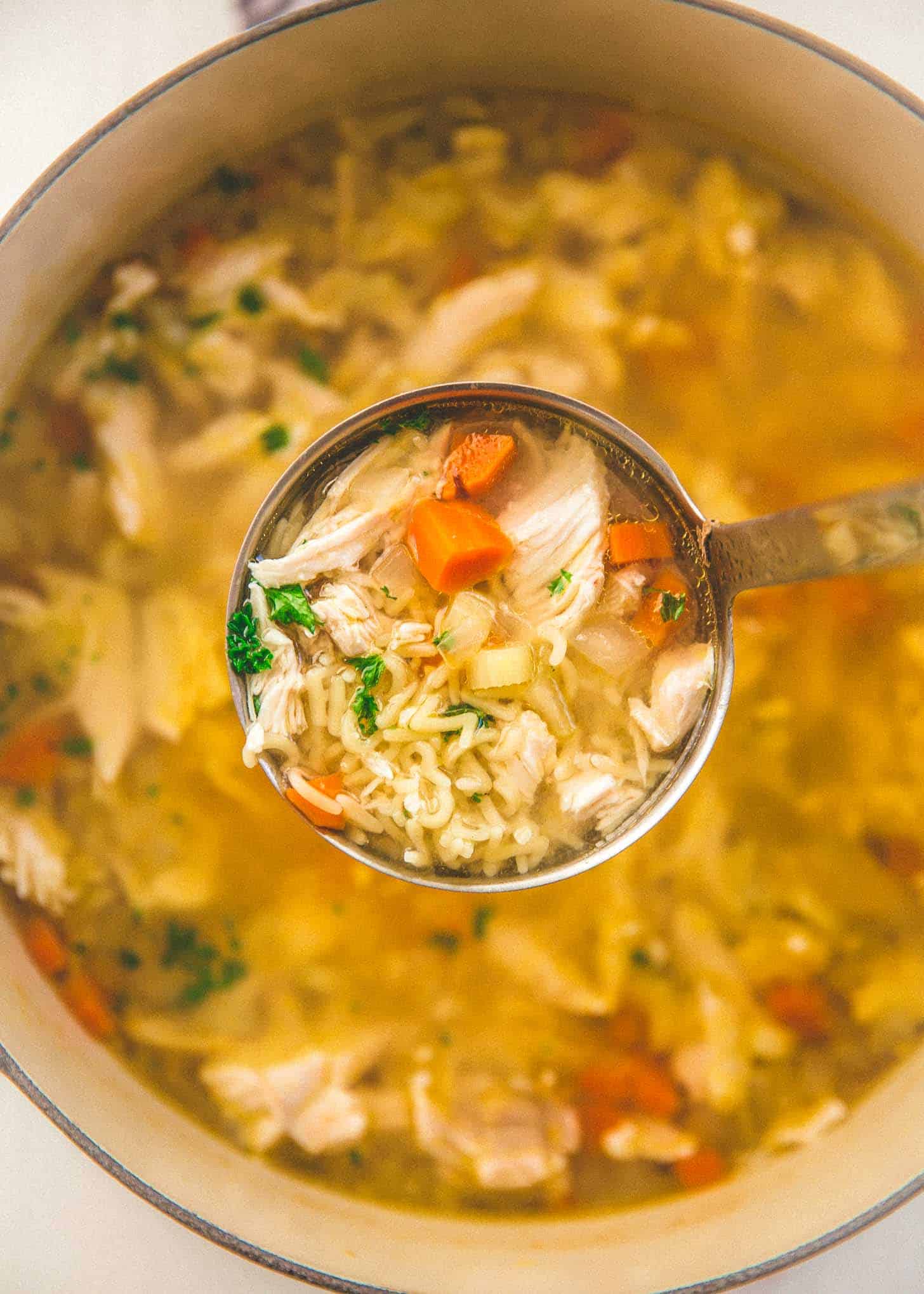 It's been a season of sniffles at our house. Every time I turn around another kid (or adult) has a runny nose and cough. Chicken noodle soup to the rescue! This is such a simple recipe that our family has been turning to it again and again. It's a little less work than other from-scratch versions but has that simmered-all-day flavor.
Here's how to make Simple Chicken Noodle Soup with Miso.
What Makes This Meal Weeknight-Friendly
A few shortcuts make this recipe simple and fast: 1) rotisserie chicken 2) pre-chopped mirepoix mix (chopped onions, carrots, celery) and 3) miso. If you start with these three flavor-boosting ingredients, making the recipe is breeze. Just put everything together and let it simmer on the stovetop until it's time to eat.
Ingredients
Rotisserie Chicken

- A rotisserie chicken will do double duty in this soup. Shred or chop the chicken meat (you'll add it to the soup at the end) and use the chicken bones to simmer in water (this will create a quick and flavorful stock).

Low-Sodium Chicken Stock

- Start with store-bought chicken stock for the most flavor in the broth, but you'll give it your own homemade twist by simmering it with aromatics and chicken bones. Be sure to grab low-sodium stock so it doesn't get too salty (the miso is salty too). In a pinch, you can just use water, but it's a good idea to simmer the soup for twice as long to build flavor.

Mirepoix

- Fancy name for a simple thing. Mirepoix is a chopped combination of onions, carrots, and celery. I've put these ingredients together so that you can keep an eye out for a pre-chopped mirepoix mix at your grocery store. My local grocery store sells this in the produce section near other chopped vegetables. It's also a staple at Trader Joe's and Whole Foods. Can't find pre-chopped mirepoix? Just chop onions, carrots, and celery.

Miso - This is the star of the soup. Miso is a Japanese fermented bean paste that adds "umami" flavor. You won't believe what a great, rich flavor this brings to the soup. It will make it taste as if the soup simmered all day in just a short time. Look for miso in small white tubs in the refrigerator section. (Usually near the tofu or the cheese.) It comes in a variety of shades from white to red, and any will work here. Looking for what to make with all of that leftover miso paste? Try my Miso Vegetable Soup.
Pasta

- Use your favorite shape. Alphabet shapes are our household's favorite!

Lemon juice

- Adds some brightness to the soup.

Chopped parsley

- Optional, but adds fresh herb flavor and color at the end.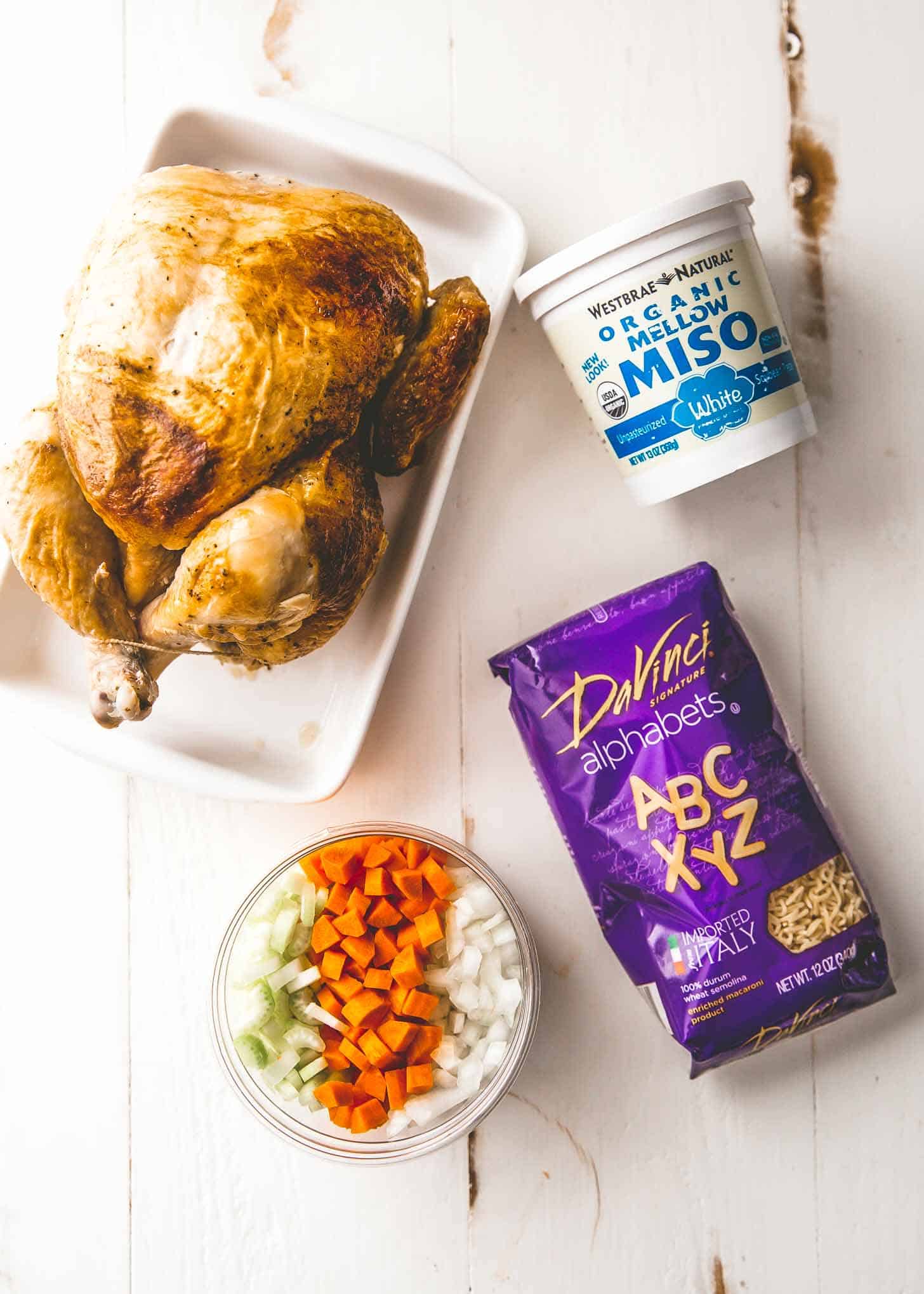 How to Make this Soup
Shred the chicken.

Use your hands or a knife - whatever is easiest to get the chicken off the bones and into bite-sized pieces. Try to get as much meat off as possible, but don't stress if there is some still left on the bones - they'll add flavor to the broth. You're going to save the chicken bones to flavor the broth. Set the shredded chicken aside to add at the end of cooking.

Saute mirepoix

. Saute onions, carrots, and celery in some olive oil until soft, 5 to 6 minutes.

Stir in garlic / miso

. Add garlic and miso to the mirepoix. These are going to add a great base of flavor.

Add stock, bones, and simmer.

Here's where the magic really happens. Pour stock into the pot and add the chicken bones (it's okay if some are sticking out of the soup a bit). Cover the pot and simmer everything together for 15 minutes. During this time, all of the soup ingredients will work together to form a rich, flavorful broth.

Add chicken and pasta.

Add in the chopped chicken and pasta and cook everything, uncovered, until the pasta is tender.

Discard the chicken bones

. They've done their job of adding flavor the broth.

Finish with herbs and lemon juice. These add a lot of flavor right at the end of cooking.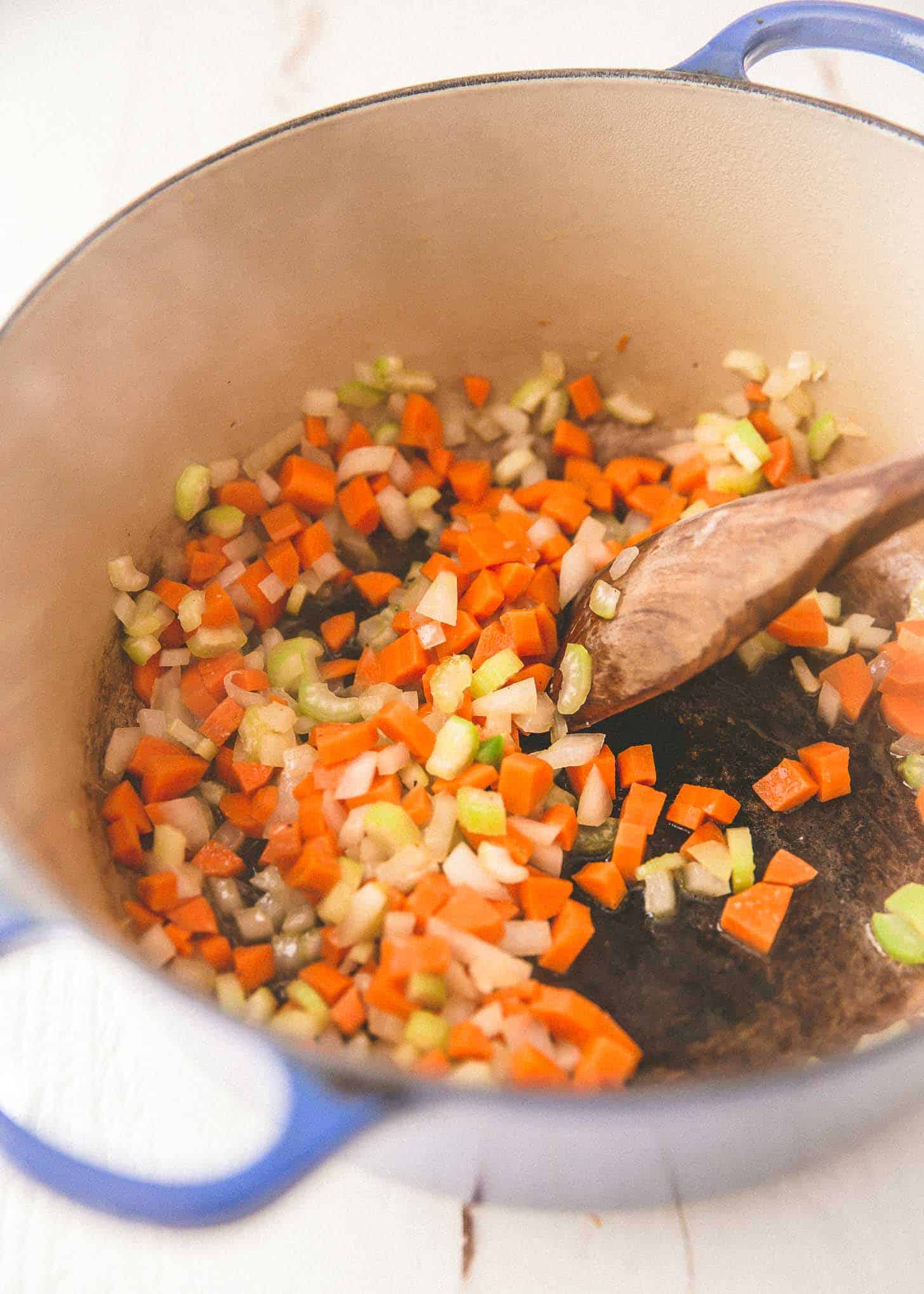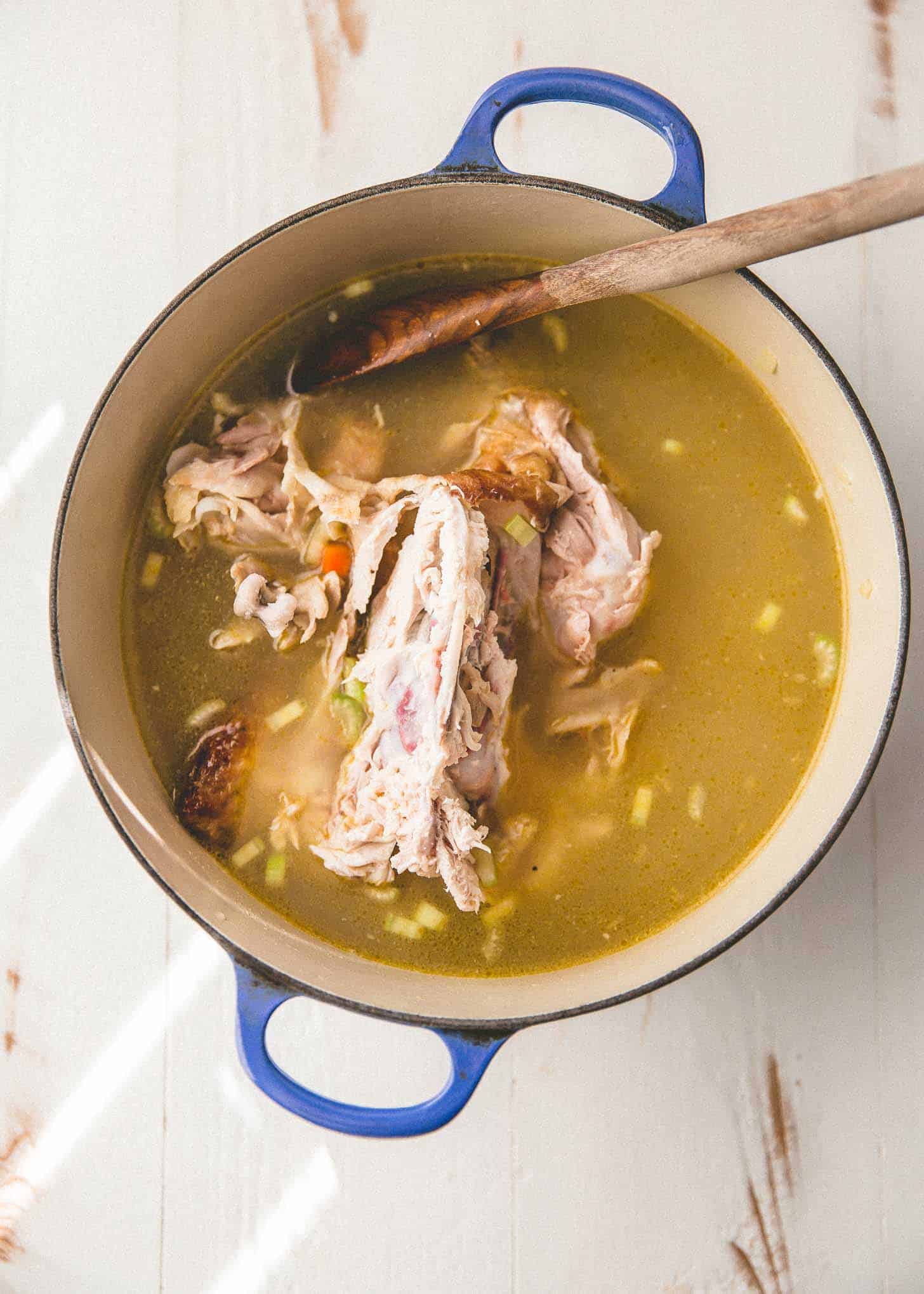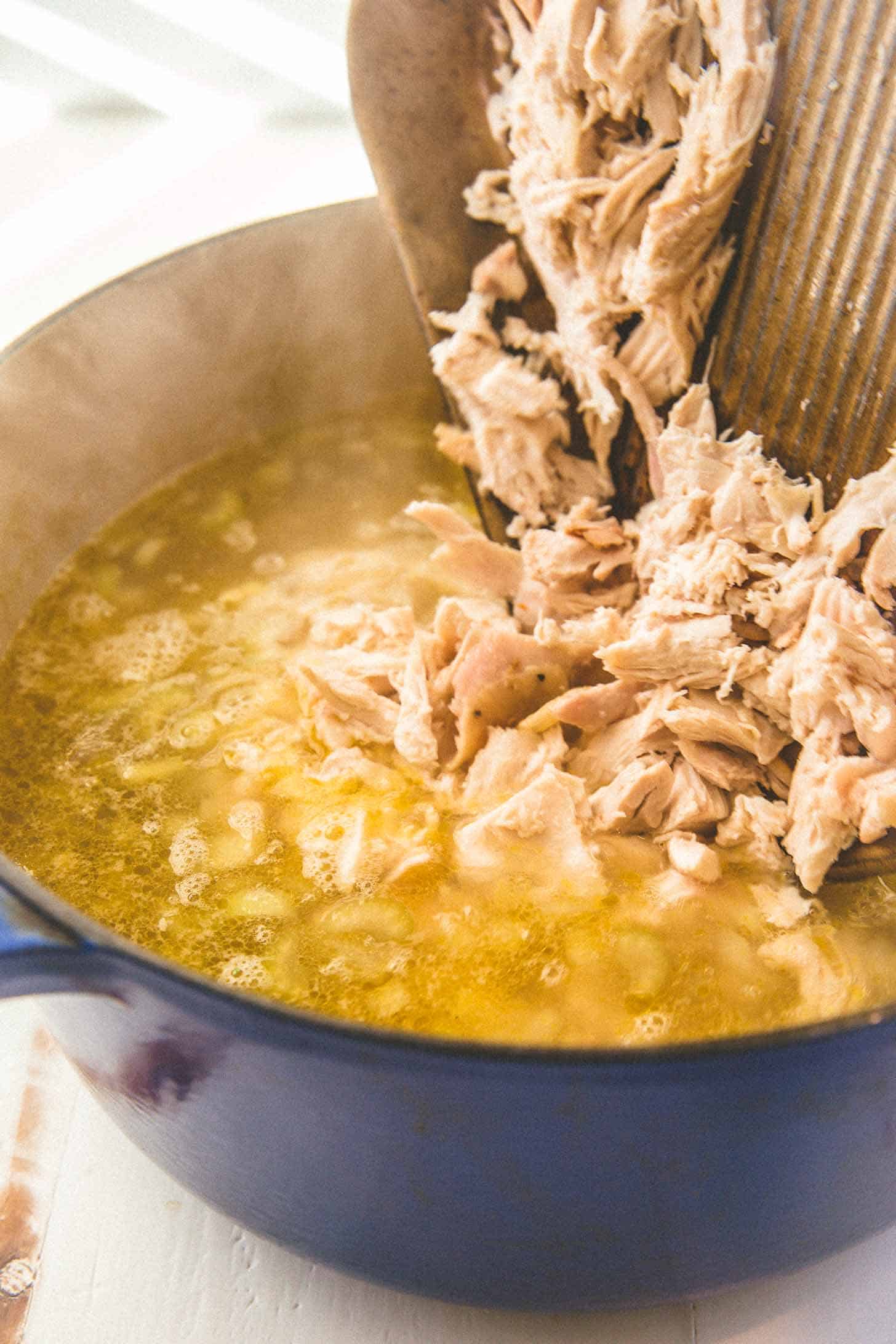 Freeze This Meal
This is a great meal to freeze. It makes a large pot of soup, so set a portion or two aside in individual freezer-safe containers and they'll be ready for you on a chilly winter day or the next time you feel a cold coming on.
To Freeze: Simmer the soup for the full 15 to 20 minutes to build flavor in the broth. Remove the bones and discard them. Stir in the chopped chicken. Do NOT add pasta. Freeze in freezer-safe containers for 4 to 6 months.
To Reheat: Defrost the soup completely and then reheat on the stove. Add the pasta and simmer until the pasta is tender. Finish soup with lemon juice and parsley.
Print the recipe below for a label with reheating instructions that you can attach to the top of the meal.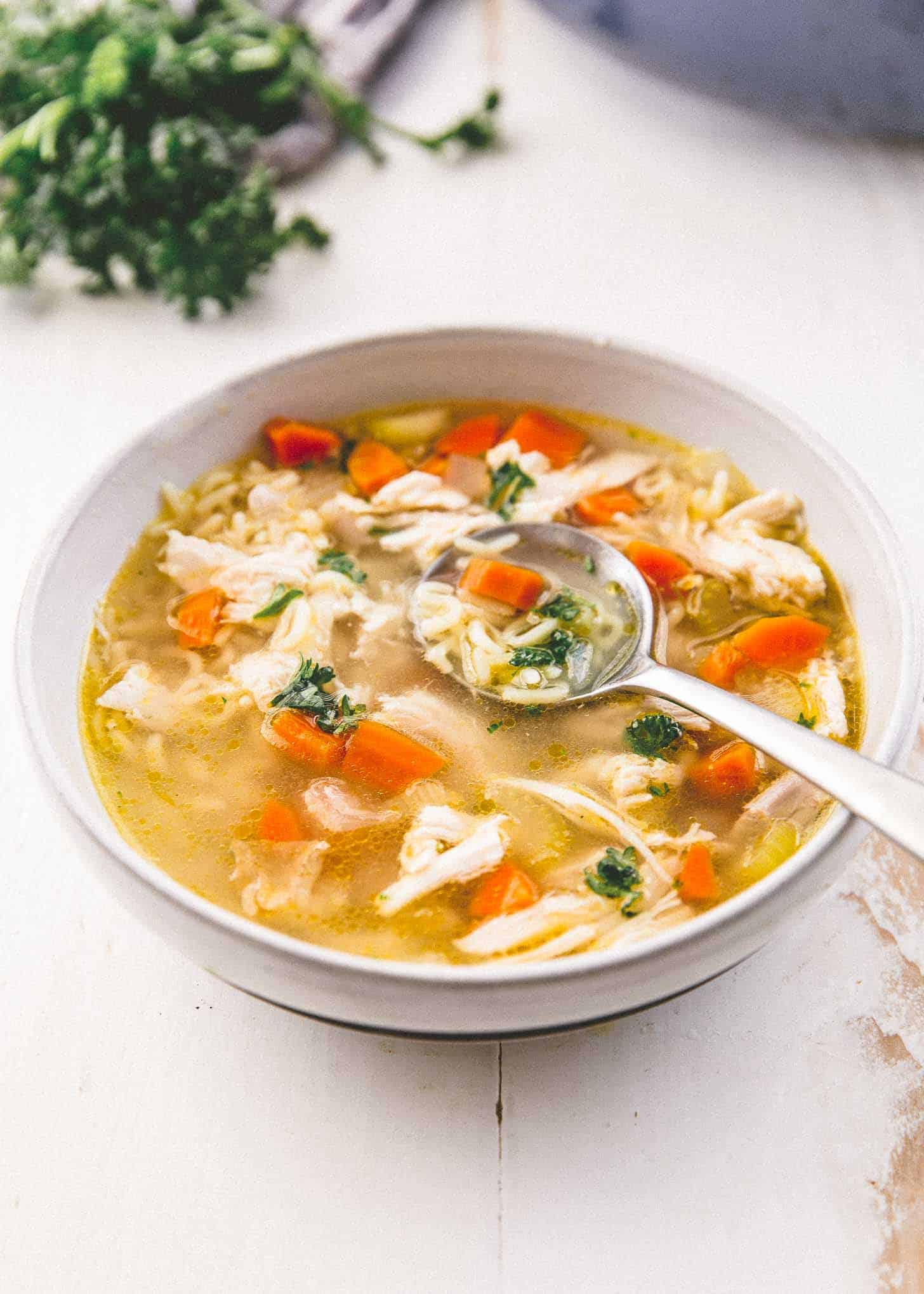 More Easy Chicken Dinners
Sheet Pan Chicken Shawarma

- An easy lemon-packed marinade does all the work to build flavor in this easy DIY-style meal.

BBQ Pulled Chicken

- With instructions for the Instant Pot and slow cooker, you don't have to wait to fire up the grill to enjoy this classic American meal.

Crispy Baked Cornflake Chicken

- Coated in a super crispy, seasoned cornflake crust, these tender chicken strips are more than a little bit popular with kids and adults alike
Favorite Tools
Dutch Oven

- A good, large pot or Dutch oven is really all you need to make this simple soup. The blue Le Creuset in these photos is always my favorite - it's super sturdy and holds all of the flavorful components of this soup.
30 Dinner Challenge
This easy meal is a great fit for the 30 Dinner Challenge - 30 nights of dinner at home to help you save money, eat healthier, and discover inspiration in the kitchen! It's not too late to join us in the challenge. Just share what you're cooking and eating at home throughout January on Instagram with #30dinnerchallenge. We love seeing what you're cooking!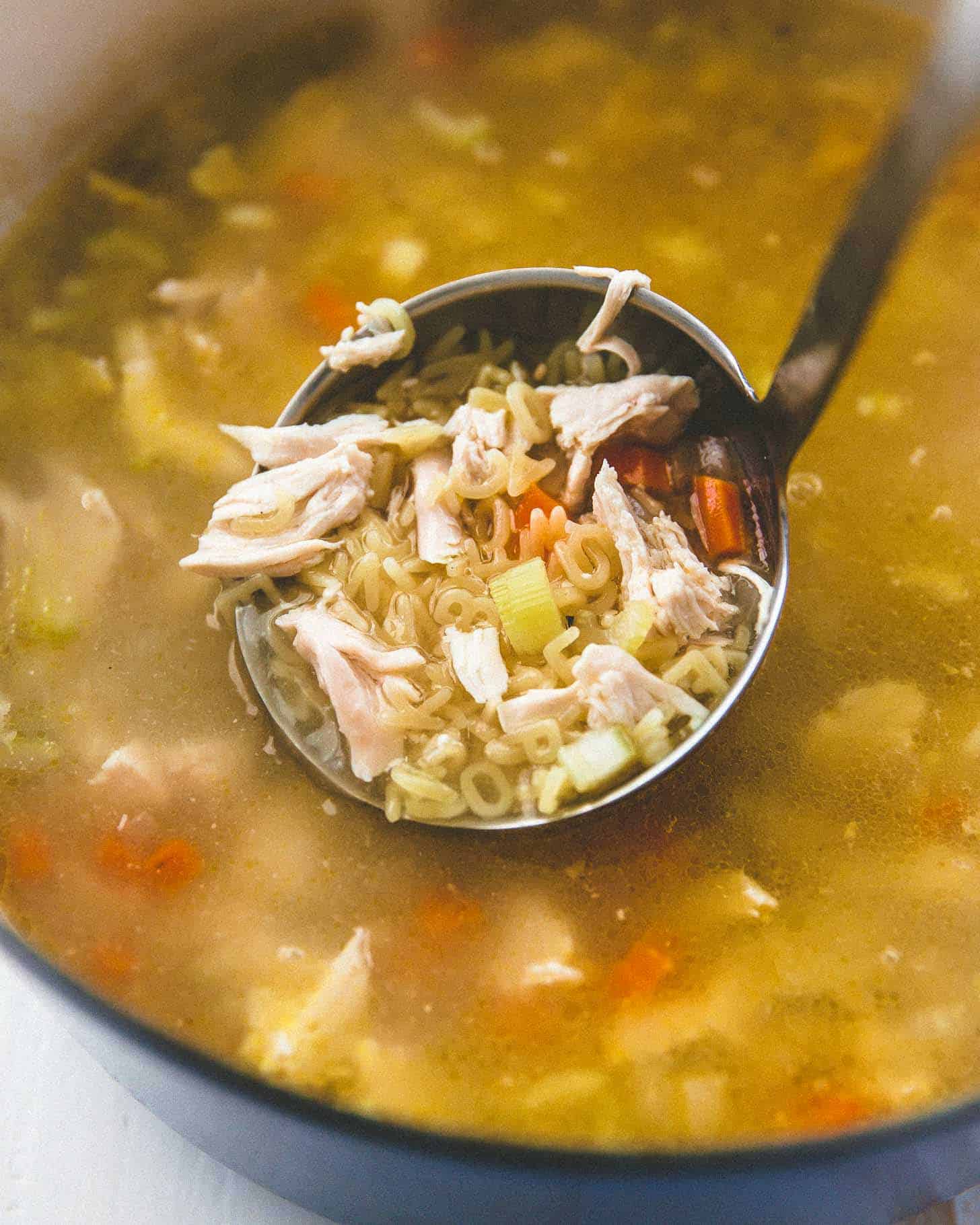 📖 Recipe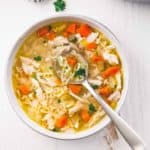 Print Recipe
Simple Chicken Noodle Soup with Miso
Miso adds savory, satisfying flavor to classic chicken noodle soup. You won't believe how much flavor this one ingredient adds!
This is a great meal to make ahead and refrigerate or freeze. Just be sure to follow the instructions below and set the pasta aside to add in right before serving. (It will get soggy if left to sit in the soup.)
Equipment
Dutch Oven or Large Stockpot
Ingredients
1

small

Rotisserie Chicken

2

tablespoon

Olive Oil

4

Cups

Mirepoix

(see note)

¼

teaspoon

Salt

3

tablespoon

Miso

3

cloves

Garlic, chopped

8

cups

Low-Sodium Chicken Stock

2

Bay Leaves

6

oz

Pasta

(or 1 cup if using orzo or small alphabet shapes)

2

teaspoon

Lemon Juice

Chopped Parsley, for topping

(optional)
Instructions
Use your hands or a knife to remove the chicken meat from the bones and chop or shred it into bite-sized pieces. Try to get as much meat off as possible, but it's fine if you don't get every bit. (Note: reserve the chicken bones - you'll use these in the broth.)

Heat a large pot or Dutch oven over medium heat. Add olive oil and then mirepoix with salt. Saute until vegetables are nearly tender, 5 to 6 minutes.

Stir in miso and garlic, breaking miso up a bit with the back of a spoon or spatula.

Add reserved chicken bones, stock, and bay leaves.

Cover with a lid and cook until the soup begins to boil. Reduce heat under the pot so that the soup stays at a low simmer. Simmer, covered, for 15 to 20 minutes to let the flavors develop.

Remove the lid and discard chicken bones and bay leaves.

Increase heat under the soup so that it is simmering gently.

Stir the chopped chicken and pasta into the soup. (See note below and cook pasta separately if you're not going to eat all of the soup right away.)

Simmer until pasta is tender (check package for timing).

Stir lemon juice into soup. Taste the soup and, if you want to add more savory flavor / saltiness, stir in up to 2 more Tablespoons of miso.

Stir in chopped parsley (if using) and serve.
Notes
Mirepoix
is the name for a combination of chopped onions, carrots, and celery. Look for a pre-chopped blend at the grocery store to save time. Or use 1 medium white onion, 3 medium carrots, and 3 stalks celery all finely chopped into even sized pieces.
Pasta
- I love small pasta shapes in this soup, but feel free to substitute any type that works. Egg noodles are classic and always good in chicken noodle soup. If you're not going to eat all of the soup in one sitting, cook the pasta separately and add it to each bowl right before you serve it. The pasta will absorb too much of the broth and turn soggy if left to sit in the broth.
Want to freeze this meal?
Simmer the soup as directed and then discard the chicken bones and bay leaves. Freeze the soup without the pasta, lemon juice, or parsley. Attach this label to the top of the freezer meal so the reheating instructions are right at your fingertips.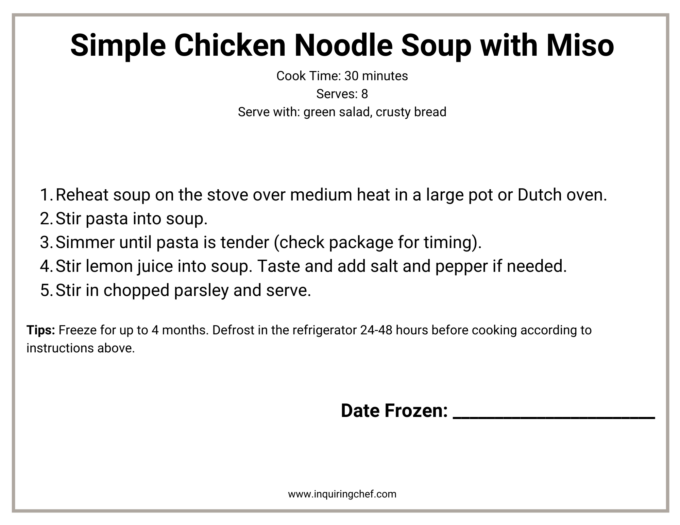 Nutrition
Calories:
420
kcal
|
Carbohydrates:
29
g
|
Protein:
42
g
|
Fat:
16
g
|
Saturated Fat:
4
g
|
Cholesterol:
115
mg
|
Sodium:
937
mg
|
Potassium:
620
mg
|
Fiber:
4
g
|
Sugar:
5
g
|
Vitamin A:
90
IU
|
Vitamin C:
6
mg
|
Calcium:
41
mg
|
Iron:
2
mg
*This post contains affiliate links*