Sweet Potato Soup with Miso
Published Mar 12, 2019•Updated Apr 06, 2023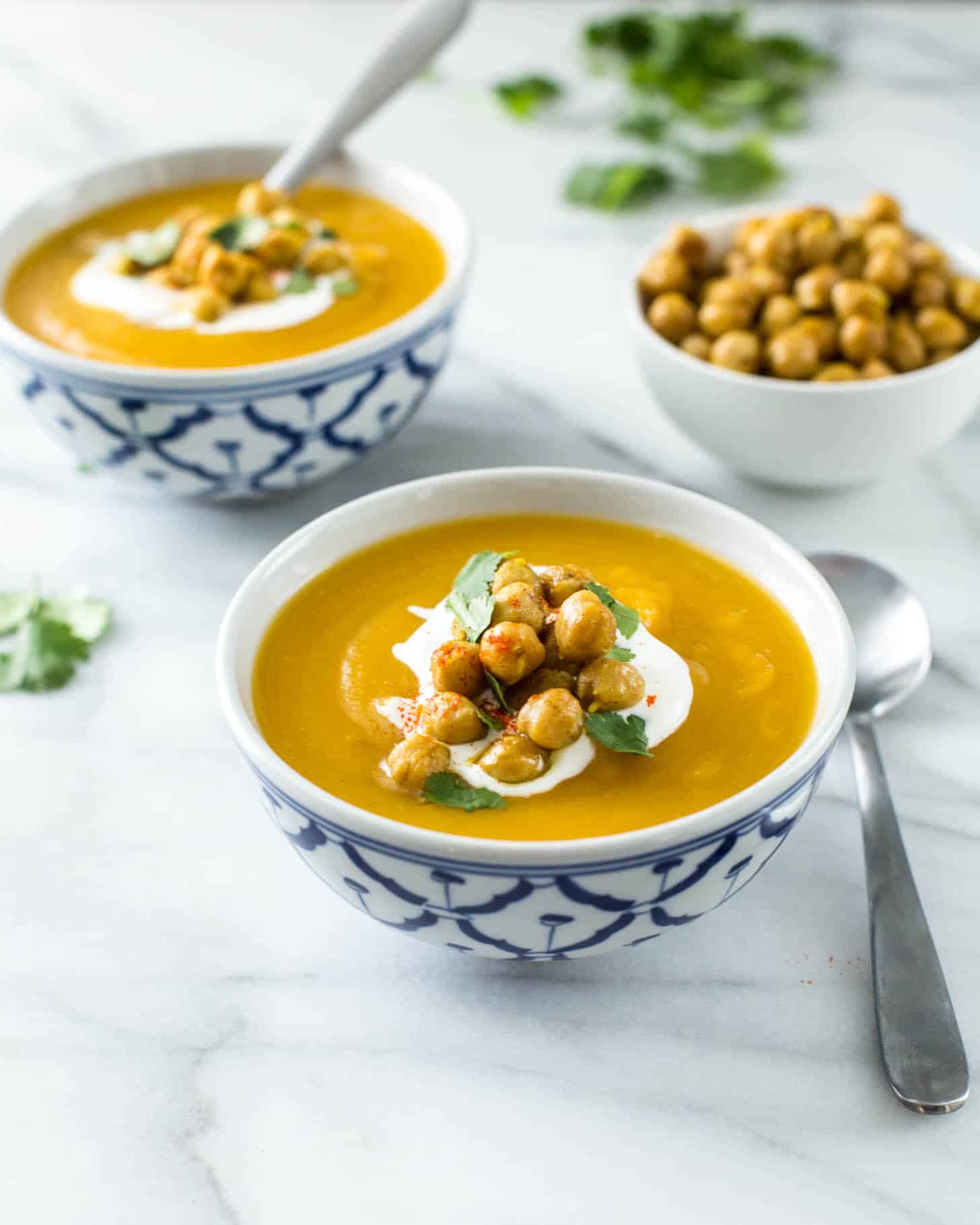 This unique twist on sweet potato soup is full of exotic flavors and warming spices. A few specialty ingredients make this easy, comforting soup extra special.
It would be an understatement to say that we were ready for March here in Kansas City. I was ready for March in the way that I'm always ready for a big slice of chocolate cake or a smooch from that gummy 7-month-old at the bottom of the page. Winter was long and dreary, and even though it's still cold, the sunshine and longer days we're getting are a welcome change. I savor soup season as long as possible because my kids can always get on board with a smooth soup, and it's an easy way to add some extra nutrition to our lunches. This version hits a sweet spot for all of us. It's naturally creamy and rich which the kids love. It also has some added flavors and optional spices that keep it interesting enough for the adults. A win all around.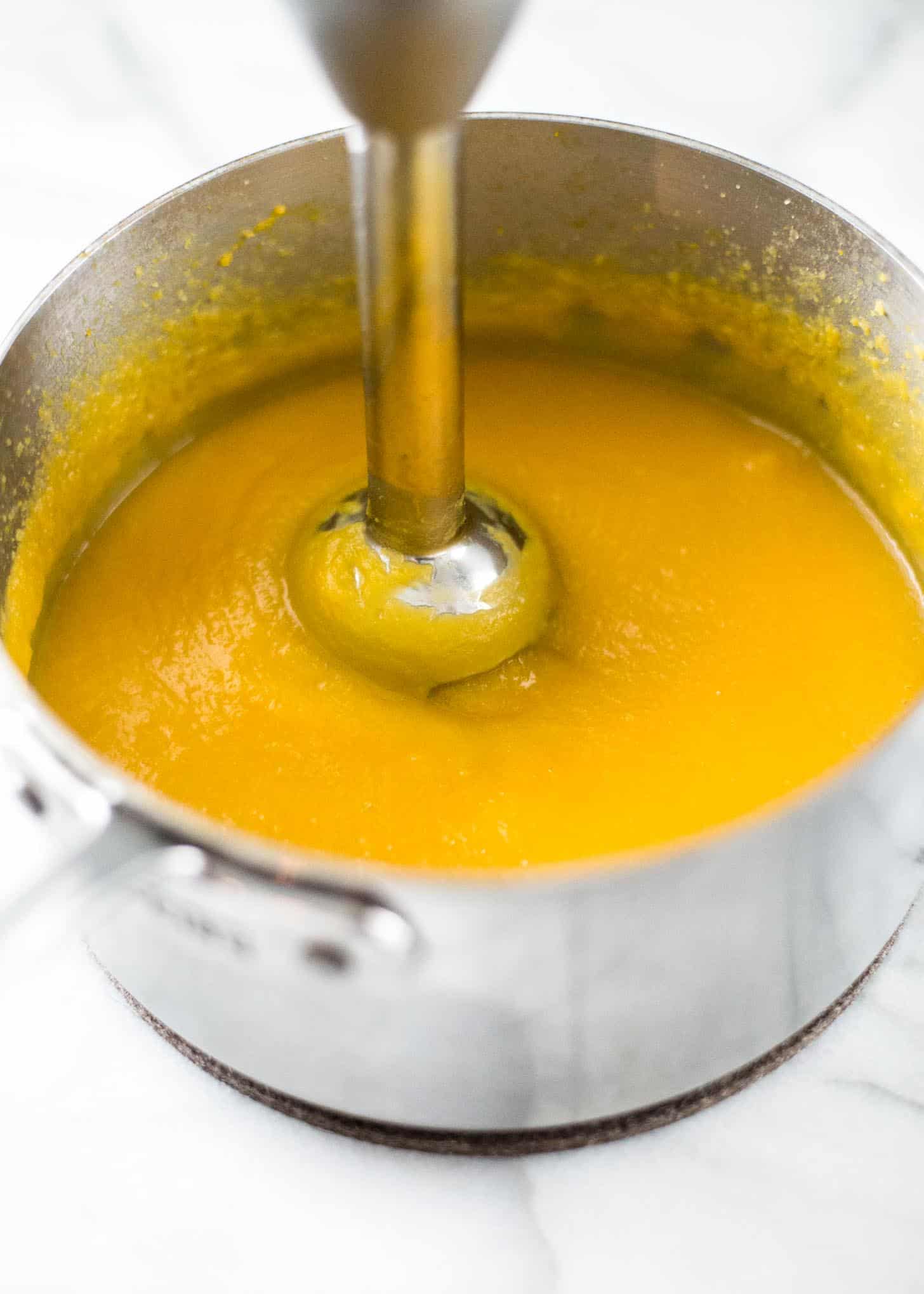 Sweet Potato Soup Ingredients
White Onion, Garlic, and Ginger – These aromatics give the soup a flavorful base. Fresh ginger adds the most flavor, but prepared ginger (found in a tube in the produce section) will definitely work.
Sweet Potatoes – Just ordinary grocery-store variety. To keep the color of the soup bright, peel the sweet potatoes and then rinse them with cool water to remove any dirt before chopping.
Apple – A medium-sized apple gets added to this soup for a bit of tart sweetness. Adding apples is a trick I use in all of my sweet potato and butternut squash soups. No one eating the soup would ever guess that there's apple in it, but it gives the soup a depth of flavor that's not to be missed!
Light Coconut Milk – Make sure to get unsweetened, light coconut milk. This comes in cans in the international aisle. (Don't use the coconut milk that's sold as a substitute for cow's milk in the refrigerated section.)
Lemon Juice – A squeeze of fresh lemon juice at the end adds brightness.
Miso Paste and Togarashi – These Japanese ingredients make this soup extra special. Miso paste adds a rich, savory depth. Looking for a way to use your extra miso paste? Try my Miso Vegetable Soup. Togarashi can be mixed with chickpeas and put on the top. See below for more details.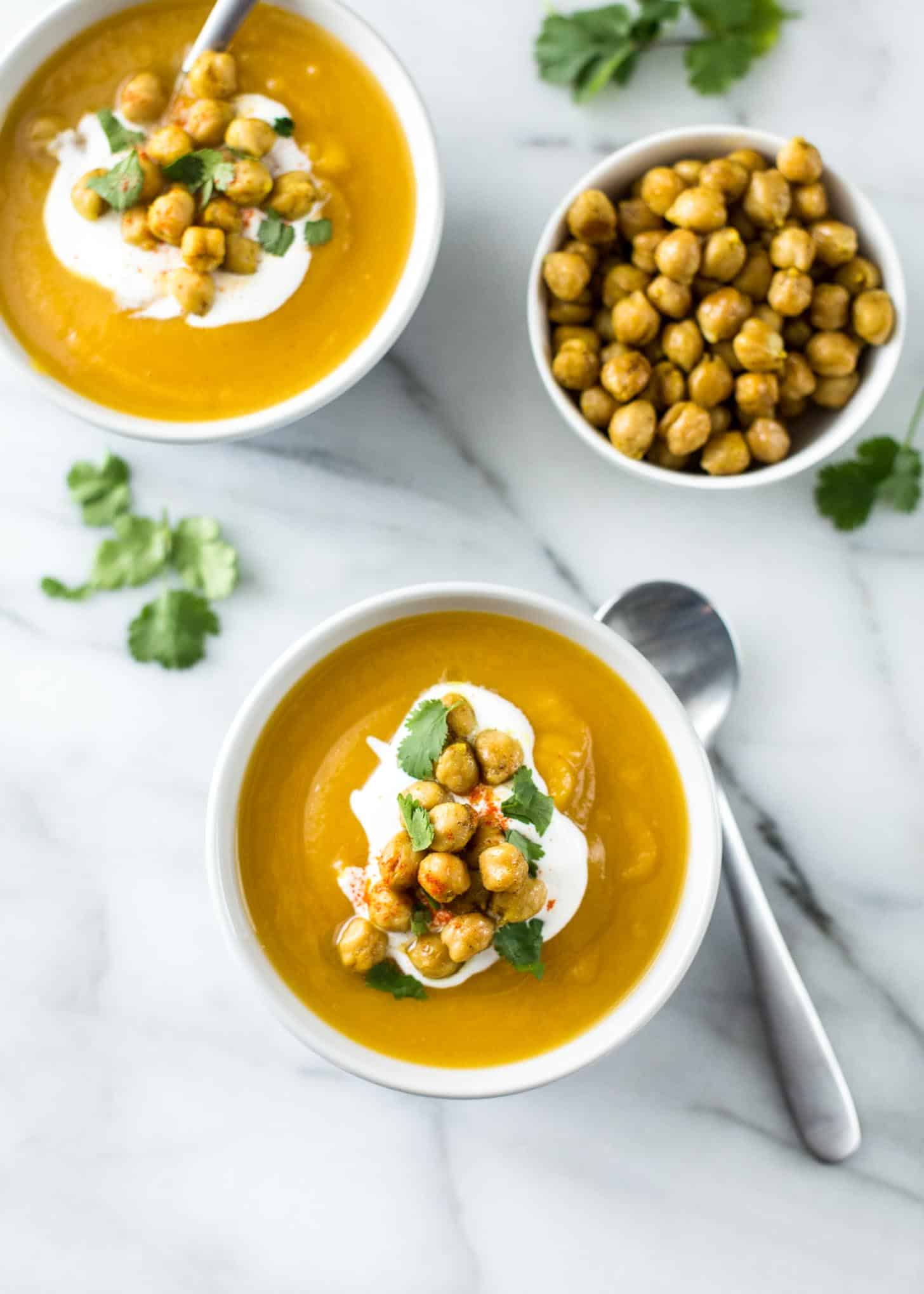 Miso Paste and Togarashi
To give this sweet potato soup its unique, rich flavor, it includes two ingredients common in Japanese cooking.
Miso Paste – Miso paste is rich and salty and is made from fermented soy beans. (If you've ever had miso soup, you know the flavor!) I can usually find miso paste in the refrigerated section of my regular grocery store near the yogurt or tofu. Miso paste will keep for months in the fridge. Once you try it, you'll want to find other uses for it!
Togarashi – This Japanese spice mix is now widely available in the international aisle of most grocery stores. It has a medium level of spice that is balanced with citrus flavors, sesame seeds, and savory flavors from nori (seaweed). It's also great on fish, meat, noodles, and eggs. I like it sprinkled over french fries or popcorn!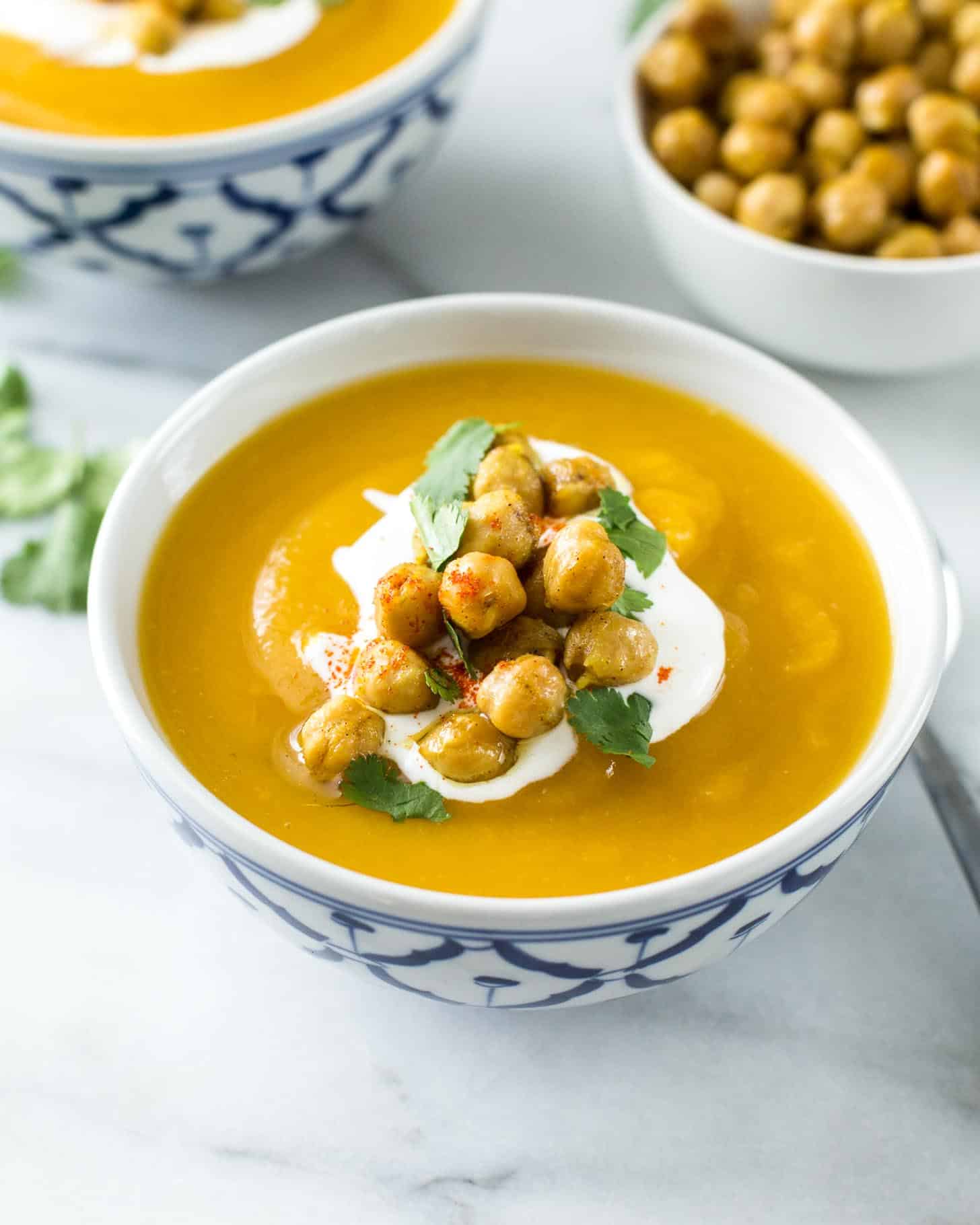 Other Easy Soup Recipes
Favorite Tools
Le Creuset Dutch Oven – The sturdy bottom of Dutch ovens like this one are great for caramelizing onions to build a layer of flavor in soup. (I also tested this soup in my All Clad Saucepan which is what you'll see in the photos above.)
Immersion Blender – We use this at least once a week to make soup. It saves a lot of dishes since the blending end just pops off and can go in the top shelf of the dishwasher. A standing mixer works great too!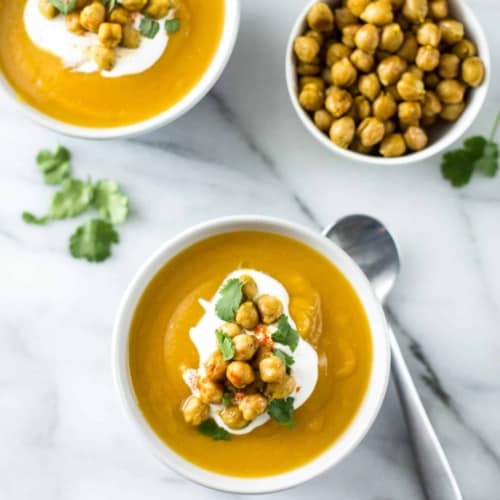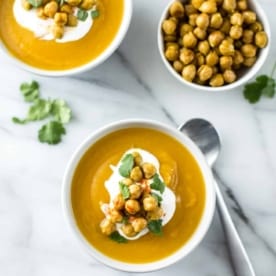 Sweet Potato Soup with Miso
This unique twist on sweet potato soup with miso is full exotic flavors and warming spices. A few specialty ingredients make this easy, comforting soup extra special.
Equipment
Dutch Oven or Large Saucepan
Ingredients
1

Tbsp

Cooking Oil (I use avocado or grapeseed oil)

1

small White Onion, finely chopped (about ¾ cup chopped onion)

2

cloves

Garlic, chopped

1

tsp

grated Ginger (opt)

1 ½

lbs

Sweet Potatoes, peeled and chopped

1

medium Apple (I used Honeycrisp), peeled and chopped

1 ½

cups

Light Coconut Milk (make sure to get unsweetened)

1 ½

cups

Vegetable Stock

1

Tbsp

White Miso Paste (see note)

1

tsp

Lemon Juice
For Topping:
1

Tbsp

Cooking Oil

1

can Chickpeas / Garbanzo Beans, drained and rinsed

2

tsp

Togarashi (see note)

Chopped Cilantro or Green onions (optional)

Plain Greek Yogurt (optional)
Instructions
Heat a Dutch Oven over medium heat. Add 1 Tbsp oil and then onions. Saute onions, stirring constantly, until they are soft and golden brown, ~5 minutes. (Don't rush this step; you want the onions to caramelize a bit which will add lots of flavor.)

Add garlic, ginger, and sweet potatoes and saute until garlic is fragrant, ~2 minutes.

Add sweet potatoes, apple, coconut milk, and stock. Bring to a simmer.

Cover the soup and simmer until the sweet potatoes are tender, 10 to 15 minutes.

Turn off the heat under the soup. Add miso and lemon juice to the soup. Use an immersion blender or standing blender to blend until smooth.

Taste the soup and add salt if needed. (Note: Miso paste is salty but how much can really vary. Tasting the soup will help you to know if it needs a pinch more salt for balance.)

If you want to top the soup with chickpeas, heat 1 Tbsp oil in a frying pan over medium heat. Add chickpeas and saute for 2 minutes to heat through. Add Togarashi and stir to coat the chickpeas in spice mix.

Serve soup with chickpeas, cilantro / green onions, and yogurt on top.
Notes
Miso paste is a fermented soy bean paste most often used in Japanese cooking. It gives the soup a rich, umami flavor. I can usually find miso paste in the refrigerated section of my regular grocery store near the yogurt or tofu.
Togarashi is a Japanese spice blend that adds a ton of flavor to the chickpeas used in the topping of this soup. If you can't find it, add a pinch of red pepper flakes and some white sesame seeds to the chickpeas as they cook.
Nutrition
Serving:
1
g
|
Calories:
405
kcal
|
Carbohydrates:
61
g
|
Protein:
10
g
|
Fat:
12
g
|
Saturated Fat:
5
g
|
Polyunsaturated Fat:
7
g
|
Sodium:
518
mg
|
Fiber:
15
g
|
Sugar:
9
g
Nutrition information is automatically calculated, so should only be used as an approximation.
There's something amazing about seeing my original babies holding our newest baby. Sister love forever.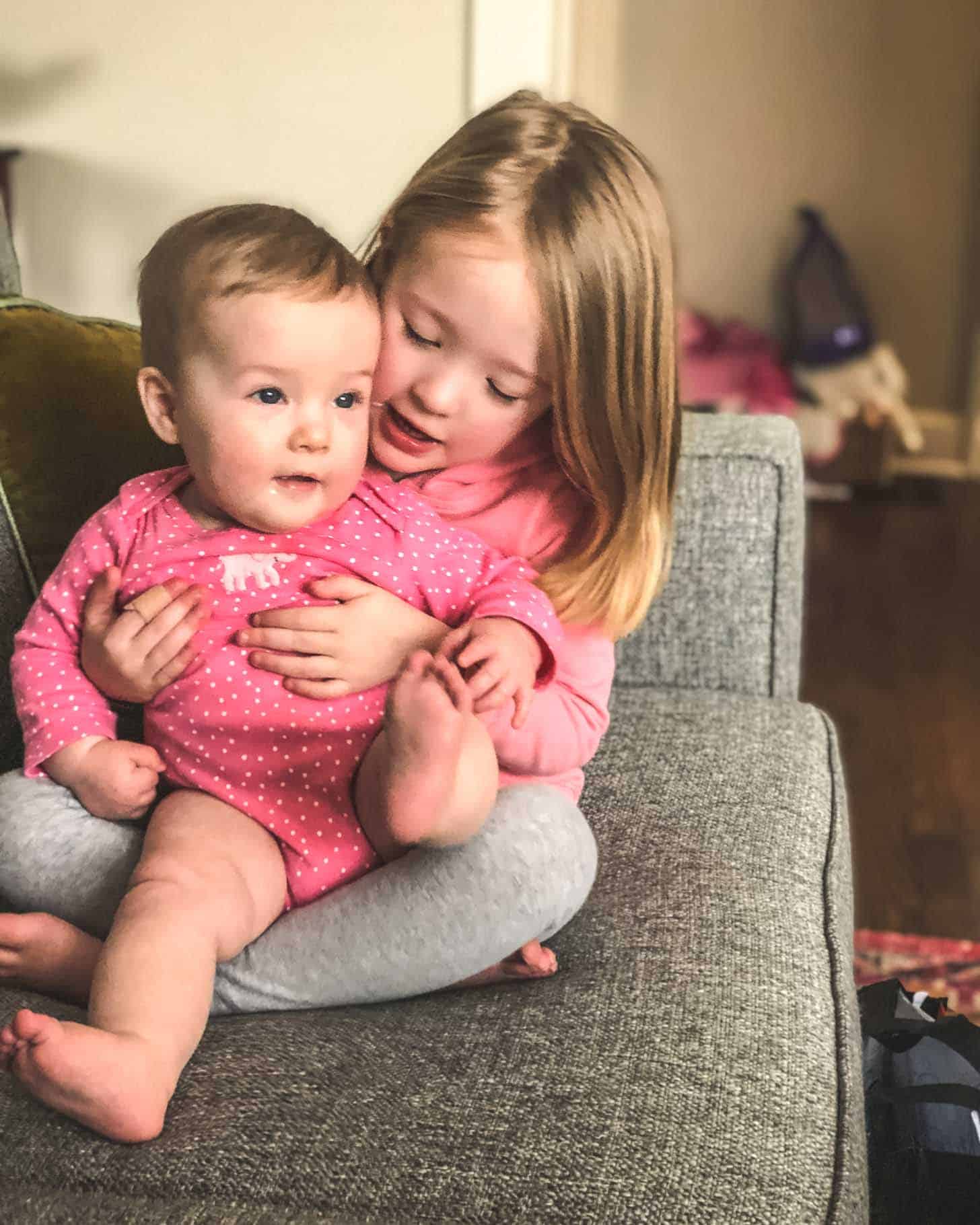 *This post contains affiliate links*