Mango, Pitaya, and Turmeric Smoothie
Published Jan 15, 2019•Updated Mar 22, 2022
Mango, Pitaya, and Turmeric Smoothies are made with mango, pitaya (dragon fruit), citrus, and turmeric. Naturally sweet, it's packed with Vitamin C!
This smoothie pretty much says it all about the beginning of 2019 in our house. We've been (luckily) pretty healthy, but a round of New Year colds set us back. We all got hit with it, even 5-month-old June. Baby's first cold. Few things are as adorably heartbreaking as a baby with a cold. She laughs when she sneezes but looks utterly confused over her stuffy nose.
I've been doing battle with the colds by doling out as much Vitamin C as I can manage. Enter this healthy smoothie. It's packed with good stuff, is a beautiful pink color (or can be layered as I did for the photos – #foodstylingproblems), and is naturally sweet and a bit tart. I make a big batch and keep it in a pitcher in the fridge, so we can all pour a glass first thing in the morning.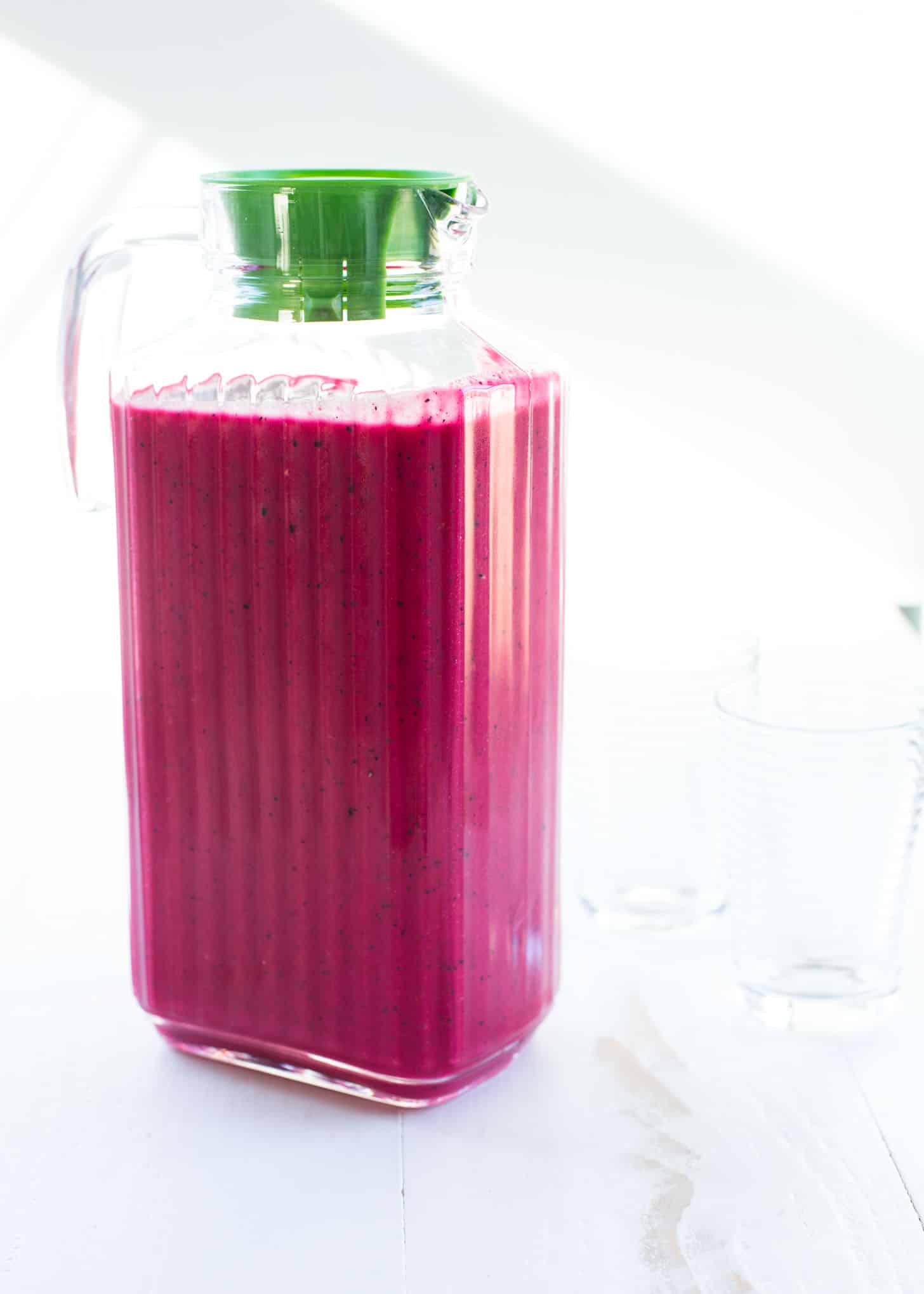 Where to Find Pitaya / Dragon Fruit
Pitaya (also called dragon fruit) is a tropical fruit that grows in warm climates. Even if it doesn't grow where you live, you can often find it in the produce section at international / Asian markets or some grocery stores. The thick outer peel is pink with green leaves. The edible fruit in the center is white or bright pink with small black seeds.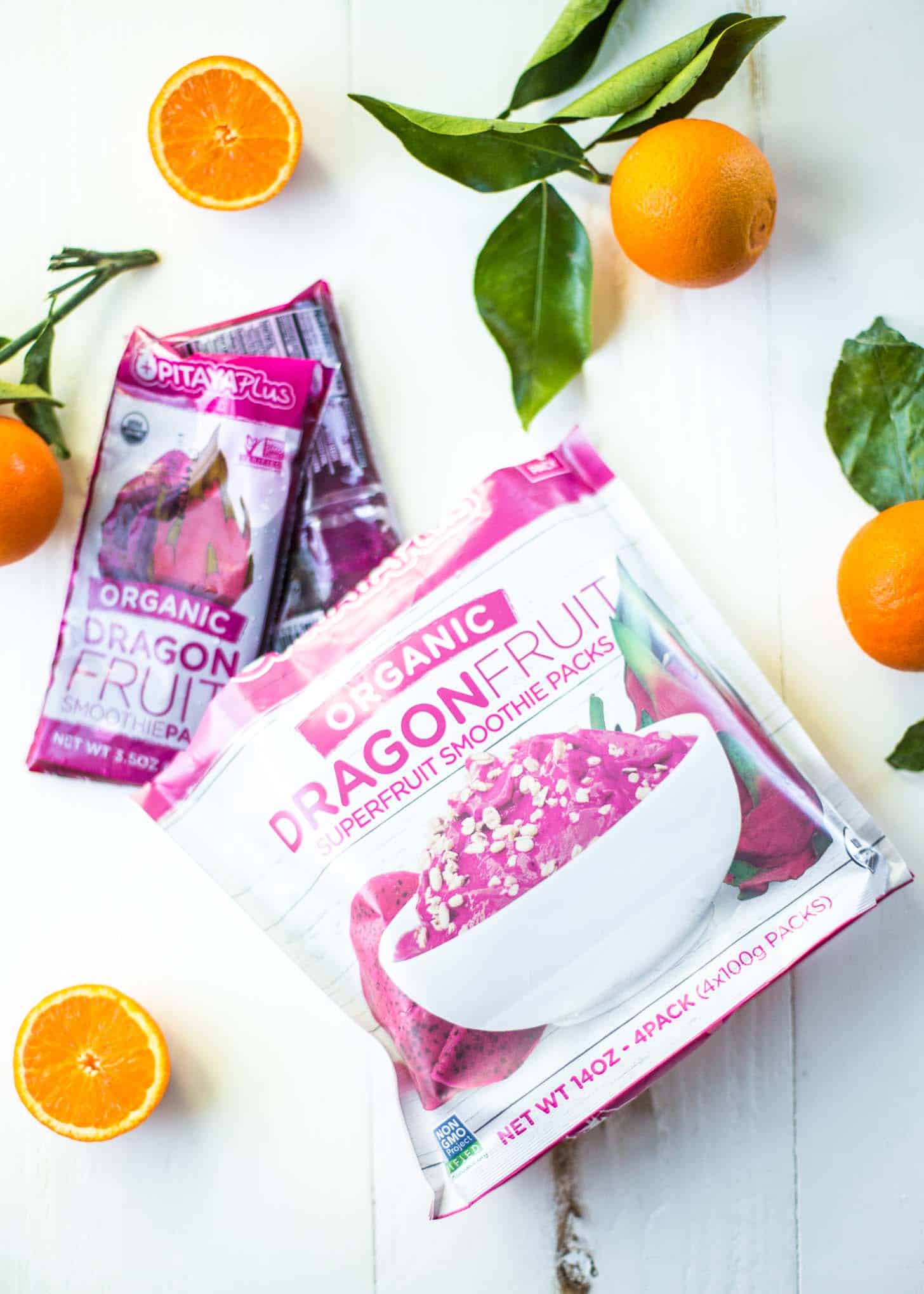 The fruit itself looks totally wild – a bit dragon-like! When Frank and I lived in Thailand, we ate these often. We would slice them open and eat the soft fruit with a spoon. I have been seeing pitaya bowls and smoothies popping up all over the internet but I wondered where everyone was finding the fruit.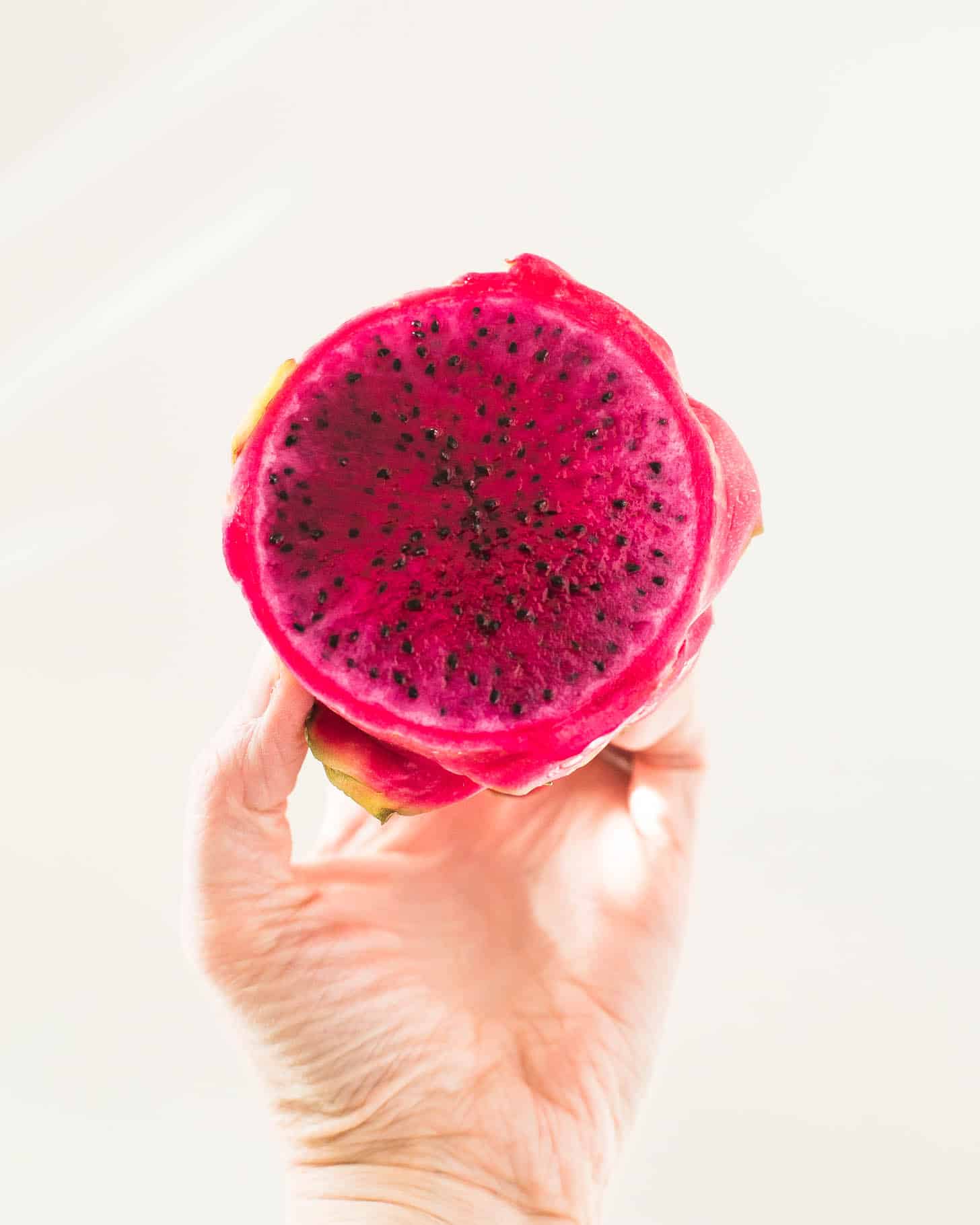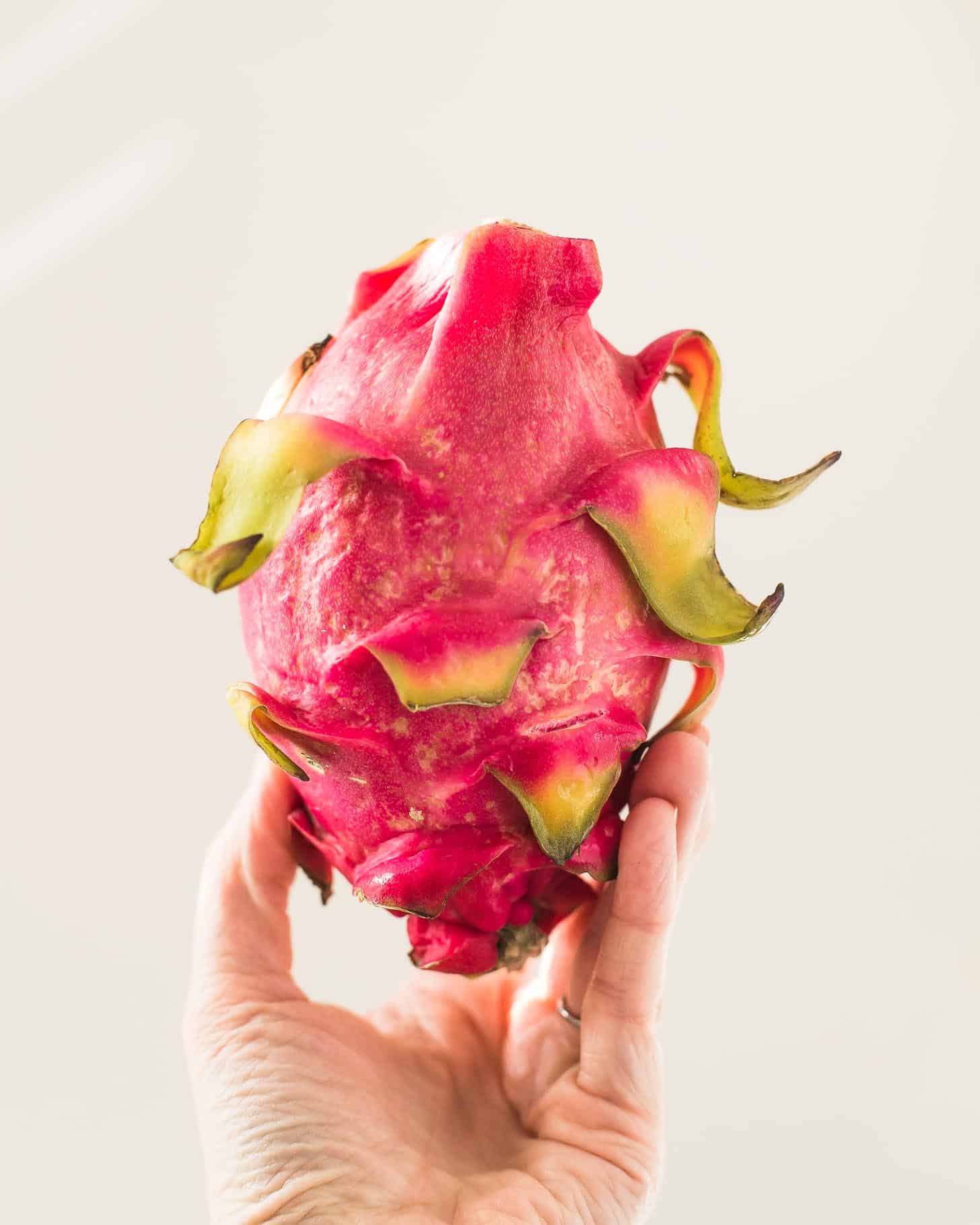 They aren't available at most grocery stores here in Kansas City. A Whole Foods trip recently clued me in. You can buy pitaya in frozen smoothie-ready packs there and at many other grocery stores. This bag had four small pouches inside of bright pink pitaya. Each pouch is good for an individual smoothie, but I used all four for a pitcher of smoothie that will serve our whole family for a couple of days.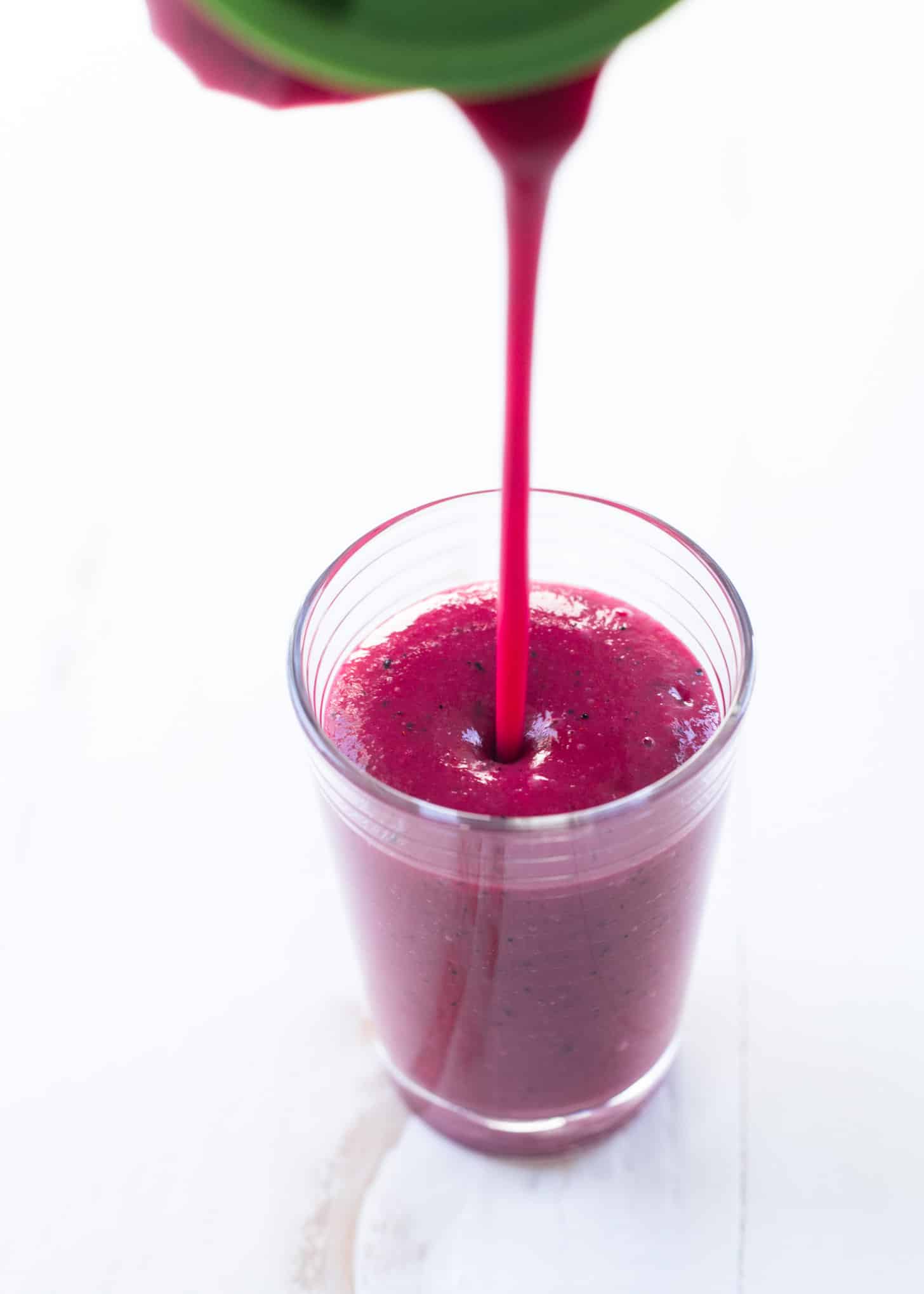 Mango, Pitaya, and Turmeric Smoothies Ingredients
Mango – Frozen mango cubes make a great smoothie base – it's naturally sweet and contains a good amount of Vitamin C. I buy a big bag of frozen cubes at Costco and defrost them a little at a time or blend half the bag at once for a pitcher of smoothies to last us all week.
Pitaya / Dragon fruit – If you can easily find this fruit fresh, you can use that. Otherwise, frozen pouches (as described above) are perfect for smoothies.
Citrus juice – For extra Vitamin C and to create a creamy, pourable smoothie, you'll need a bit of liquid in the smoothie. Use fresh-squeezed or bottled citrus juice. I used fresh-squeezed cara cara oranges. Bottled orange juice will work well. Or if you'd like your smoothie more tart, use a 50/50 blend of lemon juice and water.
Turmeric – This is optional, but turmeric has recently been getting lots of praise for its natural ability to fight inflammation. It adds nice orange color and can be used in fresh or dried / powder form. We only add it here in small amounts because it can leave a bit of a bitter flavor.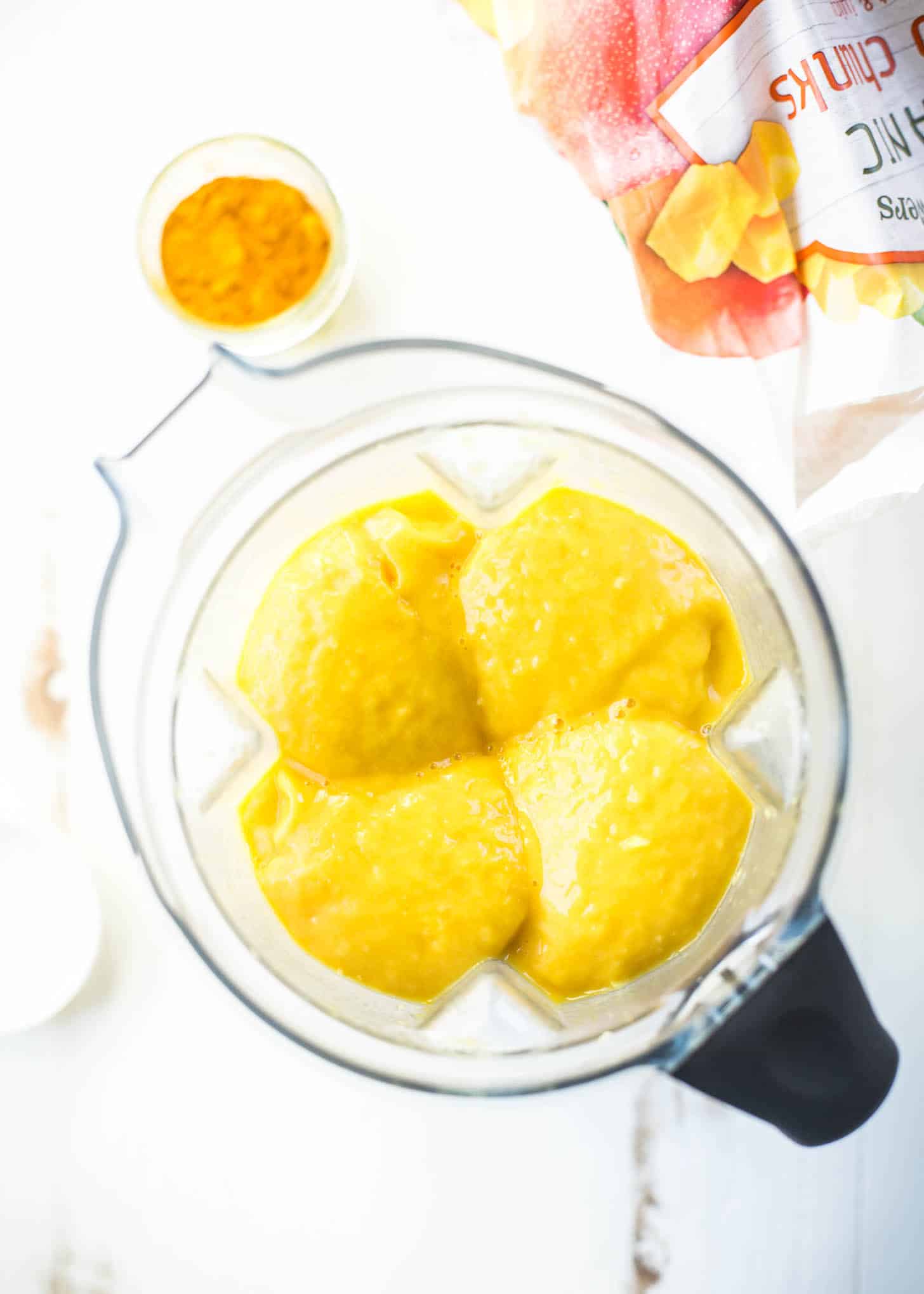 Turmeric – Fresh or Dried?
In most recipes that call for turmeric, fresh and dried turmeric are interchangeable. Both have inflammation-fighting properties and can be used in similar proportions. Both can have a slightly bitter flavor, so start with a small amount and increase as you go. Remove the peel from fresh turmeric before cooking with it.
In these smoothies, I preferred to use dried turmeric because it distributed itself evenly into the smoothie mix. Fresh turmeric left small pieces behind that required extra blending.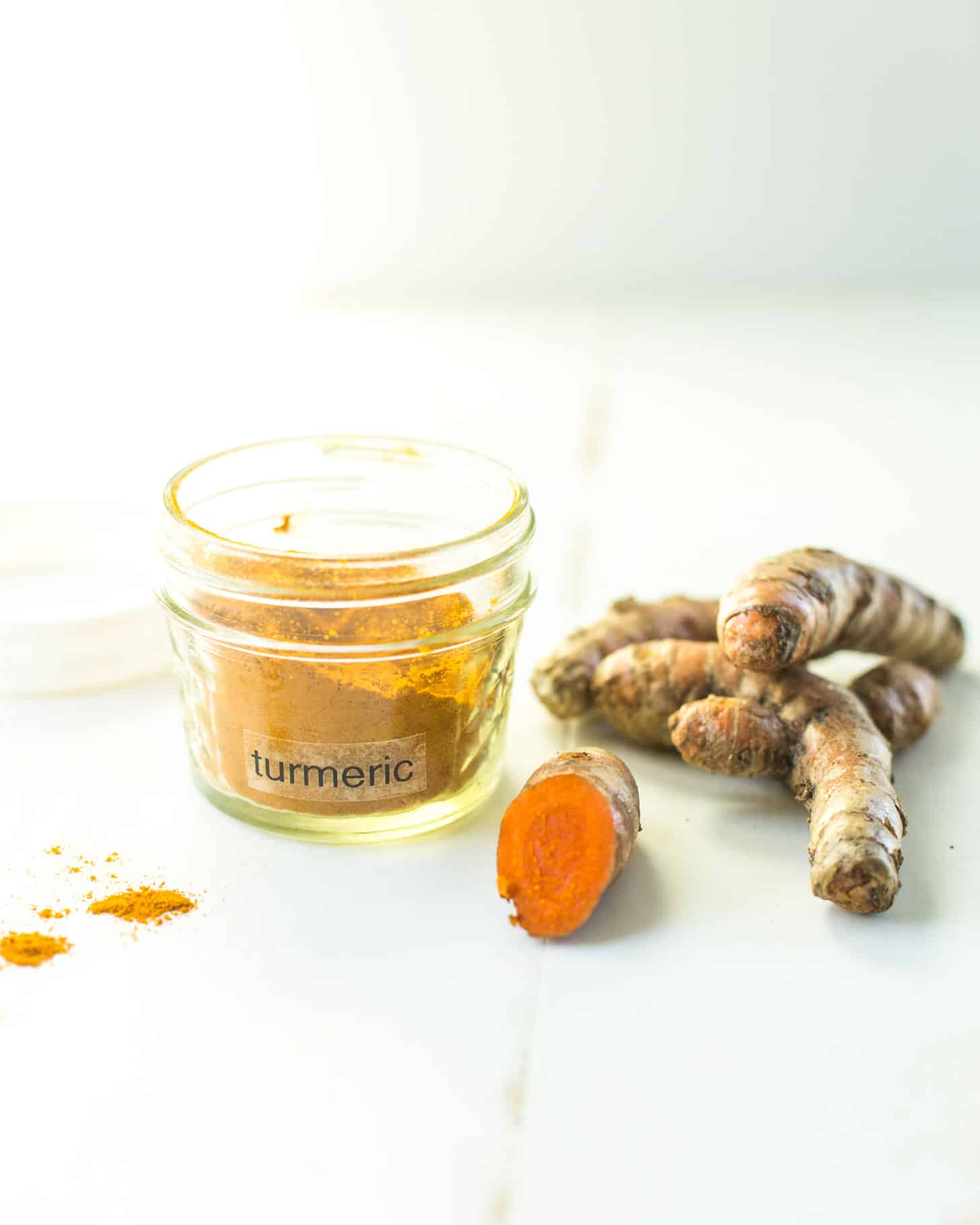 How to Make A Layered Smoothie
There's no reason to make this smoothie in layers as photographed, except that it looks pretty! To make the layers, I first blended the mango, turmeric, half the citrus juice, and half the ice together. I set that aside and returned the blender to the base. I then added the pitaya, remaining half of the citrus juice, and remaining half the ice. I poured each portion into a small pitcher or glass measuring cup with a spout. I alternated pouring them into glasses. (Didn't worry about being precise – just did it by eye!)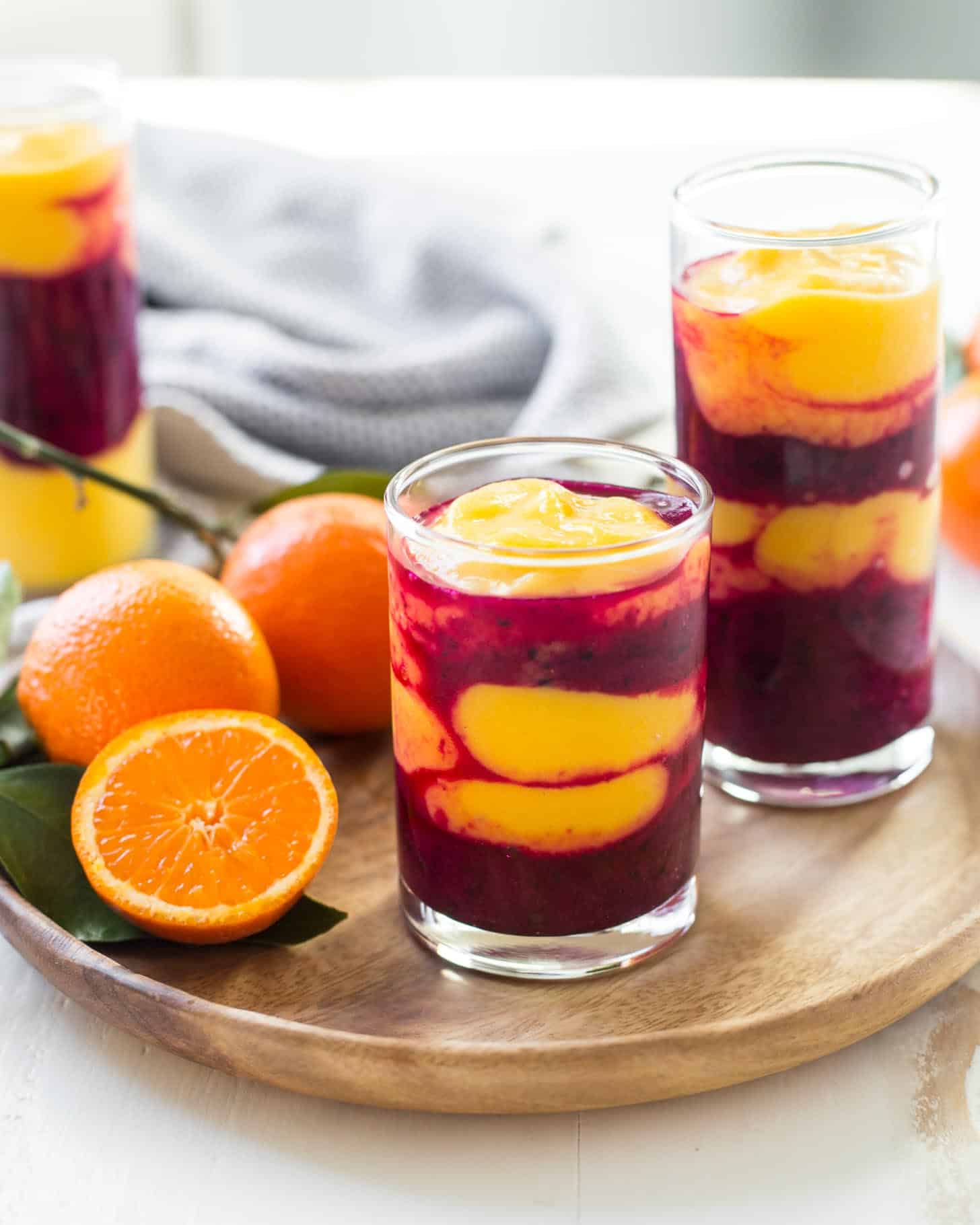 More Smoothie Recipes
Favorite Tools for Smoothies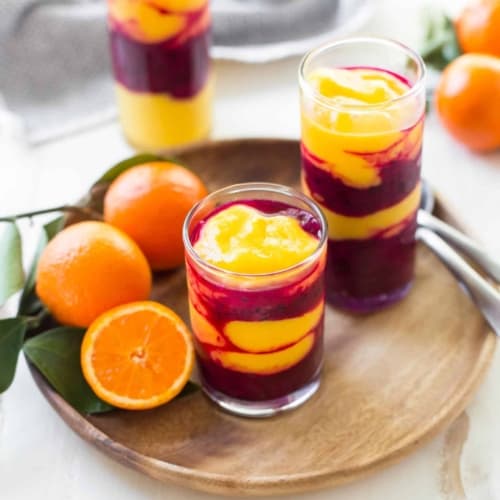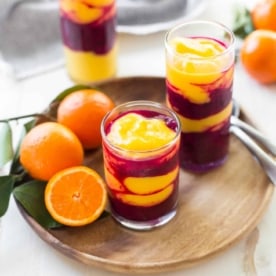 Mango Pitaya and Turmeric Smoothies
This bright smoothie is made with mango, pitaya (dragon fruit), citrus, and turmeric. Naturally sweet, it's packed with Vitamin C and all the inflammation-fighting goodness of turmeric. It's a great smoothie for cold season.
Equipment
High Powered Blender or Food Processor
Ingredients
4

oz

Frozen Mango Cubes

1

3.5 oz

Package Frozen Pitaya Puree

½

cup

Ice cubes

½

cup

Citrus juice

(see note)

¼

tsp

Turmeric, dried or fresh grated
Instructions
Combine mango cubes, pitaya puree, ice, citrus juice, and turmeric in a blender. Blend until smooth. Add some more juice or water if needed to thin the smoothie to a pourable consistency.
Notes
For the citrus juice, any fresh-squeezed or bottled orange juice work well (I used Cara Cara oranges). Or if you'd like your smoothie more tart, use a 50/50 blend of lemon juice and water.
Nutrition
Serving:
8
g
|
Calories:
218
kcal
|
Carbohydrates:
51
g
|
Protein:
3
g
|
Fat:
1
g
|
Sodium:
6
mg
|
Fiber:
6
g
|
Sugar:
42
g
Nutrition information is automatically calculated, so should only be used as an approximation.
We had so much snow here over the weekend! These ladies are becoming serious snow aficionados.