Lentil Salad with Balsamic Vinaigrette
Published Jul 25, 2022•Updated Aug 27, 2022
With an irresistible tangy balsamic vinaigrette, healthy lentil salad with balsamic vinaigrette is a great anytime side dish. Packed with protein, it's great to prep ahead, serve for lunches, or add to dinner for a gluten-free, vegan side dish that everyone will love.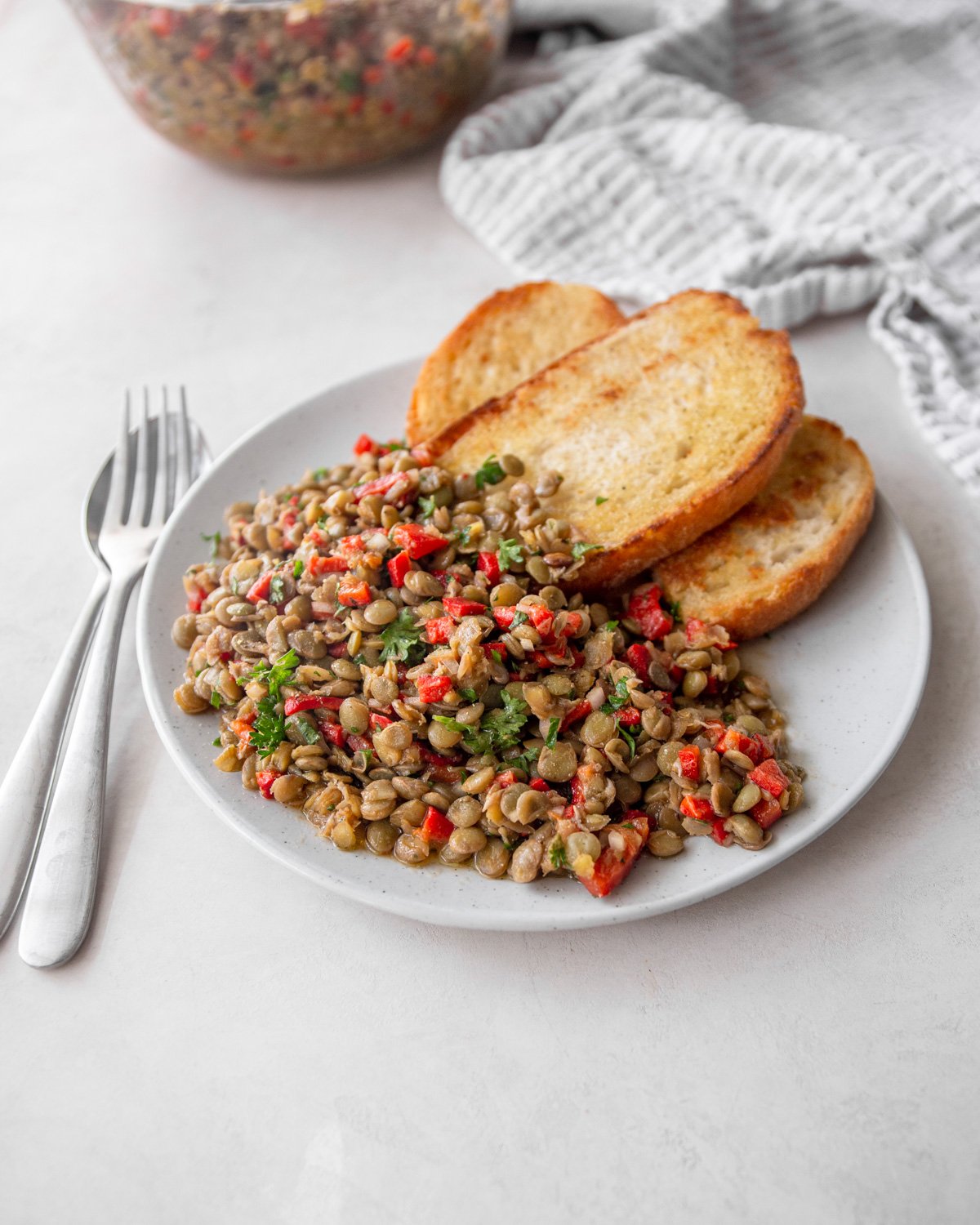 When I find a side dish that works as well as this one does, I put it on serious repeat. A bowl of these marinated lentils has been tucked in our fridge on and off for much of the past few months. It's been my go-to to take to potlucks and family meals because it can be served hot or cold. Unlike the creamy counterparts that often share the table (potato and coleslaw, etc), this one doesn't lose its appeal as it sits. Everything stays flavorful, fresh, and gets more delicious the longer it's left to marinate.
We love this lentil salad recipe with roasted chicken or as a meal on its own topped with a fried egg and served with crusty bread. It is dressed in a balsamic vinaigrette that is tangy, bright, and slightly sweet.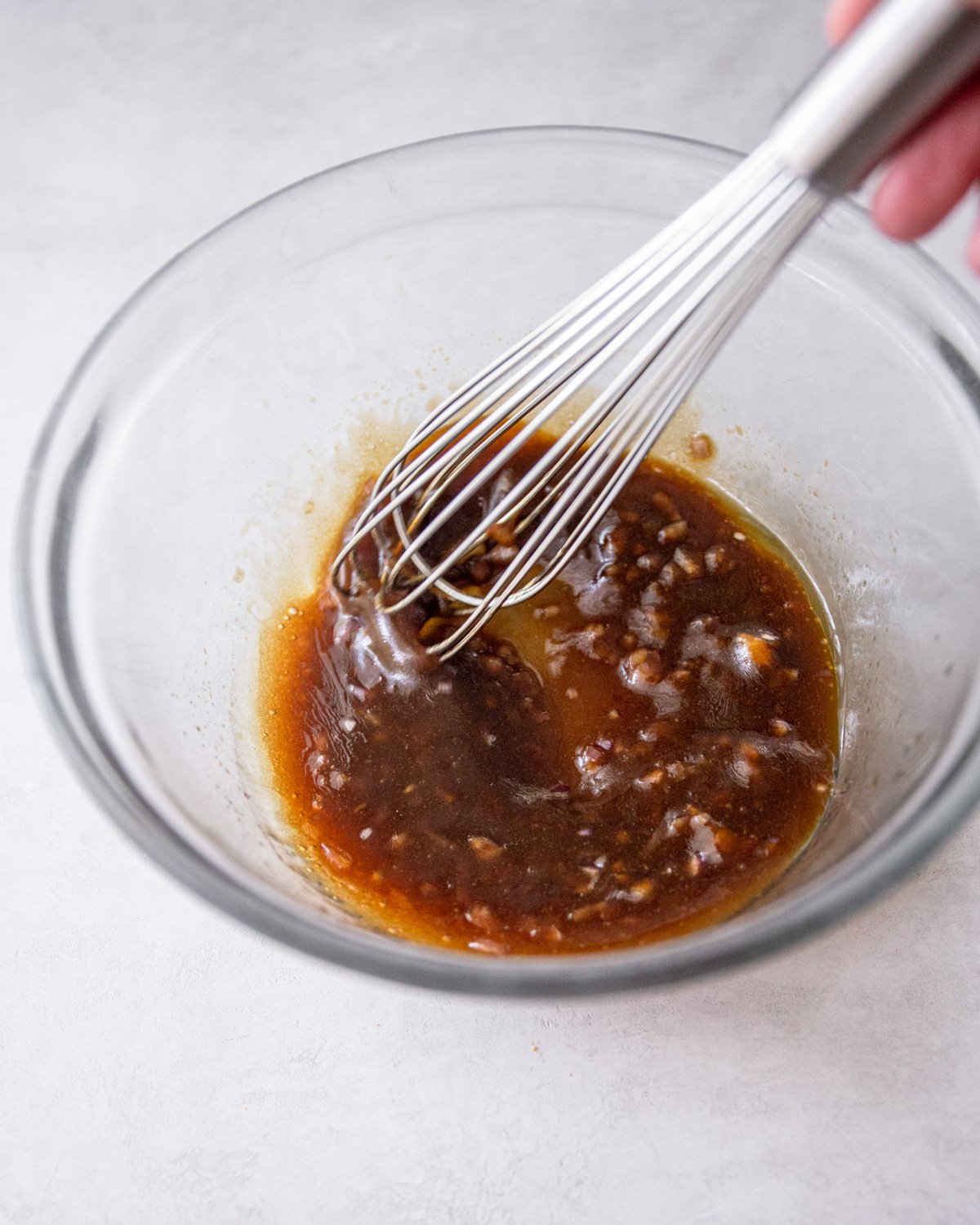 And by the way, if you're looking for other side dishes that can serve anyone around your table (gluten-free, dairy-free, and vegan-adaptable), check out Zucchini with Garlic and Basil, Marinated Chickpeas, Roasted Cauliflower with Warm Shallot Vinaigrette, Balsamic Tomatoes, or Roasted Greek Potatoes.
How to Make Lentil Salad
Rinse lentils. Always rinse them to remove any debris.
Simmer in salted water until tender, 20 to 30 minutes. (See below for recommended cook times.)
Drain lentils.
Combine lentils with vinaigrette.
Stir in vegetables and fresh herbs.
Serve lentil salad cool or at room temperature.
Types of Lentils (and how long to cook them)
Green and Brown Lentils – These are the easy-to-find lentils sold at most grocery stores. They break apart slightly as the cook but are a good go-to lentil that works in most recipes. Cook them for 20 to 30 minutes. (Green lentils are used in the photos in this post.)
French Lentils (Lentilles du Puy) – These are the most famous variety of lentil (if there is such a thing). French lentils hold their shape even after their long simmer time and have a mild earthy flavor. These take 40 to 50 minutes to cook.
Red Lentils – These are most commonly used in soups (I love them in this Moroccan soup) and Indian curry like daal because red lentils break down as they cook and do not hold their shape well. These cook in 15 to 20 minutes.
Black Lentils (Beluga Lentils) – These have a similar texture and flavor to green and brown lentils but are smaller than those more common varieties. They also break apart slightly as they cook. Cook these for 30 to 40 minutes.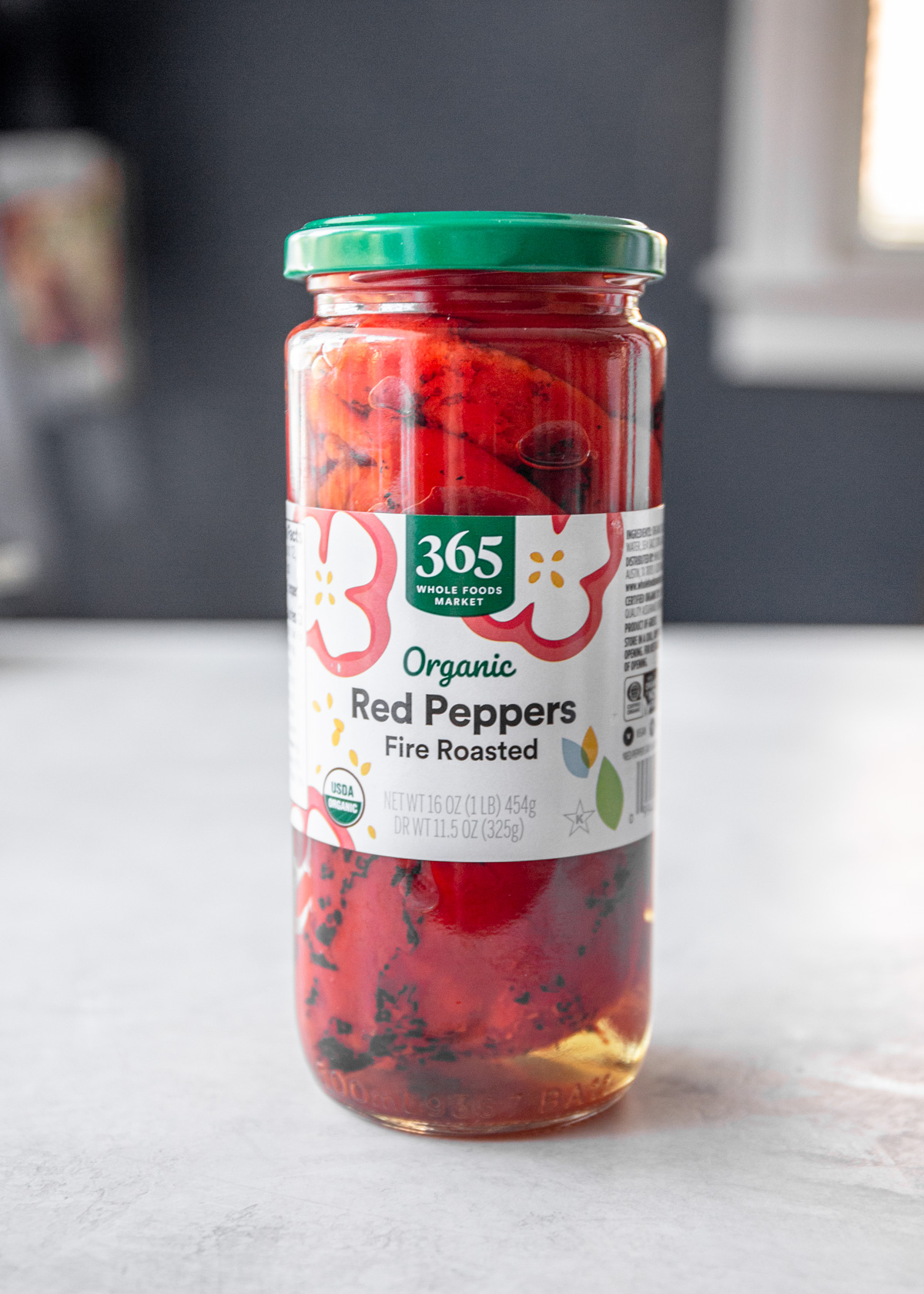 What to Serve with Lentil Salad
Homemade Bread (this one is so easy)
Roasted Chicken
Fried Eggs
Grilled Meats
Green Salad
Hummus and Vegetables
Salmon
Frittata
Rice
Cheese and Crackers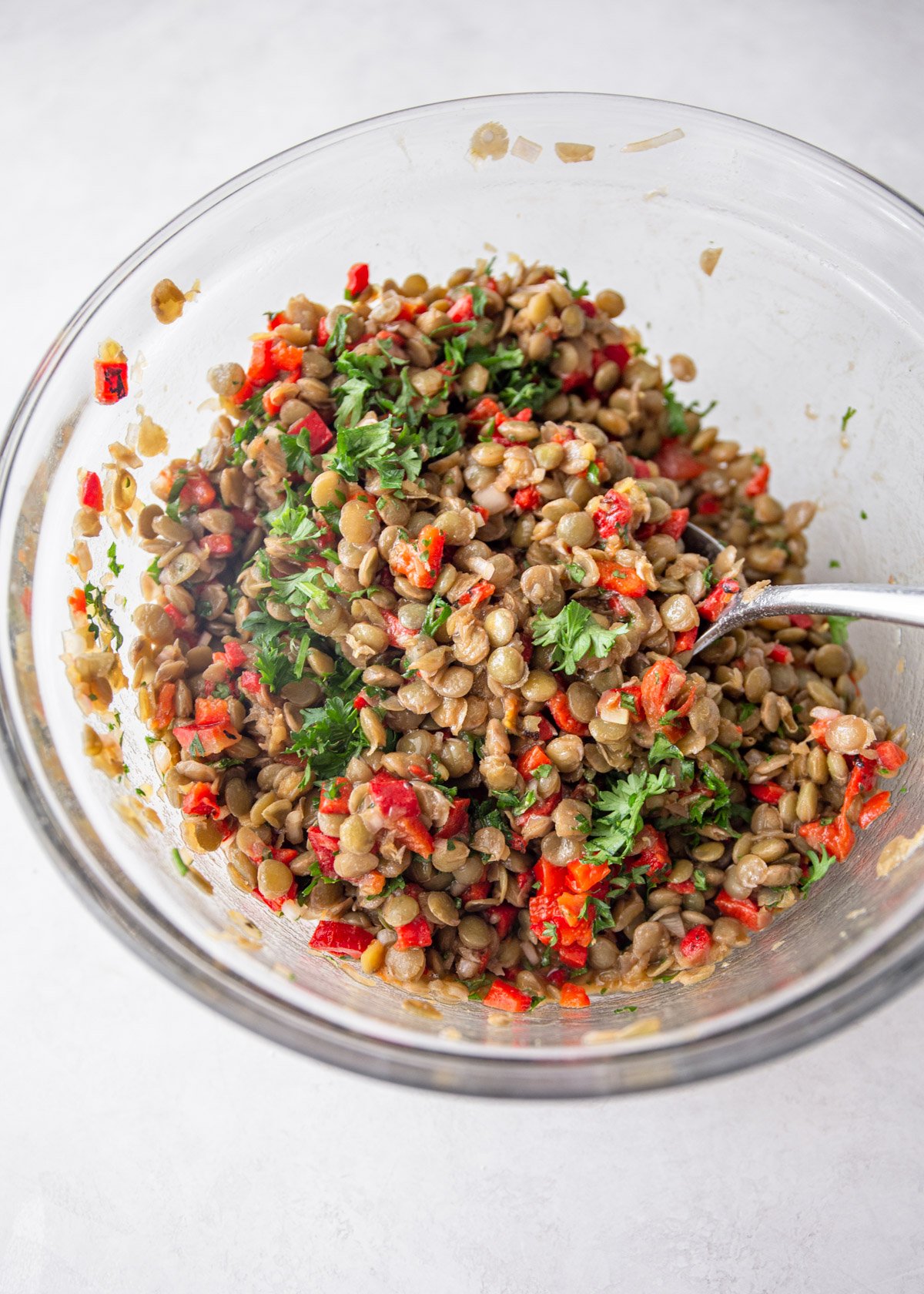 Variations
Add cheese – Try this salad with crumbled feta cheese, goat cheese, or cubed sharp white cheddar.
Add greens – To turn this into a green salad, add baby spinach, baby arugula, or any other chopped salad greens just before serving.
Add vegetables – The sky is the limit when adding vegetables to this salad. It is great with chopped cucumbers, tomatoes, chopped red onion, shredded carrots, or blanched green beans.
Can you freeze lentils?
Yes. Lentils freeze well. After cooking them until tender, drain them well and let them cool completely. Store in freezer-safe containers and use within 6 months.
Lentil Salad – Hot or Cold?
Either works! Most lentil salads do cool down slightly when the cooked lentils are mixed with vinaigrette or dressing, so they typically won't be piping hot, but can be served warm. They're also excellent cold or at room temperature. If you want a bit of both, serve the salad warm right away but serve any leftovers at room temperature.
Favorite Tools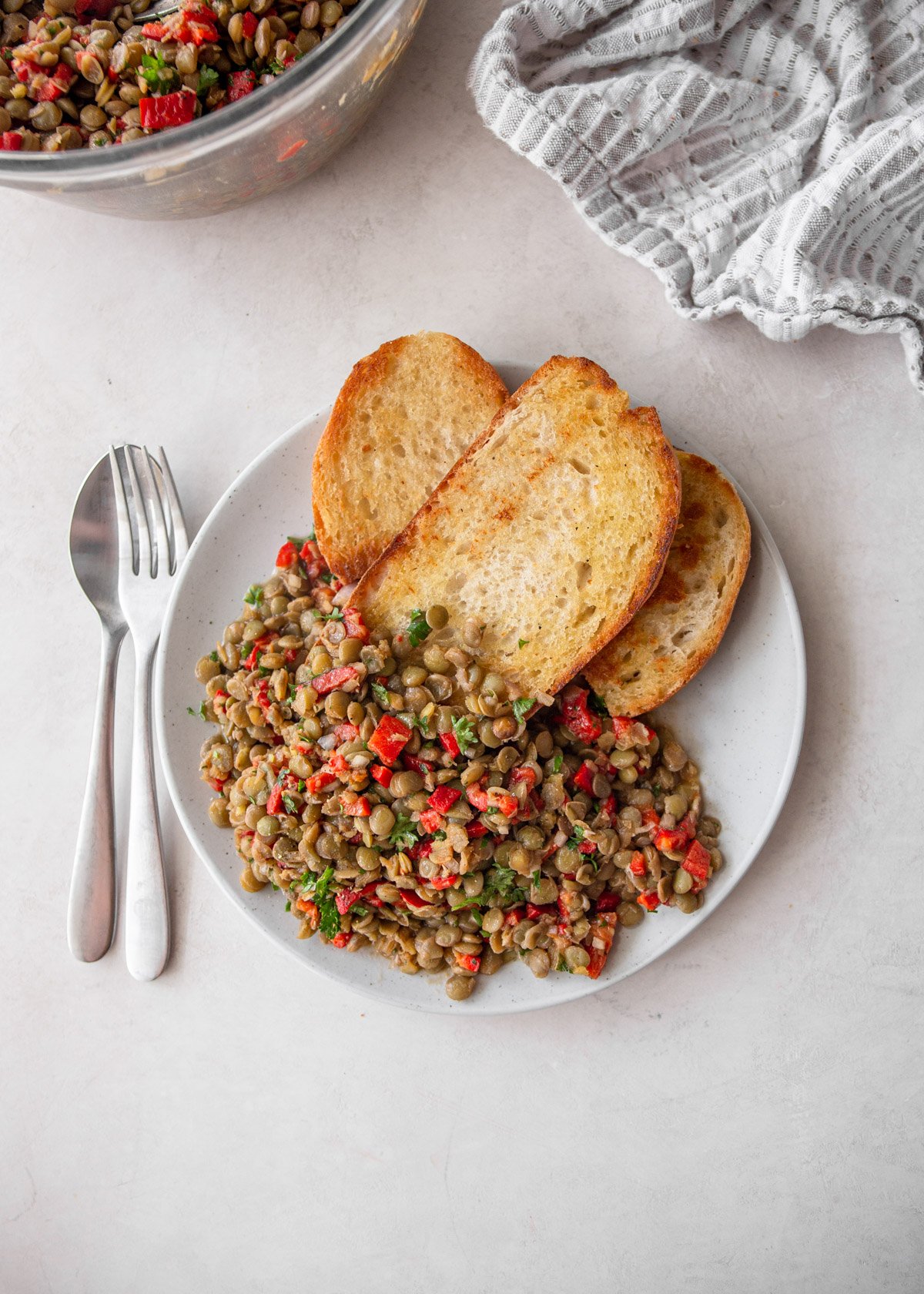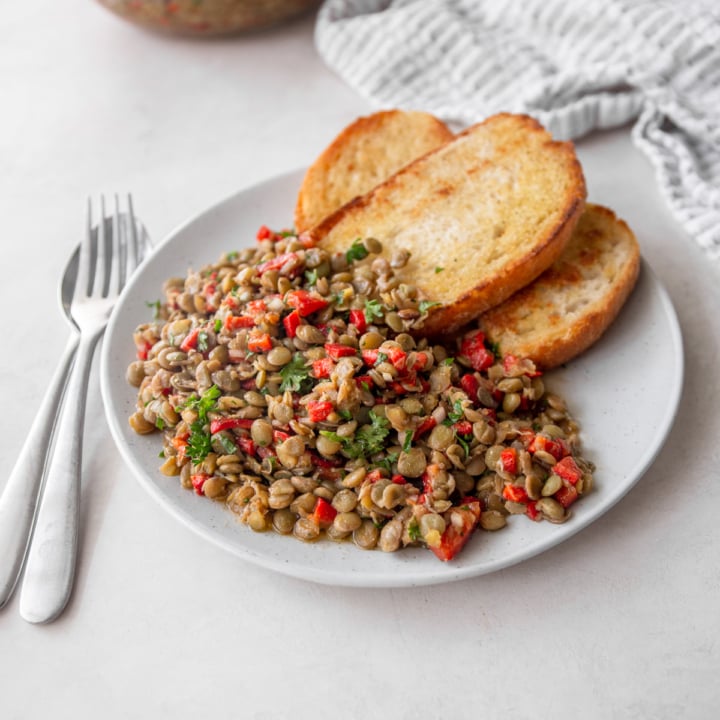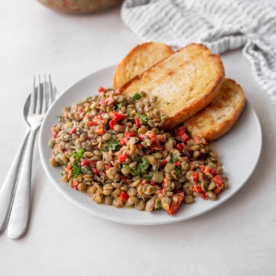 Lentil Salad with Balsamic Vinaigrette Recipe
With an irresistible tangy balsamic vinaigrette, healthy lentil salad is a great anytime side dish. Packed with protein, it's great to prep ahead, serve for lunches, or add to dinner for a gluten-free, vegan side dish that everyone will love.
To adjust the servings in this recipe, click on the number next to servings.
Ingredients
1

cup

Green Lentils

(see note)

1

teaspoon

Kosher Salt

3

Tablespoons

Olive Oil

3

Tablespoons

Balsamic Vinegar

2

Tablespoons

Shallots, minced

1

teaspoon

Dijon Mustard

1

cup

finely chopped Roasted Red Peppers, from a jar

(optional)

1/2

cup

finely chopped Fresh Herbs

(basil, parsley, or cilantro)
Instructions
Rinse lentils well. Combine the lentils and salt in a saucepan. Add water to cover lentils by a few inches. Bring to a boil and then reduce to a simmer (just a few bubbles rising off the bottom of the pan). Simmer gently until lentils are tender, 20 to 30 minutes, occasionally stirring, skimming foam off the top, and adding more water if needed.

While lentils simmer, in a large mixing bowl, whisk together olive oil, balsamic vinegar, shallots, and mustard.

When lentils are tender, drain.

Pour warm lentils over dressing and stir gently to combine. Stir in roasted red peppers.

Taste lentils and add some more salt and pepper, if needed.

Serve lentils warm or refrigerate for up to five days.

Just before serving, stir in herbs.
Notes
Lentils
– Any type of lentils will work. Just be sure to check the recommended cooking time on the variety you choose.
Make Ahead
– Lentil salad is good right after it is made, but the lentils will continue to soak up flavor as they sit, so they're even better a day or two after cooking.
Nutrition
Calories:
189
kcal
|
Carbohydrates:
22
g
|
Protein:
9
g
|
Fat:
7
g
|
Saturated Fat:
1
g
|
Polyunsaturated Fat:
1
g
|
Monounsaturated Fat:
5
g
|
Sodium:
721
mg
|
Potassium:
367
mg
|
Fiber:
10
g
|
Sugar:
2
g
|
Vitamin A:
240
IU
|
Vitamin C:
13
mg
|
Calcium:
35
mg
|
Iron:
3
mg
Nutrition information is automatically calculated, so should only be used as an approximation.