Few recipes are as simple and rewarding as homemade balsamic vinaigrette. Tart, sweet, and incredibly versatile, this easy homemade dressing is great drizzled over salad, tossed with roasted vegetables, or used as a marinade.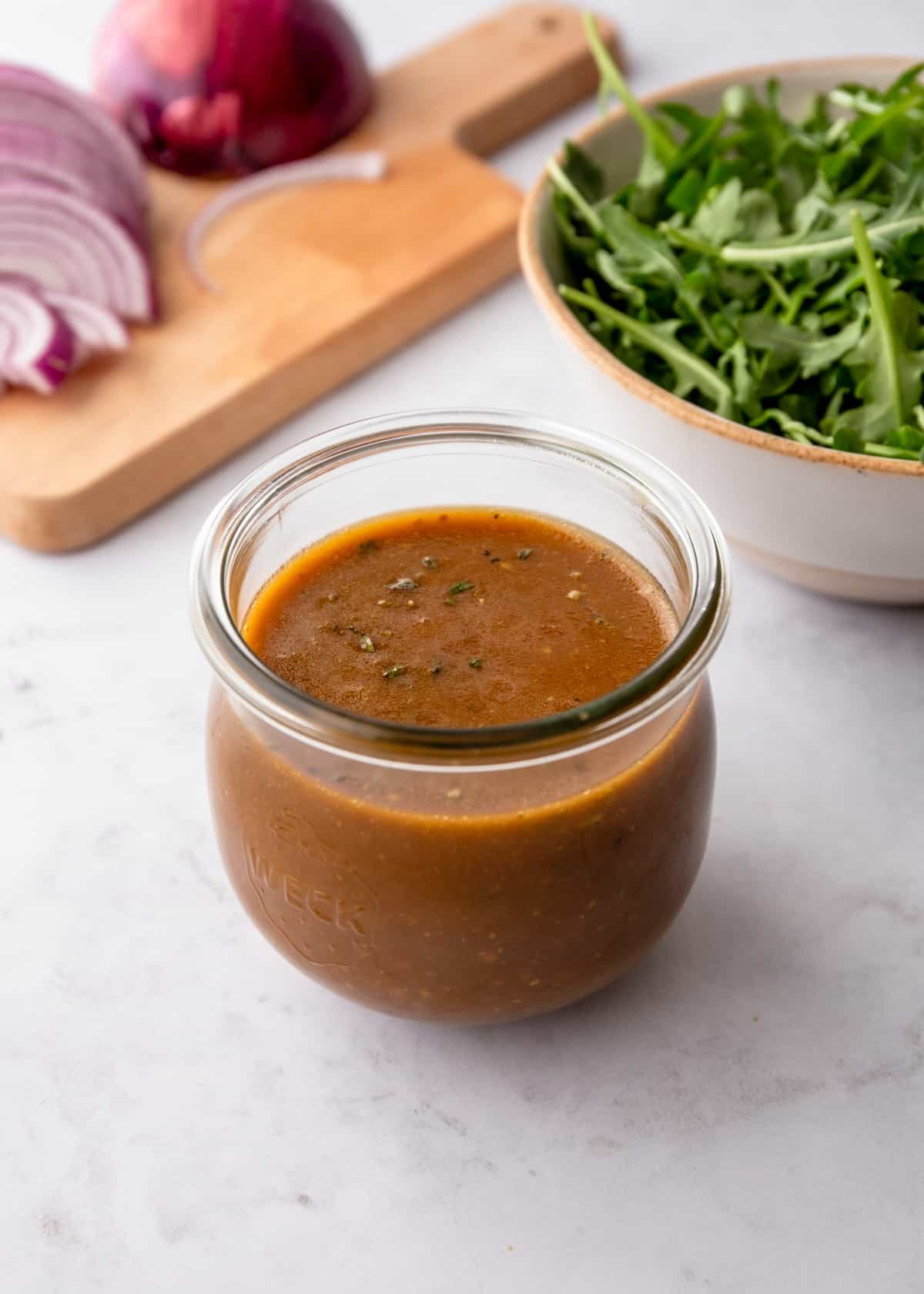 I have been making homemade vinaigrette for so long that I can barely remember a time when I bought store-bought dressing. Even if I grab a salad from the grocery store salad bar, whipping up a quick homemade vinaigrette makes me feel like a dinner rockstar. And a classic balsamic vinaigrette is tops. Here's everything you need to know to make the best vinaigrette you've ever had!
Ingredients
Garlic - Aromatics add rich flavor to vinaigrettes / dressing. Instead of garlic, a small amount of grated or minced shallots or onions work well.
Balsamic Vinegar - There's no need to use a very expensive balsamic vinegar in your vinaigrettes. Although you might get more rich flavor from some of the pricier (more aged) varieties, any type that you can buy from your grocery store will probably make a decent dressing.
Dijon Mustard - The tart flavor of mustard goes so well here, but mustard also helps to give the vinaigrette body and thickness that makes it pour well.
Honey - A little sweetness balances the tart flavors from the mustard and vinegar. Feel free to use any sweetener (maple syrup, sugar, or agave) or skip it for a more tart dressing.
Olive Oil - Olive oil is the classic oil to use in balsamic vinaigrette, but a neutral oil will also make a great dressing (like avocado, vegetable, grapeseed, or canola).
Salt and Pepper - Be sure to season the vinaigrette with salt and pepper so that all the flavors really pop.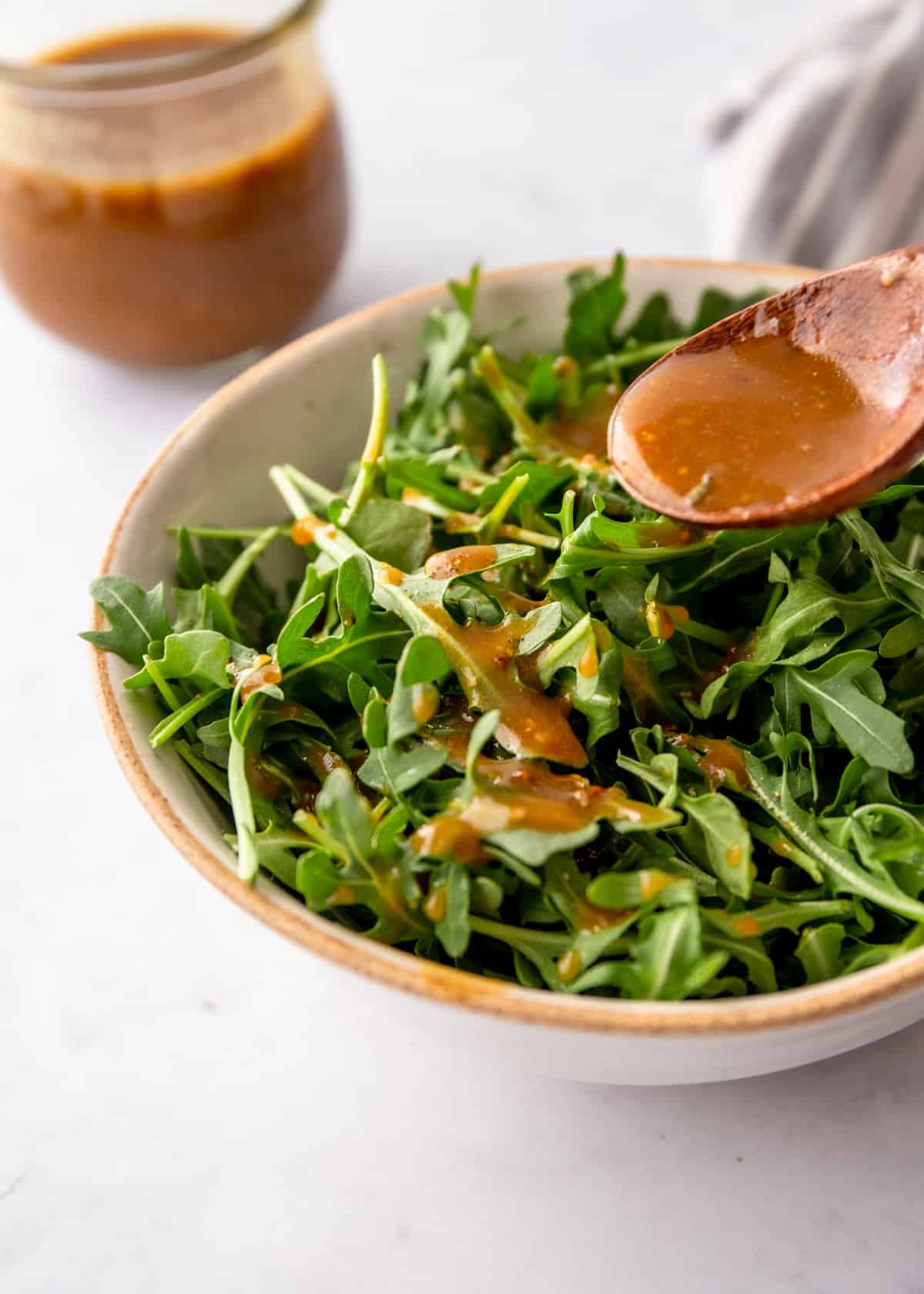 How to Make Balsamic Vinaigrette
Whisk together garlic, vinegar, mustard, honey, and dried herbs (if using).
Slowly add in olive oil while whisking.
Season with some salt and pepper.
Use immediately or refrigerate for 2 to 3 weeks.
Three Ways to Mix Vinaigrette
In a bowl with a whisk: Combine all ingredients except for oil in a bowl. Whisk until evenly combined. Slowly pour the oil over the other ingredients while whisking. Continue whisking until evenly combined.
In a mason jar: Combine all of the ingredients in a mason jar with a lid. Shake vigorously until everything is evenly combined.
In a blender or with an immersion blender: Combine all of the ingredients in a blender or in a narrow jar (that will fit the immersion blender). Blend until smooth.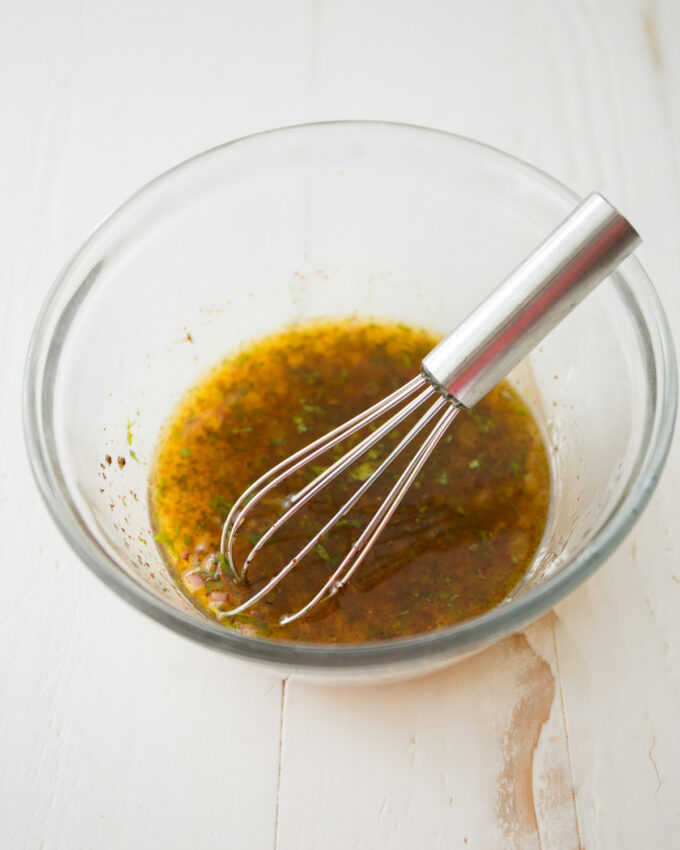 How to Store Balsamic Vinaigrette
Balsamic vinaigrette should be stored in a well-sealed jar or container. It can be stored at room temperature for a day or in the refrigerator for 2 to 3 weeks.
Variations
Add herbs (dry or fresh work)
Make it spicy with hot sauce or red pepper flakes
Add spices
Increase or decrease sweetener
Add mayonnaise for a creamy balsamic dressing
More Ways to Use Balsamic Vinaigrette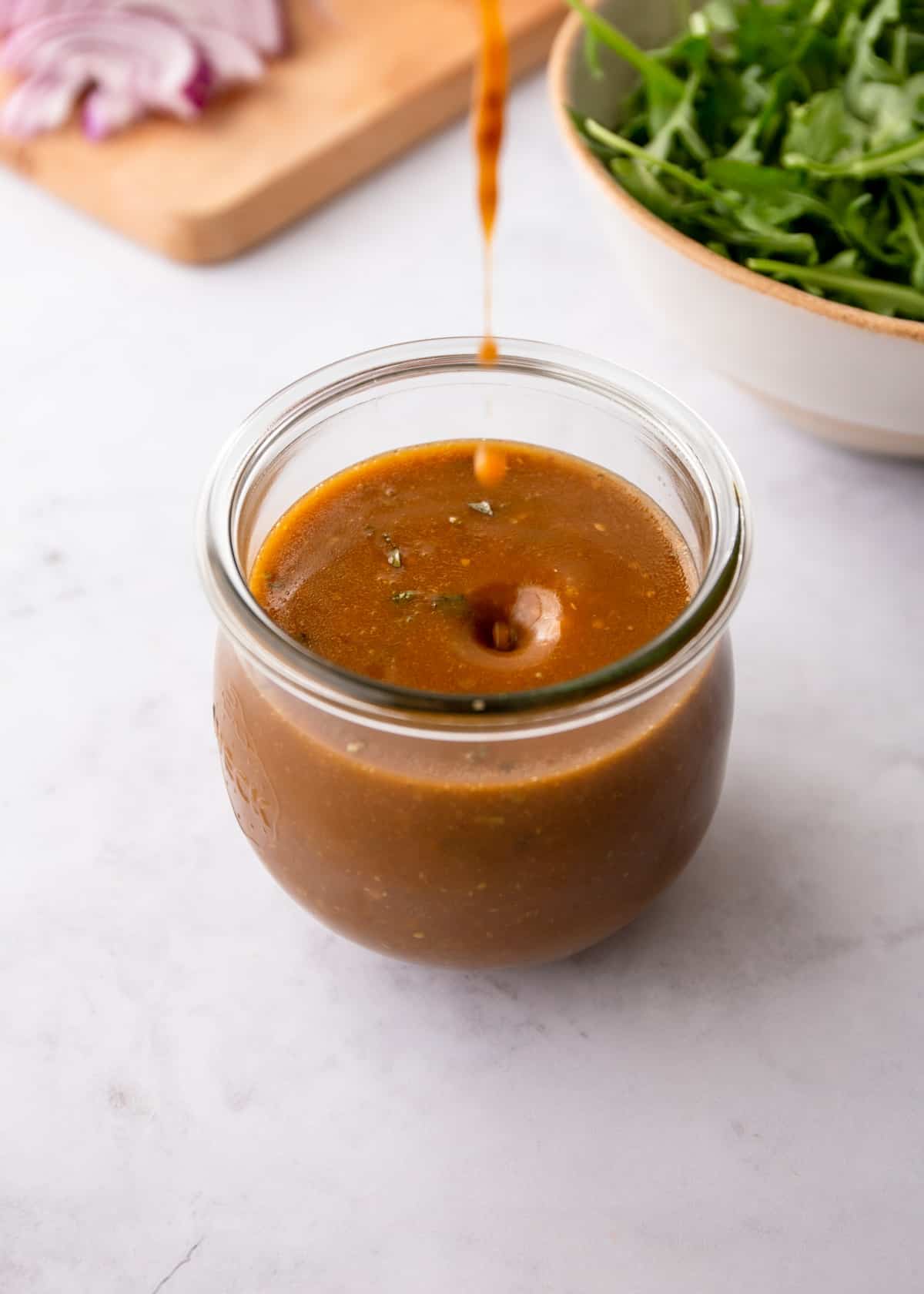 FAQs
What is the difference between balsamic vinegar and balsamic vinaigrette?
Traditional balsamic vinegar is made from one ingredient - grape juice (or "must") that is boiled until it reduces. The vinegar is then bottled and aged to allow it to ferment and gain a flavor that is both sweet and tart. Balsamic vinaigrette is a dressing that is made when balsamic vinegar is combined with oil and other vinaigrette ingredients (often mustard and honey).
How long does homemade balsamic vinaigrette last?
In most cases balsamic vinaigrette will last 2 to 3 weeks in the refrigerator. If you make a variation that includes highly perishable ingredients like fresh herbs, it should be used within a week.
Can I make balsamic vinaigrette without honey?
Yes. You can make balsamic vinaigrette without any added sweetener or you can use maple syrup, sugar, or agave to sweeten it.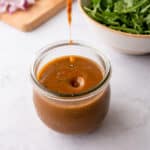 Print Recipe
Balsamic Vinaigrette Recipe
Tart, sweet, and incredibly versatile, Balsamic Vinaigrette is an easy homemade dressing perfect for any salad.
To adjust the servings in this recipe, click on the number next to servings.
Ingredients
1

clove

Garlic, grated or minced

(optional)

3

Tablespoons

Balsamic Vinegar

1

teaspoon

Dijon Mustard

1

teaspoon

Honey

(see note)

½

teaspoon

Dried Herbs

(optional, see note)

⅓

cup

Olive Oil

¼

teaspoon

Kosher Salt

Fresh Cracked Black Pepper
Instructions
In a small mixing bowl or glass jar, whisk together garlic, balsamic vinegar, mustard, honey, and dried herbs. Slowly add in ⅓ cup olive oil while whisking. (Note: You can also combine all ingredients in a jar with a lid and shake it well or blend everything using a blender.)

Whisk in salt and some black pepper.

Refrigerate for up to 2 weeks.
Notes
Dried Herbs
- Dried herbs are optional but can be used to add an extra dimension of flavor to the vinaigrette. Try adding dried oregano or basil for an Italian-style salad dressing.
Honey
- Feel free to substitute another sweetener like sugar, maple syrup, or agave. You can omit the sweetener if you'd like (most balsamic vinegars have some natural sweetness).
Nutrition
Calories:
177
kcal
|
Carbohydrates:
4
g
|
Protein:
1
g
|
Fat:
18
g
|
Saturated Fat:
2
g
|
Polyunsaturated Fat:
2
g
|
Monounsaturated Fat:
13
g
|
Sodium:
162
mg
|
Potassium:
20
mg
|
Fiber:
1
g
|
Sugar:
3
g
|
Vitamin A:
6
IU
|
Vitamin C:
1
mg
|
Calcium:
8
mg
|
Iron:
1
mg