Toasted Sesame Ginger Salmon
Published Mar 30, 2012•Updated Apr 19, 2022
If you are here, you might like reading about food. And if you like reading about food, you might have a collection of recipes that you hope to make. And if you collect recipes, you might collect them far faster than you can ever dream of making them.
Is it just me?
One night this week, I was in the midst of blog-reading, bookmarking, pinning (finally got my account restored!), starring, and general oogling over all the recipes out there marathon. I was about to add a recipe for an incredible sweet-salty ginger-glazed salmon, when I realized something. I had already flagged the same recipe weeks before. The original was still sitting in my virtual pile of recipes "to make" and I was about to flag it again. It's time to break the cycle. At least for a few days.
So this week, I'm taking a breather in my search for something "new" and focussing on some of those fantastic recipes that I've already discovered.
I am pleased to say that this salmon that we had for dinner last night – it deserved to be flagged twice. It is a definite step up from my standard hoisin glazed salmon, but comes together incredibly fast.
This cooking method is by far my favorite way to cook salmon. The filet is placed as close to the broiler as you can manage. It results in mild fear that the fish is going to burn (don't worry – just keep an eye on it). However, 10 minutes of apprehension while the salon sizzles under the broiler is quickly rewarded with perfectly cooked fish with a crisp, browned crust on top.
We had the salmon with World's Best Roasted Broccoli, and I proceeded to engage Frank in a discussion about the fact that it really is the greatest vegetable side dish in existence, despite the fact that we make it once a week. (I think it's safe to say we are on the same page about its goodness.)
PS. I was totally channeling If You Give a Mouse a Cookie when I started this post. Now all I need is a cookie….
_____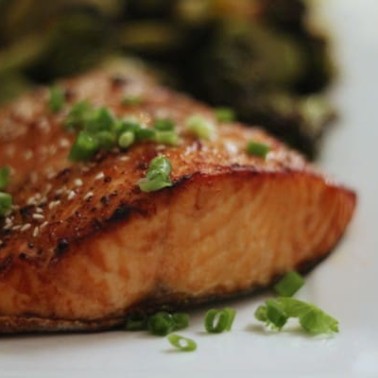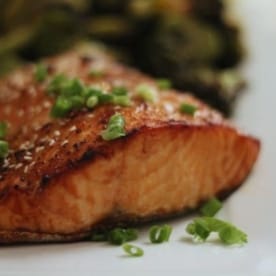 Toasted Sesame Ginger Salmon
Ingredients
1 1/2

pounds

raw salmon

1/4

cup

olive oil

2

tablespoons

toasted sesame oil

2

tablespoons

rice vinegar

2

tablespoons

brown sugar

2

tablespoon

soy sauce

1

tablespoons

freshly grated ginger

2

garlic cloves, minced

1/4

cup

honey

1-2

tablespoons

white sesame seeds

4

green onions, sliced
Instructions
Line a baking sheet with aluminum foil and place a wire rack over top. Spray the rack with nonstick spray.

In a small bowl combine olive oil, sesame oil, rice vinegar, brown sugar, soy sauce, and ginger. Whisk well. Transfer 1 tablespoon of the liquid to a small jar (for the glaze) and set aside. To the remaining liquid, add garlic and whisk again. Pour liquid in a dish or plastic bag. Add salmon, making sure it is covered in marinade, and refrigerate for 30 minutes.

Meanwhile, to make the glaze, add honey to the 1 tablespoon of reserved marinade. Shake or whisk well to evenly combine.

Preheat the broiler in your oven.

Place salmon directly on the prepared wire rack. Sprinkle with a little bit of salt and pepper. Place the baking sheet directly under the broiler. Cook for 10-12 minutes (depending on the salmon's thickness) until opaque and easily flakable with a fork. In the last minute of cooking, sprinkle the surface of the salmon with sesame seeds. (The seeds will toast under the broiler.)

Remove salmon and drizzle with the glaze and the green onions. Serve immediately.
Notes
Adapted from Jessica's irresistible original at How Sweet Eats.
I took one shortcut from the original recipe, by reserving a bit of the marinade and creating the final glaze from that (Jessica has you mix them separately). The result was fantastic, and saved a couple dishes – always welcome in this dishwasher-free kitchen.
Nutrition information is automatically calculated, so should only be used as an approximation.