Just add hot water and go. Use this Instant Oatmeal recipe as a base for your favorite combination of nuts, dried fruit, dark chocolate, coconut…the possibilities are endless.
About a year ago my mornings switched from rushed to relaxed. I have no idea how this happened (although the subject of this post helps me to keep it that way). When we lived in Washington, D.C. I'd bolt out of my apartment every day at 7:30 (well, maybe more like 7:35), knowing it took precisely 30 minutes to get myself to my little cubicle. I tossed a yogurt in my bag. Back then, I exercised most mornings, as I do now, but I never managed to carve out any time to catch my breath before starting my day.
In Bangkok things are different. Maybe the months I had here before I started my job simply taught me to love sitting down for breakfast. Now I still get to work around 8am (although there's more wiggle room in my current job), but mornings are my favorite part of the day. I spend a good part of my morning blissfully putzing around the apartment while I get ready for the day. And that's really the word for it – "putzing". I'll put in a load of laundry, listen to some NPR, work on the blog, maybe I'll get something ready for dinner or take pictures. It feels spectacularly indulgent, and just happened out of the blue.
(Don't think for a minute though that I bounce out of bed the moment my alarm goes off – Frank would quickly tell you otherwise.)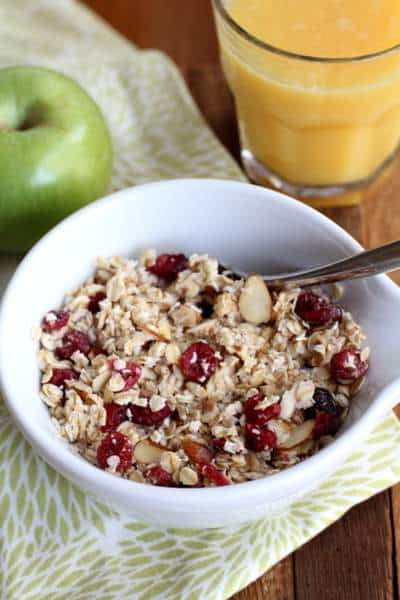 Although I've never been one to miss breakfast, the chance to sit and have a "real" breakfast at the kitchen counter is still a relatively new thing for me. And despite the fact that I live on the surface of the sun, I've yet to find anything that makes me feel as good in the morning as a bowl of oatmeal. For a while I was just tossing rolled oats, frozen fruit, and a bit of water in a bowl when I came in from the gym and microwaving it while I dried my hair.
Recently, though, Frank switched over to oatmeal for breakfast as well. He leaves for work around 6am, so he definitely cannot putz during his mornings.
I figured I could simplify both our breakfasts, and add some tasty, healthy punch to our oatmeal routine. Enter this instant oatmeal.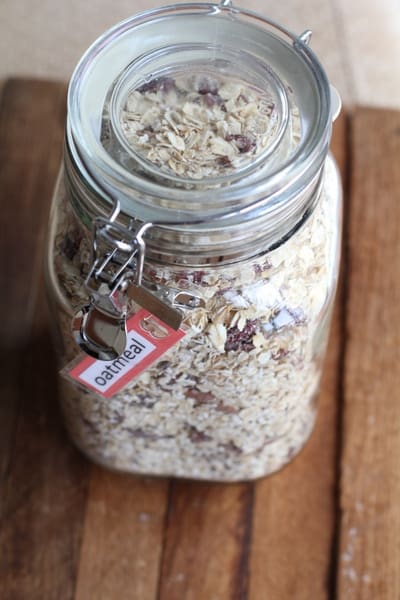 It took some tests to find the right proportions, but now I don't know what we did before this instant oatmeal. I've been making a batch nearly every week for over a month, and it's safe to say we're both hooked. These instant oats are loaded with dried fruit, nuts, chia seeds (for texture and nutrition), and a tiny hint of sugar.
Just add hot water or hot milk…and go.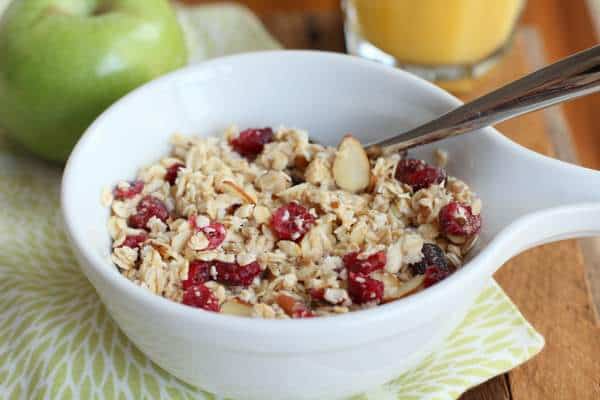 Delicious. Fast. Healthy. Love.
More Oatmeal Recipes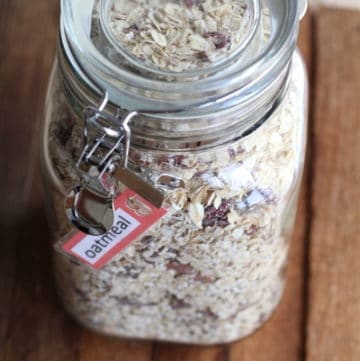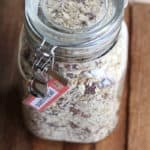 Print Recipe
Homemade Instant Oatmeal
Just add hot water and go. Use this Instant Oatmeal recipe as a base for your favorite combination of nuts, dried fruit, dark chocolate, coconut...the possibilities are endless.
Ingredients
4

cups

rolled oats

4

cups

quick-cooking oats (see note)

1 ½

cups

dried fruit (such as dried cranberries, cherries, blueberries)

1 ½

cups

unsalted nuts, lightly toasted (such as slivered almonds, pecans, walnuts)

2

Tbsp.

light brown sugar, more to taste

1

Tbsp.

chia seeds (optional)
Instructions
Combine all of the ingredients in a large bowl and toss with your hands until evenly combined. Store, sealed until ready to eat.

To serve, transfer ¾ of the mix to a bowl. Add enough hot water or hot milk just to cover the oats. Stir gently and enjoy.
Notes
Be sure to get oats labeled as they are here - "rolled oats" and "quick-cooking oats". I find that for the texture to be just right with a 50/50 split of these. I don't recommend "instant oats", as I find the texture to be gummy (closer to Cream of Wheat).
Chia seeds are optional, but they add a nice creaminess and crunch once they have soaked in a bit of the hot water - not to mention that they're great for you!
I store the oatmeal in a large glass jar and scoop out what I need, but you could pre-portion this in individual bags for quick grab-and-go in the morning.
For other great variations on Homemade Instant Oatmeal, check these out: