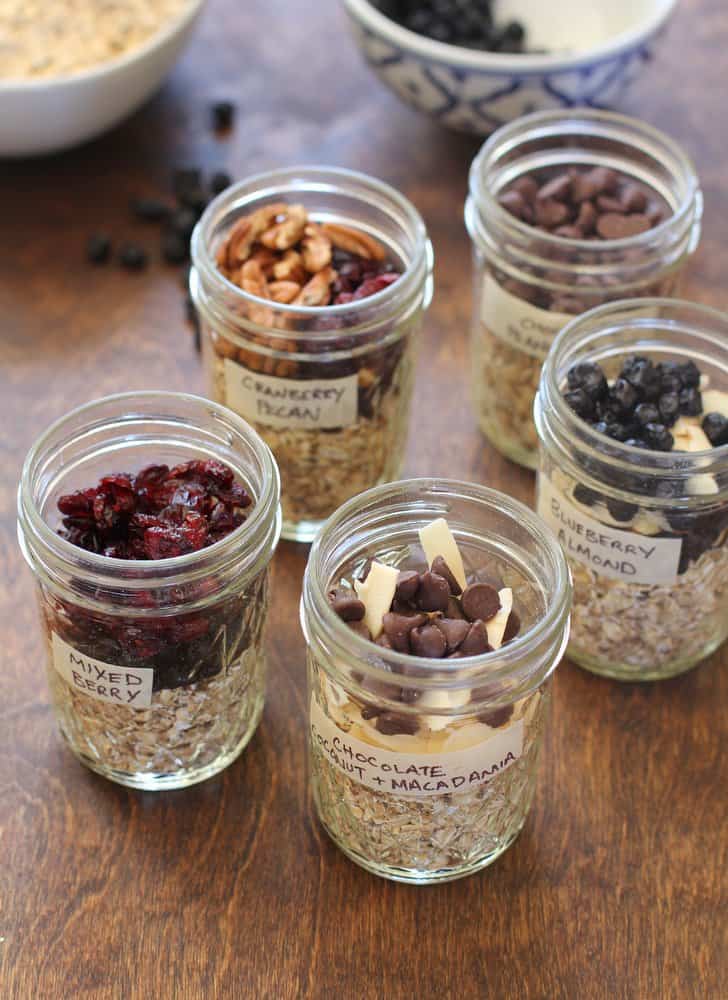 Homemade instant oatmeal saves many a hectic morning in our house.  In less than 20 minutes over the weekend, I can make enough homemade oatmeal to last us for a couple weeks.  It's fast, healthy, comes in endless flavors and is seriously better than anything you can buy at the store.
Homemade Oatmeal is Cheaper
When Frank and I were coming back from Thanksgiving in Virginia with Molly and Clara in tow, we found ourselves at some random airport looking for a quick, reasonably healthy mid-morning snack.  When we stopped for coffee, I was tempted to buy this adorable pre-packed cup of oatmeal that said the barista could just add hot milk or water.  I was tempted…until I noticed that those single serving oatmeal cups were six dollars.  For oatmeal.
On the spot, I ran some quick numbers and estimated that our homemade instant oatmeal costs less than 50 cents per serving.  So there's that.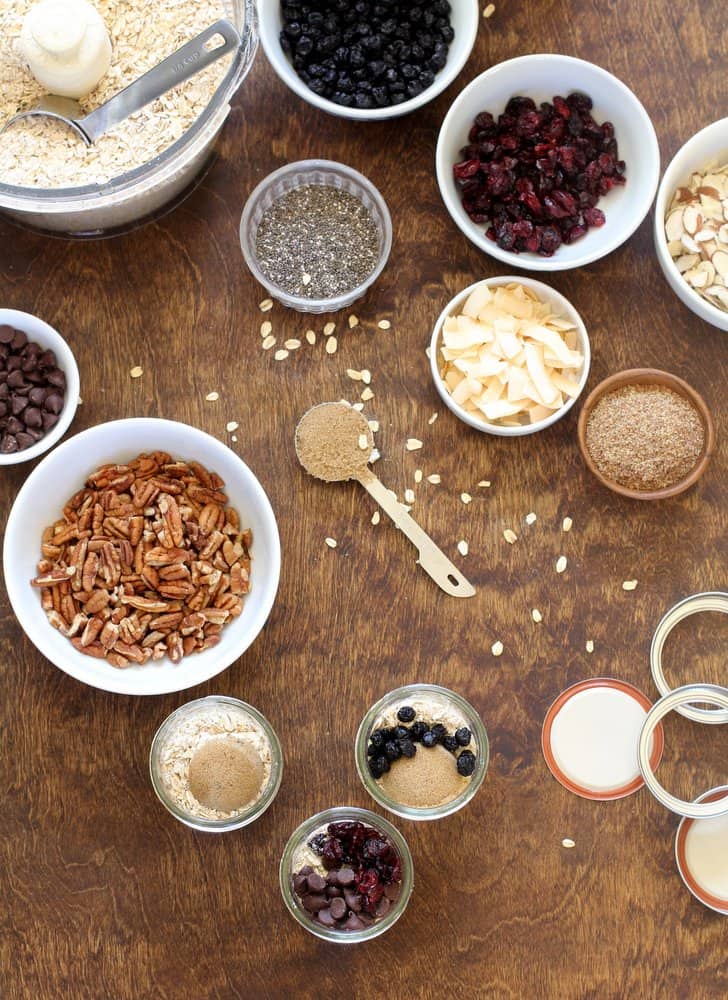 But here's the thing.
Homemade Oatmeal is Better
Frank and I have, over the past couple years, sort of become oatmeal snobs.  I pretty much love all oatmeal and still sometimes buy it when I'm out for breakfast (begrudgingly when it has a six dollar price tag), but still Frank and I agree that our homemade instant oatmeal is the best.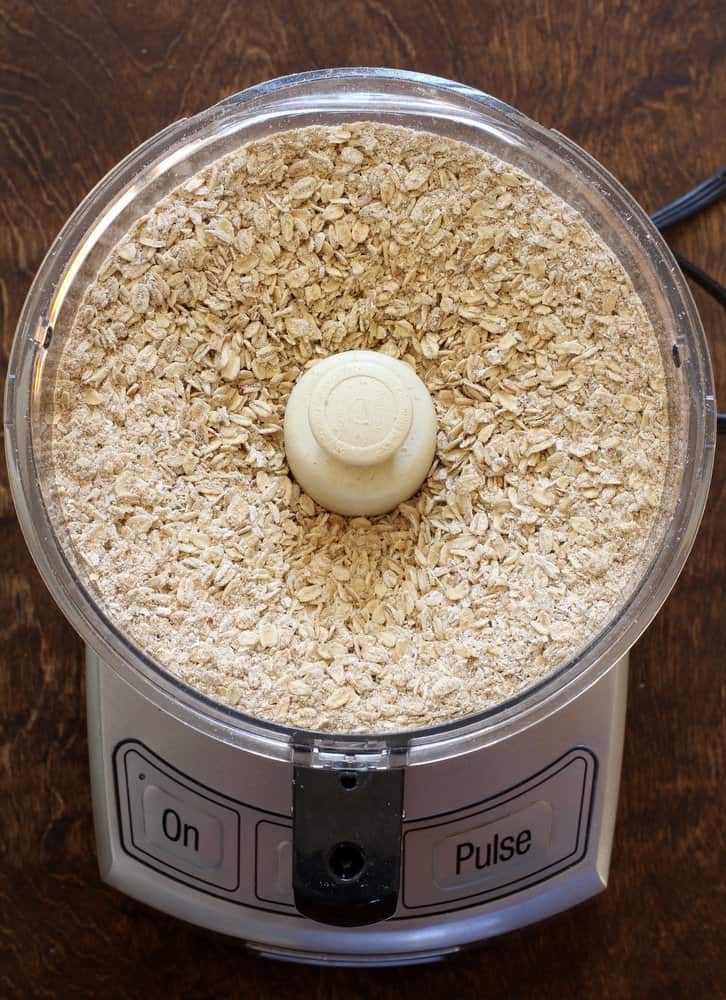 It's the best because we make it exactly the way we like it.  Our homemade oatmeal base includes brown sugar, chia seeds, and ground flax.  The chia seeds and ground flax are not just there for all their nutritional goodness.  Chia seeds turn creamy in hot water, so they add great texture to the oatmeal.  Ground flax seeds taste slightly toasty and give the oatmeal a flavor similar to all those fancy oatmeals with toasted oats without the extra work.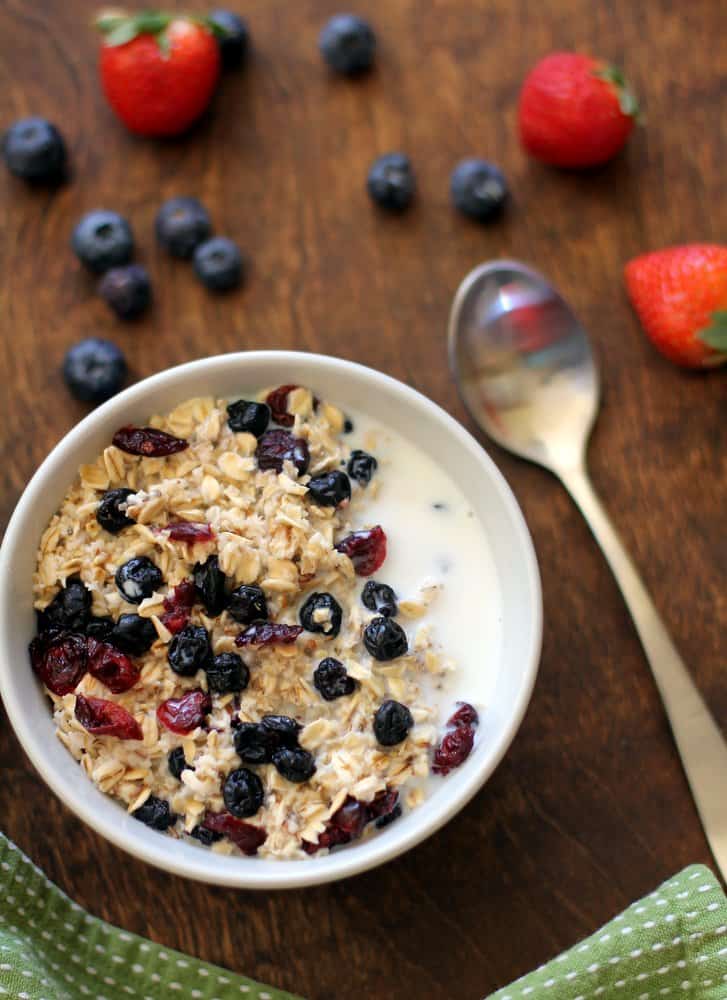 Add Your Favorite Flavors
When it comes to flavor combinations in our homemade instant oatmeal, the sky really is the limit.  Cranberries and pecans are a classic that we like to top with honey.  Dried blueberries and almonds remind me of summer.  Powdered peanut butter and chocolate chips can turn any kid (or adult) into an oatmeal convert.  Goji berries and cacao nibs are my new guilty pleasure.
Though guilt is relative because a hearty serving of the homemade oatmeal base clocks in at under 250 calories.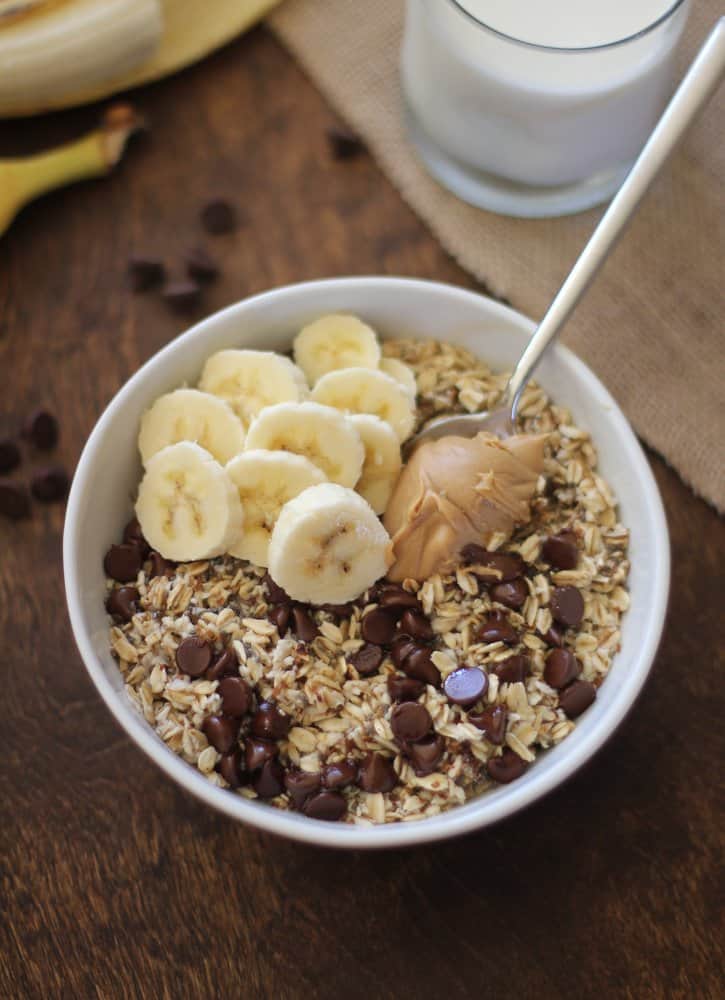 Easy Storage = Easy Breakfasts
Pack these in mason jars to just add water when you're ready to serve.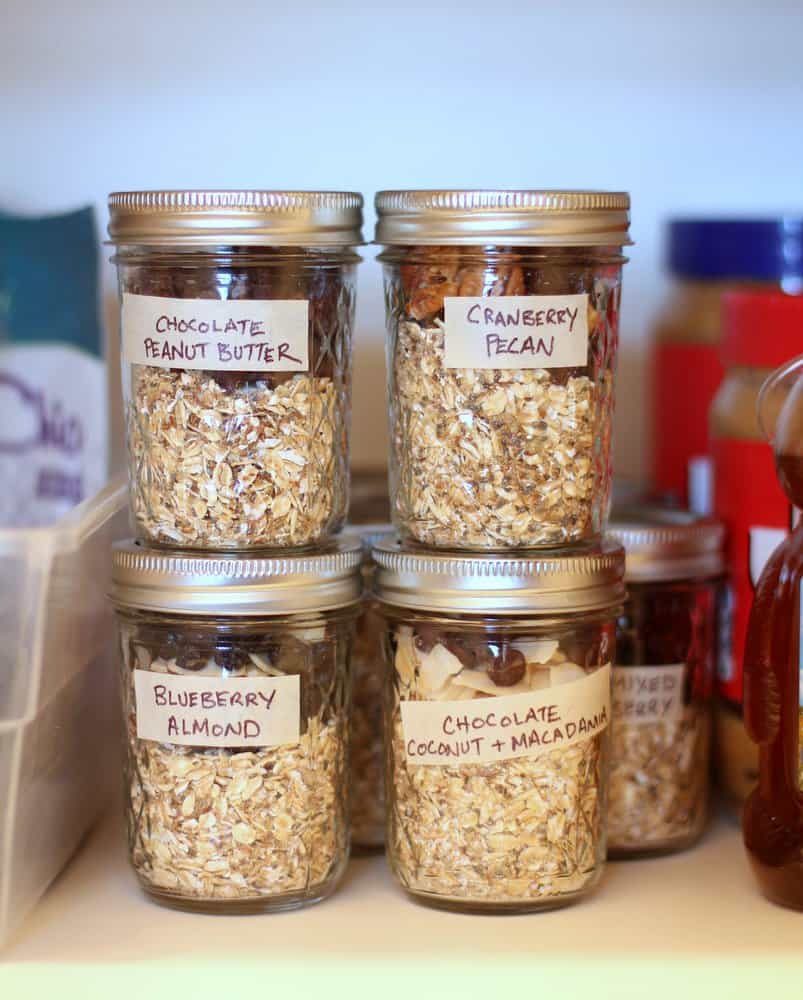 Or pack them in plastic bags and stash them in your desk at work. Homemade oatmeal deliciousness ready to go.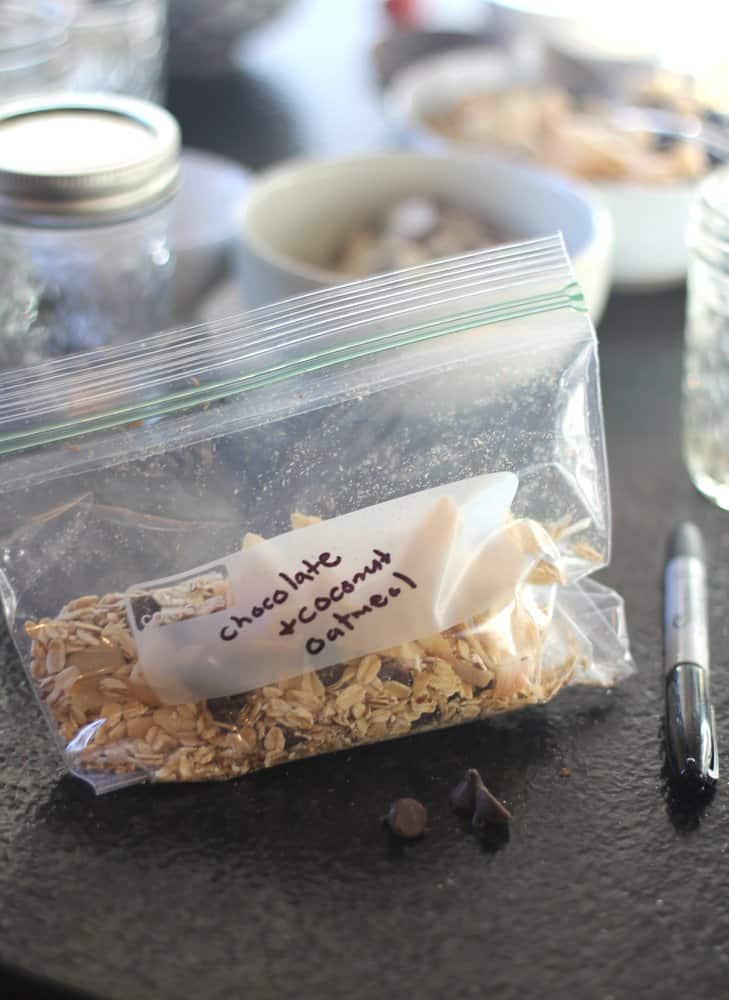 Or pack big bags in a care package and send them to a college student who may or may not be eating the best breakfasts (this batch is on its way to my sister Rachel at college in Virginia!)
You've got to try this – we think you'll be hooked!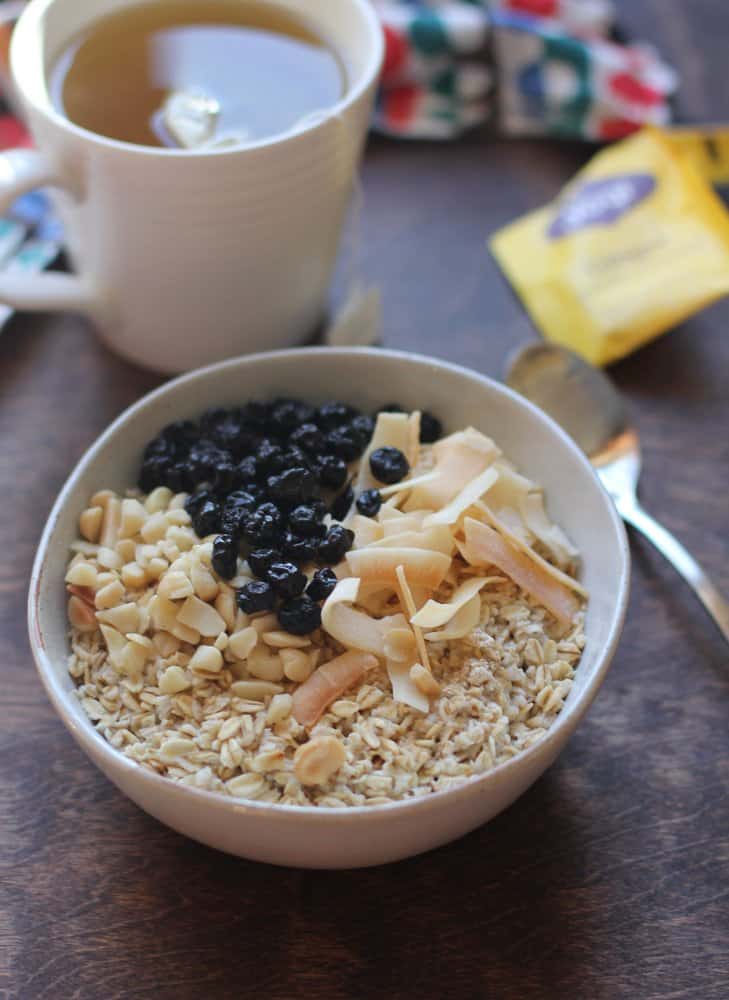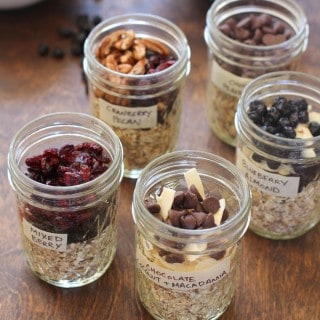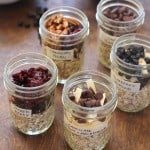 Print Recipe
Homemade Instant Oatmeal with Brown Sugar, Chia and Flax
For years, this has been our family's go-to breakfast. Because we customize individual servings to our liking, we each always claim one to be our favorite. It's warm, healthy and so easy, and gets even the most hectic mornings off on the right foot. Chia seeds and flax are not just healthy additions, but add great flavor and texture. Recipe makes 20 servings (enough for a week of breakfasts for a family of four), but can be doubled, tripled, quadrupled!
Ingredients
Oatmeal Base:
10

cups

/ 32oz / 900g Rolled Oats (use gluten-free if needed, see note)

1

cup

/ 7oz / 200g packed Brown Sugar

1/2

cup

/ 3oz / 82g Chia Seeds

1/3

cup

/ 3 oz / 84g Ground Flax Seeds (sub double the amount if using whole flax seeds)
Add-Ins (pick and choose your faves):
1

cup

Dried Fruit (goji berries, cranberries, blueberries, raisins, chopped apricots, chopped dates, mango, freeze-dried apples / bananas / strawberries)

1

cup

Nuts (pecans, walnuts, slivered almonds, chopped hazelnuts)

1/2

cup

Extras (toasted coconut, cacao nibs, chocolate chips)

1

Tbsp

Flavoring (powdered peanut butter, cinnamon, ground ginger, cocoa powder)
Instructions
Put oats in the bowl of a

food processor

and pulse about 10 times, until most of the oats are chopped to roughly half their original size. (Adjust this to your preference - if you prefer a more creamy oatmeal, pulse more; we like some of the oats to be in larger pieces.)

In a large mixing bowl (do this in batches if it won't easily fit), combine the oats, brown sugar, chia seeds, and ground flax. Toss with your hands until everything is evenly mixed, breaking apart the brown sugar as you go.

If preparing individual servings, place a heaping half cup of oatmeal base into mason jars or plastic bags. Top each serving with add-ins of choice.

If preparing one large batch, combine oatmeal base with any combination of add-ins in the amounts listed and toss. When ready to serve, place a heaping 1/2 cup of oatmeal in a bowl.

To serve, add 1/2 cup very hot water or milk to the oatmeal and stir until smooth. Enjoy!!!
Notes
1) If you prefer not to use a food processor, substitute equal parts rolled oats and quick cook oats.
2) For added flavor and less of a raw taste to the oats, lightly toast the oats at 350 F for 10 to 15 minutes, stirring halfway through cooking. (Thanks so much to reader Cindy who sent this great tip!)
Nutrition
Calories:
249
kcal
|
Carbohydrates:
43
g
|
Protein:
7
g
|
Fat:
6
g
|
Polyunsaturated Fat:
2
g
|
Sodium:
4
mg
|
Fiber:
7
g
|
Sugar:
11
g
*This post contains affiliate links.  
Bonus that Molly and Clara love oatmeal.  They're in a phase where they'll choose oatmeal over pancakes.  Now that's saying something.  They also love the mess….