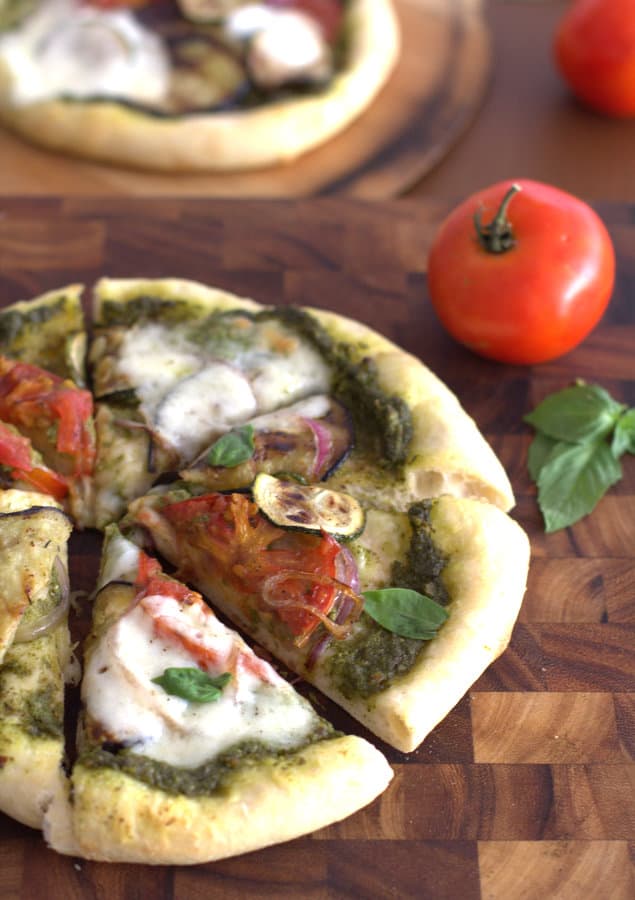 I've been dreaming of Italy ever since I hopped on a plane for a cool, rainy getaway to Florence a couple months ago.  Everything about Italy was inspiring, but memories of the food, of course, are what really stick.  From that short trip, I brought back wine, a kilo of cheese, and balsamic vinegar so good that it makes my mouth water just thinking about it.  So when Colavita asked me to partner up to cook with a few of their delicious products and write a Sponsored Post – Italian Summer Grilling it took me all of a hot second to agree.
We are a mere 24 hours away from a return to the United States after nearly five years in Thailand.  Heading home just as summer is gaining momentum brings to mind lawnmowers, late summer nights, porches, and grill-kissed dinners.  While I'll never pass up steak or a burger hot of the grill, grilled summer vegetables really shine.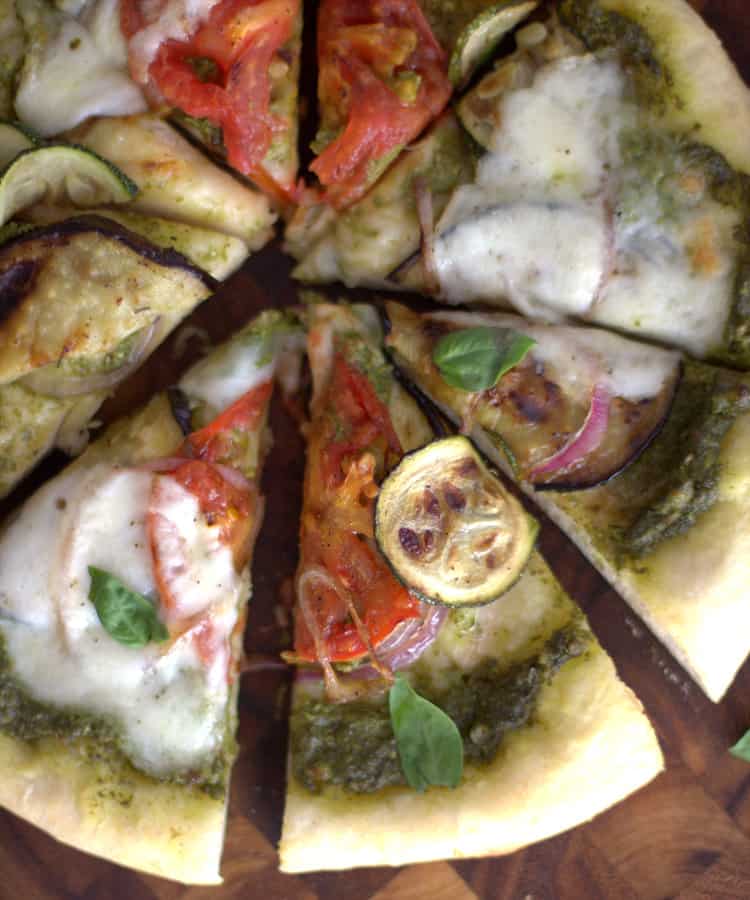 And so, with summer grilling in mind, I thinly sliced tomatoes, zucchini, and red onions and fired up our grill.  When they were nearly finished cooking, I brushed the vegetables with Colavita's Chardonnay Balsamic Vinegar (yum) and let them get nice and charred.  And because I have a soft spot for pizza of any sort, I took all those incredible vegetables and put them on a pizza.
For the pizza I used Colavita's "00" flour – a first for me.  "00" flour is extra fine and made a pizza dough that was chewy and light and held up perfectly to all those great toppings.  It might be a permanent addition to our family's near-weekly pizza making tradition.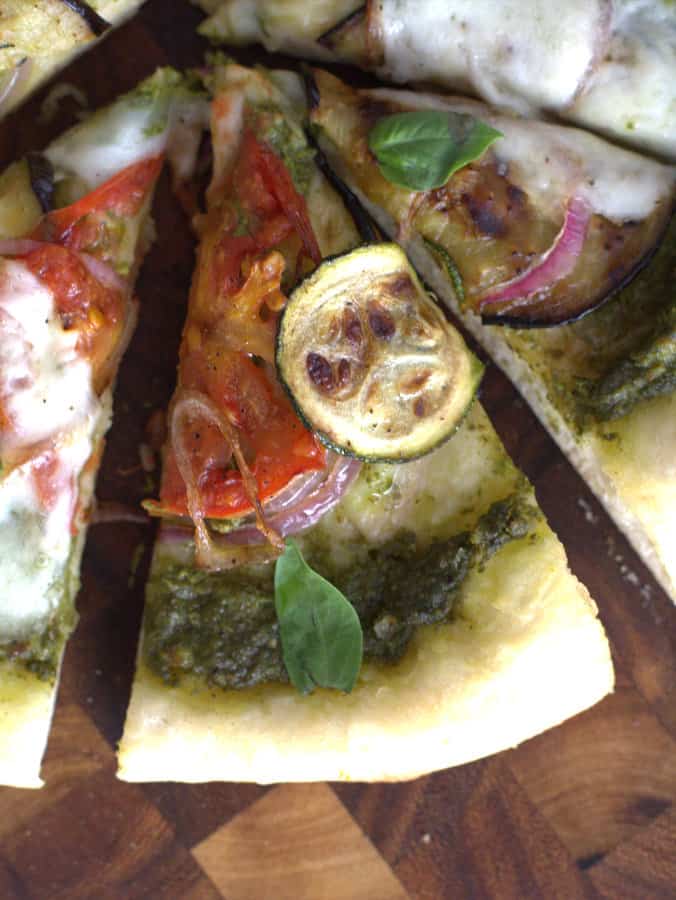 Summer – we're ready for you.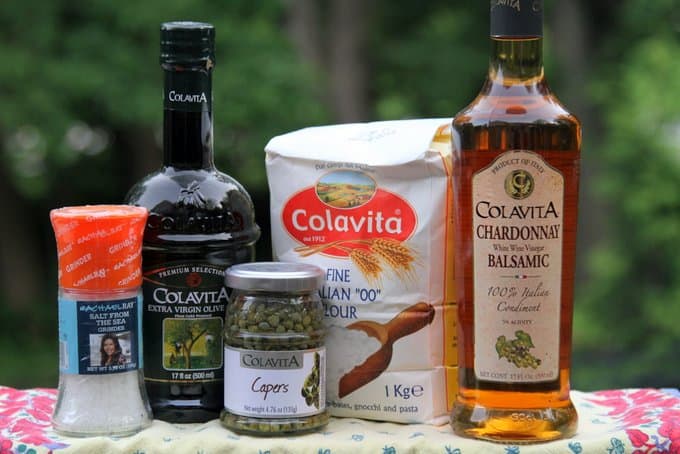 Colavita provided some of their great products and compensated me for this post.  I only write sponsored posts for products I use and love.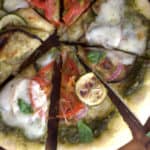 Print Recipe
Grilled Summer Vegetable and Pesto Pizza
A vegetarian pizza that celebrates summer - grilled vegetables, caper pesto and mozzarella.
Ingredients
For the pesto:
2

cups

fresh basil leaves

1

inch

piece of Parmesan cheese

1/4

cup

toasted pine nuts (I often substitute pecans)

3

Tbsp

extra virgin olive oil, plus more if needed

1

Tbsp

capers, drained
For the pizza:
1 to

mato, sliced

2

zucchini, sliced

1

red onion, sliced

1

Tbsp

white balsamic vinegar

1

batch of pizza dough (see recipe below)

2

Tablespoons

extra virgin olive oil

4

oz.

mozzarella cheese, sliced

fresh basil, for topping
Instructions
First, to make the pesto, combine all pesto ingredients in a food processor until nearly smooth. Add additional olive oil, if needed a bit at a time until it reaches a smooth spreadable consistency.

Preheat the oven to 450 degrees F and prepare your grill. If using a pizza stone, place it in the oven as it heats up.

When the grill is hot, brush the sliced vegetables with olive oil and place on the grill. Cook until tender, turning halfway through. When you have about a minute left of cooking, brush both sides of the vegetables with vinegar and sprinkle with salt and pepper. Transfer to a plate.

Stretch the pizza dough into rounds and drizzle with olive oil.

Top each pizza with pesto, grilled vegetables and mozzarella. Cook until cheese is bubbling and pizza crust is golden, about 10-15 minutes. Sprinkle with fresh basil, slice and serve!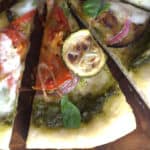 Print Recipe
00 Flour Pizza Dough
This pizza dough made with "00" (extra fine) flour is tender, chewy, and perfect for loading with toppings. The best part is that it barely needs to be kneaded - just knead it a few times right in the bowl and it comes out great every time!
Servings:
1
large batch of dough (about 4 12-inch pizzas)
Ingredients
1½

cups

water, room temperature

2

tsp

honey

1

tsp

dry active yeast

3

Tbsp

extra virgin olive oil

2

cups

all-purpose flour

2

cups

"00" flour

1 1/2

tsp

salt
Instructions
In a measuring cup mix the water with the honey, yeast and olive oil. Allow to rest until yeast begins to bubble, about 10 minutes.

In a large mixing bowl, combine the flours and salt. Add the yeast mixture and stir until combined, switching to knead it against the sides of the bowl with your hands until smooth and elastic (about 3 minutes). The dough will be sticky - that's okay - but add a bit more flour if it doesn't come together into a cohesive ball.

Cover the bowl with plastic wrap and let it rise for 2 hours in a warm spot.