Mix up pizza night with this white pizza topped with garlic oil, shredded Brussels sprouts, crisp bacon, and creamy goat cheese.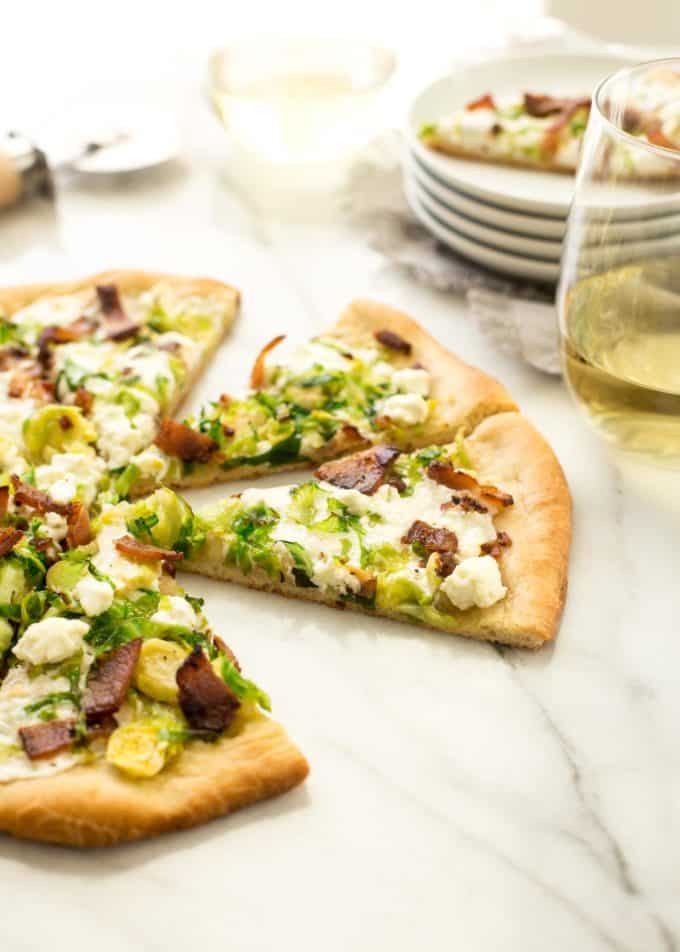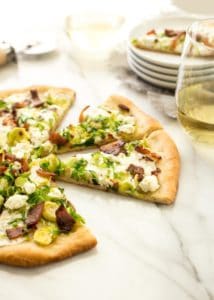 Meet my new favorite pizza. It's topped with Brussels sprouts! I know that Brussels sprouts are a hard sell on their own, but probably even more so on pizza. It seems strange, but it's totally great. Those shredded sprouts get all tender and golden and nearly sweet in a super hot oven. Combine them with crisp bacon and the tangy goodness of goat cheese? Even Brussels sprouts doubters will like this one!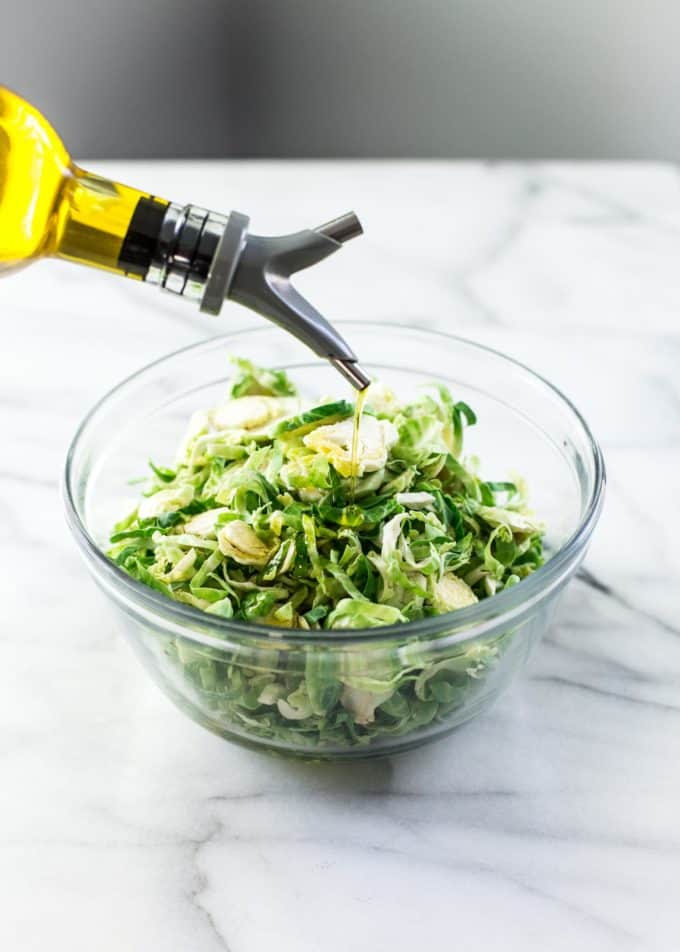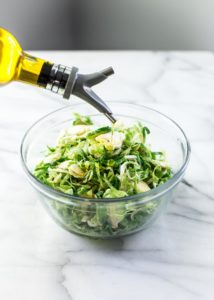 We've been trying to reinstate family pizza night over here. It took a little hiatus in favor of take-out from our local pizza spot, but I quickly realized that in addition to costing less, a) it only takes slightly more effort to make pizzas at home and b) our pizzas are better! Take-out is great in a pinch, but homemade pizzas are the best. And when they're topped with some veggies, I can feel even better about them! Here's how we make this one.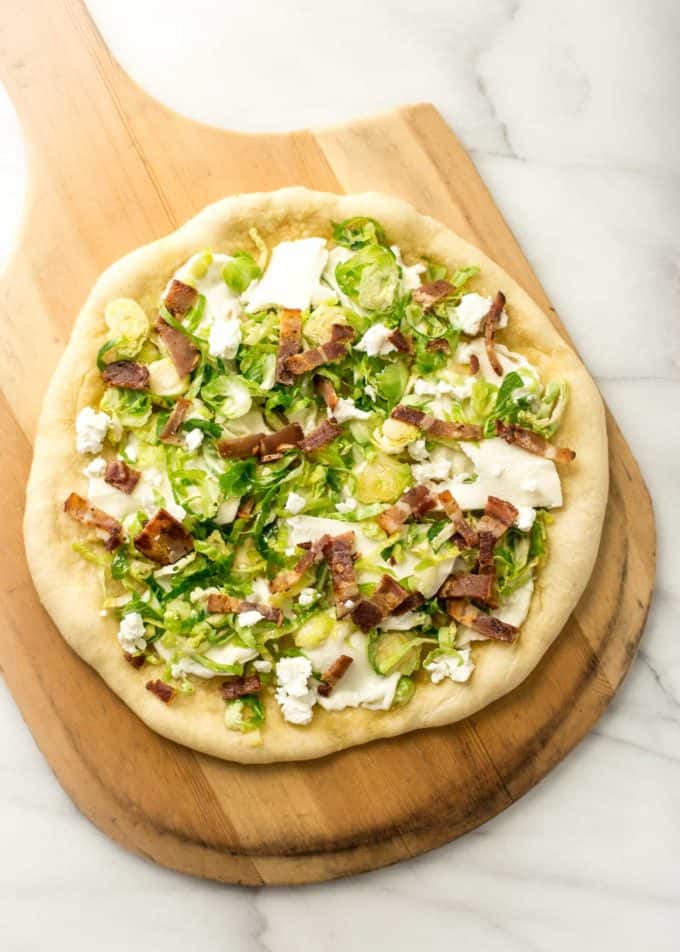 Brussels Sprouts White Pizza Ingredients
Brussels Sprouts – Shredded Brussels sprouts are the star. You can shred them yourself in a food processor or use a sharp knife to slice them super thin, but the fastest way is to buy them pre-shredded in the produce section.
Pizza Dough – Make it yourself (the photos in this post are of this recipe using entirely all-purpose flour) or buy pre-made dough.
Bacon – Just regular old, delicious bacon, cooked until crisp. You can cook and crumble it a few days ahead of time.
Garlic Olive Oil – Garlic-infused olive oil is the base for a great white pizza. Just whisk together olive oil, chopped garlic, and a pinch of salt. Brush it over the pizza dough for instant white pizza goodness.
Cheese – This pizza uses mozzarella (fresh is best) and goat cheese. I highly recommend grabbing both. Skipping one means you'll either miss out on creamy melty mozz or tangy, rich goat cheese. (And who wants to miss out on either of those!)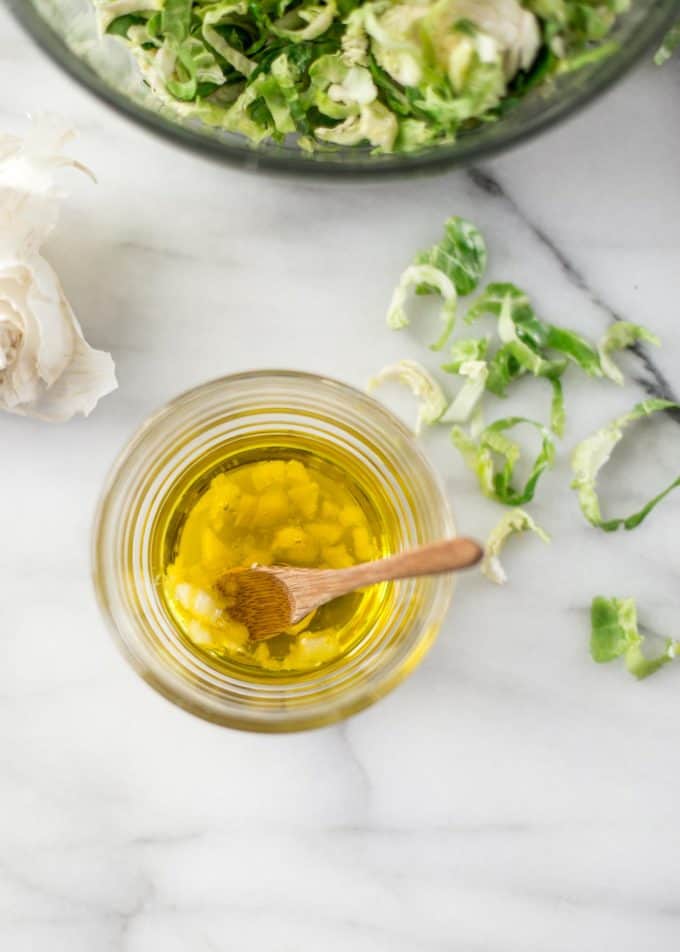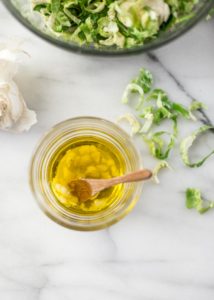 How to Make Brussels Sprouts Pizza
Prep the dough. Make the dough and let it rise. If using store-bought dough, let it rest on the counter at room temperature for 30 minutes. Resting the dough allows the gluten to relax and makes it much easier to roll out.
Heat the oven / pizza stone. Get that oven piping hot! 450 F is good. If you have a pizza stone, make sure it's in the oven while the oven heats up.
Form and pre-bake crust. Divide pizza dough and spread or roll it into a circle. (I like to do this on parchment paper – see below for tips.) Pre-bake crust for 3 minutes. This pre-bake step keeps the dough from getting soggy when the toppings are added.
Top and bake. Add toppings and slide the pizza back in the oven until cheese is melted and crust is golden. Yum!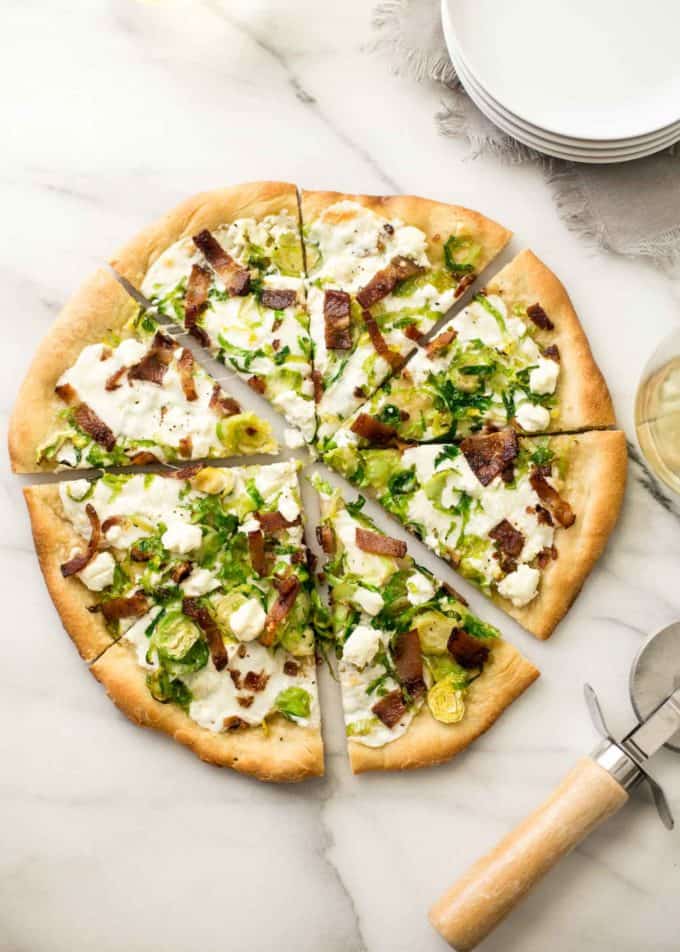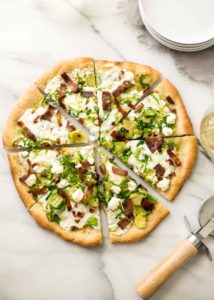 Tips for Making Homemade Pizza
I remember a time when making homemade pizza felt super intimidating. Frank and I started practicing making pizzas the first Valentine's Day that we were dating and have never looked back. Now we're a well-oiled pizza-making machine. He makes the dough a day or two ahead (and refrigerates it until we're ready to use it). I prep toppings. We get the kids involved in assembling and let everyone top their pizza the way they like. A few things make it go smoothly:
A pizza stone. We love our pizza stone. A nice, big rectangular or square one (like this) accommodates a couple small pizzas at a time and allows for the occasional odd-shaped pie. No need to spend a ton of money on this. We've had the same one for nearly a decade.
Parchment paper. Roll the dough out for each pizza on parchment paper (just make sure it's safe up to 450 degrees) and then just slide the parchment and pizza together onto the hot pizza stone. This helps the pizza to keep its shape and eliminates the need to top the pizza stone with messy cornmeal or flour!
Create an assembly line. If we need to make a lot of pizzas for a crowd, we make a bit of an assembly line. One person rolls dough out on parchment paper, a second person pre-bakes each round of dough, and a third person (or guests / kids) top the pizzas before they go back in the oven.
Here's hoping for more pizza nights this winter!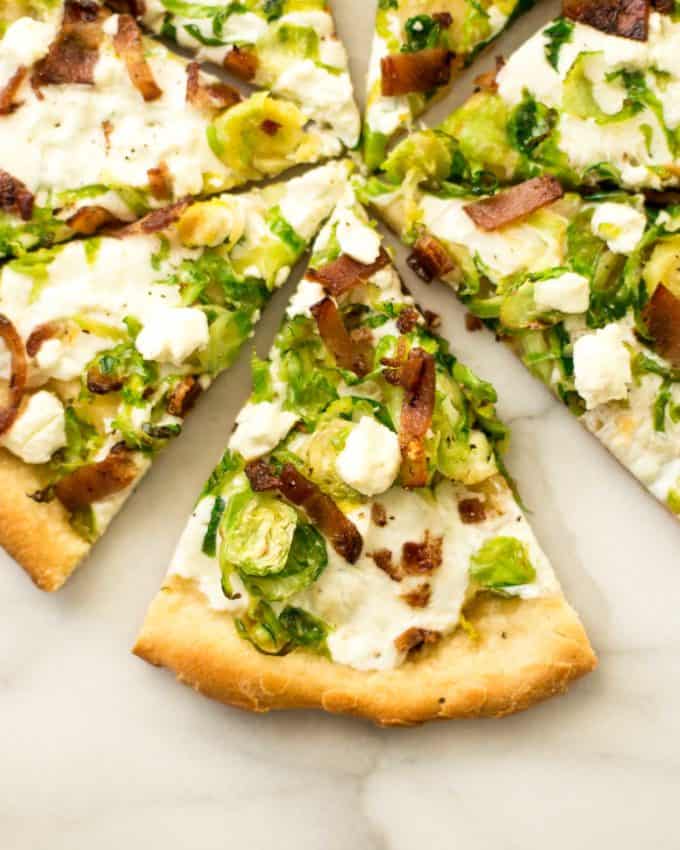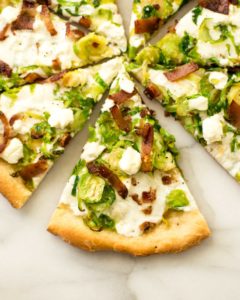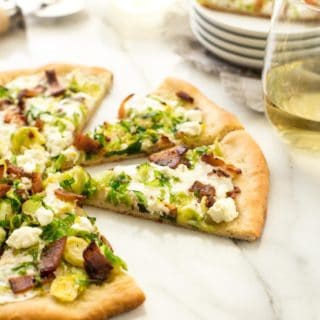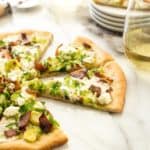 Print Recipe
Brussels Sprouts, Bacon, and Goat Cheese Pizza
Mix up pizza night with this white pizza topped with garlic oil, shredded Brussels sprouts, crisp bacon, and creamy goat cheese.
Ingredients
1

lb

Pizza dough

3

Tbsp

+ 1 Tbsp Olive oil, divided

2

cloves

Garlic, chopped

½

tsp

Salt

10

oz

Brussels sprouts, shredded

5

oz

Mozzarella cheese, fresh, thinly sliced

10

strips Bacon, cooked and crumbled

4

oz

Goat cheese, crumbled
Instructions
Make dough or, if using store-bought dough, let rest at room temperature for 30 minutes.

Preheat oven to 450 degrees. (If using a pizza stone, place it in the oven as it heats up.)

Divide dough in half. Stretch dough out into a circle on a piece of parchment paper. (If you're not using a pizza stone, stretch dough out onto a baking sheet brushed with some oil.)

Pre-bake each pizza by baking in the heated oven for 3 minutes. (This will help the dough to firm up and prevent it from becoming soggy when you add toppings.)

Make garlic oil by whisking together first portion of olive oil, garlic, and salt.

Toss brussels sprouts with second portion of olive oil.

Brush garlic oil on the top of each pizza crust.

Top pizzas with mozzarella cheese, brussels sprouts, bacon, and crumbled goat cheese.

Bake pizzas until mozzarella is melted and crust is golden brown, 10 to 12 minutes.

Slice and serve.
Nutrition
Serving:
4
g
|
Calories:
597
kcal
|
Carbohydrates:
55
g
|
Protein:
33
g
|
Fat:
27
g
|
Saturated Fat:
9
g
|
Polyunsaturated Fat:
13
g
|
Cholesterol:
25
mg
|
Sodium:
1110
mg
|
Fiber:
2
g
|
Sugar:
3
g
This post is not sponsored, but it may contain affiliate links. There is no extra cost to you, but we may earn a small commission. Thank you for your support!
We had so much snow this week! Molly and Clara built their first "real" snowman complete with a carrot nose AND Brussels sprouts buttons!