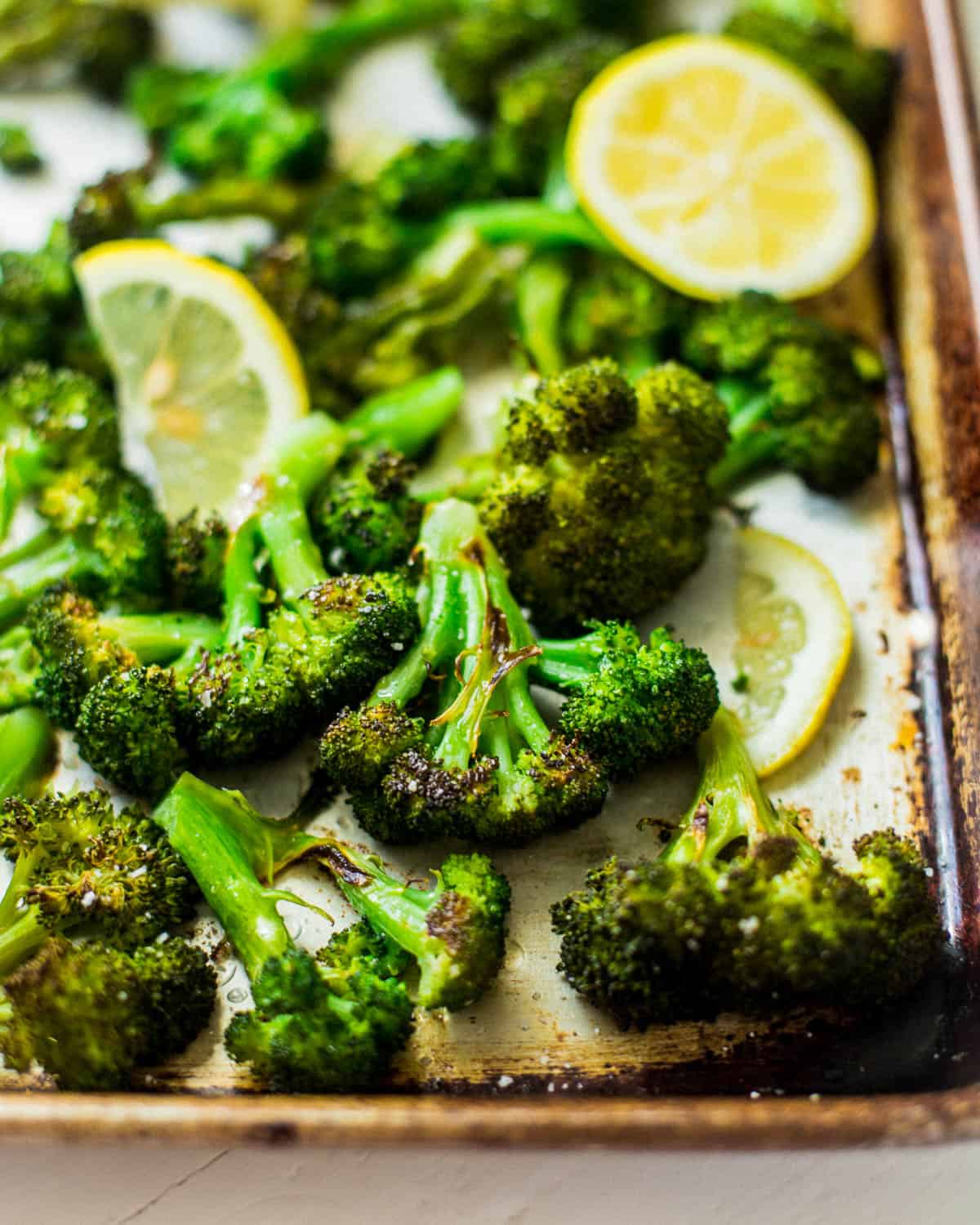 Roasted fresh broccoli is a delicious, versatile side dish. It cooks fast and goes with almost anything. This method makes easy roasted broccoli that cooks fast, is tender throughout, and has golden crispy edges.
Let's talk broccoli. It's not flashy, but when you need a green vegetable, it's hard to beat the simplicity of roasted broccoli. And over the years, I have become a fanatic about this vegetable side. Tender stalks and lightly crisped edges - I could probably eat it every night of the week. And even if you're not a huge fan of broccoli, adding some extra seasoning or spices (parmesan and breadcrumbs perhaps) might help to change your mind - see below for some ideas.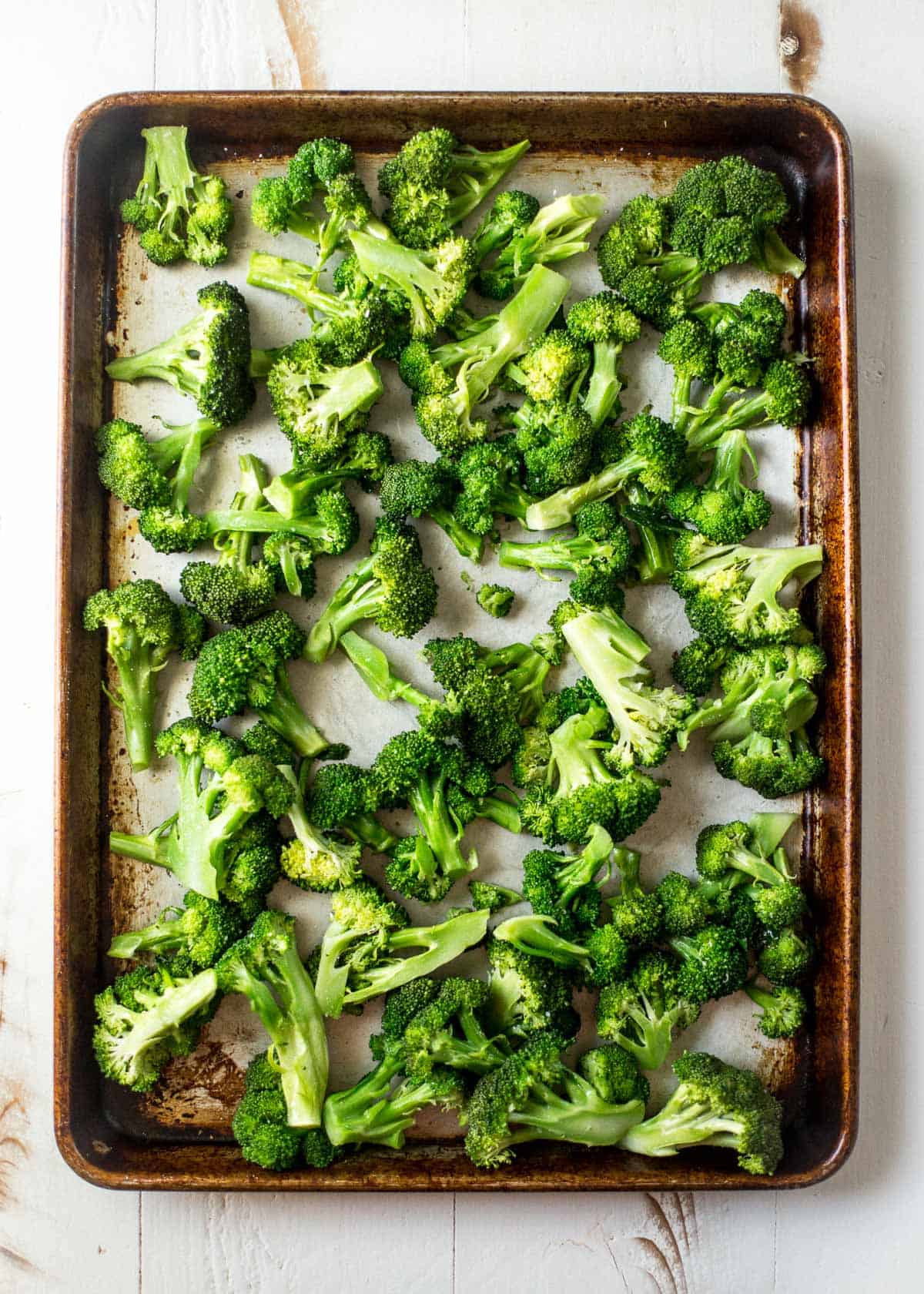 Before kids, Frank and I were happy to eat our broccoli extremely crispy. We used to throw some broccoli florets on a sheet pan in the oven and forget about them until they were shatteringly crisp and had cooked down to almost nothing. My kids will not eat broccoli this way, so I had to perfect my method. We now like our broccoli bright green, super tender, and with lightly crisp edges.
Here's how to do it!
Tips for Perfect Roasted Broccoli
Pick fresh broccoli: Look for heads of broccoli with florets that are tightly clustered with no signs of yellowing.
Cut florets into even sizes:

If they are an even size, they will cook at the same rate.

Use enough oil

: You don't need a lot of oil, but make sure you use enough to encourage browning as the broccoli cooks. Use an oil that has a high smoke point since the broccoli roasts at high heat (like grapeseed, avocado, or vegetable oil).

Season wel

l: No one likes flavorless vegetables. Don't forget to season the broccoli with salt.

Don't line the pan

: For the best browning, don't line your sheet pan with parchment or any other liner before baking. The hot pan will give the bottom of the broccoli great golden brown color.

Don't crowd it

: Leave space for air to circulate around the vegetables. (Use two sheet pans if you need to.)

Finish with lemon: Broccoli is always best when finished with fresh lemon juice. Something about that fresh, citrus flavor just makes it so delicious! Or if you want an extra dose of flavor, finish it with a drizzle of of the "Creamy Caesar" version of my vegan Cashew Cream Sauce.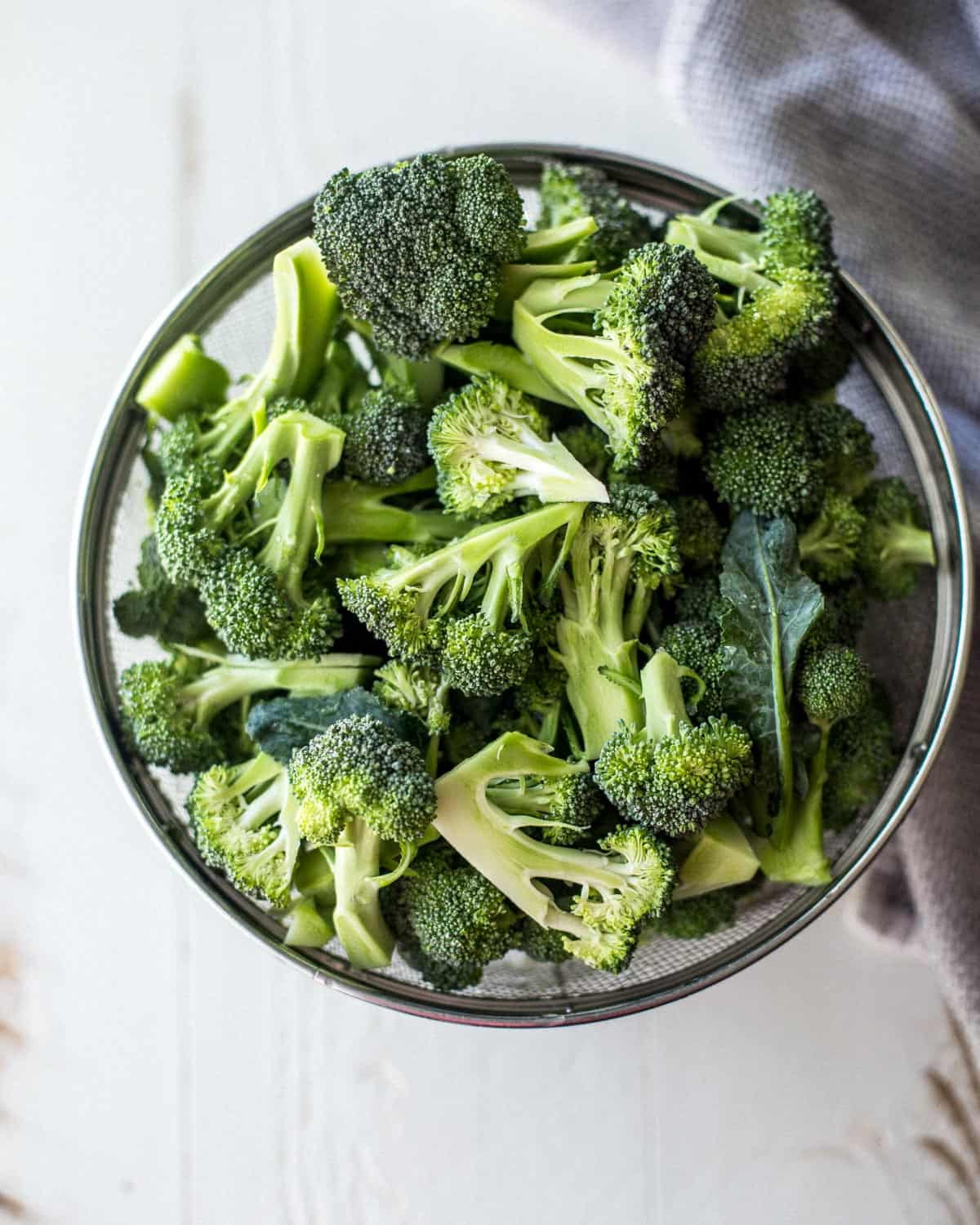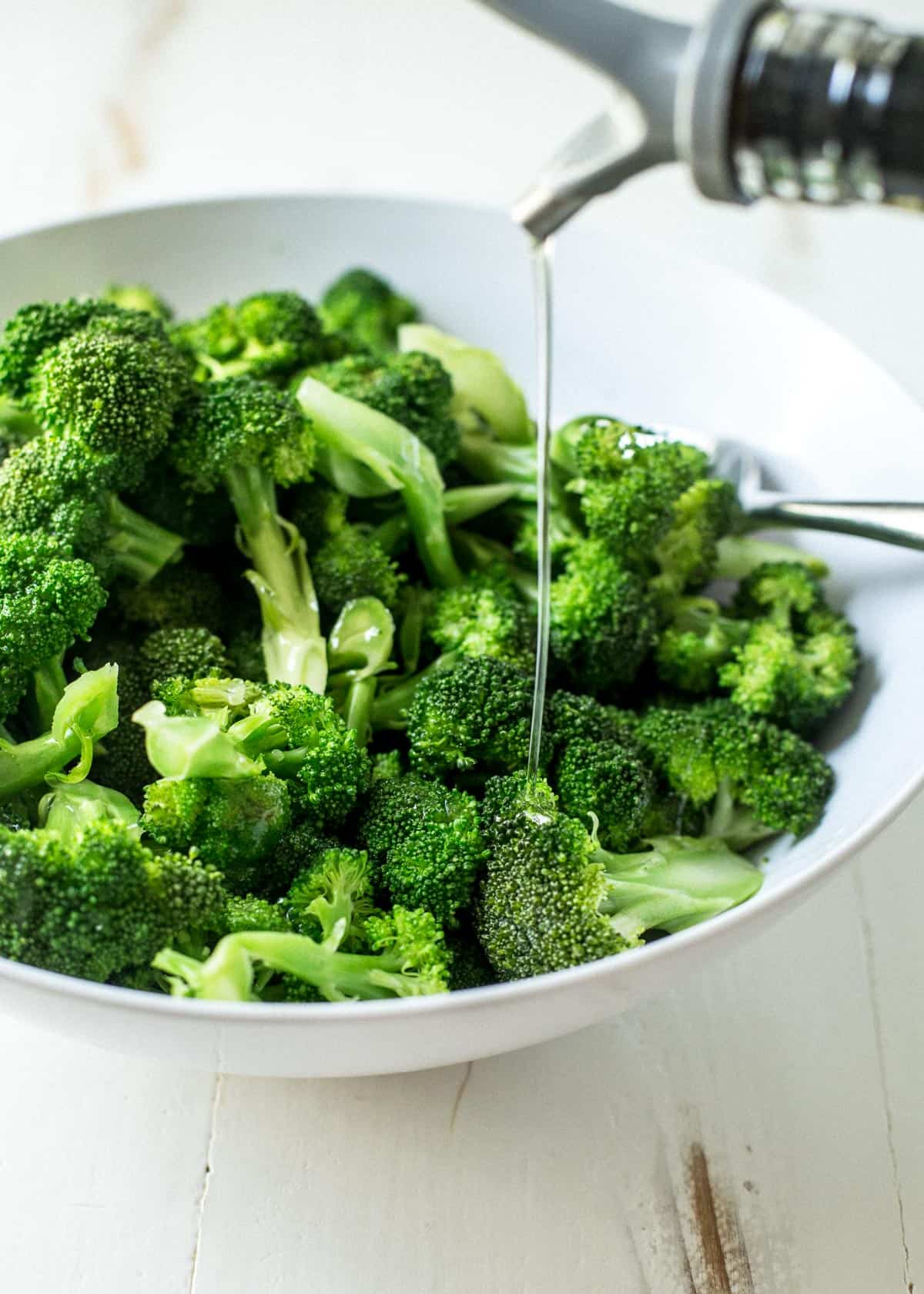 How to Steam-Roast Broccoli

If you're in a rush, or if you want to ensure that you have super tender stalks by the end of cooking, try steaming the broccoli before roasting it.
Steam

. For super tender stalks, place broccoli florets in a microwave-safe bowl with 2 Tablespoons of water. Cover with paper towels or a clean dishtowel and cook on high for 2 minutes. It won't be cooked through at this point, but will have a head start before it goes in the oven.

Roast

- To get the caramelized flavor and crispy edges that come from roasting, finish the broccoli uncovered on a sheet pan in the oven.
Note: The steaming step has an added bonus of locking in the broccoli's bright green color. The bright green broccoli photographed in this post? It was steamed in the microwave before roasting. Steamed broccoli is a beautiful bright green.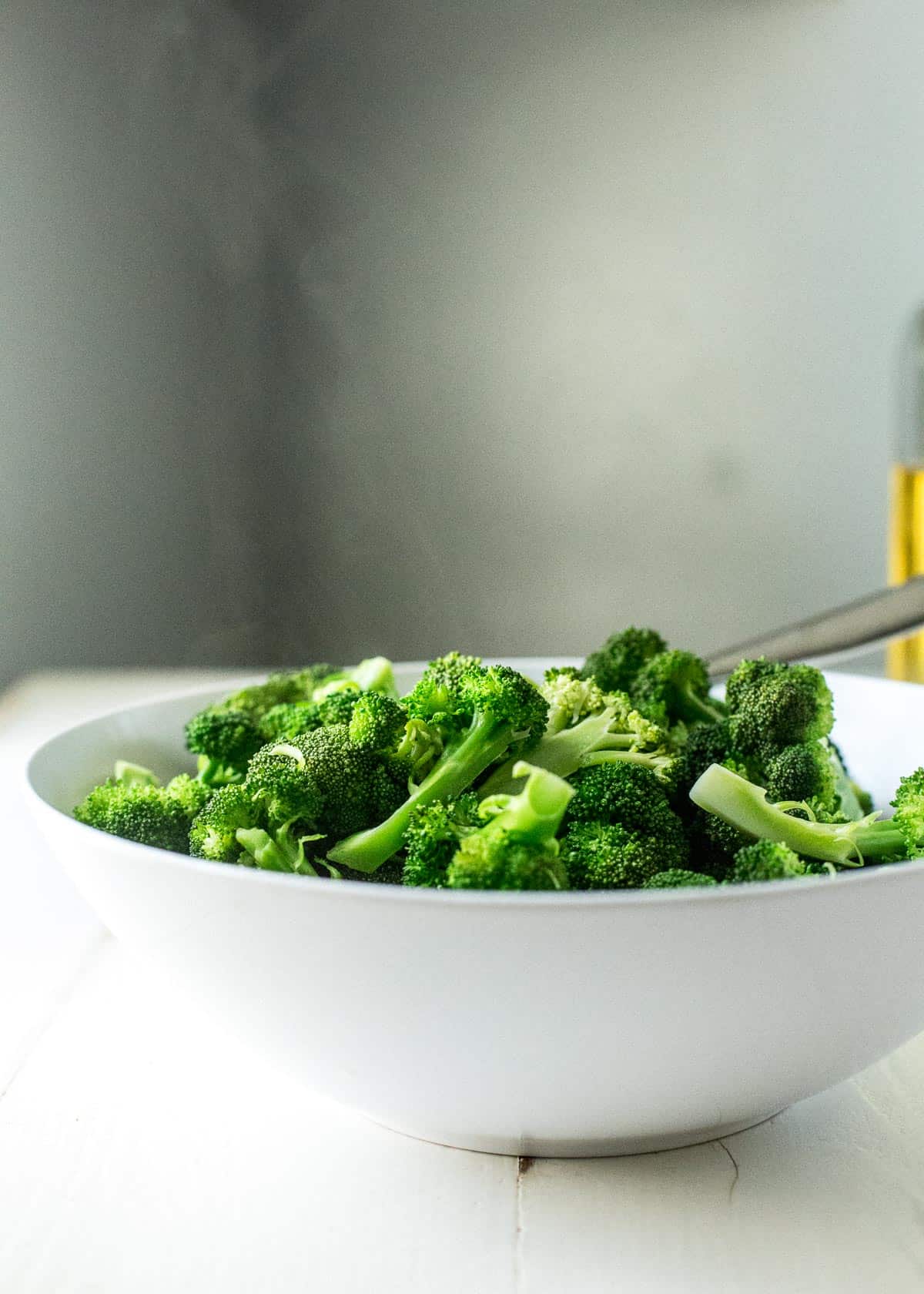 Variations on Roasted Broccoli
Ground Cumin and Red Pepper Flakes

- I love to add these spices if we're serving it with tex mex / mexican meals like

Chicken Enchilada Casserole

or

Honey Lime Salmon

.

Crispy Breadcrumbs

- Toss with breadcrumbs (Italian-style or Japanese panko) before roasting.

Indian

: Toss the broccoli with garam masala and some fresh ginger to serve with Indian curries. This is my go-to side dish for

Instant Pot Chickpea Curry.
Balsamic

- Add balsamic vinegar when you toss with oil. Great with pastas and Italian-inspired dishes like

Italian Turkey Meatballs

or stirred into

Instant Pot Italian Pasta Salad.
Parmesan and Garlic

- Toss with garlic when you add the oil and sprinkle with parmesan after cooking. This is a great way to serve broccoli with comfort meal classics like

Instant Pot Sloppy Joe's

or

Creamy Dijon Chicken

.

Asian

- Use sesame oil and toss broccoli with white sesame seeds before roasting. I'll sometimes add some cashews to the pan while the broccoli roasts too. I can make a whole meal of broccoli roasted this way and served with

Thai Crispy Rice

with a fried egg on top.

Everything Seasoning

- Is there anything that can't be made better by adding Everything Bagel Seasoning? We buy it from Trader Joe's.

Pesto

- Toss the finished roasted broccoli with

Homemade Pesto

for tons of flavor. Roasted Broccoli is also a great addition to

Pesto Pasta Salad

.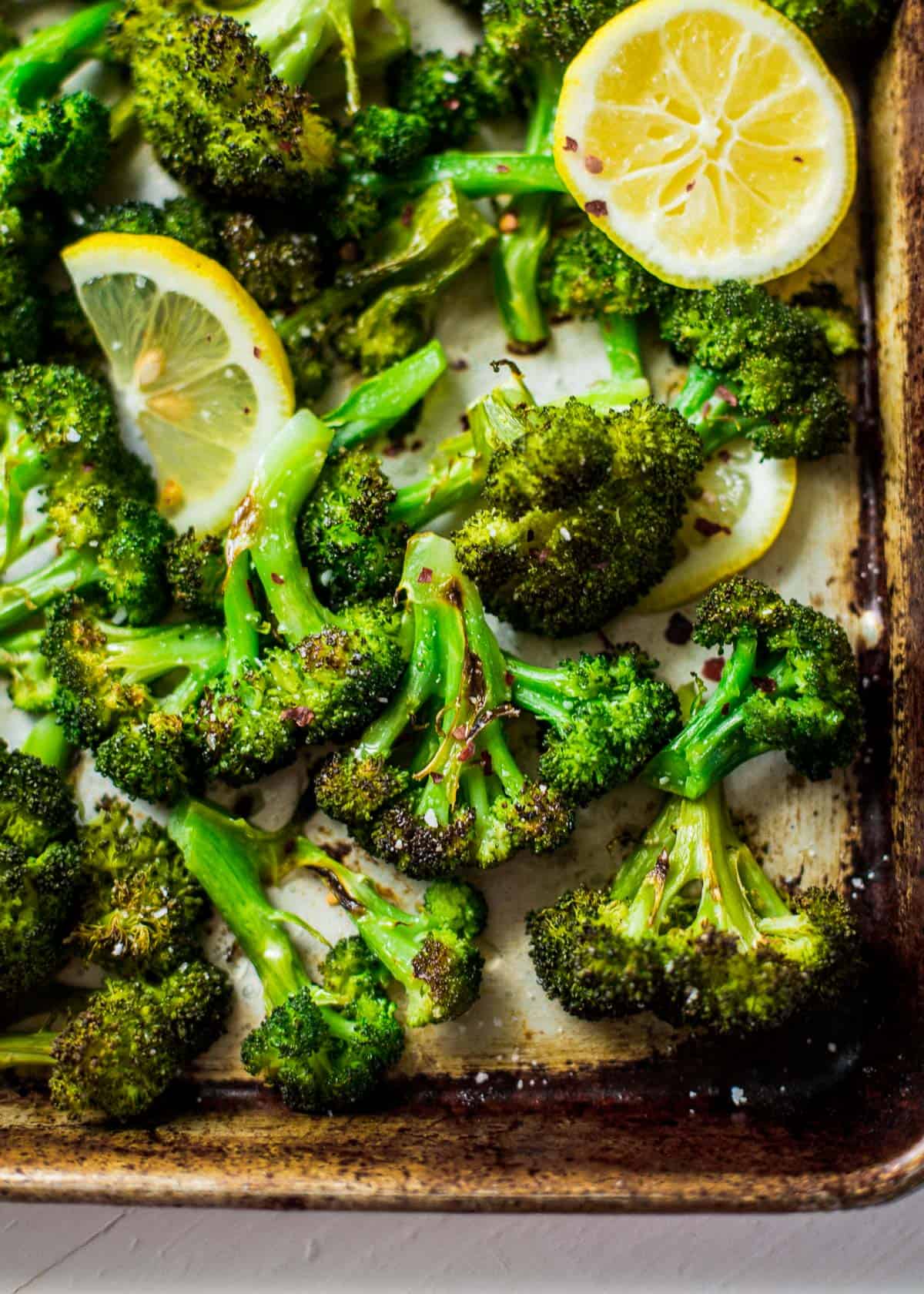 Favorite Tools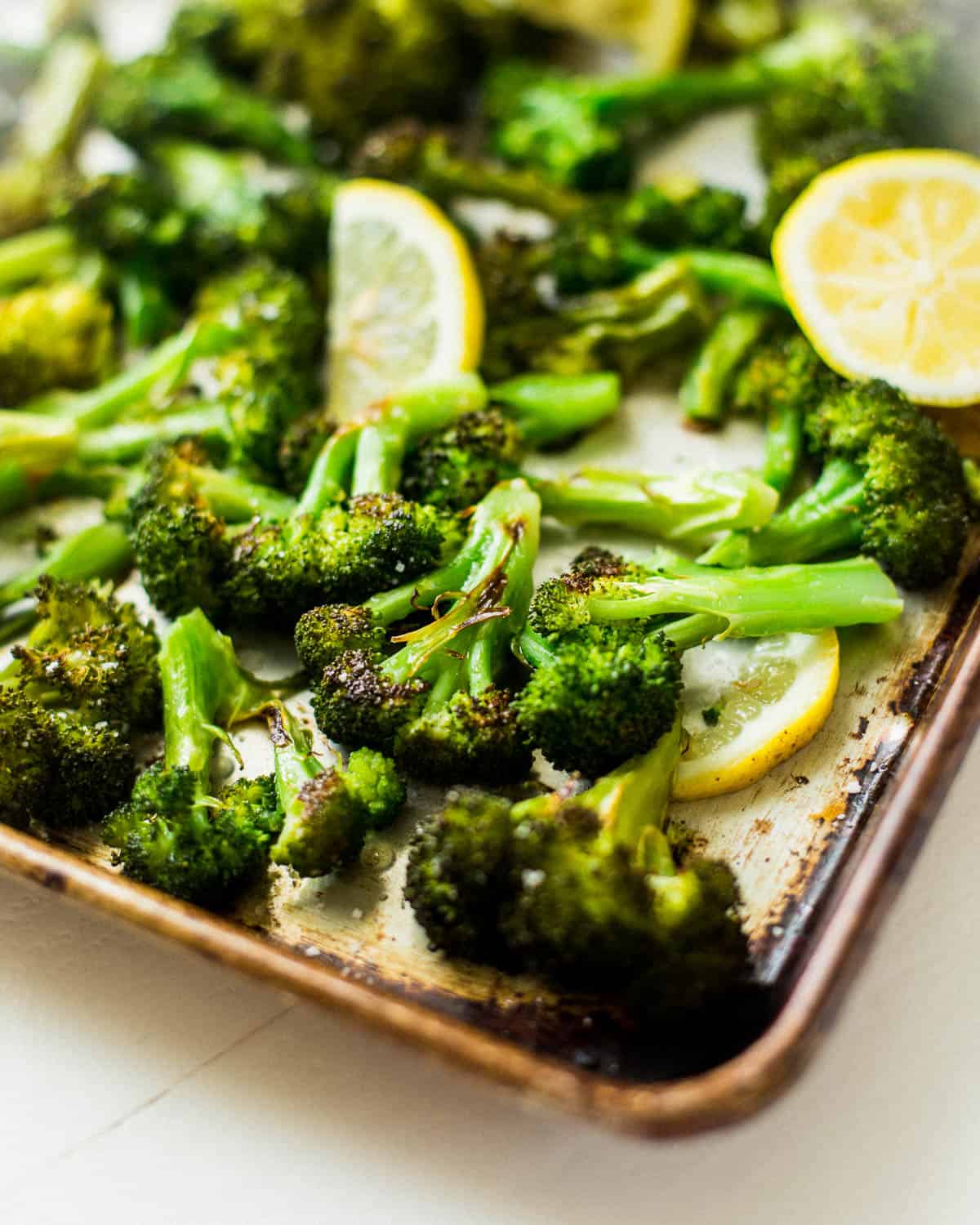 📖 Recipe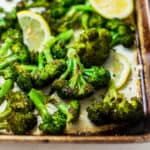 Print Recipe
Easy Roasted Broccoli
Roasted fresh broccoli is a delicious, versatile side dish. It cooks fast and goes with almost everything! This method makes easy roasted broccoli that cooks fast, is tender throughout, and has lightly crisp edges.
Equipment
Mixing Bowl

Half Sheet Pan
Ingredients
2

lbs

Broccoli

2

tablespoon

Cooking Oil

(use anything that with a high smoke point - I like grapeseed or avocado oil)

3

cloves

Garlic, roughly chopped

(optional)

1

teaspoon

Kosher Salt

2

teaspoon

Fresh Lemon Juice
Instructions
Preheat oven to 425°F / 218°C.

Cut broccoli into even florets, leaving a couple inches of the stalk intact. You can discard the stalks or thinly slice them and roast them right along with the broccoli (we call those broccoli "chips").

Optional step (steam broccoli): This extra step is not necessary, but if you want to speed up the cooking process or get extra tender stalks, steam the broccoli before roasting. Place broccoli in a microwave-safe bowl. Pour 2 Tablespoons of water into the bowl and cover with paper towels or a clean dish. Microwave on high for 2 minutes. This will just get the broccoli started. Drain off all of the water before continuing.

Toss broccoli florets with cooking oil, garlic, and salt.

Spread out on a sheet pan, leaving an inch or two of space between the florets (use two sheet pans if needed).

Transfer broccoli to the oven and roast, without stirring, until golden brown around the edges, 15 minutes (if you steamed it first) to 25 minutes (if you skipped steaming). (Note: Roasting the broccoli without stirring will help it to get extra crispy on the bottom where it comes in contact with the pan.)

When done roasting, squeeze lemon juice over top.
Nutrition
Calories:
54
kcal
|
Carbohydrates:
11
g
|
Protein:
4
g
|
Fat:
1
g
|
Saturated Fat:
1
g
|
Sodium:
438
mg
|
Potassium:
484
mg
|
Fiber:
4
g
|
Sugar:
3
g
|
Vitamin A:
942
IU
|
Vitamin C:
136
mg
|
Calcium:
74
mg
|
Iron:
1
mg
*This post contains affiliate links*