Thai Crispy Rice
Published Mar 01, 2019•Updated Aug 27, 2022
Thai Crispy Rice is deliciously addictive. Let the rice crisp on the bottom of the pan for this twist on fried rice that is full of pleasantly crunchy texture and flavor.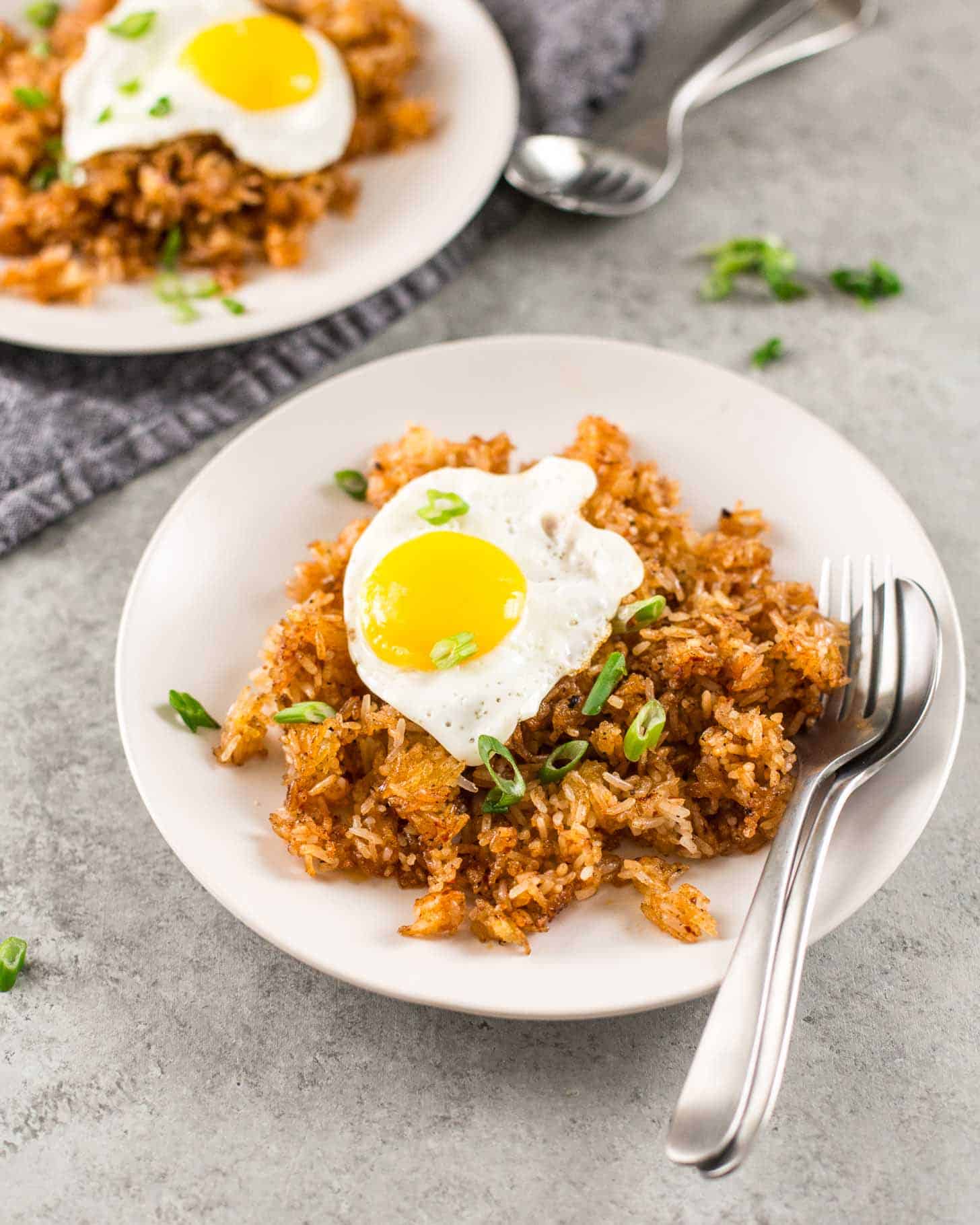 Ever since I ate Thai-style fried rice in Bangkok and learned to make it at home, it's my go-to formula for a quick weeknight meal. Today's version is a totally addictive twist! I've had Thai crispy rice on my mind since I read this article called "The Only Thing Better than Plain Rice is Crispy Rice" in Bon Appetit years ago. The best fried rice I've ever had includes crunchy bits of rice throughout. Those little crispy bits have a nutty, toasty flavor and add great texture to the dish. The version I made today has only two ingredients – the method for getting the rice to crisp up is the only trick. It starts with a batch of cooked rice from this jasmine rice recipe. The rest is easy! Here's how to do it.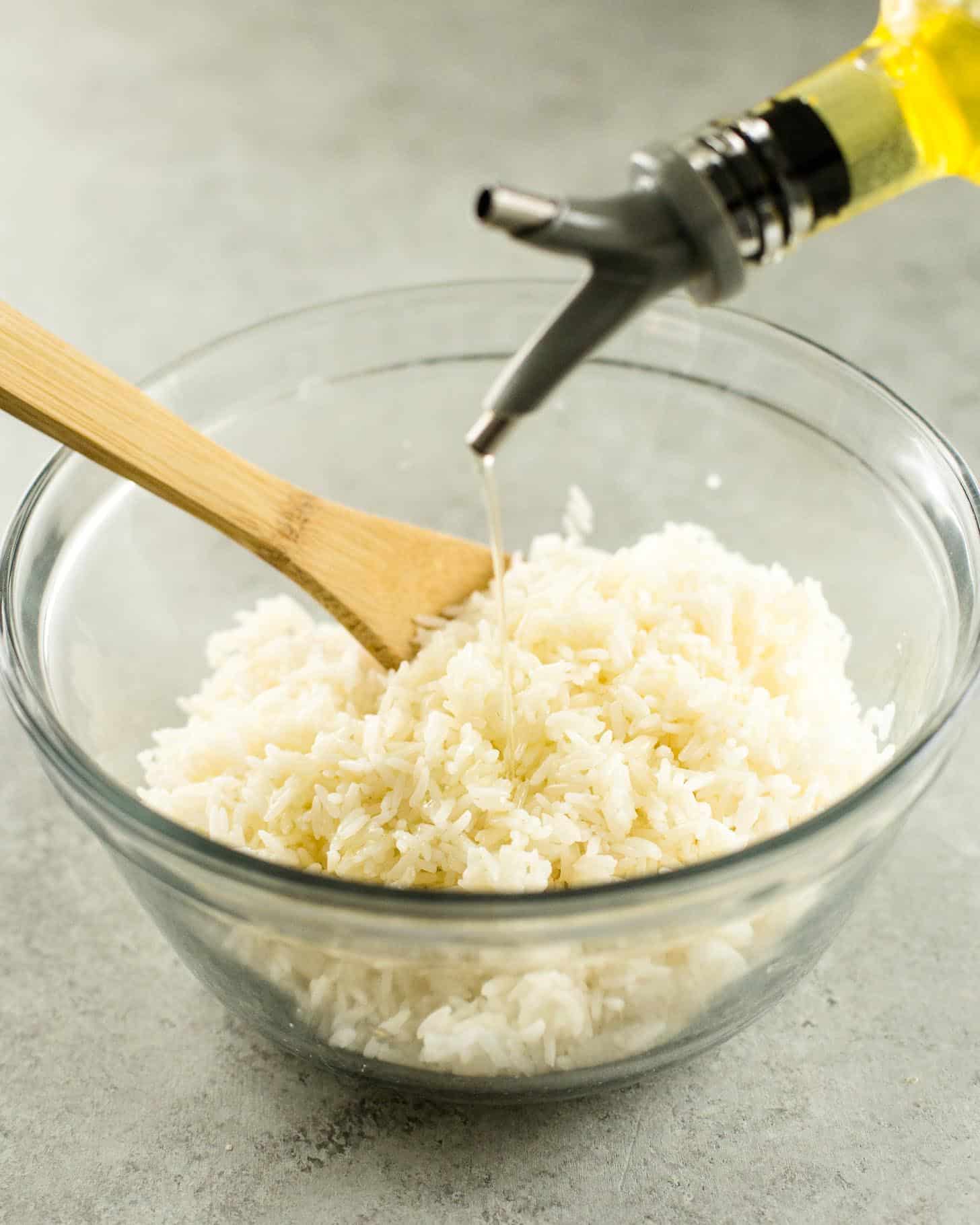 How to Make Thai Crispy Rice
Use rice that is a day or two old. Leftover rice is key. As the rice sits in the fridge for a couple days, it dries out. That makes it perfect for fried rice because it will hold its shape rather than turning soggy in the hot pan.
Combine the rice with oil. Stir oil into the rice, coating each grain, before it goes into the pan. This insures that each rice has a layer of oil around it to protect it from the heat of the pan and allow it to crisp without burning.
Spread the rice out in a thin layer. Spread the rice out so that there is maximum surface area for getting crisp and golden brown.
Cook, without stirring. This is key. Let the rice cook over medium heat, without stirring it, until the entire bottom layer turns a nice golden brown, 4 to 5 minutes. (You can lift small portions up with a spoon to check it as it cooks.)
Season. Stir in any seasonings you'd like (we used Thai chili paste or curry paste with some soy sauce), gently stirring the rice to break it up.
Serve with a fried egg and fresh herbs on top!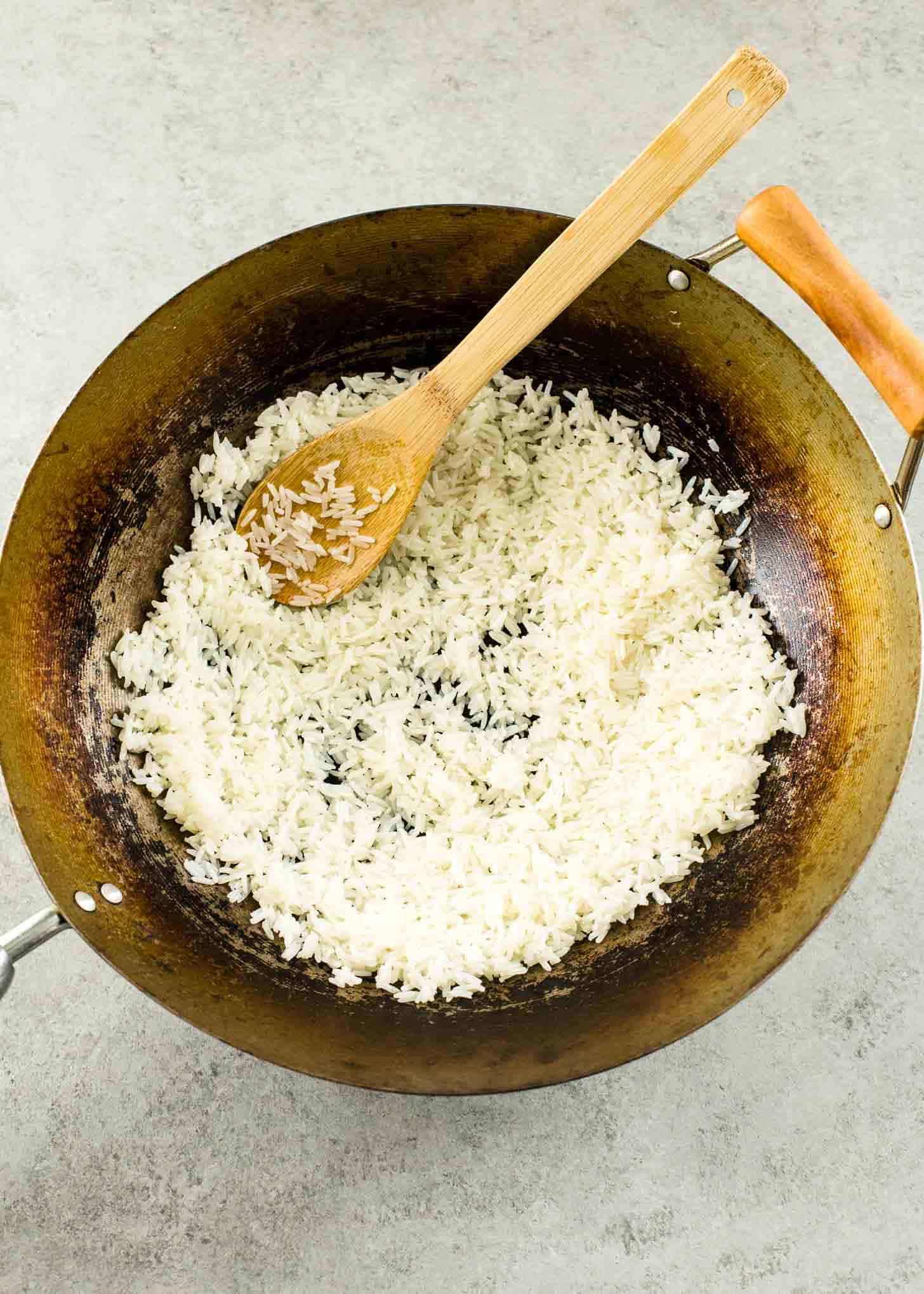 What Oil To Use for Thai Crispy Rice
Any oil that can be used at high heat will work in this recipe. My favorites are:
Avocado Oil – This is my go-to cooking oil. It has all those good monounsaturated fats, can be used at temperatures up to 500˚ F, so it's great for stir-fry or frying and has a fresh, mild flavor. (Buy avocado oil from Costco or Aldi for the best price I've found.)
Grapeseed Oil – This is my second choice for an all-purpose cooking oil. It can be used at temperatures up to 400˚ F and the flavor is clean and fresh, which makes it work for almost any type of cooking.
Peanut Oil – Peanut oil has a nutty, subtle peanut flavor which can give some Western dishes an unexpected flavor but is perfect for most Asian cooking. It can be used up to 450˚ F. It spoils and turns rancid faster than the other oils above, so I usually only buy it if I'm going to be doing a lot of Thai or Chinese cooking within a few months.
Vegetable Oil – Inexpensive and with a neutral flavor, vegetable oil is a good all-around workhorse. It can be used up to 400˚ F, lasts a long time in the pantry, and is used in a lot of baking as well as high heat cooking.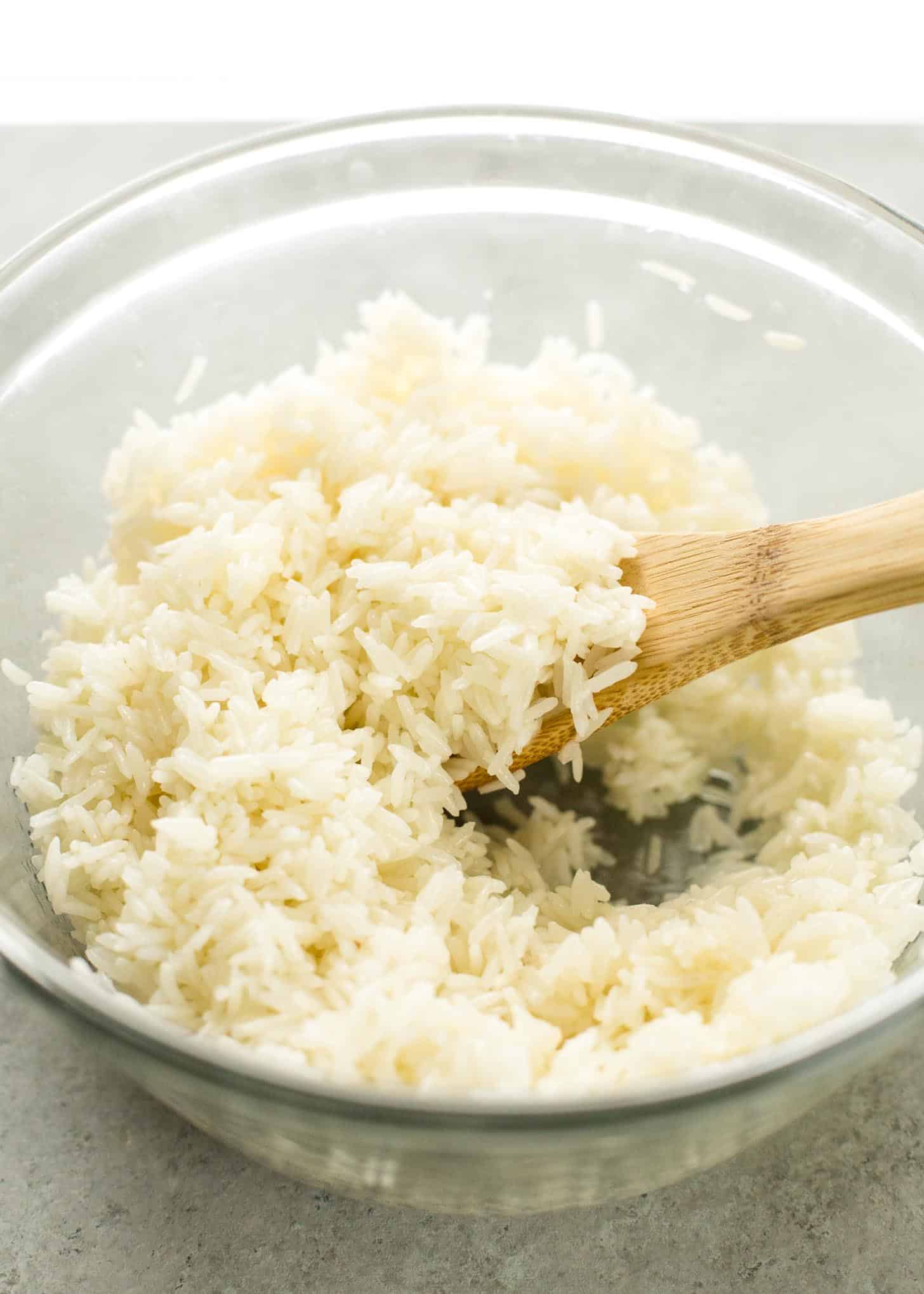 When making crispy rice, it's important that every grain of rice is coated in oil. There shouldn't be oil sitting in the bottom of the bowl, but the rice grains should look separate and shiny from a thin coating of oil. After it sits in the bottom of the pan, it gets a golden crust like this.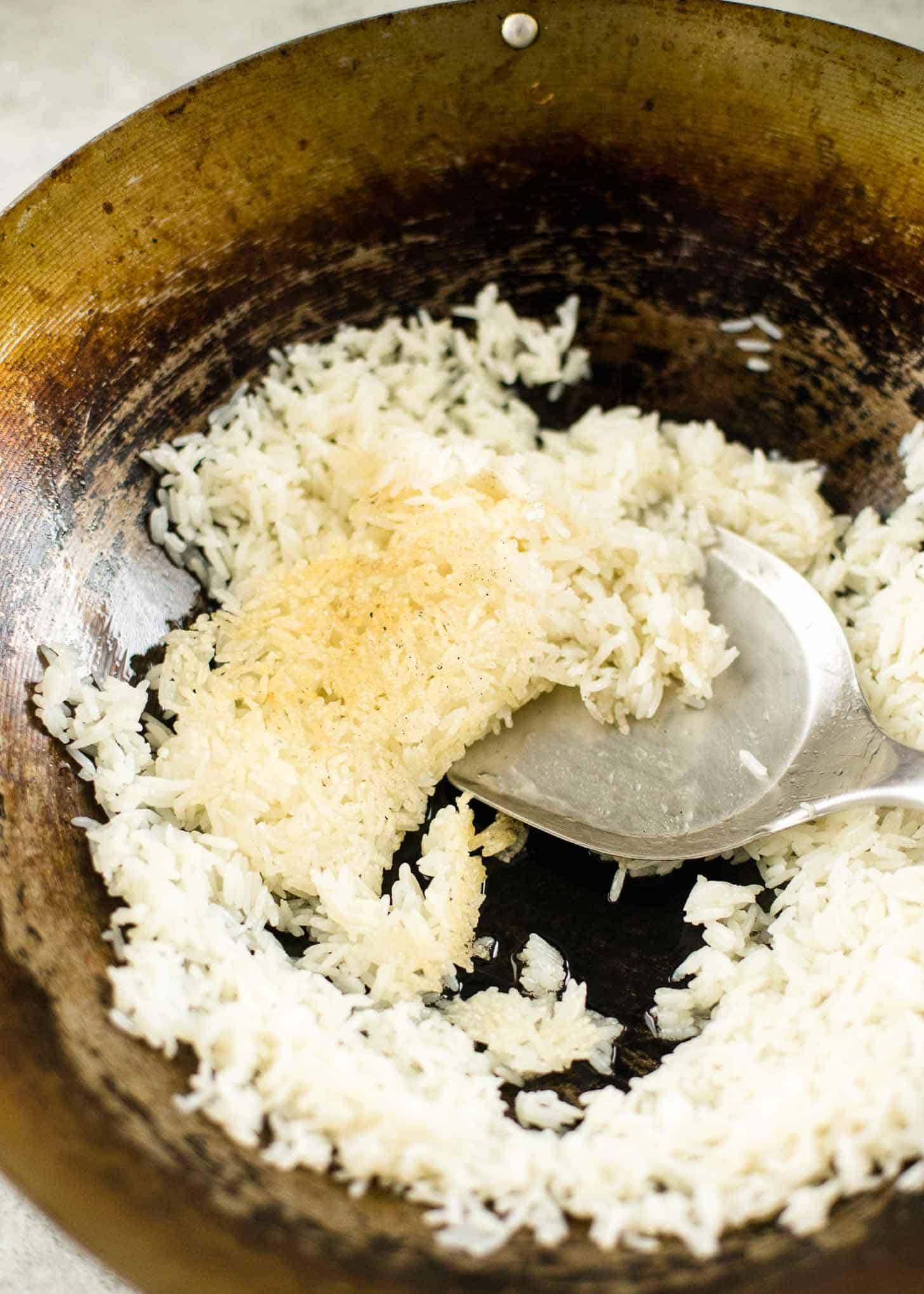 Options for Seasoning Crispy Rice
The most important thing when seasoning your crispy rice is not to add too much liquid. Adding a bunch of liquid will make the rice wet and take away all the work you put into making it crispy! Seasonings there are in paste form are the best. Here are my favorites:
Nam Prik Pao (Thai Chili Paste) – This is easy to find at any Asian market. It has a sweet, roasted, slightly spicy flavor. Store-bought versions are made with dried shrimp for a subtle fishy flavor. My homemade version is vegetarian and uses either soy sauce, Tamari, or fish sauce depending on your diet preferences.
Curry Paste – Any color would be great! Red curry paste would make this dish spicy. Yellow or massaman curry paste have a more mild, complex flavor that would be great here.
Soy sauce, Tamari, Fish Sauce – A splash of one of these will add some salt to the dish. Just a splash though so you don't lose the crunch!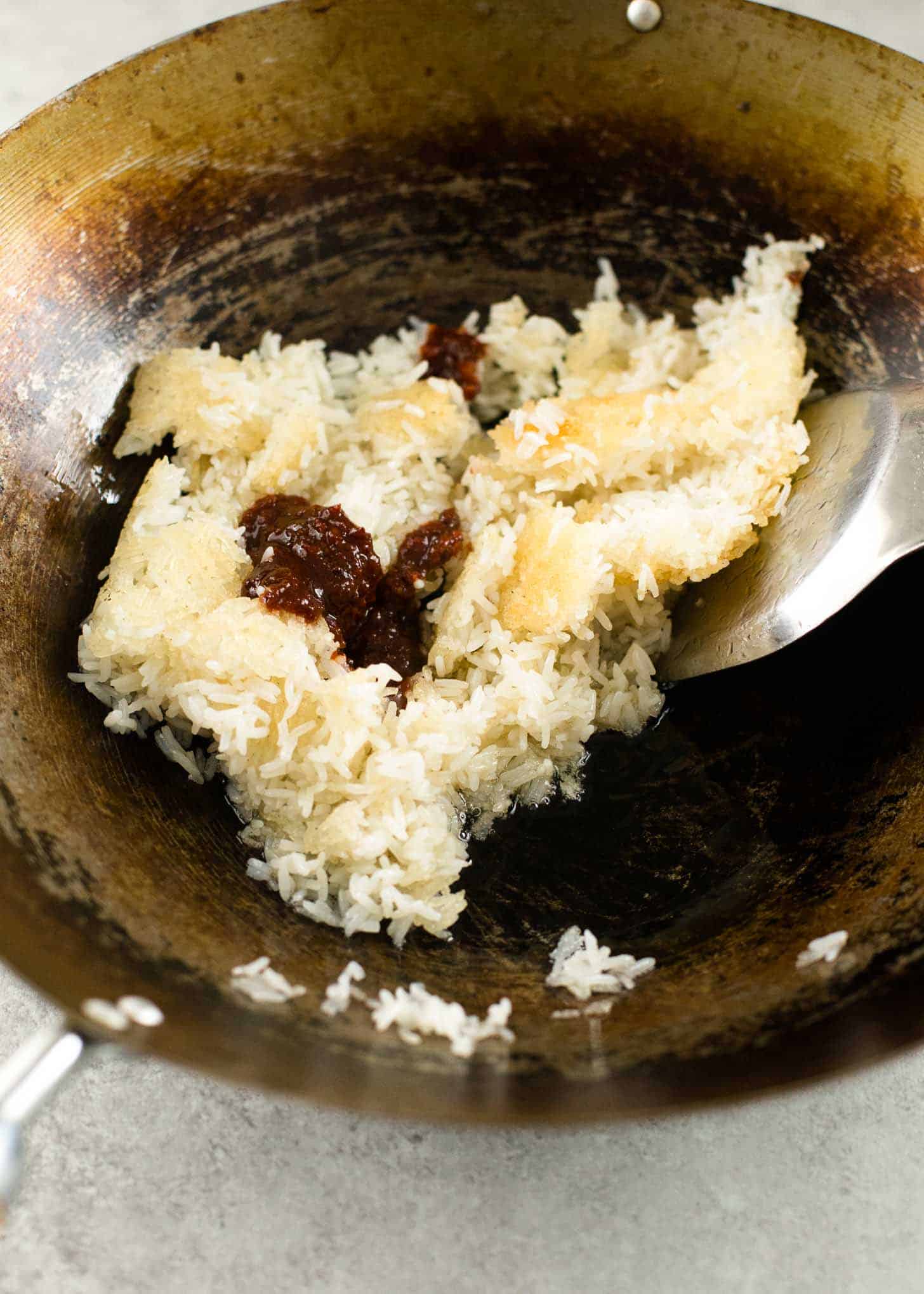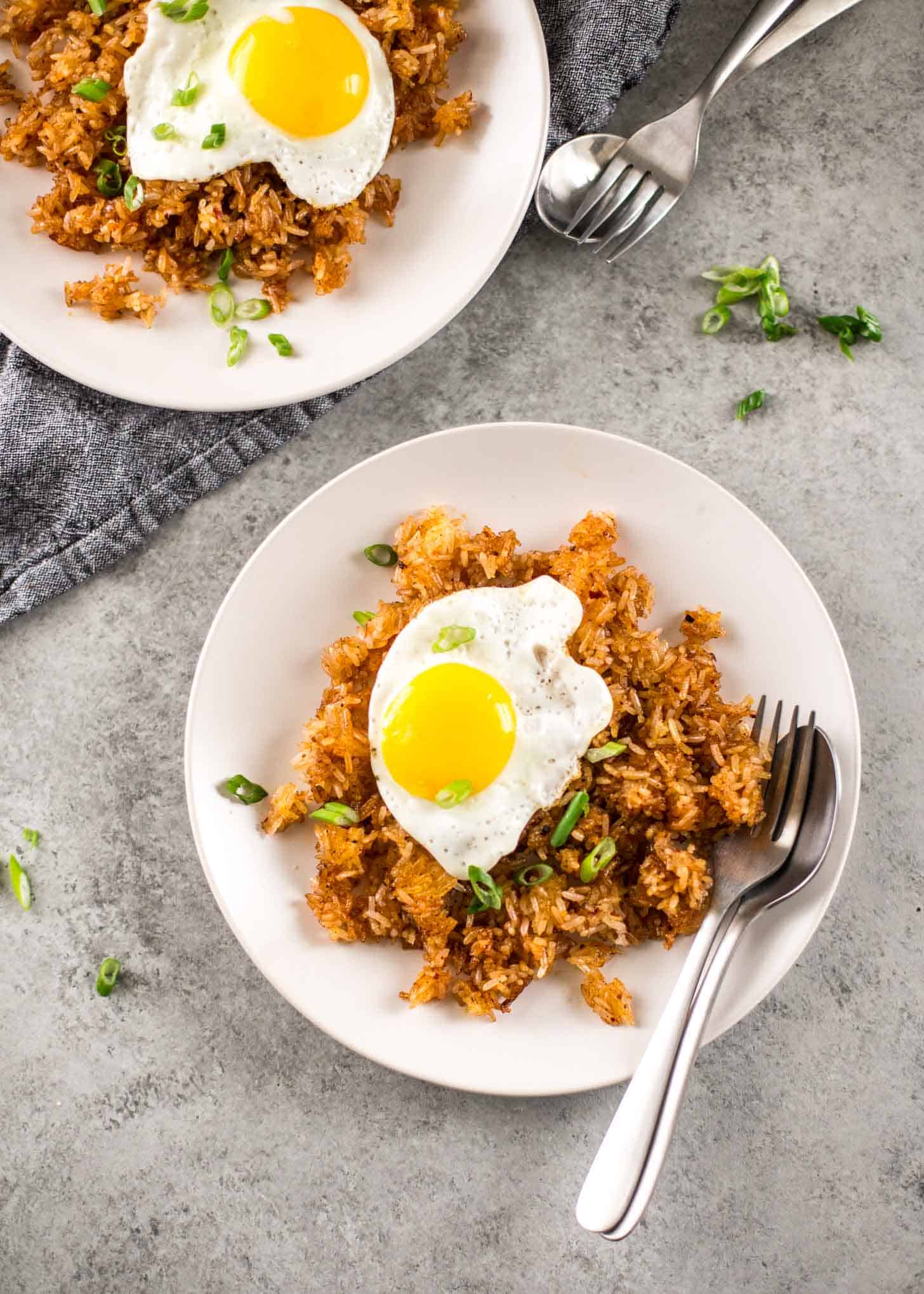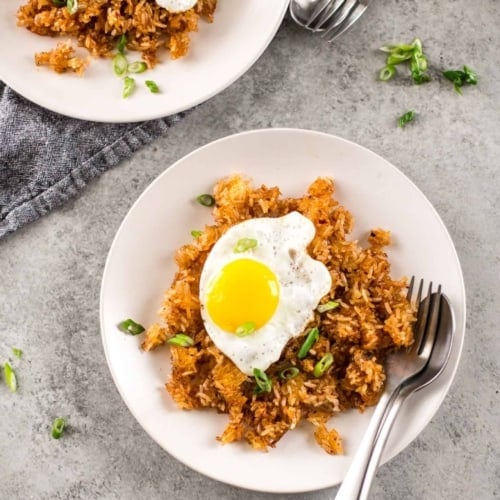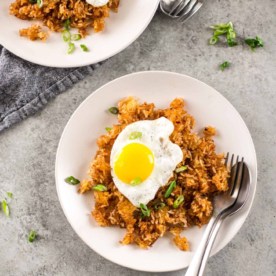 Thai Crispy Rice
Let the rice crisp on the bottom of the pan for this twist on fried rice that is full of crunchy texture and flavor. Top it with a fried egg for a super easy lunch or dinner that uses that leftover rice in the back of the fridge.
Ingredients
2

Tbsp

Cooking Oil

(see note)

2

cups

Cooked Jasmine Rice

(use cooked rice that has been refrigerated for a day or two)

1 1/2

Tbsp

Nam Prik Pao / Thai Chili Paste

(sub any color Thai curry paste, but reduce for less spice)

2

tsp

Soy Sauce

(sub Tamari or Fish Sauce if preferred)

2

tsp

Lime Juice

Fried Eggs, for serving

Chopped green onions or cilantro, for serving
Instructions
Stir oil into cooked rice.

Heat a wok or skillet over medium heat. As soon as the pan is hot, spread the rice out in a single, even layer in the pan (spread it out up the sides of the wok if possible; maximum surface area makes for the most crispy bits).

Cook the rice, without stirring, until the bottom is a light golden brown, 4 to 5 minutes.

Stir in nam prik Pao and soy sauce, breaking the rice up into bite-size bits as you stir.

Taste the rice and if it is very dry, you can add an extra splash of soy sauce.

Stir in lime juice.

Serve rice with fried eggs and fresh chopped herbs on top.
Notes
Any type of cooking oil that is approved at high heat will work - avocado, grapeseed, vegetable, or peanut oil are our favorites here.
Thai Chili Paste or Curry Paste - these are what give the dish it's flavor. Nam Prik Pao (Thai Chili Paste) is our favorite because it has layers of complex flavor. Red curry paste will make the dish quite spicy. Yellow curry paste or Massaman curry paste are usually slightly spicy and more nuanced.
Nutrition
Serving:
1
g
|
Calories:
304
kcal
|
Carbohydrates:
39
g
|
Protein:
3
g
|
Fat:
15
g
|
Saturated Fat:
2
g
|
Polyunsaturated Fat:
13
g
|
Sodium:
807
mg
|
Fiber:
2
g
|
Sugar:
2
g
Nutrition information is automatically calculated, so should only be used as an approximation.