Chicken Enchilada Casserole
Published Aug 12, 2019•Updated Mar 15, 2022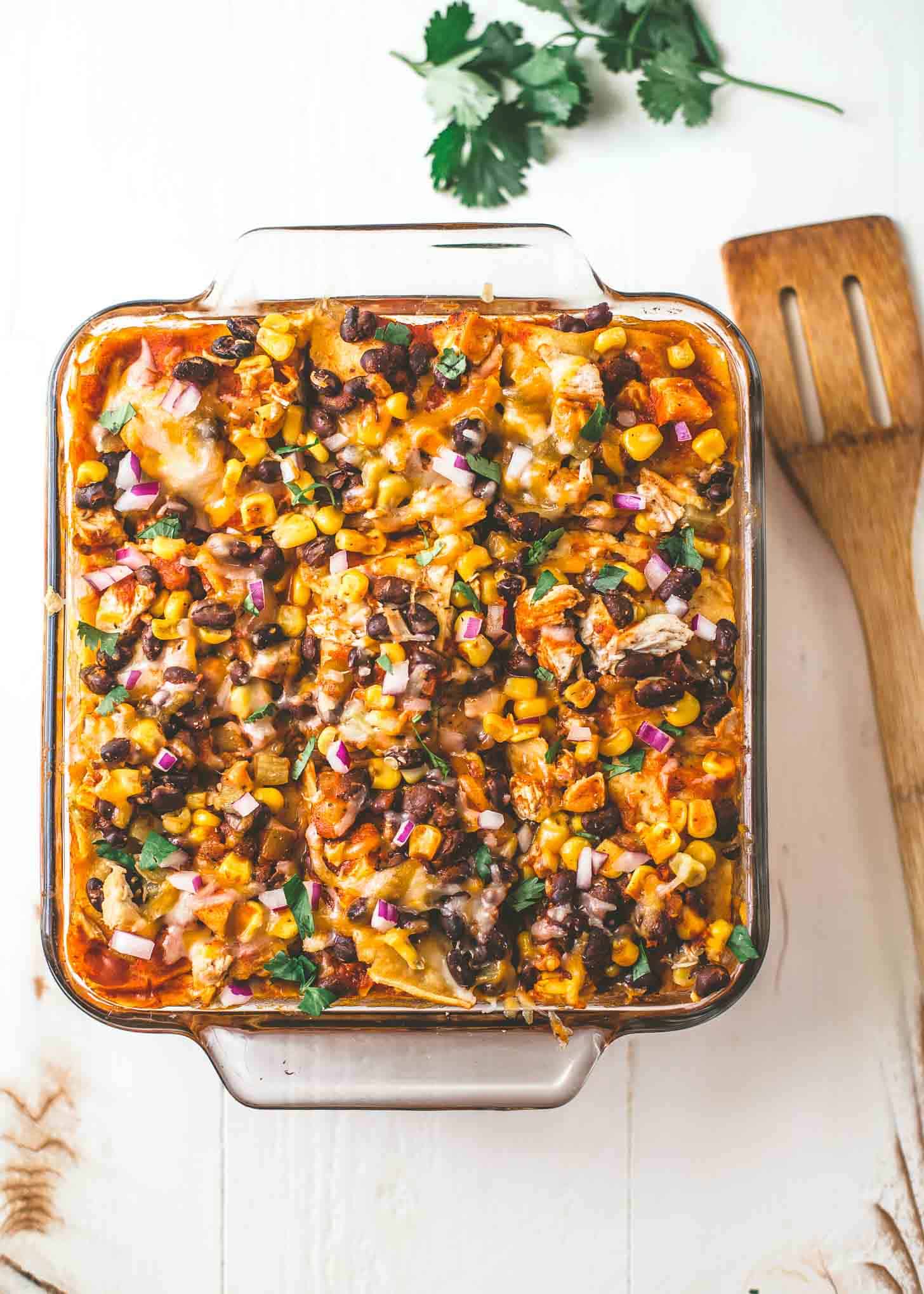 Chicken Enchilada Casserole is layered with chicken, melty cheese, black beans, and corn. It's much easier to make than classic enchiladas, giving you all the same flavor in less time. Freeze it for a quick weeknight dinner.
If I had to describe my default weeknight dinner routine, it would look something like Tex Mex, stir-fry, pan-seared salmon, repeat. Because my job is to test and develop new recipes, I'm forced to mix things up, but left to my own devices, dinner at our house would be incredibly predictable.
Chicken Enchilada Casserole falls right into my comfort zone. Because the casserole is assembled ahead of time, it results in far fewer dishes after the meal than tacos or tostadas. And you can finish a slice of this casserole off with any of your taco topping favorites – sour cream, guacamole, chopped red onions, cilantro, or salsa! It's great served with tortilla chips for a bit of crunch as well.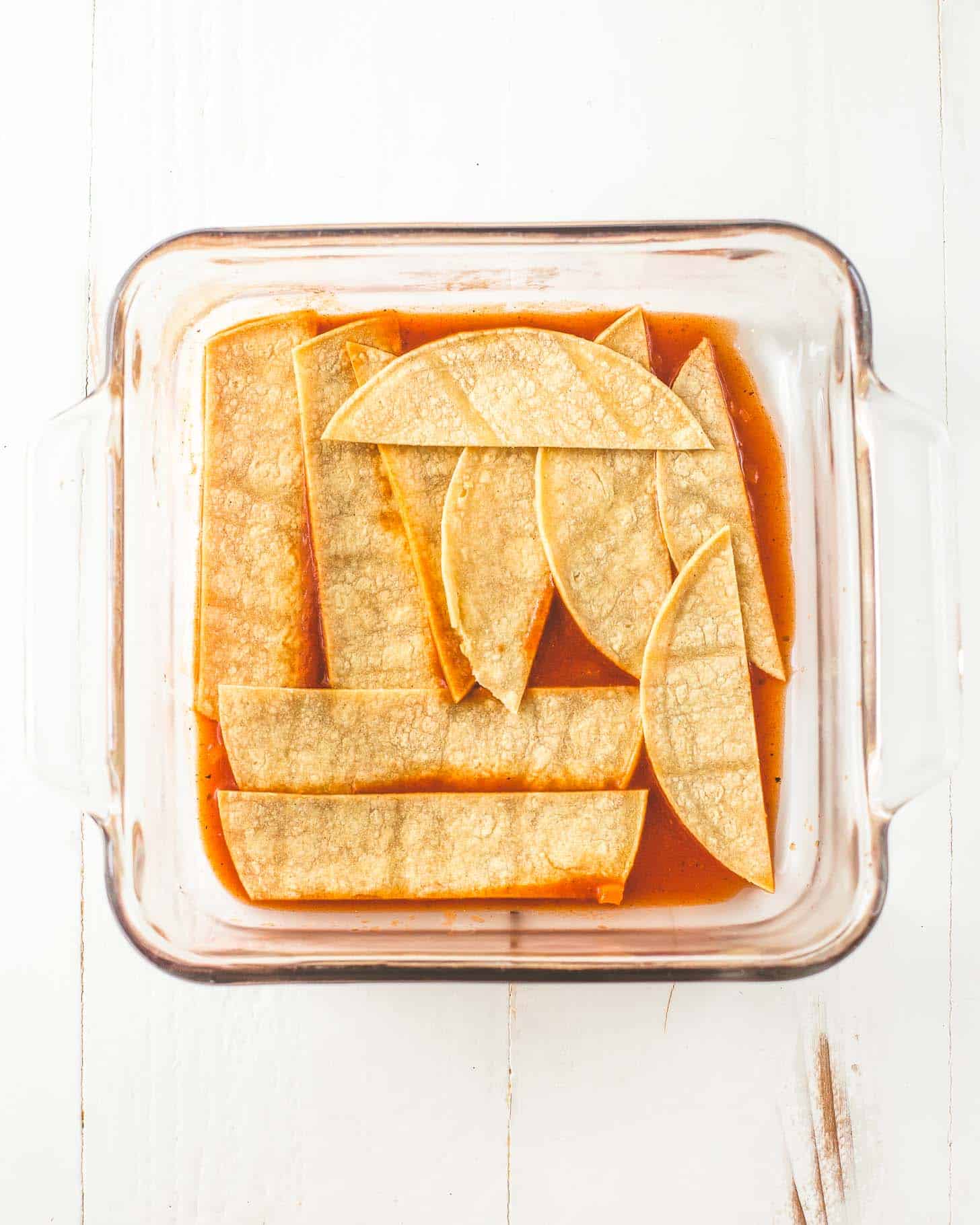 Chicken Enchilada Casserole Ingredients
Red Enchilada Sauce –

The sauce gives the enchilada casserole most of its flavor, so I highly recommend making your enchilada sauce from scratch. It's incredibly easy and uses pantry staples. My

homemade version

is gluten-free and full of great flavor. Store-bought sauce works just fine too. Be sure to taste the enchilada sauce and add some salt if needed (especially if using homemade). The majority of seasoning in the dish comes from the sauce, so it's important that the sauce is sufficiently seasoned.

Frozen Corn –

You can use canned corn if you prefer, but drain and rinse it well before using.

Black Beans –

I love the flavor of canned black beans in this dish, but pinto beans would also work well.

Green Chiles

– Look for the small cans of chopped green chiles with other canned goods or in the international aisle at the grocery store. They come in mild, medium, and hot, so be sure to grab the mild version unless you like a lot of spice.

Corn or Flour Tortillas

– I have a soft spot for flour tortillas, but love the flavor and texture of corn tortillas in this dish. It works well either way. Just be sure to grab gluten-free corn tortillas, if you need this dish to be gluten-free.

Cooked and Chopped Chicken

– Use chicken thighs or chicken breast or rotisserie chicken. If you cook it yourself, just be sure to season it well with some salt and pepper so that it can stand up to the bold flavors of the enchilada sauce.

Shredded Cheddar Cheese – Any cheese will work here, but cheddar is a classic. I also tested with Colby Jack which is a bit more mild but gets bonus points for getting super melty in the oven.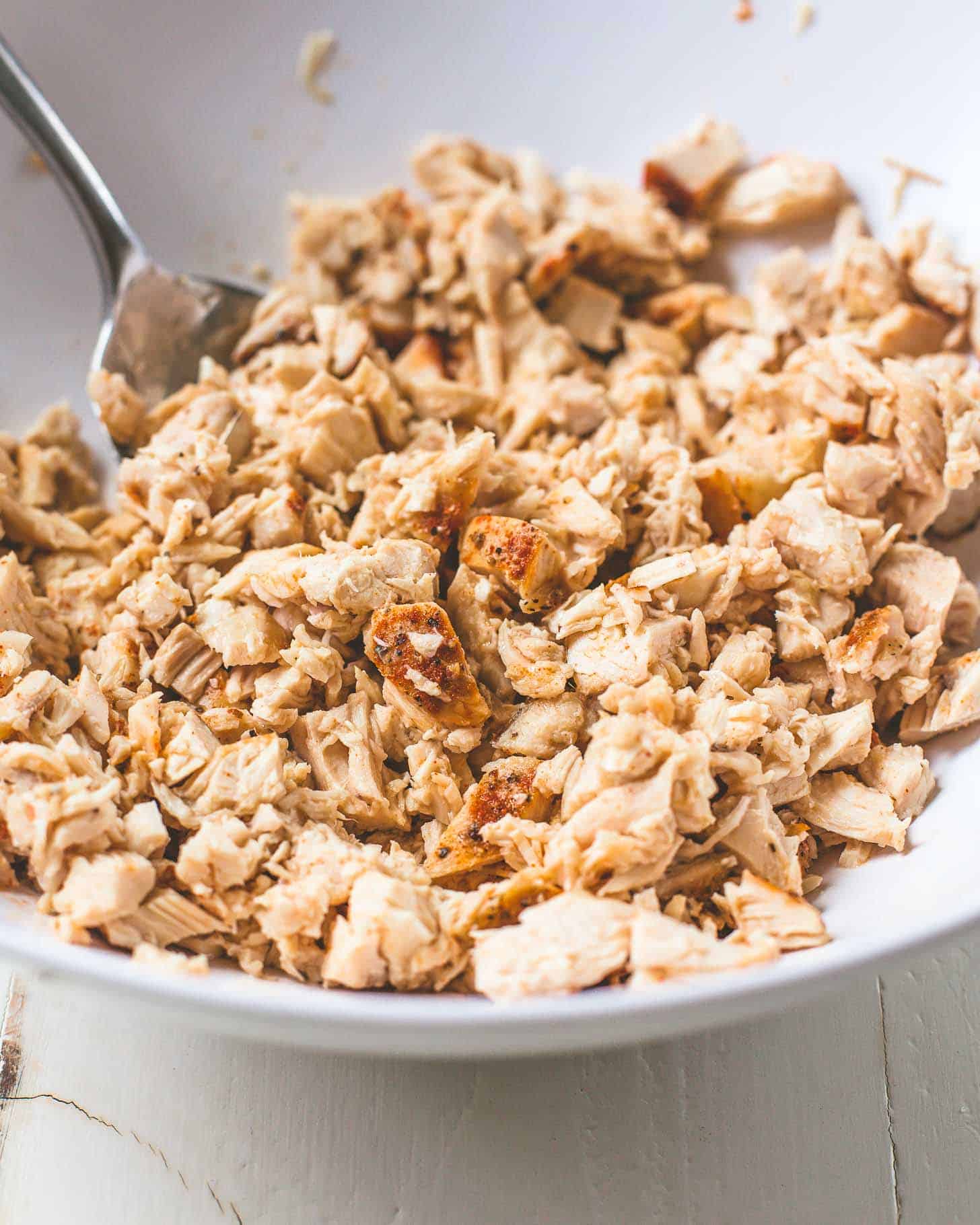 Toppings for Enchilada Casserole
No toppings are necessary, but if you want to add a little fresh flavor to the enchilada casserole at the end of cooking, top each slice with sour cream, guacamole, chopped red onions, cilantro, or salsa. Tortilla chips add some crunch and are great for scooping up the dish or crumbling over top. You can even set everything out so that everyone can finish their dish the way they'd like.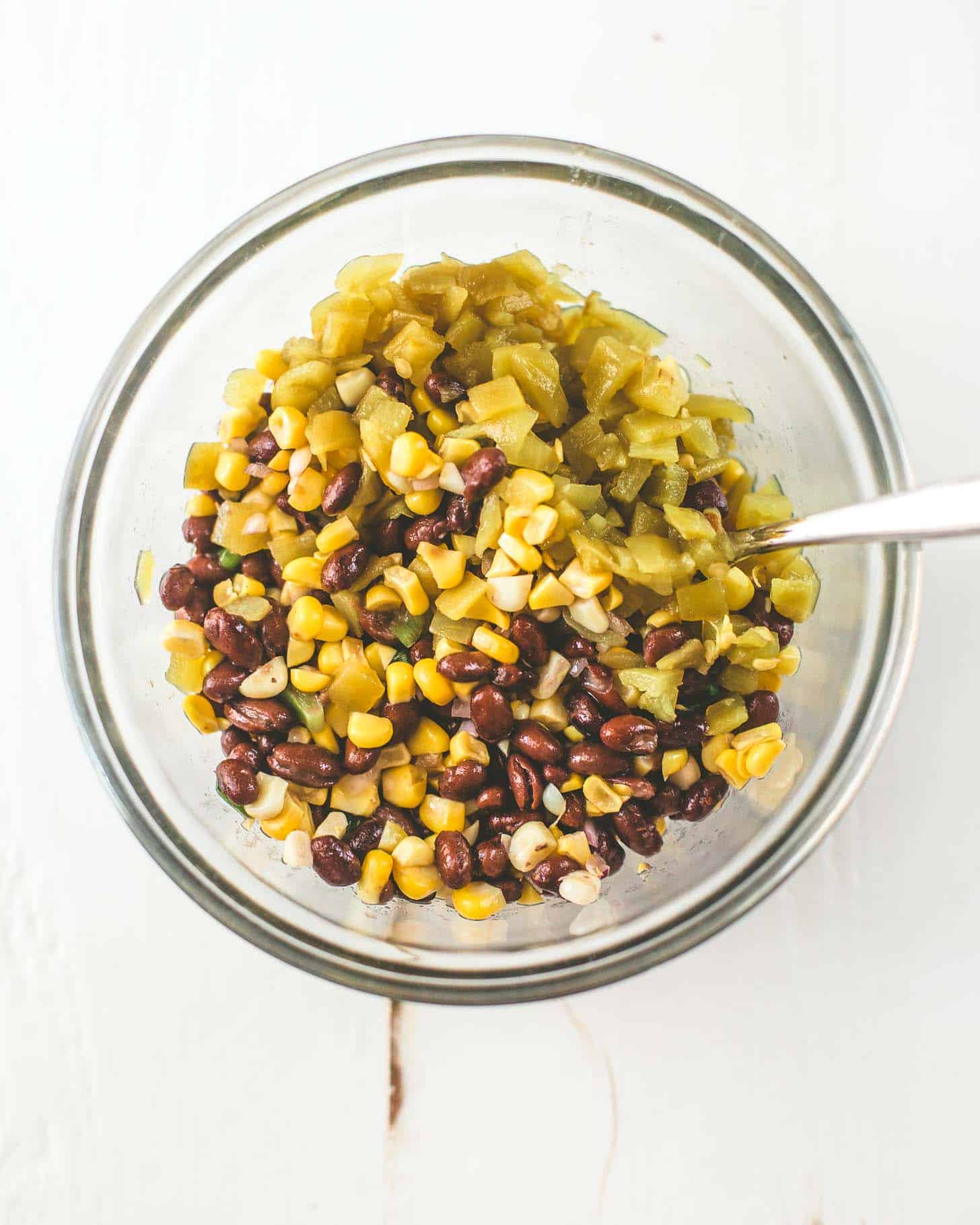 Freeze This Meal
Enchilada Casserole freezes well. Just cover it tightly with aluminum foil and freeze for up to 6 months. To serve, defrost it completely for 24-48 hours in the refrigerator before baking according to the instructions below.
To make things super easy, print the recipe below for a recipe label with reheating instructions. Tape it to the top of the meal before you freeze it and anyone will be able to finish and serve the dish.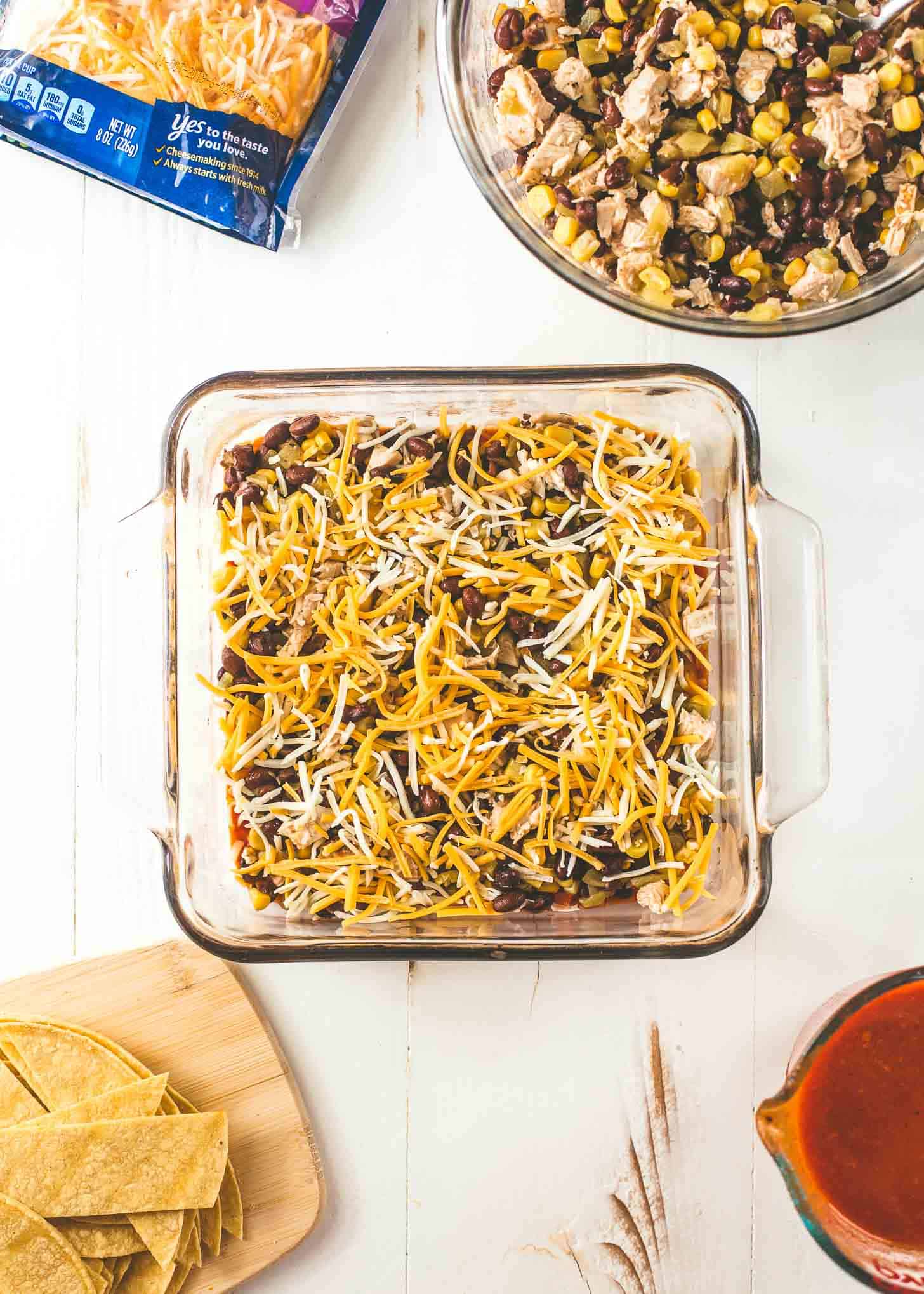 Corn vs. Flour Tortillas (updated 9/6/19)
I've had a few questions about corn vs. flour tortillas in this casserole, so I thought I'd weigh in. This is a true casserole-style dish, so the tortillas are surrounded by liquid and therefore they change texture and get much more tender as they cook. After being cooked, the corn tortillas have a bit of a crumbly texture and flour tortillas have a bit more chew and substance. I think both work well.
If you freeze the casserole, both types of tortillas will soften considerably. When cooked after being frozen the dish has less defined layers and an overall softer texture (making it great to serve with tortilla chips for scooping!).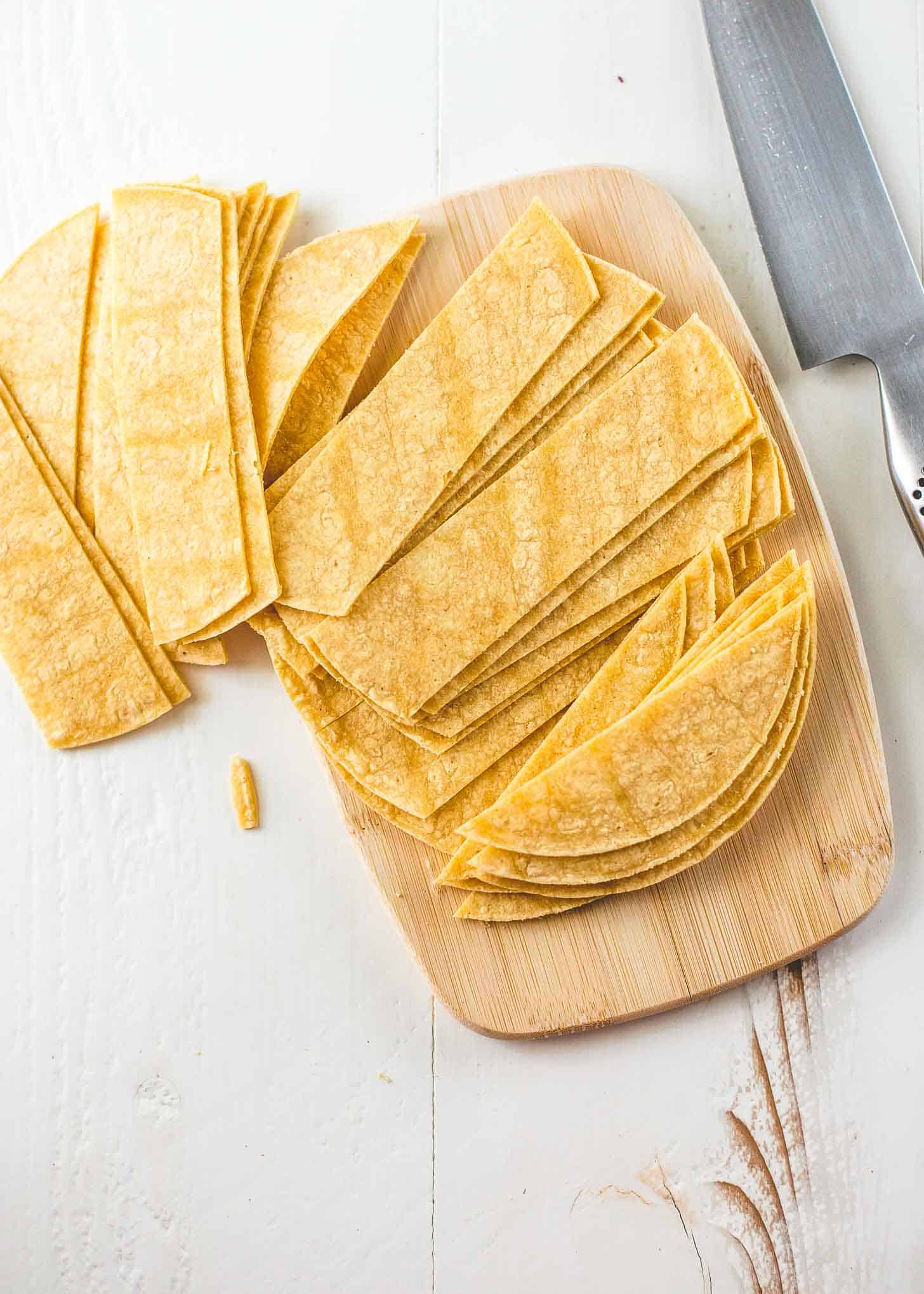 How to Deliver This Meal To Someone Else
This would be a fun meal to deliver to someone who could use a little extra TLC because it is super easy to bake and serve
Deliver with:
Shredded Cheddar Cheese

Sour Cream

Tortilla Chips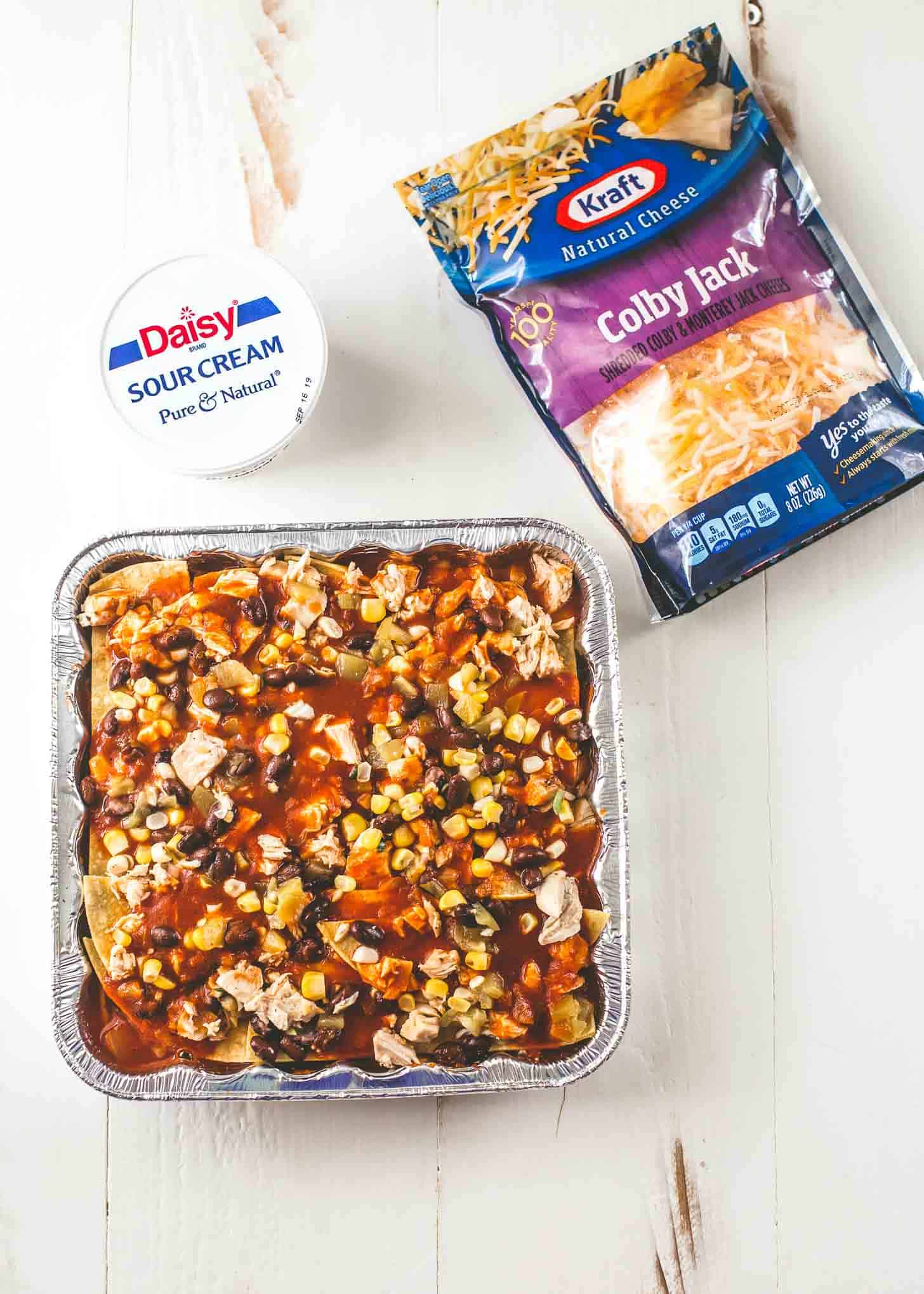 Don't forget to add the reheating instructions in the recipe below!
More Make-Ahead Casseroles
Spicy Breakfast Strata with Chorizo, Red Pepper, and Cheddar

– A few years ago, if you came over for brunch at our house, this is what we were serving. Strata is just an egg casserole, but the combination of spicy chorizo, creamy melted cheese, and hearty bread cubes in this version makes it my all-time favorite. It's as good for dinner as it is for breakfast or brunch.

Creamy Sweet Potato Pasta Bake

– Sweet potatoes mixed into the creamy cheese sauce of this baked pasta make it a bit healthier than classic macaroni and cheese, but also add a ton of flavor and creaminess.

Make Ahead Mashed Potatoes

– Though not exactly a casserole, this method for making mashed potatoes and baking them just before serving turns this messy last-minute side dish into something that can be entirely prepped ahead.
Favorite Tools
8×8 Baking Dish Emile Henry

– The deep sides of this baker make it perfect for the many layers of enchilada casserole.

Anchor 3-Piece Glass Mixing Bowls

– I use these glass mixing bowls for practically everything. They're great for portioning out all the ingredients of the enchiladas so that each layer is right at your fingertips.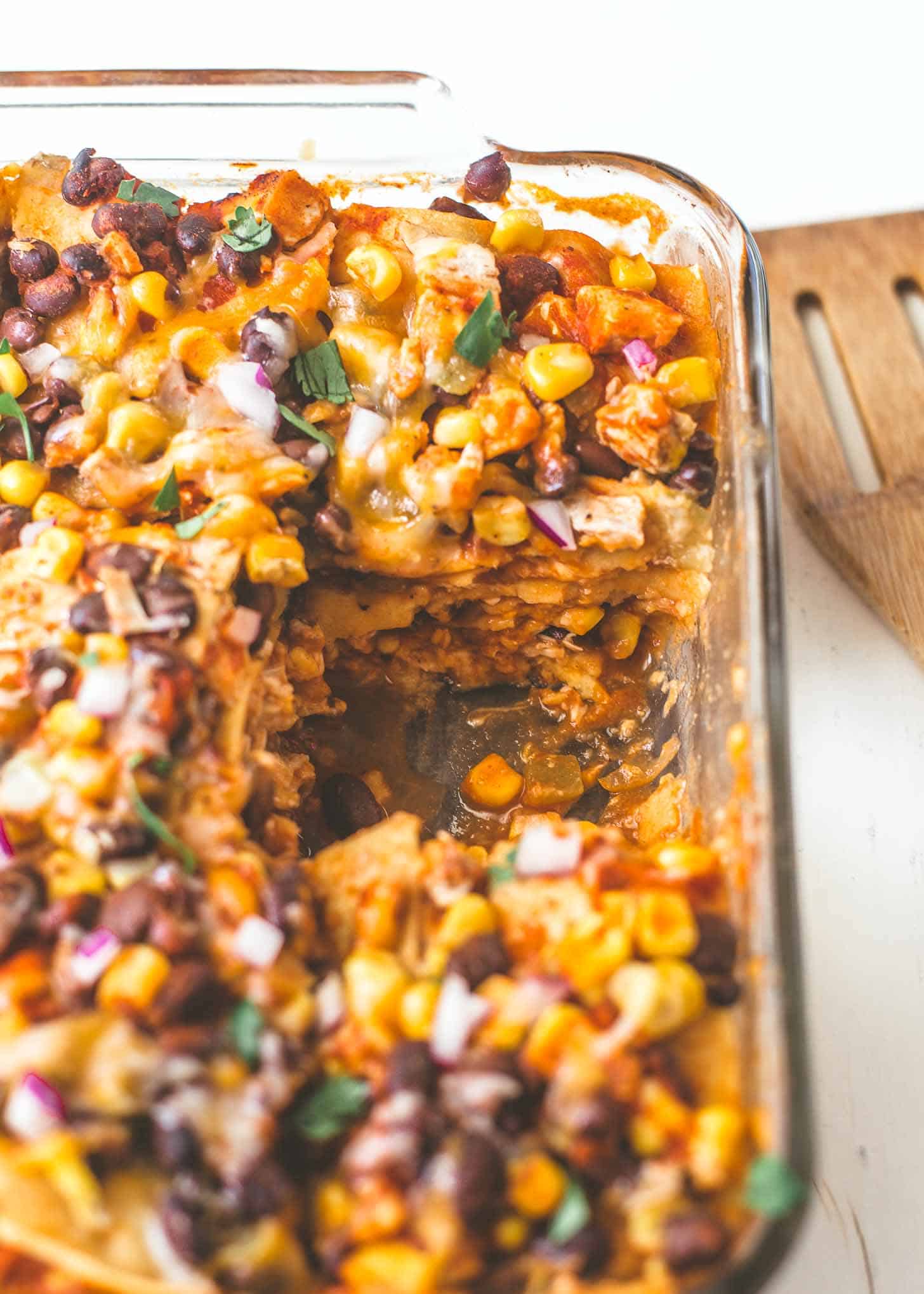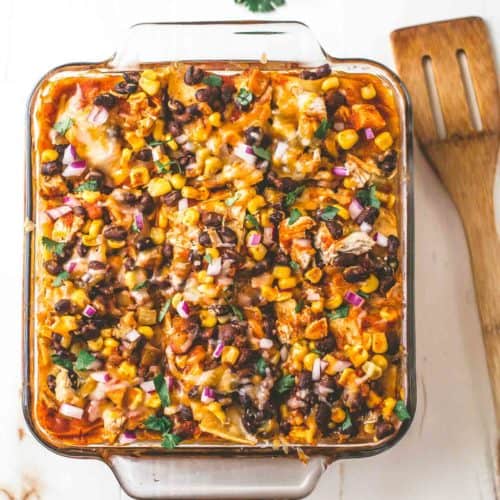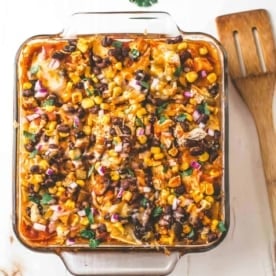 Chicken Enchilada Casserole
Chicken Enchilada Casserole is layered with chicken, melty cheese, black beans, and corn. It's much easier to make than classic enchiladas, giving you all the same flavor in less time. Freeze it for a quick weeknight dinner.
Equipment
aluminum foil

8x8 or 9x9 Oven-Safe Baking Dish
Ingredients
6

Taco-Sized Corn or Flour Tortillas, sliced into thick strips

(be sure to use gluten-free tortillas if needed)

1

cup

Frozen Corn, defrosted

1

4 ounce can

Mild Green Chiles

1

15 ounce can

Black Beans, drained and rinsed

2

cups

Cooked and Chopped Chicken

(use chicken breast, thigh, or rotisserie chicken)

3

cups

Red Enchilada Sauce (it's best with this homemade version)

2 + 1/2

cups

Shredded Colby Jack or Cheddar Cheese, divided

Optional toppings - sour cream, guacamole, chopped red onions, cilantro, salsa, tortilla chips
Instructions
Heat oven to 425°F. Spray an 8x8 or 9x9 baking dish with nonstick cooking spray or rub it with some cooking oil.

Slice tortillas into thick strips (about 4 to 5 strips per tortilla).

In a large mixing bowl, combine corn, green chiles, black beans, and chicken.

In the prepared baking dish, start layering ingredients by first spreading a thin layer of enchilada sauce on the bottom.

Top with tortillas, vegetable / chicken filling, enchilada sauce, and cheese.

Repeat until all of the ingredients have been used, finishing the top with tortilla strips, vegetables / chicken, and enchilada sauce (reserve 1/2 cup of cheese to finish the dish after baking).

At this point, casserole can be refrigerated for up to 3 hours or frozen for up to 6 months.

To bake, cover the enchilada casserole tightly with aluminum foil. Place it on a sheet pan (in case it bubbles over).

Bake, covered, for 20 minutes (add 10 to 15 minutes if the dish has been refrigerated before baking).

Remove foil and add the remaining 1/2 cup of shredded cheese.

Return casserole to oven and continue baking, uncovered, until cheese is melted, about 10 minutes more.

Let casserole rest for 10 min before slicing. (The slices will hold together better if it's slightly cooled before serving.)

Serve immediately with any toppings you'd like!
Notes
Note: Be sure to taste the enchilada sauce you use in the dish (whether homemade or store-bought). Most of the flavor and seasoning in the dish comes from the enchilada sauce, so be sure that the sauce has a sufficient amount of salt. If not, you can stir a bit of salt into the enchilada sauce or lightly salt the beans, chilis, and chicken.
This dish can be baked in an 8x8 or 9x9 baking dish. If baking in a 9x9 baker, you may need to use 2 additional tortillas to make sure that each layer has tortillas that reach the edges of the pan.
If assembling this dish in an 8x8 disposable aluminum baking pan (to freeze or take to someone else, as shown in photos above), the shorter sides of the dish may mean that you have some filling leftover. I find that a double batch of the ingredients can be spread out over 3 separate 8x8 reusable aluminum baking pans (each pan then easily can serve 4-5 people).
Print and attach the label below so cooking instructions are ready when you are!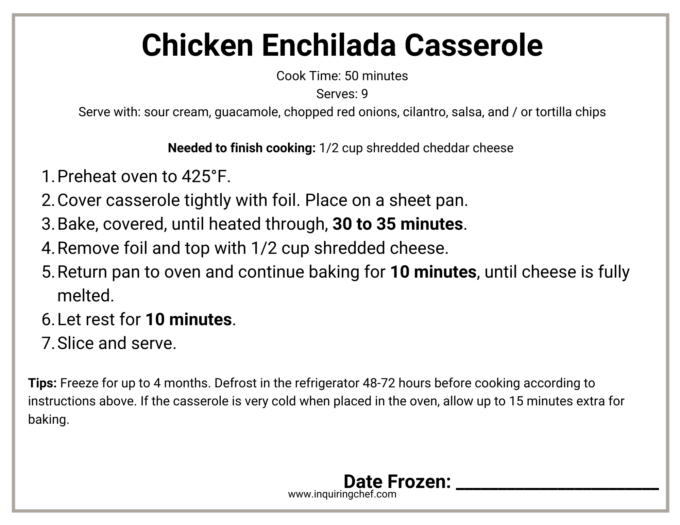 Nutrition
Serving:
0.13
dish
|
Calories:
273
kcal
|
Carbohydrates:
18
g
|
Protein:
11
g
|
Fat:
11
g
|
Saturated Fat:
6
g
|
Cholesterol:
35
mg
|
Sodium:
866
mg
|
Potassium:
117
mg
|
Fiber:
3
g
|
Sugar:
6
g
|
Vitamin A:
845
IU
|
Vitamin C:
2.7
mg
|
Calcium:
196
mg
|
Iron:
1
mg
Nutrition information is automatically calculated, so should only be used as an approximation.
We don't live on a particularly busy street, but Molly and Clara's favorite late-afternoon pastime is watching the dogs + kids + runners as they pass by the front window.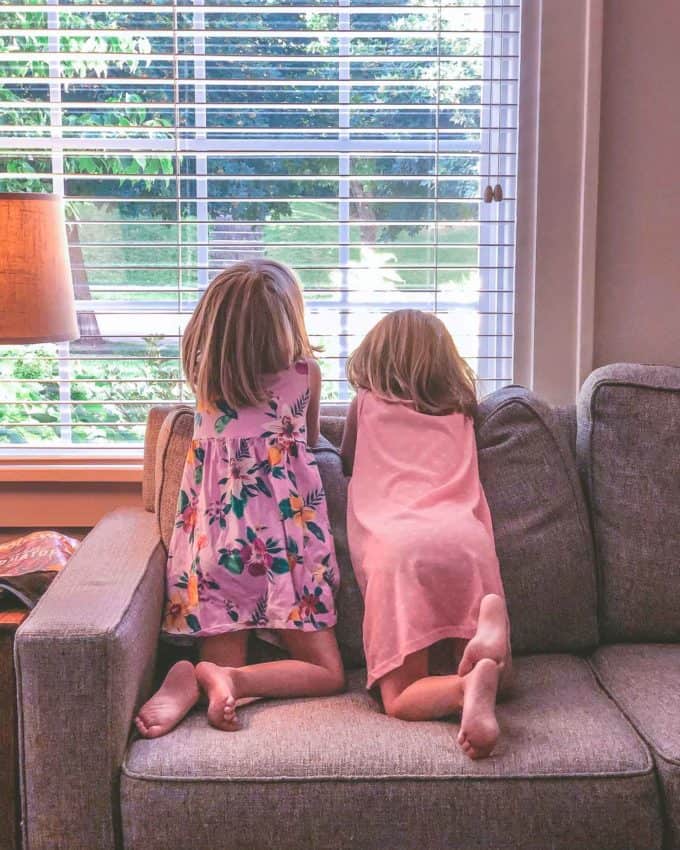 *This post contains affiliate links*