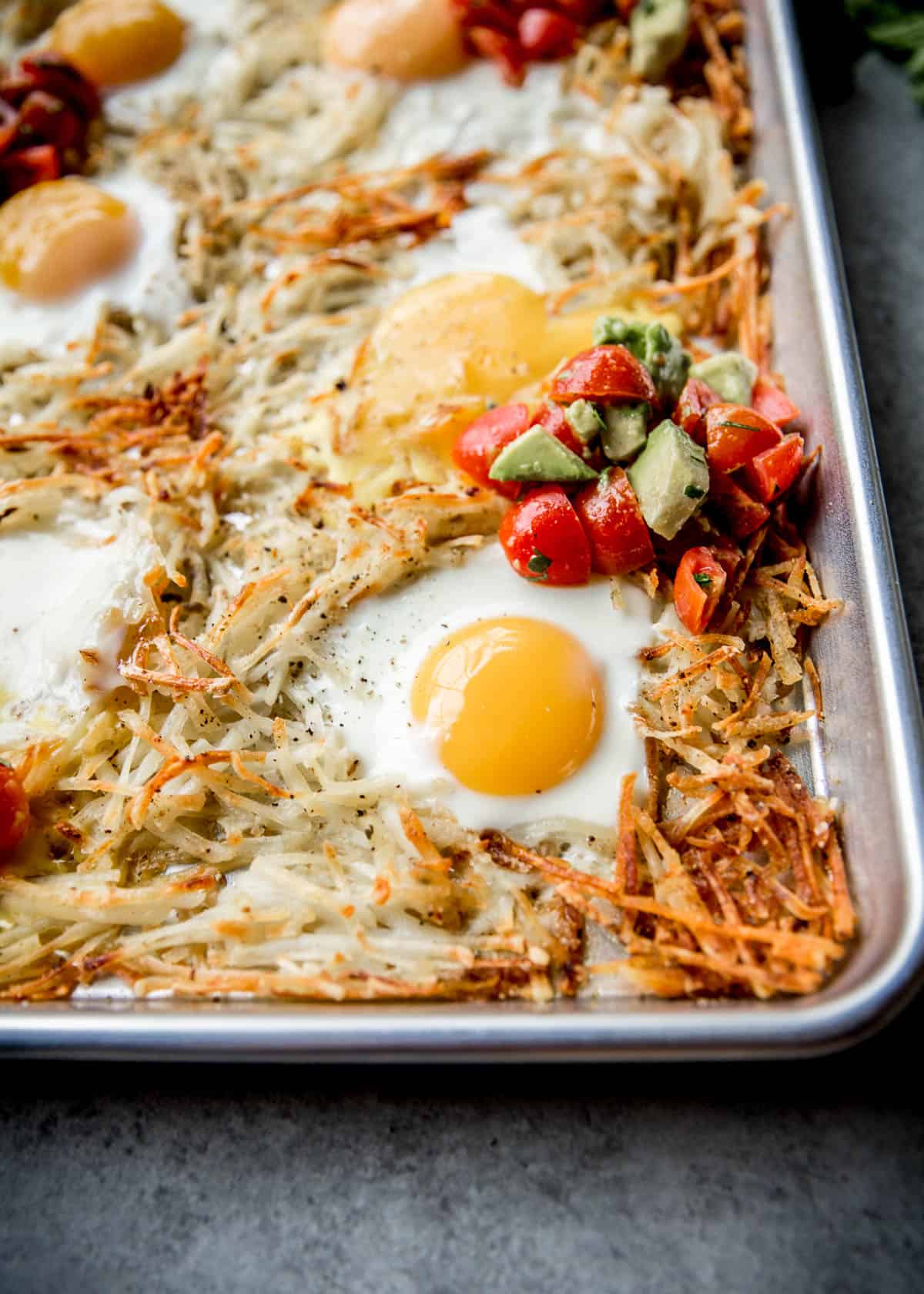 Sheet Pan Hash Browns and Eggs with Avocado Salsa is a fresh, savory breakfast all on one sheet pan! There's no need to break out a skillet when you can bake hash browns and top them with eggs right in the oven. Finish it all with fresh avocado and tomato salsa.
Birthday week is complete. Molly and Clara had an eventful few days surrounding their seventh birthday. Tuesday started with a flukey late April snow! We got at least two inches of very fluffy snow which, fortunately, melted within a couple of hours.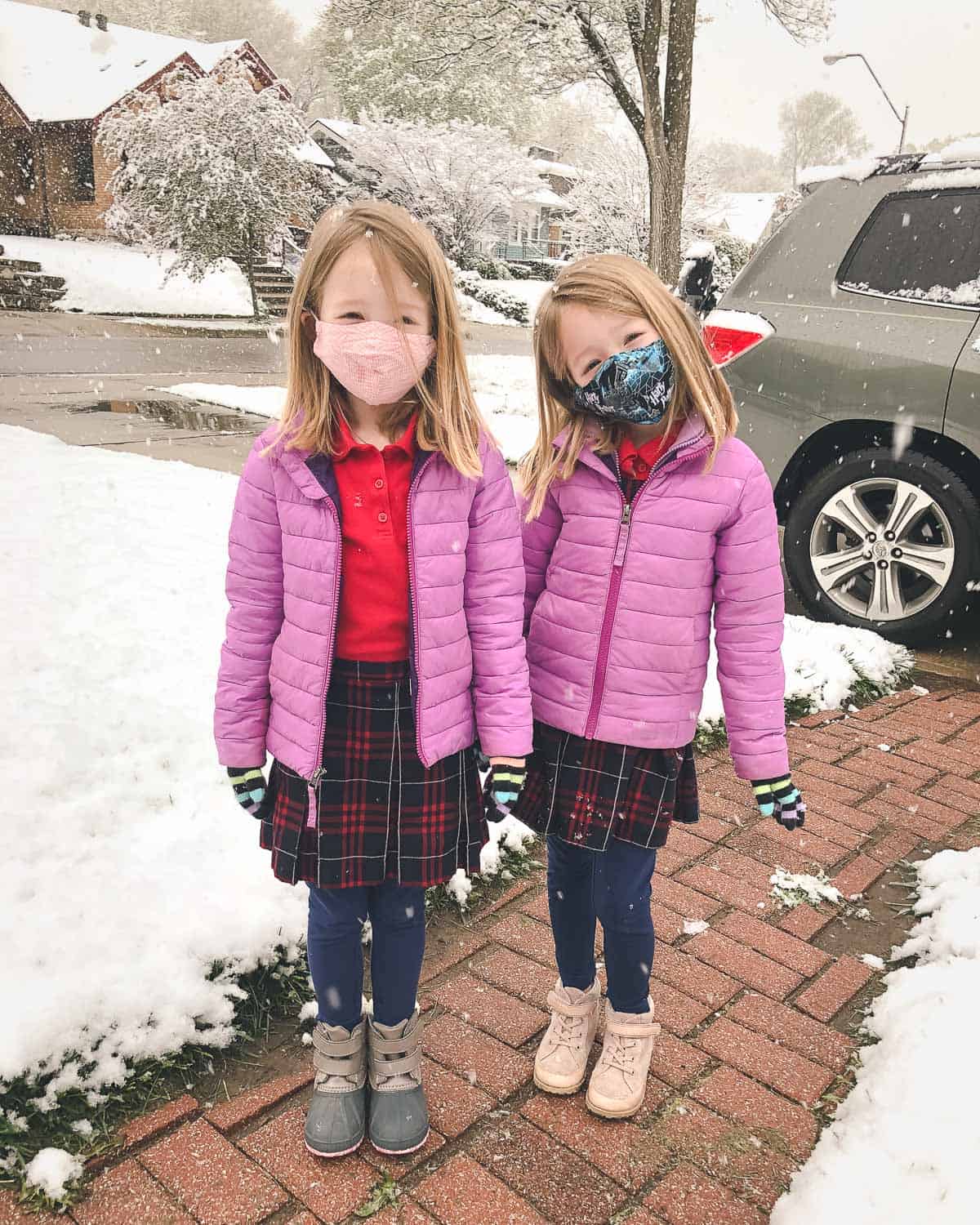 In a crazy tornado of a day (and with the added help of the Pottery Barn delivery / assembly team) we managed to completely transform Molly and Clara's bedroom while they were at school that day and gave them a birthday surprise of all new bedroom furniture. It was epic and so much fun. Two-year-old June was equal parts delighted and overwhelmed by all the action.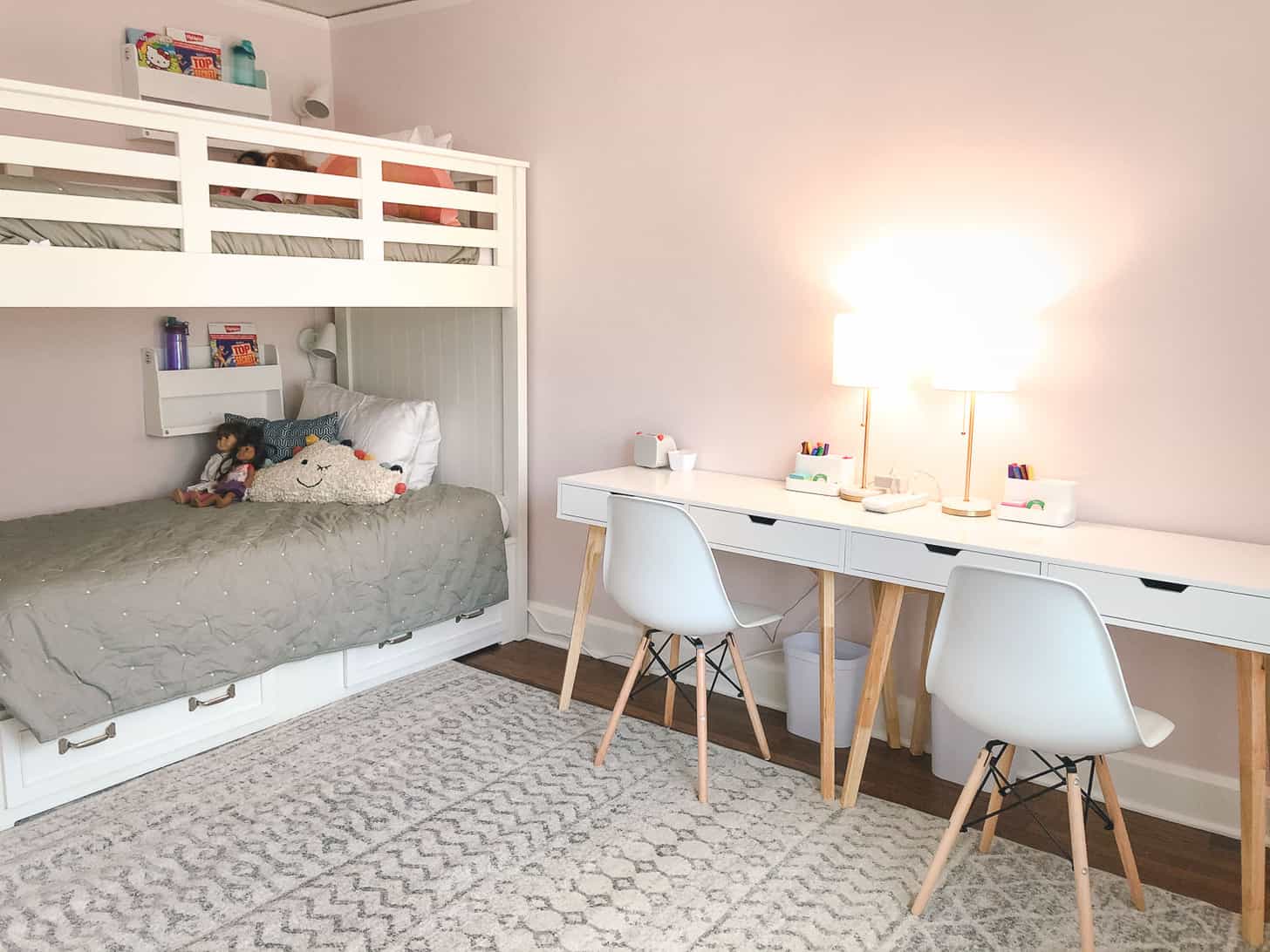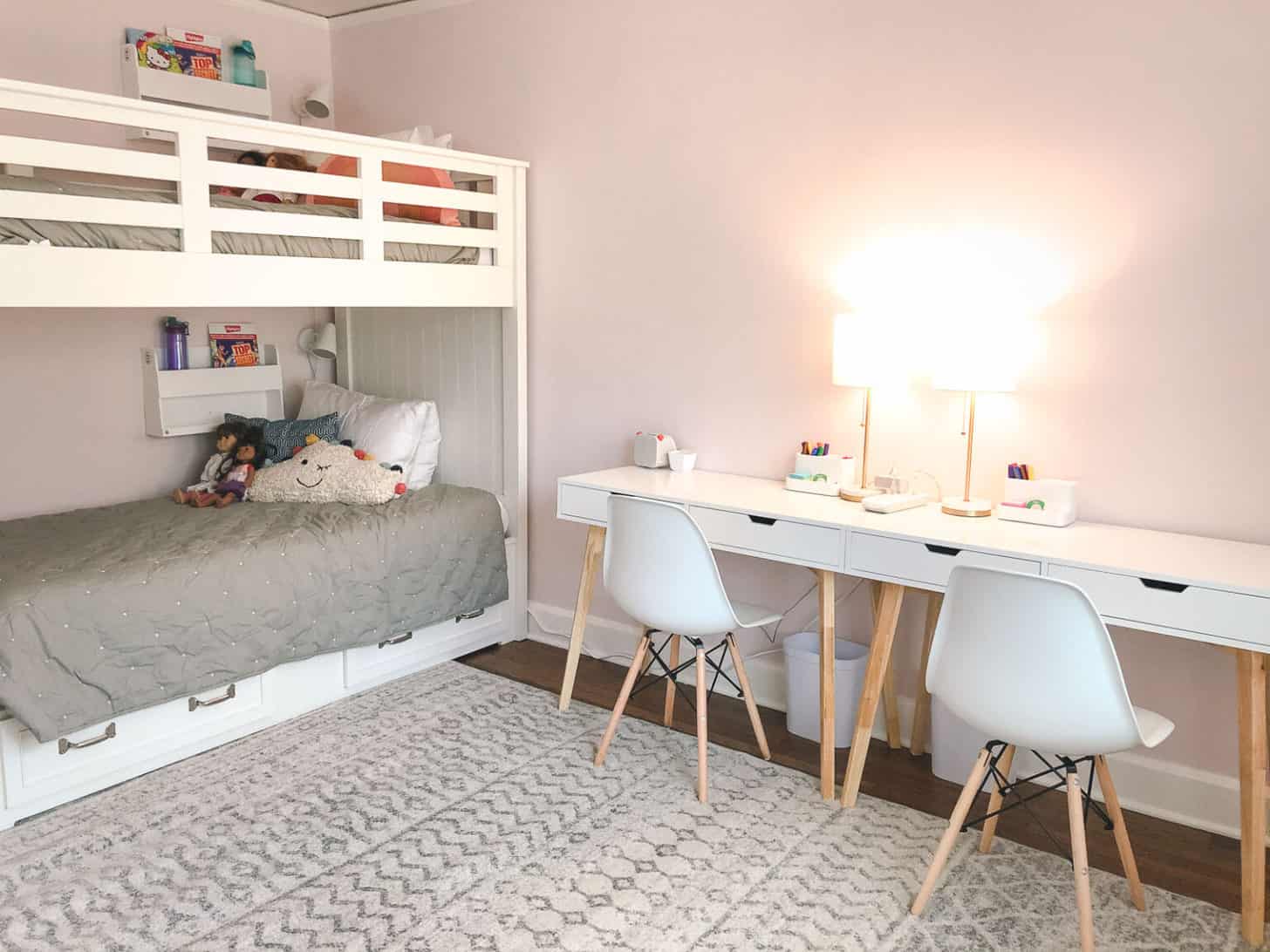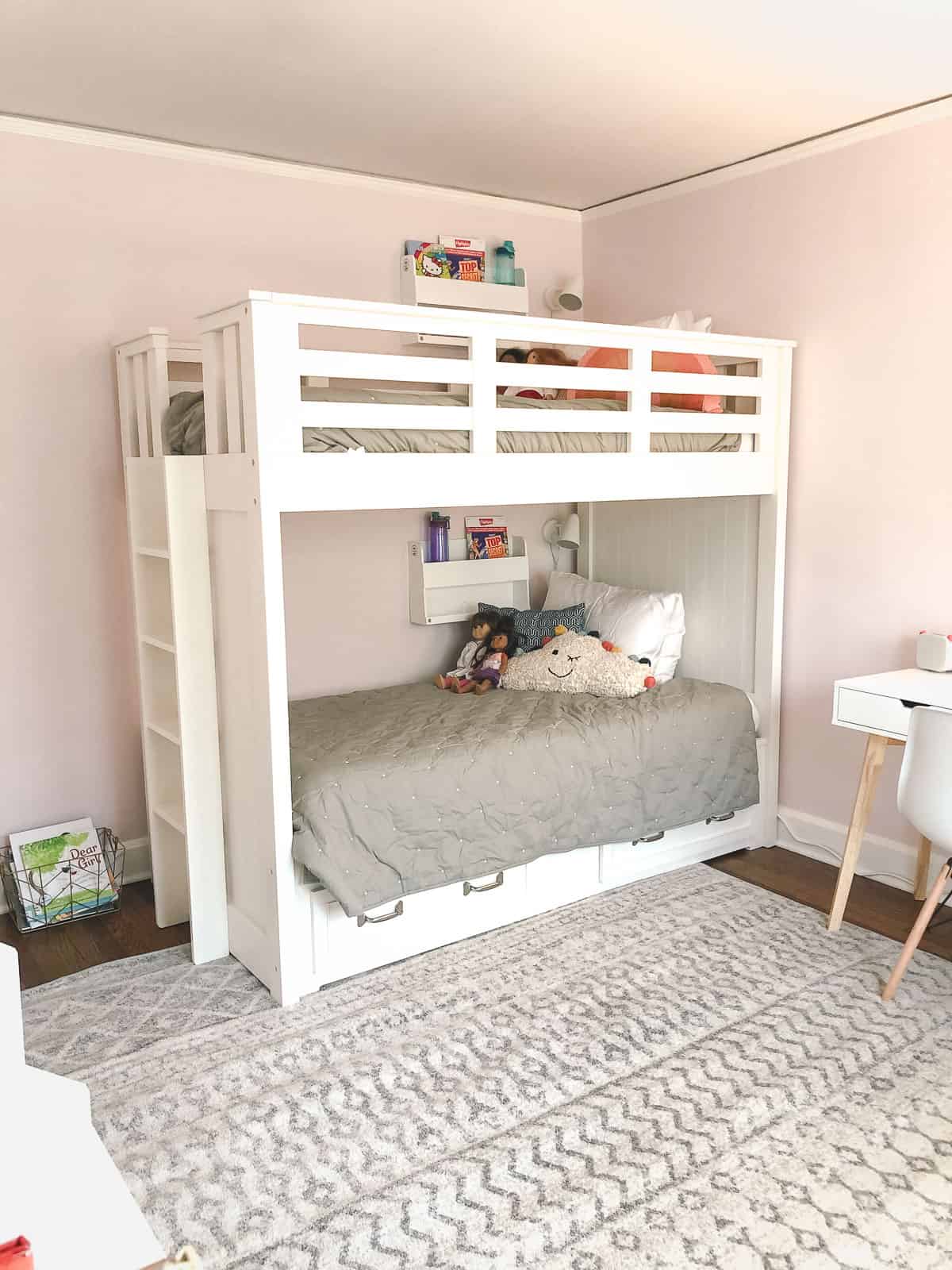 Also on Wednesday, I turned 40! It's a bit of a unique thing to share your birthday with your kids but Frank and sweet family and friends made it a special day for me too. I couldn't be happier to be starting this next decade. I am incredibly grateful to be surrounded by so many wonderful people, to be doing what I love, and to share this space with all of you fellow home cooks. Thank you for being part of this community!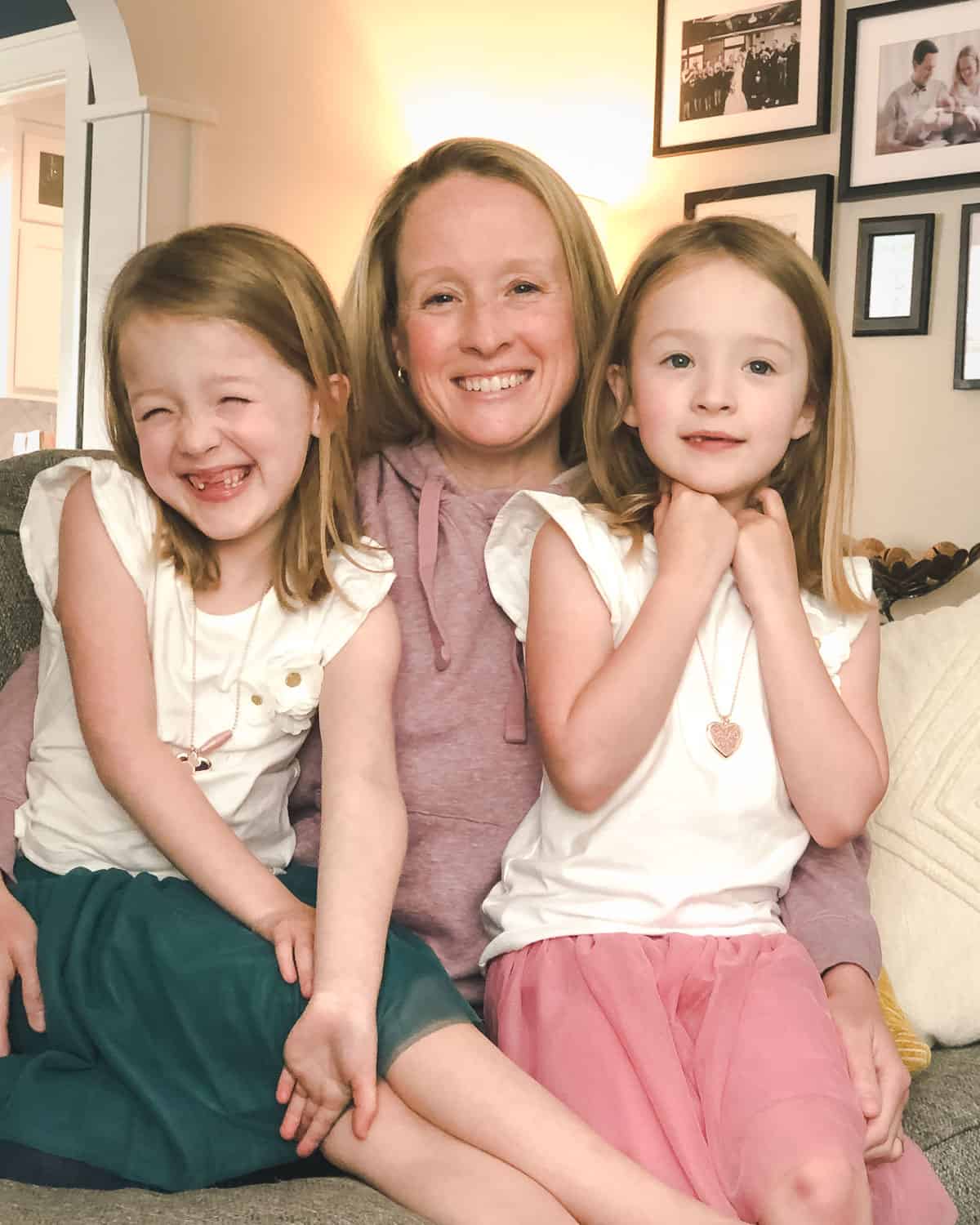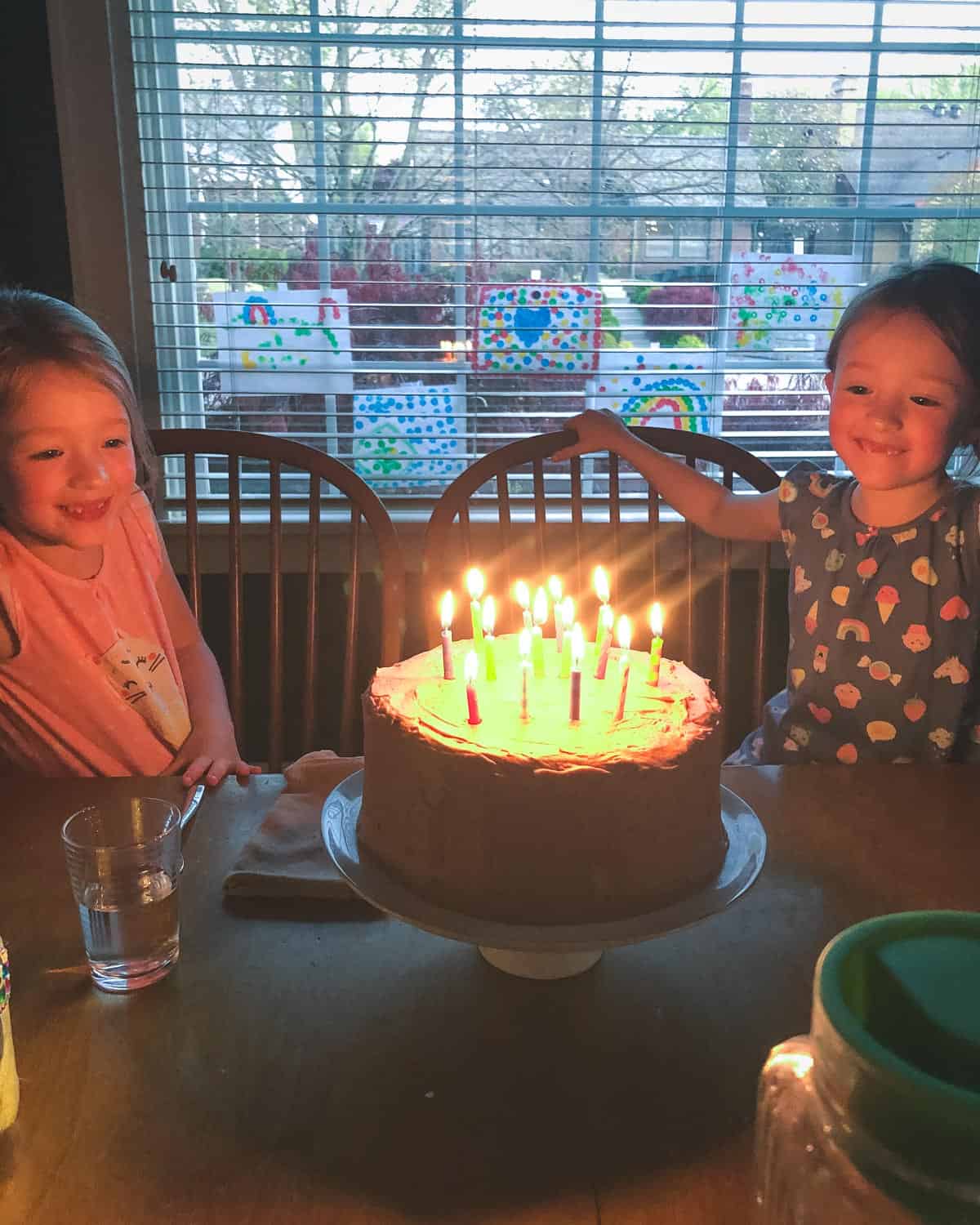 Now. A recipe! The inspiration for this meal came from a desire to have more savory breakfasts here on Inquiring Chef and in my own recipe rotation. Even though sheet pan hash browns fit right in at breakfast or brunch, I came up with the recipe because I wanted more easy savory breakfast-for-dinner options. I love any dinner that involves eggs. Put them on top of crispy hash browns and make it all on one parchment-lined pan (read: no dishes)? I'm in love.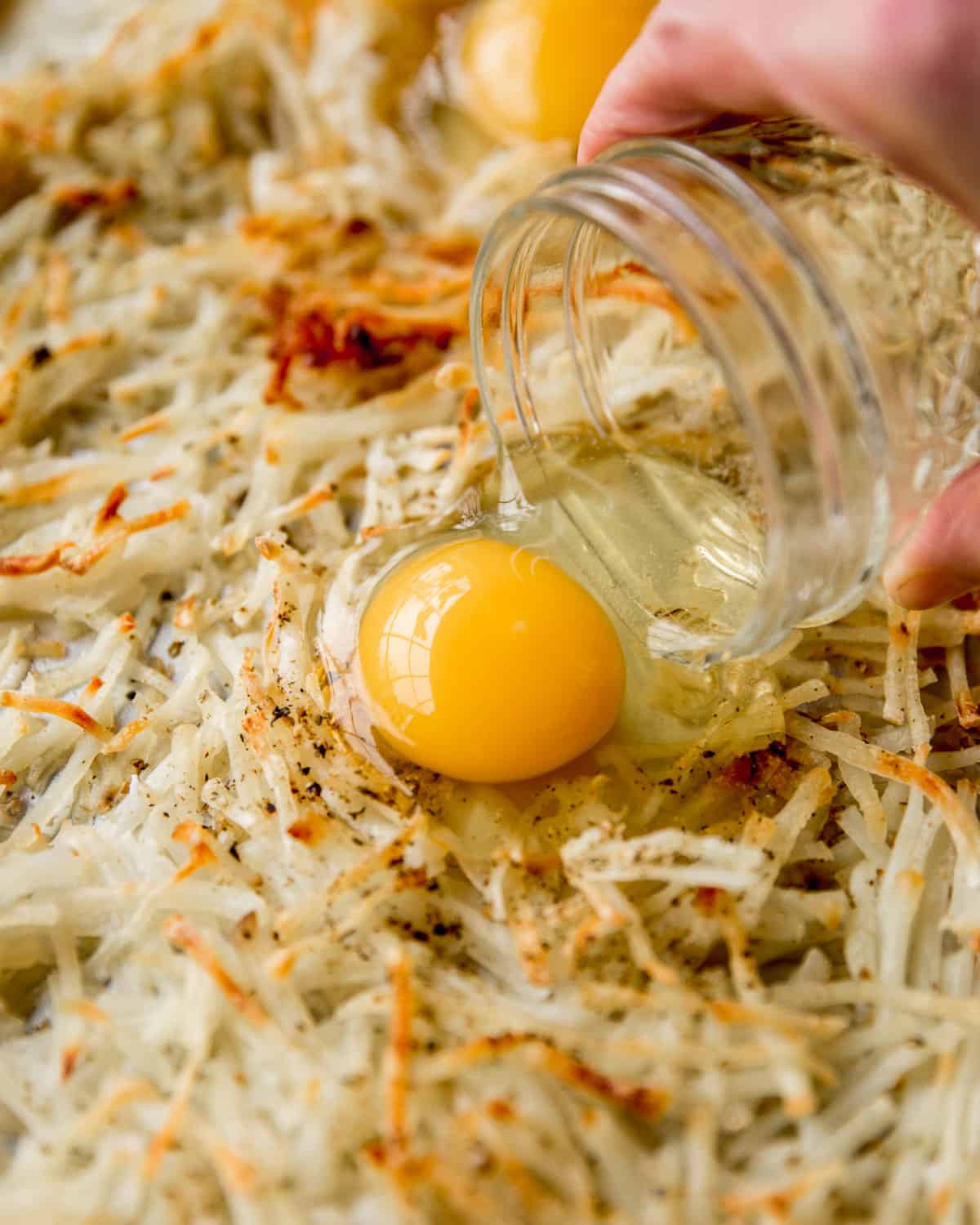 We had this for dinner many times over the past few weeks, and once I added the addition of a fresh, bright salsa, I knew it was one I had to share.
Ingredients
Parchment paper

- Make sure you grab some parchment paper if you don't keep it on hand. This is critical to keep the eggs from sticking to the pan. I love the convenience of

these

which are pre-measured for half sheet pans.

Frozen Shredded Hash Browns

- Grab these in the freezer section. Be sure to get the shredded (not diced) variety.

Unsalted Butter

- I tested this recipe with unsalted butter, but if using salted, just reduce the added salt by about half.

Salt and Pepper

- See the recipe notes about seasoning. Be sure to add more, to taste, if needed at the end of cooking. Everyone has a different preference when it comes to the amount of salt, especially when it comes to breakfast foods.

Avocados, Tomatoes, Shallots, Lime Juice

- These fresh ingredients make the most amazing salsa. Look for good quality, ripe avocados and tomatoes. If I can't find great regular-sized tomatoes, I tend to opt for cherry or grape which have more concentrated flavor even when tomatoes aren't in season here.

Eggs

- Crack those eggs right into the hash browns and bake! If you want the yolks to be slightly runny, they should be done in about 5 minutes.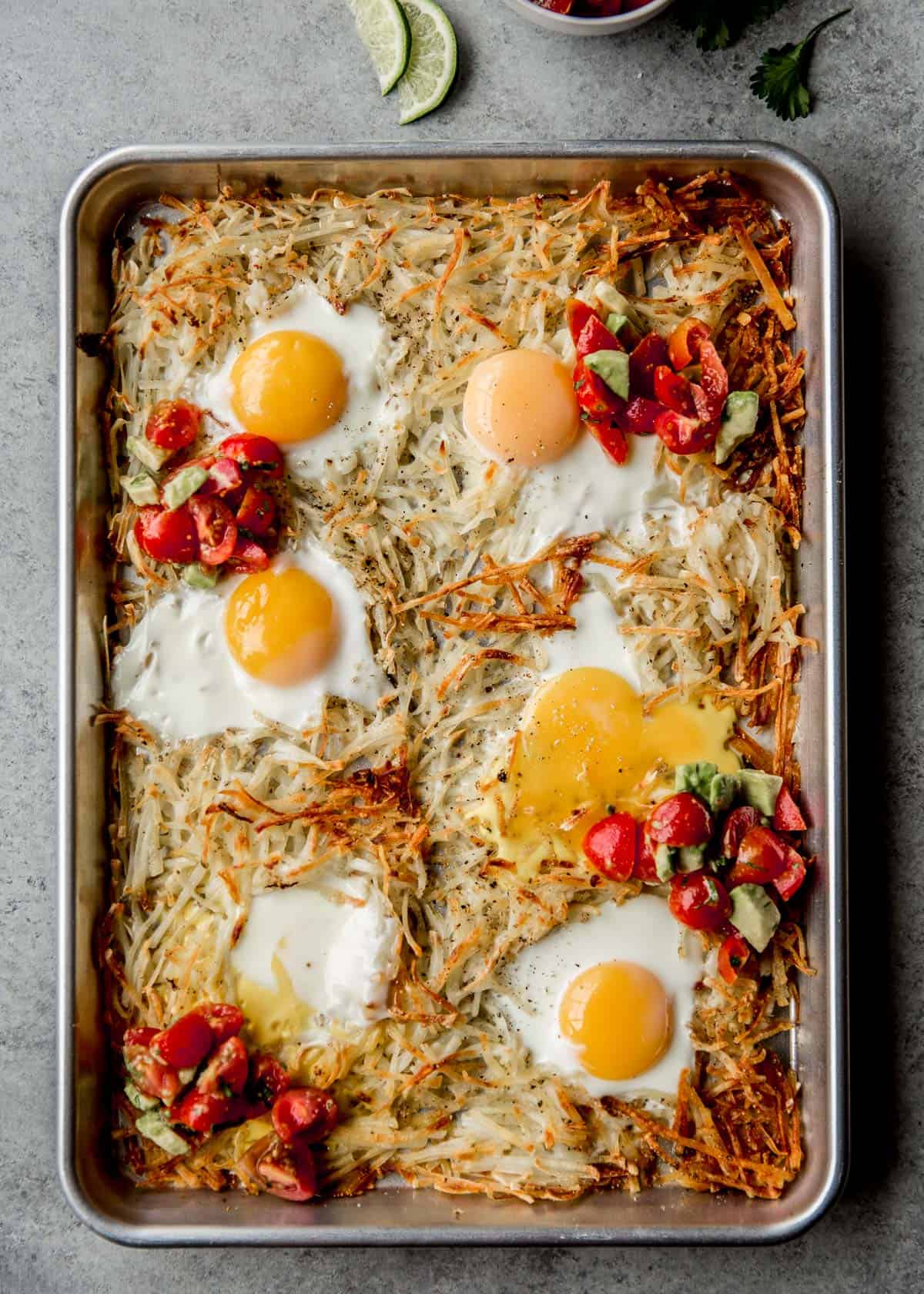 How to Make Sheet Pan Hash Browns
It took some testing to get hash browns just right on a sheet pan, but I'm happy to report that I cracked the code. Follow these tips and you will have fantastic sheet pan hash browns every time.
Use parchment.

The hash browns cook just fine without parchment, but since this recipe has the addition of eggs, you'll want that parchment to help prevent sticking. When I skipped the parchment, the hash browns got crisp faster but the eggs completely stuck to the pan.

Don't crowd the pan

. Put no more than 20 ounces of hash browns on a half sheet pan (18x13 inches). Any more than that and the hash browns will steam instead of crisp. If doubling the recipe or using a smaller pan, use two sheet pans.

Season

. Check the package on the frozen hash browns to see if they are pre-seasoned. If not, you're working with plain potatoes, so you'll need to add salt to bring out their flavor.

Rotate the potatoes.

As the hash browns bake, the edges will get very crisp and golden while the potatoes in the center stay white and steam. Be sure to use a spatula to gently flip the crispy parts into the center of the pan while pulling the hash browns in the center to the outside. Giving all of the potatoes a chance to cook on the outer edges will insure they all get crisp.

Be flexible.

The cook time on these hash browns can vary depending on how thinly they are shredded, how high the sides of your sheet pan are, how thoroughly you rotated them halfway through cooking, so keep an eye on them and take them out if they finish early or let the cook longer if needed.
Other Similar Meals / Serving Suggestions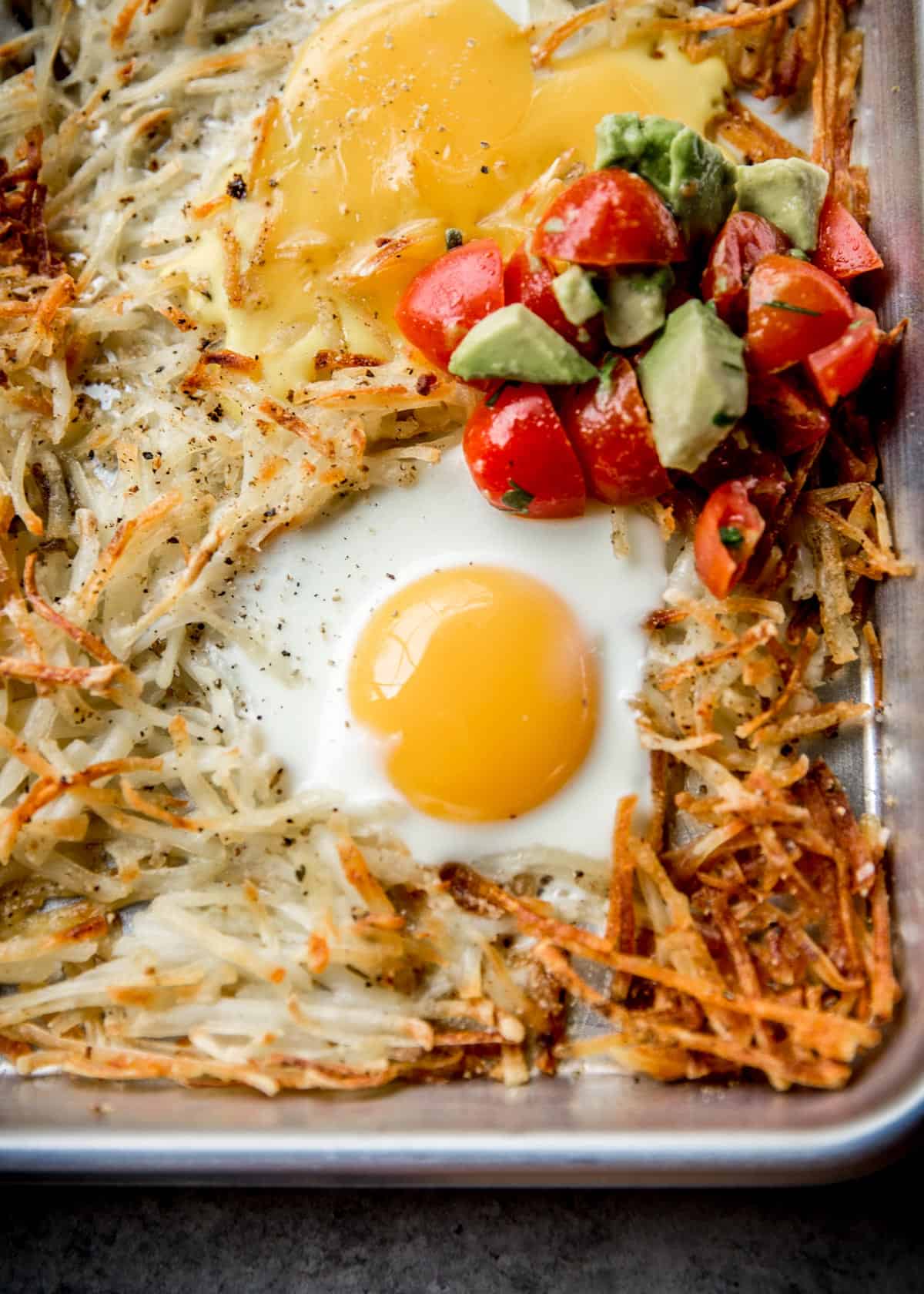 📖 Recipe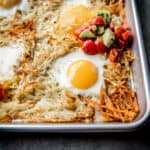 Print Recipe
Sheet Pan Hash Browns and Eggs with Avocado Salsa
A fresh, savory breakfast all on one sheet pan! There's no need to break out a skillet when you can bake hash browns and top them with eggs right in the oven. Finish it all with fresh avocado and tomato salsa.
Equipment
Half Sheet Pan

Parchment Paper

Spatula

Mixing Bowl
Ingredients
1

20 oz bag

Frozen Shredded Hash Browns

(see note)

4

tablespoon

Unsalted Butter, melted

1

teaspoon

Kosher Salt

¼

teaspoon

Black Pepper

2

Avocados, diced

2

Tomatoes, diced

(about 2 cups of cherry / grape tomatoes, quartered)

2

tablespoon

chopped Cilantro Leaves

1

tablespoon

diced Shallots

2

teaspoon

Lime Juice

6

Eggs
Instructions
Preheat oven to 425°F / 218°C.

Line a sheet pan with parchment paper (this will help to prevent sticking).

Spread hash browns out on prepared sheet pan. Drizzle melted butter over top and stir gently. Season with some salt and pepper (see note).

Transfer pan to the oven and bake until hash browns are golden brown, 35 to 40 minutes. Halfway through cooking, remove the pan from the oven and gently turn the hash browns with a spatula so that the crispy edges are rotated to the center and the center potatoes are moved to the outside of the pan. (The edges will get golden brown and crisp, so you want to give most of the potatoes a "turn" to cook on the outside of the pan.)

Meanwhile make salsa by combining avocados, tomatoes, cilantro, shallots, and lime juice. Season with some salt and pepper. (If you'd like it to be spicy, you can add some hot sauce or a pinch of red pepper flakes.)

Once hash browns are golden brown remove the pan from the oven. (Note: If they aren't golden brown in most places at the end of 35 to 40 minutes, you can continue baking them a bit longer. Be sure that they are mostly crisp and golden brown before adding the eggs.

Use the back of a spoon to create 6 wells in the hash browns.

Crack eggs into the wells. Return pan to the oven and continue cooking until the eggs are cooked to your liking (about 5 minutes if you'd like the yolks soft and 8 minutes if you'd like them to be cooked all the way through).

Serve immediately with salsa on top.
Notes
Hash browns
- 20 oz of hash browns cooks down quite a bit in the oven. If you know you'd like a larger portion of hash browns, use a second sheet pan. The key to letting them brown and crisp is to give them plenty of space so they don't steam.
Seasoning
- Check the package on the hash browns. If they are "seasoned" they may have enough salt and pepper without needing you to add more. If they are unseasoned, they are just plain shredded potatoes and will need a decent amount of salt to bring out their flavor. Even if you added salt and pepper in the amount listed, taste the potatoes at the end of cooking and feel free to sprinkle with some more if needed.
Nutrition
Calories:
344
kcal
|
Carbohydrates:
13
g
|
Protein:
14
g
|
Fat:
28
g
|
Saturated Fat:
6
g
|
Trans Fat:
1
g
|
Cholesterol:
327
mg
|
Sodium:
910
mg
|
Potassium:
792
mg
|
Fiber:
9
g
|
Sugar:
2
g
|
Vitamin A:
692
IU
|
Vitamin C:
15
mg
|
Calcium:
69
mg
|
Iron:
2
mg
*This post contains affiliate links*